The door is what separates your home from the rest of the world. It provides you with a sense of security and gives you privacy from the outside. A door is what helps you insulate your home and prevents pests from entering your living space. Knowing which materials, finishes, and sizes will give you better insight into the associated estimates.
On average, you can expect the range of installing a door to cost between $250 to $2000. The low-end cost that you will likely have to spend will be about $100. This is while the high-end cost will be estimated at $6000. Depending on the kind of materials your homeowner is considering, you'll see the difference amongst the qualities of the hardware and the glass.
| | |
| --- | --- |
| Average Range | $250-$2000 |
| Low End | $100 |
| High End | $6000 |
You should also consider whether the installation is coming from within the home or whether the installation is taking place outside. Interior door installations will have separate costs compared to exterior door installations. Interior installation costs will cost between $170 to $400, depending on the amount of doors you need to install. Exterior installation costs will range between $400 to $1000 each, you'll have to decide whether you want a single entry unit or a double entry unit. Homeowners should note that the material of the doors will affect these estimates as well.
Exterior Door Installation Cost
You have to contemplate what kind of exterior door you're looking to install before you make the decision. Keep in mind, the installation will primarily be affected by the material, since high-end styles will ultimately finalize the range. Exterior doors can be as simple as a pre-hung model or as complex as an accordion type door.
In any case, no matter which model you decide to install, you'll notice that each one has its own benefits associated with the cost range. One thing to keep in mind is knowing whether the project is going to be for the purpose of retrofitting the doors or constructing them. Homeowners need to remember all of the estimates of what the new front door installation will end up costing them.
Labor Cost Of Removing And Installing Doors
Typically, you'll expect a homeowner to spend about $40 to $90 per hour, but this estimate is affected by the expertise of the contractor that is assisting you. If you are installing a simple door, you can hire a maintenance expert instead. A maintenance professional will charge you about $30 to $40 per hour, saving you a large sum of the cost. However, if the materials are high-end and the design of the type of the door is shaped or designed in a unique way, you should opt for a contractor with more years of experience.
Wall Alteration Costs
There are some projects where you'll need to involve the alteration or reconfiguration of your drywall, electrical, and even plumbing for the areas you choose to install your doors. In these situations, you'll want to hire a contractor since their areas of expertise expand in various different trades. This will also depend on the materials you're trying to change the layout of. The cost will probably vary between $1400 to $3500, which won't include the material cost.
| | |
| --- | --- |
| Framing The Cutout | $230-$600 |
| Installation | $230-$1300 |
| Making Cutout For Door | $400-$800 |
| Permits | $550-$780 |
Pre-Hung
Probably the simplest kind of door that you can purchase and install, the pre-hung are the doors that will already be framed and hinged. Keep in mind that the material is what will increase or decrease the estimated range. They will come with your choice of materials, including wood, MDF, steel, or even fiberglass. You'll find the doors framed with either side panels, windows, or other door features.
Homeowners will probably spend more money purchasing a pre-hung door rather than a slab. Luckily, they will also pay a lower price for the pre-hung since the process of installing this kind of door is faster. Duration of a pre-hung installation will probably only take about four to eight hours. On average, you'll spend a total of about $400 to $1800 for the whole installation.
Security
Although these may be pre-hung units, you have varieties to choose from. Typically, you'll find these models to be thick and somewhat heavy compared to your conventional pre-hung units. Since they can come with particular hardware, homeowners should find professional expertise to help them with the installation.
Security doors will cost about $400 to $800. The cost will vary depending on which material the homeowner is considering using for the door installation. In most cases, the security door will be installed with steel frames and a mesh screen. With this kind of configuration, homeowners should expect to spend about $120 all the way up to $2300.
Exterior Pocket
The unique aspect of the exterior pocket door is how they function as sliding doors. Essentially, the contractor will install your exterior pocket doors in a way for them to slide in and out of your walls. And your doors won't need any tracks or stationary panels for the sliding construction. This project will consist of different kinds of alterations, and might even require a professional with insulation experience. Keeping this space insulated is quite difficult. You'll want a multifaceted expert if you're choosing a pocket door for the exterior portions of your home.
Double
As the name suggests, the double front exterior door will primarily be considered for homeowners that prefer spaciousness. The style and appearance of the double front door is yet another sliding variation. Homeowners should know that since the doors come in a pair, they can slide one or both to open or close the doorway.
The cost range of the double-pane front door will range between $400 to $5000. Inexpensive options will start with wood doors with glass panels or even sidelights, however, there are homeowners who will spend $3000 to $5000 for the higher-end installations. Homeowners may find some double doors with decorative ironwork.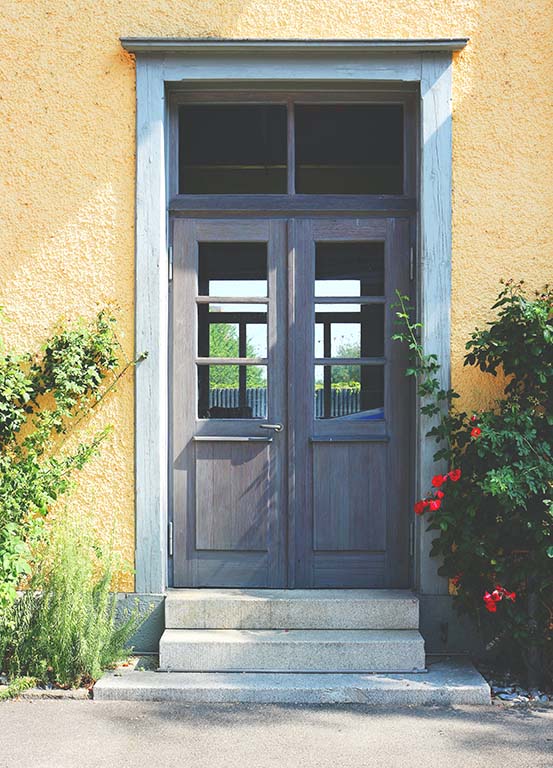 Photo By Teo Zac On Unsplash
French Door
Homeowners will opt for French doors because of how much appeal they bring to every space that they're installed into. They are double-paned and are included with different applications that can be chosen by the homeowner. In any case, if this is your exterior door installation, you'll be able to see the ways as to how the French doors can be both visually and aesthetically functional.
If you're interested in purchasing and installing French doors into your home, you'll have to spend an average of $550 to $5600. However, you're going to want to finalize the decisions and ideas that you had in mind for the designs and materials because this estimate could be a much larger sum. Due to their visual aesthetic and appeal, homeowners will consider the French doors to be a very elegant commodity.
Sliding Glass
Depending on where you're going to install the sliding doors, the range of the estimate will be adjusted accordingly. The exterior sliding doors are most occasionally designed with glass, but you have many different material options to choose from for the frames. Typically, homeowners will use sliding doors for patios, decks, and other recreational locations in your living space.
The sliding glass doors will typically cost you a total of about $900 to $4500. Depending on the type of glass you're thinking of using for the panels, the estimated range could be larger. Just like a shower door installation, the cost will vary depending on which glass you're deciding to use for the panels.
Custom Door Installation
Due to how versatile the customizations that homeowners can make, you'll notice how expensive they can be. Essentially, you have the limitless options in the materials, the sizes, and even the shapes of the custom doors. Homeowners will have the opportunity to look at all the versatile arrangements to make for their exterior doors.
The cost to install any custom doors into your home may go from $2000 to $20000. This is because there are various kinds of doors that you can choose to install. The factors that will ultimately impact the overall cost will be the material and the type of door that you're installing into your home.
Storm
If you live in an area with terrible weather, you're going to want to install a storm door. It provides ventilation and gives you the extra protection against bad weather conditions. You'll have the choice to install either the full-view, retractable screen, or ventilating storm doors. A full-view storm door will have a full glass panel or an interchangeable full screen. The retractable screen storm doors will be provided with a screen that is rolled up when the door isn't being used. A ventilating storm door will either have a full screen or a half screen.
It isn't a very costly installation and will only range between $270 to $1000. A storm door is what you want when you live in a location with extreme climate fluctuations. The storm door offers air flow management and can shield your home from any windy situation or severe rain patterns.
Patio
The patio doors would probably cost about $300 to $5100. Since there are many different kinds of patio doors that you can choose from, the average range that you can expect will ultimately come from the designs.
| | |
| --- | --- |
| Single Patio | $300-$2700 |
| Double Patio | $460-$4200 |
| Low-E Glass/Built-In Blinds | $650-$2500 |
| Argon-Filled Glass | $760-$4200 |
Bi-Folding
Requested by the size of the opening, they'll come pre-made. Most notable for outdoor living areas, they'll fold and follow the tracks that you decide to have installed. The bi-folding door is somewhat newer and more of a modern spin amongst the selection in exterior doors. Ultimately, the size of the opening area in which the bi-folding exterior doors will be installed is how the estimate will be factored.
Accordion
This is another type of door that is made to order and will be associated with the measurement of the opening size. Although the accordion exterior door isn't meant to be a secure door, it is an ornamental addition to the atmosphere. The benefit of the accordion exterior door is that it provides many different arrangements and it can be installed easily in several different rooms.
A contractor will probably charge you a range between $800 to $1500 per linear foot for an accordion door installation. You might have to spend about $5000 to $20000. However, this modern design will provide you sliding door capability or an extending door function. If you're thinking of installing an accordion door, you're going to have to decide whether you want multi-panel folding or multi-slide telescoping panels.
Door Installation Cost By Material
Homeowners can opt for more security or for better visual appeal. This can be determined by the material you choose to install the door. Each of these options are ready for an installation project due to their qualities and convenience. The cost range is often applied according to the factors that each material provides your door.
Steel
Although homeowners might be fearful of using steel as a material, due to the expensive nature of steel as an option, you have to think about the longevity and durability that it offers. Since you won't have to concern yourself with cracks or since the material probably won't warp, you'll have a small sense of ease. Due to its insulation properties, homeowners consider steel as more than just a viable option.
Fiberglass
An option that serves as an alternative to wood. Since the finishes that fiberglass will offer gives off the appearance of a wood grain, fiberglass is something that homeowners will choose if they want a material that is low maintenance. Homeowners that choose fiberglass have the added benefit of avoiding scratches and even dents. This would also include the prevention of rot.
Wood
One of the most common yet appealing choices that homeowners make when installing a door is the wooden option. Since it is the traditional go-to choice that homeowners make, it is probably the most natural selection that people will end up making. Keep in mind that extreme climate conditions are a bad location for wooden entry doors. Since fluctuations in weather could negatively impact the state of your wood, you should think about what kind of climate conditions your area is under before you make the decision of choosing wood as your home's door option.
Vinyl
A lesser known material that is underutilized amongst homeowners, vinyl is somewhat an inexpensive door to install. However, the reason it isn't a costly option is because vinyl does not insulate properly and it tends to get damaged easily compared to the other options on this list. It is a more effective option for sliding door frames, but it won't have any practical uses for your home, other than the vinyl look.
Aluminum
This material is popular for its lightweight capabilities and its resistance against rust and corrosion. Aluminum is not only a stable option to maintain the security of your home but it is also the option that will provide better insulation than even steel. Although aluminum may seem like one of the more expensive choices, aluminum is a low-maintenance material. It provides the most insulation for your home, and it is the most durable out of any of the other options.
New Back Door Installation Cost
There are different cost ranges that are affected by the materials and the type of back doors that homeowners can install. Making any replacements for the new back door will range about $300 to $1000. Completely new installations will probably cost about $150 to $300 and homeowners will typically have the choice of a backdoor using either steel, composite wood, or fiberglass.
Depending on whether you want to add different features to the door, the costs and estimates may differentiate upon any inclusions for windows, sidelights, or design options. If you're only opting for a back door, you may only see the simplest form of the door. Luckily, they are less costly than front doors.
Basic wood and steel back doors will cost about $150 to $300, depending on what kind of wood or steel you're looking for. The labor costs will go from $130 to $280. French wood will cost about $250 to $340, depending on your choice of grain, while French steel will cost about $340 to $570. The cost of labor for both French materials will range about $200 to $400. A Dutch-inspired back door will probably range between $520 and $780, while the installation cost will go from $180 to $300.
Hardware Cost For Door Installation
Other than the materials and types of doors you can install into your homes, you and your contractor shouldn't forget the prices of the hardware that you'll need to place into your door. Homeowners should also remember whether they need hinges, screws, or mounting supplies along with the other list of materials they need for the installation.
| | |
| --- | --- |
| Slab | $50-$400 |
| Supplies | $100-$300 |
| Door Jamb | $150-$300 |
| Framing | $200-$650 |
Depending on whether you're using a kit to install your door or if you're asking a skilled contractor to help with the installation, you're going to have to expect some estimates according to the hardware. Knowing just enough about the kind of hardware you need for your door installation will go a long way to making sure that all goes according to plan. In the cases where homeowners will want a high-end doorknob or just a better accessory to go along with their door, they should know the standard measurements, the door handing, and the different door hardware finishes.
To figure out which door knobs you can choose from, you have to look at all the different functions of the doorknob in question. Check the backset, the size of the bore hole, the cross bore size, and the overall thickness of your door.
The bore hole is the location where the doorknob will be fitted into your door. The cross bore is the small hole at the edge of the door where the lock will be attached. Another part of the hardware is the door latch which will be inserted into the cross bore before it is inserted through the larger bore hole. A backset will be the distance between the edge of the door and the center of the large bore hole.
Door handing is the direction of the door as one swings it open. As a rule of thumb, you should confirm that the direction is correctly positioned. Essentially, the door handing will determine which way your hardware should be directed. Simply put, if your door swings outward, arrange your lever handle to the opposite handing.
Keyed Entrance Door Knobs
The entrance door knob is typically used for exterior doors. Every manufacturer will have different arrangements made for them, depending on the brand you're looking to apply for your installation. Basically, these variations will be the standard door knobs that homeowners will want with their homes.
Hall and Closet Door Knobs
A hall and closet door knob, which can also be referred to as the passage door knob, is meant to be non-locking. They're typically designed to not have keyed cylinders nor locking buttons. You'll want to use these kinds of knobs for closets, laundry rooms, and basically any room without the use or need for privacy.
Privacy Door Knobs
This is a door knob that you'd typically use for bedrooms or bathrooms. The privacy door knob usually has a pin hole on the outside with a push button lock inside. Other brands will have a turn button for homeowners to manually lock or unlock the door.
Dummy Knobs
A one-sided door knob that has no actual working parts in them. The method of installing and mounting dummy knobs will be determined by the brand and manufacturer. Similar to cabinet knobs, the dummy knob is usually either surface mounted or mounted through the back. In some cases, they'll come in pairs, and you'll see them be used for double doors.
Single Cylinder Deadbolts
The single cylinder deadbolt is a type of key cylinder that is on the outside and has a thumb turn on the inside. A standard amongst deadbolts, homeowners will typically use this cylinder for their homes. Homeowners should note that the single cylinder deadbolts are generally used with either a keyed door knob or a lever handle for exterior doors.
Double Cylinder Deadbolts
The double cylinder deadbolt is the type of key cylinder that is on both sides of the door. It is a variation that will need a key to unlock both sides. It adds another layer of security for your home. Designed to keep burglars from escaping the space since the knobs will stay locked unless a key is used from the inside.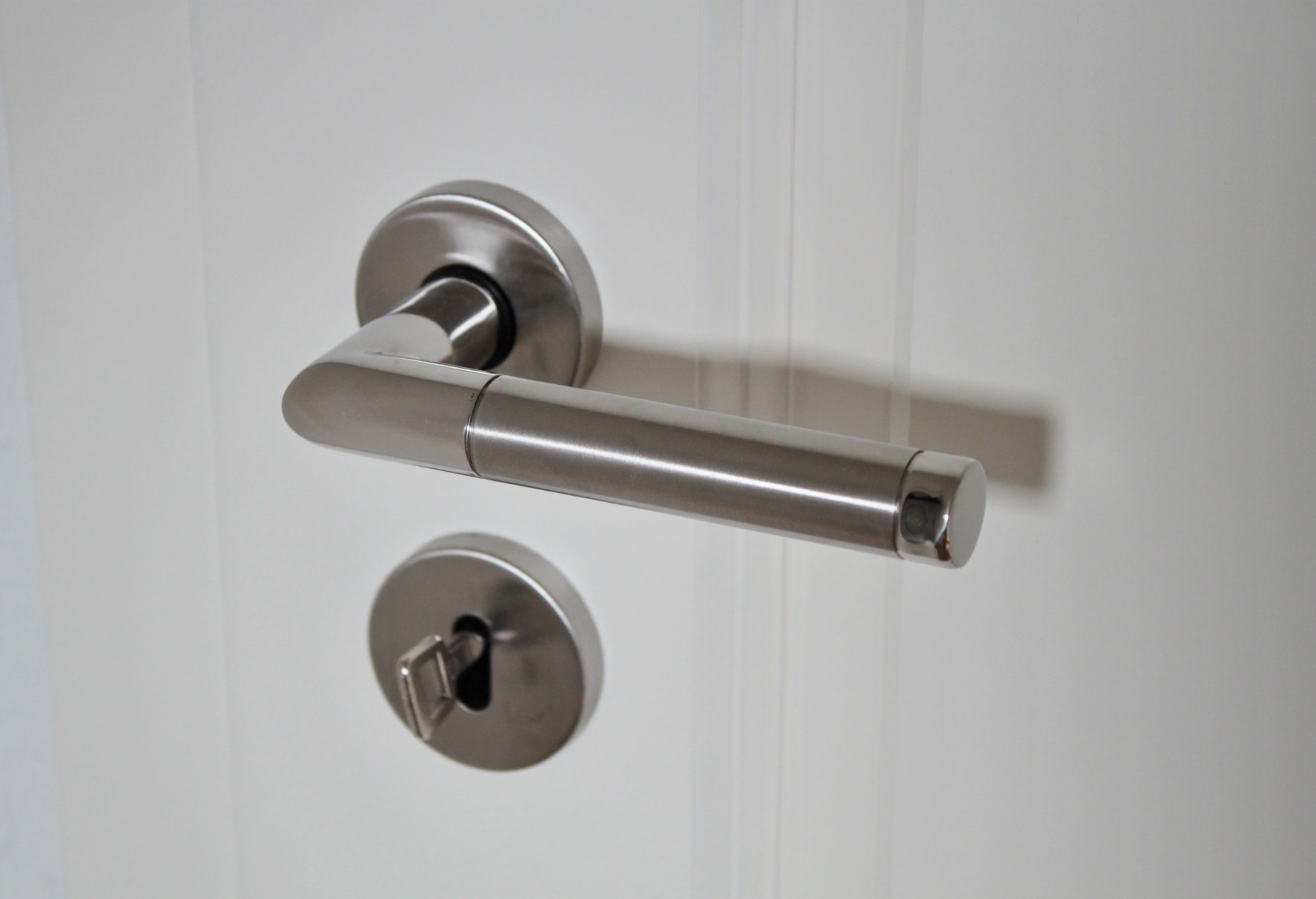 Photo By Piqsels
Entrance Handle Sets
Although the door knob is the standard choice for a door installation, homeowners will still consider the usage of a handle instead. There is quite a large assortment of trim profiles for homeowners to choose from. What is most important, other than whether the handle sets can actually be inserted, is whether the handles will pair with the inside of your home.
Door Hardware Finishes
There are three things to keep in mind when you're picking a finish for your door hardware:
Even if the hardware is supposedly in the same collection, it doesn't mean they'll always match

Fixtures may not match with door hardware finish even if they're under the same name

Always confirm the brand and the items and check whether they'll work together
Door Installation Through Existing Jamb
Since the door jamb is a portion of the frame, an installation involving your existing door jamb will probably cost you about $200 to $650. The door jamb is the vertical flat surface that runs across both sides of the frame. The contractor that you decide to hire will have to assess whether the door jamb will be sufficient with your new door choice. Your professional will inform you whether the door jamb needs to be replaced since you may require some work to be added for every component of the door to work together.
Having to switch out the door jamb or the frame will probably cost you about $30 to $1500, depending on the material or any other additional parts you may need. There are different sizes that you also have to consider, whether the door will fit your old opening. If you have to update your exterior door system and change the space, you may have to spend an average total of about $900.
Door Installation By Size
The standard door size should be about 80 inches tall, 36 inches wide and about one and three quarter inches thick. Homeowners also have the options of purchasing doors that are 30, 32, or 34 inches wide. Depending on whether you're looking for a door with side panels or sidelights, the size could be even larger. In some circumstances, the width can range from 48 inches to 72 inches, so the factor that will adjust the price will also come from the materials and designs. The cost range for the doors will be estimated between $200 all the way up to $4000.
Door Rearrangement Cost
To have your exterior doors moved or closed off, you may have to spend about $1700 to about $4100. Homeowners should know that the service will require the removal of the current door. This service has many options. It can include either closing the cutout up, creating a whole new cutout, removing or installing the framing, or the service of installing a whole new door.
Exterior Door Installation For Garage Cost
On average, the side door or the service door that goes into your garage will cost homeowners about $600 to $2500. This estimate is affected by the kind of garage installation you may have within your vicinity. Depending on whether your garage is separated from your home or whether they're connected and what kind of material you're using, the cost of installing a door to a connected garage could cost from $700 to $1100.
Walkout Basement Door Installation Cost
Installing a walkout doorway for your basement will probably range between $1500 to $5000, if your basement already has an opening available. However, if you need a contractor to create an opening as well as the doorway, you'll have to spend about $2200 to $10000. You should first figure out what kind of estimates the professional has for these services before you decide to start on the project.
Door Repair Cost
Damages are one of the reasons as to why doors will need to be reinstalled. However, another solution to this problem can be hiring an expert for the service of repairing your door. The average range for a door repair will probably be between $80 to $500. Depending on the kind of damage, the extent of the damage, the material that needs to be fixed, and the type of repairs required, the estimate could be larger than the range mentioned.
The damage that you should concern yourself with the most is from water damages. Although water damage is somewhat salvageable, there are certain measures in which you may need to replace the door instead. Whether your door is sustaining dents, scratches, or rot, there are services available for you to correct the situation.
Finding Multiple Estimates Through House Tipster
There are several professionals that you might want to contact for you to complete this kind of project. Whether you need a contractor or a door specialist, there is a process that you need to go through to find the right person for the job. You can cut out the hours that you'd probably have to spend searching for an adequate professional by using House Tipster.
Our web tool gives our users two features. The reviews function allows users to leave a review for the professionals on our listings. This way, you can confirm whether the qualifications of your door installation specialist is the one that matches your preferences. If you want to figure out the quality of your professional's work, you can read about it through the reviews.
We also allow our users to chat with the professionals through our listings. Rather than waiting on the phone for someone to call you back or to simply answer your calls, you can send out messages to multiple businesses and spend your day without any other concerns. Users will be able to receive answers to their inquiries about estimates and trade-related information. If you want to cut through the restless process of having to tediously browse through hundreds of professionals without any of the doubt.
Feature Photo By form PxHere