Homeowners that want wooden outdoor furniture for their porch or backyard spaces should know that there are different costs associated with outdoor pieces, compared to the furniture pieces you would find indoors. A professional service can help you reconstruct these pieces seamlessly and will help you with avoiding any possible damages that could occur.
| | |
| --- | --- |
| Average Range | $120-$145 |
| Low-End Range | $40 |
| High-End Range | $500 |
Ranging between $120 to $145, the services will be adjusted according to the amount of pieces and the size of the pieces that the assemblers might have to handle. The larger assemblies will have certain price ranges according to the needs that you want accommodated. The low-end cost of the services might be an estimate of about $40, as a minimum for the expense of travel. High-end cost of the services will probably be estimated at around $500, which would probably be expected for the assembly of much more complex pieces.
Assembling Outdoor Furniture
The major difference between outdoor and indoor furniture pieces is that furniture pieces might have a sturdier build for outdoor applications. Ranging between $40 to $180, the simpler pieces will cost different amounts compared to a project like a gazebo or an outdoor structure. Knowing the average estimate of each item will help with understanding which aesthetic belongs to the space you're trying to rearrange.
| | |
| --- | --- |
| Chair | $40 |
| Hammock | $75 |
| Lounge Chair | $100 |
| Bench | $125 |
| Table | $150 |
| Swing | $180 |
Depending on the material that you're trying to opt for, these prices may vary according to the type of material you think would look great with your outdoor spacing. Homeowners need to think about what kind of arrangements can be made in regards to one's outdoor decor. 
Patio Furniture Assembly
Assembling patio furniture is quite easy but depending on the kind of pieces you're looking to place, you need to consider the assistance required for the jobs. Estimated between $40 to $75 per hour for an assembler to get the projects finished.
| | |
| --- | --- |
| Outdoor Dining Sets | $130-$8000 or more |
| Sofa Conversation Sets | $400-$2000 |
Outdoor Structural And Functional Projects
Larger projects, like gazebos or pergolas, will require both a large sum of money and effort to assemble and build. Homeowners that are trying to build these structures and manage these kinds of projects will likely expect to spend about $1300 to $4000. These projects are typically done through the hands of contractors and carpenters.
Typically, furniture assembly services won't assist you with this scale, however, the professionals might have other qualified listings that can be referred to you. Depending on which kind of project you're trying to complete, homeowners should consult with the trade professional in that area of expertise about the estimates and services involved.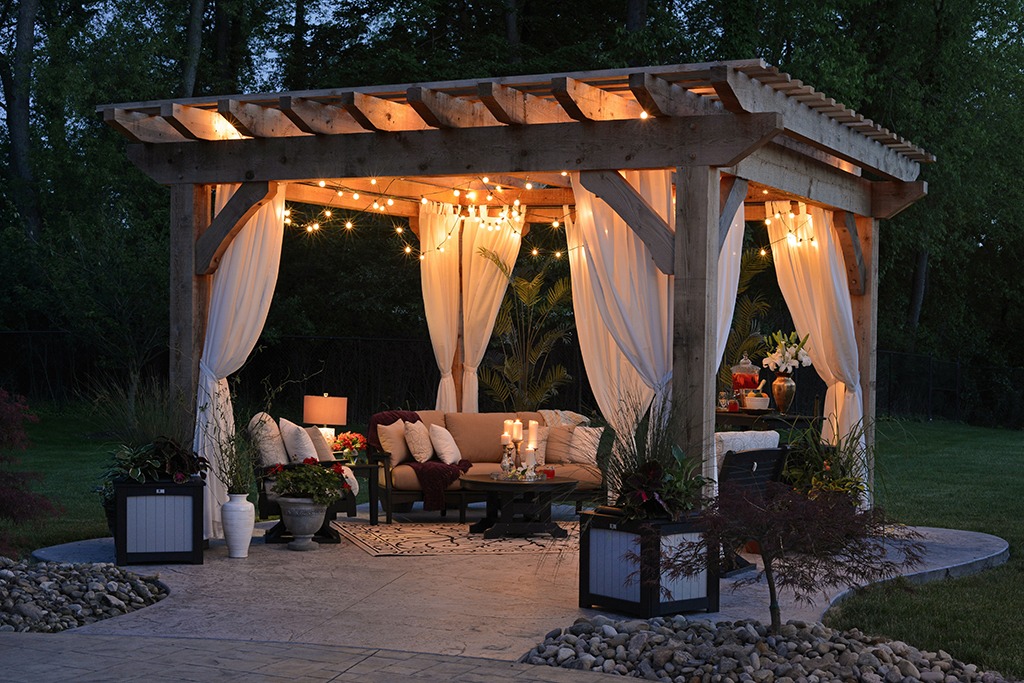 Photo By Randy Fath On Unsplash
Outdoor Furniture Assembly
The assembly of outdoor furniture might not seem like a very difficult task to perform, however, if there's even one mistake out of the process of building your furniture piece, it could result in injury or a frustrating quality of the piece. Homeowners that don't have enough experience in assembling outdoor furniture will likely find that their pieces either aren't up to par and might return a piece that is perfectly well-conditioned.
Once an assembly is done, homeowners need to evaluate and ensure whether the furniture pieces or sets not only match their outdoor aesthetic, but also if it functions properly. An outdoor assembly team will go to your home and be able to provide furniture pieces that could be used with the right kind of tenacity involved. Although there are many different types of furniture pieces to choose from, the assembly crew will typically have the knowledge and experience with arranging the pieces the right way.
There are various types of furniture pieces that homeowners will consider, and depending on the size of the piece and the size of the porch, the professionals could take up to one to four hours to assemble whatever the homeowner might have in mind. From sofas to outdoor dining sets, an assembly crew can sort out which pieces belong in which location that fit the certain dimensions of the spaces. While there are certain considerations to make, homeowners will know about the following structures and appliances.
Depending on the utilities and other assembly factors involved, the assembly specialists may require an expert in the related field. Certain furniture pieces, like patio tables that are manufactured to fit a grill, if the need for a gas line arises, homeowners may require the assistance of a contractor for this kind of work to be completed. Outdoor furniture that might involve a gas grill, or a fire pit kit involved, there could possibly be additional rates that the homeowner should consider. Typically, there are different types of services that could cost from $ to $ per hour. The hourly rate could be adjusted, depending on the situation that the homeowner might be facing. Outdoor furniture requires the arrangement of many factors. 
Size Of Outdoor Assembly
The assembly crew will require an idyllic sense into how large the assembly project is before they can start the project. Typically, this will be asked as a part of the estimate process. 
Homeowners will also think about the amount of space that they'll need to work with once the project is consulted. Larger outdoor projects to assemble could include sheds and gazebos. Depending on the complexity of the structure, your hired group of specialists will be able to estimate the amount of costs associated with the involved project. 
Keep in mind that the individual pieces might cost different rates.
Finding Multiple Estimates Through House Tipster
Whether you're a homeowner or a tenant, you'll want to know about the professional qualifications that come with hiring the right assembly crew. Before you decide on going forward with the kind of implementations you're planning for, you're going to want to consider some of the requirements that go into finding a professional assembly service. Think about finding a certain amount of furniture pieces that you want to assemble outdoors.
Rather than hiring a service for just a single piece of outdoor furniture, homeowners can pool in the pieces that they've been wanting to add to their backyard or porches. This way, homeowners might be able to save costs by having one bulk order ready for the service to finish.
House Tipster is useful in these regards because users can find out about these things through two functions. One of those functions is a chat system to allow users to directly message their nearby listings and to find out the different factors that could go into hiring the service. While the estimate of the listing is quite essential, homeowners will want to know if there are additional fees that go into the projects that the assembly professionals should know about. Other than the chat function, homeowners also have the reviews function, which allows users to find out about the satisfaction level that each listing has currently retained. With these two features, homeowners and users can figure out which business they believe will have the best costs and the best qualifications to handle their projects. Keep in mind that using House Tipster just requires an account and figuring out the kind of projects you want to complete.