Previously, we'd spoken about kitchen islands at the center of your cooking space. To truly create an innovative kitchen space for your home, you need to consider what kind of space you're looking for. Are you looking into renovating your kitchen and tearing up the style because there's a mismatch between your old kitchen and the home you've already built? A kitchen remodel cost can greatly affect your budget. So you need to carefully consider the amount of materials you'll need, the labor that goes into renovations, and the permits you'll need to apply for.
An approximate estimate for you to upscale your kitchen with higher end materials can be around $70000 to $136000. On average, the cost of a kitchen remodel can be $12613. The range of that average can be between $2650 and $6000. But with a higher medium, the average range can even be from $10000 to $23000.
| | |
| --- | --- |
| National Average | $12,613 |
| Average Range | $2650 to $6000 |
| Low-End Range | $4000 to $9000 |
| High-End Range | $10000 to $23900 |
How big is your kitchen? What is the size you're trying to expand the size of your kitchen? How much of your kitchen will be built with lower-end materials? Higher-end materials? Are you going to hire a contractor for the jobs that lay ahead of you? You can learn the kitchen remodeling cost per square foot and the kinds of designs that will be laid out for you.
Kitchen Remodel Contractor Cost
What kind of labor are you looking at when renovating your kitchen? Are you moving the kitchen to another part of your home? Will you need pipes and drains to be moved? How many electrical outlets do you have and how many more will you need? These are all considerations to think about when you have plans to remodel the kitchen.
There are variations and variables that you'll need to estimate when it comes to labor. Not every plumber is going to estimate their hourly rate at an absolute minimum. A suggestion to figure out the best estimate and cost is to find multiple contractors and professionals in your area. 
Image Shot By Allison Herzog From Flickr
There are estimate ranges provided through an average rate. With all these different variables to think about and the vision you have entailed through this project, your budgetary spending will differ.
General contractors can cost up to as little as $50. But some homeowners are willing to pay about $800 to $2212 for the services of a professional. However, there are contractors that will charge you around $30000 depending on the size of your kitchen. Here is an hourly rate on the jobs that will need professional work done:
| | |
| --- | --- |
| Contracting | $30-$85 |
| Plumbing | $50-$130 |
| Electrical | $45-$120 |
| Tiling | $35-$80 |
| Painting | $27-$94 |
Remember that there is a cost for a permit to some of these professional services. As always, we highly advise you to check your town's codes, standards, requirements, and regulations. Most likely, you'll need one if you're changing the wiring or the gas lines. For apartments, you should check for approval by your apartment building's board.
Junk or debris removal can be very complicated. The average that follows from junk removal has the average cost of $233, that's an estimated range of $133 to $360. That isn't even calculated with the amount of items you'll need to get rid of. 
We will be talking about the purchases of appliances but on the other end is the prices for removal of former appliances. Removing your old appliances can cost between $60 and $200. Additional items can cost you about $20 to $40, and any single appliance or item involved can force you to spend around $60 to $150.
Besides installation and labor costs that will be a major percentage of your budget, you should also think about the materials you'll need for those installations. The thing about remodel jobs is how the aesthetics of your home ties together closely.
| | |
| --- | --- |
| Countertops | $40-$200 per sq ft |
| Faucet | $150-$1050 per replacement |
| Flooring | $600-$46000 |
| Tiles | $265-$2500 |
| Light Fixtures | $100-$2000 |
| Backsplash | $111-$1800 |
| Outlets | $215-$1200 |
| Drywalls | $1.50-$3 per sq ft |
| Windows | $300-$1200 |
| Cabinetry | $75-$1400 per ft |
Kitchen Countertop
A huge piece of the spending pie will be for countertops. There is a wide variety of countertops to choose from, and with such a variety, you'll need to know what kind you're looking for. So many of the materials have different purposes. Many have different advantages and disadvantages to think about, so with such considerations to keep in mind, keep your vision clear and concise.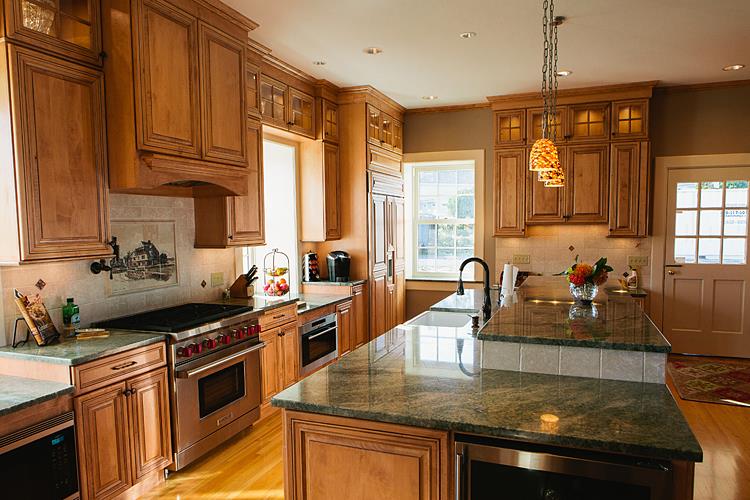 Image Contributed By Richard Hight From Flickr
Throughout your renovations, you might think of replacing your countertop using a different material. 
Here are some different countertops you could be considering: 
Laminate $20 to $60
Butcher Block $30 to $280
Quartz $40 to $100
Slate $50 to $200
Stainless Steel $50 to $250
Porcelain $55 to $120
Concrete $55 to $175
Soapstone $70 to $120
Solid Surface $70 to $130
Granite $70 to $230
Marble $70 to $230
Quartzite $80 to $210
Recycled Glass $100 to $250
Copper $100 to $300
Zinc $120 to $200
Faucet
There are many reasons why you should replace your kitchen faucet. One reason could be that there is rust within your old one. If the handle of your faucet is stuck or takes a few seconds for the water to come out, corrosion may be involved. Another reason you might want to replace your faucet is because there may be signs of mineral build up. Both reasons can be quite insurmountable in risk. Whether your faucet has rust or minerals, they'll both become more and more visible over time. If there are signs that your faucet may put you in harm's way, you should ask the opinion of a plumber.
| | |
| --- | --- |
| Faucet Type | Cost |
| Monoblock | $150-$250 |
| Single-Handle | $150-$250 |
| Side-Spray | $150-$350 |
| Pull-Down | $250-$550 |
| Widespread | $300-$1050 |
| Wall-Mounted | $300-$1050 |
Flooring
Your kitchen floors are susceptible to damage and stains. Say you're cooking with grease or fatty oil, believe it or not, it sprays around and falls on the floor as you fry something. Any worn out floors can be distinguishable in the eyes of new homebuyers. If you're trying to sell your home, the buyers will see the floor as a big x on deciding to buy your property.
| | |
| --- | --- |
| Vinyl | $600 - $2,000 |
| Tile | $1,000 - $5,000 |
| Cork | $1,800 - $3,000 |
| Natural Stone | $2,400 - $46,000 |
| Hardwood | $2,800 - $6,400 |
Tiles
Unlike the choices of replacing your floors, you can opt to replace your floors with tiles. The keyword in replacing your floors into tiles for your kitchen remodel is imperviousness. There are so many risk-filled accidents that can happen in your kitchen and you can avoid the damage by installing tiles. There is a huge variety in color and shapes you can choose from in terms of tile installation. Some of the benefits to tile installations is how resistant they are to water. 
| | |
| --- | --- |
| Ceramic | $2-$8 |
| Porcelain | $3-$10 |
| Cement | $2-$10 |
| Marble | $10-$20 |
| Mosaic | $5.22-$6.87 |
| Granite | $10-$40 |
| Limestone | $2-$11 |
| Travertine | $3-$30 |
| Quarry | $8-$13 |
Light Fixtures
Lighting is very important in your home. The background of your home can either glisten or appear dull. When you're going out on a date, you want to dress to impress. The same concept follows with kitchens. When your guests visit, wouldn't you want your kitchen dressed? Replacing your light fixture can really improve the ambiance in your home.
| | |
| --- | --- |
| Wall Mounted Lights | $100-$450 |
| Pendant Lights | $150-$450 |
| Under Cabinet Lights | $400-$500 |
| Toe Kick Lights | $400-$500 |
| Recessed Lights | $800-$2000 |
| Chandeliers | $400-$2200 |
Backsplash
To truly avoid any mistakes when buying your backsplash, you'll have to think about how thick your primary tile is going to be. Keep in mind that your decorative tiles can't be as thick as your field tiles. You'll be spending more money than you thought you'd be spending. Before you even pay for the installation or replacement, remember to think about the trim and decorative moldings that come with your tiles.
The backsplash of your kitchen can be simple to redo. Costs of the tiles for floor replacements can be applied to the average cost of your backsplash. The average range of your backsplash budget will probably require about five percent of your budget.
Outlets
If you're starting any remodeling project, a reminder to keep in mind is that the cheapest substitute is to maintain the electrical wiring around your home. It'll cost additional funds to add more wiring or move your wiring from one location to the other. 
Check how many of your appliances are going to be a necessity in your kitchen. Maybe you'll need more outlets installed or maybe you need to replace some of them. The reasons why outlets are replaced in most cases is because of how outdated they can be.
Image By Julie Mannell From Flickr
Drywalls
Like your flooring, the drywalls around your home will be very vulnerable with the exposure to sources of moisture. Other reasons why you should apply and install new drywalls is because the ceiling could be damp. Just remember that there are differing costs when it comes to replacing old ones and installing new ones.
Windows
There are two sources of lighting. The synthetic lighting is from light fixtures like wall lamps or mounted light fixtures. But there is also natural lighting that comes from everyone's outside source, the sun. Windows welcome nature and create an illuminant resource.
Cabinetry
Assessing your budget and understanding the prices of stock cabinets and custom cabinets will help decrease your costs. Here are some costs to the different kinds of cabinets and vanity you might be interested in:
These are the types of installations you might need to consider.
| | |
| --- | --- |
| Installing kitchen cabinets | $480-$1,940 |
| Building a custom cabinet | $1,000-$6,161 |
| Cabinet refacing | $1,000-$9,000 |
| Painting kitchen cabinets | $1,200-$7,000 |
| Cabinet refinishing and repair | $1,800-$2,200 |
These are the types of cabinets you might keep in the backburner.
| | |
| --- | --- |
| Type of Cabinets | Cost Range Per Foot |
| Stock | $75-$400 |
| Semi-Customs | $150-$900 |
| Customs | $500-$1400 |
Aforementioned in past articles, cabinet installations can be quite expensive, especially when you consider the sizes, styles, and customizability. But cut the spending cost by repainting your old cabinets and keeping the design simple. Using crown moldings and different kinds of plasters will eat up your spending money quickly. 
It isn't just the size and shape that affects your cost, it's also the amount of cabinets you're replacing, so make sure to purchase one or maybe just a few.
Upscale or Midscale
Whatever your budget may be, there are particular levels of scaling your kitchen. Each level of grading will proffer you a higher yield as you sell your home in the future. As the homeowner, you have the objective of designing your kitchen and remodeling it into a divine sanctuary for dining. Why even own a kitchen if you don't like to cook?
To upscale a kitchen, your budget may come around to $11823. It doesn't seem as excessive as one would believe but costs could even round out to $140000. This is because your plans might falter and you may have to go around and adapt to the changes suggested by your contractor. Even when midscaling your kitchen, there are changes to the budget and remodeling could on average jump up to $70000. 
Depending on your plans and how big your kitchen is, the remodel budget could estimate into $12500 to $34000 as a range of cost. But if your kitchen plan is small and the space for it is the size you intend to keep, the budget for your remodel can be as small $4000, while a more luxurious vision may cost you more than $50000.
The biggest reason why the budget can jump is because the materials you may purchase could be of higher quality. Countertops definitely aren't cheap but there are so many uses for such an underrated material. There are natural or engineered stone countertops to search for and the average cost to buy one can cost you around $2000 to $3000.
Size of Kitchen
On average, a kitchen remodel can cost you $150 per square foot. The range itself can range between $100 to $250 per square foot. Geographically, the kitchen or any part of your home is cognizant of the area you live in. 
| | |
| --- | --- |
| 70 sq ft | $7000 to $17500 |
| 100 sq ft | $10000 to $25000 |
| 120 sq ft | $12000 to $30000 |
| 150 sq ft | $15000 to $37500 |
| 200 sq ft | $20000 to $50000 |
| 220 sq ft | $22000 to $55000 |
A small kitchen that is standard is a 40 by 60 square foot kitchen and typically, the standard average will range from $16000 to $18000. The standard medium sized kitchen will be 135 by 165 square feet, this size will range from $28000 to $30000. While the standard large kitchen will be 360 or more square feet and the average range of estimates will cost about $45000 to $50000.
The Effects of your Home's Value 
The value of your home can vastly change when you decide to remodel any part of your home. It can be as minimal as replacing a garage door, or adding a nice new high-end island in the middle of your kitchen. The average ROI or return on investment can be almost 54% of what you originally spent on your remodel. So, say you spent around $40000 on the project and then sold your home. By the calculation of the average, your ROI could almost be $21600.
Just remember, before you begin the sale of any property, make sure to take the advice from the professionals. If you're about to spend thousands of dollars on a remodel when someone advises you that the ROI will most likely be a nickel on the dollar, then don't take that risk. You'll also have to think about who's advice you're leaning towards to follow.
Saving Money With Your Budget
In any remodel job, the thing most homeowners concern themselves with is how you can save the money you have on hand. There are certain things to keep in mind when you're redoing your kitchen. After the installation of your cabinetry, you can always refinish or paint your cabinets. While you can rip out your cabinets and spend money on removal, you can just repaint the old ones that you already own.
If your old appliances still work and there are no internal problems, why would you want to get rid of them? Although the appearance of your appliance might be discolored and might be outdated, you can alway repaint them to make them look spick-and-span. With most of the materials you may be considering, you can always do the research on which choice is inexpensive. By looking at the materials above, you can find out the range of cost on each option and pick out the cheapest amongst them. 
Appliances to Look For
Besides the remodeling costs of all the materials you'll need, you should search for new appliances. There are cases where your appliance may be in good condition, but if there is a newer model that you're eyeing, House Tipster is here to break down the costs. We'll also tell you whether the appliance you're looking for is a necessity or not. Check out the average cost range and the installation costs of the appliances you're looking at:  
| | | |
| --- | --- | --- |
| Appliance | Price Range | Installation |
| Disposal | $250-$400 | $200-$1500 |
| Refrigerators | $425-$10,600 | $150-$250 |
| Dishwashers | $330-$1,900 | $200-$500 |
| Stove | $410-$7,500 | $100-$500 |
| Microwaves | $50-$2,300 | $115-$500 |
| Range Hood | $45-$2,450 | $300-$600 |
Garbage Disposals
Wasting food is considered a sin, but it's a common thing that happens often. Since they are the pitfall of reasons as to why your drains and pipes might be clogged, plumbers will highly advise you against installing a garbage disposal. But if the benefits to a disposal outweigh the disadvantages and costs, then you probably want to know what the advantages are.
The most commonly known response to uneaten food is to just throw it away into your trash can. When you're cleaning your dishes there could be specks of food that fall out. With a garbage disposal, all those small pieces get shredded like unwanted documents in your office. So it's least likely that your pipes will ever get clogged. The disadvantage to this is that your pipes are rarely ever protected completely.
One of the major disadvantages to installing a garbage disposal is that there are high maintenance costs involved with owning one. Eventually you will see your drain get clogged and even with a drain cleaner, you won't have a working sink for quite some time. It's an imminent eventuality but your garbage disposal will inevitably get jammed or might even break. So fair warning to those considering the installation of a garbage disposal. Needless to say, a garbage disposal is not an essential appliance in your kitchen.
Refrigerators
The remodeling costs of installing a new fridge can either be very steep or relatively reasonable. The newer models of fridges have become more and more digitized over recent years. Some of them even have smart functions to help homeowners remind themselves of what kind of shopping list they'll want to organize.
If you're on the prowl for a new refrigerator, you'll need to keep in mind all the features that the brand and type of fridge has. In this modern age of computerization, most of the newest models have Wi-Fi capabilities. You can always find other ways to modernize your home. But if you're thinking about how much food you usually store, how many meals do you cook, there are questions you should ask yourself before searching for a fridge. If you have difficulty with storage in the future, you will undoubtedly wonder why you didn't inquire about every specificity.
In what capacity do you think your freezer is going to be needed for storage? Remember to keep in mind that your non-perishables are essential as well. There are colors and styles that may look differently preferred in the older kitchen you once kept. So don't always think about the functionality of your fridge, but also think about the appeal it'll have to the appearance of your remodel project. 
Although you may be going back and forth between buying a newer model or not, if the condition of your fridge is in good shape, you don't have to sweat the purchase. However, a refrigerator is a necessity in the kitchen, so if you absolutely need one, just go ahead and buy a fridge, whether it's used or new, you'll need it in the end.
Dishwashers
The most conventional way to wash your dishes is your sink. However, the convenience of owning and installing a dishwasher is how quick and easy it is to just stick your plates and bowls and wait a few minutes.
One of the major reasons people opt out to replace their dishwasher is because homeowners are becoming more socially conscious. Each washing cycle on older models can use up to 13 gallons of water! The newer models save a lot more water and only use up to 3 gallons of water instead. Not only are you saving money, but you'd be saving the planet too.
Maintaining a dishwasher may seem essential, but if you have a working sink, you probably don't need to rush out to your car and order one. Although a working dishwasher may be a bonus, it isn't quite a necessity. But be careful in ripping one out, dishwashers are often the target sought after by homebuyers.
Stoves & Ranges
With a lifetime of 15 years, stoves need to be replaced or they'll eventually become a hazard in your home. Your stovetop works as the mecca of the kitchen, it heats up your cold food, cooks your pot roasts, and it is what cooks your turkey on Thanksgiving. But if the reason you're replacing your stove is because you're just remodeling the design of your kitchen then look at the costs above.
This appliance is not an absolute requirement for the kitchen to have. It may be the most valuable player in your kitchen but it won't greatly affect the appraisal by much. A small kitchen with cabinets and without a stove is called a kitchenette. And there are certain kitchens that effectively cut costs in having to spend massive amounts of money on meals. If you're looking to cook lighter, smaller dishes, then this is probably the kind of kitchen you're looking to remodel.
Electric or Gas
If you're seriously considering the replacement and installment of a new stove, you have to think about whether you want an electric stove or a gas-powered stove. An electric stove is majorly dependent on a wide range of different reasons. Maybe you're trying to meet certain budgetary expectations so you might want to choose the electric stove.
There is an even heating function that ensures dry and even baking for anything you're cooking, it also circulates hot air. Electric stovetops also consume more energy but also make the most out of the consumption.
Although electric stoves have their benefits, gas stoves have beneficial control. There's an instant temperature control that can occur with gas-powered stoves. If you already have gas lines running through your home, it's always a good idea to just buy what your home already has. Like the old saying goes, "why buy what isn't broken?"
Microwaves
The microwave of the past and even the most modern model of microwave only lasts up to a decade before they break. Although this isn't a necessity for your renewal project and it won't help increase the value of your home, a microwave can be quite easy to break. Some of the mentionable errors that have occurred to homeowners are things like key functions or the door not properly sealing. If your home may be endangered by the signs of a malfunctioning microwave, it's probably time for you to replace it.
It's unfortunate but the appliances that were listed in this article probably won't help you recoup the money you'd already spent. In fact, most of the appliances listed on this article won't help your ROI unless you've carefully considered how much each product will cost. Consultation with a real estate agent may give you a better understanding and give you a better overview when it comes time to sell. 
How To Find A Remodeling Contractor With House Tipster
Throughout the many posts you'd scan throughout this site, we hope we've answered all of your inquiries. Now that you know more about the costs of remodeling your kitchen, and the tips to keep in mind for your projects, you should check out House Tipster. For a project like this one that requires more insight behind it, you should find the perfect pro for your home remodeling needs. By finding out about the several estimates available, you'll be ready to contact the professionals near you. How much does it cost to finish a basement? Find out through House Tipster.