There are many different ways for your door to be damaged. Whether it is the frame, the entry, or even the hinges, you're going to want someone to help you with any necessary repairs that may need to be involved. The average cost to repair your doors can range from $80 to $500. The low-end range to this project will probably be estimated between $40 to $60, while the high-end range will probably be estimated from $400 to $800.
| | |
| --- | --- |
| Average Range | $80-$500 |
| Low-End Estimate | $40-$60 |
| High-End Estimate | $400-$800 |
A reason as to why you'd want your door repaired by a professional is because any mishaps could lead to higher costs. Without the proper experience, the damage could extend beyond what was once more salvageable. These estimates are ultimately determined by a number of factors: what kind of door it is, what kind of material it is made of, and which method of repair needs to be applied.
Door Repair Costs By Damages
Homeowners will eventually see different kinds of damages happen to their doors. Depending on the kind of damage it might be, you're going to have to consider all the costs that follow from the repairs that need to be done. There are different types of solutions when it comes to the kinds of problems that homeowners will face. You should expect the cost to solve any of these issues to range between $50 and $600.
You may not consider it a priority, but there are many complications that occur when a door is damaged and is left unrepaired. Although it shouldn't have to be stated, a damaged door can leave your home vulnerable to intruders and pests. Insulation and other amenities in your home could potentially be compromised from ignoring the necessary repairs.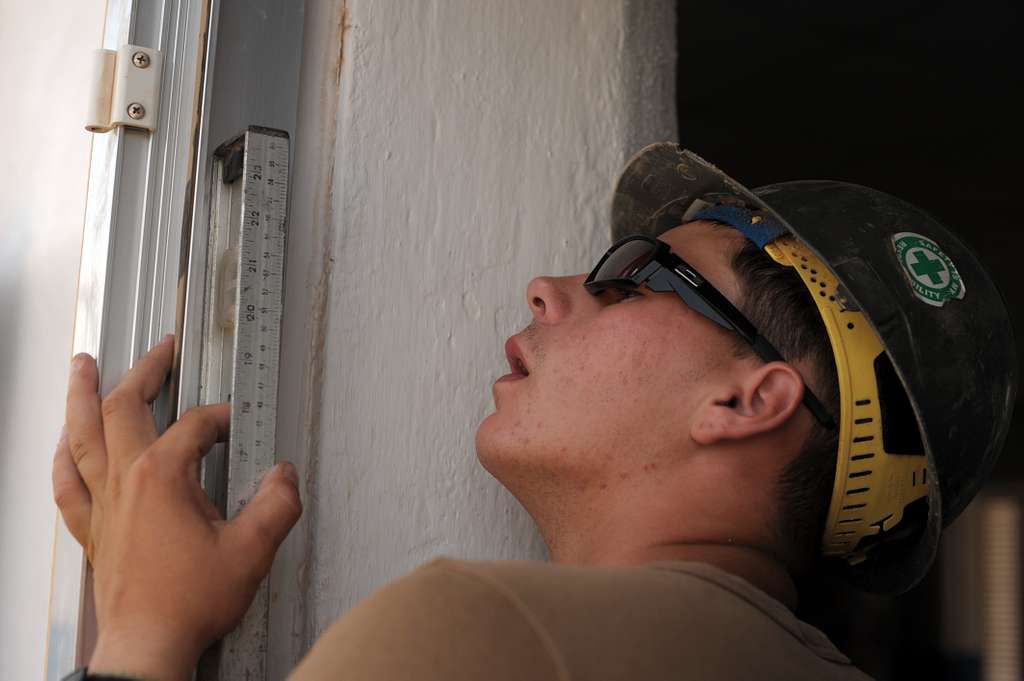 Photo By Ryan McCarthy From Picryl
Fix A Scratched Door
There would be a cost that ranges from $50 to $125 for repairs to be made for a scratched door. You also have to consider the extent of the scratch, how large it may be and how deep. This is an issue that is most common amongst wooden doors since wood is the most susceptible to scratches.
Since wooden doors are the main culprit to this issue, homeowners rarely consider the other materials ever being sustained by this sort of damage. However, you shouldn't assume that the other materials wouldn't be affected by scratches. Unfortunately, with enough force, any of the materials can be scratched. Depending on how severe the scratches are, homeowners will have to consider the repair costs that might need to be arranged.
Fix Door Hardware
A stuck door issue will typically be any damages that may involve your hardware, hinges, or frames. Professionals will probably charge you about $50 to $150 for the repairs to be done. Locks can be fixed for a service charge of about $40 to $70 per lock. This would be the estimate for a repair or a replacement service.
Keep in mind that when you have to replace or repair the door's hardware, you're going to have to calculate the overall cost of the services and the materials. Overall, you can estimate the cost to range between $80 and $480. 
Fix A Broken Door Hinge
The cost for a professional to loosen up or reset your door hinges will probably be about $21 per individual hinge. Besides the labor cost, replacement of any hinges will cost you about $10 for a set of three. Depending on the quality of your hinges, the cost could range between $9 to $214 per pair.   
Fix A Squeaky Door
Making the necessary repairs for a squeaky door can cost between $50 to $200. Fortunately, this is usually just a quick fix with some oil, so before you even consider calling a professional, use an oil can to lubricate the hinges. If that doesn't work or if it only solved the issue temporarily, the underlying issue might be more complicated and will cost you more than expected. If you're dealing with sliding doors and your tracks are making noise, then you may need new tracks as well.
Fix A Sagging Door
It is quite frustrating to have to repair a door that might be weighing on one side rather than staying leveled. Typically, there are a number of reasons as to why your door might be sagging. Any of these issues can cause you to spend $75 to $500 for your professional to solve. Other reasons that could be causing this issue is a problem with your door's frame or it's jamb. Your repair specialist will probably need to sand or possibly reinforce the doors.
Fix Water Damage In A Door
There are two sorts of water damage that homeowners might encounter. Water might either penetrate the spaces underneath your door or you might be dealing with a door affected by weakened framing or rot. It will cost about $100 all the way to $800. The conditions of your door can be severely impacted by water, depending on the amount of water and what kind of material your door is made of.
Fix A Rotted Door
As a result of water damage or extensive moisture, your door could suffer from rot. The solution to rotted door frames will come from improper sealing and protection. It'll cost about $100 to $350 and if the damage continues to spread, the interior of the doors will be affected as well. An expert will carve out and replace any rotted portion from your door frames or replace it altogether.
Fix A Crack In A Door
A crack, determined by its size and depth, will range between $100 to $300. By assessing the damage, the professional will be able to figure out how long the repairs will take and which methods are going to be available for you. Normally, you'd see the expert fill the crack with either putty or resin. They will probably sand out the top and upon request, paint the repaired portion to give your door a glossier appearance.
Fix A Dent In A Door
The range you'll have to spend to repair a dent on your door will probably be between $100 and $450. Dents usually only apply to metallic doors and it is the most common issue that will appear on your garage door. The professional you decide to hire will probably bring a special filler material to patch it, prime it, and finally, paint over it.
Kicked In Door Repair
Your door could be kicked in due to a wide range of reasons. There are certain portions of a door that if kicked in or damaged through similar means, there are options for you to repair or replace these parts. Homeowners should expect to spend about $150 to $600 to have them done both accurately and correctly.
Fix A Hole In A Door
Whether it was an event or an object that led to a hole obstructing your wall, homeowners will have to spend about $150 to $600 to have the door patched or replaced. This estimate is determined by the size of the door's cavity. A six-inch hole will probably cost about $300 and it may actually be cheaper to just have the door replaced. 
Door Repair Material Costs
Depending on the kind of material that the door is made of, there are typical repairs that can be done to renew the state of your door. This factor also depends on the type of door that needs fixing, so the estimates will be considered by the type of damages that need to be corrected. A repair specialist will probably charge you about $75 to $750. Keep in mind that this estimate is ultimately based on the size of the door and the damage that it's sustained.
MDF Doors Repairs
There are different variations of MDF that you'll notice. Depending on the type of MDF door you have, there will probably be different estimates to repair them. A hollow core door is in the name, it is hollow within and will probably range between $40 to $250 to have this material fixed. Homeowners could possibly have a solid core door which will range between $100 to $300. 
Vinyl Doors Repairs
Repairing your vinyl doors could range between $85 and $275. Typically, you'd see this material for bathrooms or smaller rooms of similar nature. Homeowners usually purchase and install vinyl doors for the assortment of colors and styles they are available in and it is primarily one of the better alternatives against moisture. Professionals will probably come to your home to repair cracks, holes, and damaged hardware.
Aluminum Doors Repairs
Homeowners will be expected to spend about $85 to $275. This is typically a door that would initially be installed from the outside of your home. The most common issues that homeowners need to fix are the dents and physical damages. If you decide to hire a specialist for the work, the solution will be to sand the aluminum and fill it. 
Composite Doors Repairs
Composed of MDF, wood, and plastic, a composite door can be repaired for an estimate that ranges from $90 to $285. The issues that homeowners face with composite doors can range from water damage to fading. Professionals will come in to paint, patch, sand, or refinish the composite since the door could be sustaining dents, scratches, or water damage.
Solid Steel Doors Repairs
Since steel is probably one of the toughest materials out of this list, you won't see it dent as often as you would with aluminum. Although, homeowners should still keep a watchful eye when it comes to the damages that solid steel could experience. You should expect the repair to cost about $100 to $300. Hardware is another reason homeowners might need repair specialists to come and assist you.
Wooden Doors Repairs
Depending on the kind of wood that your door is made of, the repairs will probably cost you about $100 to $300. Due to the differences within the species of wood, there will be different ranges and estimates associated with repairing any singular species. Since there are dozens, if not thousands of wood species to account for, you need to figure out what kind of wood you're looking at. The cautious thing to look for is rot, since water is the main culprit to the damage. 
Glass Doors Repairs
Costing about $150 to $400, homeowners should expect to spend that sum to repair a glass door. Most of the common issues that glass doors will have will be cracks or chips, either from impacts or accidents. These damages can be repaired by preservation through fills. Simply, doors with glass panes will be manufactured with a particular groove for the glass to be placed in. This makes the process of switching glass that much easier. So if it is peace of mind that you're looking for, the replacement of your glass might be the route you're looking to take.
Fiberglass Doors Repairs
Although these kinds of doors exist, they are quite expensive and will cost about $200 to $500 for the repairs to be completed. Since they have a strong quality to them and they provide sufficient insulation, homeowners tend to favor fiberglass. The most common issues that professionals will assist with repairing are dents, hardware, and frame damage. Solutions will probably include patching and replacing those portions.
Iron Doors Repairs
If an iron door is what you need to repair, the cost will probably be about $250 to $750. Although this doesn't occur very often, an iron door will eventually require repairs or replacements to be arranged. Due to the quality and the durability of iron, it is uncommon to need these implementations, however, in the case that there is a need, it's best to look at every component. The repairs may need to be made for your doorbells, rollers, handles, or hinges. 
Door Type Repair Cost
There are many different kinds of doors that will be damaged during your lifetime. Knowing the estimates involved with each type of door gives you better insight with how much you'll ultimately have to spend for the repair services. Depending on the extent of the damage and whether you're going to need to repair or replace it, the amount you're going to end up spending will probably range between $75 and $300.
| | |
| --- | --- |
| Interior | $75-$250 |
| Exterior | $100-$275 |
| Storm | $100-$300 |
| Security | $100-$300 |
| Garage | $100-$300 |
Door Repair Method Cost
Depending on the damages that you're dealing with, there are costs and estimates associated with those issues. These will probably be the approaches that the professional will take for the damages mentioned above. You should expect the cost of these jobs to range between $50 and $500. This estimate could be larger, especially in the cases where the labor depends on the extent of the damage itself.
You should also be wary of when to repair or replace the door. It wouldn't make sense for a damaged door to be repaired if the costs surmount to an even larger expense than replacing the whole door. Homeowners should know when to request for repair services or when to have the whole thing replaced. Having this in mind will help you determine which service and estimate will cost more.  
Rescreen Costs
For situations where you might need to have your door's screen fixed, the cost for such professional services will probably range between $50 and $175. This service is typically done whenever the screen has a hole in it. Screens on the door are essentially kept to prevent any pests from entering your home. These are mostly coveted during the season where bugs and insects swarm around and probably within your living space.
Door Alignment Costs
In all likelihood, this kind of service will be required if the frames are misaligned. Costing from $50 to $200, this professional repair involves readjusting the frames to their correct positions. Typically, you'd need this kind of repair for a sagging door or a squeaky one. 
Paint Costs
If you need a fresh new coat of paint for your door since the color is fading, you might be expected to spend about $75 to $350. This estimate is also ultimately determined by the amount of paint and labor required. You should keep in mind that interior painting will often be less costly than exterior painting. In many cases, external painting usually leads to wearing due to the weather affecting the discoloration overall.
Insulation Costs
Sealing a door should be done every now and then. Since insulation prevents damage from any natural occurrences, you'll want to replace any weatherstrips or old brads. A set of top and side door jamb vinyl bulb weatherstrips, when applied to your damaged doors, will probably range between $10 to $16. For the total insulation to be completed, homeowners will be expected to spend about $75 to $250 for the whole process to be done.
Refinish Costs
To have your doors refinished, you should expect the cost to be between $100 to $400. This will typically be the service you want when your doors look old. Your repair experts will come to your home to sand and paint the doors and give it the fresh, clean look that you'd ultimately want.
Restoration Costs
The range for your doors to be restored back to the state they originally were would probably be estimated between $150 and $500. Homeowners should be wary of the price since the condition of the door is what matters most. To fully restore your door, the professional will provide you with sanding, painting, and staining the condition back to what it was before. 
Repair Interior Door
On average, repairing the interior door will cost about $170 to $180. The estimate to install a new interior door frame will cost around $110 to $230. Although there may be repair specialists who will charge you about $7 to $14 per linear foot. Damages that are done to interior doors can be repaired for $50 to $140 for each damaged portion. 
| | |
| --- | --- |
| Repair Type | Estimated Range |
| Pocket Door | $40-$280 |
| Pre-Hung Door/Frame | $100-$440 |
| Door Track | $170-$300 |
| French Door Frame | $180-$240 |
Typically, homeowners will at one point encounter damages done on their sliding closet doors which may consist of tracks and rollers. To have this type of door fixed, you'll be expected to spend about $170 to $300. However, if you're a homeowner that owns a sliding barn door, you might have to increase that estimate to about $600. This is occasionally the case for higher-end units.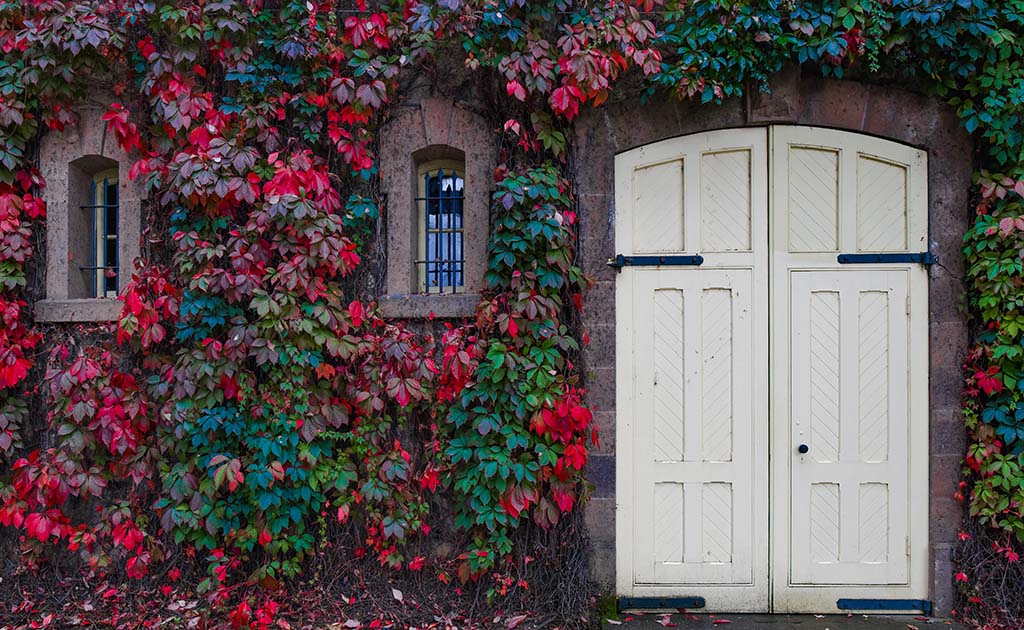 Photo By Sam Goodgame On Unsplash
Although this is rarely a type of door that the average homeowner will own, the french food drame will be repaired for about $10 per linear foot. This accounts for repairing the damaged areas of your interior door. Depending on the damages, the cost of replacing your frames might be less than having the frames repaired. A kit for the pre-hung door frames will cost about $100 to $440 to have the frames installed.
The average interior door that homeowners will have installed in their homes would be the flush-faced doors. These kinds of doors will typically be manufactured from a plain sheet potentially made of either plywood, veneer, or laminate on both sides. 
On average, repairing the exterior door will cost about $255 to $385. The estimate to install a new exterior door frame will cost around $130 to $385. There are many different choices for you to choose from when it comes to the interior door frame kits. This is typically for homeowners that don't want to have to completely replace their doors and hire a professional for a whole new installation. Homeowners that decide to opt for a pre-hung kit will be provided with hinge hardware and a cut-out for the door handle and lock.
| | |
| --- | --- |
| Pre-Hung Kit | Estimated Cost Range |
| Hollow-Core | $100-$225 |
| Solid Core | $160-$440 |
If you want a specific part to be replaced, the cost range can go all the way up to $4000. Depending on the part you choose to have fixed, the range can go from $350 to $1050.
| | |
| --- | --- |
| Lock | $80-$480 |
| Interior | $350-$650 |
| Door Frame | $350-$850 |
| Front/Exterior | $350-$1050 |
Repairing Exterior Door
Making necessary repairs or replacements for exterior door framing will probably cost you about $110 to $380. Contractors might alternatively charge you about $7 to $20 per linear foot. The price of outdoor frames could even go upwards to $1500 or more, depending on the material that the doors are made out of. 
| | |
| --- | --- |
| Frame Replacement | Estimated Cost |
| Wood | $110-$325 |
| Aluminum | $150-$240 |
| Composite | $190 |
| Steel | $180-$850 |
The solution to having these exterior doors replaced will either be new frames or a new frame kit. There is also the factor of what kind of doors you need to replace or repair. Since your professional could be working on patio doors, entryways, garage doors, or even decorative doors. The cost of any of these replacements could increase the estimates that are listed above.
The cost of removal of either the interior or exterior door frame will take about an hour. The average cost for this service will probably be about $70. Disposal cost can only be determined by the location. Homeowners should expect around $25 for the disposal fee. Modifications, on the other hand, will probably cost you about $7 to $16 per square foot, but depending on the complexity of your arrangement, this estimate may cost even more than that range.
To Repair Or To Replace Door Frame
Homeowners will wonder whether they need a replacement service or a repair service, according to the damage that they're currently facing. Although your instincts are telling you to choose one over the other, what truly finalizes your curiosity is affordability. Repairing your doors can be quite inexpensive, however, there are those very few instances where you might want to re-evaluate that decision.
Making Repairs
To determine whether you need repairs, try to examine your door. If your door is only sustaining tiny dents then your professional can just sand the frame or door. Check whether the cracks are too deep and the job will be to fill the cracks with a sealant. Rot is easy to detect, if the rotted areas can be carved and replaced, you can use the repair service. The damage being done to 
Making Replacements
Homeowners that are dealing with a hole in their door should just have the door completely replaced. If you can see a crack through the door and if the size is already too wide, or if the rotten area has expanded to an irreversible degree, you should arrange for replacement services. Note that water damage will, in all likelihood, cause your door to warp. In that instance, you should have it replaced.
Garage Door Repairs
The cost that comes with fixing your garage door could range between $125 to $300. Since there are so many different components you might need to repair, the range could even possibly go up to $800. A garage will have springs, an opener, cables, a set of tracks, a sensor, and special locks. Having to repair any of these parts can fall under the cost range mentioned above.
Homeowners should be wary of the dangers imposed to a damaged garage door. They should understand why a garage door repair should be prioritized. First and foremost, the value of your home decreases when your garage door becomes faulty. Keep in mind that each part of your garage will retain a level of risk to them if you leave them unrepaired. If repairs are almost impossible, the average cost for rebuilding your garage will range between $16036 to $37418.
The issue that occurs most often and the issue that should be most concerned about are the possible damages that your vehicle may face with a dysfunctional garage. If your garage is left in a faulty condition, you'll likely encounter either harm to yourself or to your vehicle. If left unattended, besides the costs for the repairs that needed to initially be made, you're going to be left with hospital or vehicular repair bills that you could've avoided.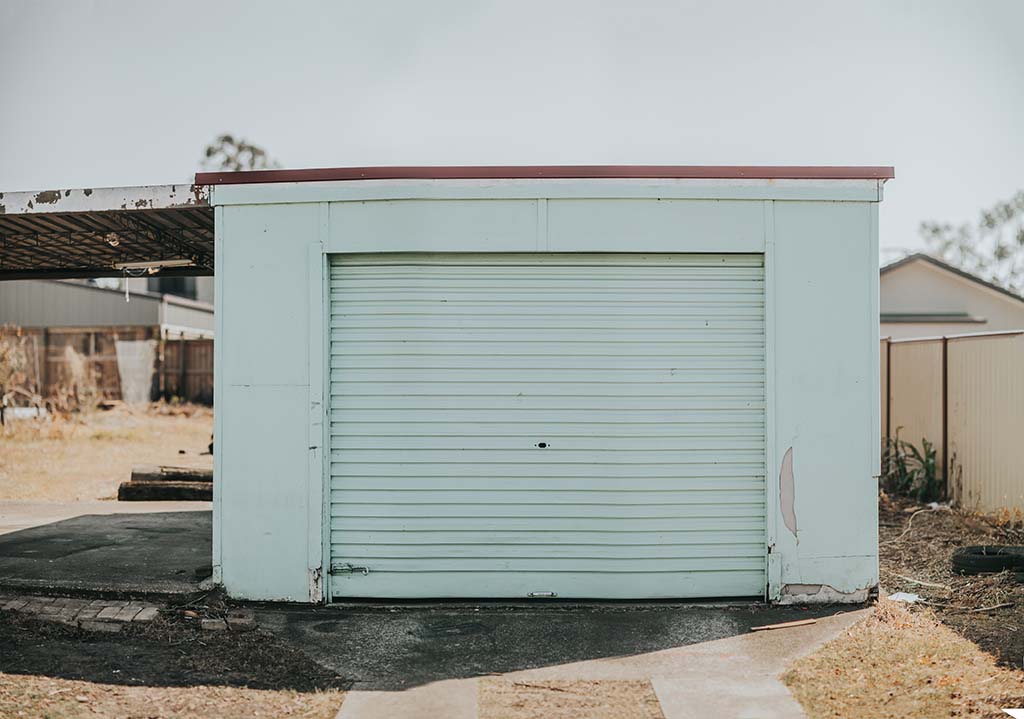 Photo By Kyle Head On Unsplash
Another incident that could happen to you and your property is the damage that could go on your cement or driveway. There are many expenses associated with such circumstances. The average estimate of having to reinstall concrete slab for your garage flooring could range between $1500 to $3000. What homeowners should be most concerned about is their security. If your garage doesn't close properly, you can never be too sure whether your living space is completely protected or not.
There are many kinds of garages. Homeowners should also think about whether they would want to completely renovate their garage space instead. This is one way to keep your garage updated so as to lessen the risks or chances that something like this might happen.
Finding Multiple Estimates Through House Tipster
No matter what you may have broken within your home or the outdoor spaces of your home, finding the right professionals for the job will come without any struggles or hardships. If you're worried about the estimates, or finding someone experienced, you can use House Tipster to get rid of your concerns. Our web tool gives you two main functions. 
We have the reviews function, which allows the user to find professionals that have the best preferability, and we also have the chat system, which allows our users to directly message the interested businesses. If your door is damaged, you can use these two functions to locate a specialist near you. By using these two main functions, you can easily figure out which professional you'll want to choose. 
Using the chat system, you can ask for estimates, and essentially, you'll find the expert that is the most affordable. Using the reviews function, you'll be able to browse through the expert who will fix your door with the best professionalism. Ultimately, you want to assign the right experts for your projects or you may have to spend additional expenses on the projects that were incorrectly done. Repair, improve, or renovate your home by organizing any of your home projects and find the right people for the jobs. 
Featured Photo By alan.stoddard From Flickr