If your SUV or your truck doesn't fit in your garage, you may be considering the idea of  renovating an old one or building a whole new space for your vehicles. That new garage cost can be evaluated by the amount of cars you own or if you need someplace to fit your other belongings. Some garages are specifically designed for other vehicles like motorcycles or boats.
The cost to add a new garage can range anywhere between $7200-$84000. By the per-square-footage method, you can also estimate that the cost can be $30-$70 per square foot. Like all projects, there are additional costs that you should consider before you make a decision. An average for the kinds of upgrades that are crossing your mind can cost up to $120 to $350 per square foot.
Considering the size, the kind of units you need for your garage also matter. A two-car unit, for example, can average from $15000-$40000, while a one-car unit can average around $10500-$27000.
| | |
| --- | --- |
| Cost Per Square Foot | $30-$70 |
| Average | $16036-$37418 |
| Low-End | $7200 |
| High-End | $84000 |
Besides the necessity of storing your vehicles, you may also want another place to store tools. If your shed isn't big enough to keep all your tools, a garage might just be the thing you're looking to build. Some garages can even hold up to 10 cars, if you as the homeowner own that many vehicles. If you're unsure about how many vehicles your garage should hold, House Tipster has the information you'll need before you decide to start your project.
| | | |
| --- | --- | --- |
| Number of Cars | Square Feet | Average Cost |
| 1 | 240-384 | $10500-$27000 |
| 1.5 | 320-528 | $12800-$32000 |
| 2 | 440-624 | $14500-$40300 |
| 2.5 | 520-744 | $20800-$52000 |
| 3 | 620-816 | $28200-$57100 |
| 3.5 | 680-960 | $27200-$67200 |
| 4 | 800-1056 | $32000-$73900 |
| 6 | 1320-1728  | $48000-$117600 |
| 10 | 2200-2880 | $80000-$201600 |
According to the census data recorded by the National Association of Home Builders, 93 percent of new single-family homes either already had a garage or carport attached to them. There is a difference between a detached garage and an attached garage. The lower, inexpensive option that homeowners think about are usually attached garages. Always remember to check your local building codes, regulations, standards and laws when constructing any kind of garage. There are several uses for any type of garage you're looking to build. There are homeowners who use a garage mainly for hobbies, or a space for hobbies and sports. 
One Car Garage
A single car unit could only cost around $7200 at the lowest-end, but at the highest-end, it can cost around $16800. A standard one car garage could quite possibly only cost around 240 square feet or you can size it as a 12x20 foot, and the cost all depends on the quality of the materials you're planning to use to start building your garage.
Depending on your plans of building an attached or detached garage, the average cost can vary. A single-car garage that is attached to your home can average to $10800, a detached garage can average to $13200. As the homeowner, you also have to think about how wide your garage door is going to be. An average garage door can vary from 7 to 9 feet wide and 7 feet in height. There are some garages in Florida that still have 10-foot doors built in, but this is regularly for older homes. Always consider these factors when building your garage.
Two Car Garage
The most minimal size for a two-car unit would be around 20 x 20 feet. At the lowest cost, that size would average around $12000. At the highest cost, however, a 400 square foot garage can average up to $28000.
An attached double-car garage can average up to $19300 or if you're looking for a detached unit, it can average your cost to $24200. The sizes of a door on a double garage unit can measure to 16 by 7 feet. The average size of a two-car garage can go from 18' x 20' to 24' x 30', so by understanding the size you want, you'll have a clearer picture of how much it'll cost you.
As stated above, if you own a boat or any other vehicle that pertains to a certain size, a two car garage is something to carefully consider. These garages are specifically designed to store extra space and are mainly focused on larger vehicles.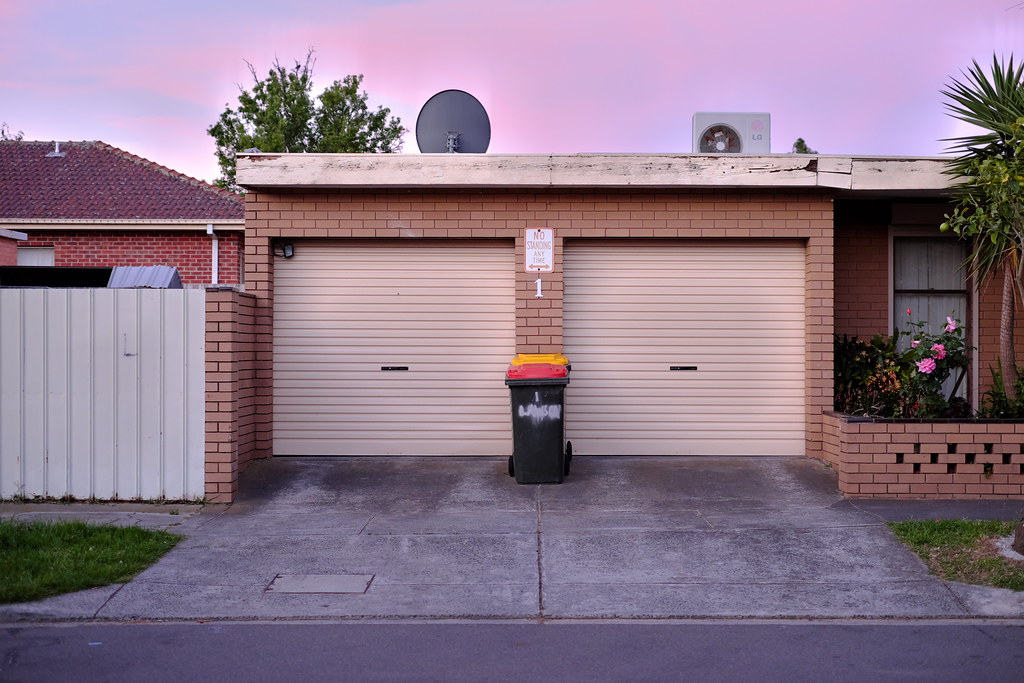 Image By martyr_67 From Flickr
Prefabricated Garage
Retailers offer garage kits that are prefabricated but don't expect that this will affect the prices. All that time you're saving and the money you'd spend on buying the materials will most likely equate to the amount of funds you'll be spending on your own DIY project. 
Most of these sorts of kits are very convenient since they come in a variety of shapes and sizes that match your home. There is a factor of major convenience when purchasing a prefab garage, instead of building one from scratch in eight weeks' time, you can just get it delivered.
The biggest disadvantage to just buying a prefabricated garage is that there is no customizability. Although you can throw a couple hundred dollars to customize the prefab, you won't know how to customize it yourself at a later date. You also may have to hire another person to work on and place the prefab. 
Other Considerations to Think About
Beginning any project that requires major plans on construction might require permits. You also have to think about whether you'll want to build a corner with a running sink or maybe build in a bathroom. Are you going to be using your garage for mechanical uses? Are you thinking about making this a man-cave? Then you'll also have to install electrical wiring or pipes and drains. This will definitely add up your costs.
If you're just thinking about extending your garage, expect the average of extensions to cost around $40 to $70 per square foot. An expansion cost can raise your budget-spending from $21000 to $73000. Adding a room atop the garage also adjusts your budget, you'll have to dig through your pockets for that as well. The average for building a new room inside your garage is about $120 to $350.
But if you're considering a renovation job instead of buying a kit or installing a whole new garage, you'll have to consider the cost of excavating and removing your old parts and debris. When you decide on which location you decide to start your construction, you have to ask yourself whether there are other obstructions to remove. Is your space level to allow access into and out of your driveway? All of these cost factors will increase your budget. 
| | |
| --- | --- |
| Type of Garage | Cost/Range |
| Brick | $100 per foot |
| Stick Built | $40 to $70 per sq ft |
| Metal | $6000 to $22000 |
| Veneered | $10 to $20 per sq ft |
| Cinder | $25000 to $50000 or more |
Permits
An existing garage is obviously more of a renovation job than it is a building job. Therefore, a permit isn't required for the kinds of tasks you'll be executing. But it's a whole other story if you're ripping out the one you're looking into renewing. Any involvement in construction or demolition, you'll need a permit. That being said, if you're buying materials and building the garage that you desire, you won't just need a permit but you'll also need to have it inspected. You can bet that these costs will have to adjust to your budget.
A rule-of-thumb to keep in mind is that a permit is required when any kind of work involves: structural changes, plumbing, electrical, adding any new structures, heating, ventilation, air conditioning, or replacement of windows or doors. Exemptions to this rule involve: painting, adding in a ceiling fan, repairings or replacements. Check your local government and find out whether you'll need a permit before starting the project.
Permits can cost, on average, from $200 to $1500 but this cost can be configured by the factor of which area and state you live in. Also, generally there may be limitations on how big your garage may be. Your municipality may restrict you from building a large garage.
Garage Doors
There are more styles with garage doors than you may think. There are materials like wood or metal to think about when it comes to purchasing the type of doors you'll want. There is an assortment of the doors you might want for your garage. The most common types of garage doors are: sectional doors, roll-up doors, slide to the side doors.
Sectional Doors
The most common and popular kind of garage door is the sectional garage door. This type of garage door is the most popular in the country. By connecting the hinges to the panel sections, the sectional garage door rolls from the attachment of the vertical tracks on each end of the opening. 
There is a pair of high-tension springs attached above the opening. By operating the door, the cables that keep hold of the springs open and close your garage. Consider the materials for your doors and you can then consider the custom qualities you can include. Whether you want different textures, windows, hardware or colors is entirely up to you. There are insulated and uninsulated models available for your options.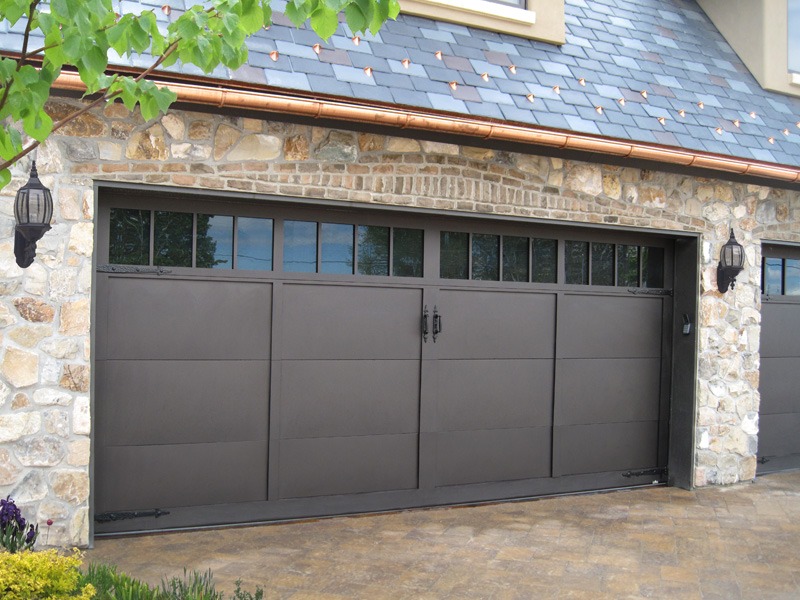 Image By Cary Peterson From Flickr
Roll-Up Garage Doors
These kinds of doors are mostly seen in movies that involve high-performance cars. You've seen them being used for mechanic shops or garages that were solely designed for fixing cars. The name is all you need to read and you'll be able to picture the doors I'm describing.
Roll-up garage doors are typically and purposely built for residential areas as well. For most of these residential locations there is a limited space for ceilings. These garage doors are built for commercial usage. To withstand heavy usage, they're typically built in high-performance units.  
Slide to the Side Garage Doors
These doors are not conventional nor are they traditional. If you want a unique style for your garage doors, the slide to the slide garage doors may be what you're seeking. By installing low trolleys on the walls, the doors literally slide to the side. 
Preparation and Foundation
Are you looking to build your garage into a man-cave, a wood shop, or a car shop? All of these things can affect the cost depending on the professionals you may need to hire. Electrical costs can cost from $65 to $85 per hour. Expect the installation time to take up at least 4 to 16 hours, by that estimate, your total cost for electrical work done will average into $260 to $1360.
Driveways and Flooring
The average cost for pouring in concrete and forming a foundation for the slabs can range from $1500 to $8500. The average by a per-square-footage method can cost up to $5 to $12 per square foot.
Framing & Roofing
Framing a garage can all depend on the size, a single-car unit can cost from $2 to $4 per square foot, while a double-car unit can cost from $4 to $8 per square foot. The total cost for framing a standard one-car unit that would be 240 square feet can range from around $480 to $960. The total cost for framing a standard two-car unit that is 400 square feet can range from around $1600 to $3200.
Roofing a garage all depends on the size and the insulation. Depending on these factors, an estimate can average between $1600 to $16000. You'll also have to consider the types of materials you'll need to roof your garage. There are three different types of roofing materials you can consider. The Asphalt Shingles which are the most common. Roof tiles, made from clay, are popular in Europe. And then there are metal roofs, which are the most expensive options.  
Labor Cost
The labor cost can really change, depending on the amount of professionals you'll have to hire for the various jobs you'll need to consider. You've already made up your mind on what kind of materials you'll need. You've already thought of whether you want a single unit or double unit garage. Whether your garage is attached or detached and what kinds of purposes your garage will have, so now you're thinking about how much all of that will cost with professional hands. 
On average, the labor costs of building a garage will all depend on those factors but the range will be around 50 to 70 percent of your finished project. With all the calculations done, you'll be looking to spend around $20 to $49 per square foot. Although a DIY project can save you about 60 percent of your total budget, you'll have to do all the work by yourself. This doesn't just include the laborious tasks, you'll have to do as much research as possible to maintain all the codes and inspections yourself.  
Material Cost
On materials, there is an average of $5000 to $25000 you'll have to spend. You should think about what kind of materials you'll use to build your garage. Maybe hardwood is what you prefer for the frames, maybe you want a metal garage, in any decision on materials you choose to make the space for your car, costs can vary differently.
| | |
| --- | --- |
| Rates | Costs |
| General Contractor | 10% to 20% |
| Concrete | $3600-$7200 |
| Architect | 8% to 15% |
Other Reasons Why you Might Need a Professional
With all the costs you need to consider whether you're renovating your garage, extending it, or building one, you should think about the kinds of contractors or professionals near you. Here are some of the costs you need to wrap your head around.
| | |
| --- | --- |
| Insulation | $1 per sq ft |
| Interior Walls | $1000 to $2900 |
| Windows | $1000 per window |
| Heating & Cooling | $500 to $2100 |
| Electrical Work | $75 to $500 |
| Internet Access | $300 to $500 |
| Plumbing | $300 to $1800 |
| Interior Design | $2000 to $13000 |
| Flooring | $1500 to $4500 |
Advantages and Disadvantages to Attached Garage
An attached garage is literally connected to your home. You can go in and out of your garage by the opening on an intersecting door. Thereby, giving you quick access to the storage space you enjoy going through. This is the less expensive option and it also save you save from your backyard or frontyard. The big minus sign hanging over an attached garage is that you may require another permit just to creating another addition to your property. The winter air and summer heat can flood attached garages, although there are homeowners who will spend that extra coin to insulate the place or just install an air conditioner or heater.
Advantages and Disadvantages to Detached Garage
The detached garage is somewhat like a shed. It's separate from you home and there's no quick access. This may seem like a disadvantage but it's sort of a space for more privacy. A big benefit to a detached garage is that it can be used as an office or a gym. Detached garages have a sleeker design and can mismatch styles with your home.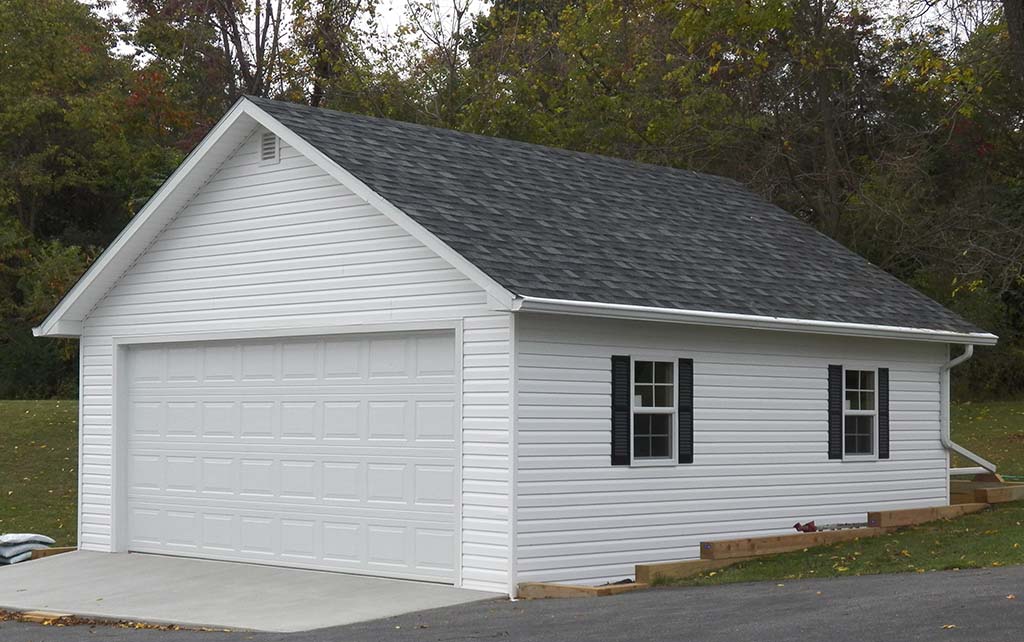 Image Contributed By PxFuel
Hiring a Professional or Professionals Through House Tipster
Now that you have all the information on costs to consider for installing, renewing, and extending a garage, you can search for the professionals you'll need. Within your search for more knowledge, you'll wonder how you can find the perfect professional for the job. The costs of installing them on the side of your house can be quite high, but through the comfort of your own home, consider hiring a professional through our site. 
As stated above, all those hours you'd have to spend on applying for a permit and all the labor that stacks along with a DIY, think about the garage contractors located near you! Check out House Tipster, and find the perfect pro for your home repair needs. How much does building a garage cost? Find out from professionals in your area.
Featured Image By MaxPixel