It can be quite a stressful project but a part of a bathroom remodel will require you to install a shower door. There are quite a few assortments to take a look at when it comes to choosing and installing a shower door. But the cost really all comes down to the size of the door, the type of glass, and the type of door. Although these are the main factors to impact the price, if you have a preference in the shape, the stock, and the custom models, the range may increase.
The average range that you should expect to spend for installing a shower door will probably range between $400 to $2500. The low-end cost to this installation would probably be about $250, while the high-end cost would probably be around $7000. 
Depending on what your budget is, you can figure out whether your shower door installation will fit into your costs. If you're remodeling your bathroom, this may just be the perfect opportunity to find out what estimates you might be encountering.
| | |
| --- | --- |
| Average Range | $400-$2500 |
| Low-End | $250 |
| High-End | $7000 |
Homeowners might not have the exact preferences in mind when it comes to installing or replacing their shower doors. Essentially, a homeowner will install a new shower door to ensure that the value and appeal of their bathrooms can be amplified. There are three kinds of shower doors to be on the lookout: framed, frameless, and custom. Depending on which ones you want, the price range will vary.
Shower Door Installation Cost 
A proper installation by an experienced installer will cost you about $400 all the way up to $3300. This is very dependent on what kind of installation you're planning to do. Besides the type of door you're installing, you have to determine whether you're planning to install a sliding shower door or a shower door that is installed on the tub. The labor costs, depending on these two factors, will probably range from $100 to $600.
Typically, the duration of this project will take up to about two to four hours to finish if your shower door is an average stock door. The professional you decide to hire will have to think about where the hinges, the tracks, and the frames will go. Once secured on your shower's walls or floors, that's when the doors and panels can be leveled, installed, then sealed appropriately. 
If the options you've made result in heavier doors, the installation will probably cost more, depending on the weight. You might be expected to spend a little more if your bathroom walls are made of porcelain since it can take a while longer for the specialist to drill through the outlined areas. Your professional may even take four to eight hours to finish the job if the project is complex or has additional expectations to worry about. This could result in spending about $1000, if this might be the case.
An average estimate into hiring a glazier will probably be about $35 to $75 per hour. You should expect to pay about $100 to $150 as a flat fee for the first hour. The range can be determined by the special hardware or equipment they may need to get the project completed. So homeowners should note that with every option they choose, the glazier should be notified. An estimate can only be insightful if they know what is going into the project and whether the job will be straightforward or complicated.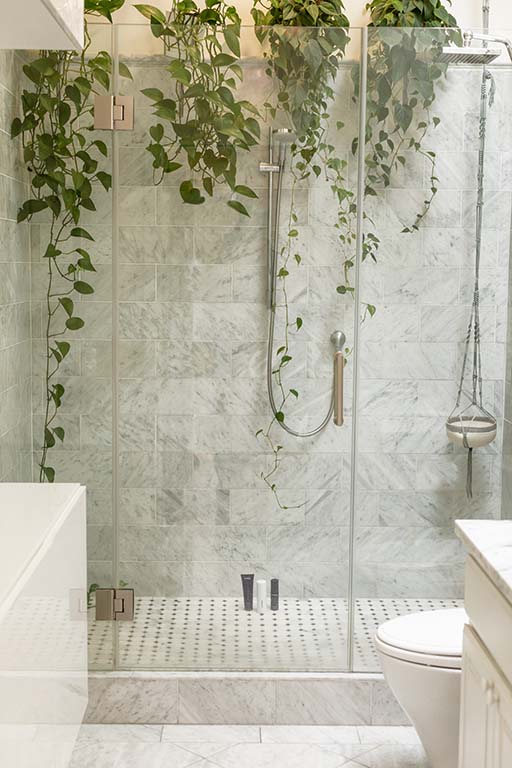 Photo By Curology From Unsplash
Shower Door Cost By Door Type
A big factor that goes into the material cost of the glass shower door is knowing what kind of door the homeowner is installing. There is quite the wide assortment of shower doors that you have to think about and the distinctions to consider are quite various. Depending on the door you decide on, the cost will probably range $300 to $6000.
Besides the way these doors are installed, it is the size, the glass type, the material, and the labor costs that affect the range mentioned above. Most shower glass professionals will advise two options for the thickness of the glass. Homeowners will have the choice to select either ⅜ or ½ inches in thickness.
Depending on the layout of your bathroom and how you want your shower arranged, whether it be in the corner or by the wall, you should carefully listen to the glazier about any problems going forward. Since you're trying to figure out which door type will look best with the remaining spaces of your bathroom, you should try to think about or envisage the end result. By considering all the options, you'll have a better idea of what you want and what your glassworking expert will be expecting.
Framed Doors Cost
A framed shower door will range from $250 to $750. Homeowners will have to think about the size, the shape, and the glass type of the framed variation. The average labor cost to have this type of shower door installed will range between $400 to $1100. Due to the ease of the installation and due to it being so inexpensive, homeowners typically consider the framed shower door as a viable option for their bathrooms.
Throughout the years that have passed, popularity has increased for the varietal aspects in shower doors. Although framed doors are still a common option, there are many more options and choices for homeowners to choose from. The convenience with framed glass doors is how much thinner they can be. There are even options for the glass to be ¼ inch for its thickness. Homeowners won't be concerned with trading stability for costs either.
Semi-Framed Doors Cost
A semi-framed door will range between $350 and $1100 for the doors alone, while the installation costs will range from $500 to $1550. Semi-frameless doors are shower doors that have the frame intersecting the tiles or the tub. They are doors that aren't installed around the panel. Although, there are some semi-framed shower doors that will have a frame along the hinged or bottom edge of the door.
Semi-framed shower doors will not require special hinges or hardware and will also have thicker glass. This makes them highly affordable and a very strong choice for homeowners who desire practicality with their shower. The semi-frameless shower door is an architecturally modern design and will probably cut some costs in contrast to a completely frameless shower enclosure.
Frameless Shower Doors Cost
Homeowners find the frameless shower doors a visually impactful option for their bathrooms. Typically, the frameless shower doors will cost about $450 to $2300. Frameless shower doors are for showers that have incredibly beautiful tiles to centralize. Installing them with the help of a glassworking professional will range between $600 and $1900 in labor costs. 
You'll find that the shower stall will seem less conspicuous with the frameless option. Ultimately, the choice of this installation is best for rooms with the intent to create a more spacious concept. The glass for the frameless shower doors will typically be made with ⅜ inches or ½ inches in thickness. The glazier will attach the doors to the wall with clips or hinges, and may require special hardware. One such piece of hardware to note is the U-channel, which is a thin, low-profile metal strip which will most likely cost about $75 to $200 or less.
Half-Height Shower Doors Cost
A half-height shower door is meant for homeowners with limited mobility. Ranging in an estimated cost of about $1000 to $1500, this shower door allows people with assisted living to bathe in the proper conditions and the right accessibility. It maintains independence for those that want to assert their own freedom in the bathroom, without increasing any risk of harm or danger.
The half-height shower door also provides splash protection for caretakers. And with this much customization, you'll have all the choices listed below. The half-height shower door is made so that homeowners with mobility issues can maintain ease of mind when they need to wash themselves. 
The half-height shower door's design is very well-thought out. There are essentials that you can even include into the installation, like grab rails, water pumps, shower seats, and underfloor heating. Every portion is outlined to give disabled homeowners the insouciance that they deserve when they enter their shower. You can also contemplate all the varieties in half-height shower doors there are. Instead of choosing just one particular look, you have a wide selection.  
Shower Door Cost By Style
Besides the type of shower door you're looking to install, you should also consider what style they're going to be. To assess the correct estimate on which shower door you prefer and wish to install, you need both the type and the style of the glass door to fully determine the cost range. Since each shower door has a unique aspect attributed to them, you'll want to make your considerations carefully.
| | | | |
| --- | --- | --- | --- |
| Style | Framed  | Semi-Framed | Frameless |
| Hinged/Pivot | $300-$1220 | $300-$850 | $200-$750 |
| Bi-Fold | $350-$670 | $350-$800 | $580-$750 |
| Sliding Doors | $450-$1450 | $350-$1100 | $250-$780 |
| Neo-Angle Shower Doors | $550-$1250 | $500-$1400 | $500-$1000 |
| Curved Shower Doors | $700-$1300 | $580-$1280 | $380-$900 |
Most of the types of shower doors listed on here are influenced by the shape of the shower. By inspecting the surrounding stall, you can determine which of these types will look best for your project. Before anything else, you should think about how the shower doors will look if you have a tub instead of a shower stall. You should also think about whether you want the shower to be framed, semi-framed, or just frameless. Each of the door types will take these factors into account.
Hinged/Pivot Shower Doors Cost
A hinged or pivot shower door will likely only cost about $200 to $1000. For the conventional standard home, the average for a hinged shower door is about $200 to $850, depending on whether they're framed, semi-framed, or frameless. The higher-end models will cost $1000. Having them installed into your stall will cost an estimate ranging from $1000 to $1600.
The pivot shower door is a swinging door. Typically, you'd see this on a frameless stall, with small hinges or brackets from the door or panels attached to the wall. If you're going for a frameless shower door, you'll have to consider finding thicker or heavier glass. The glassworking expert will also install heavier hardware.
Bi-Fold Shower Doors Cost
Homeowners that are opting to buy bi-fold shower doors will encounter a range from $350 to $2000. The doors will typically range up to $800, however, there are cases where homeowners that do not care about the affordability will spend $2000 for a better model. The services of a glazier for this kind of job will probably cost around $1100 to $2600.
Aside from the costs, homeowners should note that the bi-fold doors are meant for wide shower openings. Since each door is made up of two panels, these panels will fold up on themselves. They're most commonly either framed or semi-framed due to the need of a track at the top of the stall to slide as they fold. Normally, they'll have rollers installed through the bottom.
Sliding Doors Cost
A bypass or sliding shower door will cost about $250 to $2000. But the cost of this range depends entirely on the thickness of the glass and whether you're installing the sliding shower door with a frame. The installation itself will probably cost between $700 to $2600. This will especially be the case with showers that are made with tubs. This is also the best option for showers that are wider.
Any opening of the shower doors that are wider than 60 inches will probably need an additional side panel. Many homeowners will choose the sliding shower doors since they slide from one side to the other and won't take up as much space. You can have the bypass shower doors to be situated with two or three panels on the track.
The advantage with installing sliding shower doors is how little space they take up when opening or closing. You essentially reduce any risk of damaging the doors since you're essentially sliding them to one side. By maximizing the spaces in your stall or tub, is going to really enhance the spaciousness in your bathroom. 
Neo-Angle/Curved Shower Doors Cost
The average neo-angle shower door will cost about $500 to $1400. However, if you decide to purchase the higher-end shower doors, homeowners should expect to spend about $3500. The labor cost for the installation will probably range between $1800 to $4100. The neo-angle shower doors are a matter of interest and intrigue with a majority of homeowners. Typically installed onto a corner along a base made up of three different angles, each one is distanced amongst each other with a 45 degree angle.
You can enter through the doors by going straight, while the panels will be angled toward the walls. A neo-angle shower door or what some homeowners refer to as the curved shower door, will consist of two panels and the door itself, remaining at the center of the stall. Homeowners have much versatility with this shower door style since it can be framed, semi-framed, or frameless altogether. It is a great addition to a modern-fashioned bathroom. It's curving shape is what appeals to current homeowners.
Shower Door Cost By Size
Once the homeowner has determined the type and style of the door they want installed, they should think about its size. By measuring the shower stall or tub, the glassworking professional will be able to give you better insight into where the doors should be installed. Typically, you'll see that the style and type of shower door will ultimately determine the stock sizes.
There is an array of sizes that homeowners can choose from, and what's most exciting about the sizes is how the customization affects the openings. You have a wide range of different possibilities to fit the inline panels. Since the panels need to accurately align with the spaces in your shower, you'll want to figure out the different ways to calculate the size of your soon-to-be frameless shower.
Homeowners should first measure up the two key dimensions that will determine the kind of shower stall they envisioned prior to planning.
Vertical Opening Height: The height is measured by the sides of the enclosure

Horizontal Opening Width: The width is measured from the base of the enclosure
Typically, you'll find these sizes to fit your shower stall opening. This is why homeowners should decide the type and the style of the shower doors before they decide the size. If your shower opening is 72 inches, then you'll have to look for panels and doors that are 36 inches each. Planning these factors out will give you a better idea of how the shower doors should be installed.
| | | |
| --- | --- | --- |
| 72"x30" | $300-$2600 | $600-$3200 |
| 72"x48" | $350-$2800 | $650-$3400 |
| 72"x60" | $375-$3100 | $675-$3800 |
| 76"x48" | $400-$3000 | $700-$4000 |
| 76"x60" | $450-$3300 | $750-$4300 |
| 80"x48" | $600-$3400 | $900-$4400 |
| 80"x54" | $800-$3800 | $1100-$4800 |
| 80"x60" | $1000-$4000 | $1300-$5000 |
Shower Door Cost By Glass Type
As briefly mentioned above, you'll want to figure out the kind of glass that your shower doors will ultimately be made of. There are three glass types that homeowners will choose from. You can select either the tempered, laminated, or smart glass. Depending on which option you choose, there are price ranges associated with each of the glass types.
| | |
| --- | --- |
| Glass Type | Cost Per Square Foot |
| Tempered | $12-$50 |
| Laminated | $12-$50 |
Depending on the thickness of the glass, the cost of the shower glass could vary. Since each glass type has something different to offer, it is imperative to distinguish which one you prefer most. Both shower glass types will provide enough strength for you to feel a measure of security in your investment. Tempered and laminated glass will cost the same range, so you won't have to worry about whether you can afford it or not.
Tempered Glass
Probably the most common type of material for shower door installations, the tempered glass is the popular choice amongst homeowners. A glass that is heated to a very high temperature, then cooled rapidly, tempered glass is meant to change its nature through this process. Manufacturing the glass this way makes it highly durable and stronger than annealed glass. Tempered glass is used amongst homeowners distinctly for its practicality and it's shatter resistance. 
The cost of tempered glass is going to cost about $12 to $50 per square foot. Although, the edges of tempered glass will be vulnerable to damages. The special characteristic behind this material, however, is that even if the shower door breaks, the shattered pieces won't be sharp like annealed glass shards. Depending on the kind of finish you're looking for, the tempered glass is likely to enhance the security of your shower stall.
Laminated Glass
Not found too often, laminated glass is an uncommon choice amongst homeowners. However, upon request, some glaziers or retailers might be able to search and order it. Typically, laminated shower doors are made by layering glass with two panes with plastic sandwiched in between. Since it's layered with the plastic, the laminated glass is stable and strong. 
Similar to the cost of tempered glass, laminated glass will probably cost the same range per square foot. The overall average that homeowners should expect with both materials will probably be about $300 to $5000, while the installation will probably amount to $600 to $6000. Fortunately, this material won't shatter even if it cracks since the plastic will ultimately keep the whole thing together. Another benefit to this material is that homeowners that prefer a silent bathroom while washing can find that silence with laminated glass. This would especially be the case if you're remodeling with the intention of proofing your space from noise pollution. 
Shower Door Cost By Finish
Homeowners will pay additional costs for different finishes. Depending on the kind of finish you decide to apply to the glass, you'll see the associated range in a broader sense. You should also consider the fact that there are small distinctions between glass that is ¼ and ½ inch in thickness. Due to the iron in the glass, there is usually a greener tint that is always inherently in shower doors.
| | |
| --- | --- |
| Finish | Cost Per Sq. Ft. |
| Frosted | $2-$11 |
| Rain | $2-$12 |
| Tinted | $4-$12 |
| Clear | $5-$6 |
| Low-Iron | $6-$15 |
| Hammered | $10-$35 |
The finish of the glass really only affects the appearance of your shower doors. You should also note that eventually your shower door will have a cloudy, fog-like color. This is because the doors will accumulate soap film and scum. It is very important to keep your glass clean because this can lead to bacteria growth. 
Clear Glass
The standard finish that most, if not, all shower doors will maintain, this is a type of glass manufactured in the float line and doesn't retain any tinted colors. True to its name, the clear glass is transparent and clear. It is a versatile material that offers a multitude of utility. Homeowners will normally opt for clear glass to present clarity and illuminate colors through the lighting.
It is quite an affordable option, and although it is not shown to be as inexpensive as the other options, it is consistently less costly without the effects from the size or thickness. If you want it changed, you can simply choose a different finish, however, you should look closely at the cost ranges associated with each option.  
Frosted Glass
If you want less transparency and prefer privacy, then you're probably searching for frosted glass. Made up of an internal texture or a frost inner layer, the frosted glass is typically a material with the texture or layer as an indefinite insertion, intended to look and remain that way permanently. Homeowners would rather have this material installed for either privacy or for ornamental reasons.  
Rain Glass
The intent of rain glass and its purpose is similar to frosted shower glass. Meant mainly for privacy and decorative reasons, rain glass essentially blurs out the subjects in and out of the shower doors. Unlike frosted glass, however, rain glass appears exactly as it is described, as if rain is giving its pattern and appearance. 
Its texture and look is what discerns it from the other glass. Rain glass also provides a zen environment. It enhances your bathroom's tranquility. Depending on your tastes, rain glass might just be what you're looking for, since it engages your bathroom with so many different uses.
Tinted
Unlike the other finishes, the tinted finish is meant to change the pigmentation and color of your shower door. Applying a tint to the glass is what separates your shower door from the clear standard from the one-of-a-kind glass it could be. A majority of homeowners will choose either brown, gray, or blue. By tinting the glass with a darker shade, you can create a lot of privacy.
Since homeowners have such a great inventory of colors to choose from, you can match the colors for a theme that you might have had in mind. A beach theme can pair well with blue or green shades. If you want a traditional style, you can go for the darker tints.  
Low-Iron
A finish meant for creating an ultra-clear glass. Essentially, iron in glass gives off a green hue, and by lowering the iron inside the material, the greener tint is removed. In fact, the ultra-clear is typically already a low-iron glass. There are other production methods into getting ultra-clear glass, so you can find others, depending on which option you're asking for. 
Keep in mind that low-iron has the benefit of increasing the flow of light. Homeowners that are somewhat hesitant in purchasing and installing a glass that doesn't match the exact shade for their bathroom will opt into using low-iron as their choice.
Hammered Glass
This is a translucent glass that is made by embossing rolled glass on one side. Hammered glass is meant to resemble beaten metal. Although this one is also ornamental, the hammered glass is dense, and the design is what really makes the material so unique. Showing dense, round pebble-like patterns, the light going through it makes the objects and people behind the glass obscure.
Shower Enclosures
Bathrooms with a shower that extends into the bathroom will require a full shower enclosure. There are about four enclosures that homeowners can consider. Each one is shaped and designed differently. 
Square Shower Enclosure:

This enclosure wraps around the stall and has the same length on all four sides. It offers the illusion of more space
Rectangular Shower Enclosure:

The length of this enclosure is longer than the square shower enclosure, offering space for more than just one person
Semi-Oval Shower Enclosure:

The semi-oval shower enclosure has two ends and curves outward
Half-Circle Shower Enclosure:

A half-circle enclosure has one straight side, while the remaining sides are left curved, making it look more complex
The options of the door type and finish can give you an idea of what kind of enclosure you're going to install into your bathroom. If you're having trouble with making decisions about what kind of installations you'll want, you can think about what kind of bathroom you're thinking of constructing for your project. Whether you want a wet room or a contemporary bathroom, making a bathroom concept can actually help you make these decisions.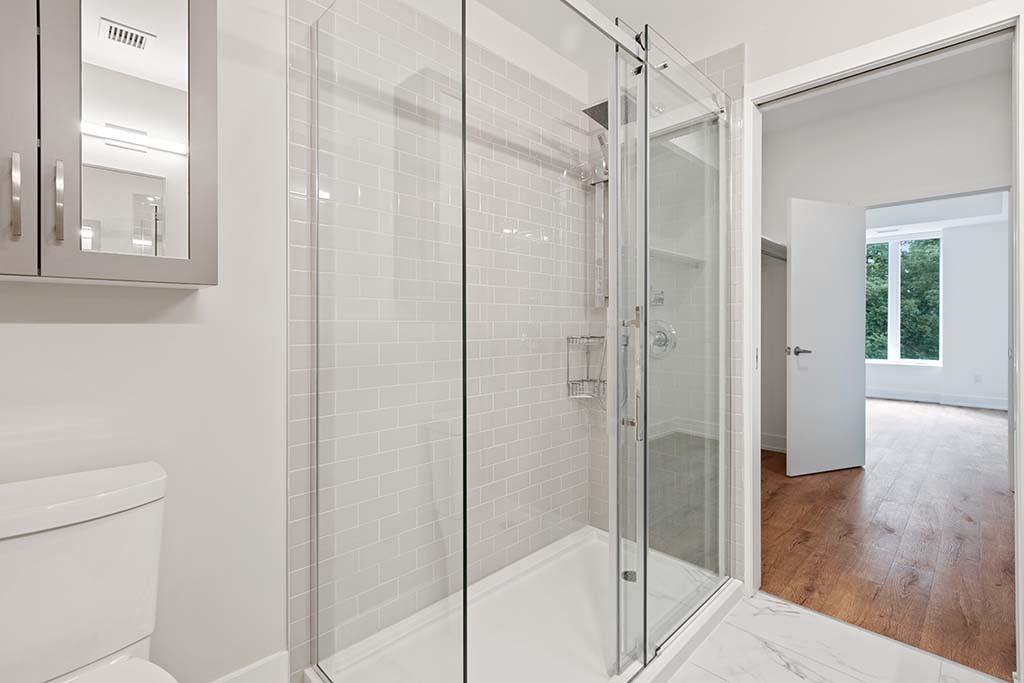 Photo From Point3D Commercial Imaging Ltd.
Shower Door Removal Cost
Having your shower door removed will probably cost you about $30 to $100, and in certain cases, if the design is complex, the cost can go all the way up to $200. Homeowners might just want to renovate their bathroom, but there are a number of reasons as to why they'd rather get rid of their shower doors.
Door doesn't open or close properly

Squeaky noise when it opens or closes

Rusty, weak, old frames 

Faded or damaged glass

Frames are dealing with leaks
Shower Door Replacement Cost
With this kind of job, a remodeling job will require homeowners to get the shower door replaced. There are few professionals that will remove the door you want replaced without any cost to you. However, you should expect a cost of about $30 to $200, depending on which expert you decide to go to. There are glass specialists that will charge you this range, depending on which one you decide to hire.
Ultimately, because you'd also have to obtain a completely new door and spend money towards the installation, the average range will probably be about $580 to $6200. Overall, the total replacement cost will be combined with removing the door, purchasing the new one, and installing it into your shower.
Shower Screen Cost
It can be referred to as side panels. Essentially, they're large format waterproof sheets that are applied to your walls. Shower screens act as alternatives to tiles. The cost of shower screen installations will range between $70 to $300. A benefit and advantage of shower screens are how easily they're applied onto your walls. All you need to do is apply an adhesive and they can be latched on.
Homeowners should note that shower screens will cost even more if they need to be larger or if they need to be customized. Since they are the substitute to tiles, homeowners generally ask which is costlier. The estimated cost for bathroom tiles usually range between $550 and $1900, depending on the materials you decide to use.
Smart Shower Door Cost
Homeowners that want something futuristic now have the opportunity to install a switchable glass, or what is commonly known as the smart glass shower door. With a flip of a switch, the glass goes from clear to blurred, so that the homeowner has the choice of creating privacy or the ability to see the rest of the bathroom at a moment's whim. Most homeowners will decide to install a smart shower in larger stalls, since the home can get busy very quickly.
The maintenance is low and simple. You can essentially treat it against microbes or give it a coating to keep it clean for a large duration of time. There are many different installation systems you can use with the smart glass. There are smart systems that can be connected to apps and automatically turn on without a switch, and since most of them are energy efficient, they're easy to turn on and off. If you're planning to install a smart shower system, you should expect a cost ranging from $100 to $500 per square foot.
Euro Shower Door Cost
If you're one who favors minimalist design, then you might want to consider the euro shower door. Costing about $600 to $1900, this is essentially a frameless shower door that is installed with clips. There are also semi-frameless options for these doors. Keep in mind that if this is an option that you have in mind, then you might need a thicker glass, which will ultimately require a high-quality glass professional. 
The advantageousness of a euro shower door is how high-end it looks in your bathroom. This is a shower door that will require the assistance of a professional. Expertise is mandatory if you're considering the installation of a euro shower door since you'll need the proper measurements to be done. As a general rule of thumb, if you're thinking of installing any shower door, you're going to want a translucent, mildew-proof, non-shrinking caulk for the process. Always ask your professional what kind of caulk is going to be used before the job even begins. 
Shower Door Maintenance
Luckily, it isn't that difficult to maintain the condition of your shower doors. In fact, all you really require are cleaning chemicals meant to scrub grime and dirt from glass. Using everyday products with the right kind of cleaning agents and a squeegee can do the job. Remember that there are repercussions with keeping them dirty. As stated before, the condition of the glass isn't all that matters.
If your frames or any other portions of your shower are compromised, you might have to replace the doors in the future. You'll have to find the areas and locations that are hard-to-reach. Homeowners should have their glass, brackets, hinges, and tracks cleaned at least once a month. 

Bathtub Door Installation Cost
The cost with installing a shower door for the bathtub can range from $600 or more. Although, this also can vary depending on the size of the opening that the door will cover. Homeowners need to carefully consider the condition of the bathtub. Your glazier professional will be able to help you determine the size of the glass since the vertical opening height will surely be shorter due to the size of the tub.
Shower Door Upgrade Costs
The shower doors can be upgraded with maintenance features like anti-glare and anti-microbial options that can make your glass look even more appealing.
Anti-glare shower door costs: coating that repels the glare, costs $70 to $100 per square foot

Anti-microbial shower door costs: coating that prevents mold and mildew, costs $200 to $300 
Even without the upgrades to the doors, the resale value of your home should increase with a shower door installation. 
Finding Multiple Estimates Through House Tipster
For whatever reason you may have for installing a new shower door, whether it is for a bathroom renovation or whether it is because you just wanted one installed, you should use House Tipster. With our web tool, you can find glazier experts around your area in an instant. And not only that, but you can also find one that you think would be a great fit for your project.
We have two functions that users can utilize to find the right professional for the work that needs to be done. We have a reviews function, which allows our users to leave a review or read fellow user's reviews, to determine which professional will be best for your project according to your preferences. Whether you want an estimate that is affordable or an expert that values professionalism, you can use our reviews function to compare the experiences that users like you have had in the past.
House Tipster also has a chatting function so that you can ask any questions or inquiries you may have about the business directly to the professionals in our listings. Check what their availability is, ask about the estimates that they have to offer, all you have to do is message the professionals. Use our web tool to have all your home improvement needs met and find out the assistance you can be provided with in just a matter of minutes.
Featured Photo By Point3D Commercial Imaging Ltd. From Unsplash