The average cost to remodel a bathroom is $5,000, however, bathroom renovation costs can range from $328 to $12,900. Here at House Tipster, we like to inform you of how much an average bathroom remodel can cost. Learn all about the refurbishment of your bathroom and the costs of a project of thise size with our bathroom remodel cost guide.
Average Bathroom Remodel Cost
| | |
| --- | --- |
| Average Bathroom Remodel | Price |
| National Average Cost | $5,000 |
| Average Cost Range | $4,395 - $5,502 |
| Low-End Cost | $328 |
| High-End Cost | $12,900 |

There are many things that can impact a bathroom remodel cost, for example, the current state of the space, the design plans, and material costs. A bathroom remodel can mean anything from changing minor details in a small bathroom, to completely creating a large and modern new space.
The price range varies depending on size and scope of the project. For example, a small bathroom renovation cost will be much less than a master suite renovation. What is the average small bathroom remodel cost? A small bathroom will be on the lower end of the price spectrum.
Find out how much your bathroom remodel will cost you with our helpful guide, then find out how to find the best bathroom remodel contractor in your area.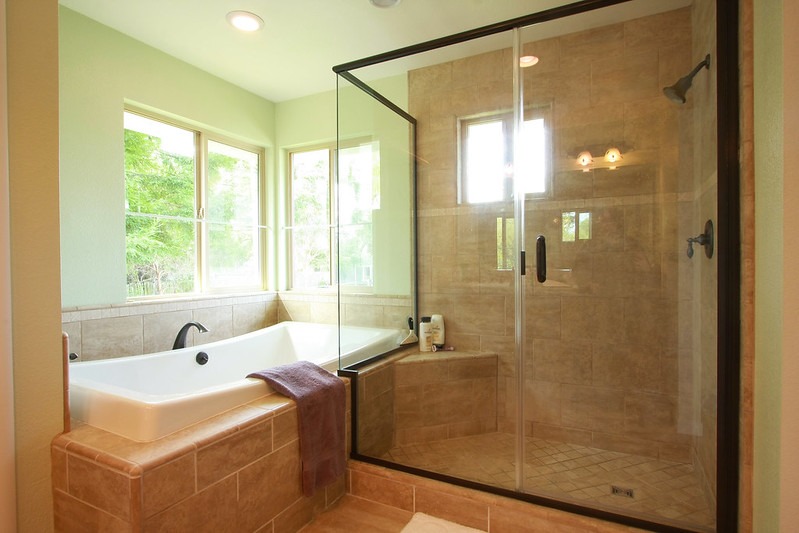 Image by Chris Lattuada From Flickr
Estimating Bathroom Remodel Costs
While there are many factors to consider when considering the total cost of your bathroom remodel, there are a few major things that you can consider to come up with an estimated cost. Consider the following factors. More information on each factor can be found throughout the article.
Labor costs will usually be around 40% to 60% of your total project cost. This will be impacted by Location, with larger, more populated cities having typically more expensive labor costs If you live in an area of high real estate prices, expect a charge of around 20% more in total.
The room size of your bathroom will also impact price. Just like other home construction projects, the more square footage of the space, the more material and time will be necessary to complete the project and thus a higher charge. How much to remodel a small bathroom? The cost of a small bathroom remodel is less than a large bathroom remodel. If you are expanding your bathroom or changing the floor plan/room size, the cost will be more as it is a more complex project. The cost to expand a bathroom is an additional $5,000.
The last major factor to consider is quality of materials. If you intend to choose high-quality or custom materials for your project, the price will be more. The same can be said for the type of fixtures, appliances, etc as higher-quality products will be more expensive.
Be sure to consider all of these factors before diving into a bathroom remodel project.
Type of Bathroom Remodels
What can you expect for your small bath remodel cost? The cost of a bathroom remodel depends on the type of project being completed. Are you changing up an old, existing bathroom? Check out the "Existing Bathroom Renovation" Are you adding a bathroom to your home? Look at "Bathroom Addition." Finally, if you are building a new bathroom in an existing space (For example, turning an old playroom into a new bathroom), look to "New Bathroom."
Existing Bathroom Renovation
A bathroom renovation will take an old, existing bathroom and change details to create the appearance of a new bathroom. To estimate the cost of a bathroom renovation, look at the kind of projects and pieces you intend to change. The cost of small bathroom renovations will be cheaper than large bathroom renovations as the cost is largely based on square footage.
Bathroom Addition
A bathroom addition, or adding a new bathroom to your home, the cost will be more than just a renovation. A room addition costs typically between $10,000 to $80,000. In a bathroom addition, contractors will work on things such as foundations, framing, tiling, flooring, paint, plumbing and drywall.
New Bathroom Renovation
A new bathroom renovation refers to adding a bathroom to an existing space. For example, turning one room with a past purpose into a bathroom. The cost to add a new bathroom is typically $8,000, depending on the size of the bathroom.
Cost to Remodel per Square Foot
Like other home renovations, the cost to renovate a bathroom largely depends on the size of the bathroom. The larger the bathroom, the higher the cost. On average, the cost is $125 per square foot for a bathroom remodel. Other factors, such as materials, can change this cost. For example, a 5 x 8 bathroom remodel cost will be between $4,000 and $6,000.
Average Bathroom Remodel Costs
Here is the average bathroom remodel price per square foot.


| | |
| --- | --- |
| Bathroom Size (Per Sq. Foot) | Total Price |
| 3 x 5 (15) | $1,500 - $2,250 |
| 4 x 8 (32) | $3,200 - $4,800 |
| 5 x 8 (40) | $4,000 - $6,000 |
| 7 x 9 (63) | $6,300 - $9,450 |
| 9 x 10 (90) | $9,000 - $13,500 |
Estimating Master Bathroom Remodel Costs vs Small Bathroom Remodel Costs
How much does it cost to remodel a small bathroom? How much does it cost to renovate a master suite bathroom? Let's take a look at estimated costs for a master bathroom versus a small bathroom.
A master bathroom remodel will cost a homeowner from $10,000 to $25,000. On average, the cost will be $18,000. A master bathroom renovation will include things such as a separate tub, shower, double vanity, larger cabinets, as well as fixtures.
How much does it cost to remodel a small bathroom? A small bathroom remodel will cost around $1,250 to $15,000. As there is less square footage, there is less materials needed, as well as less time and effort required, so the average cost of a small bathroom remodel is much less than a master bathroom remodel.
Expanding a Bathroom
How much does it cost to expand a bathroom? If you are expanding an existing bathroom and increasing the square footage, the cost will be from $1,000 to $15,000. It largely depends on the existing conditions of the original space. If you need to fix a toilet, you'll most likely be adding that to the cost of expansion.
You may need to reroute electrical wires, which may cost from $500 to $2,200. You may also need to reroute plumbing, which will cost between $400 to $1,900. Other associated costs are as follows. Note: these costs are different than if you were to install an entire new room.


| | |
| --- | --- |
| Profession | Cost Range |
| Structural Engineer | $350 - $725 |
| Drywall Installation | $1,000 - $2,900 |
| Framing | $500 - $1,500 |
| Architect | $1,000 - $2,000 |
Cost of Bathroom Remodel Based on Material
One important thing to consider when completing a bathroom remodel is the cost of materials and new items for your bathroom. Materials typically range from $2,100 to $9,000.
Bathroom Remodel Material Price List

| | | |
| --- | --- | --- |
| Material | Price List | Percentage Cost |
| Fixtures (Toilets, Sinks) | $200 to $1,800 | 10% to 20% |
| Showers | $300 to $3,000 | 5% to 25% |
| Bathroom Vanity | $300 to $3,800 | 5% to 30% |
| Countertops | $200 to $1,000 | 5% to 10% |
| Lighting | $100 to $400 | 5% to 7% |
| Bathroom Fan | $50 to $300 | 2% to 5% |
| Flooring | $200 to $1,350 | 10% to 15% |
| Doors and Windows | $200 to $1,800 | 8% to 10% |
| Painting | $150 to $550 | 5% to 6% |
| Faucets and Plumbing | $250 to $1,450 | 12% to 16% |

Let's break down some of the most common materials purchased in a bathroom remodel.

Shower Remodel Cost
Shower renovations are common features of bathroom remodels. The cost to renovate your shower can drastically change based on the task being completed. The average cost to replace a bathroom shower is between $2,300 to $8,600.
To tile a shower, the cost is typically between $547 to $1,901, depending on material, design and status of the original shower. To install a new door, the cost will be between $250 to $380, depending on the type of door. Finally, a general shower repair will cost between $140 to $180, depending on what needs to be fixed.
Bathtub Replacement Cost
Bathtub renovations can cost from $150 to $11,000, depending on the type of bathtub being purchased. Basic, standard tubs will start at the low-end of $150, while a freestanding tub will cost around $650. A freestanding, cast iron bathtub will be around $11,000. A bathtub contractor can strip an old bathtub and replace the finish, allowing you to have the illusion of a new bathtub but for a fraction of the price.
Bathroom Cabinet Costs
Bathroom cabinets can cost from $250 to $3,000. Some homeowners choose to match their bathroom and kitchen cabinets, which can help with total costs as you may be able to get a discount on a larger quantity of cabinets purchased. For a budget friendly method, we recommend refinishing instead of buying new. To refinish a cabinet, the cost will be from $1,750 to $4,000. To purchase new cabinets, the cost will be from $2,000 to $15,000+.
Cost to Redo Bathroom Floor
To redo your bathroom floor, the cost will be from $100 to $3,500. If you are looking to do a luxury installation, the cost can reach $7,000. The total cost depends on the type of material used. Like most things, it depends on the square footage of the space. How much does it cost to redo a small bathroom's flooring? It will be at the lower end, while a large bathroom will cost more.


| | |
| --- | --- |
| Flooring Material | Price Range |
| Tile | $500 to $3,500 |
| Linoleum | $100 to $500 |
| Vinyl Plank | $150 to $800 |
| Wood Plank | $200 to $1,700 |
Bathroom Vanity Costs
A bathroom vanity will cost between $300 to $3,800. Luxury or custom vanities can cost as much as $10,000. Most vanities will include both the counter and cabinet.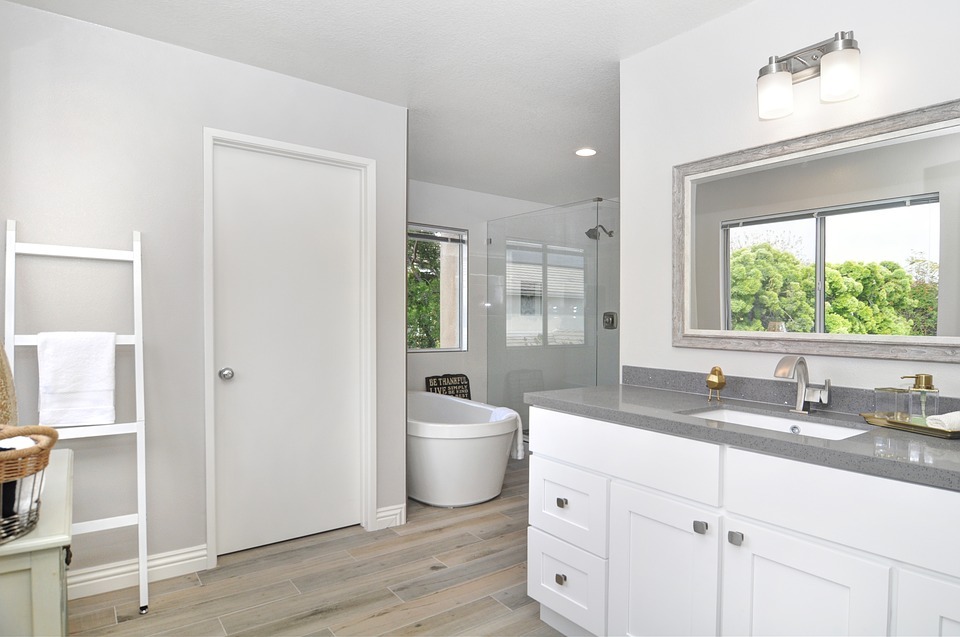 Image By stellalunacypress from Pixabay
Cost of Bathroom Remodel Based on Labor
The average labor cost for a bathroom remodel is $50 to $75 per hour if using a professional service. Bathroom remodel labor costs should be around 40% to 65% of the total cost.
There are a few types of professionals you will likely need to hire. A general contractor goes for $300 to $400 a day. As you are renovating a bathroom, plumbing is a large issue so you will need to hire a plumber, which will be around $1,000 to $2,000. Other professionals you may need to hire include interior designers ($150 - $550), electricians ($50 - 100 per hour), and drywall installation professionals ($30 - $50 per hour).
Some professionals charge based on the size of the area. How much does it cost to renovate a small bathroom? For professions such as interior designers or drywall installation professionals, you may have a much lower cost.
Electric & Plumbing Costs
Electrical and plumbing costs can be anywhere from $100 to $1,000 or more. We recommend checking for electrical and plumbing before construction even begins, as finding issues during renovation may drastically raise the cost. The average plumbing cost for bathroom remodels will be much more than other rooms as there are many complex plumbing features in the room in comparison to other rooms.
Other than labor and materials, the following electrical and plumbing upgrades will cost as follows.


| | |
| --- | --- |
| Labor and Material | Price Range |
| Toilet | $225 - $550 |
| Sink | $225 - $600 |
| Light Fixture | $150 - $990 |
| New plumbing | $150 - $550 |
| New outlet | $130 - $300 |
| Water heater | $825 - $1,600 |
Other Bathroom Remodel Costs to Consider
While we have gone through bathroom remodel costs based on size and scope, let's take a look at some of the other costs that homeowners should consider before diving head first into a bathroom remodel.
Bathroom Demolition Costs
If you are renovating your bathroom, you may need to demolish the original bathroom. To demolish a bathroom, the cost will be between $1,000 to $2,300. Prices may be higher if you intend to completely remove or move a wall. This may be possible as a DIY project, but it is easy to make mistakes while doing a demolishing project such as accidentally taking out a load bearing wall or breaking important plumbing or electrical fixtures. We recommend hiring a professional for this project.
Permits
You may need a building permit for your bathroom renovation project. Building permits can cost between $350 to $1,800. The total price is dependent on your location as there are different local building codes. If you are hiring a contractor, they can help you handle building permits. Some building permits will be based on square footage or project cost. How much is a small bathroom remodel based on the price of building permits? It all depends on just how small it is, or the total project cost.
Bathroom Disability Remodeling Costs
Oftentimes, construction is required to make a bathroom more handicap accessible for people with disabilities. To renovate a bathroom for handicap accessibility purposes, the cost will be from $1,500 to $9,000. The price difference is due to the difference in circumstances based on the individual.
How to Budget for a Bathroom Remodel
While bathroom remodels can quickly get expensive, there are some great ways to bring down the price without bringing down the quality of your bathroom remodel project.
Skip Fancy Fixtures
You don't need the most expensive bathroom fixtures to have a beautiful bathroom. Purchase basic but reliable toilets, showers, and tubs. We recommend choosing off-the-shelf fixtures over high-end or custom fixtures as they can be just as reliable and attractive, but without the high price tag.


| | | |
| --- | --- | --- |
| Fixture | Off-the-Shelf Price | Luxury or Custom Price |
| Toilet | $100 to $600 | $1,000 to $6,000 |
| Sink | $100 to $450 | $700 to $4,000 |
| Tub | $200 to $900 | $1,000 to $6,000 |
| Vanity Cabinet | $200 to $800 | $1,000 to $6,000 |

We recommend also avoiding high-end retailers, and instead focusing on big box stores and online retailers. Here's how much to set aside depending on the kind of fixtures you intend on purchasing:


| | |
| --- | --- |
| Quality Type | Expected Amount Spent |
| Economy and off-the-shelf | $500 to $2,000 |
| Mid-grade | $1,500 to $3,000 |
| Luxury and Custom | $4,000 to $22,000+ |

If remodeling rather than creating a whole new bathroom, look to see if you can reuse old sinks and toilets instead of purchasing new ones. For tubs, counters, cabinets and tiles, consider resurfacing instead of purchasing new. This choice can cut costs in half.
Shop Around for Tiles
There are many elements of a bathroom remodel that can be found for cheaper than what you can initially and easily find. For example, tile price can differ greatly depending on the distributor, so we recommend looking around for competitive pricing.
One thing to note: If you intend to sell, custom tiles will greatly increase the return on investment (ROI).
Tile prices are based on square footage, or how many tiles you will need to buy to fill a space. One creative way to lower the cost is to use higher quality tiles in one small area, and low quality plain tiles in the majority of the room. The average cost of remodeling a small bathroom will be less in terms of tiles, as less physical tiles are needed to be purchased.
Some Projects Can Be DIY'd
If you have the skillset, try to do some parts of your bathroom remodel yourself. For example, consider attempting demolition (and save around $1,000) or painting (and save a couple of hundred dollars).
Bathroom Remodel Style Tips
It can be different knowing where to start in a bathroom remodel project. There are plenty of different bathroom styles, so you may not know which one can best suit you and your home. Let's take a look at some of the best questions to ask yourself when designing a bathroom.
There are a few questions to ask yourself before starting your bathroom renovation.
1. Why do you want to remodel the bathroom?
Determine the main reason behind remodeling the bathroom. Do you just want to change the style, or do you want to increase functionality as well? You should also determine who the bathroom is for: guests, adults or children. Lastly, does this reason for your bathroom flow with the functionality of the rest of your home. For example, does your home need a second shower?
2. Does this bathroom remodel fit your lifestyle?
It can be easy to miss the big picture while planning a room remodel. Be sure that the bathroom fits how you actually use your home, as well as your general lifestyle. For example, if you are the kind of person to not ever use your bathroom for leisure reasons such as long spa-like baths or long sessions of hair and makeup, don't design your bathroom for those purposes. Create a space that is tailored to you.
Once you have the answer to these questions, you can begin planning for your bathroom remodel.
Remember, not all remodels require the entire space to be renovated. The vibes of your bathroom can be completely changed with some small changes. Here are some small projects that can help to alter a bathroom's style. Not all of them are expensive projects, some of them can even be done for free if you have material laying around. The average cost to redo a small bathroom can be even cheaper if you just do very specific projects rather than the entire thing.
Retile the flooring

Refinish fixtures

Replace faucets

Change hardware

Update countertop surface

Paint or add new wallpaper

Change furniture and decor, such as mirrors or light fixtures.
Bathroom Decor Styles
There are many different bathroom decor styles to consider for your next bathroom remodeling project. The average cost to renovate a small bathroom or a large bathroom may differ based on the type of decor style. For example, a traditional or modern bathroom may be more expensive as the key features are more expensive.
Transitional bathrooms are a popular style right in between traditional and contemporary styles. Key features of transitional bathrooms include shaker-style vanities, light stone counters, subway tiles, glass showers, and soft and subtle colors.
Modern bathrooms feature streamlined, simple designs with a large emphasis on clean, straight lines. Key features of modern bathrooms include floating vanities, freestanding tubs, minimalist faucets, and crisp neutral colors with occasional bright pops.
Contemporary bathrooms utilize the latest in technology, mixed with clean and minimal furnishing. Key features include sleek and simple vanities, minimalist faucets, statement tile, the latest technology, and a high contrast color palette.
Traditional bathrooms are timeless and refined, with an emphasis on classic and elegant decor. Key features of traditional bathrooms include furniture-style vanities, elegant stone features, antique-style lighting, wainscoting and molding, as well as soft and pale colors.
Farmhouse bathrooms are rustic and simple, with a general and honest homespun aesthetic vibe. Key features of a farmhouse bathroom include barn lighting, wall paneling, a claw foot bathtub, trough sinks, and a natural color scheme.
Rustic bathrooms celebrate the beauty of the outdoors with natural materials and warm textiles. Key features of rustic bathrooms include wood features, vessel sinks, natural stone counters, weathered finishes, and warm colors.
Industrial bathrooms are inspired by places such as warehouses and factories, taking utilitarian accents with raw materials. Key features of industrial bathrooms include glass and steel showers, raw materials, subway tiles, and neutral colors.

Beach bathrooms are carefree and easygoing, taking inspiration from the light and airy nature of a beach vacation. Key features of a beach bathroom include bold tiles, spacious showers, textured elements, and colors inspired by the beach such as blue, green and coral.
Mediterranean bathrooms are characterized by a casual but elegant style featuring natural materials. Key features of Mediterranean bathrooms include ornate lighting, colorful tile, burnished metals, statement mirrors, and rich warm hues.
Craftsman bathrooms will spotlight the beauty of premium wood features, creating a welcoming atmosphere. Key features of a craftsman bathroom include shaker-style vanities, handcrafted tiles, medium to dark wood tones, and rich earth tones.
How to Hire a Bathroom Remodeling Contractor
Now that you know what you wanna do with your bathroom, you can look to hire a bathroom remodeling contractor. Here are some tips for choosing the best one for you.
Look at past examples of bathroom remodeling work. When considering a contractor, look at their past experience. Check out images of work to get a sense of their technical abilities. For example, are you a fan of how the bathroom generally looks? Remember that you get to choose generally style, but be sure you are a fan of the quality of workmanship. Check customer reviews for a sense of their business abilities. For example, communication skills and punctuality. Also consider if they have ever done a similar job in terms of size and scope.
Get quotes from multiple contractors. Do not choose one contractor immediately, instead, get quotes from multiple individuals. Be sure every individual is bonded, licensed and insured. Bathroom remodel contractor costs can differ based on location and experience.
Have all details written out into a contract, which both you and your contractor sign. All details, including every detail of the budget in terms of price spent on material, labor, etc, should be in the contract. Other things to include in the contract are work hours, how potential damage will be handled, and general timeline.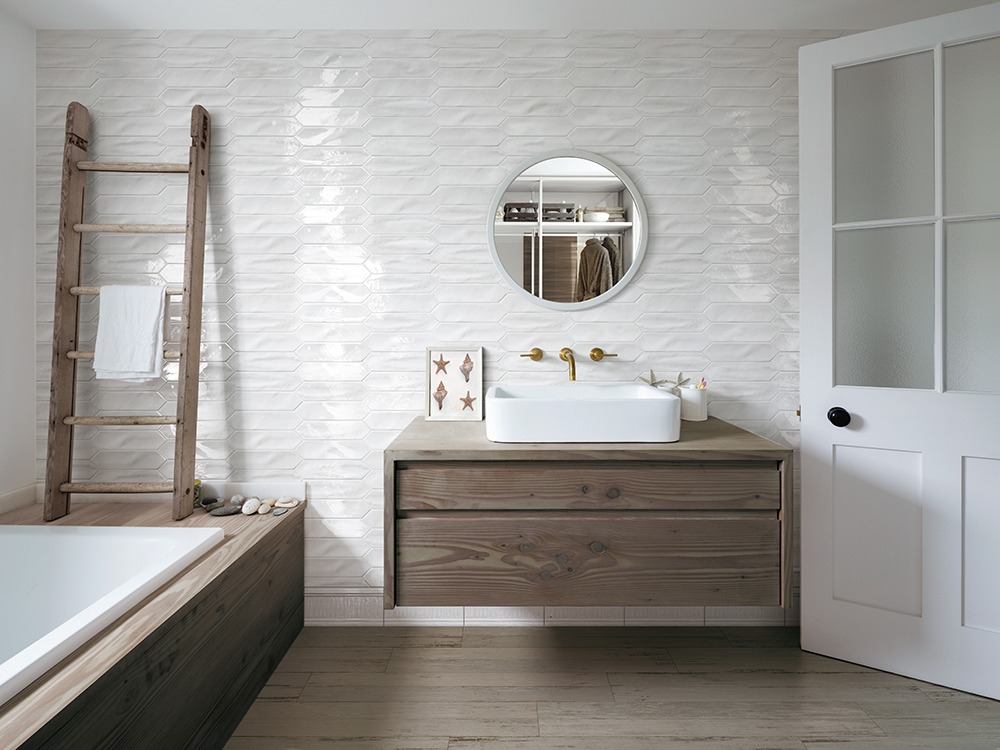 Image By Rory Gardiner From ApartmentrenovationsNYC
Find a Bathroom Remodeling Contractor Near You
Are you ready to begin your bathroom remodel? Whether concerned about small bathroom costs or the costs of creating a brand new master suite bathroom, there is a contractor perfect for you. Check out House Tipster for the best professional bathroom remodeling contractors near you. The top bathroom remodeling companies are all on House Tipster's helpful search engine.