The bathroom is an essential part of your home. Whether you wish to replace your sink or toilet, or just update your fixtures, remodeling a bathroom can be quite a tedious task. The national average cost on small bathroom remodels can cost an estimate of up to $5000. But based on your budget and the size of your bathroom, you could be saving more money than you initially planned on spending.
Like all things in life, bathroom appliances were not meant to last. According to a survey back in 2019, nine out of ten American homeowners planned to remodel their bathrooms. The average cost of remodeling your bathroom ranges between $4,395 and $5,502. Before we begin the estimate on costs, measure the size of your bathroom. The cost greatly differs depending on if you wish for it to remain how it is or to expand in square footage.
Hiring a contractor or plumber is a smart idea.
They'll measure your bathroom before you get a good look and give you a free estimate. Professionals in the industry have to take a look before providing a consultation anyhow. Costs of remodeling a small bathroom can include demolition, debris removal, trimming, framing and installation. This also includes the cost of tiling, and plumbing fixtures.
The ROI
Determine the possibility of an ROI (Return on Investment) from the value of your home. Consider the fact that you could have an increased return from the remodel and cut costs. Your bathroom could quite possibly double your home's value. In fact, a bathroom remodel, if executed correctly, yields an average of 62 percent on your returns. This guide offers insight into the cost analysis of your remodeling project.
Average Renovation Cost by Square Footage
In any bathroom, costs may vary depending on your desired square footage. For example, a 6x6 sq. ft. bathroom can cost up to $3500. The remodel cost of a smaller bathroom is way below the average range of $5000.
The smaller the space, the fewer renovations you'll have to pay for. Labor costs drastically decrease, saving you time on the project.
Demolition, & Debris Removal
Think about all the old components of your bathroom and imagine a team destroying them. Imagine the manpower it'd take to destroy the sink, the bathtub, the cabinets, etc., then imagine having to remove all that debris out of the house.
Before you renovate your bathroom and start your project, you need to take out the old, and replace it with the new. While this is true for any remodeling project, you should put this into account. The overall national average in costs for demolitions is $500-$2000. That's not including the renovations you've already mapped out.
So to make sure you're getting the right quote, I suggest you get a quote from a few different demolition contractors.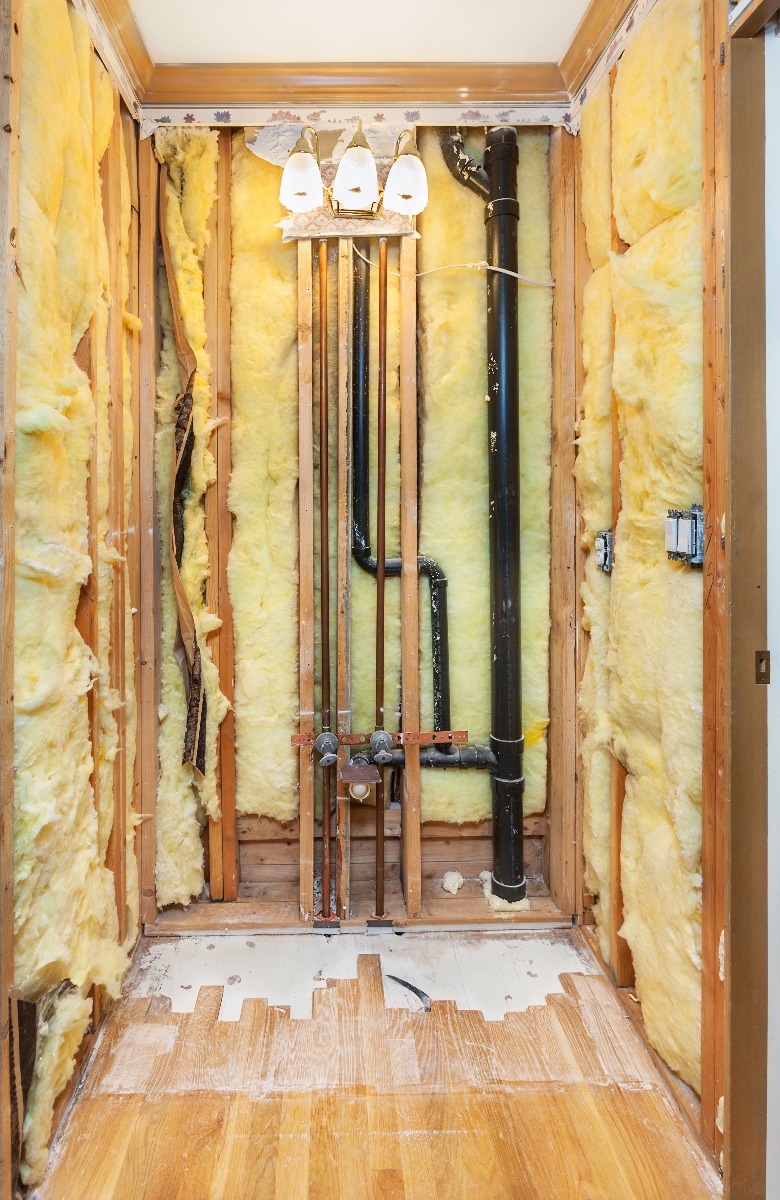 Photo by Jo Ann Snover on Adobe Stock

Cost of Small Bathroom Remodel
The cost of a small bathroom remodel ranges from many different factors. Are you going to hire outside help? Are you doing it yourself? If you're remodeling on your own, it's best to warn you that you're going to need a permit for your project. Aside from the costs mentioned below, you also have to consider the costs dealt from permits. This includes the real estate prices throughout the area.
Cost of Permits
You, as a homeowner, are required to apply and pay for a permit before you begin your project. On average, homeowners will spend $175 - $2,000 for a building permit for their bathrooms.
Pricing differences in different areas
Regional pricing differences may cost you more than just a pretty penny. Depending on where you live, those differences may cost 20% more if you live in an area with higher value.
Labor Costs
Prepare to spend 40-65 percent of your total budget on labor costs. Expect labor to cost $50 to $75 per hour. Although the cost may seem steep, you can save yourself from a huge migraine.
Remember, without experience, it's best to hire someone to make sure you don't make any mistakes.
| | |
| --- | --- |
| Installation | Prices |
| Hardwood Flooring | $3-$8 per sq ft |
| Tiling Prices | $15-$20 per sq ft |
| Mirror Installations | $175-$475 |
| Painting the Room | $180-$490 |
| Light Installations | $80-$300 or more |
| Cabinetry Installations | $450-$900 |
| Glass Shower Installations | $550-$1350 |
Cost of Hiring A Contractor
A contractor's job is to make your life a little easier. A general contractor can charge you up to $250 per square ft for installing high-end fixtures. You can take the DIY path and lower the cost to $70 per square foot.
Instead of an hourly rate, a general contractor is paid 10% to 20% of total construction cost. Fees are calculated from the total cost of materials, subcontractors, and total price. This is why it is advised to collect all invoices of forgoing services and materials.
The reason why most people pay to hire a contractor is because they are professionals who handle the permits, and inspections.
Most DIY homeowners are hit with additional remodeling costs because their bathrooms are not up to code.


They ensure that the property is up to code, and save you time and money.
Plumbers generally charge a flat rate of up to $45 to $200 per hour. At an average cost of $327, plumbers are hired for drain cleanings, faucet installations or replacements, and toilet repair. Fees are mainly applied for trip and labor charges.

Cost of Hiring a Plumber
A licensed plumber is trained to service the pipes in your home. This means their services can range from fixing leaky faucets to installing a water heater.
A word of caution when hiring plumbers, make sure they are licensed. If they aren't trained professionals, you may have to pay more in potential damages. If there is any damage, you should find more information on total repair costs for toilets.
Cost of Hiring an Interior Designer/Decorator
Although it isn't required, an interior designer can help you with their expertise by redesigning your small bathroom. They regularly set definitive steps to cut down the workload. Consultation fees range from $150 to $500.
Don't budge on your budget. You can still DIY when it comes to decorating for your bathroom remodel. The cost of materials alone is 10% to 40% of their markup. So instead of spending the money to hire a decorator, you can use that money to DIY with your own supply.
If you want to spruce up the design in your bathroom, consider the visual intrigue of geometric designs.
Along with the labor costs, your small bathroom renovation should also look into material costs. Although material cost is applied down the line, you should look into different bathroom components. Before making a decision, realize that the tab on materials can go from $2,100 to $9,000.

Material Costs
Take the time to research and shop for the best prices, so that you can get more bang for your buck.

The economy price of bathtubs can range from $200-$900, while the high-end price of bathtubs range from $1000-$8500. That's a very big difference. That's not all. You still have to pay the plumber for the installation.
What kind of bathtubs should I buy?
Questions to ask yourself before buying a bathtub
The process of refinishing a bathtub can be speedy. But obstacles can often get in the way.
Before you even touch that tub, ask yourself this, is my bathtub really damaged? Can it fit into my bathroom? Can this be a setback for my renovations?
What are the costs of cabinets and vanities?
The average cost of cabinets and vanities can range up to $500-$3800. This does not include the installation cost, which can spike that price up by $200-$1000.
What is the cost of a toilet?
For a cheaper option, you can buy brands that cost up to $100-$600. For a shinier, more expensive option, you can buy brands that cost up to $1,000-$6,000.
Should I move my toilet?
When buying a toilet, keep in mind that changing the floor plans and moving the toilet somewhere else in the bathroom will cost more. Moving a toilet means ripping out pipes and drains, only for a plumber to reinstall them somewhere else.
What kind of sinks should I install?
An off the shelf brand of sink can cost up to $100-$450, while the high-end custom brands cost up to $700-$4000. To know what kind of sinks to install, it is important to thoroughly scan your selections.
Is it better to replace or just install a new sink?
Like the toilet, the sink is best to replace than to install. If you replace the sink, the plumbing is already placed. But to install a whole new sink? You'll have to hire the plumber to install new pipes.
What are the different selections of countertops I can buy?
Having a nice countertop in your bathroom is very important. It's the centerpiece that ties the whole room together. Without it, can you even call it a bathroom?
What are my options?
Standard countertops can range from up to $200-$1000. And on average, installing a countertop can cost up to $2979. Prices vary depending on the kind of material the countertops are made from. For example, a countertop made from granite can cost up to $15-$140 per square feet. And installing the granite countertop can cost $25-$170 per square feet.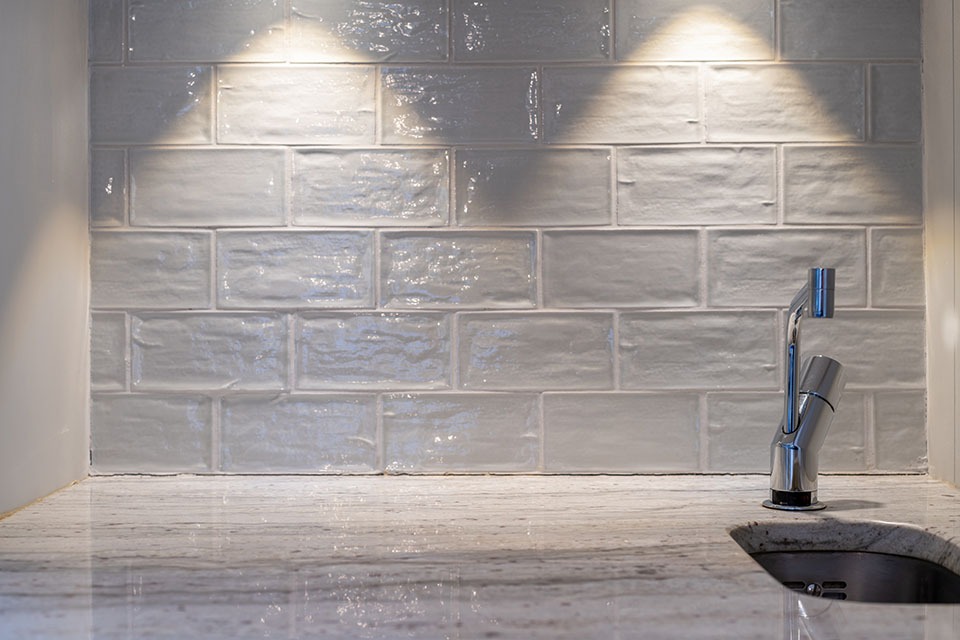 Photo by abd on Shutterstock

Which faucet should I choose?
At the cost range of $69.61 to $152.56, the average price of a faucet is $111.09. Typically your average labor cost for faucets should amount to $85-$105 per hour. However, it normally takes around three hours to finish installing a faucet, so the average total cost would be $285.
Do more handles mean more costs?
To make a long story short, yes, more handles mean more costs. Different faucets and how many knobs you may need can also mean different labor costs. If you're thinking of installing a wall mount, the labor cost is drastically different than your standard faucet. Remember to speak to a professional before picking the faucet of your choice.
What are my options for flooring?
Flooring and tiles can range up to $200-$1350. But some inexpensive tips can be very useful when choosing the different varieties of tiling. If you already have a hardwood floor in your bathroom, just spread a new coat of paint over it. Porcelain is similar to ceramic, and a more cost-efficient option for tiles.
Want something a little more retro?
With modern printing technology so readily available, homeowners can now print out synthetic vinyl not just for their wallpaper, but also for their flooring. The "click-lock" is a tongue-and-groove system designed to make floor installations that much easier.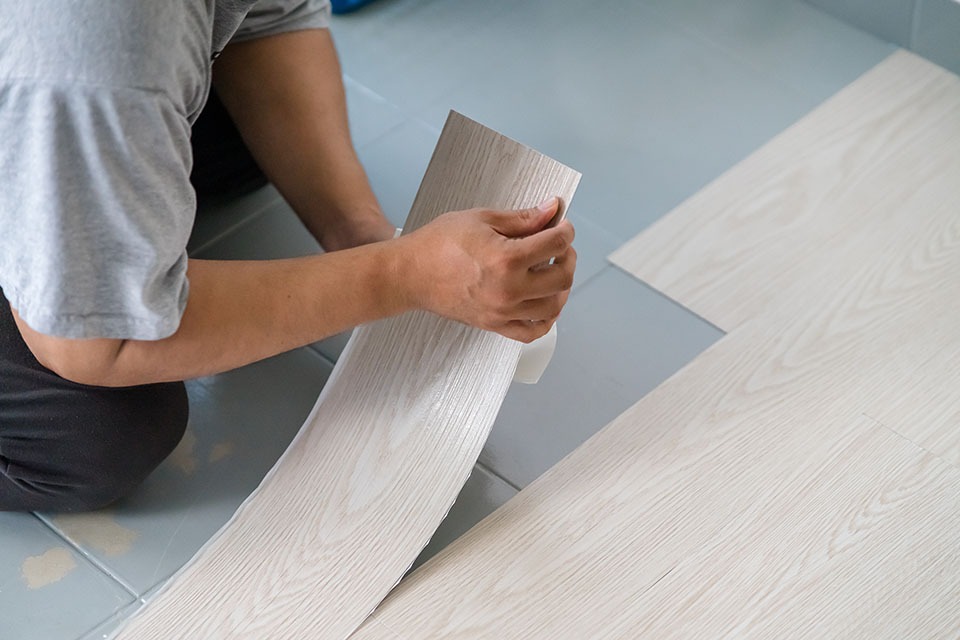 Photo by ellinnur on Shutterstock

The Cost of Expanding Your Bathroom
To keep the small bathroom or to expand? While less space means less costs, it also means less value. On top of your initial cost of renovating your small bathroom, you'll have to include expenses if you decide to expand.
What other costs apply by expanding my bathroom?
If you're planning on expanding your bathroom, I'll tell you right now, the task and budget will need to expand as well. Overall, expanding the bathroom means you'll have to: reroute electrical wiring, account for structural integrity, install new drywalls, frame new entries, and hire an architect.

How to Elevate Your Home's Value
Now that you know the different rates and costs of remodeling your bathroom, it's entirely up to you what you want to do with the value. Some homeowners often brush up on what kind of upgrades they'll need to make their homes more appealing to buyers.
Property value rises and falls at the whims of the market, so make sure to keep yourself informed!