The average cost of fixing a broken toilet is around $150. Your toilet is one of the most used items in your home, and thus may need repair and maintenance occasionally. A toilet might need a repair for a number of reasons, from specific parts breaking to leaking to even something as simple as a clog. Regardless of your toilet's problem, you'll want to get it fixed as soon as possible and get your trusty toilet back in order. Hiring a plumber to fix toilets, and other plumbing appliances, will be extremely helpful for you and your home. 
While many repairs can be completed by the homeowner, there are also many more intricate issues that require professional assistance. There are some issues that, if fixed incorrectly, may lead to further problems down the road. Although hiring a plumber may feel inconvenient or costly, you may actually be saving money by hiring someone immediately rather than waiting for a worse issue. For example, a leak made worse may cause extreme water damage to the rest of your bathroom. If a simple plunger isn't fixing it, consider hiring a professional handyman or plumber to help solve the problem with ease.
Some parts of toilet repair are more costly than others. While some issues can easily be resolved, others require more knowledge and skills, and thus will cost more. Hiring a plumber or toilet repair expert can greatly reduce other potential costs. Learn about toilet repair costs, and how you can potentially save money. These common toilet plumbing repairs should be fixed as soon as they are noticed, otherwise more issues may be caused. The total cost to repair toilets is typically less than other common plumbing repairs. 
Before hiring any home improvement professional, it is important to know what to expect. Check out the typical toilet plumber costs below.
What affects the cost of repairing a toilet?
There are a few things that will impact the total cost of your toilet repair. From labor costs to the part of the toilet being repaired, to serious leaks and clogging, your toilet repair cost will vary greatly. Plumbing repair costs will vary based on the things we describe below.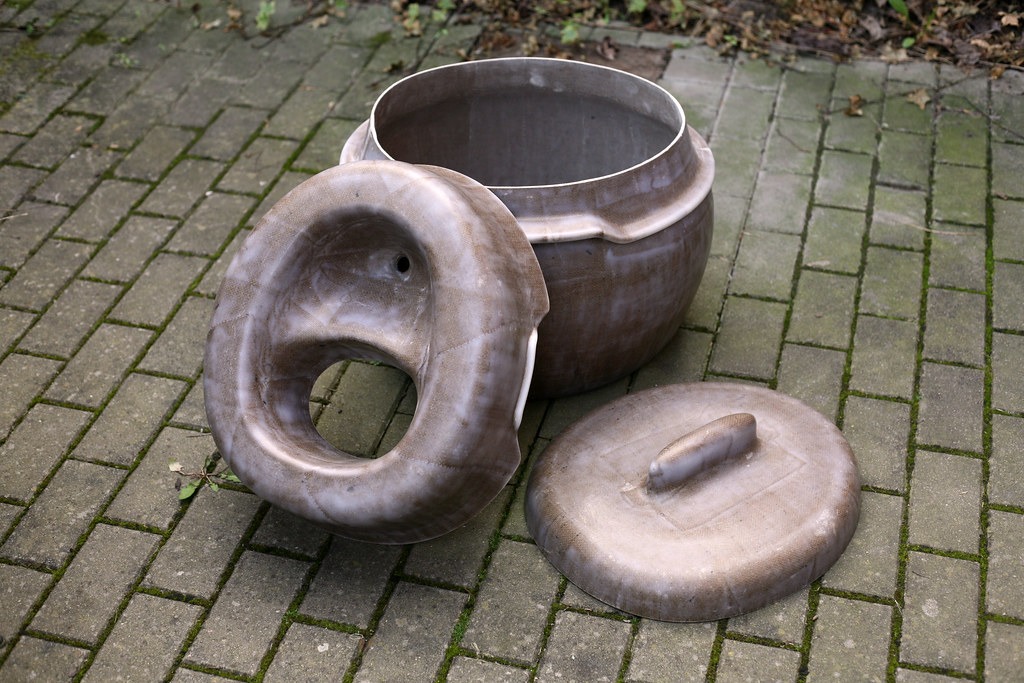 Image by SuSanA Secretariat from Flickr
Labor Costs
Many plumbers will charge a flat rate for standard issues, for example, issues like a clogged or running toilet. This cost may be separated into a diagnostic fee, or the fee charged for determining what the issue is, and a service fee, or the fee charged for the act of repairing the toilet. Other companies may offer free estimates and charge only for the repair time. If you find yourself asking, how much does a plumber cost to fix a toilet? Consider looking at our guide for specifics based on the issue. 
For simple issues, a handyman may be the fastest and least expensive person to call. For things like clogs or leaks, we recommend hiring a plumber. Handymen typically charge a flat fee, while plumbers typically charge an hourly rate. Another thing to consider is that plumbers are more likely to have the tools and equipment on hand to repair your toilet immediately, while handymen may need to leave and return after diagnosing the problem, thus slowing down the process.
Cost of New Parts for Your Toilet
Many issues related to toilets can be solved by the purchase of new toilet parts. Most of the time, these parts are inexpensive and easy to find. Except for the toilet seat, the parts are typically between $5 and $20. Toilet seats are a bit more, around $40 to $50. If you are wondering how much it costs for a plumber to replace toilet parts, check out our guide. 
Not sure which part is what? Here's a helpful guide to toilet parts that typically need replacing, as well as what they do function-wise.
| | |
| --- | --- |
| Professional Replacement | Cost Ranges |
| Toilet Flange | $130 to $310 |
| Flapper | $50 to $150 |
| Wax Ring | $50 to $200 |
| Fill Valve | $50 to $150 |
| Overflow Tube | $70 to $150 |
| Toilet Seat | $100 to $160 |
| Toilet Handle | $50 to $100 |
What is a Toilet Flange?
The toilet flange is located below the base of your toilet, between the toilet and the floor. This part of the toilet will typically need to be replaced if there is leaking at the base of your toilet. To fix this part of the toilet, a professional is required to shut off your water supply, remove the toilet properly, dispose of the old flange, and then install the new flange and put the toilet back. 
For issues like this, the water will be shut off using the main water shut-off valve. There is a chance this part of your home also needs to be replaced, and it is a necessity for both functional purposes as well as building cost purposes. The main water valve replacement cost is about $185 when completed by a plumbing contractor. The cost to replace the toilet shut off valve may also add on to this cost.
How much does it cost to replace a toilet flange?
The answer to how much a plumber charges to change a flange depends on the complexity of the issue.  The average toilet flange repair cost is $25 if replacing it yourself, however that likely will not be the case as it is a complicated project which requires both proper tools and physical strength. A toilet flange replacement cost from a professional will be much more, at $130 to $310. Your plumbing professional will know how much is a toilet flange that is suited for your toilet, and that price may be added onto the labor cost as well. While the typical actual Toilet flange cost is cheap, the labor behind it may be more than other projects. 
What is a Flapper?
The flapper is a rubber device in the bottom of a toilet tank which lifts water to let it out of the tank when you flush. This part of the toilet will wear out over time. When this piece is broken, your toilet tank may not drain properly, and your toilet will run for hours post-flushing. We recommend fixing this flapper as soon as possible as it can cause your water bill to become much, much more expensive. A leaky toilet may waste an average of a gallon of water a day, which can quickly add up.
How much does it cost to replace a toilet flapper?
The toilet flapper cost is less expensive than replacing a toilet flange, and well worth it as it will save you money in the long run. The actual toilet flapper price is around $5 to $10, while hiring a plumber to replace your toilet flapper is around $50 to $150. If you believe you can handle it, this part of a toilet can be replaced by the homeowner rather than hiring a professional plumber or handyman. 
What is a Wax Ring?
The wax ring is a piece between your toilet base and the toilet anchor flange. This part of your toilet prevents water from seeping out of the base of your toilet. If you have a toilet leak, it may need its wax ring replaced. The wax ring allows your toilet to drain properly and carries waste water away from your home rather than allowing it to leak out. Like the toilet flange, a professional is required for a toilet wax ring replacement to shut off the water supply and remove the toilet.
How much does it cost to replace a toilet wax ring?
A toilet wax ring replacement cost is much like the cost to replace a toilet flange. The cost to replace a wax ring is pricey as the toilet will need to be completely removed, and the water supply will need to be shut off. The cost to replace the wax ring under your toilet is amplified by the fact the toilet needs to be completely removed before the ring can be replaced. Your toilet wax ring cost will be around $50 to $200, however the physical part is much less. The toilet wax ring price is around $5 to $10. The total price may include this, or it may be an extra additional cost.
What is a Fill Valve?
The fill valve has the important function of refilling your tank after your flush. This part of your toilet will need to be replaced if you find your toilet taking too long to fill back up between flushes. A fill valve may also need to be replaced if your toilet is running constantly, or if it is making odd noises. A toilet valve replacement can solve a lot of common toilet problems.
How much does it cost to replace a toilet fill valve?
A toilet fill valve will be around $50 to $150, with the actual physical price of the toilet fill valve component being around $20 to $30. This may be able to be completed by the homeowner, greatly reducing the total cost of repair. 
There are many situations where both flapper and valve will need to be replaced at the same time. The cost to replace the toilet fill valve and flapper may be less than just both prices added on top of each other, as many plumbers are willing to give a discounted price on multiple tasks in the same location. 
What is a Overflow Tube?
Just like the name suggests, this part of the toilet prevents overflow. The overflow tube is connected to the flush valve and keeps the tank from taking in too much water. If your toilet is overflowing often, consider replacing this overflow tube.
How much does it cost to replace a toilet overflow tube?
Replacing a toilet overflow tube typically requires much of the tank to be rebuilt. A simple toilet overflow tube replacement is $70 to $150, however, if the rest of the tank needs to be replaced it will be around $275. 
What is a Toilet Seat?
Toilet seats can break over time, and may need to be replaced. While the other parts of a toilet typically require some experience or knowledge, a toilet seat can be replaced DIY. Of course, if you don't want to or feel you have the skills, a professional can always assist!
How much does it cost to replace a toilet seat?
The cost to reseat a toilet varies depending on the kind of toilet seat purchased. The average cost of toilet seat replacement is $47, but the range can be from $30 to $70. Hiring a professional will add more to the cost, but remember that this is an easier task that can be completed by homeowners. If you feel a professional is required, expect to spend around $133, with a range of $100 to $160.
What is a Toilet Handle?
Vigorous flushing may cause a broken toilet handle. Toilet handles can become broken, rusted, pocked, or it may just not be your style anymore. Replacing a toilet handle can assist with functionality as well as aesthetics, unlike other parts of a toilet which are typically hidden away.
How much does it cost to replace a toilet handle?
A handle, also known as the toilet trip lever, can easily be replaced. While the handle can be replaced for under $20, if you desire, higher end handles exist around $50 to $100. These more expensive handles may add some aesthetic value to your home in an unexpected way.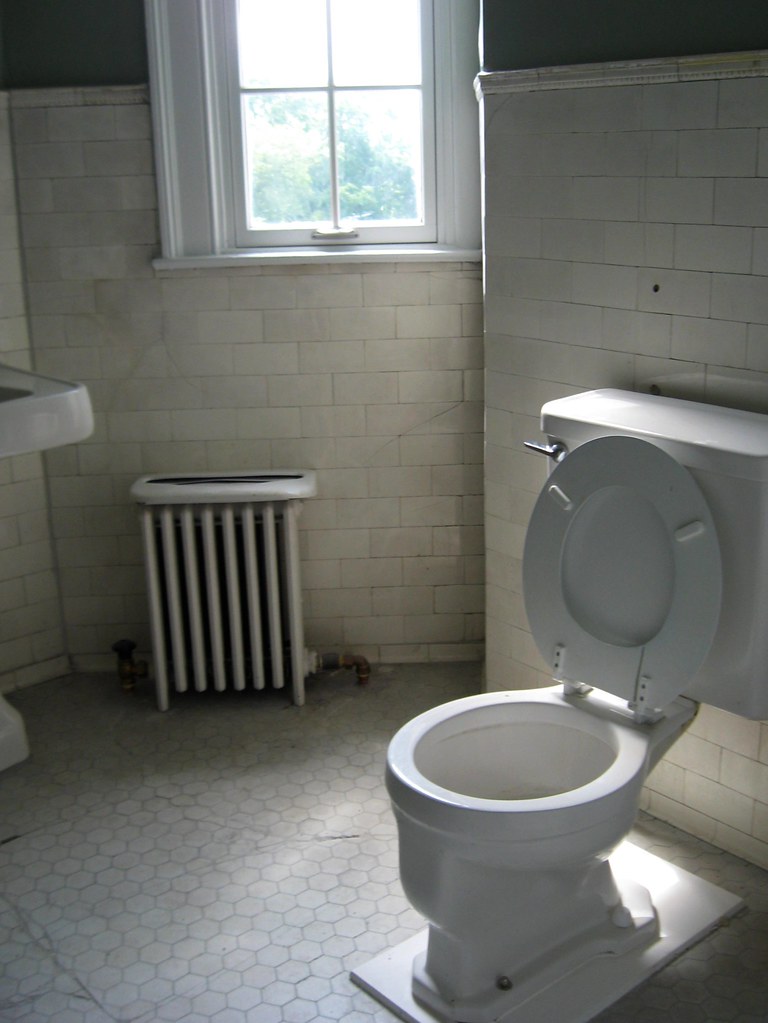 Image by elycefeliz from Flickr
Serious Leaks or Clogs
While simple fixes like fixing hardware may not cost much, with it typically being from around $100 to $250, more complicated issues can cost much more. For a serious blockage, your plumber may need to completely take apart the toilet and snake the main drain. 
Serious leaks may damage other parts of your bathroom. For example, a leak may ruin drywall in your bathroom, and it may need to be completely torn out and replaced. There are even instances where a sewer line can be clogged with a serious item, like a tree root, and it may take a lot of time and money to fix the issue. Serious blockages can be as high as $400. The bathroom leak repair cost can add up as you need to replace multiple items in a room. 
While most hardware is simple to replace, wax rings and toilet flanges are more complicated as the entire toilet needs to be removed in order to install new parts. This is a much longer process than other hardware pieces, and thus a plumber will charge more.
How much does a plumber charge to replace a toilet?
Toilet repair cost varies greatly based on what needs to be fixed. Occasionally, it may be more cost effective to completely install a new toilet into your home. A plumber cost to replace a toilet will depend on the kind of toilet purchased. New toilet installation typically costs between $70 to $190, while the actual toilet itself will cost a couple of hundred dollars, depending on the kind you desire. Toilet rebuild cost 
Extreme leaks typically will be more expensive to repair than just buying a new toilet. Most toilets last around 10 to 15 years. If your toilet is towards the end of its lifespan, we recommend considering a brand new toilet entirely. The cost to replace a toilet completely may be much less than constant repairs. Another option is toilet rebuild, which is a term used by professionals to describe replacing much of the main components of a toilet, but keeping the bowl and tank. A toilet rebuild cost is typically from $250 to $600, and you will mainly be paying for labor costs rather than parts.
How can I save on toilet repair?
While toilet repair isn't the most expensive thing in the world, there are still fantastic methods to lower the cost even further.
Avoid emergency or weekend repairs
There may be times when you will need to swallow the cost of hiring a plumber at odd times. If you have only one toilet in your home, you will likely not be in a position where you can wait a few days for repair. However, if you can wait, you can likely save money. Hiring a plumber with an emergency, meaning you require them to come to your home as soon as possible, will cost more. The cost will increase even further if you are calling them on the weekend. Some plumbers may even double their rate. The cost of a plumber to fix a toilet will be much, much more if a plumber is called outside of normal business hours.
Ask about discounts
Believe it or not, you may be eligible for discounts without even realizing. Some local plumbers have discounts for individuals in specific circumstances or occupations. For example, police, fire and military personnel may have a reduced rate. If a plumber is fixing multiple pieces in your home, you may be eligible for a special reduced rate as well. 
DIY simple repairs
Not every toilet issue requires you to call a professional plumber. Some issues can be easily solved by the homeowner. If you have a clogged toilet, before you hire, purchase a toilet auger or a drain snake from a local home improvement store and attempt to fix the issue yourself. This equipment can also be rented, and it may cost around $15 a day, which is much cheaper than hiring a plumber. How much it costs to fix a clogged toilet may be completely free if you already have the equipment.
Look to your insurance or product warranties
Most toilets come with a warranty upon purchase, although the homeowner will need to have registered it upon purchase. Your warranty may cover costs of the repair, and may even cover a completely brand new toilet. The cost for a plumber to replace your toilet completely can be a bit pricey. Larger issues, like replacement walls or issues with pipes, may be covered by your home insurance.
How to Hire a Plumber
Now that you know about different toilet issues as well as the typical cost for each issue, you can look to hire a professional as needed. Check out House Tipster, and find the perfect pro for your home repair needs. How much does it cost to repair a toilet? Find out from professionals in your area.