Hardwood flooring offers a natural, more organic appeal to the aesthetics of your spaces. The benefit of having them installed is not only the sophistication they add to your rooms but they're also flexible in their appearance. Homeowners that aren't interested in renovating their homes or remodeling the flooring have the option of refinishing their hardwood to give them a much more preferred look.
| | |
| --- | --- |
| Average Range | $500-$1600 |
| Low-End | $300 |
| High-End | $8000 |
One of the root causes of having your hardwood flooring refinished is from scratches, dents, fades, and blemishes. The average range of such cases is around $500 to $1600, with the average low-end cost being about $300, while the average high-end cost being around $8000. The overall estimate is typically affected by the amount of coverage that needs the refinishing job and the style you're looking to add.
Cost To Refinish Hardwood Floors
Homeowners should expect to spend about $3 to $8 per square foot to refinish their hardwood flooring. Depending on the type of hardwood you already have installed, this estimate will reflect the cost range according to the replacement you're looking for. Each of the hardwood flooring types have their own benefits and disadvantages, so you'll want to consider which one fits your spaces, following your taste in appearance and the location of the hardwood. There are many different hardwood finishes available, but the most common ones are oak, cherry, engineered hardwood, bamboo, parquet, pine, maple, and mahogany.
| | |
| --- | --- |
| Oak | $3-$5 |
| Cherry | $3-$5 |
| Engineered Hardwood | $3-$5 |
| Bamboo | $3-$6 |
| Parquet | $3.50-$6 |
| Pine | $4-$7 |
| Maple | $5-$8 |
| Mahogany | $6-$8 |
Oak Refinishing Costs
Ranging between $3 to $5 per square foot, oak is probably the most common hardwood finish to be expected by homeowners. Considering the fact that contractors and refinishing specialists are likely well-versed with installing this type of hardwood, the process for this kind of job is straightforward. There are two customary palettes when it comes to installing oak flooring, either white or red.
Cherry Refinishing Costs
If you want to create a warmer interior, cherry provides the deepened, rich hue of red undertones. Reasonably priced from $3 to $5 per square foot, cherry hardwood is probably one of the most durable materials out in the market. In certain cases, cherry finishes might not need to be sanded if they're in good enough condition.
Engineered Hardwood Refinishing Costs
If the hardwood installation you're seeking is a hardwood type that is about two millimeters or less from your area's surfacing, then engineered hardwood might be what you're looking for. It'll cost about $3 to $5 per square foot. One of the most popular qualities of engineered hardwood is that it doesn't warp or expand like solid wood. The major flaw to hardwood is that the environment of where the installation is arranged may negatively impact your flooring. And it's easy to install.
Knowing whether you need to refinish your engineered hardwood boils down to knowing whether the thickness levels of your flooring are worn down. Typically wear layers should be more than two millimeters in thickness and should not be sanded down if this minimum is obstructed. Keep in mind that acrylic impregnated wear layers cannot be sanded and refinished, the service for these kinds of floors should only be screened and recoated.
Bamboo Refinishing Costs
Although the bamboo finish can be quite cumbersome to refinish, it is one of the most durable hardwoods to find. Bamboo is made to look natural and has brighter palettes compared to the rest of the options listed. Homeowners should seriously consider the permanence of bamboo flooring since it's quite difficult to sand down and refinish with another type in the future. Costing between $3 to $6 per square foot, bamboo is manufactured with a certain amount of adhesives. This makes it an easy target for scratching and denting. However, bamboo is renowned for its appearance and its durability, making it a perfect asset for homeowners with a certain kind of taste and practicality.
Parquet Refinishing Costs
Parquet is peculiar and unique in appearance, in the way that grain is run in various perspectives. Priced at around $3.50 to $6 per square foot, the parquet flooring is still one of the more affordable options but the material can be easily damaged. Parquet has a fluctuation between bold and light colors, designed to provide a farmhouse effect with your flooring. It is typically arranged with lighter and darker brown wood. Homeowners are typically refinishing their floors with parquet due to the stability that they provide and the patterns that are displayed throughout the surface.
Pine Refinishing Costs
Refinishing your flooring with pine will range between $4 to $7 per square foot. Although pine is resilient and stable in nature, it is a softer option compared to the ones being mentioned. The process for refinishing pine will need a little more oversight to complete, depending on the level of expertise by your hired professional. The palette for pine includes a rich blend of both brown and red mixed with a golden yellow hue. It pairs well with lighter interior styles and will match a rustic aesthetic within your home's spaces.
Maple Refinishing Costs
Maple flooring consists of darker brown colors that transition into light brown colors, almost pale hues that run along the color coordinations. This type of wood is specialized for homeowners that like the fluctuating aesthetic, with dark brown grains traversing the surface. Costing about $5 to $8 per square foot, maple is a material with a grander scale of hardness. To smooth the surface, the wood expert will use specialized sandpaper to make the maple look nice. Homeowners that are planning to stain maple will come across some challenges due to the quality of the wood.
Mahogany Refinishing Costs
Refinishing jobs that involve mahogany will require more careful hands when sanding the wood. Your hired professional will take serious notice into preventing damages to your floors. It will cost about $6 to $8 per square foot to finish this sort of project and since this is a gentler wood variation, homeowners should seriously consider hiring a specialist in regards to this material. Mahogany is flexible when it comes to interior styles. Since it retains a darker hue, mahogany fits well with modern and contemporary appearances within the spaces it is installed.
Cost To Refinish Hardwood Floors By Installation
There are typically two installation methods to go by, depending on which hardwood finish you're trying to add. Professionals have three options: sanding and refinishing their floors, sanding, staining and refinishing the hardwood, or refinishing the floors with a vacuum. The cost for the three installation methods will probably range anywhere from $3 to $8 per square foot. Depending on which method you believe is most convenient and viable for your space, you'll have many different factors to consider.
Sanding And Refinishing Costs
The cost for this type of installation will range from $3 to $5.50 per square foot. It is considered the standard when it comes to refinishing hardwood flooring. Typically, the job will begin by sanding the outermost layer of your current hardwood. Once the removal is complete, the new surfacing will have the necessary preparation to begin the refinishing process. Homeowners should take advantage of the fact that sanding might not even be required for the project and maintain the condition of their flooring.
Sanding, Staining And Refinishing Costs
Homeowners will also have the option of including the staining process along with sanding and refinishing their hardwood. The cost of which will range between $3 to $7 per square foot. This installation method is typically done to change the color of your flooring. This service is meant to resolve any fading or discoloration problems that the homeowner might be facing.
Dustless Refinishing Costs
Estimated between $6 to $8 per square foot in costs, a dustless refinishing job will require a vacuum. Part of the process with sanding down the hardwood is the cleanup, however, there are cases where particles are still left behind. Homeowners typically opt for the dustless refinishing method to eradicate any residual dust that may still be present. Although it depends on the materials that make up your current finish, most homeowners don't want to risk causing breathing issues.
Cost To Refinish Hardwood Floors By Location
Although the estimated range is affected by the coverage of hardwood, there are cases when the homeowner might need to think about the refinishing jobs required in other locations rather than just their rooms. Here is a price structure according to the room size being refinished:
| | | |
| --- | --- | --- |
| 4x10 | 40 | $300-$500 |
| 10x10 | 100 | $400-$600 |
| 12x12 | 144 | $500-$900 |
| 16x16 | 256 | $700-$1500 |
| 20x20 | 400 | $1000-$2000 |
| 24x24 | 576 | $1200-$2800 |
Homeowners should remind themselves that there is a difference in costs in regards to stairs. Typically, contractors will charge you about $25 to $86 to refinish the hardwood on each of your steps. And projects that involve the entire home will likely range between $2000 to $8000.
The process of refinishing your floors will include the removal of pet stains, water damage, discoloration, scratches and blemishes, and sun damage. There are several different services that are included with hiring your professional. Your flooring can be serviced with polishing, buffing, and recoating, however, you should note that these amenities will apply to minimal damages. The average duration of a refinishing job will last about two to six days. Homeowners need to remind themselves that a new finish needs to be done every seven to 10 years and this will depend on the thickness level, the species, and the lifespan of the material.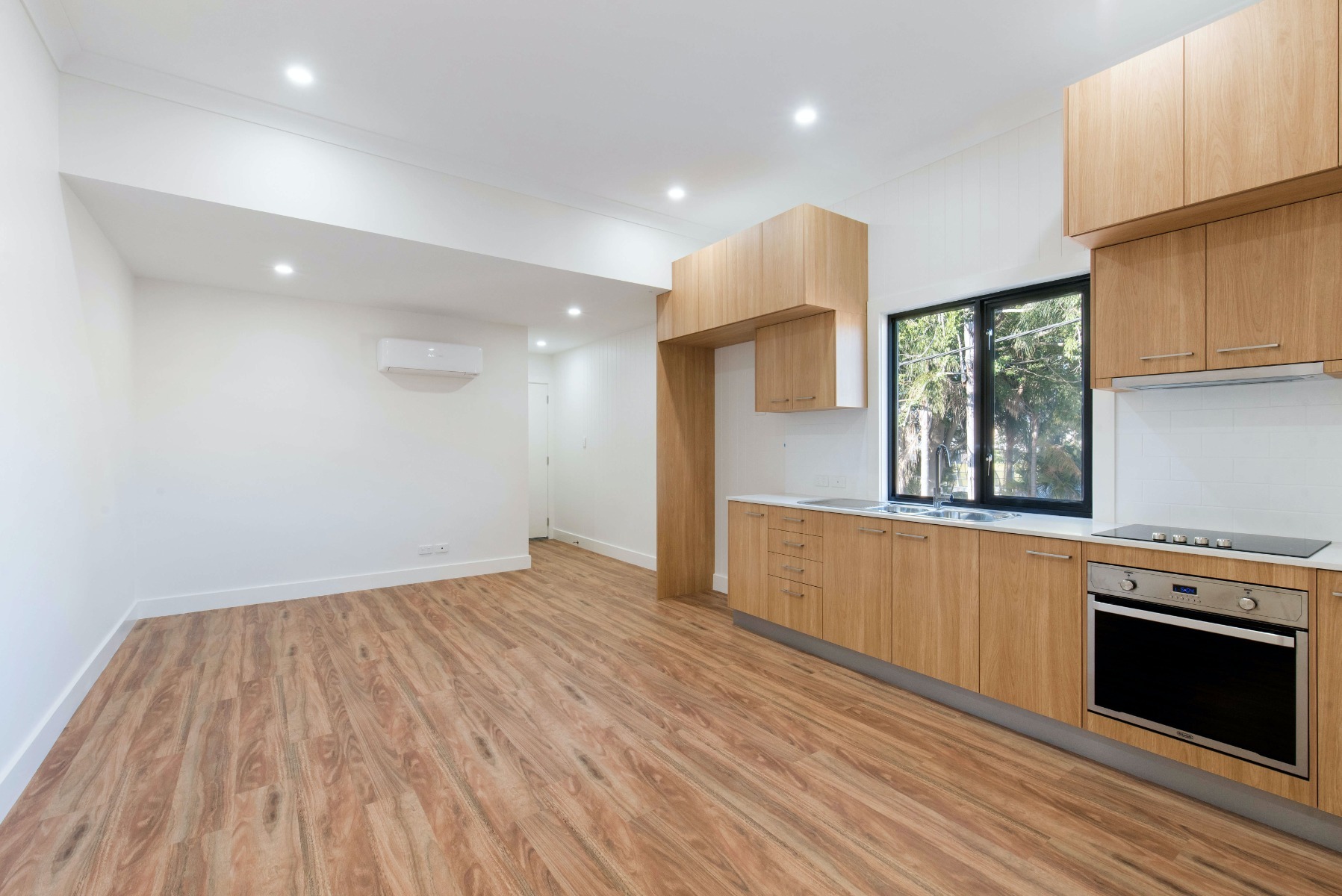 Image By Steven Ungermann On Unsplash
Finish Types
Knowing the characteristics of your finish type may help you with deciding which of the finishes you'll want to install for this kind of flooring project. There are four types of finishes that a homeowner can choose: water-based polyurethane, oil-based polyurethane, wax, penetrating oil, acid-cured finish or hard wax oil.
The water-based polyurethane has very low volatile organic compounds and lacks the odor you'd expect from these finish types. The benefit of acquiring this finish type is its qualities, whether it is its durability, smoothness, or how it gleams, water-based polyurethane is a great finish to consider. You'll have to spend about $30 to $55 per gallon, if you want to apply the water-based polyurethane type.
The oil-based counterparts for polyurethanes are known to be polar opposites to water-based ones. The material is made with stronger scents and a higher volume of VOCs, and although it is durable and has water-resistant properties. Flooring projects that involve oil-based polyurethane can take up to eight hours and even take 10 hours, depending on the complexity of the project. On average, the oil-based polyurethane type will range between $20 to $50 per gallon.
Homeowners that are interested in using the wax finish for their hardwood floors should remember that the project might require multiple coats. However, the benefit of applying the wax finish is the low sheen varnish. Keep in mind that the wax finish is not as durable as the other options, but it's easy to always reapply. Wax finish types will cost about $35 to $55 per gallon.
A penetrating oil finish, in contrast to the oil-based finish, will cost approximately $40 to $100 per gallon. Specifically, the penetrating oil finish is aptly named for its qualities in penetrating the wood. Once the finish is used, the oxidation and hardening process will provide protection on your wood's surface. Made up of different drying oils, varnish, and mineral spirits, the penetrating oil finish can become the recipe for preventing any complications involving your hardwood. By applying the penetrating oil finish, you'll have the benefit of maintaining and sealing your floors.
There are acid-cured types that will emit strong odors and will be made up of very high volumes of VOCs. They are best suited for the parquet finish, however, they aren't the easiest to restore and homeowners will have to exit the premises to let the material settle in for multiple days. Practical and visually appealing, homeowners will want this finish type for its durability. Also known as the Swedish finish, the acid-cured type will range anywhere from $50 to $80 per gallon.
The hard wax oil is most commonly used for exotic surfaces. It will cost anywhere from $70 to $550 per gallon. Blending a combination of one or several vegetable oils with one or several waxes, the hard wax oil has a high level of appeal and application for refinishing your hardwood.
Cost To Refinish Hardwood Stairs
As mentioned previously, homeowners should differentiate the costs between refinishing the floors and refinishing the stairs. The overall range to refinish your staircase, as previously stated, is around $25 to $86 per step. Typically, homeowners need to consider the possibilities with the design, whether they wish to include a different style, or refinish the treads or risers. Homeowners should think about how long it may take to sand spiral staircases.
Cost To Remove Carpeting And Refinish Hardwood Floors
The average cost to remove the carpeting in your home is about $100 to $300. Essentially, carpet removals will be estimated by the coverage of the area itself. Depending on the job being done for the different rooms, homeowners will likely encounter various cost estimates according to the size of the removal. One cost factor that is generally overlooked is the shape of the area. If the location of this service is not either square or rectangular, the homeowner may have to spend an increased amount to execute the carpet removal, depending on the odd shape of the room. Keep in mind that different locales or towns that you live in will affect the estimates listed below as well.
The services included with removing your carpets include:
| | |
| --- | --- |
| Furniture Arrangement | $0.23 per sq ft |
| Carpet Disposal | $0.50-$1 per sq ft |
| Carpet Recycling | $0.05-$0.25 per pound |
| Standard Removal | $0.50-$3 per sq ft |
| Glued Carpeting Removal | $5 per sq yard |
| Stair Carpeting Removal | $7-$10 per step |
Although each of these services have different ranges and cost factors, you'll have to consider whether your subflooring is made of concrete or hardwood. Homeowners should always know whether they have concrete subfloors installed or whether they have hardwood subfloors installed before continuing the project. However, the only concern that can come out of encountering concrete subflooring is your budget. Since hardwood flooring can be installed above the concrete, homeowners only have to worry about the additional costs that may be associated with this route for the project.
Cost To Polish Hardwood Floors
Ranging between $40 to $80 for the material costs and about $50 to $80 per hour for the labor costs, homeowners should expect to spend about $90 to $160 for a polishing service, depending on the complexity of the work. Polishing your hardwood flooring will help with restorations and will deter any scratches or discoloration that would occur from sanding the hardwood.
| | |
| --- | --- |
| Liquid Polish | $12-$20 |
| Sponge Mop | $10-$30 |
| Flathead Microfiber Dust Mop | $15-$30 |
Although it is recommended that you have your hardwood refinished by a professional, polishing your hardwood is something that you can do yourself. However, a polishing service will have all the necessary equipment to make sure that the hardwood sheen.
Cost To Recoat Hardwood Floors
A recoating service will ensure that your hardwood floors remain healthy and the cost will probably range about $1 to $2 per square foot. Homeowners will typically have their hardwood recoated to shorten the refinish process. By recoating, you won't need to sand the flooring for the project. The hardwood expert will begin the removal of the topmost layer of your floor's finish, and reapply the new layer on the surface once the removal is completed. If your hardwood is still in good condition, recoating it will only help strengthen the floor's gloss.
Cost To Buff Hardwood Floors
The difference between buffing and all the other services mentioned above is that the undertaking involves the use of clog-resistant sanding discs. Essentially, the major difference between refinishing and buffing is the method of removing the initial finish without having to risk harming the wood. A buffing service will probably cost about $1 to $2.50 per square foot.
Cost To Replace Hardwood Floors
Rather than refinishing the hardwood flooring, you can always replace it. However, homeowners should expect a higher estimate with replacement costs, spending about $14 to $32 per square foot. Typically, due to the costly nature of replacing the hardwood flooring, homeowners will have their flooring refinished a handful of times before the condition of the hardwood wears out. By doing this, homeowners can delay the necessity of replacement costs. There are certain cases where a replacement might be inevitable and required.
If your home is suffering from water damage, chances are your flooring was impacted as a result. With this situation, homeowners should replace the hardwood since the material will likely expand and swell. Structural damages can affect the foot traffic in your home, so you'll want to have your floors inspected professionally to make sure whether you'll need to replace them or not. After too many refinishing projects, hardwood can become too thin, which is why replacements will be inevitable when such occasions occur.
Cost To Restore Hardwood Floors
Having your hardwood floors restored will require different services corresponding to any damages you'll want to amend. Sanding restorations, at the basic level, will range about $3 to $5.50 per square foot in costs. Repairs might cost about $8 to $32 per square feet, depending on the severity, since the extent of damages could be quite critical in comparison to blemishes, dents, or scratches. If the damages are extreme, homeowners should opt into having their hardwood replaced instead.
How To Maintain Hardwood Floors
Homeowners that want their hardwood to last the average lifespan, which as previously stated is typically seven to 10 years, should consider the amount of maintenance that goes into keeping the floors in good condition. Homeowners should use chemicals that won't disturb or compromise the hardwood, this is to avoid degrading the surface coat. Keep in mind that soft brush attachments are the most viable option when vacuuming your hardwood floors.
ROI Through Hardwood Flooring
Although refinishing the hardwood floors might be costly, there are many benefits from having hardwood installed into your living space. Rather than finding inexpensive alternatives by replacing your hardwood with carpeting or other materials, refinishing your hardwood might give you a better resale value for your property.
Homebuyers are typically enticed by properties that already have hardwood installed. It's the features that enhance both class and appeal, attracting future buyers with purchasing such a space. Hardwood, on average, yields about 75 percent for the return on investment. By knowing which type of hardwood will yield the best results, you can sell your home at maximum value.
Finding Multiple Estimates Through House Tipster
There are many different types of services and jobs available to help you with installing, refinishing, restoring, and replacing your hardwood. Depending on what you need to do with the hardwood, it is always recommended to have a professional there to help you with your projects. By using House Tipster, you can find business listings with professionals that have all your suitable needs in mind.
Our web tool has two functions: chat and review. The chat function allows you to communicate amongst the listings you're most interested in and gives you the opportunity to find out about their estimates and any inquiries you may have about your project. The reviews function allows you to find past clients and see if the description of your interested professional is suitable to your satisfaction. It also gives you the opportunity to leave any reviews with professionals you've previously hired.
By using our two functions, homeowners can feel at ease in finding the best professional with the right qualification and has qualities in punctuality, responsiveness, and affordability. Hardwood flooring is an expensive investment and having someone to manage your project properly is essential to making your hardwood look stupendous.
Featured Image By Francesca Tosolini On Unsplash