Homeowners that are looking for a more vibrant interior can feel inspired by the different materials contrived by creativity. Bamboo makes a great addition to the interior of a home and can be a very eco-conscious alternative to other grains of wood. The average range to install bamboo flooring would cost between $600 to $5000, depending on the areas you're installing the bamboo and the size of your home. The low-end of installing your bamboo flooring will cost about $470, while the high-end cost will likely be about $6000 or more.
| | |
| --- | --- |
| Average Range | $600-$5000 |
| Low-End | $470 |
| High-End | $6000 |
There are other cost factors that will affect your overall installation pricing. This could include the appearance of the bamboo, the durability that it provides, and the materials required for the installation itself. Manufacturing for bamboo is also much quicker than that of other hardwood species and is made from fast-growing grass. You can determine the different variations by consulting with a specialist.
Bamboo Flooring Cost
Homeowners have the choice of installing engineered bamboo, solid bamboo, or strand-woven bamboo. Depending on the arrangement you decide to choose for your interiors, homeowners will probably be given different options and estimates according to the installation professional you decide to hire and consult with for your project.
Cost Of Bamboo Flooring Per Square Foot
Material costs for bamboo flooring will range between $3 to $13 per square foot, while labor costs will vary from $3 to $12 per square foot. Overall, homeowners should expect an average of $6 to $25 per square foot for the total cost. You should also keep in mind that the price of your project can increase from new subflooring or other related jobs that might be required for the installation.
Cost Of Bamboo Flooring By Construction Type
Typically, there are four types of bamboo construction materials to choose from: engineered, solid, strand-woven, or vertical and horizontal bamboo. Homeowners are given a number of options and ways to reshape the indoor theme of their properties.
| | |
| --- | --- |
| Engineered | $2-$8 per square foot |
| Solid | $3-$12 per square foot |
| Strand-Woven | $4-$10 per square foot |
Engineered Bamboo Flooring Costs
Particularly, the creation of engineered bamboo comes from plywood, layered with a thin coat of bamboo. Homeowners will install engineered bamboo to their flooring layout to ensure that damp areas, like the kitchen or moisture-excessive homes, won't affect their living conditions. Due to the thin layer, however, homeowners probably won't have any finishing options with their flooring. Although this is the case, there are exceptions when it comes to the thickness of the bamboo. Homeowners might be able to refinish the wood at least one or two times, but they need to look for the right material beforehand.
Solid Bamboo Flooring Costs
The way bamboo flooring is typically made is with the construction methods: horizontal, vertical, and industrial. Although the cost per square foot is calculated by this means, the estimate accounts for the amount of layers that are tacked on according to the thickness of the solid bamboo. Typically, the thickness of your location's flooring will provide balanced stability and higher durability.
| | |
| --- | --- |
| Horizontal | $3-$5 per square foot |
| Vertical | $4-$10 per square foot |
| Industrial | $5-$12 per square foot |
Horizontal Bamboo Set-Up Costs
Installation for a horizontal set-up will probably range between $3 to $5 per square foot. Essentially, the flooring will consist of laying the bamboo horizontally and gluing the arrangement by your specifications. Categorized in different thickness levels, the horizontal bamboo set-up is the most standardized and common way of installing the wood's flooring.
Vertical Bamboo Set-Up Costs
The vertical bamboo installation will probably cost homeowners an average of $4 to $10 per square foot. Often referred to as strip bamboo, these set-ups are generally laid by a side-to-side arrangement, rather than the common end-to-end used for horizontal installations. One of the benefits from this kind of set-up comes from the visibility of the knuckles and the lack thereof.
The pattern is thinner, however, the material is emphasized. Although there are some cases where the vertical flooring is thicker, it is due to the construction that makes this particular arrangement more evident. The estimate is reflected from the amount of bamboo used for the installation with vertical set-ups, since typically, the vertical arrangement will have a higher quantity of the solid material.
Industrial Bamboo Set-Up Costs
The cost range with installing industrial bamboo is estimated to be between $5 to $12 per square foot. It is essentially used for construction, utilizing a step pattern rather than the typical strip pattern. Since the flooring coincides with construction rather than the side-to-side or end-to-end patterns mentioned above, industrial bamboo installations can offer a wide variety of unique appearances on your flooring plans. Each of these set-ups will use solid bamboo flooring.
Strand-Woven Bamboo Flooring Costs
Homeowners will spend an average of $4 to $10 per square foot for installing strand-woven bamboo flooring. Qualities of strand-woven bamboo flooring correlates with eco-consciousness, which substitutes the quality of the flooring's appearance. The environmental-friendly aspects come from the implication of the name of the bamboo, which is the separate strands that are broken down and maintained by glue and resin. Strand-woven bamboo is long-lasting and can be a harder alternative to solid and engineered bamboo. One of the pivotal features that strand-woven bamboo flooring offers is its customizable appearances, giving homeowners an array of different options.
Cost Of Bamboo Flooring By Finish
Similar to how flooring materials will offer wide varieties of colors, designs, and finishes, bamboo will have these choices available for the average homeowner. However, homeowners should consider the fact that bamboo will often be affected by these factors. The spectrum of the bamboo's stains and colors will be determined by the individual manufacturer. Each respective finish should only cause a slight effect on the installation cost range.
| | |
| --- | --- |
| Natural | $2-$10 per square foot |
| Carbonized | $3-$12 per square foot |
| Distressed | $4-$12 per square foot |
| Tiger-Shaped | $5-$12 per square foot |
| Printed | $6-$12 per square foot |
Cost Of Natural Bamboo Finish
The estimated range of using natural bamboo as your home's flooring will probably be about $2 to $10 per square foot. This finish is the original finish that is unaltered by appearance. Also referred to as the unfinished bamboo flooring, homeowners should expect a regular bamboo floor without any stains or designs included in the installation.
Cost Of Carbonized Bamboo Finish
Appearance of carbonized bamboo is very unique. Carbonizing the bamboo will result in a lighter, creamier brown color and ranges to a deep red-brown pigmentation. Process of this will probably come from the heat that affects the sugars within the bamboo grass. This will lead to a lighter hue with the wood's color scheme. Unfortunately, the finish will elicit a softer wood, which would make the bamboo less resilient to scratches and dents.
Cost Of Distressed Bamboo Finish
Also known as the weathered bamboo floor, the distressed finish will range between $4 to $12 per square foot. This finish will give the bamboo a more aged, more antique appearance, although this option would also result in a more scraped or brushed look. The grain of distressed bamboo is quite smooth, however, the stain will make the texture feel somewhat worn away. Available in solid, engineered and woven-strand bamboo types, the distressed option will give the surface of the material. Like the carbonized bamboo finish, the distressed bamboo finish will probably become softer and more prone to scratches and dents.
Cost Of Tiger-Shaped Bamboo Finish
Tiger-shaped bamboo finishes can range between $5 to $12 per square foot. The striations remind homeowners of tiger stripes which is what makes the finish such an exotic design. Tiger striping is the combination method of use on both the natural and carbonized areas of the wood. Both of these areas are affected, vitalizing both finishes to flourish and oscillate throughout the surface. It is most preferential to use the vertical design since it'll maintain a higher volume of stripes than the horizontal one.
Cost Of Printed Bamboo Finish
Printed bamboo finishes are almost limitless and will cost about $6 to $12 per square foot. Initially designed to replicate the look of actual hardwood floors, the printed option can act as a viable alternative to oak, maple, cherry, and other popular hardwood variations. Typically, the printed bamboo finish is available as a woven-strand bamboo type for construction. Homeowners should note that the print itself is the finish; refinishing the wood would remove the print on the surface.
Contrast Amongst Bamboo Colors
While bamboo is lighter in nature and considered a very operable theme for neutral color schemes, it blends very well with ornamental home styles. Boiling the bamboo planks will provide a darker, bolder hue since the sugar in bamboo is essentially caramelized. With this process of boiling the bamboo, you can achieve any pigmentations available within the market.
Bamboo Floor Installation Factors To Consider
All flooring arrangements will require certain requirements to prepare for, bamboo flooring is no exception to this process. Board acclimation is the first thing that a homeowner should carefully consider before any installation can be organized.
Essentially, the floorboards should be sat in the house for a period of time to allow the humidity to naturally adjust the boards. Keep in mind without this crucial step, the floors will either have gaps or a level of instability. Although horizontal and vertical flooring might acclimate in three to four days, strand-woven flooring will require 30 days for the acclimation to be complete.
The flooring will be installed over some kind of material and depending on the material, homeowners might have to wait a little longer for this part of the installation to be completed. Plywood will probably require a layer of builders, while concrete will require a foam underlayment and sealing to prevent moisture from harming the bamboo.
The foam underlayment is installed to add padding to the boards, soundproofing for the areas underneath the location, and shielding against excess moisture or dampness. Although the professionals you hire for this job might know this, homeowners should keep in mind that basements and any damp locations in the home will require an additional underlayment.
Your installer will probably be detail-oriented and will closely examine each of the boards, in case any have blemishes or reasons for throwing the material away. You should include ten percent into your budget for this reason.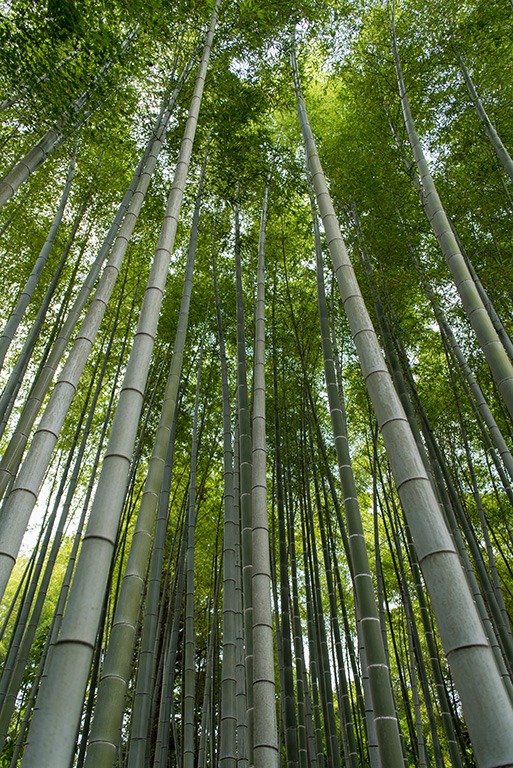 Photo By Daniel Klein On Unsplash
Labor Cost Of Bamboo Flooring Installation
The labor cost associated with the installation of bamboo flooring can come from the different jobs that might need to be done for the project's completion. Depending on which approach you're trying to take, the estimate range will vary according to the installation method you're thinking of choosing. Homeowners have the choice of nailing the boards down, having the floors glued, or floating the wood by locking the edges. Keep in mind that only engineered hardwood, vinyl, and laminate options are floated.
| | |
| --- | --- |
| Floating By Edge Locks | $8-$10 per square foot |
| Floorboard Glue-Down | $9-$12 per square foot |
| Floorboard Nailing | $9-$12 per square foot |
Floating the bamboo floors by locking in the edges of each board will probably cost $8 to $10 per square foot. It is both affordable and simple to install and can be a very useful application method. Typically, homeowners seek bamboo floors with easy-to-use tongue-and-groove style planks since they're essentially designed to stay in place by locking each edge in.
Glue-down methods will probably range between $9 and $12 per square foot for each bamboo installation. With this method, the planks are essentially glued together and pressed down on your home's subflooring. This installation method will offer more stability and ensure that your planks do not move when the floors are being walked on. Although this makes it a more permanent application to your home, you'll have a more practical option when it comes to installing bamboo floorboards. This also means that your flooring will be that much more challenging for removal.
Nailing the floors down has the same estimated labor cost of a glue-down installation. Although it may cost about $9 to $12 for the installation, the nail-down approach is one of the most effective out of the three. It is the standardized method for installing solid hardwood floors. Nailed at its bottom edge, the planks are typically installed into the subflooring without the visibility of the nails. The nail-down installation is especially pragmatic for plywood subfloors, since the installation will keep the bamboo from moving. Another permanent installation to your home, the nail-down installation will be difficult and expensive to remove.
Cost Of Bamboo Flooring By Room
Although bamboo flooring might not be well-suited for damp areas, it can be installed throughout a majority of your home. Depending on whether your home has multiple stories and which floor you're installing the bamboo flooring on, you'll want to figure out what type of bamboo is resistant against moisture. Typically, homeowners will opt for engineered or strand-woven bamboo to install in these situations.
Homeowners will have to spend varied estimates by choosing which room they're going to install the bamboo flooring on. The cost ranges from $450 to $25000 and the overall estimate will likely be calculated according to the size of the room.
| | |
| --- | --- |
| Bathroom | $450-$1500 |
| Stairs | $500-$2000 |
| Kitchen | $1000-$5000 |
| Bedroom | $2000-$5000 |
| Basement | $10000-$25000 |
Bathroom Bamboo Flooring Costs
One of the damper areas within the home that has high potential for foot traffic, installations for bathrooms will likely cost between $450 to $1500. Take note that this cost range will be assessed by the total size of the bathroom. Homeowners should be cautious of installing bamboo flooring on their bathrooms due to the warping nature of the bamboo. Even with increased protection and engineered or strand-woven bamboo types, homeowners should still be very careful with installing this to their flooring.
Stair Bamboo Flooring Costs
Depending on the flight of stairs you're trying to install the bamboo in, the cost will reflect the quantity. Typically, for an average of ten steps, you'll have to spend an average of $500 to $2000. There are dozens of different methods with installing bamboo to your stairs. Homeowners are given three things to consider: the type of bamboo, the tread, and the riser. The first thing your installer will do is trim the planks to the right specifications, ensuring that each space is covered.
Kitchen Bamboo Flooring Costs
Another room that will probably have quite a volume of foot traffic and might have excess moisture, the kitchen flooring installation might range between $1000 and $5000. Kitchen cabinetry is generally the foreground accentuated by bamboo flooring. The wood usually gives the rest of the cooking aesthetic a much nicer appearance and an easier to maintain option for you to clean and keep intact. Fortunately, there is a wide array of bamboo types you can choose from to install into your cookery.
Bedroom Bamboo Flooring Costs
The average estimated cost for installing bamboo on your bedroom flooring will range between $2000 to $5000 or more. Depending on the size, there may be more or less square footage to cover and this will mean higher or lower costs. Bamboo flooring for the bedroom is also very beneficial for homeowners with allergies since the surface won't capture or hold any dander or allergens like a carpet would.
Basement Bamboo Flooring Costs
Homeowners will probably have to spend around $10000 to $25000 if they want to install bamboo flooring in their basement. The basement will require a glue-down or floating set-up. Keep in mind that if you're installing the bamboo on a concrete subfloor, you'll want to have it sealed to prevent any of the wood from swelling,
Cost Of Refinishing Bamboo Flooring
In most cases, the bamboo you decide to install will either already be sealed, stained, or heated before you install it to your flooring. Typically, homeowners choose which one they want and depending on which one you select, it may already have any or all of the features included with your choice. Keep in mind that refinishing the bamboo planks will probably range between $3 to $6 per square foot to complete. The refinishing process will likely include some sanding jobs so you should make sure that your bamboo is thick enough for the veneers to be sanded off.
Bamboo Flooring Maintenance Costs
As mentioned in the sections above, bamboo is a very low maintenance material and doesn't require additional volumes of sealants, cleaners, or other related maintenance products. Since the finish is softer as previously stated, the material might be easier to scratch or dent. And due to this disadvantage, spills and messes should be cleaned at the first sign of such instances.
Comparison Between Bamboo And Vinyl Flooring
Flooring can be very different when it comes to the material. Both vinyl and bamboo flooring can be installed with the same installation methods. While vinyl is a plastic and is a very affordable material, bamboo is considered the longer lasting and more environmentally friendly option. However, you should keep in mind that vinyl is typically the less disconcerting alternative for homeowners with excessively damp spaces.
Advantages And Disadvantages Of Bamboo
The benefits and disadvantages of using bamboo as a flooring option come from its sustainability, eco-friendliness, cost, maintenance, flexibility, and durability. Essentially, all the benefits of bamboo mentioned above are the features of bamboo that make it such a great commodity to the rest of your home space.
Although sustainability and the eco-conscious features are highly sought after, you have to think about where your bamboo was sourced and how it was shipped. Some countries might use younger bamboo or may have used pesticides on the material, so homeowners should be wary of these factors before they purchase and install bamboo flooring. Even with the eco-conscious approach of thinking, the shipping process of bamboo might add carbon footprint to the environment.
It is another reason as to why bamboo is useful since the cost is not as detrimental to your budget, however, shipping the bamboo is what might set off the overall price. Again, homeowners should consult with their installer or retailer about finding locally sourced bamboo. However, the maintenance and flexibility of bamboo is what outscales these disadvantages. Since bamboo is easy to clean, maintain, and install in all kinds of subflooring, homeowners are typically opting for bamboo due to the ease that comes with its conservation.
The durability and its hypoallergenic qualities makes it the perfect choice for homeowners that do not want any dander or allergens to interrupt their daily lives at home. However, the way that bamboo is installed could affect the rest of your spaces, like the glue or adhesives that are involved with the installation. Bamboo is also a somewhat softer variant that imitates the appearance of hardwoods, so you may have to think about the repairs required if there are any blemishes that might incur your materials.
Finding Multiple Estimates Through House Tipster
In most cases, the floor installations, depending on which materials you're looking to include into your living spaces, might be more difficult to plan or arrange. However, by using House Tipster, you can take advantage of finding a professional for the projects of this size. Utilizing this web tool will provide you with the necessary information on which professional listing will best suit your needs.
House Tipster uses two main functions to determine the best person to work on your project. There is the chat function and the reviews function, making the search for you professional that much easier. The chat function allows you to directly message the listing of your choice. By speaking to the professionals, you can ask about their estimates, have your inquiries answered, and gauge whether the professional is the right person for the job.
Our reviews function allows you and other users to find and leave reviews through our listings. By surfing through the showcase of the listings we have, you'll have an easier time finding someone that matches your project needs. Whether you're looking for a professional in installing bamboo or a specialist in renovating your home, House Tipster will be your go-to tool for any one of these occasions.
Featured Image By kazuend On Unsplash