Homeowners can find solace from having to spend an excessive amount of money by installing vinyl instead of the other costly flooring projects that are available. Vinyl is a water-resistant material, making it one of the most viable alternatives to areas with a lot of moisture. With various arrangements in color, style, and design, vinyl is great to install throughout the entirety of your home.
| | |
| --- | --- |
| Average Range | $600-$2000 |
| Low-End | $400 |
| High-End | $3400 |
The average cost to install vinyl as your flooring plan throughout the home will probably range from $600 to $2000. On a low-end cost range, homeowners will probably only have to spend about $400, however, the high-end cost range will amount to about $3400. The overall cost of this installation is determined by the amount of vinyl being installed according to the coverage of the area.
Vinyl Flooring Installation Cost Per Square Foot
Homeowners that are looking to install vinyl to their flooring will have to spend an average between $2 and $7 per square foot for the material cost. You should also think about the quality of the vinyl planks you're looking to install. If you're thinking of purchasing and installing common planks, the range above is what you would expect, however, there are luxury planks that could cost up to $12. Depending on the contractor or trade professional you decide to hire for the project and the method of installation, the estimated range could go all the way up to $14 per square foot instead.
Vinyl Flooring Installation Cost By Material Type
There are about five different types of materials that go into the vinyl flooring arrangements. Homeowners can install sheet, VCT, LVT, LVP, and plank, which will range between $1 to $12. Depending on which type of flooring you're thinking of choosing, the difficulty of installation may affect the time and the cost to the project. The lowest estimate out of these options will come from sheets. Due to how they're supplied, the sheets will come in rolls and can act as larger components to the installation process.
The costly option comes from luxury vinyl planks which will range between $1.50 to $12 per square foot. Keeping in mind that the thickness of each of these materials will also affect the installation process, homeowners should consider what will go into the project layouts. Considerations and factors should include the lifespan of the vinyl you're thinking of planning, and the visual aesthetics of the space you're envisioning.
| | |
| --- | --- |
| Sheet Vinyl | $1-$2 |
| Vinyl Composite Tile | $1-$4 |
| Luxury Vinyl Tile | $1.50-$10 |
| Luxury Vinyl Plank | $1.50-$12 |
| Vinyl Plank Flooring | $2-$7 |
Sheet Vinyl Installation Cost
Homeowners that are interested in sheets will probably spend an average of $1 to $2 per square foot. This option is not only the most affordable installation materials, but also one of the simplest installation options available. Prepared in both rolls and pre-cut sheets, the vinyl sheet will measure from six to 12 inches wide.
Vinyl Composite Tile Installation Cost
Also known as a VCT installation, the vinyl composite tile will cost about $1 to $4 per square foot to finish. It is a material that is made from multiple layers and manufactured as a resilient product. The tiles have two installation methods: adhesively installed for a more permanent installation or click-lock installed for a floating floor installation. Keep in mind that VCT comes in many different sizes, thickness levels, and designs, so there are many different factors to think about.
Luxury Vinyl Tile Installation Cost
A luxury vinyl tile installation will cost homeowners about $1.50 to $10 per square foot. The reason why this range is so high is because of the quality that the LVT brings to the project. Luxury vinyl materials are not only thicker than the standard vinyl, but also have embossed embroidery for homeowners that want a more ornamental look to their spaces. The LVT can replicate wood and stone, giving your floors a longer lifespan. The thicker wear layer, which would generally be the urethane, is typically the surface layer on top.
Luxury Vinyl Plank Installation Cost
The LVP installation is another luxurious installation option. It ranges from $1.50 to $12 per square foot and like its tile counterpart, is a thicker than usual material with an enduring top layer. With a more engaging appearance, the luxury vinyl plank, although similar to the tile option in every way, has a livelier replication to wood grains.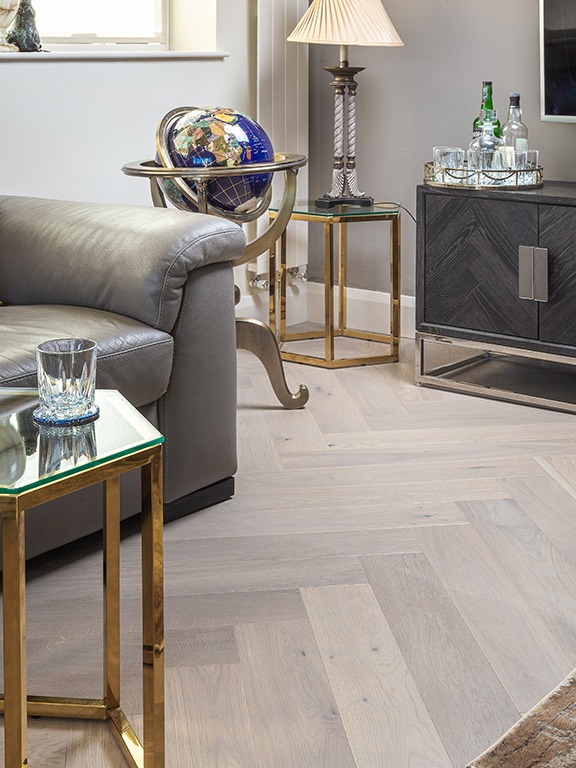 Photo By Tile Merchant Ireland On Unsplash
Vinyl Plank Flooring Installation Cost
In comparison to the tile and the plank options, the vinyl plank flooring will start out as the thicker option in some cases, however, they won't have the wide array of styles or designs. Homeowners will have to spend an estimate of about $2 to $7 per square foot for this sort of project. Although the quality is more common, the standard vinyl plank exacts the same purposes of the other floor installation options: click-lock and glue. Homeowners need to keep in mind that vinyl flooring, like laminate flooring installations, will affect the cost according to the material's thickness levels. Thinner planks are more challenging to install, while thicker components are less difficult, but a little more expensive, in comparison.
Vinyl Flooring Installation Cost By Backing Type
Every vinyl sheet will have some kind of backing and the material for the backing might affect the whole project overall. The two main types of vinyl sheet backing are either felt or fiberglass. Both types give your floor a personable look and can change the flooring procedure and the vinyl's removal.
Felt-Backed Installation Cost
The cost of felt, which is a more rustic experience, would probably cost homeowners an average of $1 to $1.50 per square foot. Installing the felt will probably require a particular adhesive that would typically be applied around the entire backside of the sheet. Your installer will use a roller to ensure that the entire installation is accurately and smoothly placed, ultimately avoiding any gaps or spaces between the materials arranged. Although the felt-backed installation can be an overwhelming task to execute, it will have enough strength to make sure your flooring isn't negatively impacted. One of the many benefits of felt-backed vinyl is the age and how much strength is applied to the installation over time.
Fiberglass-Backed Installation Cost
The fiberglass-backed vinyl flooring will cost about $1 to $2 per square foot. It is the more convenient method of installation and won't be as difficult to apply. Your installation expert will only have to glue the edges, avoiding any other spaces in the back, the fiberglass-backed installation will be a quicker process to both install and remove. One of its major benefits is how flexible it is with location. Essentially, fiberglass-backed vinyl flooring can be installed throughout any area in the home without any complications to resolve.
Vinyl Flooring Installation Cost By Production
There are two processes to mention when it comes to vinyl production: printed or inlaid. Typically, those two processes will offer the most realistic simulated designs to convey the kind of flooring you're looking to implement. Both production processes are executed through a top coating of the tile material.
Printed Vinyl Flooring Cost
Homeowners will need to spend about $1 to $5 per square foot to produce a printed vinyl material. The print will consist of different colors and patterns through the bottom of the paper's surface layer. Depending on which print the homeowner is trying to produce, the options of patterns and designs may vary with more options available to the homeowner. The variety of prints are typically prepared for VCT, sheet, and common planks.
Inlaid Vinyl Flooring Cost
Costing a range between $5 to $12 per square foot, the inlaid print is made through the synthetic grain of colors. The top layer is usually the one that is changed. While the floor is provided with higher levels of depth, detail, and texture, the inlaid print also offers more luxury-related aesthetics and design possibilities.
Vinyl Flooring Installation Cost By Core
The core of the vinyl materials are manufactured to provide the homeowner with different sensations, whether the options offer soft or hard attributes. Depending on whether you're looking to install luxury or common materials, you'll have more of an educated guess into which cores you'll need for your vinyl products. There are two cores that will most likely be chosen, either the stone polymer core or the wood polymer core.
SPC Vinyl Costs
Ranging between $3.50 to $7 per square foot, the SPC or the stone polymer core will act as the harder supplicant to your vinyl materials. One of the more durable options between the two cores, the SPC gives homeowners a nigh-indestructible substance for their flooring. The SPC provides a longer-lasting lifespan to your vinyl.
WPC Vinyl Costs
It costs about $4 to $12 per square foot to run this option around the home. The surface is made of wood-plastic composite core, which is strong and waterproof. The material is also durable against rippling and warping, making it a great application for moisture excessive areas and locations. WPC vinyl also comes with a huge array of patterns. With a wear layer on top, the WPC protects your flooring from blemishes.
Vinyl Flooring Installation Cost By Style
Although vinyl is versatile, its high demand comes from the affordability of replicating the appearance of more expensive materials. Ranging between $2 to $14 per square foot, homeowners should seriously consider what kind of vinyl flooring they want as their style, not only to match the decor, but also to match the condition of the spaces. There are eight styles to mention: marble, stone, slate, metallic, wood, herringbone, geometric, and plank vinyls.
| | |
| --- | --- |
| Material Style | Cost Range Per Square Foot |
| Marble | $2-$4 |
| Stone | $2-$8 |
| Slate | $3-$5 |
| Metallic | $3-$9 |
| Wood | $3-$12 |
| Herringbone | $4-$6.50 |
| Geometric | $5-$8 |
| Plank | $5-$8 |
Marble
Vinyl that looks and feels like marble will typically be for the more formal locations in the home or for kitchens, and will cost about $2 to $4 per square foot. Homeowners generally install this style because they favor the appearance without having to spend an outrageous amount of money to purchase and install marble throughout their property. Generally, this style is popular because of the veining patterns the vinyl provides.
Stone
Stone effect vinyl is highly sought after by homeowners with a taste for contemporary design. Costing about $2 to $8 per square foot, the stone effect vinyl flooring is the premier choice for homeowners that want a porcelain or ceramic installation. Since stone is such a great addition to one's living space, homeowners will love how many different designs are available with this style option.
Slate
Another great component to the more contemporary home enthusiasts, the slate vinyl flooring style is one that will offer honed appearances. Ranging between $3 to $5 per square foot, the spaces that have slate vinyl flooring styles added within the decor will give homeowners the color arrangements to aesthetically match patios and cookeries. Slate is the prime option for the outdoor scenery, it gives a scope of the natural environment and an opalescent quality to your backyard.
Metallic
Somewhat similar to the purpose of slate, the metallic vinyl style was designed to give an iridescent appeal to your spaces. The difference between the two is the location that metallic vinyl styles are most typically found. Costing about $3 to $9 per square foot, the metallic vinyl is most commonly used in bathrooms, recreational spaces, and living rooms. It is the most proficient installation for locations that are best suited for materials like gold, bronze, and silver. Keep in mind that homeowners will only have premier metal colors, essentially the ones mentioned above.
Wood
A wood vinyl can be a great choice for more traditional interior concepts like farmhouse, or for homes that want to encapsulate a more 18th or 19th century design. It costs about $3 to $12 per square foot to install the wood vinyl style throughout the home and is perfectly arranged for porches, patios, and even kitchens.
Herringbone
A herringbone scheme will be the optimal solution for modern homeowners that distinguish the fresher approach when it comes to their layouts. Homeowners will be expected to pay about $4 to $6.50 per square foot for the installation of the herringbone style and will have versatility in its usage throughout both the interior and exterior of their living spaces. This style gives the homeowner and the guests of the homeowner a chance to draw out focus into the modern lines that herringbone provides. It is an eye-catching design that most individuals are allured by.
Geometric
As the name suggests, this vinyl style is made to fit a certain geometric shape. Depending on your taste and the kind of style or pattern you're looking for, you'll be spending a range of about $5 to $8 for the overall project. Repetition of the patterns that are chosen gives your spaces a more elegant and picturesque design. The geometric style will give your home a poignant appearance.
Plank
The vinyl plank style is typically seen in the kitchen and it'll cost anywhere from $5 to $8 per square foot to install. Although the kitchen is the most commonplace application for this style, homeowners also have the option of installing the plank style for bathrooms as well. Since there is quite an array of different choices for the colors and patterns, homeowners will find that the vinyl planks can find simple decors for this palette.
Vinyl Replacement Costs
Homeowners planning to remove and replace their vinyl flooring will probably have to spend about $1 to $2 per square foot. A professional removal service will be able to remove your older vinyl but depending on the installation method that initially kept your material in place, the duration of the service might be longer than usual.
Homeowners should know that older vinyl flooring will require a test before removal can commence. This is due to asbestos. Typically, older adhesives and resins tend to carry asbestos and if left unchecked, could result in issues with your lungs. Homeowners should be wary of when their flooring turns black. It is the first indication in figuring out whether there is asbestos affecting your space.
Removal could also be a challenge, in the future, in regards to glue-down set ups. Since glue and other adhesives can grow stronger over time, services that assist homeowners with removing vinyl flooring will have trouble, if left unchecked. Oftentimes, the professional will bring their own special equipment and tools to repair any troubles with the subflooring, which will cost an additional $1500. Estimates that reflect these occasions will range between $5 to $10 per square foot, or higher in the case of asbestos-related circumstances.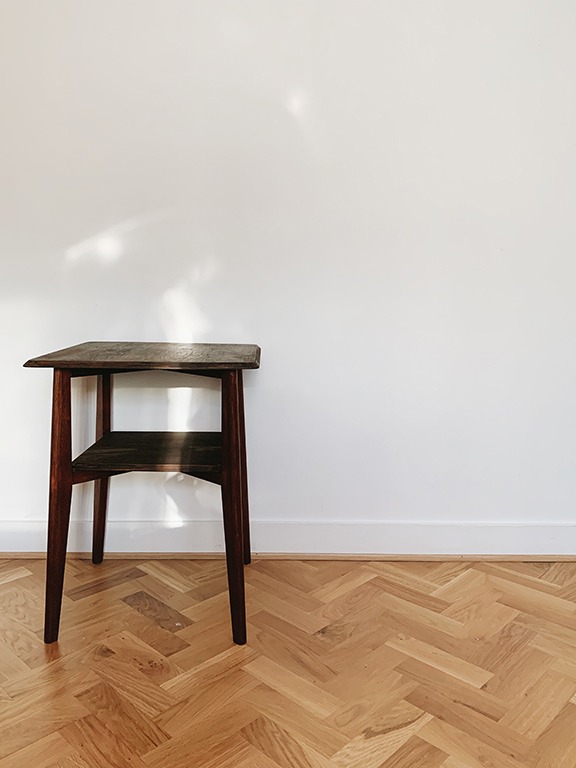 Photo By Rumman Amin By Unsplash
Vinyl Underlayment Installation Cost
Homeowners that need to install underlayment for their vinyl flooring will have to spend an average of $0.50 per square foot. This service is necessary to prevent any issues with the vinyl material. Like laminate materials, the underlayment will depend on the thickness level of the vinyl flooring. Essentially, underlayments are crucial for noiseproofing purposes or for reasons for leveling the floor schematics. If the homeowner is arranging a floating set-up for vinyl, the underlayment will be an even more significant component to the installation plans.
Advantages And Disadvantages To Vinyl Flooring
Some of the benefits to vinyl flooring is how affordable it is. Most modern homes will opt for vinyl flooring to simulate the kind of materials they want to install into their spaces. With so many appearances that can be customized, vinyl flooring will suit any kind of profiles that homeowners will want.
However, one of the disadvantages that eludes homeowners from vinyl flooring is its lifespan. Vinyl has an average expectancy of about 10 to 20 years. But what really inhibits people from installing vinyl flooring is the manufacturing process. Since vinyl is essentially the result of petroleum, homeowners find it damaging in regards to the ecosystem.
Outdoor Vinyl Flooring Installation Costs
Mainly designed and made for indoor usage, vinyl flooring could alternatively be used for outdoor purposes since it retains water resistance features. When homeowners purchase and install their vinyl flooring, they should make sure that their vinyl flooring material is suitable for outdoor use. Homeowners should also note that both WPC and SPC options include water resistant features. When it comes to installing vinyl in the outdoor areas of your home, you should remind yourself that click-lock installations are best-suited in such cases.
Carpet Replacement Cost
Homeowners might meander between the choice of keeping their carpeting intact, or changing their floors with vinyl materials. One of the major complaints that homeowners talk about when installing carpets into their homes is the amount of allergens, dust, and other particulates they have to deal with that are typically trapped in the fibers. There is also the risk and possibility of having to deal with mold or mildew being quite the ordeal for homeowners.
The average estimate for removing carpets will range from $150 to $200, with the low-end costing about $100 and the high-end costing about $300. Essentially, carpet removals will be estimated by the coverage of the area itself. Depending on the job being done for the different rooms, homeowners will likely encounter various cost estimates according to the size of the removal. One cost factor that is generally overlooked is the shape of the area. If the location of this service is not either square or rectangular, the homeowner may have to spend an increased amount to execute the carpet removal, depending on the odd shape of the room.
The estimated cost for the basic service of removing the carpet will likely range between $0.50 to $3 per square yard. However, depending on which services you require for the entirety of such a project, this range would likely be calculated, based on the service itself and the amount of carpeting being removed and disposed of. Typically, the standard removal will include the carpet and the padding from your specified areas.
For the standard carpet removal, depending on the type of subflooring you have underneath, you'll be expected to pay a variety of estimates according to the material attached. The carpet removal from hardwood will probably range about $0.50 to $0.75 per square foot, while concrete will range anywhere from $0.50 to $1.50 per square foot.
Carpet removal on hardwood requires the padding to be taken out, which results in uncovering the hardwood itself. Typically, homeowners will want their hardwood flooring refinished once the carpet is removed. However, a refinishing for hardwood floors won't be included with the carpet removal service, so you'll probably want to consult or hire another professional focused in that particular trade or area of expertise.
Carpet removal services for concrete will require multiple cutting, pulling out parts of the carpet into smaller pieces and taking out any staples and padding that is fastened in the bottom. This will entail a scraping tool, boiling water, and possibly chemicals for glue removal. Fortunately, the concrete won't be harmed from this process due to the durability of the material. Concrete subflooring can actually open up a door of new possibilities, like laminate flooring or hardwood flooring. There are many kinds of floor installation options you could choose from after you have your carpets removed.
Subfloor Servicing Cost
The installation expert will have to determine whether your vinyl flooring options would be suitable for concrete or wood subflooring. Typically, the preparations for these types of projects will begin with confirming the amount of moisture present within the affected areas. Once the professional understands which subflooring material is being used and how much moisture there is in the location, the specialist will check whether the flooring is leveled or not.
Underlayment should also be considered in the process, however, this factor will be calculated into the process if you're vying for a floating installation method. Preparations will include cleaning and sanding until the floors look the way they're supposed to. Once these two services are completed, the professional will then remove all the debris and pieces to make sure that the floor is clean.
Vinyl Flooring Measurements
Although the professional will be the one with the expertise to make these measurements, homeowners should also make sure that the estimate resembles the calculation of the coverage. The professional consultation will include the estimates for the entirety of your project. By knowing the measurements, you'll know how much your expert is charging you for every square foot.
Besides knowing the reflection on your estimates, knowing the measurements in your vinyl will help you with knowing how much of the coverage either needs to be replaced or re-installed. Measure the flooring by checking the square footage and make sure not to forget about the extra room you might be overlooking. You could also think about the easier method of measuring your vinyl flooring by breaking the measurement down into sections.
One way to reassure yourself by knowing the measurements is to inspect the measurements of the length and width of the sections and multiply them together, measuring the overall inches. Take the measurements of the inches and divide the overall number by 144. The calculations are finalized by assessing the total number of all the sections together and rounding it all up to the nearest whole number. The overall measurement will be calculated by multiplying 1.10, and make sure to account for waste, since typically ten percent of that final square footage will most likely be considered debris or junk.
Vinyl Flooring Thresholds
There are certain thresholds that need to be considered when installing your vinyl flooring. Since the installation will mostly occur with your flooring, you have to think about how to install the vinyl in entryways and other thresholds that you might have to cover. To ensure that the threshold is maintained, homeowners will need to think of ways to provide a smooth transition to the other rooms.
Ranging anywhere from $10 to $60, homeowners will have many different options in choosing a threshold. Homeowners need to think about the different range of materials that fit the material choices of the vinyl flooring. Keep in mind that the appearance of the flooring will look peculiar without matching thresholds. The range that you should expect for material costs in regards to thresholds will probably be between $25 to $35.
Typically, homeowners will have the choice of vinyl, aluminum, wood, tile, and even marble reproductions. A strip of reducer would be useful for the purpose of smoothing the transition between each room. The cost range to purchase a reducer can be anywhere from $10 to $50. By installing the right kind of threshold, you'll essentially be creating a natural sealant on the gap between your door and your vinyl flooring, a perfect insulator that prevents any pests from intruding your spaces.
Vinyl Flooring Maintenance Costs
In regards to maintaining the condition of your vinyl flooring, you need to think about the size of the location. Homeowners won't have to spend a particular amount of money to have their vinyl well-conditioned. Typically, vinyl does best with gentle cleaning agents. It'd be best to figure out which cleaning agents will work best for your type of vinyl flooring materials.
You have to consider what kind of materials make up these vinyl variations. To keep your vinyl in the best condition possible, homeowners should make sure to follow the proper cleaning procedures. Sweeping and dusting will remove any signs of debris, mopping will make sure to get rid of the dirt and grime, ensuring that the appearance of your vinyl flooring isn't affected.
One household tip for homeowners is to create your own cleaning solutions by mixing a cup of apple cider vinegar with a gallon of water. This kind of solution will be effective against your tough-to-clean spots and prevent any worsening conditions that might occur in the near future. If you're a homeowner with a pet or an infant, you'll want to consider the possibility of scratches or blemishes on your vinyl flooring. One method to apply to your flooring plan is applying sealing products to make sure such instances don't happen.
Keep in mind that vinyl is a porous material, which means that there are certain types of vinyl that will need to be waxed frequently. Homeowners should find out more about what kind of maintenance requirements are required for the variations in vinyl.
Vinyl Vs. Other Flooring Options
There are many different flooring plans available for homeowners but each of them have different characteristics with both beneficial and detrimental qualities to them. One of the flooring options will have a close distinction with vinyl flooring is linoleum flooring. The appearance between the two materials are very similar, however, the way they're made is completely different.
Linoleum, which is typically made from linseed oil, limestone dust, cork and wood flour, pine rosin, and jute backing, is an excellent choice in durability. Its lifespan can range between 50 to 100 years and will have a huge array of colors. Vinyl flooring is made of many different layers, and a bigger inventory of styles and appearances but won't last as long as linoleum. It has a lifespan of about 10 to 20 years.
Homeowners also have the option of purchasing and installing laminate flooring throughout their spaces. However, laminate flooring has no resistance to water, which is why it wouldn't be considered an option for homeowners that want their flooring to be well-adjusted to moisture-excessive areas. Keep in mind that such installations are considered direct rivals to the vinyl flooring.
Laminate flooring is also made of several fibrous layers that are laminated together. Although both laminate and vinyl have the same array of colors, styles, and textures, laminate is considered to be slightly higher in cost.
Hardwood flooring is usually the material that homeowners want and the materials mentioned above are considered to be the substitute flooring that simulates the hardwood. Homeowners should also keep in mind that hardwood is not a material that works well with moisture. Since hardwood can warp and swell, it's not a good investment in these regards. One of the flexible qualities that hardwood has is that homeowners can always refinish the hardwood, if they don't enjoy the current appearance.
Finding Multiple Estimates Through House Tipster
No matter which flooring option you decide to install, there are many different options in finding flooring installers. Throughout the process of finding the right professionals for your flooring project, the difficulty of the search comes from the doubt that comes with knowing whether that individual is competent in that particular field. However, by using House Tipster, homeowners will be alleviated of such concerns.
Our web tool uses two functions to help you with the process of finding the right help: the chat function and the reviews function. The chat function helps homeowners with directly communicating with people from multiple listings around their area. Users can find the right quality of work, while asking for estimates and inquiries of those listings. The second function is the reviews function where users can find the opinions of work that the professionals have done in the past.
By finding the right kind of listings, you'll be happy to know that there is a certified and proficient person to do the jobs that require a level of expertise. House Tipster can help you with any and all of your home improvement or renovation needs. Your projects should be completed within your preference and affordability, find listings that will do the work efficiently and effectively.
Featured Image By Ralph Darabos On Unsplash