Removing the carpets in your home is common for homeowners that have allergies. However, there are many other reasons and factors that go into removing your carpeted areas. Depending on the size of your carpets, the estimated cost for removing them will range from $150 to $200. The low-end estimate will probably be around $100, while the high-end estimate will likely be about $300.
| | |
| --- | --- |
| Average Range | $150-$200 |
| Low-End | $100 |
| High-End | $300 |
In most instances, homeowners will arrange this service to install new kinds of flooring to ensure a new interior style for the rooms in their properties. There are also cases where carpets might result in medical conditions that involve difficulty in breathing, like asthma or even skin conditions like rashes or eczema. There are different types of jobs that might be involved with a project such as this one, like carpet removal on stairs or carpet disposals.
Carpet Removal Cost
Essentially, carpet removals will be estimated by the coverage of the area itself. Depending on the job being done for the different rooms, homeowners will likely encounter various cost estimates according to the size of the removal. One cost factor that is generally overlooked is the shape of the area. If the location of this service is not either square or rectangular, the homeowner may have to spend an increased amount to execute the carpet removal, depending on the odd shape of the room. Keep in mind that different locales or towns that you live in will affect the estimates listed below as well.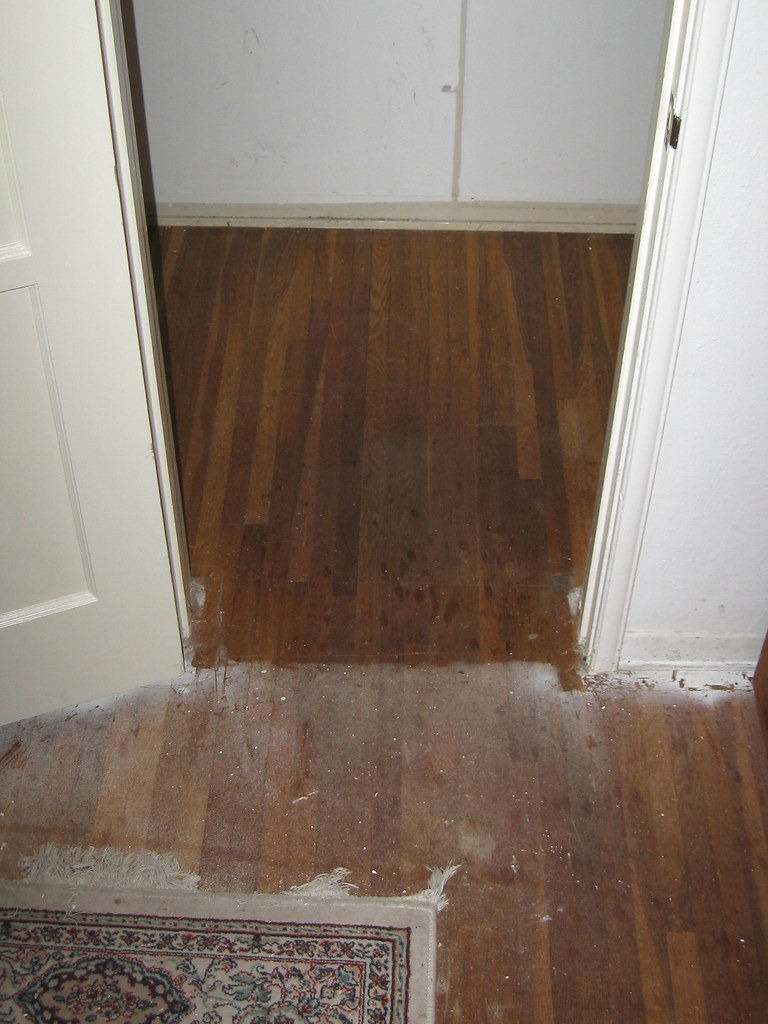 Photo By Mitch Barrie From Flickr
Carpet Removal Cost Per Square Foot
The estimated cost for the basic service of removing the carpet will likely range between $0.50 to $3 per square yard. However, depending on which services you require for the entirety of such a project, this range would likely be calculated, based on the service itself and the amount of carpeting being removed and disposed of. Typically, the standard removal will include the carpet and the padding from your specified areas.
| | |
| --- | --- |
| Furniture Arrangement | $0.23 per sq ft |
| Carpet Disposal | $0.50-$1 per sq ft |
| Carpet Recycling | $0.05-$0.25 per pound |
| Standard Removal | $0.50-$3 per sq ft |
| Glued Carpeting Removal | $5 per sq yard |
| Stair Carpeting Removal | $7-$10 per step |
For the standard carpet removal, depending on the type of subflooring you have underneath, you'll be expected to pay a variety of estimates according to the material attached. The carpet removal from hardwood will probably range about $0.50 to $0.75 per square foot, while concrete will range anywhere from $0.50 to $1.50 per square foot.
| | |
| --- | --- |
| Subflooring Type | Cost Range Per Square Foot |
| Hardwood | $0.50-$0.75 |
| Concrete | $0.50-$1.50 |
Carpet removal on hardwood requires the padding to be taken out, which results in uncovering the hardwood itself. Typically, homeowners will want their hardwood flooring refinished once the carpet is removed. However, a refinishing for hardwood floors won't be included with the carpet removal service, so you'll probably want to consult or hire another professional focused in that particular trade or area of expertise.
Carpet removal services for concrete will require multiple cutting, pulling out parts of the carpet into smaller pieces and taking out any staples and padding that is fastened in the bottom. This will entail a scraping tool, boiling water, and possibly chemicals for glue removal. Fortunately, the concrete won't be harmed from this process due to the durability of the material. Concrete subflooring can actually open up a door of new possibilities, like laminate flooring or hardwood flooring. There are many kinds of floor installation options you could choose from after you have your carpets removed.
Cost To Rearrange Furniture Before Carpet Removal
Before the service of removing any carpets can be done, homeowners need to consider rearranging their furniture. This kind of service is typically for homeowners that have heavy furniture or for cautious homeowners that are wary about damaging their belongings. Generally, the professional carpet removal business will have to be notified of having their furniture arranged before they can bring in additional individuals for this service. You'll be expected to spend about $0.23 per square foot for the furniture to be moved.
Depending on how many rooms you're trying to remove your carpet, the time-costing aspect of this job might require you to spend about $60 per hour for your furniture to be rearranged.
Cost To Dispose & Recycle Carpet
Carpet disposals are typically going to range between $0.05 to $0.25 per pound to recycle the removed parts. On average, homeowners will have to spend about $3 to $12 to recycle the carpeting in a 200 square foot room. The good thing about disposal services is that you can donate the carpets that you have removed from your home. There are many different ways you can get rid of your carpeting and ensure charitable intentions.
Most nonprofit and charitable organizations will gladly use your carpet donations to assist low-income families that would put your removed carpets with good use. It's through this contribution that homeowners can help families in need. Homeowners should, however, first call the interested organization to confirm whether the charity takes carpet donations. Even if the carpet is in good condition or if it looks clean, there are several considerations to make before your interested party can accept carpet donations, like stains, dander, mold, or allergens.
Labor Cost For Carpet Removal
The labor involved with removing any carpeted areas in the home will probably range between $0.50 to $1.50 per square foot. You can expect this estimate to be higher depending on the distance of your home and the disposal rates that are offered by your carpet removal service. Typically, contractors will take the time to remove the carpets for the corner of your location, however, if there is no corner, the contractor or group of contractors may charge you more, depending on the shape of the room.
The professional will begin the service by using a utility knife to cut a small opening in the carpet to make sure there is a part of the carpet to grab hold of. The contractor will then begin slowly tugging out the carpet, moving it apart from the subflooring and loosening any coupling apparatuses from underneath, like tacking strips, staples, glue agents, or nails.
Cost To Remove Glued Down Carpet
A glued-down set-up is probably going to cost about $0.33 to $0.56 per square foot or about $5 per square yard for the removal. Services for removing installations such as this one will require multiple cuts from the utility knife. The glue on the carpet will probably remain even after the removal so the professional will likely use a scraping tool to remove excess gunk or any adhesives that were applied to the carpeted pieces. Since the glue is meant to last for a very long period of time, it will be a laborious task and this will include the service of removing any dried glue off the subfloor.
Cost To Remove Carpeting On Stairs
Removing carpeted areas that are attached to your staircase will probably cost you about $7 to $10 per step. Essentially, this service is more cumbersome than having to perform it in regular conditions. With stairs, carpet removal needs to be carefully done, since each step needs to be removed.
New Floor Installation Costs After Carpet Removal
After the service of removing your carpets, you should consider which flooring installations to choose from. Planning ahead of time what kind of area you want for the rooms and subfloors you wish to arrange will help you in the long-run. It will range about $6 to $80 for the square footage replacing your carpets with a different type of flooring installation.
Vinyl Flooring Installation
Carpet removal and vinyl flooring installations will probably cost about $3 to $14 per square foot. However, homeowners should remind themselves that there are different types of vinyl planks and the range for the installation could increase depending on this factor. Essentially, it is one of the most preferred options for floor installations due to its affordability and its ease of installation. Since the array of colors and designs are so vast, homeowners will often opt for this choice when it comes to removing and replacing the carpeting.
Tile Flooring Installation
Other than vinyl flooring, homeowners can decide to have their floors installed with tiles. The estimated cost for replacing your carpeting with tile flooring will probably be about $10 to $59 per square foot. Aside from being one of the more expensive options on this list, this option will be the most durable and long-lasting, the tiles have the potential to last more than just a few years if you maintain them correctly.
Carpet Flooring Installation
Instead of removing your carpet completely, maybe you're trying to replace the carpets with something more updated. Homeowners will be expected to pay about $5 to $14 per square foot to have their carpets replaced with newer carpeting. If this is the case, you're going to have to think about the maintenance issues that come along with installing a new carpet. As a homeowner who has had carpeting already installed previously, you should know the costs that go into keeping the carpet under good condition. Although homeowners have the chance to play around different palettes and designs, you're also going to have to consider the costs of purchasing the new carpeting as well.
Besides the carpeting on the floors, homeowners should also consider the carpeting jobs on the stairs, too. Since it is essentially one of the more trafficked areas within the property, homeowners need to think about what kind of replacements might be needed for a project of this scale. Before you make any changes, you should always keep some kind of contingency in mind. Purchase another carpet to make sure that if or when your carpet needs to be replaced, you'll have something to install with the matching looks.
Laminate Flooring Installation
One of the cheaper routes for a homeowner to take is to install laminate flooring. Costing about $6 to $23 per square foot, the laminate option is a great flooring alternative for homeowners that want to replace their carpeting with something that looks and feels like hardwood. Although the lifespan of laminate flooring ranges around ten years, it has a wide variety of finishes to make your living space look extravagant, with half the budget of installing hardwood. The disadvantage to purchasing and installing laminate is its vulnerability. Prone to scratches, dents, and other blemishes, the durability of laminate is not nearly as great as its quality counterparts.
Hardwood Flooring Installation
The most expensive option for homeowners to choose is purchasing and installing hardwood flooring. At a range from $11 to $42 per square foot, hardwood flooring will not only remove the disadvantages of carpeting, but it will also give your home a completely renewed take. Although the fortunate aspect of choosing hardwood is the array of different species and options available, some of them can actually be quite affordable. Pine wood is probably the least costly out of the aforementioned hardwood flooring materials.
Other Floor Installation Options To Consider
There are other flooring options that you can choose from, depending on the kind of situation you're in. These considerations are typically thought of when the homeowner is making changes throughout other areas of the home, like the basement or even the porch. Each of these other installation options have their own advantages.
Linoleum flooring can be installed throughout any part of the home. It can last up to 40 years or even more if the homeowner knows how to maintain its condition. The disadvantages with linoleum flooring is that it does age and with that age, comes potential replacement costs. To install linoleum flooring, homeowners will have to spend an estimated range from $5 to $7 per square foot. It is reasonably affordable and it is a recyclable, eco-conscious option for homeowners.
The cork flooring option provides homeowners with naturally repelling insects, costing between $6 to $9 per square foot to install. There is a very versatile choice amongst homeowners because cork can actually be lacquered. Durability is a major plus when it comes to cork and won't be cracked or abrasions. It's also naturally designed to resist mold, mildew, and termites. Due to its antimicrobial properties, cork is a great option for kitchens and practically any room in your home.
Concrete installation choices will probably cost you an average of $9 to $11 per square foot to complete. An extremely durable and low maintenance material, concrete is advised to be used for basements and outdoor spaces. Homeowners will find concrete to be a more than suitable option for projects involving soundproof subflooring.
Floorboard Polishing Services
Homeowners that want their floorboards polished after having their carpets removed will have to spend an average of $4 to $7 per square foot. The services of this estimate will include sanding the area and adding a finish of your choice after the carpets are completely taken out. Depending on the estimate that your contractor will consult with you, the professional will help you in correcting the floorboards by punching the nails that are still bare and visible throughout the areas. Once that is completed, contractors can sand the location and flatten it.
Once the process is complete, your professional contractor will apply two layers of floor polish throughout every part of the space, every edge and corner. Finally, your floorboards will be ready for new installations, and depending on the option you're striving towards, you'll have a whole new flooring plan by the end of the project.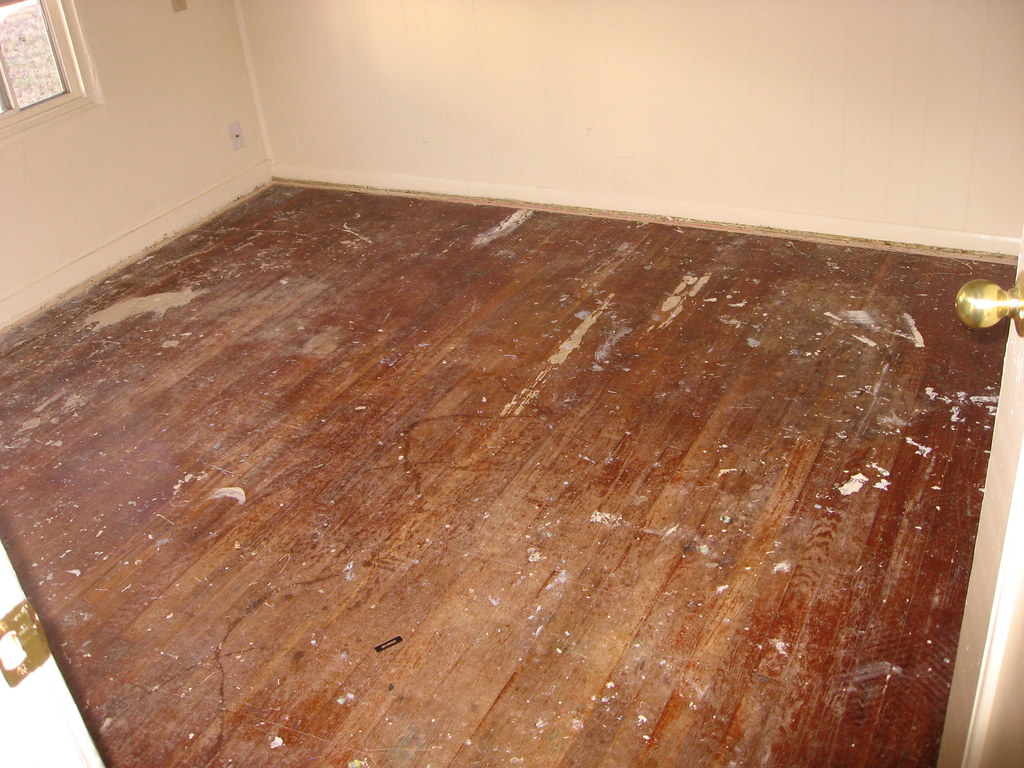 Photo By Patrick Dockens From Flickr
Signs That Your Carpet Needs To Be Removed Or Replaced
There are telltale signs that will indicate the need for removing or replacing your carpets. Although the most common reasons might come from food or drink stains, those issues can be easily solved with some thorough cleaning and stain removal services. However, the lifespan of maintaining the carpet by having it cleaned, as many times as you would when keeping a carpet, might negatively impact the overall quality over time. Such is the case for carpets with a surplus of these chemical agents. In most cases that involve carpet removal or carpet replacing, homeowners will consider these services if the carpet is worn, begins to reek, is missing fabrics, or stained from overuse.
Subfloor Repair Services After Carpet Removal
Depending on the material of the subflooring, your professional carpet removal specialist could provide you with any necessary repairs that need to be made for the subfloor underneath. Homeowners might need to spend about $1 to $3 per square foot to have this service performed for a single room. Subfloor replacements will cost about $5 to $5.50 per square foot. Make sure to consult with your contractor about inspecting the condition of your subflooring. Typically, homeowners may regret installing a new carpet or other flooring options if the subfloors are not leveled or if it has any weak spots, water-related damages, mold, or if it has any sagging in other areas.
Floor Trim Replacement Services After Carpet Removal
Ranging between $0.60 to $10 per linear foot, the cost of having your floor trim installed or replaced will depend on both the material and the thickness of the material. Typically, the material being used on the floor will coincide with the material being used with the walls, entryways, and exits. Although the trim is non-essential and is really only added for ornamental purposes, it is something that the homeowner will want to consider to make the spaces look the way they want it to.
Finding Multiple Estimates Through House Tipster
Although a carpet removal service can be done quite easily under the right circumstances, it's not an advisable thing to execute yourself. With tack strips, the average homeowner could probably remove the carpets without professional assistance, but even then, you'd need the proper instruction to prevent any issues from arising.
One of the reasons why these removal services exist is because of the special equipment required for the removal to actually take place. With the right people for the project, you'll be confident that everything goes smoothly and that the other projects involving your flooring will be correctly done in the future. To find and hire the right professional for these kinds of jobs and projects, use House Tipster to help with finding the best-suited person for your plans.
We have two functions with our web tool to help you with the search. There is the reviews function and the chat function to give you accurate information with the listings you're most interested in. Our reviews function will allow you to sift through multiple professional listings and see which one fits your specific needs. While our chat function will provide you with asking business-related questions and having your inquiries answered. By using this web tool, homeowners can cut their project timeline in half by finding an effective trade professional.
Featured Image By Kelly Williams From Unsplash