Homeowners will need to reupholster their chairs eventually. As your chair ages, the unkempt marks, scratches, and overall damages that were left unchecked will accrue a need to repair the chair. Depending on what kind of chair you need upholstered, the cost of a professional upholstery service could vary between $350 to $2000.
| | |
| --- | --- |
| Average Cost | $350-$2000 |
| Low-End | $50-$250 |
| High-End | $2000-$3500 |
The lower end services will range between $50 to $250, while the higher end services will cost roughly around $2000 to $3500. Homeowners that cannot gauge which of these costs should apply to their estimates need to understand the total price points and what is associated with those calculations. This is especially important if you're trying to hire an upholstery service with an adjusted pay rate and you're paying your professionals at an hourly rate or a per-square-foot rate.
Reupholster Chair Cost
Homeowners have a whole selection of chairs to choose from that might require a reupholstering service. Typically, the difference between the chairs is the type of chair that needs to be reconditioned. Professionals will require different tools and different materials, depending on the kind of chair that needs reupholstering.
Once a homeowner understands which fabric is needed, the upholstery will bring in the amount and measurements required for the job and will bring it to your home. The cost of the service will take into account the material and labor costs that go into the amount of work that might be done. The material cost could range from $10 to $100 per yard, depending on whether you need nylon or wool, you'll be spending an estimated amount that reflects this price range.
| | |
| --- | --- |
| Synthetic | Cost Range |
| Nylon | $10-$15 |
| Faux Leather | $10-$15 |
| Crypton | $10-$35 |
| Faux Suede | $20-$25 |
| Polyester | $20-$45 |
| Olefin | $25-$30 |
| | |
| --- | --- |
| Chenille | $25-$55 |
| Twill | $30-$55 |
| Sunbrella | $35-$55 |
| Rayon | $45-$90 |
| Acrylic | $45-$80 |
| Velvet | $55-$65 |
| | |
| --- | --- |
| Natural | Cost Range |
| Cotton | $15-$20 |
| Linen Blend | $18-$25 |
| Mohair | $20-$80 |
| Linen | $25-$35 |
| Denim | $25-$35 |
| Bamboo | $30-$50 |
| Suede | $35-$40 |
| Leather | $45-$55 |
| Silk | $60-$70 |
The most expensive fabric that upholsteries will offer is wool, which will cost about $80 to $100 per yard. A fabric that is regarded both synthetic and natural, is the cotton blend, which will range between $30 to $55 per yard. Some homeowners will want to redo the current fabric that they have for the chair they want reupholstered, however, hiring an upholstery service for this kind of project offers you the chance to work with different materials.
Nylon is useful for its affordability. The advantages of this material will include some durability and static resistance. Although, the very reason as to why homeowners need to reupholster their chairs with nylon is the very condition that makes it a lesser valued material than the rest. Nylon will not last as long as other suitable fabrics and is quite thin, making it easy to burn or melt.
Faux leather is a material that can withstand scratches and other related damages. Although the material is soft, the laminate underneath the faux leather will crack or crease. Crypton is a resistant material that can withstand stains and other microbes. Useful on a chair, the Crypton is tough and can be a great material for low-maintenance. However, homeowners will substitute a chair with Crypton due to the chemicals it is made of and the negative connotations Crypton has for the environment.
Cotton is a soft material that is all natural and is available in many patterns and designs. Breathable and moisture-resistant, cotton is one upholstery that is convenient for many homeowners that want something versatile and multi-functional. Linen cotton is somewhat affordable and is well-known for its resistance and durability.
Faux Suede is a testament to the smoothness that homeowners will find impeccable in both practicality and appeal. However, the disadvantage of upholstery involving faux suede is that it is difficult to clean and does not have as much resistance to wear and tear. Polyester upholstery retains an array of colors and patterns that will match a distinct interior space. Homeowners may not wish for static or oil to affect the material, however, the fabric is considered top-of-the-line.
Mohair is a fabric that is very resistant against stains. Used frequently for theater chairs, the mohair does not fade but its appearance is unilateral compared to other materials. Olefin is durable and stain resistant. One of the greatest benefits of the Olefin is its resistance to moisture. However, homeowners should keep in mind that Olefin will become brittle if the material is out in the sun for too long.
Linen is a fiber that was initially created by the flax plant and can offer a wide variety of qualities that make the material such a coveted application for your upholstery services. Although the material can last quite a long time with a proper amount of maintenance involved, it requires a lot of protection.
Denim is a fabric that is traditionally used for jeans, but it can also be a reliable material to upholster into the homeowner's chair. Inherently composed with a blue pigment, denim is a composition of tightly woven cotton fibers that is easy to make and highly malleable. Although the material is not a viable resource for certain homeowners due to its roughness in texture.
Chenille is a fabric that uses elegance to the overall design that the homeowner typically desires for the quality of elegance that the material adds to the chair. Although this is a material that is highly desirable, it lacks the preservation that homeowners can benefit from.
Bamboo is a fabric that is commonly used for eco-friendly aspects and is both renewable and sustainable. Antibacterial and hypoallergenic by definition and quality, bamboo fabric will prevent moisture and remain cool in condition. Homeowners will find mishaps, however, from the weakness it has to moisture. Bamboo tends to wrinkle from getting wet.
Twill is a fabric that is known for its sturdiness and is great for heavy-use chairs. The disadvantage with this material is how easily it stains and how difficult it is to clean. Cotton blend, which is typically made up of poly-cotton mixture, is very tough by design. Suede is commendable for its features that are softer in composition and may replicate the texture of leather. However, suede is also known for the discoloration that could abruptly damage the material from the oil of the homeowner's hands.
Best Fabric To Reupholster Chair
Homeowners might presume that the best fabrics to reupholster their chairs is a natural fabric like, cotton, cotton blend, leather, linen, or silk, however, it is the underlying situation that matters to the homeowner. The choices that are offered by your preferred upholstery service can provide a selection of fabrics that are typically chosen for a slew of reasons and purposes.
While there are many different avenues that could be introduced and provided to the homeowner, it is not only a choice of how affordable the budget may seem or how spectacular it sees. Depending on the type of chair you wish to repair and the reason you want to replace the fabric, you can figure out which of these fabrics make the best of every need you want to meet for your home space and design.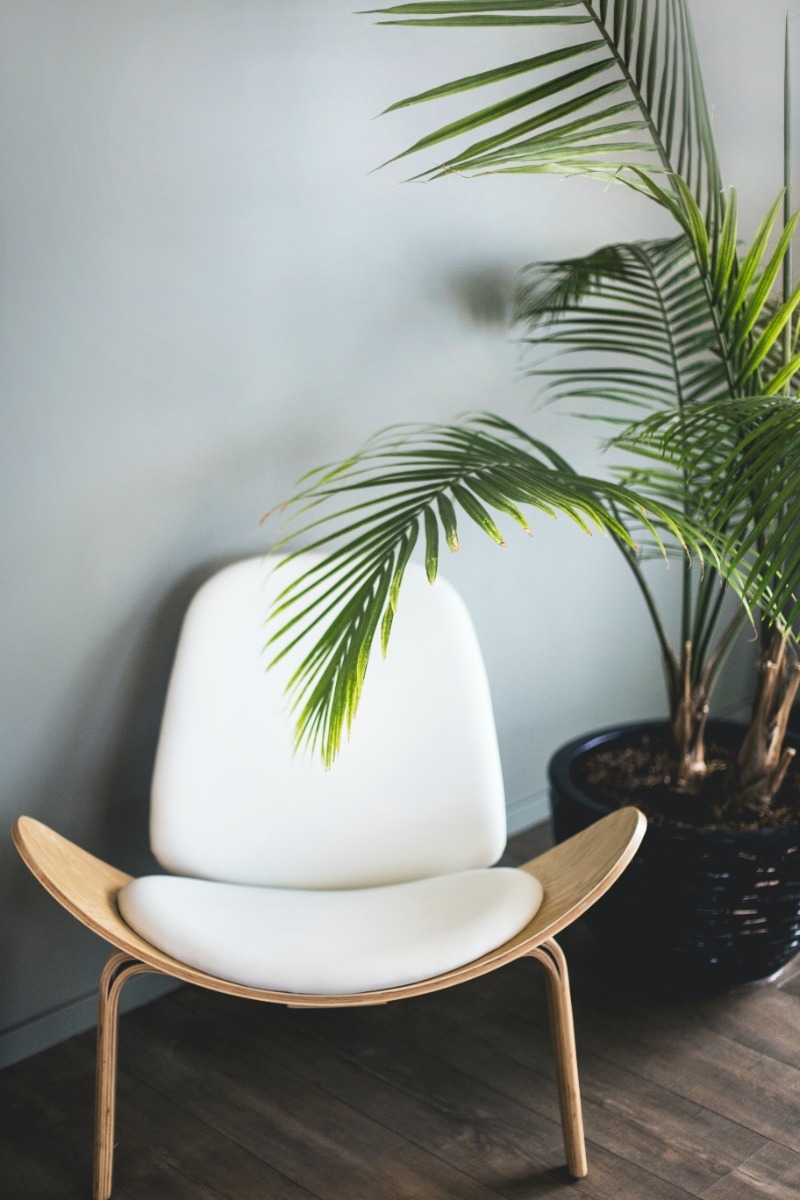 Photo by Kari Shea on Unsplash
Natural Fibers And Why
Homeowners that wish to incorporate natural fibers into their chairs and reupholster their furnishings with their pieces of furniture will find a perfect addition to their living room or bedroom. The natural fabrics that professionals in the service will likely suggest are the plant fibers and materials that are typically derived from animal products.
Some of the best fabrics to consider for include:
Cotton

Cotton Blend

Leather

Linen

Silk

Vinyl

Wool
Cotton Costs And Purposes
Homeowners can find many different kinds of reasons as to why they might want cotton as their reupholstered choice of material. While the many benefits that are typically associated with the resistance it has against soil, wrinkling, and fire. While there are surface treatments and blending that can appease the complications that could arise for other fabrics, cotton is especially known for its visual and physical attributes and properties. Cotton is frequently being used for projects that involve either furnishings or furniture. While it is quite costly, cotton is typically the option for homeowners that can afford this material.
The cotton fabric that homeowners will endeavor to find needs to match the decor and design style of the home's aesthetic. While homeowners might regard this as a difficult decision, there are many aspects to consider when trying to determine the type of cotton fabric to opt for.
Keep in mind, when choosing an aesthetic that aligns to your preferences and choices, you'll have to think about what kind of palettes would be best suited with the practical uses that come with reupholstering your chair. Homeowners that can figure out the creative practicality in cotton can know about the different capabilities that come with the material.
The colors are typically associated with different interior design methods. Like a gray-colored cotton fabric is most notably used for modern design styles. Pink-colored cotton fabrics are most likely inclined for eclectic designs. By utilizing the color wheel, you'll be able to figure out the kind of aesthetic style you'll want for long-term usage.
Cotton also retains various health benefits that maintain its well-regarded status. Due to its eco-conscientiousness, homeowners typically prefer cotton over the other natural cotton fabric options that are available for the high-end homeowners. While the style of the room and the health benefits create a certain advantage over other natural cotton fabrics, homeowners can find the proper utilities that come with reupholstering their chairs with cotton fabric.
Cotton Blend And Purposes
Homeowners have the choice to use a cotton blend fabric to reupholster their chairs. While services will have this fabric as an option, they'll find that this material is both sturdy and family-friendly to use. This option, like cotton, is stain resistant, and the top two options to give the material a finish that homeowners will typically choose is Scotchgard and Upholstery Protector. The inconsistency of finding a finish that works for you is that there are certain kinds of fabrics that don't have the same kind of incompatibility with the fabric of your choice.
The texture of the cotton blend fabric is quite creative and can be used for many different purposes. By utilizing the different patterns that will essentially establish the decor element that you want to commit to. With an aesthetic to consider, homeowners will be able to figure out all of the advantages and disadvantages that come with the cotton blend.
One of the major advantages that the cotton blend retains is the strength that exceeds pure cotton fabric. Since it can be seasonal, the cotton blend is typically used as a durable material that works in many different applications. While there are opportunities that homeowners can put value in, the cotton blend is a sturdier material that does not compare to other fabric types.
Linen And Purposes
A very formal fabric type that will replicate the emotive understanding of high-end living, linen is typically a resource that helps homeowners to figure out key figures with a warm and welcoming environment. By using linen as your key fabric for reupholstering your chair, you'll find great comfort and be able to luxuriate in the finest quality of fabrics.
Some of the major disadvantages that one has to overcome with reupholstering their items with linens can become quite complicated. If there are any instances where a homeowner might be considering the kind of aesthetics revolving around linens. Although linen is considered one of the more flexible softer materials available for homeowners, it is quite versatile for many of the uses you may be looking to add to your rooms and aesthetics. Besides the physical appearance of your indoor space, linen provides a certain joie de vivre to your room design along with your chair.
By using the room design to be more compatible with your linen and your chair customizations, depending on the kind of colors and patterns that you're thinking of intensifying with your room settings.
Creating a sense of flair and style into your room is exactly what you should be considering when choosing your optional designs to match your desired interior. By thinking about the critical advantages and the disadvantages that weigh in your decisions of buying a natural fabric, you'll be able to consider which of these needs and preferences you'd prioritize the most.
Leather And Purposes
Leather is one of the tougher materials to opt for when it comes to reupholstering chairs, however, they are the perfect addition to your indoor aesthetics when it comes to cleaning your chair. By using the leather as your upholstery option, you'll find the various and versatile effects that make this such a viable furnishing option for your chair. While the benefits may include physical characteristics, leather upholstery is especially daunting for its durability. Although it may take awhile before its condition becomes less and less viable, homeowners will have to experience a degree of piling or fading. The maintenance of leather is quite simple, all the homeowner has to do is use either leather conditioner or saddle soap to give the fabric a wash down. By using a simple cleaning product, homeowners can find the low-maintenance involved with leather.
Aside from its timeless look, leather gives your home either a modern or a rustic aesthetic that cannot be beaten. While leather has the potential to not only maintain its quality, it can always keep a level-headed consistency that would not be seen through the creation of certain styles that match with your specific vision. Leather is not only placated for modern or rustic designs, but it can also be the progenitor and centerpiece of the whole aesthetic on a large scale.
Leather also has the benefit of being used for homeowners that have allergies. Since the material is hypoallergenic, homeowners won't have to concern themselves with any particulates that may be floating around their spaces. Leather is a smooth material and retains a surface that will prevent the dust, pollen or any pet hair to remain on the fabric type. While homeowners will find quite a bit of solace from buying this option, they'll find the appeal of not having to sneeze or cough from any of these hindrances.
Leather is also advantageous for its odor repellent qualities. Pet owners will have the benefit of knowing that their furry friends won't create any complications with their indoor space. Homeowners will also have the natural quality to the finish of their chairs. Rather than having to purchase and change their fabrics into a material that is completely manufactured, homeowners will have a leg up in using a substance they know is completely natural.
Although there are this many benefits, the underlying reason for leather being such a popular choice amongst homeowners is its sustainability. Reupholstery services will give you the chance to replenish your spaces with a sense of astounding reassurance when it comes to both visual appeal and practicality. While there are many differences amongst the many different fabrics that are available for homeowners, leather upholstery has always been considered one of the favorites. One of the creative implementations that leather has under its belt is its unique disposition and replicated feel of the seats you'd find in luxury cars or airplanes.
Wool And Purposes
The homeowners that consider wool as an option will see the sturdiness and durability of the material's resistance characteristics. Issues that homeowners might typically have with finding a fabric, whether they might be dealing with their chair's fabric pilling, fading, wrinkling, or soiling, will be less concerning. While there are blends from wool that can be spot-cleaned from time to time, the possibility of having to clean it will drastically drop so long as the care and well-being of the fabric stays intact.
Due to its insulation properties, it will help with maintaining a level of warmth in your home. While this is only done to a miniscule degree, the effects that this fabric offers your chair, and by extension, your home. The pragmatism of wool spans from warmth to soft textures. The amount of colors and patterns that wool has is almost limitless. The breathability of wool as an option is natural since the fibers are quite natural for your home's surroundings. Keep in mind that wool is typically for a seasonal aesthetic, but it could also work for farmhouse room settings.
Wool is also a highly versatile material that uses the protection of its materials that ensure no water can penetrate or soil the wool's physical integrity. Since the fibers absorb moisture, wool is the perfect component to take care of any insulation issues that you may encounter.
Linen And Purposes
Best suited for living rooms and areas with adult recreation, the linen is a perfect option for upholstering your chairs. Since it soils and wrinkles easier than the other natural fabrics listed here, homeowners find that linen would be the perfect application for those that hate to maintain their fabrics. Linen is a very easy fabric type to care for, it is versatile enough to handle any cleaning methods the homeowner might have in mind.
One of the disadvantages that homeowners might have to endure when dealing with the linen fabric type is bleach. Although the linen is very versatile in the way it handles cleaning methods, homeowners won't be able to use spot cleaning as a viable solution to make sure that the fabric is clean or not. By using the conventional cleaning methods, linen can be incorporated into any living arrangements that you might be considering.
Homeowners will also favor linen as an upholstery option as homeowners can easily avoid shrinkage issues. Due to its maintenance qualities, homeowners will find that linen is an easy solution that ensures the homeowners concerns about wrinkles or other issues that they may have to face.
Silk And Purposes
Adding a regal touch to the way you view your home, the silk upholstery option is something that helps improve the quality of your chair's appeal and appearance. By using silk to secure the look of your chair, you'll be able to congregate the many design elements that might recreate the whole reimagining of your home.
While many homeowners might find this to be high-end, silk upholstery can become a utility that is highly desirable for its physical qualities and lasting application. A chair with silk upholstery will give your coverings an ascertaining degree of royalty, adhering a sense of poise and poignancy to the glamor of your decor.
By choosing your preferred colors, you'll be able to organize a new design palette according to the way you want your aesthetic to look like.
Synthetic Fibers And Why
Although natural fibers will be capable of creating a cohesive effect for your chair and your home, the synthetic fibers will help you understand the many possibilities that can come with your home space. By using synthetic fibers, you can visualize many concepts and settings that retain their own advantages.
Acetate And Purposes
The acetate is known as the imitation silk. Although it is not the original material, acetate is a wonderful substitute for silk, retaining resistant qualities that withstand mildew, pilling, and shrinking. Acetate is an inexpensive alternative in the world of synthetic fabrics and can be used for many implementations regardless of which application you're using acetate for.
Using acetate is the perfect resolution for upholstery and unfolds new aesthetics for homeowners to experiment with. By hiring the service to change the fabrics of your chair, you can begin to see so many different layouts. Whether the chair is for your own bedroom or for a living room, acetate is a great addition to the rest of your home decor.
While upholstery services might be willing to change your fabric with acetate, there is a majority of synthetic fabrics that homeowners can choose from. The versatility of acetate is quite limitless and the applications reflect its use. Due to its wrinkle-free resistance treatments, acetate is often considered to be a fervent option for your sofa or loveseat. Keep in mind that no matter which purpose you choose to apply the acetate for, there is an urgency of proper maintenance and care that will ensure that the acetate is kept in a stable condition.
Olefin And Purposes
Homeowners will be able to find many advantages to the Olefin at their disposal. While it is an extremely durable fabric, the Olefin is discernible and plain. Although there aren't many different styles associated with the Olefin, the fabric is typically useful for homeowners that desire a consistent aesthetic. While there are many other factors that homeowners can consider the various upholstery materials that are quite useful in many design styles that you would see in more rustic homes or traditional living arrangements.
One of the alternatives with creating a wondrous surroundings that Olefin is suitable for is the indoor decor that comes with such a fabric. Best applicable for homeowners that wish for a chair that is highly pragmatic will opt for the Olefin. Durable in any of the environments that the Olefin is typically seen in, the fabric is quite practical for many obfuscating purposes.
Rayon And Purposes
Serving as a substitute for fabrics like silk, linen, or cotton, homeowners typically prefer rayon as a durable fabric option for its high-end characteristics. Although it is an alternating option amongst homeowners, rayon could be perceived as such, being a practical measurement for family-friendly usage.
Rayon is quite affordable but it is ultimately manufactured by gathering wood pulp, bamboo, recycled cotton, or the natural fibers from by-products. Although the fibers are artificially constructed, the cellulosic fibers are considered to be a more velvety texture. Lustrous and palpable with the kind of chairs that you want to upholster, applicable with sofas, chairs, area rugs, and carpets.
Rayon is a widely associated material used commonly for homeowners that wish for a pattern of palettes that reflect a pine-like aesthetic. The one major disadvantage that rayon has is its inability and weakness against spills and moisture. Water-based cleaners are not recommended to keep the fabric in a stable condition. If the matting is severely soiled, even professionals may be inclined to advise a new fabric to be upholstered into your chair.
Polyester And Purposes
Homeowners that want polyester as the choice of fabric will find how the blend of fibers eliminates the crushing of the napped fabrics while reducing the discoloration. A popular choice for the indoor and outdoor aesthetic, the water repelling fabric is quite impervious to fading and is durable against the test of time. This fabric is a perfect addition for homeowners that own pets or children, the advantages that polyester includes is repelling water and moisture, resistant against stains, and hypoallergenic.
The polyester fabric is known as an affordable option for homeowners that want a chair with a certain prominence. Lasting a style that could be perceived as a well-known tradition in a timely honor. A professional service that guarantees a durable choice amongst homeowners that wish to apply a sense of affordability and fashion into one's decor.
By using polyester as their option for furnishings, homeowners will be able to find the many different living arrangements to successfully integrate a beautiful and mesmerizing chair of your choice. Polyester is especially nice due to its design attributes and characteristics, making it a first choice for those that enjoy a scenic interior space. Although there are many other inclusions that the homeowner can consider, the chair is a centerpiece that can function with the rest of your home decor. An aesthetically pleasing fabric that will blend seamlessly, polyester is a great option to integrate the right kinds of furniture into one's living arrangements.
Acrylic And Purposes
A substitute for your wool needs, the acrylic is typically known for its creative purposes. The designs that are not only possible for the homeowner are quite endless in a way and can be used to determine the type of aesthetic that you'd want with a supply of practicality. Since Acrylic is widely known for its resistance to wear, wrinkling, soiling, and fading, the acrylic fabric type is frequently used for furnishing purposes. One of the best functions that acrylic offers is the constitution it has with many other design elements that you're going for. As far as pigments go, the way a homeowner might envision the decor style of their homes or properties.
Since its silk-like texture is so unique, acrylic is a very potent addition to consider when upholstering your chairs. Acrylic fabrics are typically fabric-woven or knitted with acrylic yarns. Utilizing a more man-made appeal than a machine-made quality, the acrylic is representative of homeowners that admire a natural, organic appearance that physically ties a room together.
Acrylic fabric is frequently made from petroleum or coal-based chemicals and synthesized for acrylic resin pellets. Formed into pellets, the acrylic is extruded through a shower-like device called a spinneret. Once the extrusion is completed, the fibers are spun into yarn and into textiles.
In most cases, the acrylic fabric is used for clothing, but it has many different uses that are widely associated with different applications. Whether it is by home design or by fashion, the acrylic is an option that will keep anyone that uses this fabric warm and capable. It acts as a centerpiece for homeowners to enjoy the design that makes it such a unique fabric.
A major benefit that homeowners find with the acrylic fabric is how easily it can be washed. One of the better utilities that homeowners will exercise with the acrylic fabric is its capability to immerse itself into the home's aesthetics. Since the acrylic is fossil-fuel based, eco-conscious homeowners may wish to refrain from using this type of fabric for their chair furnishing needs.
Cost To Reupholster Chair
Homeowners will require a certain budget that applies to their upholstery services. While the average range would probably be about $200 to $2000, the labor will probably range about $40 to $100 per hour and about $50 to $70 per yard as the alternative.
Depending on the situation you're encountering, you'll have to think about what kind of reasons that are available for upgrading or substituting the fabric that is compromised. In certain cases, the homeowner might have a stain on a personal item that has wrinkles or a family antique. Most circumstances will require you to contact the professional service to recreate something that you value.
Personal keepsakes is one thing, but an antiquity that reminds you of a time when things were simpler. Although they may be items from the past, maintaining them is a duty for loved ones to preserve those times to ensure that your chairs are made to last. If you're dealing with something that you didn't think could happen to your chairs, you need to consider the possibilities that may require you to call the upholstery service to change the fabric by either replacing it with the same kind or substituting a new one.
Reupholster Dining Chair
The dining chair is a bastion for the kitchen or living room space and can be the centerfold into how you wish to visualize your indoor space. Whether you're looking for something luxuriating or profound, which will range between $50 to $250 to implement. To fabricate these things, homeowners have the option to rearrange the decor that they've been envisioning all this time.
Dining rooms have many aesthetic options to think about. A dining chair with the right preferences will improve the certain aspects that make the living space that much more versatile in appearance and functionality. While there are many different perspectives to think about, a dining chair with the right kind of fabric will be perfectly coordinated with the decorative appeal. While many of the creative responses of the reupholstering will require some knowledge of how palettes coincide, a dining chair is the best applicable upholstery item to find new and innovative designs for the aesthetics you're envisioning.
Reupholster Rocking Chair
Upholstering a rocking chair doesn't necessarily mean to apply a finish to a wooden chair, since there are so many different operations that could be included with the materials of this item. While fabrics require a modicum of different materials that would help you engage in a new imaginative concept, the rocking chair could be an item that is made with leather or acrylic types.
Depending on your preference in how you want your layouts to function, homeowners can create a relatively new setting through a reupholstered piece. Homeowners can figure out many different types of fabrics that can be customized to your sense of aesthetics. First you need to be able to figure out what kind of rocking chair you have with your home, whether you may own a recliner or a conventional leather chair, you need to know about which materials that your local upholstery service may offer before the professionals can further help you.
You also need to figure out whether these factors may apply in your home. While there are rocking chairs that require a level of cushioning or supporting components, the professional service will know how to adjust the whole item with prior knowledge into redesigning their rocking chair. The average range that homeowners might have to spend is likely going to be from $400 to $2000, depending on the material you want to use for the service.
Reupholster Leather Chair
While there are many types of leather chairs that are out there, the way you can set a new aesthetic with more streamlined appearances. Homeowners will be able to find innovative methods in organizing their home decor styles. Whether you're looking for something rustic or modern, an upholstery chair service will be able to update or to recreate their living arrangements into an entirely new scenery.
If you're primarily looking for something with leather, the upholstery placement will cost you about $40 to $60 per yard. The leather upholstery is a perfect choice for homeowners that wish for a chair that can protect their item from scratches and any other physical damages expected from pets.
The reason why homeowners want a leather chair is due to the fact that its sturdiness is viable with any occasion or complication that they may have to face. Meanwhile the kind of upholstery that can be applied for those that want an extra provision to protect their furniture. The homeowner needs to figure out whether they require other design components to add to their upholstery options.
Homeowners will have to configure their environments to suitably accommodate their best interests in the aesthetic that you're trying to recreate for your home decor. While there are other design options available, homeowners have to think about the furnishings that would match with the preferences and visualizations that make their own home that much more beautiful or mesmerizing. With leather upholstery, homeowners can figure out the expenses that come with focusing on the core aspect of design and practicality.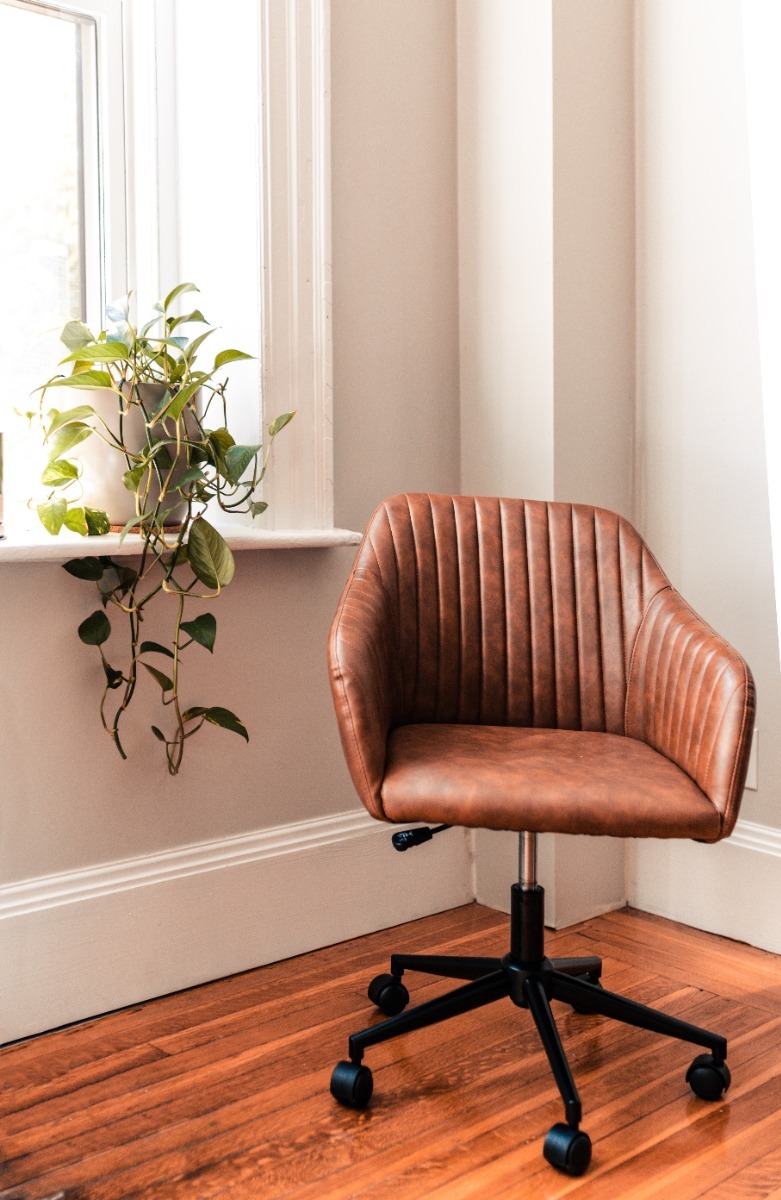 Photo By Kelly Sikkema On Unsplash
How To Reupholster A Chair Seat And Back
Reupholstering a chair seat and its back requires a professional set of hands and the experience to make sure that the job is done correctly. Depending on what your budget is and what kind of chair fabric you're trying to install or replace, you'll want to ensure that the process maintains its condition for as long as you're hoping it remains.
By utilizing qualified professionals for the job, homeowners will have less to worry about when it comes to the issues you may have to face in the future. Typically, professionals will have their own equipment and their own fabric materials so that you can take in the reference into which replacements or installations you wish to make with your chair. One of the major benefits to using a professional service is that the service may be able to help you with any other adjustments or changes you wish to make with your chair repairs.
The upholstery service will figure out which fabrics are chosen and determine the size and measurements that need to be planned before cutting the right components to make the upholstery fit with the chair being upholstered.
How To Reupholster A Chair Seat According to the Experts
Although it isn't recommended, experts have shared the process they typically use to reupholster the chairs they're hired to repair or change. Without the assistance of necessary professionals, the time of the job will take about an hour, and causes a risk to be finished improperly.
Using the common tools in your home, including a drill or screwdriver, staple remover, straight pins, fabric pencil or chalk, scissors, a sewing machine, and a staple gun, homeowners could finish the job themselves. The process begins by removing the seats from the chair with the tools mentioned above. Once you figure out which of the old fabrics to replace, all you need is a staple remover to take out any of the components keeping the former fabric piece in place.
If you're dealing with any that are somewhat stubborn to remove, you can use pliers to pull them out. By configuring the pattern of your new fabric, you'll be able to center the new fabric in a way to easily position the fabric by the perimeter of the seat. Since every chair is different, you might need a professional to handle the more complicated furnishings. However, homeowners that are looking to change the upholstery of a simpler chair can use this method to attach a new fabric to their seat with a staple gun.
Once you attach all the corners, all you have to do is reattach the seat into the chair. House Tipster recommends a professional service and advises readers to get their upholstery adjusted through experienced professionals, rather than doing so themselves. Keep in mind that House Tipster is not responsible for any of the renovations or construction projects that homeowners try to do themselves.
How To Find Multiple Estimates Through House Tipster
If you want to find professionals to offer their services and estimates near your area, you can use House Tipster Pro to find qualified experts to accommodate your needs and projects. Instead of having to spend time trying to find the people that are not only qualified but also retain a sense of professionalism.
House Tipster Pro is a way for homeowners to find exactly what and who they're looking for, in any project pertaining to home improvements or renovations. Whether you're searching for a professional service that is specialized in the creative ways you layout your home, or whether you're looking to hire a service to help you organize or clean your rooms, House Tipster has got your covered.
House Tipster is highly specialized in easing your transition from your old home and your habits with the space to a revitalized setting. With such a resource at your disposal, you'll find that there are many creative solutions to the most apparent issues that you'd only encounter in such surroundings. Homeowners can use two main resources from House Tipster, reviews and chat messaging. The reviews function is typically used to compare professionals around your area, while the chat messaging function is frequently used to directly contact the services to save time and will function as a channel of communication between you and the expert you're interested in. Use House Tipster for any of your home needs and for keeping your projects organized and efficient.
Featured Image By Obi - @pixel6propix On Unsplash