There might be quite a few reasons as to why you'd want to remove the wallpaper in your home. Whether the reason is to reapply a new wallpaper, or whether it is to apply a new coat of paint, to professionally remove wallpaper will cost an average between $310 to $950. Homeowners should expect to spend an average of $790.
| | |
| --- | --- |
| Average Range | $310-$950 |
| Low-End Range | $250-$420 |
| High-End Range | $1200-$1500 |
Low-end cost for removing wallpaper will probably range between $250 to $420. High-end cost for the job will typically range from $1200 to $1500. Figuring out the appropriate method and the amount of wallpaper that needs to be removed will assess the overall cost for this project. Homeowners should also keep in mind that the wall type underneath the paper will also determine the pricing of the professional labor.
How Much Does It Cost To Remove Wallpaper
Depending on the complexity, the costs will be determined by how much work and equipment needs to go into the actual project. Some wallpaper removal jobs could be very complex and the reasons why the price may increase could be due to unprimed drywall, a need for scaffolding or tall ladders, corners that are either hard-to-reach or just unsuspected spots. Drywall damage is an issue that will drive up the costs.
Wallpaper on stairwells that need to be removed might also be a nuisance for your professional. Homeowners should remind themselves to always request an estimate on the removal areas before starting the project. You should also inform the removal expert about what type of wallpaper you have applied. There are three types of wallpapers that your specialist will expect: nonporous, strippable, and porous.
Depending on the different cost factors, your removal expert won't be able to give you a fast estimate. By assessing all of these considerations and relaying to your professional, you may have a clearer estimate. The labor and materials will include wallpaper stripper, steamer, and drywall or plaster damage repairs.
| | |
| --- | --- |
| Wallpaper Stripper | $0.10 per every 15 sq ft |
| Steamer Rental | $33 per day |
| Labor | $35-$55 per hour |
| Drywall Damage Repair | $0.75-$1.40 per sq ft |
| Plaster Damage Repair | $75 per hour |
There is a very big cost difference between the estimates of drywall and plaster damage repair. Although drywall repairs will involve labor revolving a softer material, plaster will involve a more labor-intensive process. Since the plaster also dries much harder and is a more expensive material, you should consider what kind of potential damages might incur around your spaces.
Wallpaper Removal Cost By Square Foot
Removing traditional wallpaper that is applied to plaster walls will be less costly than removing vinyl coated wallpaper that is applied to drywall. On average, the cost range for the removal service would be between $0.75 to $2 or more per square foot. The areas that are high to reach or walls with multiple layers of wallpaper will require an additional cost of $50 all the way up to $75. Since your professional may require more materials for the removal project, the cost will reflect the extra equipment or materials that your home may need.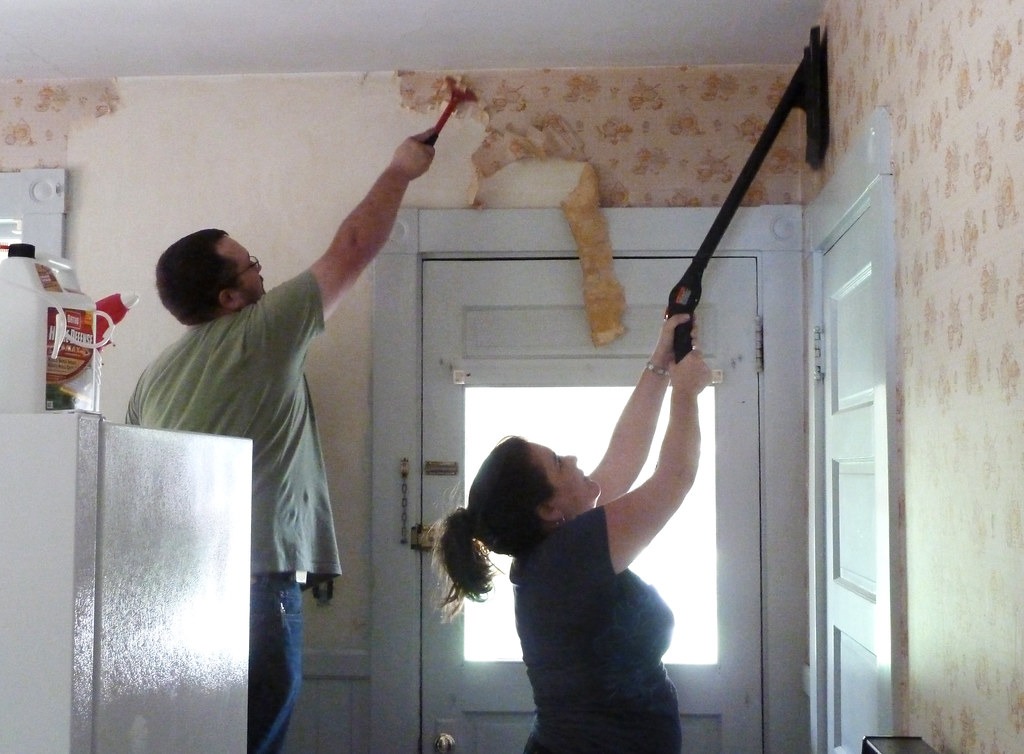 Photo By liz west From Flickr
Wallpaper Removal Cost By Room
Typically, the removal of wallpaper per room inside an average home will range between $90 to $1300, depending on the room you're having serviced. Figuring out the costs of wallpaper removal is determined by the size of the room and will be calculated according to the amount of wallpaper there is to take out.
| | | |
| --- | --- | --- |
| Room | Average Range | Maximum Cost |
| Foyer | $90-$230 | $270 |
| Bathroom | $130-$260 | $340 |
| Bedroom | $230-$370 | $600 |
| Kitchen | $290-$400 | $770 |
| Living Room | $340-$550 | $900 |
Other than the actual measurements that are required of the spaces, the removal of the wallpaper will also be dependent on the doorways, windows, surroundings, and the closet openings. When installing and applying wallpaper, there is a certain amount of precision that goes into the dimensions of your spaces. Your professional will be able to determine which areas need to be reapplied once the wallpaper has been removed.
Wallpaper Removal For Foyer
The foyer is generally the space that homeowners install their wallpaper. You'll often see different kinds of wallpaper in this part of your home. The service of having them removed will probably cost you about $90 to $230. The maximum amount that homeowners should expect is about $270.
Wallpaper Removal For Bathroom
Bathrooms aren't typically known for having wallpaper applied since the moisture inside would damage the walls. If your bathroom has wallpapers applied and you need it all removed, you should make the correct inspections for moldy areas. The range that homeowners should expect for this removal service will likely be $130 to $260. A homeowner should also expect the maximum amount of $340.
Wallpaper Removal For Bedroom
Not all bedrooms will be the same size, but whether the spaces are small or large, homeowners will probably have to spend an average of $230 to $370. The maximum cost that homeowners will likely have to face is about $600. Most master bedrooms will measure from 168 up to about 384 square feet.
Wallpaper Removal For Kitchen
Yet another room where you wouldn't expect wallpaper to be installed, the removal of wallpaper in a kitchen will cost about $290 to $400. The maximum cost for this service will likely amount to $770. Typically, the issues that you'd expect from having to work on the kitchen is the rearrangement of all your appliances.
This includes the wallpaper that you want removed behind your cabinetry. Depending on how much cabinetry needs to be removed and reinstalled, homeowners should expect additional costs. Another space that homeowners should look into, you may want to consider a service for any mold or grime you might find underneath the wallpaper being taken out.
Wallpaper Removal For Living Room
The cost of removing the wallpaper from your living room will probably come from the arrangements of your furniture as well as the vaulted ceilings. Ranging between $340 to $550, the maximum amount that homeowners might have to pay would probably be about $900. The majority of the expense will likely come from removing wallpaper around the doors and windows of the spaces.
Wallpaper Removal Cost By Method
Professionals will have three ways to remove your wallpaper, and depending on the situation, there are certain occasions where one of them may outweigh the other two. These removal techniques are universal and will likely be based upon either your professional's preferences or your space's wallpaper type. Overall, the costs might ultimately be determined by your professional's removal method of choice, and the price range might vary.
Stripping Wallpaper
The least expensive option out of the three, stripping wallpaper has been a common technique for loosening wallpaper. Essentially, your professional will apply a chemical stripping material to unfasten the cover, then scrape everything off from your walls. Ranging between $0.75 to $1.50 per square foot, this technique will end up averaging about $9 for a 12 x 24 space.
This is the easiest and most efficient way to take down wallpaper as well, besides how low the cost really is. Since
Scraping Wallpaper
Although this is a more labor intensive method, it is effective against wallpaper that wasn't applied correctly. This technique will likely involve scoring the wallpaper, ultimately using a particular liquid to penetrate through the holes inside the walls to loosen up the paper. Costing about $1 or $2 per square foot, the scraping method will involve smaller tasks according to the condition of the wallpaper.
Steaming Wallpaper
Similar to the method mentioned above, steaming the wallpaper with a liquid agent and a steamer to heat up the glue underneath. Ranging between $1 to $2, this method will probably be the most effective way that gets around any complex situation you may have involving wallpaper. Homeowners should keep in mind that there is a rental fee for the equipment which will likely range between $30 to $50.
Wallpaper Removal Cost By Wallpaper Type
Depending on which type you had initially applied onto your spaces, the cost range can vary due to the ease or difficulty that it takes to remove the wallpaper. There are typically three options that homeowners have to install: strippable, porous, or nonporous wallpaper. In terms of differences, the strippable wallpaper is simple in both application and removal. Strippable wallpaper is used to peel and stick onto the wall without giving you any trouble or hassle.
Traditional wallpaper is porous, while vinyl coated wallpaper is nonporous. The key difference between the two is the surfaces. Porous means that the wallpaper will absorb liquids quicker, while nonporous would mean the impenetrable defense against moisture. Depending on which wallpaper you have to remove, the cost for the service will vary. Removing strippable wallpaper will cost homeowners about $0.75 to $1.50 per square feet. Porous wallpaper removal will cost about $1 to $2 per square foot, while nonporous wallpaper removal will likely cost $1.50 to $2.50 per square foot.
Wallpaper Removal Cost By Type of Wall
There is a discernible difference between plaster and drywall. Another key difference is the age of the home. If you're looking to remove wallpaper from an older, more classic property, chances are you'll encounter plaster. However, the modern homes will probably have either drywall or sheetrock installed. Typically, wallpaper removal is somewhat easier if you have to remove it from plaster walls. The difficulty will most likely come from drywalls.
Plaster
Depending on the kind of method you choose to remove wallpaper from your plaster walls, you can expect the process to be a whole lot easier than having to do so with drywall. The cost for this kind of job will probably be about $0.75 to $1 per square foot.
There are some setbacks that your expert will probably anticipate. Since the age of the plaster might affect the wallpaper and its integrity on the home, the plastered material might fall off as you try to remove the paper. If you're intending to keep the plaster and not trying to rebuild the home, you may need to spend additional time and money in filling any cracks.
Drywall
Homeowners should expect this type of wall to be labor-intensive and difficult, in regards to removing wallpaper. Essentially, wallpaper can so easily become bonded to the top layer of the drywall when it is first applied. Even more difficult than your standard drywall is sheetrock, which is, in a broader sense, another brand of drywall.
The complication that most often occurs with drywall is how it soaks up water and how penetrable it can be. In certain circumstances, the drywall might get wetter and wetter, eventually resulting in a soggy mess. Professionals will know better, however, the error that usually comes up will happen from a scoring tool or scraper, which if pressed too hard, will end up puncturing holes into your structure. The range of costs to remove wallpaper from drywall is estimated between $1 to $2 or more per square foot.
Determining What Wall Type You Own
The best and easiest way to test what kind of wall you might have installed is the touch and feel of your wall. Plaster is most occasionally hard and smooth, while drywall will have a more hollow sound when tapped on. Another method can be removing an outlet cover. By checking the edges of the wall, you can determine whether your wall is made of plaster or drywall.
Wallpaper Replacement Or Update Cost
If you're a homeowner who wants to update your wallpaper, you can always have it applied over the wallpaper you currently have applied. However, doing so will likely make the removal process at a later date a much more difficult task due to the extra layers you'd be adding in. With those two circumstances in mind, homeowners should remember that there is a related cost involving the factors mentioned above.
Having to use the supplies and materials to remove and replace your wallpaper will range between $1.75 to $5 per square foot. Although, depending on the quality of your wallpaper, a single roll will probably cost you about $25 to $50 per roll. You should keep in mind that the average roll will measure to about 22 feet.
Painting Your Room After Wallpaper Removal
You can either have your walls bare without any coloration or covering applied, have a new wallpaper serviced, or have the walls painted. Painting a room professionally will cost you between $2 to $4 per square foot, and since the service of wallpaper removal will likely average between $0.75 to $2 per square foot, your overall cost will probably be estimated between $2.75 to $6 per square foot.
There are services available for homeowners that want to include texture into the walls before having to remove the wallpaper or paint the drywall. There are ways for you to plan out which wallpaper and what kind of colors you want included with the spaces and confines of your rooms. With no additional cost, you can find a way to change your room with a wallpaper and paint visualizer. Or find a visualizer from other companies that might give you more options to customize.
Cost Factors To Remove Wallpaper
Ultimately, there are about eight factors that will affect your estimate. Although there may be other unexpected components that you wouldn't be able to predict, there are these factors that will give you a rundown of the price.
Type: It should be quite commonplace, however, the ease of having your wallpaper removed would result in less expenses for the project. As mentioned above, the least amount of concern and effort that goes into the workload will only concern strippable and porous projects. As a result, you'll probably be spending about $0.75 to $1 per square foot.

Age: Depending on how long your wallpaper has been applied, you'll notice the amount of the estimates and costs varied by the strength of the glue. Since the age of the wallpaper can affect the strength, the price of the service can either be larger or smaller.

Layers: The number of layers that are included with your wallpaper will ultimately influence the removal process that goes along with removing your wallpaper.

Height of walls: According to the space that is provided professionally, there may be reassurance that the amount of wallpaper and work will be compromised by the height. Your professionals or experts may want to use equipment or scaffolding to make the project work.

Type of walls: As discussed in the section above, there are different methods that will go into the types of walls you'll want to remove the paper from.

Damages: The type of damage that you may have to restore will also go into the estimates. Damages that might have been caused by the project itself, or damages that were ignored should be kept in mind when the services are taken into consideration.

Paint: Depending on whether you already had paint applied over your wallpaper or whether you want to remove the paint to install new wallpaper, the costs will either increase or decrease.

Moving furniture, appliances, or objects: There are instances where the space of your room won't be viable access to have the jobs done.
Finding Multiple Estimates Through House Tipster
Considering all of these different proponents and services that go into wallpaper removal, you should think about the approach that goes into these costs. Professionals and specialists in our listing have a lot of experience when it comes to removing wallpaper. Our web tool will assist you in finding the right expert near your area.
House Tipster has two main functions: chatting with the business listing and a showcase to give you a taste of what you'd have for the completion of your home project. A chat system allows users to directly communicate with the professional of their choice, without having to call the person and waiting all day for a response.
Our chatting system complies with all kinds of users and categorically separates what you're specifically looking for in a specialist. The reviews function allows users to compare and contrast throughout their search. By combining these two functions, you'll be able to find the right person for your job without any trouble. Use the House Tipster web tool to find the perfect professional around you!
Featured Image By Robin Zebrowski From Flickr