Although it may not seem like a viable task to accomplish, even your roof can be susceptible to blemishes, mildew and mold. There are tasks and jobs that can be completed to eradicate these excursions. Issues will begin to accumulate as you leave these stains and marks on the upper portions of your property.
The countrywide average into the costs of cleaning your roof will range from $300 to $700. Depending on the kinds of jobs your professional will need to pursue, you'll have differentiating cost ranges associated with both the size of your roof and the amount of labor that goes into the task.
Roof Cleaning Costs
Associated with the task of cleaning your roof, the range of cost will probably estimate between $0.10 and $0.60 per square foot. By determining the amount of coverage of cleaning, homeowners can find the insight they need to see what the overall total will add up to. What will matter most is the method in cleaning your roof.
All of the Methods Into Cleaning Roofs & Costs
There are many different methods that go into cleaning your roof. Depending on the condition of the roof and what may be the underlying issue, the approach will vary. It isn't as if there is a one-solve-all solution to cleaning everything in your home. So you should ask your professional what the problem may be and inquire about the appropriate resolution.
Roof Blowing

$0.05-$0.10 per sq ft

Zinc Oxide

$0.05-$0.15 per sq ft

Chemical Wash

$0.20-$0.30 per sq ft

Pressure Wash

$0.20-$0.70 per sq ft

Soft wash

$0.20-$0.75 per sq ft

Low Pressure

Wash

$0.30-$0.70 per sq ft
Roof Blowing
A leaf blower is an accessible tool used for effective lawn care, and it's also used for cleaning out the debris and leaves from your roof. Homeowners are actually inclined to ignore and neglect the leaves that fall on their roofs because the leaves are seemingly harmless. But when your roof is left unattended, the moisture of those leaves will weaken your beams and home's structure.
The reason why your gutters may get clogged is due to such disregard. Your roof quite literally becomes a slippery slope. For a professional service, the cost will probably range about $0.05 to $0.10 per square foot. Keep in mind that, in some cases, even the weight of these fallen leaves will make way for greater damages down the line.
Zinc Oxide
Remember that moss is most frequently manifested by the moisture throughout its environment. Moss will eventually grow from the amassed leaves on your roof and you'll need something to remove all that algae. This is especially the case for the seasonal months when there's occasional rainfall and unnoticed leaves on your roof.
A chemical killer that combats moss and lichens, the zinc oxide both kills off the pestilence eroding your roof and protects your home from such frustrations. Professionals will place strips and will cost around $0.05 to $0.15 per square foot.
Chemical Wash
Widely used as a non-pressurized method, the chemicals that are used for your roof will mainly consist of sodium hydroxide. Imminently, the lichens and algae will be removed. Unfortunately, this method is solely used for killing the microbial pests and won't wash away debris. But homeowners prefer this method because it doesn't damage your roof's appeal nor its material.
Applicable for an assortment of uses, sodium hydroxide can also be the method for cleaning concrete, tiles, and slate materials. It ranges from $0.20 to $0.30 per square foot. One of the cheaper routes to take, the chemical wash will help you with concentrating against the natural adversary of your roof.
Pressure Wash
As stated in previous articles, the pressure wash has been an adaptable practice applicable for many different uses. This method proves useful against debris, dirt, stains, and smaller amounts of moss and algae. Cost range will be estimated from $0.20 to $0.70 per square foot. Other uses for pressure washing can include cleaning your driveways and pavement, wood decks, fencing, sides of your home, and many more.
Soft Wash
Garnering more attention and popularity, the soft wash is a method that homeowners are becoming increasingly interested in. A more in-depth process in killing away moss and bacteria alike, the soft wash is the method that helps keep your roof look healthier. This is a very safe procedure as well. By using a combination of different techniques, the soft wash will apply a mixture of surfactants, bleach, algaecides, but more importantly water.
The estimate in costs will range from $0.20 to $0.75 per square foot and the reason homeowners choose this option is because of all the black streaks that are left on your shingles due to the algae. Prevalent in humid and hot environments, the algae expands and begins to slowly eat away your roof.
Low Pressure
A low pressure method of washing your roof is mainly focused on acquiring gentle chemicals. Using the pressure washing method, this approach leans towards using less force, decreasing the possibility of damaging your roof's structural integrity. By utilizing both the low pressure and chemicals, your roof will get rid of any unwanted substances and maintain the shape and form that holds your home together.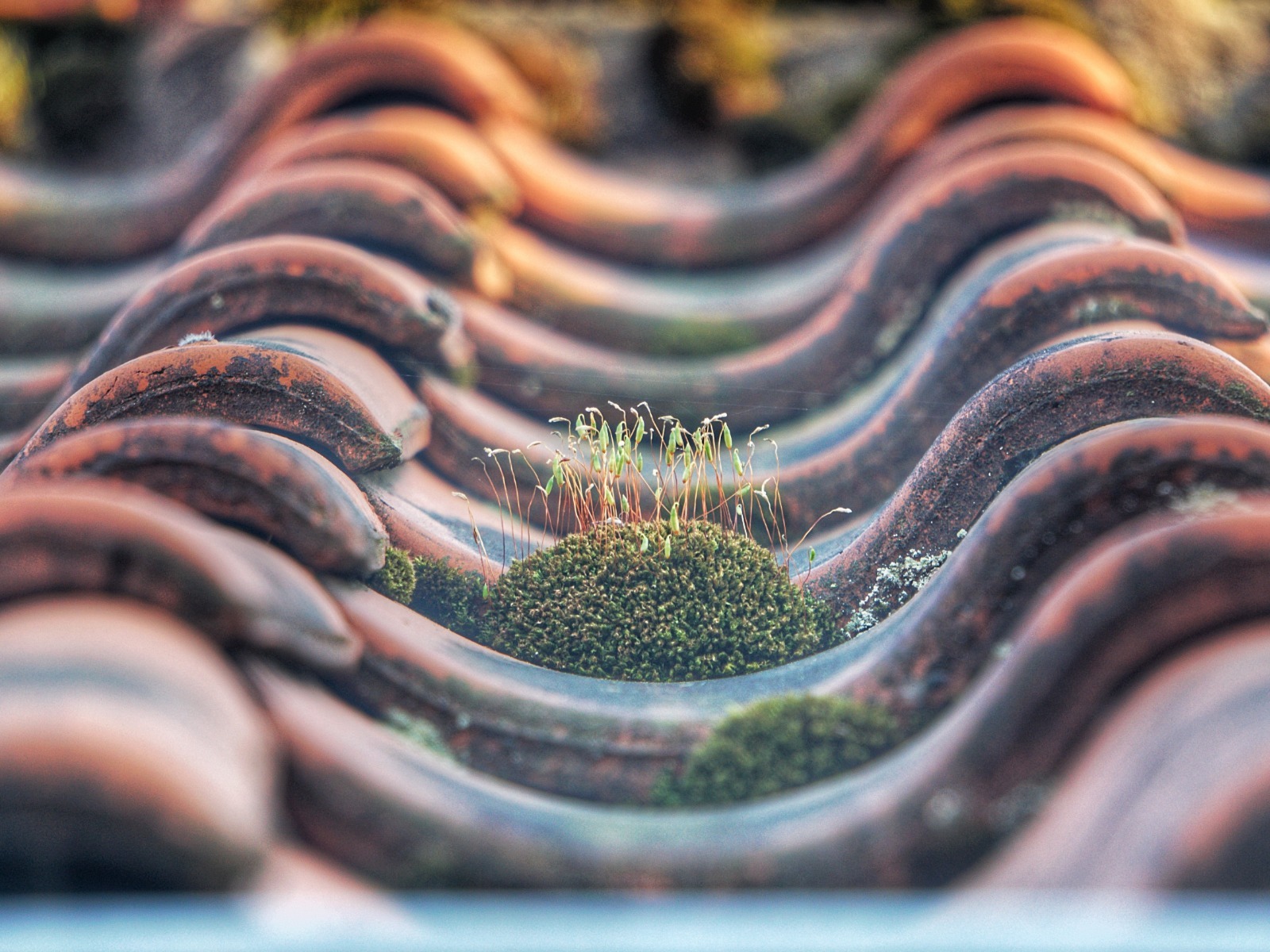 Photo By Dieter De Vroomen On Unsplash
Difference of Power Washing And Pressure Washing Your Roof
Much like pressure washing, the method of power washing your roof is effective and will probably cost in a similar amount and range. The major difference between the two methods, however, is the heat. Power washing devices store heated water to its advantage and will remove the grime with a warmer spray.
With this method of spraying down your roof, you'll have a more efficient and effective cleanup. However, homeowners should still be slightly concerned with both pressure and power washing methods. Due to the force being used when the spray is applied, there is a likely chance that your roof may be damaged.
Types of Roofs & The Ranges Involved
There is a wide assortment of materials that can be used to roof your home. And to clean each type requires some knowledge on the matter, but you should always keep in mind that the costs will vary accordingly.
| | | |
| --- | --- | --- |
| Rubber | Chemical Wash | $0.20-$0.30 per square foot |
| Tar And Gravel | Chemical Wash | $0.20-$0.30 per square foot |
| Metal | Pressure Wash | $0.20-$0.70 per square foot |
| Wood | Low Pressure/Chemical Wash | $0.30-$0.70 per square foot |
| Slate | Low Pressure | $0.30-$0.70 per square foot |
| Concrete | Soft Wash/Chemical Wash | $0.30-$0.75 per square foot |
| Asphalt Shingles | Soft Wash | $0.30-$0.75 per square foot |
| Clay | Soft Wash | $0.30-$0.75 per square foot |
| Ceramic | Soft Wash/Pressure Wash | $0.30-$0.75 per square foot |
Rubber
It won't be often to see your rubber roofs as the breeding ground for moss and lichens, but you will most likely see your roof covered with dirt and stains. The most viable solution to this is to use the chemical wash method. Since this approach will be best-suited against your dirt buildup, the cost will probably range from $0.20 to $0.30 per square foot.
Tar And Gravel
Constructed with laminated layers of asphalt, hot tar, and felt, this sort of roof will be best cleaned by using chemicals. A simple solution should suffice rather than using any of the other methods mentioned above. Since tar and gravel roofs are made of the listed layers, it's the most conventional method known for professionals. The cost will probably range between $0.20 and $0.30 per square foot. Homeowners will find that tar and gravel is sensitive against the other arranging methods.
Metal
It is a stringent and tough material so even if your roof is pestered with moss and lichens, you can use any of the pressurized washing methods to clean everything out. The estimate will range from $0.20 to $0.70 per square foot. A blast of water will probably do the trick of completely eliminating dirt and grime. Unfortunately, a small residue of moss and lichens might remain.
Wood
The downside of wood is that it can't withstand the force of a pressure wash. Professionals will have a better chance at using a low pressure cleaner or your standard variety garden hose. If you still want to decrease the chances of any damage being done to your wooden roof, you can simply use a chemical solution to rid of all your unwanted microbial issues. An estimate, on average, will range between $0.30 to $0.70 per square foot.
Slate Shingles
Probably one of the most appealing materials to be used for homeowners, the material is basically made of stone. With such a pristine quality being used, the preferable method to cleaning slate shingles will be low-pressure washing. Rather than losing the caliber or dislodging any individual tiles, you can use a low-pressure wash to avert any of these risks. The cost of low-pressure washing your slate shingles will range from $0.30 to $0.70 per square foot.
Concrete
Moss will be the biggest contender against concrete. It's a well-known and adverse material used for your roof. In wet climates, this material will have a buildup of moss. In these cases, it's best to use chemical solutions to rid of the accumulation of algae. The costs will range from $0.30 to $0.75 per square foot. Other than a low pressure cleaning, you can also use a soft wash method.
Asphalt Shingle Costs
Composited with asphalt and mineral granules with a fiberglass base, these kinds of shingles are the preferable choice for many homeowners. A soft wash method will most likely be the go-to route when it comes to cleaning an asphalt shingle roof. Since the material is both soft and pliable, you won't want any pressure or force going into cleaning them. The estimated range for this service will cost about $0.30 to $0.75 per square foot.
Clay Tile Costs
A more porous material than the others mentioned above, clay is unable to handle a pressure washing. The most suitable method would probably be a soft wash. This method provides a scrupulous shine to your home's appearance. Your specialist will use the right kinds of solutions to rigorously and gently gloss over your home. The average estimate will probably range $0.30 to $0.75 per square foot.
Ceramic Tile Costs
Ceramic has a denser composition compared to clay and although the tile could handle the pressure washing method, it's recommended to soft wash the tiles rather than pressure wash. This is to completely minimize any risk of damaging the material. On average, you'll probably expect a range of about $0.30 to $0.75 per square foot. And the best aspect of this arrangement is that the stability of your ceramic is held together.
Factors That May Affect The Cost Of Roof Cleaning
The size is the thing that will determine the overall costs. Like most of your home's renovation or improvement projects, the size is what makes the price either go up or go down. But what really changes the circumstances of cleaning roofs is the location. The climate is what really matters for this job. Your home will need to retain its condition, but depending on the weather, factors can change up the price.
Imagine being in a wet environment, if your home is in an area that rains a lot, there are increased chances where the damage can be on a regular basis. So if this is the case, the probability and fluctuation of requiring a roof cleaning service can go up. Quite frankly, algae and moss can spread exponentially. In a duration of six weeks, moss can flourish and grow atop your roof.
There are two kinds of moss that will grow, either the Pleurocarpus type or the Acrocarpous type. Pleurocarpus is the kind of moss that you'll see in a carpet formation, and under the ripe conditions it is left in, the moss will grow in a period of three months. Acrocarpous is the kind of moss that you'll see grow at a slower rate. In fact, this kind of moss can grow from six months to two years.
The Pleurocarpus kind of moss will answer best with fragmentation. Under certainties, the moss will break down and due to its regenerative properties, the broken parts will adapt and grow twice its size. The Acrocarpous kind will attach itself to a substrate, like the roof area, and will grow from its condition.
Cost For Removal Of Moss
What is counterintuitive about cleaning up your roof is how the moss can grow into the gutters. There are actually quite a few applications in your home that will ultimately be affected by the moss and hinder your daily routines. If the moss spreads far and wide enough, it can absorb heat and will cause your energy bills to soar on a yearly basis. In fact, due to this facet, moss will add up your cooling costs. You can expect about $0.20 to $0.70 per square foot.
You'll find that there are instances where the moss will cause water damage. By that point, the moss will have made your roof almost too unstable to walk across. In fact, the extent of the damages will cause your shingles to wear out. So before that can even occur, you should find a specialist or a service to prevent any further complications from occurring.
For treatments, you should expect to spend about $150 to $250 in costs. And you should consider coating your roof type as well. You'll find that coating your roof will create a proofing effect, assisting you against many other ailments that will hinder you along the way. The estimate will range about $0.50 to $5 per square foot.
If the neglect of the moss in your roof has gotten to the point of no return, you'll have to spend about $150 to $7000, depending on the proportions of your repairs. So instead of having to pay an exorbitant amount on fixing your roof, you should seriously contemplate on the savings you'll make in the long run.
Find Multiple Estimates On House Tipster
Comparing the costs amongst the professional services in roof cleaning is part of what you'll need to endure in the projects to come. Prices will vary with all of the professionals you decide to contact but the major proponent into this is figuring out whether your specialist will be the one you most prefer. Although affordability is what most homeowners wish to find, the other half of your search should go into finding the right individuals with the right kind of professionalism.
By using House Tipster, you can throw all those concerns away and find exactly the right person for the jobs in front of you. Whether it's construction, renovation, improvements, or even cleaning you need, House Tipster will be there to find the right person to handle your mentionable tasks.
Featured Photo By Jack Price-Burns On Unsplash