A carpenter is more than just someone who works with the lumber. The carpenter is a professional that homeowners and contractors will hire to assist in the construction, repair, and installation of frameworks and structures involving wood and materials related to the project they were hired for.
Depending on the project and its size, the carpenter you're choosing to hire will give you an average cost range for an estimate of $300 to $500. There are some carpenters who will give you an hourly-based rate and the average range will most likely be about $35 to $100 per hour.
The fortitude or the 'bones' of your project will most likely rely on a skilled carpenter. Make sure that you ask as many questions as you can to see how much expertise your professional has. When it comes to understanding the level of knowledge and training that carpenters have under their belt, you can categorize them in three tiers.
| | |
| --- | --- |
| Level of Expertise | Hourly Cost Range |
| Apprentice | $12-$23 per hour |
| Journeyman | $15-$32 per hour |
| Master | $42-$125 per hour |
Carpentry isn't only evaluated by these three classifications. Since carpentry is an expansion of different kinds of jobs for different kinds of projects, there are other categories you should know about. For example, if you're looking for a rough carpenter, you should know that they're specialists in structural maintenance. If you're looking for a carpenter to help you with cabinets, there are carpenters specialized specifically jobs focusing on cabinetry.
Table of Contents
Finish Carpentry Price Guide
These are the carpenters that focus on precision. They're the transformative professionals that work to make your interior space into a finished product. Surprisingly, this is a profession that has a keen focus on interior design.
Finish carpentry focuses on the costs through the size of the property. First thing they'll do is measure out the square footage of the home, and depending on the project, they'll most likely charge about $0.80 to $1 per square foot.
Next, they'll check on the additional provisions required for the project you need assistance with. For example, if you're looking to add hand railings, the finish carpenter on the job might charge you about $15 per foot. The same calculation is included for doors, so if you're looking for additional doors to be applied to the cost, they'll probably charge you about $15 per door. This is why you generally want to plan everything out and think of the different inquiries you'll need to compose.
If your finish carpenter is charging you at an hourly rate, instead of a flat rate, they'll probably give you the average estimate of $60 per hour.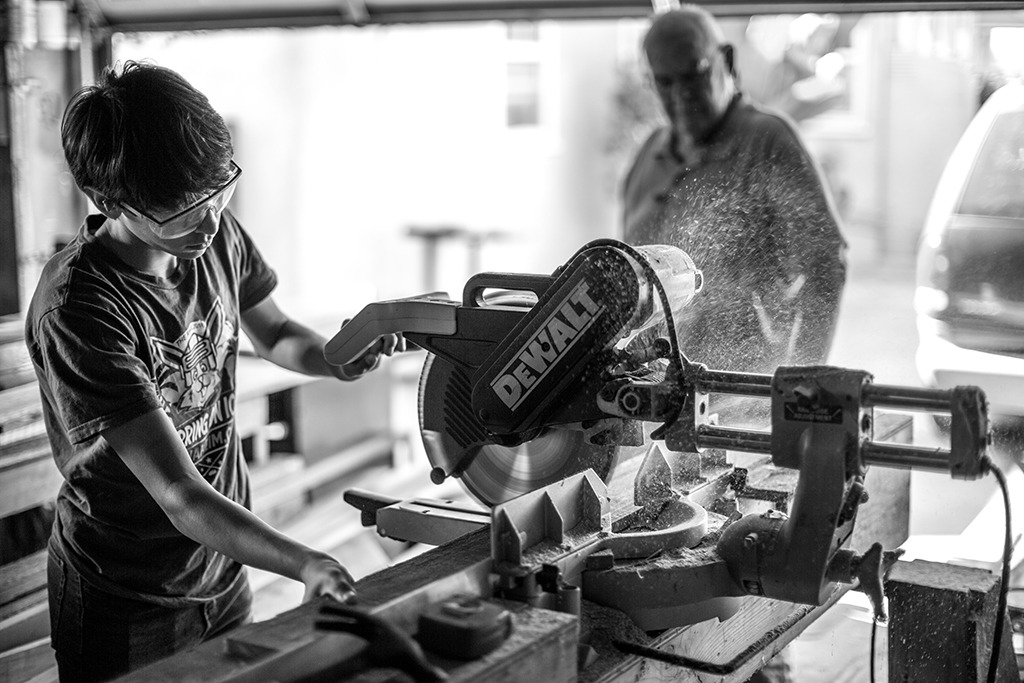 Photo by Vance Osterhout on Unsplash
Carpenter Rates Per Hour
Again, there are different kinds of estimates for different kinds of carpenters. There are union jobs, non-union jobs, and other carpentry jobs to consider, so you'll have to figure out what kind of carpenter you'll need for your future projects.
Here is a basic layout of the costs you might have to pay per hour, depending on the kind of work you're looking to execute for your project:
| | |
| --- | --- |
| Type of Carpenter | Costs |
| Union carpenter | $25 |
| Finish carpenter | $35 |
| Trim carpenter | $35 |
| Framing carpenter | $20 |
| General carpenter | $25 |
Some things you should know about the hiring process is knowing when to pay for the services that the carpenter provides. A red flag for homeowners to catch is paying half of the costs before the service even begins.
Another red flag is not knowing what kind of reviews were made for the person you decided to hire. Without the affirmation that your carpenter acts in a professional manner, you won't know what kind of escapades will happen under your nose. House Tipster can help with that.
The last red flag you need to be aware of is which carpenter to contact when you're planning the jobs that need to be done. As mentioned before, there are skills that carpenters will lack and there are some skills that they will excel. A colossal requirement to confirm is whether your carpenter has a license or not. If your carpenters only say that they're licensed without showing you the actual certification, you might be hiring someone who isn't truly proficient at the job.
Although there are some states where the carpenter won't need a license, ask yourself this: do you really believe that an unlicensed professional will do as good a job as a licensed professional? And even though some states may not require your carpenter to carry a license to do a job, towns and municipalities are a completely different story. Check with your local area to see if a license or some kind of provisional certification is required.
And here is the basic layout of project costs you may encounter, depending on the kind of project:
| | |
| --- | --- |
| Building and Installing Custom Furniture | $200-$12,000 |
| Installation of Pergola or Gazebo | $1,500-$7,500 |
| Building and Installation of Custom Cabinetry | $500-$1,200 |
| Framing Work | $3,500-$35,000 |
| Carpenting a Built-in Wardrobe or Custom Closet | $2,000-$6,000 |
| New Installation for a Deck | $2,500-$24,000 |
| Repairs on Decks | $200-$4,500 |
| Repairs on Doors | $100-$180 |
| Trim Work | $565-$1780 |
Carpenter Costs For Travel
Depending on how far you are from the carpenter you prefer and hire, you might have to pay an expense involving the travel mileage and time it takes to get to the project. There is no average range or universal one-fits-all charge that any home repair professional will have for you, in terms of travel costs. A piece of advice is to inquire if the expense will be included into your overall estimate.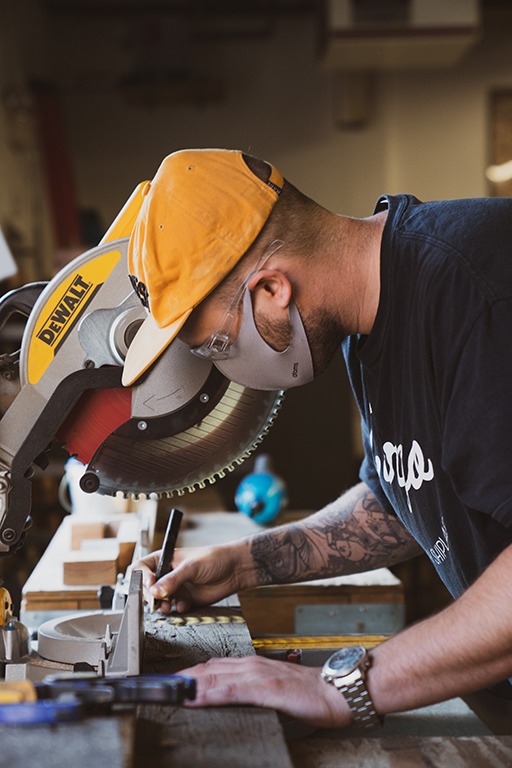 Photo by Atoms on Unsplash
Carpenter Costs For Trim Work
Trim work commonly refers to the moldings and the other elements of ornamenting the flairing appearance of your home's walls, floors, and ceilings. If there are particular designs or shapes you want done with your interior work, you'll want to hire a trim carpenter. Homeowners will typically be charged about $35. In a complete overall cost, you'll be expecting about $625 and the invoice may charge you a bit further, depending on the amount of work that needs to be done.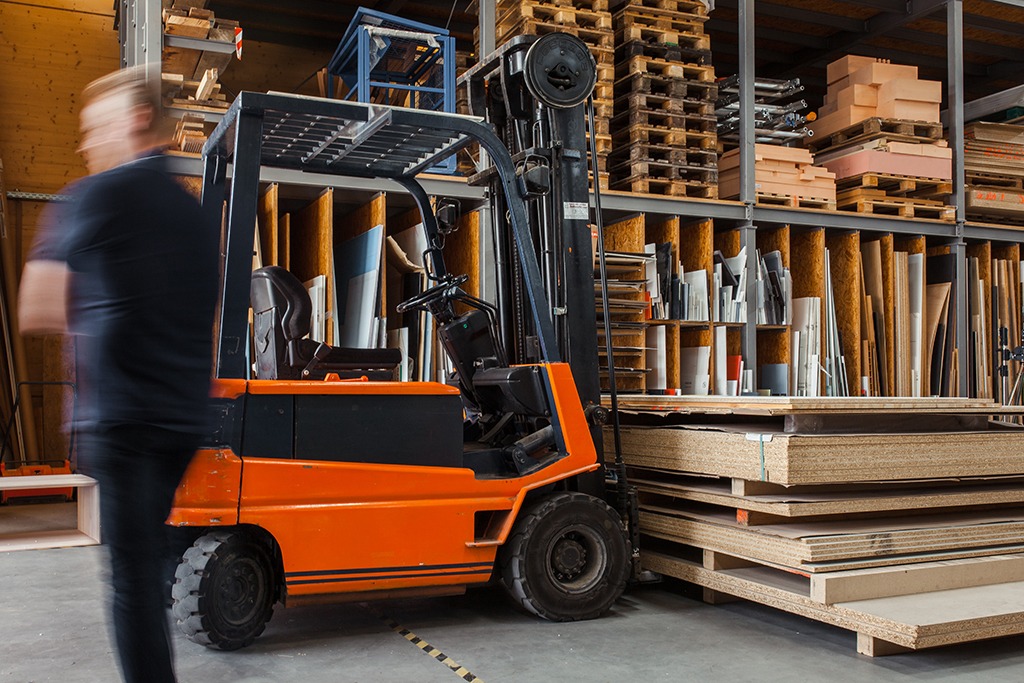 Photo by Pickawood on Unsplash
Costs For Custom Carpentry
Nationally, the average for building any kind of custom furniture will estimate from $200 to $12000. The reason why there is a wide range is because the custom work can either be very simplistic or very complicated. Depending on the desired pieces of your projects, carpenters have a large selection of jobs they perform for the items provided. If you wanted a regular bookshelf, the cost can be as little as $200, but a more complex piece like a custom-designed, like a newly redesigned look for a porch or deck, that's where the $12000 will come in.
How To Save Money For The Carpentry Jobs
Knowing the full extent of your project will give you an improved scope of what the costs will come to, but understanding what materials you'll need will help you save time and money. Building materials, like wood and hardware aren't difficult to come by. You can purchase the products your project requires and that will inevitably cut down the major portions of your budget.
Although there are other considerations to evaluate, a bulk of your costs will come from materials. Labor costs will or should be calculated as 20 to 40 percent of your total budget, so 60 to 80 percent of your budget will go into other areas related to the project. About 15 to 50 percent can actually come from the materials.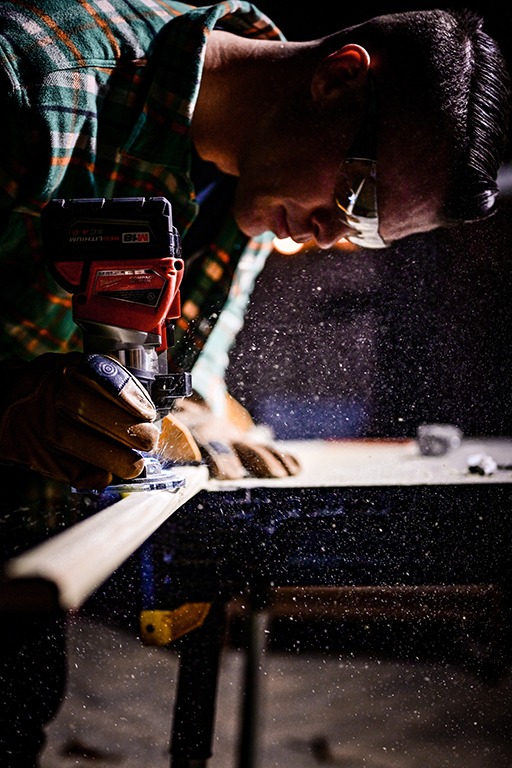 Photo by Samantha Fortney on Unsplash
Hiring a Professional or Professionals Through House Tipster
Carpentry is a spectrum. Depending on the kinds of jobs you want done in your home, you have to think about what kind of carpenter you need for the task. Carpentry is an art form. It's an art that takes years to develop and master. Now that you know the costs of hiring a carpenter, you have to worry about actually finding one with the right amount of expertise and experience, while balancing out the budget you want to maintain.
Understanding these factors, you now have a better sense of what goes into the projects you're considering to explore for your home. Instead of spending endless hours trying to figure out who to hire or which estimate is best, check out House Tipster. Choosing the perfect professional for your needs is exactly what we're here for, so come find your House Tipster Pro! How Much Does A Carpenter Cost? Find out from the professionals near you!
Featured Photo by Ryno Marais on Unsplash