Framing is the first step in the process to building your dream home. Without the bones, there is no body. The same can be said for the construction of your house. Without a solid foundation, no structure can stand and endure the testaments of both nature and time. There were two methods into framing, however, the one that has proven to work best is platform framing.
| | |
| --- | --- |
| Average Cost | $3840 |
| Low End Cost | $1380 |
| High End Cost | $6300 |
What kind of project are you looking to finish? There are different types of constructions to think about. Typically, homeowners decide to hire contractors to frame a specific part of their house plans or to frame an entire structure from scratch. Sometimes the most unexpected events can be responsible for projects of this size.
Importance of Framing
Before you can even envision what kind of home you'll be living in, you have to envision the layout. The reason why frames are so pivotal is because it is essentially the design of your project. It's very important to know that when you begin the construction of your home, there will be a whole team there behind you.
This isn't a DIY project. This is your home. It isn't something that you can rush or something that will have a set timeline, this is a project that could possibly take months. On average, it can take up to seven months for the completion of an adequately sized home. A breakdown of the construction involves drawing up plans and blueprints, getting the right permits and authorization, and actually building up the floor plans.
But once you have the right paperwork completed, the framing can begin. The framing process can take about five to eight weeks to complete. Depending on the size of your house, however, you can finish the framing in even two weeks. For a standard 2000 square foot home, a crew of five carpenters could finish the job in that timeframe if they work the average 40-hour work weeks.
Unexpected delays should be expected. Any kind of construction or project you're involved or interested in will have some sort of drawback or roadblock waiting ahead. Remember, safety and minimal risk is the key to dangerous tasks such as this, so there are many considerations to mediate.
Platform framing is typically used for a single story home or a two-story home. By using standard-dimension timbers, carpenters will nail down intersections of those timbers horizontally. This ensures that the pole foundation is supporting the rest of the structure.
In the past, carpenters used a method of framing called balloon framing, however, because the spaces in between each frame of construction started leading to fire hazards, this method has become impractical to use today.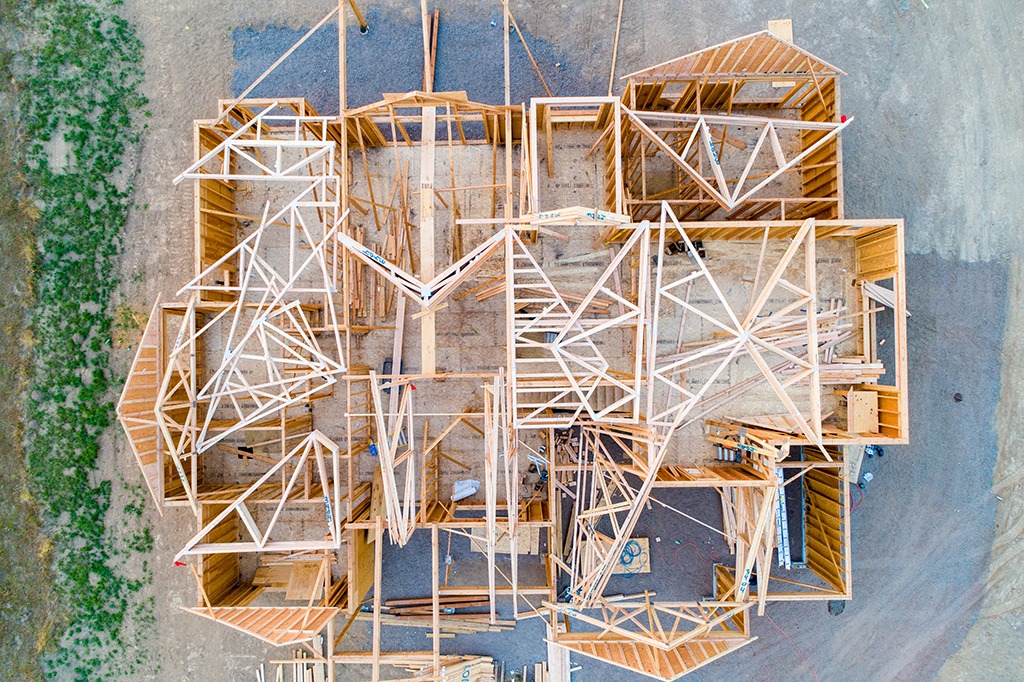 Photo by Avel Chuklanov on Unsplash
Hardware Involved With Framing A House
To break down the costs for hardware, you can ask the carpenters about what kind of materials they purchased for the project. Typically, the costs will estimate into $4 per square foot. But you're still probably wondering what goes into the process overall.
The sole plate is the bottom horizontal framing member of the wall section. Not to be mistaken with the sill plate which is a PT lumber that is placed atop of a concrete foundation at the bottom of the wall.
The header is the wooden beam placed perpendicularly to the wall studs above the window or door framing. It's sole purpose is to carry the structural loads. The jack studs act as connectors. They fit under each end of the header beams, transferring the weight of the load to the bottom plate. King studs act as the connectors that nail to the jack studs. They act as the support for assembling between the plates.
Rim joists are the vertical boards that cap floor joist ends, resulting in the boxing of the sub-flooring. Floor joists are the horizontal framing boards that support the floor load. Ridge boards are the uppermost horizontal frames that are placed on the roof and attach the top section of rafters. Rafters are a row of beams that form into a slope.
Labor Cost For Framing Per Square Foot
The cost of labor for framing is estimated to be at the range between $4 and $10 per square feet. While the average cost to hardware will be about $4 per square foot, the range of the cost is typically about $3 to $6 per square feet.
| | |
| --- | --- |
| Carpenter Type | Hourly Rate |
| Union carpenter | $25 |
| Finish carpenter | $35 |
| Trim carpenter | $35 |
| Framing carpenter | $20 |
| General carpenter | $25 |
Basement Framing Cost
The average size of a basement is about 1000 square feet for a finished space. And since the average price of framing a basement is about $4 per square feet, the basement framing project would estimate to about $4000. This kind of construction does not require load-bearing walls nor does it require as much planning, so as a result the framing should be minimal work to execute.
Garage Framing Cost
If a homeowner wishes to frame a garage, the first thing to do is consider whether the home is best with an attached garage or a detached garage. Usually the homeowner determines the kind of garage to be built, but the cost is almost similar to the square footage price of framing the basement space. The average ranges between $4 and $5 per square feet.
So depending on what kind of unit you're looking to construct, the cost can variate from the overall storage size:
| | |
| --- | --- |
| Garage Sizes | Overall Cost |
| 12 x 22 | $1056-$1320 |
| 14 x 22 | $1232-$1540 |
| 14 x 24 | $1344-$1680 |
| 16 x 24 | $1536-$1920 |
Reframing Costs Into Interior Walls
Adding new walls inside an existing structure within your home, the prices will be a bit higher than the other projects listed here. The reason why the costs for reframing your walls is a bit bigger is because there is a need for meticulous detail for planning as considerably less space to deal with. As a result, expect to pay an average range of $7 at the minimum and $16 at the maximum per square feet.
If you decide to install drywall along with that, increase your budget from those costs by an extra $20 to $30 per linear foot. Drywall installations tend to cost at an average range of $1000 to about $3000 as well. This inclusion into the plans will total the labor and material costs that go into adding a drywall into the frames.
Load-Bearing Walls
Light construction utilizes load bearing walls as the structural elements within a building and maintains the overall load. It was actually one of the earliest inclinations of construction. But what most homeowners ask themselves is whether they need load-bearing walls. It's actually very common to see load-bearing walls being constructed in modern homes.
However, the costs might turn your head otherwise. Since load-bearing results in more support for an entire story of your construction, the walls that bear the weight of the floor, the roof, and the ceiling require 16 inches of space on the center by using studs. By managing this process, the costs in materials and the materials themselves will increase by a whopping 30 percent.
You also have to consider the costs of the loads that will end up supporting the windows, doors, and any spaces that you pass through. Besides the load-bearing walls, you'll have to remind yourself of all the electrical work that will require you to maintain local building regulations.
Roof Framing Cost
If your framing project only involves the roof then the average cost that most homeowners spend is between $13500 to $16500. On the minimum, homeowners will spend about $10000, while on the maximum, they'll spend about $22000. For materials that involve roof framing, the costs will total into about $4 to $5 per square feet. And at the hourly rate, carpenters will cost about $45 to $75 per hour.
Lumber Cost Per Square Foot
The costs for lumber can cost about $1 to $5 per square feet and the overages added on top of that expenditure will range about 15 to 20 percent more than the standard cost. Lumber is the easier option to work with for both you and your carpenters but metal frames offer more durability.
Additions To The Walls By Different Materials
Most commonly, the framing material that most homeowners decide to opt for is wood and the estimate that averages out from wood ranges between $0.65 to $1.10 per linear foot. Some other common materials that homeowners choose is CMU, steel, and ICF.
Additions are available for carpentry services. They're meant to modify or alter the increase in the habitable floors of your construction site. In summation, an addition is the extension of your floor area and to install an addition will increase the costs of your framing.
Depending on the size of your construction project, the wooden materials that the contractors use will range about $15 to $20 per square feet. However, other materials, like steel, will range about $20 to $25 per square feet. Additions exploit the purpose of constructing more and more floors for the house you're building. Whether it is a construction or a renovation project that you're working on, the additions will help you grow the height of your property.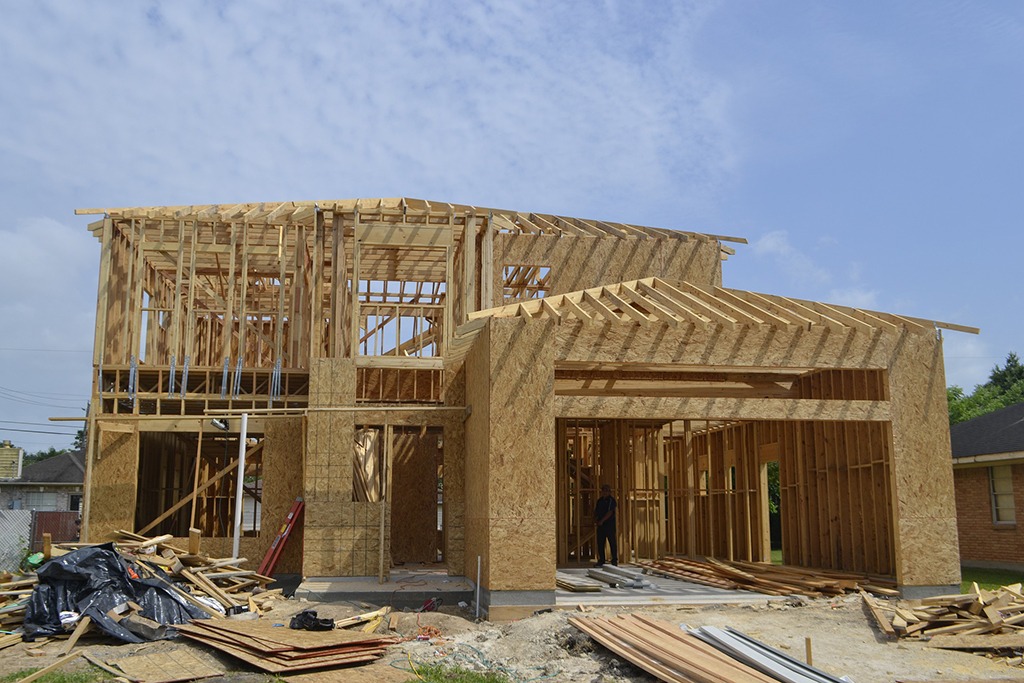 Image By MaxPixel
Costs For Additions With Other Materials
The other materials listed above have varying prices per square foot. Framing begins right after the location is chosen and the foundation of the concrete is poured and set.
| | |
| --- | --- |
| Building Material | Cost Per Sq Ft |
| Steel | $3-$8 |
| CMU | $3-$8 |
| ICF | $3-$8 |
| Wood | $4-$8 |
It's quite ironic that steel, CMU, and ICF have the same costs per square feet. The reason the average range costs more with steel is because the labor costs are higher when working with wood as a material for the framing.
Costs To Frame Addition By Material
As previously mentioned at the top of this section, wood that is framed for an addition will cost around $0.65 to $1.10 per linear foot. Concrete masonry unit frames or CMU will average in the range of $3 to $5 per square foot. It may be a seemingly less commonly used material for home construction or renovation projects, but they offer hollow solidity.
Steel frames that are used for building additions will range in cost from $9 to $11 per square feet. It's odd to use steel frames for additions because this material is generally used for commercialized structures. It is the strength, durability and capability that makes steel such a renowned resource for such a setting, however, there are some residential areas that utilize steel frames to build additions. If you're planning to build an unconventional home with a complex formation, then it might actually be advisable to use steel instead of wood.
Insulated concrete forms or ICF is concrete that is shaped with insulation as it's being installed. Material costs involving ICF will estimate in the range of $14 to $18 per square foot. ICF is handled very easily, so administering them into the construction plans might assist in the completion of your project that much smoother. They're also made to insulate against thermal transfer and sound.
Other Costs to Consider For Your Project
There are some considerations to make when you contemplate whether your project may need enhancements or improvements to be made in the later stages of construction. Four considerations to think about are the processes of sheathing, building wrap, window installing, and insulating.
Sheathing Costs
The process of sheathing involves a preference in material to be installed over the exterior of wooden frames. It braces the walls you've framed for any positive or negative forces. Wood sheathing is a typical process that ensures your walls from racking within the structures of your project. It is the most common method of finishing a project for residential areas. The sheathing will bump up your spending between $2 to $5 per square foot.
Building Wrap Costs
The elements are the greatest tragedies if your construction project was a Shakespearean story. Rainstorms and hurricanes can cause rather many leaks to the materials you put your heart and soul into installing. Building wrap prevents your siding materials from leaking. Think of house wrap as a band-aid that is used to heal the unexpected bleeding that your house will inevitably have to go through. The average range of house wrap costs about $1 to $2 per square feet to install.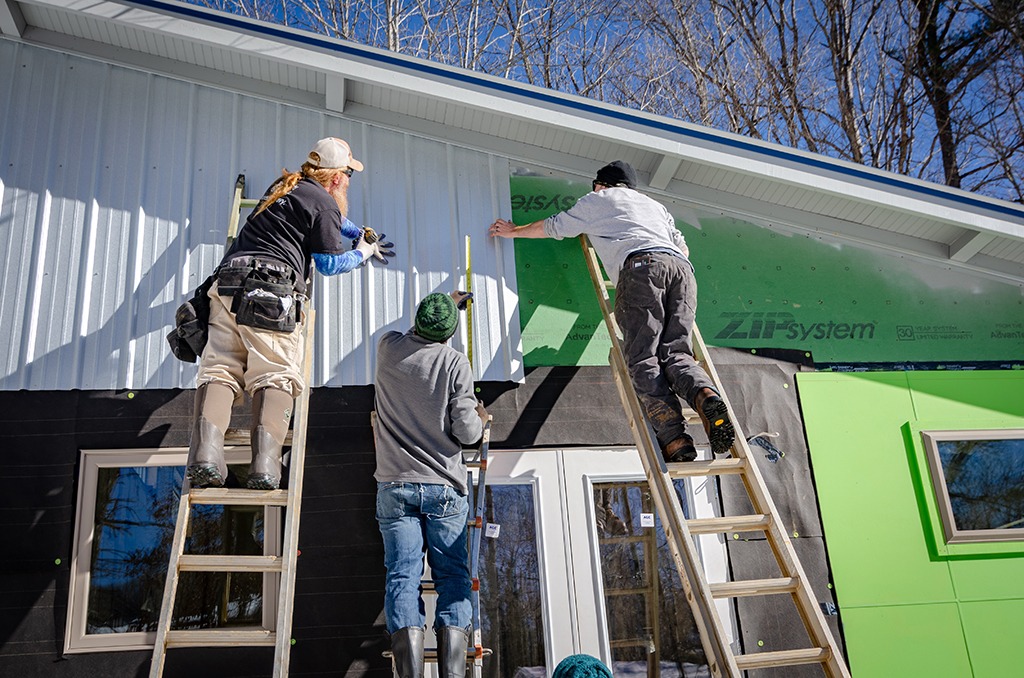 Photo by Jens Behrmann on Unsplash
Window Installation Costs
As stated from the above sections of this article, window frames are commonly constructed so that you can install the windows and doors through the specifications of your design. Luckily, the professionals you decide to hire might offer to perform this task as an extra step to the process. However, each wood window that needs an installation for new windows will cost you about $650 to $1290 per piece.
Insulation Costs
Insulating a space is key to making an area livable. It's what keeps the energy costs in your bill from running rampant. By creating a tight building envelope around your home, you'll essentially flow natural heat or cool air into your space, thus enhancing the comfort of your living space. Insulation ranges between $2.40 to $3.75 per square foot.
To insulate your home also gives you protection from health issues, and gives you an initiative to partake in healing and conserving the environment. Your house is also protected from noise without the actual need nor the installation of soundproofing products. And for resale's sake, homeowners also take part in this process so that their properties can also increase in value.
Hiring a Professional or Professionals Through House Tipster
Only knowing the breakdown of costs when framing your home is impractical without knowing who to contact for the actual construction to start. Depending on the kind of project you want done, the professionals on House Tipster will give you a detailed and accurate estimate. Framing any part of your home isn't something that any average person can do, especially not alone.
As stated above, all that labor is done with a whole crew so this isn't something that can be done by the average individual. Think about all of the available professionals located in your area! Find an estimate or multiple estimates by checking out House Tipster, and choose the perfect professional for your home repair needs. How Much Does It Cost To Frame A House? Find out from professionals near you!
Featured image by Cathy from Flickr