Most homeowners are conflicted about how they should renew their cabinets. Some homeowners don't know the difference between refinishing and refacing their cabinets. In a previous article, we discussed how refacing your cabinets involves taking out the box, the hardware, and frames. Then, applying new veneers onto them.
The national average that you'll most likely range from $500 to $2500, but in any case, the average cost range will estimate into about $350 to $910. The lower end materials into refinishing will range about $65 to $250, while the higher end materials will range about $1000 to $3500. The cost factors to these numbers are not only from the materials but from costs to hire a professional, to apply stains or to make repairs.
Before reading about any of the costs, you should determine how many cabinets will need to be refinished, how complex the jobs will be, and what kind of materials will be needed. If you're considering a full replacement instead, you should know that it'll most likely cost from $500 to $18000.
| | |
| --- | --- |
| National Average Range | $500-$2500 |
| Average Cost Range | $350-$910 |
| Lower End Material Cost Range | $65-$250 |
| Higher End Material Cost Range | $1000-$3500 |
One of the main concerns of why the environment is not as stable as it once was, is because of landfills. Replacing your cabinets will lead to endangering the ecosystem further by just tossing the items in your waste. If you're not as socially conscious about the nature of the planet, consider refinishes by keeping the costs in mind. In most cases, you could possibly spend about four times more reinstalling new cabinets.
Process of Cabinet Refinish
Before we can begin refinishing your cabinets, you'll want to know about what the professionals will do. The professional will start the refinish by taking out all of the components, the cabinet doors, drawers, shelves and hardware. This is an optional step in the process and will most likely take more time for the refinish to proceed.
After this part is complete, or if you opted not to remove the cabinet proponents, then you'll have to begin stripping away the old finish. All of the paint, stain, or varnish that your cabinets might have will need to be removed from your doors and faces. If you're doing this project yourself, make sure to grab a glove and a hand tool because you'll be handling certain chemicals to strip off the paint.
Use any kind of paint-stripping product to perform this job. Most contractors will advise you to remove the paint outside of your home since the fumes and the mess will be dispersed around you. Irregardless to this advice, the professional will most likely do this on-site, which is the blatantly obvious reason you won't be able to use your kitchen for the time being.
The key reason as to why homeowners have their cabinets refinished is because there can be splits, holes, or dings obstructing the quality of the wood. Contractors remove all that paint so as to make the necessary repairs then sand the surface. Those repairs that need to be made will cost you a little extra, so expect a fee coming your way if the shape of your cabinets are not up to par.
Now that the cleaning and sanding is done, you or your hired helper will have to apply the primer, the paint or stain, and the clear coat varnish. Primer primarily keeps your cabinets protected, while the paint or stain will maintain the design you chose. The varnish will lock all of the mentioned products in and seal it into a layer, protecting your cabinets from common wear-and-tears.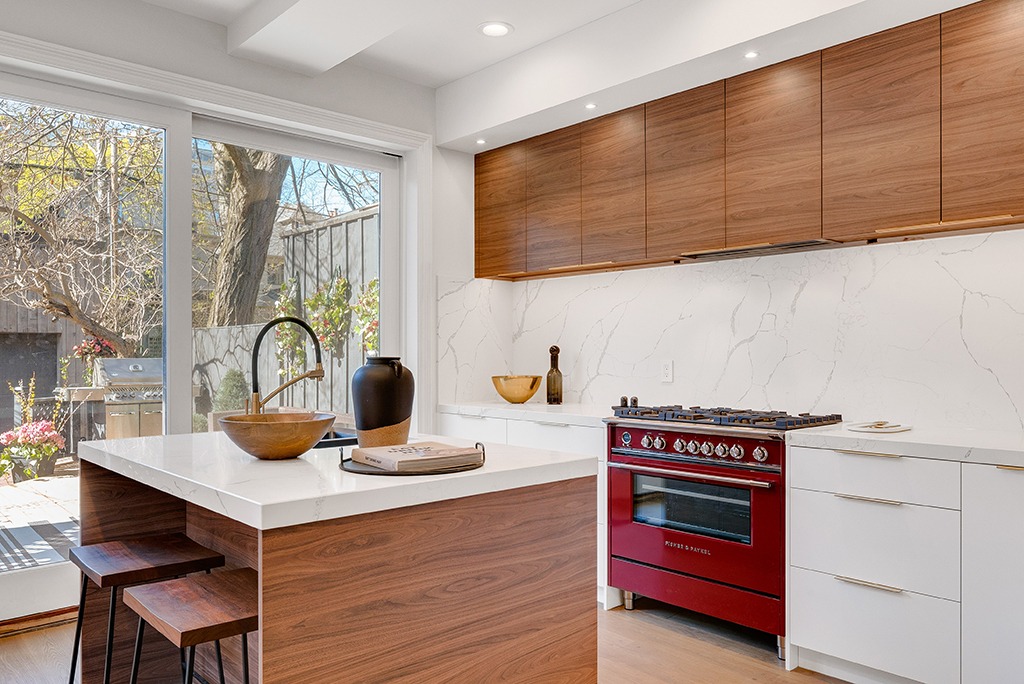 Photo by André François McKenzie on Unsplash
Costs To Stain Your Cabinet Refinish
The refinishing process involves staining your cabinets, this is especially the case if your cabinets are made of wood. The cost to stain your wood cabinets will be about $50 at the lower end, while the cost to stain your wood cabinets will be about $112 at the higher end.
Size of Cabinets Per Linear Footage
The biggest cost factor that will affect the overall price of the refinish process is what the measurements are going to be for your cabinetry. Linear feet will ultimately determine how much this kind of job is going to cost.
The average cost to refinish your cabinets will most likely be about $38 per linear foot. Having a kitchenette or a small bathroom in your home will minimize the overall cost as well.
The unfortunate downside for a small renovation like this one is the fact that you probably won't be able to use your kitchen for a few days. Duration of refinishing your cabinets, no matter which room you're performing these tasks in, will be about five days. Get ready for five days worth of take-out!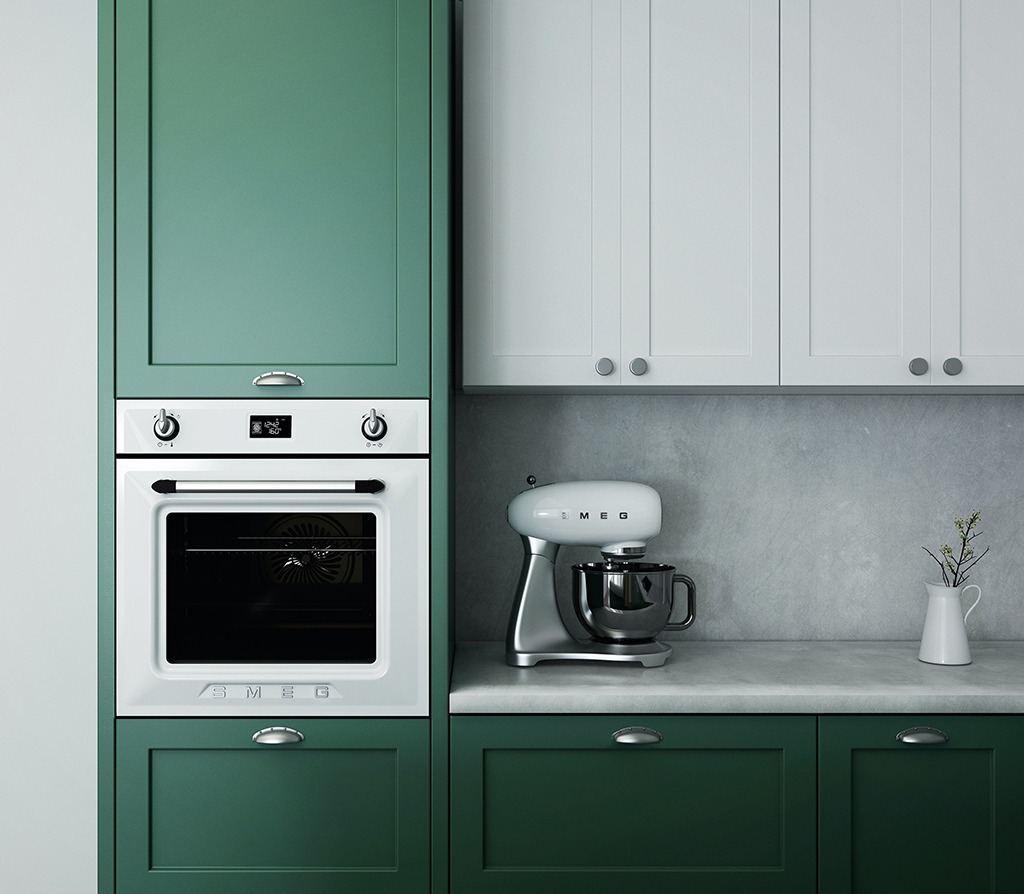 Photo by Kam Idris on Unsplash
Cost To Sanding Your Cabinet Refinish
Average range of costs will estimate into $5 to $10 per square foot for the whole process of stripping, sanding, and painting your kitchen cabinets. While the sanding average is $5 to $10 per square foot, the average to additional costs of applying putty and paint stripping will apply about $2 to $3 per square foot. This all will be calculated by determining and evaluating the condition of your cabinets. Due to the possible extent of damages done to your cabinets, the prices may vary.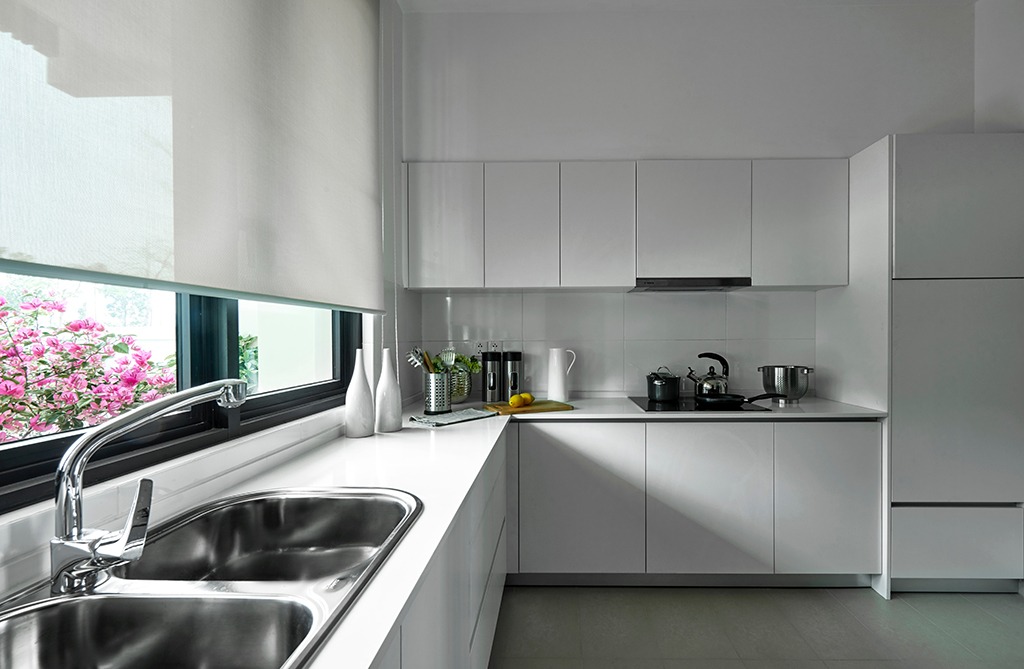 Photo by Huy Nguyen on Unsplash
Choice of Finishes
There are seven suggestions we'll make for the kind of cabinet finish you're looking for. Depending on the kind of style you're on the hunt for, these seven selections have the most probability of standing out.
Waterborne
The waterborne finish is scratch-resistant and is low in VOC, volatile organic compounds; it also has the benefit of being free of formaldehyde hazards. It also takes very little time to apply this finish into your cabinets.
However, waterborne is difficult to apply and is slightly more expensive compared to the other choices down below.
Stained
Advantages involving a stained finish is not just how stylish it looks, it is also the custom alterations it offers. Enhancing the grain of your cabinets may very well be just as important to the overall appearance of your cabinetry. Contractors will inherently know that the technique to apply a stained finish is hand-rubbing the application.
One disadvantage that this finish holds overhead is the few color schemes it has to offer. Most homeowners look into different options because of how limited their options are for colors when evaluating the stained finish.
Glazed
A glazed finish alters not only the color of your cabinets but also changes the texture. It has the added advantage of giving more depth to the visual appearance of your kitchen or bathroom. Although it has many benefits, the downside to a glazed finish is that it is a costlier option and will require more expertise to apply than the other suggestions.
Natural
Your natural finish will not use any stains or dyes because it's in the name, it's natural. The one thing that you or your contractor will most likely do is apply a protective layer so that your wood is left in a durable status. Variations in color will pop out since it is a natural look but it definitely will decrease the uniqueness your cabinets would have if you applied one of the other finishes.
Painted
The painted finishes offer a wide variety of different colors. It's recommended to keep the painted finish with opaque colors and to include a varnish top coat. Painted finish has a lighter look to match the rest of your home, depending on the interior of your home. Most occasionally, this will be the finish that will chip or show dents in the highly used areas.
Varnished
Assembled kitchen cabinets usually have a varnish for the finish and as mentioned above, it helps protect your cabinetry with a layer that's heat-proof and corrosion-proof. As mentioned, varnish helps defend your cabinets from the common wear-and-tears but that doesn't mean this finish will make your cabinetry invulnerable. Varnished finishes are still susceptible to chips, dings, and wears.
Distressed
The distressed finish has a rustic, traditional look that makes your cabinets maintain an aged appeal. By utilizing different variations of painting techniques, the cabinets keep a coat that prevents it from being worn or scratched. Distressed has the appeal of timelessness but it has a lot more susceptibility with chipping and rubbing off.
Costs For Cabinet Refinish Hardware
Try to see if your hardware is good enough to use with your cabinets. Homeowners rarely ever see if their knobs, pulls or hinges actually work the way they are supposed to. On average, knobs and pulls will cost between $2 and $20 per piece and since every 30 lineal feet will need approximately 40 pulls or knobs, you'll most likely spend about $80 to $800.
Hinges are a minimal but a costlier purchasing priority. On average, depending on what kind of materials you're looking for, hinges range in an estimate of $12.50 to $14. If you decide to call a contractor or a handyman, the labor costs that apply will total into about $36 to $74 per hinge. If you're thinking of replacing your hinges, the cost will be a little higher but you probably won't need as many of them.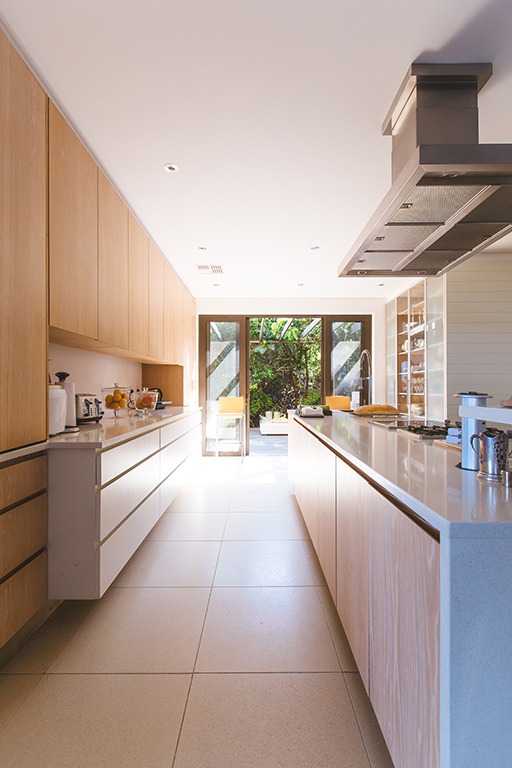 Photo by Jason Briscoe on Unsplash
Cabinet Refinishing Labor Costs
Ultimately, the factors into labor costs will only be arranged by the amount of cabinets you need refinished, the size of them all, and the materials needed. Typically, homeowners will spend about $4 to $10 per square foot, but at an hourly rate, homeowners will probably spend about $35 to $75 per hour.
Hiring a Professional or Professionals Through House Tipster
Being informed of the costs into refinishing your kitchen or bathroom cabinets is only half the battle. Now the only consideration you should account for is how you can find a professional who can help you with the refinishing and cabinet removal process. Although you could probably do it all yourself, it can be quite a tedious list of tasks to fulfill. And within your extensive notes and research, you'll start wondering how you can find the perfect professional for the jobs.
As stated above, all that labor that stacks along with a DIY, think about the professionals located in your area! Find multiple estimates by checking out House Tipster, and choose the perfect professional for your home repair needs. How much does cabinet refacing cost? Find out from professionals near you!
Featured image: Photo by Sidekix Media on Unsplash