Worrying about your cabinets is a natural occurrence for many homeowners. This is especially the case when they seem older and less appealing to look at. A kitchen remodel isn't quite complete without renewed cabinets in them, and this isn't to say that a renovation project needs newly purchased cabinets either. Instead of spending a larger sum by going to a retailer and finding a new product, you can just reface all the cabinets you currently own.
Homeowners would only need a fraction of what they'd spend on a whole replacement of cabinet sets. Refreshing your old cabinets is simple so long as you find all of the costs and prices involved with the process.
| | |
| --- | --- |
| Average Cost Range | $3000-$12000 |
| Low-End Minimum Range | $1000-$6000 |
| High-End Maximum Range | $9000-$22000 |
The entirety of your budget will be calculated by the size and spacing of your cabinets and where you'll be installing them. Keep in mind that when you're looking into replacements, there are other items you'd have to rearrange along with your cabinets. If it is the kitchen where you have your unwanted objects, then you'll need to see if any of those cabinets are positioned near or right next to your appliances, like the dishwasher or the microwave.
What involves the refacing process? Other than what you'd call refacing, homeowners have another term for such a process. Alternatively, it can be known as cabinet resurfacing and both terms are exactly what the process is known for.
Frames, doors, drawers, and end panels cannot be entirely repainted unless they were originally removed. The whole process is called resurfacing because you're recoating every part of your cabinetry and adding in new material on them. Before you begin to consider preparing your paints and all the necessary preferences in materials you'll have already bought, you should know the costs into removing those cabinets from out of where they originally were installed.
The price range of refurbishing your cabinets is widely affected by the amount of cabinetry needed for the resurfacing, the accessibility to the cabinets, and the repair work that needs to be done. The common misconception of refacing the cabinets is often mistaken with refinishing them.
Refacing your cabinets involves putting whole new materials atop the existing frames, replacing the doors and making any other required adjustments that were evaluated beforehand. Refinishing your cabinets is slapping on a coat of paint and changing up the finish.
Cost of Materials to Reface Cabinets
To fully expedite the process of refacing your old cabinets, you'll need to think about the different choices in materials to pick out. On average, with any material you decide to choose from, the cost to refacing your cabinets will range from $50 to $500 per linear foot. This calculation comes from different professionals and the rate they charge for their jobs. So as per usual, House Tipster highly recommends homeowners to find multiple estimates before they decide to execute their projects.
Veneers
If you're not opting out for paints, stains, or finishes, you're probably looking for a simple alternative. Veneers only require the material itself. There are different appearances and styles to scan through when choosing which refaced material to choose. Simply put, veneers are very thin sheets of whatever material you want to change for the actual physicality of your cabinetry. There are quite a few materials to contemplate from.
Decorative Laminate
The average range of cost for the laminate material estimates from $80 to $100 per linear foot. When it comes to refacing, it isn't just to change the look of your cabinets, but also to give it a cover-up. Laminate gives a nice modern look to your home and gives it the appearance of a realistic grain.
Pressure-Sensitive
This kind of veneer has a cost estimate between $80 and $100. It offers ease of mind when employed and leaves no trace of any nail holes. Since this material is also moisture-sensitive, it's best not to apply pressure-sensitive veneers for bathroom cabinets. Any room that has a source of water or exposes any vulnerabilities for the veneer to get wet should be avoided at all times.
Plywoods
On average, plywood will range from $100 to $150 per linear foot. As a more durable option than the other materials, plywood has fine quality for its finish but requires more expertise when installing. Although this is a material that is on the higher-end, not only in expenses but also in quality, plywood is exactly what homeowners tend to look for when they're hesitant on replacing their cabinets.
Hardwoods
This option for veneers will probably be on the more premium side of refacing. Its average cost ranges between $200 and $500 per linear foot and depending on the type of hardwood you decide to purchase, you can examine the clearer cost. Most of the experts and professionals in the industry will suggest that you opt out and replace the cabinets altogether, but the refacing process helps homeowners ensure a lasting durability.
RTF (Rigid Thermal Foil)
The cost range for RTF materials will vary from $60 to $70 per linear foot. The quality of RTF is derived from plastic and it doesn't look quite as pristine as natural wood. What makes it the preferred option is its price but there is a requirement for professional hands for this kind of job to be done.
MDF (Medium Density Fiberboard)
Refacing your old cabinet parts with an MDF material will average into the range of $70 to $80 per linear feet. Although the material is of similar quality to plywood, MDF is the stronger building material. However, it doesn't nearly maintain durability as the other materials listed on this article and it doesn't have the same resistance against moisture. It is a veneer for homeowners with mid-ranged budgets.
Melamine
This kind of material will have an average cost range between $60 to $70 per square foot. Melamine is a low-pressure form of laminate. Although somewhat similar to RTF, it is less durable than high-pressure laminates. The material is applied through heat by locking in the paper-like plastic and saturating it onto the cabinets.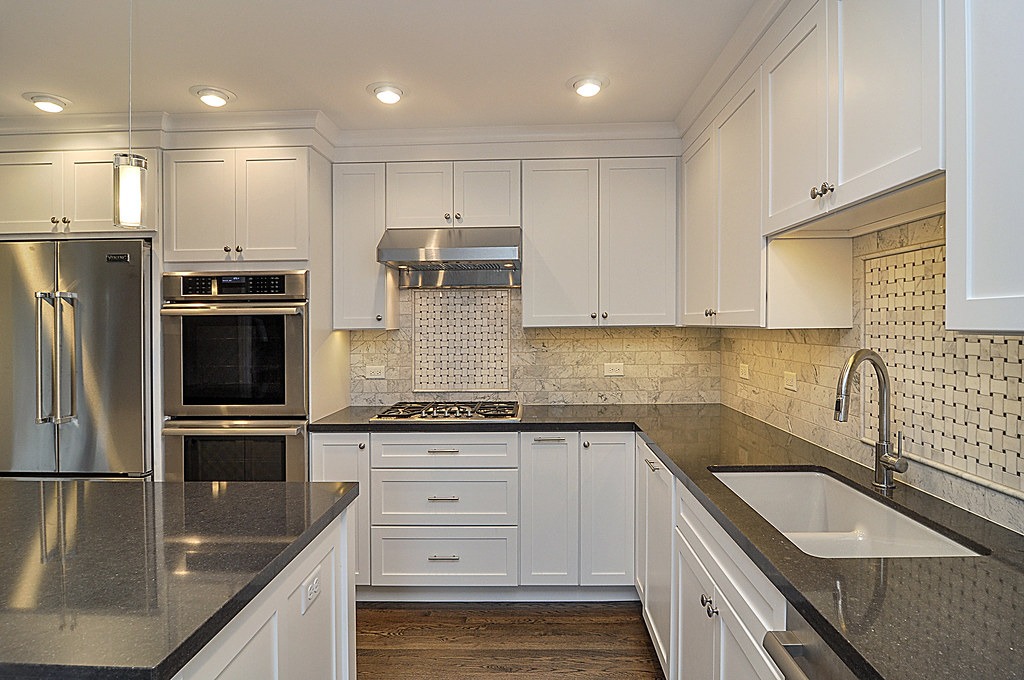 Image by Sebring Design Build from Flickr
Cost of Labor to Reface Cabinets
Out of the total cost average of refacing your cabinets, which would be about $3000 to $12000, hiring a professional to do the work will make up about $1920 to $7500. The percentage of the professional costs applied to your budget will, in all likelihood, make up about 60 to 64 percent of the total cost.
Hiring a contractor or carpenter for the tasks at hand is reliable and convenient because all the materials and tools to complete the project will be at the disposal of said professional. As a reminder, accessibility to your cabinets and what might need to be rearranged will be what ultimately changes your budget and your costs.
These numbers may also be altered in accordance with the kind of hinges that may need to be reinstalled or the angles of how your cabinet doors might open. Remember that the measurements of your cabinets and the amount of cabinetry you need refaced will also affect the costs.
Bathroom Cabinet Refacing Costs
A bathroom cabinet refacing will cost an average range of $6000 to $10000. Normally, this is the less costly renovation to think about, in terms of refacing the cabinets. This is because bathrooms don't tend to have nearly as many cabinets as kitchens would. Since bathrooms are areas with a lot more moisture exposure concerning the space, there is quite a bit of restriction in the choice of materials. You'll need to carefully consider which materials you'd decide to apply on refacing your bathroom cabinetry.
Kitchen Cabinet Refacing Costs
A costlier option is refacing the cabinets in your kitchen, as mentioned above. But the average range will estimate from $7000 to $22000. Although this is probably the space that will cost you the most, it is also the most common space where cabinet refacing will occur. If any of your cabinets need to be repaired before the refacing can be done, you should expect additional costs to be applied.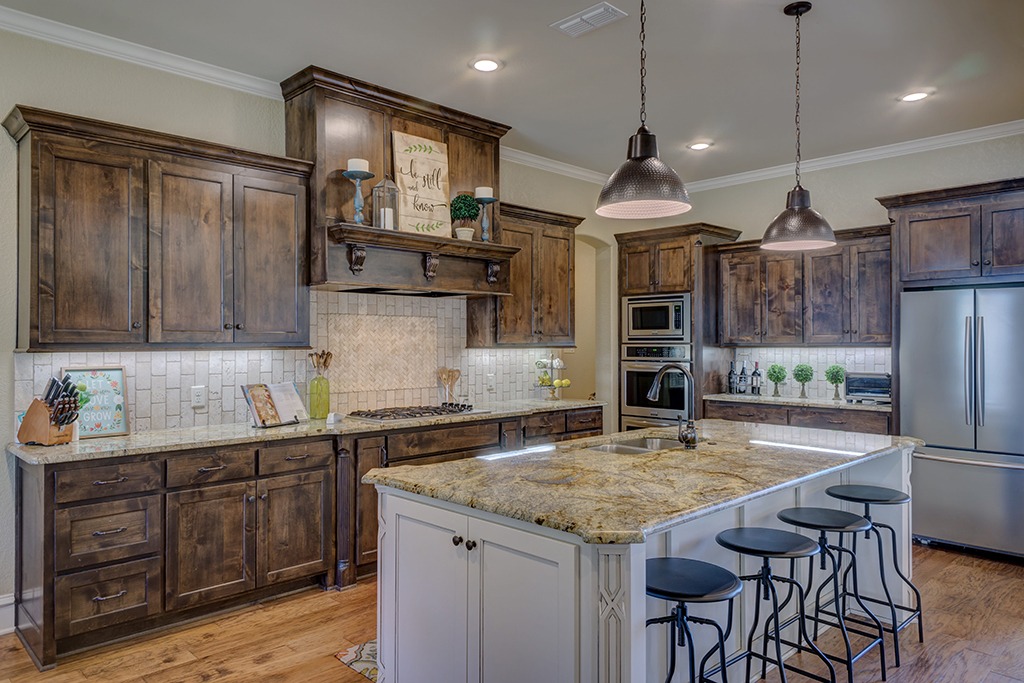 Image by Pxfuel
Cabinet Refacing Costs From Low to High Range Budgets
By calculating the average estimates of the different kinds of materials, you can draw up a cost analysis based on the different sizes of your cabinetry.
| | | |
| --- | --- | --- |
| Low End Materials | Cost Per Sq Ft | Total Cost By Size (10-30 linear ft) |
| RTF | $60-$70 | $600-$2100 |
| Melamine | $60-$70 | $600-$2100 |
| MDF | $70-$80 | $700-$2400 |
| | | |
| --- | --- | --- |
| Mid End Materials | Cost Per Sq Ft | Total Cost By Size (10-30 linear ft) |
| Decorative Laminate | $80-$100 | $800-$3000 |
| Pressure-Sensitive | $80-$100 | $800-$3000 |
| | | |
| --- | --- | --- |
| High End Materials | Cost Per Sq Ft | Total Cost By Size (10-30 linear ft) |
| Plywood | $100-$150 | $1000-$4500 |
| Hardwood | $200-$500 | $2000-$15000 |
Cost to Removing Cabinets
Before your professional can begin the refacing process on your cabinetry, you should keep in mind that making detailed measurements will ensure a more accurate outlook into how long the job may take. Although the professional will probably provide the measurements for you, measuring the cabinets yourself will also give you a better idea of what the costs will amount to.
Now that you have the measurements written down, the next step will be to remove the doors, drawers and hardware. The box, frames, and panels are what matters most when it comes to making the refacing adjustments. Remember that every portion of your cabinetry will need the adequacy of holding the new veneer.
Labor costs of removing the doors will end up ranging from $7 to $8 per door. If your frames are in good condition, they'll most likely advise you to keep them, coating a new face panel instead. From a low to high range of removing your kitchen cabinets, the labor will estimate the cost of $17.50 to $70.63 per unit. The total price of both labor and materials could range from $100 to $750. Debris removal costs, if there are replacements involved with any of your hardware or drawers, will estimate about $50 to $80.
Cost of Replacing Cabinet Doors
There is an underlying concern that comes with cabinets if they're damaged or slightly broken. The cost to a single door will be between $30 to $100, while the labor cost applied will make the total amount into an estimate of $130 to $350. The additional costs that might need to be applied depends on what kind of upgrades you're thinking of including. The cost to any hardware replacements, hinges, or parts you may want to fix could possibly range from $500 to $4000.
To break it down, hardware can averagely range about $1 to $100 per piece, and this all depends on whether you're searching for lower-end materials or higher-end materials. One thing to keep in mind when you're out on the prowl for replacements, hinges may cost more than knobs and pulls. Hinges have a cost range of $4 to $20 per piece.
Expect to pay about $2 to $4 per piece for knobs and pulls. However, there are higher-end material pieces for knobs and pulls that could cost all the way up to $25 per piece. Buying sets instead of buying the hardware separately will decrease the costs.
Cleaning Up After a Cabinet Refacing
Whether you decide to do the job yourself or you decide to hire a professional, the refacing process will leave a substantial amount of dust around your home. The company you contact most likely includes this service for its clients.
Cost of Replacing Cabinet For Custom Cabinets
Depending on the kind of cabinet you presently own, you may be considering a custom cabinet instead of outright refacing everything. The total cost for the cabinets alone will cost you about $500, but with the cost of hiring someone to install the custom cabinet will estimate about $4000 or more.
| | |
| --- | --- |
| Wood Materials | Average Cost |
| Walnut | $4,000 to $6,000 |
| Cherry | $5,000 to $30,000 |
| Hickory | $500 to $900 |
| Oak | $4000 to $20000 |
| Maple | $5000 to $30000 |
| Plywood | $7,000 to $12,000 |
Cost of Refinishing or Repairing Your Cabinets
Before you're concrete in making the decision of refacing your cabinets, there are more options that you have to consider. Revitalizing your cabinets is something that most homeowners have thought of over the years they've owned their properties.
Cost to Refinishing Cabinets
The refinishing process of your cabinets differs from refacing because a refinish normally includes sanding, staining or repainting them. Refinishing your cabinets will cost you anywhere between $400 to $900.
Cost to Repairing Cabinets
Although cabinets can last about 20 to 25 years, there are many different reasons as to why you want them repaired. Over the many years you've used and kept your cabinetry, your cabinets may have received a few scratches here and there. Repairing your kitchen or bathroom cabinets should cost you about $300 to $500. Of course, that being said, the number of that total depends on whether those damages are minor or major.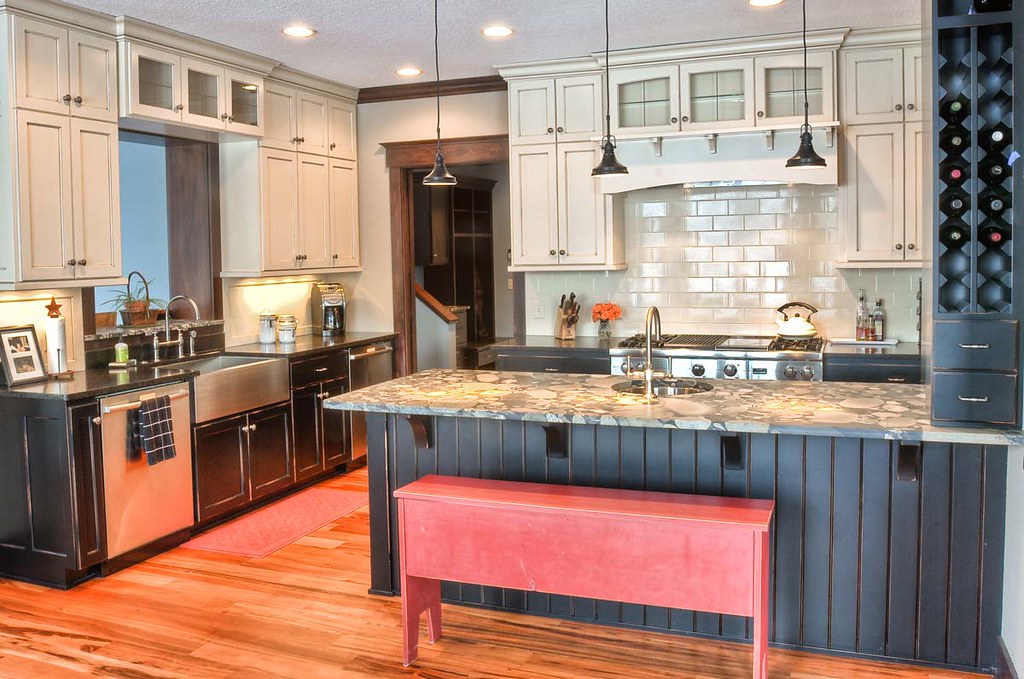 Image by The Christian Brothers from Flickr
Hiring a Professional or Professionals Through House Tipster
Being informed of the costs into refacing your kitchen or bathroom cabinets is only half the battle. Now the only consideration you should account for is how you can find a professional who can help you with the refacing and cabinet removal process. Although you could probably do it all yourself, it can be quite a tedious list of tasks to fulfill. And within your extensive notes and research, you'll start wondering how you can find the perfect professional for the jobs.
As stated above, all that labor that stacks along with a DIY, think about the professionals located in your area! Find multiple estimates by checking out House Tipster, and choose the perfect professional for your home repair needs. How much does cabinet refacing cost? Find out from professionals near you!
Featured Image by PxFuel