In the early 1900's, Carl Benz introduced the first-ever, functional automobile. It was quite the revelation. Like the production of the first smartphone, the car didn't just run the road, it ran the world. After the concept of cars hit American waters, the world rapidly began to change. Once a luxurious item for the societal elites, cars became a household utility and the garage became the staple for every American home.
In fact, when the concept of the garage arrived to our shores, they were modeled after carriage houses. By the 1940s, homeowners began to build functional garages. In fact, after the Federal Road Act of 1916 and the Federal Highway Act of 1921, the popularity of the car boomed.
Today, according to the census based around nationwide vehicle registration, there are currently 289.5 million registered vehicles driven around the roads. According to the 2015 American Housing Survey, 63% of all currently occupied housing in the country contains either a carport or a garage. There are two kinds of remodels that are done: a complete renovation or an expansion project. These are the costs to either remodel or expand your existing space.
| | |
| --- | --- |
| National Average | $11000 |
| Average Range | $4000-$15000 |
| Minimum | $1500 |
| Maximum | $50000 |
How big is your garage? Is it big enough to hold a single vehicle? Maybe two? Or maybe you own multiple vehicles? Before we begin this project, you need to determine whether you're fine with the garage you already have in your home. Do not mistake a carport and a garage. The difference between the two is that garages have four walls, while carports act as just storage for vehicles with a roof.
Cost Factors
The standard size for a single unit measures to 12 feet wide and 16 feet deep. Meanwhile, the standard size for a double unit measures about 20 to 24 feet wide by 18 to 22 feet long. Because homeowners are commonly unsure of their garages' size, projects can be met with complications and mistakes.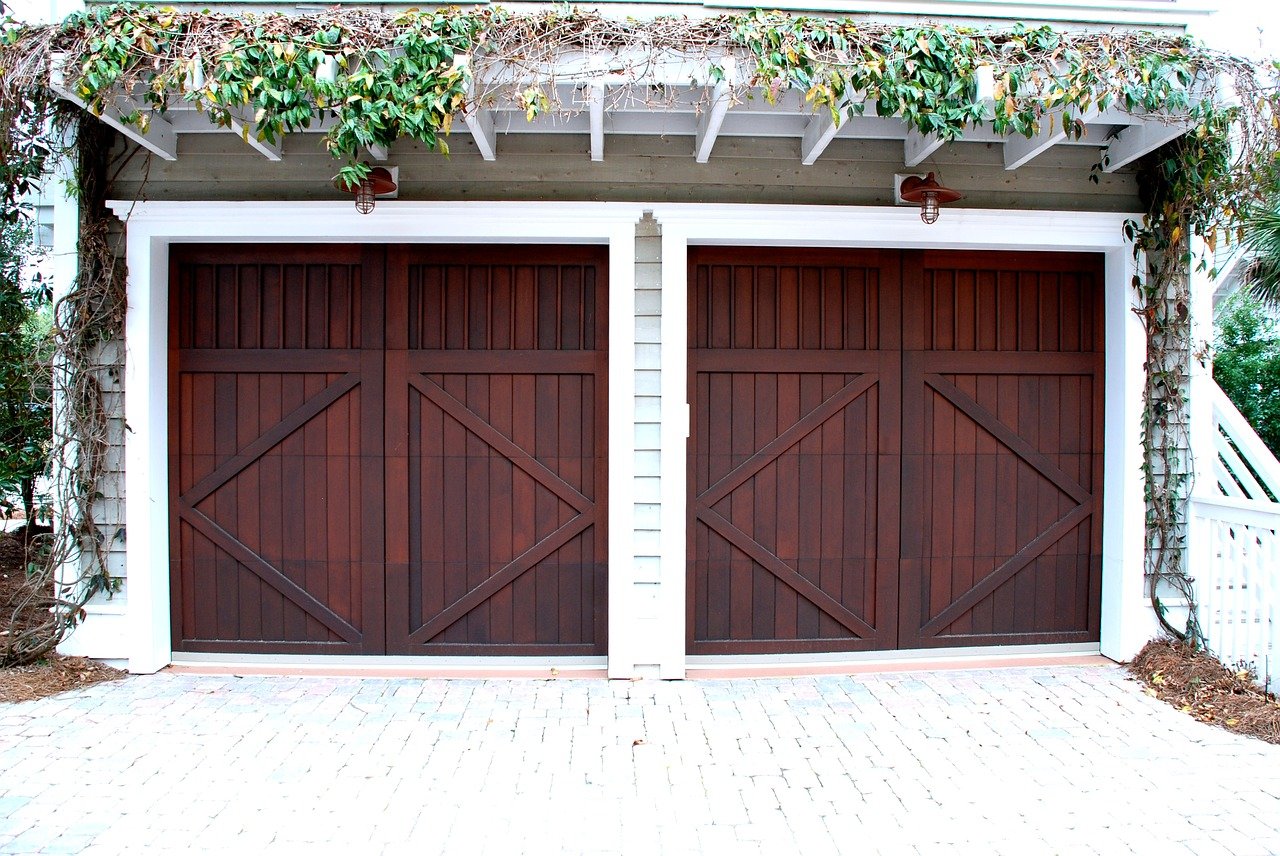 Image By Scott Donald From Pixabay
Size of Garage
To offer you a simple reference, this is the analysis of building a garage.
| | | |
| --- | --- | --- |
| Number of Cars | Square Feet | Average Cost |
| 1 | 240-384 | $10500-$27000 |
| 1 | 320-528 | $12800-$32000 |
| 2 | 440-624 | $14500-$40300 |
| 2.5 | 520-744 | $20800-$52000 |
| 3 | 620-816 | $28200-$57100 |
| 3 | 680-960 | $27200-$67200 |
| 4 | 800-1056 | $32000-$73900 |
| 6 | 1320-1728 | $48000-$117600 |
| 10 | 2200-2880 | $80000-$201600 |
According to the sizes of the garage, a cost analysis on renovating the garage will give you an estimated range of about $17.50 to $37.50 per sq ft. With the given numbers, the calculations, for example, for a 12' by 20' garage that could most likely store one car will cost around $4200 to $9000.
Labor Costs
Another cost factor to look out for is the various jobs you want performed to renew your garage. Are there certain considerations that you're looking for? Are there upgrades you want in your garage?
There are many tasks that need to be considered when you think about how much labor needed for this remodeling project. There are many cost factors to think about before even starting the project, like insulation, window addition, wiring, pipes and drains, or even sound absorption.
Your budget will most likely go into the professionals needed for this desirable multi-faceted project.
| | |
| --- | --- |
| Permits | $1,000 to $1,500 |
| Insulation | $1 per square foot |
| Wall Framing | $2,000 or more |
| Windows | $1,000 per window |
| Ducts and Vents | $500 to $2,000 |
| Electrical Wiring | $50 to $100 per hour |
| Plumbing | $300 to $1,800 |
Dumpster Rental for Waste Removal $415
Construction Costs
Although it isn't feasible to purchase lumber at this time due to the shortage in materials, some homeowners still consider it an improvement standard. Seventy one percent of contractors found it difficult to find required materials. In fact, lumber prices have been inconsistent in recent years. There was an increase in price by 130% in 2020.
| | |
| --- | --- |
| Siding | $0.80-$50 |
| Aluminum | $1.50-$7 |
| Brick | $5-$15 |
| Hardie Board | $0.80-$5 |
| Natural Stone | $28-$50 |
| | |
| --- | --- |
| Flooring | $0.15-$25 |
| Laminate | $2-$5 |
| Vinyl | $2.50-$5.50 |
| Engineered Wood | $3.50-$7 |
| Oak | $8-$15 |
| Natural tile | $10-$25 |
| | |
| --- | --- |
| Roofing | $1-$15 |
| Asphalt shingles | $1-$3.50 |
| Wood shingles and shakes | $3-$5.50 |
| Metal | $3.50-$6 |
| Slate | $4-$15 |
Frame $15-$30 (including materials and labor)
Lumber costs fluctuate but are currently about $350.00 per 1,000 board feet
Steel frames cost about $1.50 per square foot
Installing a New Garage Door
If you're missing a few items that may assist you further with things homeowners may find tedious and unnecessary, like a new garage door or a remote. Through the capabilities of modern engineering, weather-proofing any part of your home has become easier and easier. Manufacturers continue to manufacture doors meant for durability every day. 
For the outer appearance of a wooden door, the sturdiness of wood can always be easily repainted. However, for steel and aluminum doors, you'll want to repaint with a high-quality latex exterior paint. If all you want is a simple paint job, your ordinary store-bought paint can average between 26 to 36 cents per sq ft to finish. Although, high-quality latex exterior house paint can range from $20 to $50 per gallon.
Image Contributed By Max Pixel
Wood
A whole new installation for a wood garage door can cost up to $970 to $1325. Professional installation prices vary from the lower cost of $565 to the higher cost of $920. In total, you might have to spend around $1535 to $2245.
Historically stated above, wood garage doors were prominent back in the 80's and 90's and practically more prevalent during those years. But thanks to the modern advancement in manufacturing, wood garage doors are now much more appealing than your common white wood doors with squares patterned on them.
Be cautious with this choice. There is a condition to wood garage doors. If you have less of a chance to take care of your garage doors, there is the disadvantage of maintaining the quality of the material.
Steel
The most common material out of the three is steel, but it is also the most inexpensive installation you can think of. At an average between $500 to $1800, steel garage doors may be the kind of entry and exit your car is best suited for.
Steel is not only advantageous because of the price range, but they also have no requirements in maintenance. The material is highly customizable. But the inexpensiveness of steel garage doors has their burdens. This is due to the fact that there's less likelihood for insulation.
Aluminum
The average minimum cost of aluminum garage doors is $838, while the average maximum cost is $1359. The benefit of installing an aluminum garage door is that if they ever were to be dirtied, you can basically wash them with just soap and water. 
As a soft, lightweight material, if the garage isn't automated to open and close, you can just do so by opening and closing them manually. Although, the conflict in this is that they are also very susceptible to damage and scratches. 
Soundproofing
If you're planning to start a band with your friends or build a workshop in the convenience of your garage, then it's probably time to think about soundproofing. There are quite a few steps to follow before you begin the project. You'll have to think about how much of your budget is going to be spent with how much you've spent already.
The average cost to soundproof a garage ranges from $250 to $3500. Various materials are required for soundproofing, and the variety can only be determined with a little knowledge into which materials have the best sound absorption. 
Soundproofing involves using the material in different ways. You can attach the soundproofing materials either on the walls, the floors, the ceiling, or the door. But each of those options have the choice of which materials fit best. You can purchase sound panels, blankets or curtains. Homeowners have the choice of installing acoustic foam, panels, fabrics, coatings, or even blankets.
There are two types of noises to look out for when you decide to install sound insulation. There are airborne noises that originate from talking, televisions or radios. And then, there are impact noises that are made from footsteps, musical vibrations, or power tools. Depending on what your purpose for sound insulation is, you have many different options to choose from. Most homeowners opt to install panels on their doors, or acoustic foam on their ceilings. Both options absorb half the sound that would otherwise be loud and pierce the exterior of your home and into your neighborhood.
Insulation
Does your state have cold winters? Instead of just focusing on sound insulation, you should really consider the fact how temperature might become a core problem for your garage. If you're only using the garage for car storage, however, insulation isn't a big necessity. But if you're going to use your garage for other purposes and you need it for long periods of time, consider the costs.
The average insulation cost ranges from $400 to $1000. If you believe that insulation is necessary, wall studs are a great idea. The most common type of insulation involves fiberglass batts, and they are quite inexpensive. Although the average price may seem somewhat excessive, you have to think about what you're planning to do with your garage. Remember, remodeling costs all depend on the materials, the labor, the purpose of why you want to renew your space, and the design.
Windows
To install windows onto your garage doors, you should know what the average cost ranges into. The costs range between $400 to $1000. There are window panels you can possibly install onto the walls or onto the doors, but the price usually fluctuates depending on both the material and window glass type. Double-pane or specialty glass is typically costlier.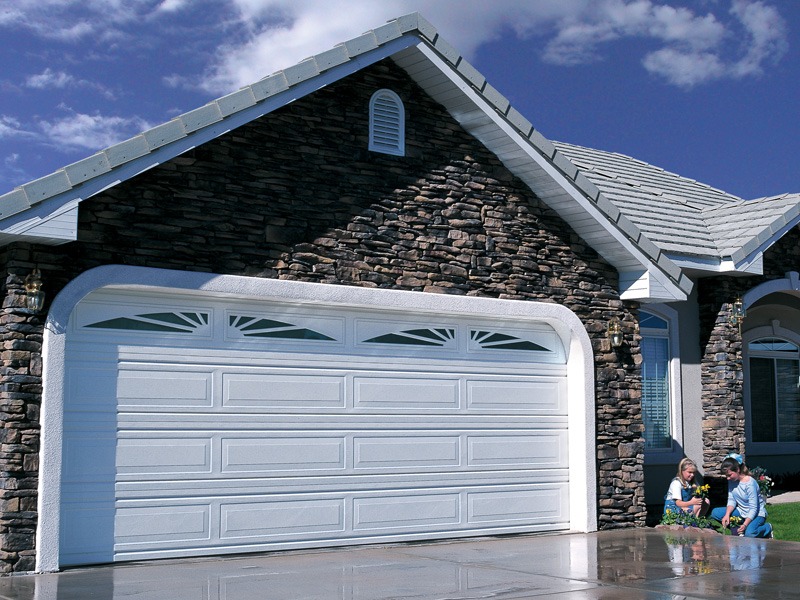 Image by Cary Peterson from Flickr
Floor Coating
Homeowners will, in all likelihood, arrange the coating of their existing concrete floors. Material costs will average into $2 to $5 per square foot, while labor costs will average into $1 to $7 per square foot. 
| | |
| --- | --- |
| Insulation | $1 per sq ft |
| Interior Walls | $1000 to $2900 |
| Windows | $1000 per window |
| Heating & Cooling | $500 to $2100 |
| Electrical Work | $75 to $500 |
| Internet Access | $300 to $500 |
| Plumbing | $300 to $1800 |
| Interior Design | $2000 to $13000 |
| Flooring | $1500 to $4500 |
Door Remodel
There are many more styles with garage doors than you may think are available. There are materials like wood or metal to think about when it comes to purchasing the type of doors you'll want and quite the assortment in the doors you may be on the prowl for. The most common types of garage doors are: sectional doors, roll-up doors, and slide to the side doors.
on your tracks. 
There are different types of garage door installations to choose from, if you have just one vehicle in your driveway, why spend more money to install a garage door meant for two? A single garage door ranges the cost of $550 to $1300, while a double garage door can range the cost of $800 to $1800. A 3-car garage door will range from $1300 to $2800, while a new opener will cost above $250 to $600 or more.
| | |
| --- | --- |
| Sectional | $400-2000 |
| Standard | $700-2600 |
| Tilt-Up | $450-1400 |
| Roll-Up | $650-2000 |
| Sliding | $550-3600 |
| Carriage | $850-4500 |
| French | $1500-5000 |
A sectional with panels are the most common kind of garage doors and the materials that homeowners use are either steel, aluminum, or wood panels. You can install the standard and they'll usually be added with windows. The lifespan of garage doors can last you about 15 to 30 years depending on how often you use the openers.
To Attach or Detach?
In another article, we discussed options of adding or maintaining an attached garage or a detached garage. The section above enlists the detail of carriage houses being a more accessible item in the household. Made to store vehicles in the past, they were most likely the inspiration to detached garages by design and purpose. 
There are certain advantages and disadvantages of working on either the attached or the detached garage. 
The attached garage has the benefit of traveling between your home to the garage with very little to no difficulty. However, you'll most likely have less privacy due to the fact that your attached garage will be right in the front and next to your property. Homeowners also often complain about how close the gas emissions are from the garage to your house.
The detached garage is great because you'd be further away from gas emission but it also means you'll have to work on the project more. By renovating or choosing to build a detached garage, you'll have less yard space.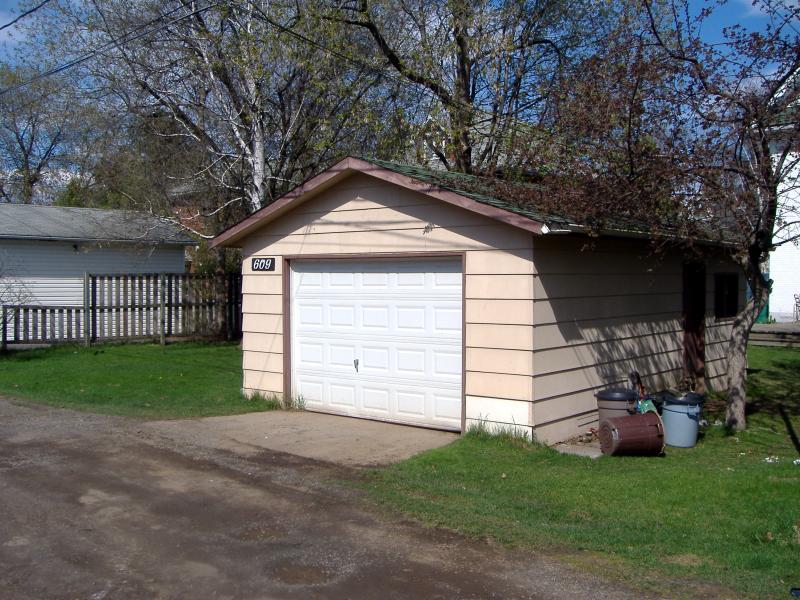 Image by Kara Babcock from Flickr
Carport Costs Compared to Garage Costs
If your necessities are narrowed to just storage for your vehicles then you can consider installing a carport instead of a garage. Although the garage has numerous utilities included, the carport has the essential purpose that shares the same commonality. 
| | | |
| --- | --- | --- |
| Carport Size | Size | Average Range |
| Single Car | 12 x 20 | $2,400-$7,200 |
| Two Cars | 20 x 20 | $4,000-$12,000 |
| Three Cars | 30 x 20 | $6,000-$18,000 |
| RV | 20 x 30 | $6,000-$18,000 |
| Four Cars | 40 x 20 | $8,000-$24,000 |
As you can see your budget has significantly decreased by choosing to install a carport instead of renovating or even installing a new garage. Although the biggest burden to keep in mind is that carports do not have walls. Therefore, they'll be most vulnerable to the weather and robbery. If your state is commonly known for terrifying winds and roaring thunderstorms, it'd be a much more viable option to choose installing or renovating a garage instead. 
Types of Conversions & Costs
The idea of converting your garage into a substitute space, all depends on what your hobbies may be. Homeowners all understand that hobbies are not a new narrative. Especially considering the aftermath of COVID-19, more and more people are leaning towards subsiding recreation.
Since the 60's, the garage has been a space for people to start rock bands or makeshift studios. Above this article, we discussed the costs of installing sound absorbers, but in this section, we'll talk about the other conversions you can make.
Woodshop
You might have a shed lying around in the back of your home, but a wood shop is a great hobby to rely on for many homeowners. There are so many utilities and skills you can gain from converting your garage into a woodshop. This section of the article enlists all the equipment and tools you may want and what they can do.
| | |
| --- | --- |
| Basic Tools | $100-$300 |
| Workbench | $150-$500 |
| Vise | $50-$700 |
| Circular Saw | $30-$600 or more |
| Orbital Sander | $50-$500 |
| Table Saw | $400-$2000 or more |
| Compound Miter Saw | $50-$750 or more |
| Jigsaw | $20-$200 |
You may need a chop saw, a tablesaw, a drill press, a radial-arm saw, and a planer. This equipment is usually required in a standard woodworking environment but you'll also have to think about the essential systems in play. 
Car Workshop
There are dozens of ways to save money on your broken car parts. You can spend thousands of dollars by going to a car repair shop or hiring a mechanic, or even renovating your garage into a workshop. You don't need to know everything about how to repair cars to start this project. You'll probably need some basic knowledge but thanks to the digital era, you can actually rediscover a passion for fixing or upgrading your car.
In fact, most repair jobs with your vehicle only need simple tools. This is obvious to keep in mind, but you always remind yourself that not every repair or upgrade is possible unless you have professional equipment available exclusively for mechanics.
Basic tools that mechanics keep are estimated with a cost around $25000. For an avid car hobbyist, homeowners might only need a budget of $2000. But depending on how interested you are in a hobby involving auto repair, that cost can also be substantially decreased.
Some tasks to list are: jobs repairing or replacing an AC, re-installing a windshield, mounting or aligning your tires, repairs involving your transmission, and electrical repairs. You also have to watch out for cooling systems, the suspension, the timing belt, the bodywork, or tune-up.
Livable Space
If you're focused on making your garage just a livable space, then  the average cost can cost you up to $7000-$75000. If you're more focused on making the garage into an apartment, the average is estimated to be about $15000-$75000. A standard bedroom conversion can range from $10000-$20000.
No matter the size of your garage, you'll need to carefully consider all the jobs required to retain the livability standard.
Office
If you're looking to make your car storage space into a studio or office, you can think about how much your supplies are going to cost. The conversion cost ranges about $10000 to $20000, but how much do office supplies usually cost?
Depending on whether you're working remotely from home or if you currently own a company from home, these are the average costs spent on supplies. Businesses with one to four employees, on average, spend about $77 to $92 per employee per month. Businesses with 40 employees spend around $45 to $53 per employee on a monthly basis. Businesses with over 200 employees spend, on estimate, $27 to $32 per employee in a single month.
Although you're only converting your garage into a singular space for yourself, you should think about how expansive your business may become.
Fitness Space
An additional space that most homeowners use for their garage is typically in the fitness category. The majority of the time spent throughout COVID-19 was in consideration of health and exercise. The typical average cost for gym equipment can estimate into $300-$10000. 
However, there are options to lease the equipment, rather than buying them outright. Depending on your credit score and the volume of equipment you prefer to keep in your garage, the cost can be around $60 to $100 per month.  
Home Theater or Media Room
Another conversion you can consider for your garage is a home theater where you can watch movies with guests or a personal playroom with your large collection of video games. The average cost of a home theater is in the range of $23000 to $75000. This conversion might require additional costs involving soundproofing, seating, lighting, flooring, and equipment for movies. 
If you have a pre-existing garage that you don't want to expand the space of, you can apply the per-square method. For a finished space, you'll have to expect the range of $50 to $250 per square foot to build the room of your preference from scratch.
Secondary Kitchen
A conversion for your garage into a new kitchen can be within the range of $6000 or more. Some kitchens can be rearranged with the model budget of $15000 to $30000. Nowadays, the modern kitchen has a necessity for stoves, countertops, cabinets, and many other appliances.
The cost will always depend on how much care and attention you commit to, in terms of the culinary arts. All renovation projects will depend on the size of the space you're remodeling. On average, you'll expect to spend about $75 to $250 per square foot.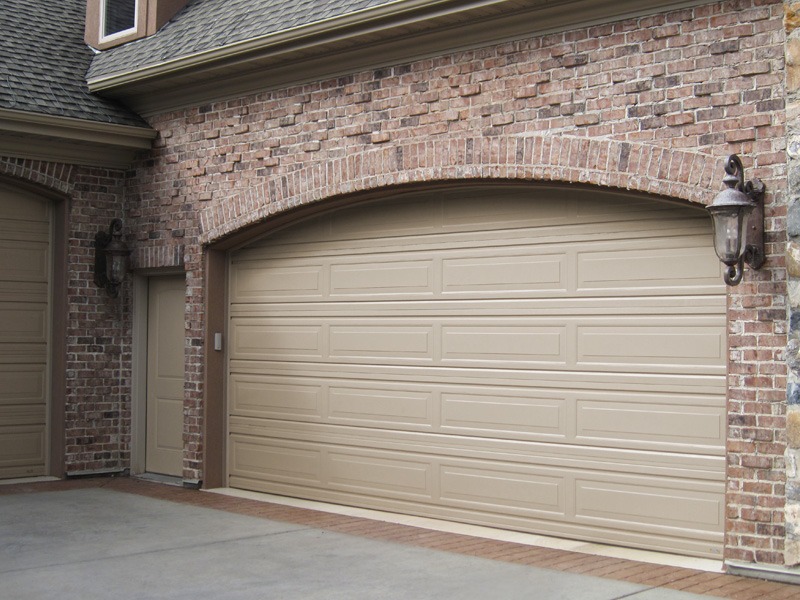 Image by Cary Peterson from Flickr
Expansion Costs
In this article, we've discussed how much it costs to install a new garage, and all of the costs involving the conversion of your pre-existing garage into a new space, but now we'll discuss how much it costs to expand your garage. The average cost into expansion will run your bill to about $16800 to $39000.
For the most common types of expansion projects, you need to expect the costs to be around $40 to $70 per square foot, but for the high-end types of expansions, you'll expect to spend between $120 to $350 per square foot. Higher-end projects will typically be needed for homeowners who are unhappy with the status of their garage's outer and inner appearance. 
Also think about the demolition costs, to replace your garage, the costs can range from $4 to $8 per square foot for detached units, and the costs can range from $5 to $15 per square foot for attached units. This kind of plan is really only necessary if you have one too many vehicles in your possession. But other than the amount of vehicles you have, maybe you just want to increase your property value, or you just want a bigger space because you just want a larger conversion project.
You could also possibly think about how the expansion project will affect your conversions by checking out the estimating calculator of all the average costs. Always remember that you have many different professionals around your area to collect multiple estimates from. For renovation projects such as this one, the costs will vary depending on the expertise of the professionals you correspond with.
Hiring a Professional or Professionals Through House Tipster
All this information of costs to consider for installing, renewing, converting and extending a garage is viable for your search throughout the many professionals you'll most likely need. Within the initial search for more knowledge, you'll wonder how you can find the perfect expert for the job you need done. The costs of installing them on the side of your house can be quite high, but with the understanding and the comfort of your own home, consider hiring a professional through our site. 
As stated above, all those hours you'd have to spend on applying for a permit and all the labor that stacks along with a DIY, think about the garage contractors located near you! Check out House Tipster, and find the perfect pro for your home repair needs. How Much Does a Garage Remodel Cost? Find out from professionals in your area.