The space you use for the garage can be converted in many different ways. Some of which would surprise you. Whatever hobby you're looking to expand your experience in, find out what kind of conversions you want and the cost of how much a garage conversion would be. The cost to convert your garage into a living space may very well surprise you.
In previous articles with House Tipster, there were guides and cost analyses that discussed the prices of renovating your garage or even how to improve the quality of your garage. Some ideas you can consider are a multi-purpose room, a fitness center, or even an art office to work on your paintings or drawings.
| | |
| --- | --- |
| National Average | $11,000 |
| Average Range | $7,000 to $22,000 |
| Low-End Range | $3,000 |
| High-End Range | $40,000 |
Types of Remodeling Projects You Should Consider
Before you even think about converting your garage into another space, you need to consider the size of your garage. Remodeling jobs like this can take considerable amounts of hours, and the consideration in the kinds of remodel jobs there are depends on the space you'll need for your new space. There are varieties of conversions you can pull off by knowing the type of remodeling projects you can work on. To get your home appraised to its highest value, you need to consider the kind of garage you currently have. There are three types of renovations to focus on:
| | |
| --- | --- |
| Partial Remodel | $500-$5,000 |
| Full Remodel | $7,000-$15,000 |
| Conversion | $20,000-$75,000 |
Partial Remodel
A partial garage remodel job is inexpensive because it can just be a vanity-focused job. The remodel can involve cosmetic changes like updating a new garage door. There won't be many other structural improvements involved in partial conversions. Essentially a partial remodel project is sort of a makeover job.
Partial Conversion
A partial garage conversion will go up to $10,000 for costs. If you're tired of the plain look of your garage, you can always start the projects of redoing everything. From top to bottom, you can oversee the fixtures, redo your floors, renovate the drywall, the things that make your garage look plain. Especially if you're looking to sell your home to your buyers, the space may be small, but it'll be valued from its utilities.
Image Contributed By PxFuel
Full Remodel
The cost to a full remodeling project is very common. It involves storing your car or several vehicles. And that's why most homeowners look into converting their garage into new spaces. To further value your home for greater potential, you need to understand all the looks and styles other homes may utilize.
Full Conversion
Other than the vain upgrades that can entail a conversion, you can figure out what kind of function you want to utilize your garage into. A full conversion of this space can range into $20,000 and $75,000.
| | |
| --- | --- |
| Conversion Ideas | Average Cost |
| Living Space | $5,000 - $10,000 |
| Apartment | $15,000 - $30,000 |
| Bedroom | $10,000 - $15,000 |
| Home Gym | $3,000 - $10,000 |
| Kitchen | $6,000 or more |
| Office | $5,000 or more |
Living Space
A living space has many requirements that need to be met before you can even think about recreating your garage. The process begins with all the essential needs that you'll need to provide to consider it "livable".
Some factors like an HVAC or a heating system will need to be thought of and provided. This includes other factors such as plumbing, flooring, and the scaling provisions you'll need to draw up. A living space can go from $7,000 and even go all the way up to $75,000.
Apartment
At a higher end, the range of converting your garage into an apartment can cost around $50,000 to $75,000. But to keep the range at a minimal and reasonable cost, homeowners can expect to spend at least $15,000 to $30,000.
Bedroom
How much does converting your garage into a bedroom cost? Although the average range can be about $10,000 to $15,000, the final project can even cost about $20,000. Whether or not you decide to install some insulation into the conversion space, you'll need heating and cooling installed as well.
Home Gym
Your fitness center or personalized gym is meant for exercise and physical activity. You might sweat up a storm during the summer or get way too cold from the dampness of the fall or from the freezing tundras of the winter. Whichever state you live in, you, as the homeowner, are responsible for many of the excess expenses associated with the project.
You can add padding for your floors to cushion the weight of your dumbbells. You can add in a mirror to check the progress of your bodybuilding exercises. There's so many additional features you can include into this space.
Kitchen
As stated from the chart above, the kitchen can range in costs from $6,000 and up. You can even think up an estimate from about $15,000 to $30,000. Most kitchens should have materials for cutlery and culinary purposes, like countertops, cabinets, sinks and many other appliances to install.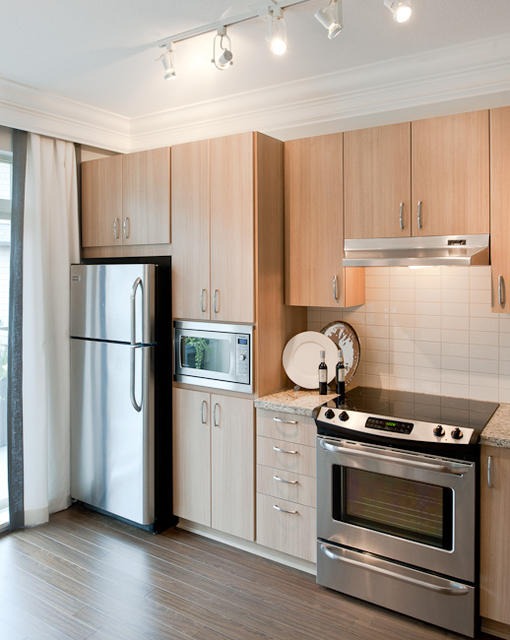 Image by Polygon Realty Limited From Flickr
Office
An office can be many different things. You can be a business owner and you may need electrical outlets for all your devices. You can be an artist and you need a space to store your works and painting tools. Either way, you'll need around, on average, $10,000 to $20,000 for your budget.
Sizing Costs
If you already have a certain vision in mind for how you wish to start your project and what your project necessitates, then the sizing issue will be a lot easier.
| | |
| --- | --- |
| Sizes of Garages | Cost |
| 240 – 380 per sq ft | $12,720 – $20,140 |
| 320 – 530 per sq ft | $16,960 – $28,090 |
| 440 – 620 per sq ft | $23,320 – $32,860 |
| 520 – 740 per sq ft | $27,560 – $39,220 |
| 620 – 820 per sq ft | $32,860 – $43,460 |
| 680 – 960 per sq ft | $36,040 – $50,880 |
| 800 – 1,060 per sq ft | $42,400 – $56,180 |
DIY Or Hire A Contractor
A DIY project can be relatively easy or extremely difficult. A project of this size with so many tasks to consider won't be finished with one person. We suggest homeowners when they should start a DIY or when they should just get a few estimates. A garage conversion project will be a challenge compared to a bathroom remodel or a project that only involves tiling and flooring. If you want a DIY guide on how to convert your garage then you can do a lot more research. But with the costs above, it's amenable to consider a professional instead.
Imaged Contributed By PxFuel
Labor Costs
| | |
| --- | --- |
| Permits | $1,000 to $1,500 |
| Insulation | $1 per square foot |
| Wall Framing | $2,000 or more |
| Windows | $1,000 per window |
| Ducts and Vents | $500 to $2,000 |
| Electrical Wiring | $50 to $100 per hour |
| Plumbing | $300 to $1,800 |
| Dumpster Rental for Waste Removal | $415 |
Average cost for a 20-yard dumpster rental
Permits
As mentioned in other articles on House Tipster, permits and inspections are always a requirement when converting any of the spaces in your home. Unless you hire a contractor to assist you, obtaining any kind of permits or inspections will cost you a hefty sum. The expense can average out to $1000 to $1500. As usual, we highly recommend you research the codes and standards of your county or city.
Insulation
If you want to keep your garage warm, which is pretty difficult to do, insulating the space is the best thing you can do to keep your garage heated. Although you can insulate your converted room, insulation on your flooring will help warm your space up. The cost to install the insulation of your garage will cost around $1 per square foot.
Framing
Bodies need a skeleton, and the bones of a garage are its framing. Simplicity is the definition of framing so you can choose either wood frames or concrete blocks. Although cinder and wood have the same benefits, cinder is more durable and more convenient. Cinder is also more expensive.
Windows And Entryways
The materials and labor costs to install a window can be about $193 to $845. But some homeowners are commonly interested in installing a skylight. A window above your garage can average into $805 to $3,089. This is all dependent on your needs and wants, especially when it comes to style and design.
The entryways in your conversion can cost up to $393 to $2,193, this is in the inclusion of material and labor costs. Whether you have a detached or attached garage, you're going to need entrances/exits for your room.
Ventilation
Your ducts and vents can average between $500 and $2,100. Ventilation is essential for most of the room conversions you'll have to focus on. If you want your space to convert into a bedroom, an apartment, or a livable space, you need to understand that heating and cooling is required.
Electrical Work
There is a range between $75 and $500 that you need to keep in your budget. Another essential to keeping your space livable is the cost of outlets and wiring. If you already have electrical outlets in your garage and you're just converting it into a better space then you won't have to worry about hiring an electrician.
Plumbing
If you're turning your garage into a kitchen, then you should consider the installation of a sink. And what does a sink need most? Pipes and drains can cost you between $300 to $1,800.
To make a space livable, you should think about the installation of your bathrooms and include that cost into your budget planning.
Finishing or Expansion Costs
The inexpensive cost option would be finishing a basement and the average cost would be about $5000. Evidently, expansion is basically completely resizing your garage. The average cost of completely resizing your garage would be between $21,000 and $73,000.
The finish of a conversion project is all determined by materials. There's many jobs to consider but in the end, it keeps the space and dimensions you already have in your garage. Expansion of your garage means to replace a lot of your current or previous iterations of supplies you'd already installed.
What You Should Ask Yourself Before Starting
Some questions the homeowners should ask themselves is if your garage is going to increase your overall home value. The ROI or rate of investment can go up to 60% to 80%. You can think of how your higher end materials are going to affect your budget, but also think about how much is going to come back to you. Although you'll be spending a huge percentage on inspections, appraisals and different tasks that need to be performed, it will all result in a positively impacted profit.
How To Find A Contractor With House Tipster
Through the various articles that surf through this site, we hope we've educated you with your inquiries. Now that you know more about garage conversions, and remodel projects, you should check out House Tipster. For a huge project like this one, find the perfect pro for your home repair needs and find out about their estimates. How much does it cost to finish a basement? Find out from the professionals in your area.