One of the most important rooms a human will spend the majority of their time in will be the kitchen. We spend hours of every day preparing food, cooking food, socializing with food, and cleaning food all while in the kitchen. It is a room that gets messy very quickly and typically a room that will require the most attention when remodeling the interior.
So the question becomes, how does one go about designing a kitchen? Are there default options that interior designers provide homeowners? How do you know the kitchen is properly spaced for what you need? What's the point of an island and why does everyone want one?
Designing a kitchen takes a lot of time, energy and thought from the homeowner and interior designer. Thankfully, the entire process can be made easier with our Kitchen Visualizer Tool. With our kitchen visualizer, you'll be able to design a kitchen by customizing prerendered rooms crafted by interior designers.
Table of Contents
Find Inspiration
All great projects start with one thing, research. When deciding how you want to design your kitchen, look online to see what you type of kitchens you like. There are no blank templates on the type of kitchens available, so you're allowed to be creative with the plan.
Consider looking on social media for ideas. Pinterest, Instagram, and Google are filled with interior designers who love showing off their creative kitchens. Take some notes and decide if you want to incorporate things you see into your new kitchen.
Our kitchen visualizers are excellent source of inspiration as they allow you to customize a kitchen at the click of a button. Our kitchen visualizer lets you change everything you see from the countertops, backsplash, floor, and cabinets to provide you with ideas for your own kitchen design.
Decide Layout
While you are researching different kitchens and designs, take close note of the interior design schemes and colors being used. Pay attention to any centerpieces or accent pieces being used and where they are placed in the room. Choose colors that resonate with the interior design scheme you wish to incorporate.
Interior design schemes are not a general rule. They are more like guidelines than actual rules on how to design a kitchen. Mix a few patterns together and see what comes out.
Organized Accessibility
Now that you have a few ideas in mind and the creative juices flowing, take a moment to analyze what you use in your kitchen and how you can organize them more easily. Find out what objects or appliances complement each other and see if they can be placed in a similar location.
For instance, perhaps moving your nice coffeemaker near the cabinets where the mugs are stored. Alternatively, now is the time you can add a lovely spice rack near the stove so you can season your foods more quickly.
Plan out your kitchen by grouping items together will save you time and energy instead of running around the kitchen looking for what you need. Make everything easy to access from where you will be standing.
Image by Loonara from Canva & Getty Images
Spacing
Kitchens have a lot of large appliances in them. They also get a lot of traffic if you have a large family running in and out searching for a snack before dinner. When remodeling your kitchen, take a moment to answer how busy is your kitchen? How many people will be in the kitchen at any given time? How much space do you need to accommodate for those people?
In the same train of thought, how many appliances do you have or are thinking of installing? Do you have enough space to open them up completely without being encumbered? Can you open the cabinet or refrigerator door completely or is it blocked by something?
Our kitchen visualizers help you understand the proper spacing between all your appliances and high traffic areas. Seeing the spaces directly allows you to account for your own kitchen, making it easier to properly gauges the perfect distance where everything should be.
Countertops & Backsplash
If you do a lot of cooking, it would be smart to choose wisely on what countertop you want to install. Popular kitchen countertop options lately are using natural granite and marble, or an artificial stone like quartz. Each stone has their own pros and cons regarding their durability, ease of maintenance, and color options; so, do some research to decide which stone is suitable for your kitchen requirements.
When choosing a countertop material, consider what color you want that best fits the theme of your kitchen. The trending minimalist theme requires a black and white color scheme. In order to fit this theme, you will have to choose a countertop that is black, white or a combination of both to highlight a clean space and clear separation of sections. Alternatively, a rural kitchen scheme has a warmer feel, requiring darker and brighter colors like beige, reds, and whites.
Customizing kitchen countertops is exceptionally easy with our visualizers. Our Granite Kitchen has a lovely theme of white cabinets with a black countertop and blue tile backsplash. The design is absolutely elegant as the countertop and backsplash make the perfect accent for the beautiful white cabinets.
A backsplash offers your walls a layer of protection from food grease and insects reaching your countertop, as well as acting as an accent piece to highlight your countertops and cabinets to make them feel more prominent. While you are selecting your countertop colors, match your backsplash with the same stone and color for simplicity.
Cabinets
Cabinets are always being opened and closed to just grab quick things. Kids are constantly reaching into cabinets for snacks, and parents quickly open and shut them for seasonings or "just one more thing." While deciding what cabinets to install, consider what colors coordinate with the theme you are trying to portray. Cabinet color often balances with the countertop and backsplash, so finding a good color that complements all three sections can give your kitchen a boost in creativity and personality.
Plan on how to organize your cabinets for ease of accessibility. Use the lower shelves for items you use most often while using the higher shelves for items you use infrequently. Then again, you can have smaller shelves if you do not use as many items and separate them into cabinets and a spice rack.
Notice how our Middleton Kitchen incorporates sleek, grey cabinets against a patterned stone countertop with shiny new appliances. Changing the countertops to a similar white or black adds either more shine or boldness to the room.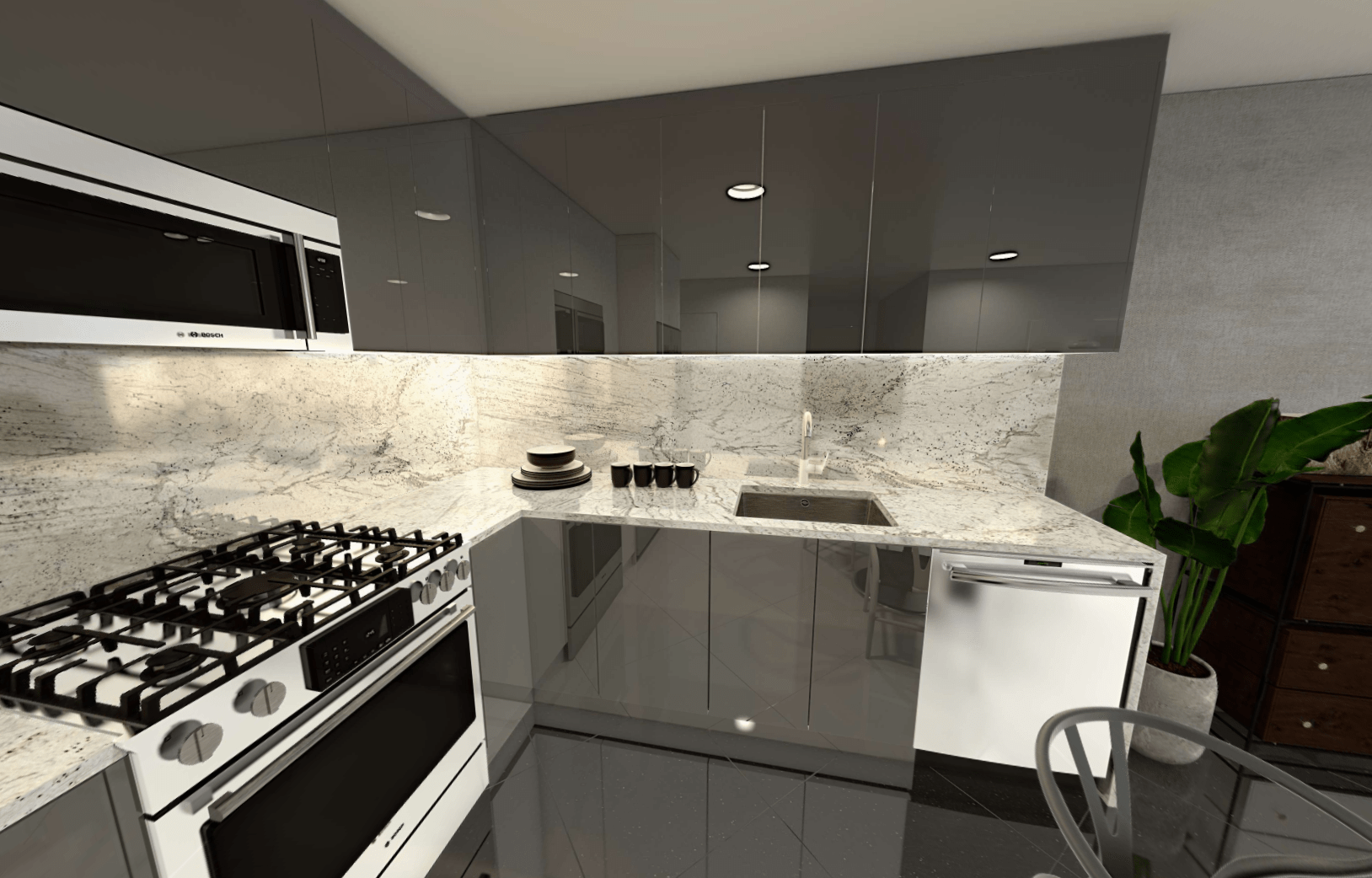 HouseTipster: Middleton Kitchen
Storage
Creative storage is the secret to making your kitchen feel personal and adding some fun to the room. Consider installing a slide out pantry to surprise your guests with snacks. Installing wall-mounted dishwashers or ovens looks visually striking and modern. Find places for vertical storage, pot racks or wall hooks to hang things to provide your kitchen more depth.
Take a moment to look at where you typically stand in a kitchen and see where things go so it would be the easiest for you to reach them or put them away after they are cleaned.
Sink
Sinks are possibly the most used fixture in the whole kitchen. When upgrading or designing a kitchen, think carefully on what type of sink you want. How often are you using the sink? What are you typically washing in the sink? How much of these objects are you washing in the sink?
For homes that have large families, it may benefit you to install a sink with a deep basin or a double sink. Smaller families or individuals could live comfortably with one large main sink. Perhaps you might want a prep sink to thaw food and use the main sink for dirty dishes.
There are dozens of sink options available. Sort through some you find the most interesting and choose what resonates with you.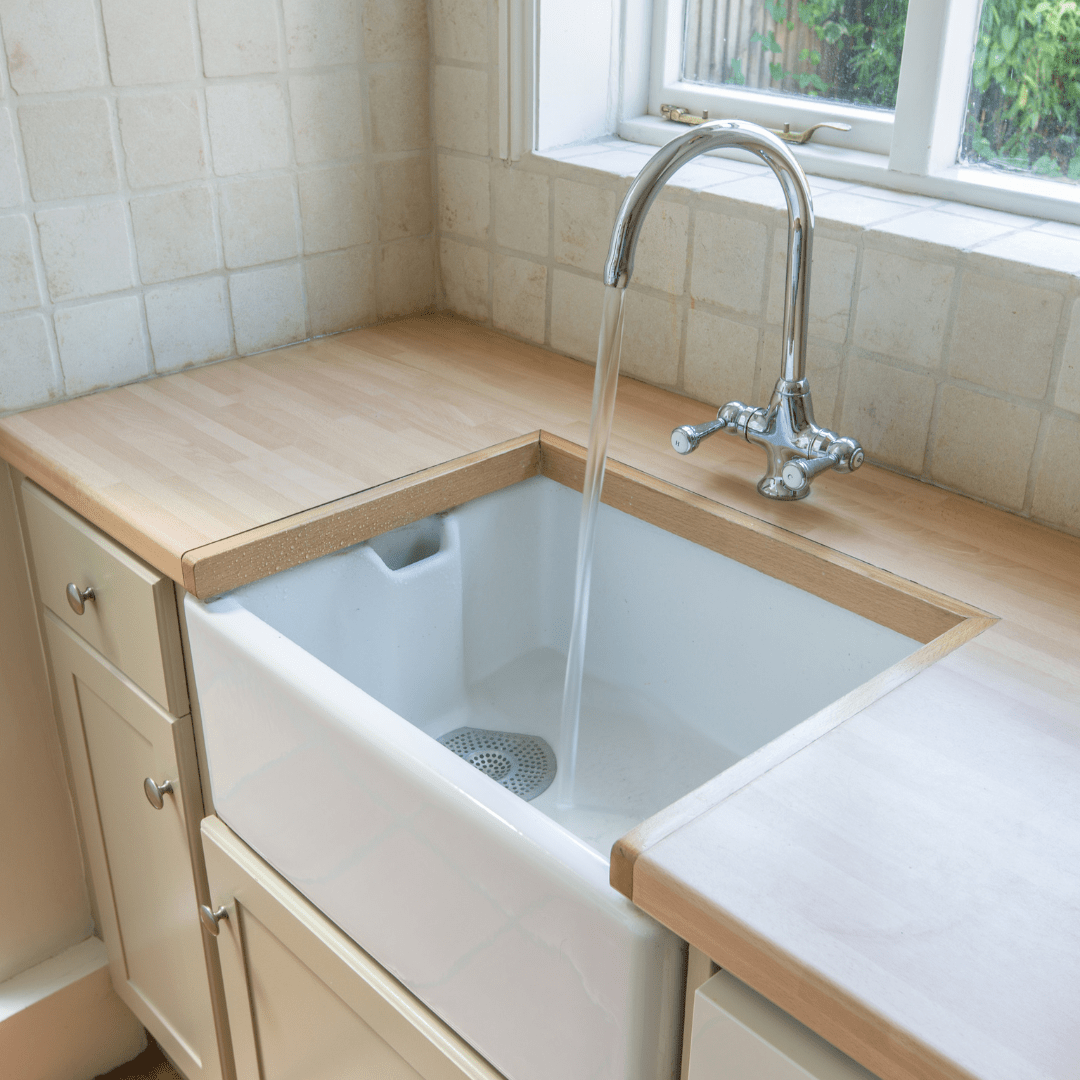 Photo by DHSphoto from Canva & GettyImages
Appliances
Do you have enough appliances to cook everything you need to? Would it be beneficial if you had a second sink? Or a second oven? Perhaps a second dishwasher because there are always more dishes to clean.
Having double appliances can become quite costly, but it is something you can gleefully brag about with your friends to showcase your double ovens or double dishwashers. Imagine having double-wall mounted dishwashers? You would be the envy of the neighborhood with those! Plus, having wall mounted appliances frees up more countertop space.
Island
Island offer so many benefits that it makes sense why they are a popular addition to most modern homes. Islands provide extra countertop space, separate prep space to avoid cross contamination, or a nice location to let food cool before serving. Islands can also be installed with a second sink or cooktop, or a mini quaint bar fridge for beverages. They also offer more storage space with cabinets underneath, making them another location to store large pots and pans.
Designing an island with our visualizers really helps you see the importance and options available to you. The Bari Villa Kitchen has a long single wall with grey wooden cabinets and a driftwood-nature feel. Notice how the island looks perfectly identical to the countertop and adds the perfect amount of separation between the cooking and dining areas.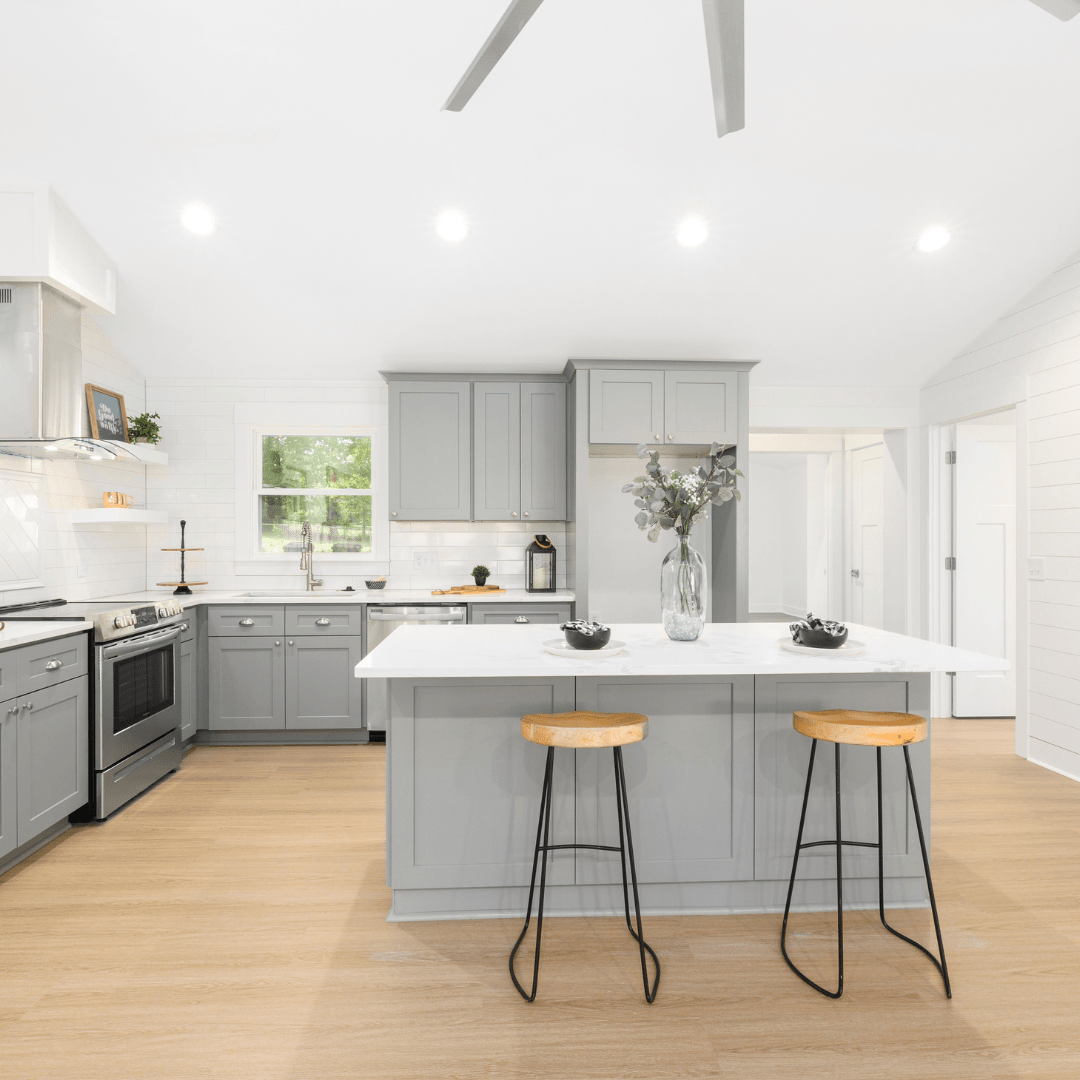 Photo by Curtis Adams from Canva & Pexels
Cooktop
Choosing a cooktop also relates to how often you are actively cooking. Standard cooktops have 4 burners, but some have a 5th burner to properly prepare foods that need a large pot or a wok. If you are having a lot of guests over, it would be good to maybe have that separate cooktop on an island.
Cooktops come in a variety of sizes, shapes, materials, and designs. Look online to see which one you really like and make sure to add it into your design.
Lighting
Lighting may not seem as important, but proper lighting can set the tone for your kitchen. When possible, using natural light is much healthier to soak up precious Vitamin D, as well as allows a breeze for fresh air and ventilate grease and oil.
At night, installing different types of lightbulbs can provide a different type of experience. Bright lights on a white and black kitchen will make everything feel clean and dazzling. Warmer lights will bring out the darker colors and make the room feel cozy and homey. Then there are the fancy smart lights where you can directly activate the lights with your voice.
Waste Disposal
It is safe to assume that with all the food and rubbish in the kitchen, it will happen you will need to throw some of it away when it spoils. No one likes to waste food, but sometimes those little scraps can get really smelly if they linger for too long.
Properly organizing food waste and recyclables will be important in the clean up for your kitchen. Having cabinet disposal bins helps contain the smell and keep the garbage out of sight until it needs to be taken out. On the other hand, having a waste bin near the sink and stove is perfect to quickly dump burnt food or food remnants out quickly before placing them in the dishwasher.
Conclusion
Keep in mind, there are no set rules on how you should design a kitchen. These tips are here to help you get started and spark some creativity on what you should be considering when designing your kitchen.
Our kitchen visualizers are here to provide you with all the support you need to design a room without needing an interior designer at your side. We have done the work for you, so all you need now is to customize the room, save the image and show it to contractors for construction.