A locksmith is always available for homeowners that may have forgotten or lost their keys. This kind of service applies to many different situations, whether you were locked out of your home, office, or vehicle. Depending on the kind of situation you're confronted with, there are certain factors that will affect the overall cost of this service. Locksmiths can install new deadbolts or updated locks to improve your locks and your sense of security.
Although, homeowners should keep in mind that the estimated cost with hiring a locksmith could range between $100 to $200. The low-end of this cost would be about $50, while the high-end of the estimate could go up to $350. Essentially, the cost of hiring a locksmith for these kinds of jobs will involve the type of lock being installed and the level of expertise that the locksmith is known for.
| | |
| --- | --- |
| Average Range | $100-$200 |
| Low-End | $50 |
| High-End | $350 |
Locksmith services will help you unlock your car or home in case of emergencies and you might only need to spend the average hourly rate and a travel charge to solve your issue. But if you need a service to replace your locks, you should consider all of the cost factors that may affect your estimate and quote. Before you choose to replace your home's lock system, you should look at the inventory of locks to install and find the one that matches your needs and preferences.
Locksmithing Services & Costs
Retaining the services of a locksmith will cost you about $10 to $550. Depending on the circumstances or the crises you might be facing, there are different services that go into the situations that most homeowners might need assistance with. You might need to consider the fact that the ordeal you're facing may be a challenge. Homeowners need to think about what kind of expertise might be involved with a complicated lock system and how the costs are affected by the involvement of a simpler lock.
| | |
| --- | --- |
| Key Duplication Cost | $10 to $25 |
| Locked Out Service Cost | $50 to $75 |
| Lock Repair Cost | $50 to $200 |
| Key Extraction Cost | $75 to $160 |
| Lock Rekey Cost | $75 to $100 |
| Key Replacement Service Cost | $25 to $150 |
| Door Lock Installation Cost | $100 to $300 |
| Service Costs For Safes | $140 to $450 |
| Service Cost For Changing the Locks | $150 to $550 |
Key Duplication Cost
With the estimated cost of $10 to $25, homeowners can make a second copy of their keys by either going to their local hardware store or by hiring a locksmith. The advantage of going to a locksmith is ensuring that your key will operate the way it should with your lock. In fact, since most locks are now completely different from the way they were initially designed in the past, locksmiths would be your best bet, depending on the kind of lock you already have installed.
With the services of a locksmith, the duplication of either a two or four-sided key, a master key, a skeleton key, or a dimpled key is possible. If your situation happens to be a lost or stolen key, a locksmith can have your lock rekeyed with a brand new pair.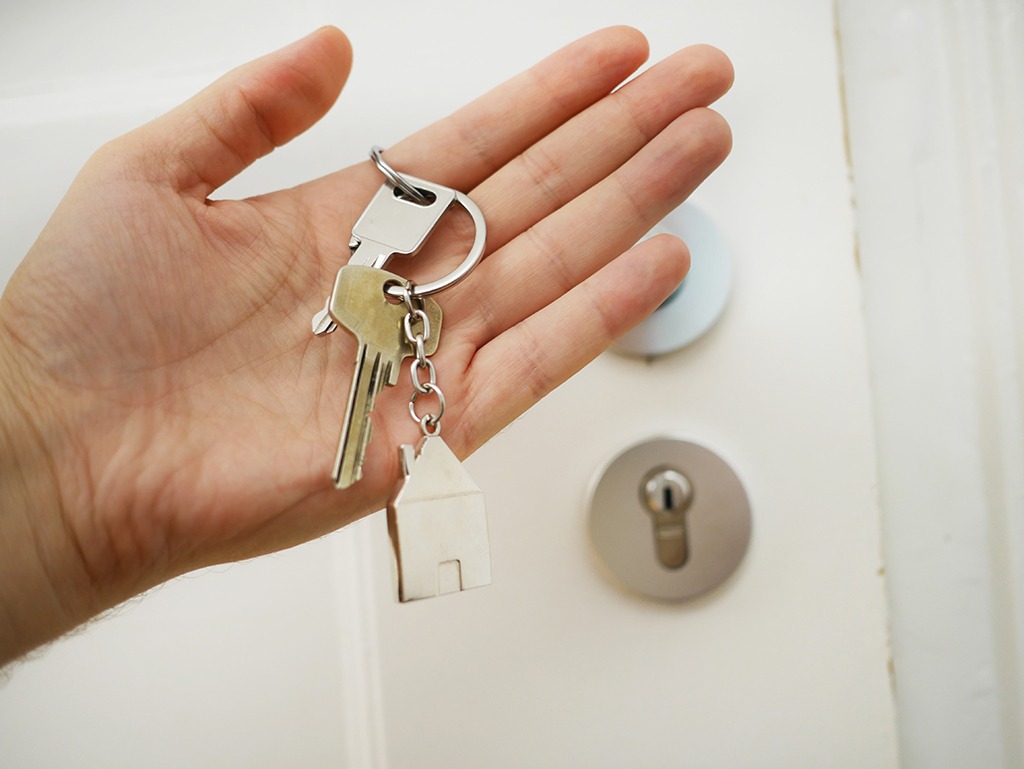 Photo By Maria Ziegler On Unsplash
Locked Out Service Cost
Homeowners that might be facing a lock out will typically spend about $50 to $75 to get back into the property. One of the most common reasons for hiring a local locksmith is precisely due to locking yourself out of your home. As a result, your professional locksmith will have every resource to make sure you can re-enter your home. You should keep in mind that the cost of this service could be higher if the job needs to be done either after-hours or holidays.
Lock Repair Cost
The service for repairing your locks will cost about $50 to $200. It is unfortunate but there are many different possibilities that could result in lock damage. Whether it is from your latch mechanism being stuck, frozen, or just no longer latching, your locksmith should have the right methods to fix your locks. Irreparable damages, however, will result in a lock replacement service rather than repairs being arranged.
Key Extraction Cost
If the situation you're facing is a stuck or broken off key within your lock, then you'll likely have to spend around $50 to $200 to remove it. Locksmiths will take the broken or stuck end of your key by using specific tools to alleviate the situation. Remember that this service ensures that your lock remains intact and in good condition. Typically, the professional will make the last round of inspections before they finish the service. Your locksmith will check the locking mechanism to see what might have caused the issue to make sure that such an instance won't happen again.
Lock Rekey Cost
The service of having your locks rekeyed will cost an estimated hourly rate of $75 to $160. Homeowners need to evaluate what kind of solutions need to be fortified to have some of these issues resolved. If there is a chance that you lost your keys, the safest bet is to have your locks rekeyed. Losing your keys means there is a possibility of someone else finding them, making every lock you own a liability if someone were to find said keys.
The best advantage to a rekeying service is how painless the process of rekeying actually is. Your locksmith will only have to reset the pins in your lock and fit them with a new key pattern. This way, you'll have a new key to unlock your doors. Essentially, instead of replacing your lock, you're modifying it. If you forget your password online, typically, you'd have to make a new one. It's sort of a similar concept. Homeowners should keep in mind that the cost of having the lock rekeyed may include the cost of a brand new key.
Key Replacement Service Cost
Generally, homeowners will have their locks rekeyed if their keys were stolen or lost. However, if the keys were broken, the only necessary requirement would be to replace them instead. The cost range of replacing the key would probably be about $75 to $100 and there would be a travel charge included with the actual replacement. If you're a homeowner that doesn't have the actual key or a key that's too worn down to use, you're in luck. Locksmiths can use a code cutter to identify the groove depths of your lock's key code.
Door Lock Installation Cost
The cost range that homeowners should expect for a door lock installation is about $100 to $300. This service would be available for many different applications throughout your home, including interior and exterior doors, garage doors, and such related entrances and exits. Whether you're having your locks serviced for security reasons or whether you're having concerns about the lock system you currently own, the locksmith can mete out your worries.
Service Costs For Safes
Although owning a safe is highly unlikely, homeowners might forget about their lock combinations or could have lost their keys. Ranging between $140 to $450, opening a safe can be an option for homeowners faced with these kinds of situations. Another reason that homeowners might need a locksmith for this job is improvements to the lock system in place on the safe.
Typically, the locksmith will use a three-step method to find any contact points, inspecting and examining the amount of wheels in the safe. Then, they'll use a graph and take records of the safe's specifications. In the past, locksmiths would use drills to find the points of impacts after taking into account the details of the safe. However, since modern safes are installed with cobalt plating, drilling is not one of the proper methods into opening the safe.
Methods That Would Be Used Depending On Type Of Safe
Manual manipulation

Fire safe by drilling

In-floor safe by drilling

Money safe by drilling
Service Cost For Changing the Locks
Homeowners should update their locks every few years to ensure top-quality lock systems that can't be broken into. By changing the locks, you'll feel a heightened sense of security. This service will cost you about $150 to $550. Although this is the priciest service out of the available options you have, the reason why you should consider changing locks is because of how lock security systems have advanced in modern times. The likelihood of a home invasion decreases by changing your locks. High-tech locks are in the market for homeowners and consumers such as yourself.
Car Lock Service Types And Costs
Locksmiths will have different kinds of lock and key services for your vehicle, just like your home, a locksmith will be prepared to help you with any of these troubles. Auto-specialized locksmiths have the expertise in unlocking your car doors whether it's reprogramming your transponders or simple duplications. However, the difference between automotive locksmiths and home locksmiths are the estimates and time constraints.
| | |
| --- | --- |
| Vehicle Rekeying Options & Costs | $35 to $150 |
| Automobile Key Replacement Cost | $50 to $150 |
| Car Lock Repair Cost | $50 to $150 |
| Car Key Extraction Cost | $50 to $200 |
| Car Fob Reprogramming Cost | $50 to $200 |
| Car Key Replacement Cost | $70 to $250 |
| Car Unlocking Service Cost | $80 to $150 |
Vehicle Rekeying Options & Costs
Having your vehicle rekeyed will be determined by either the locks or the ignition. The estimated cost will range between $35 to $150. If you need your locks rekeyed, you're going to need about $35 to $55. Rekeying your ignition will cost you about $60 to $150. Although you can opt for a replacement, rekeying the locks will be an inexpensive option for you. The lock specialist will come to rekey your current locks and provide you with a new set of keys, depending on the amount of keys you prefer. Keep in mind that additional keys will cost higher expenses.
To rekey your ignition, your auto locksmith will probably have to deal with a more complex process of reorganizing the internal parts within your ignition cylinders. In the case of losing your keys, you might want to consider rekeying both your lock and your ignition. Since your key can both unlock and start your car, having the essential parts of your car rekeyed should erase your concerns.
Automobile Key Replacement Cost
Your vehicle is important to you, it is the application in which you travel from point A to point B. It is, in fact, one of the most common reasons as to why people contact and hire a locksmith. The estimate for the service of replacing your car keys ranges between $25 to $150. The cost will likely be determined by the age, make, and model of your vehicle.
Reasons and causes for the needs of this service:
Rather than going to a dealership and spending exorbitant amounts of money to get a replacement key, going to a locksmith for a duplicate would be more affordable. Going to a dealership could cost about $50, however, that cost could go all the way up to $500 instead, depending on how complicated the replacement is.

You're given an estimate according to the options available from the locksmith of your choosing.

A locksmith will actually travel to where you're located to assist you in creating a replacement and it'll be a much quicker process.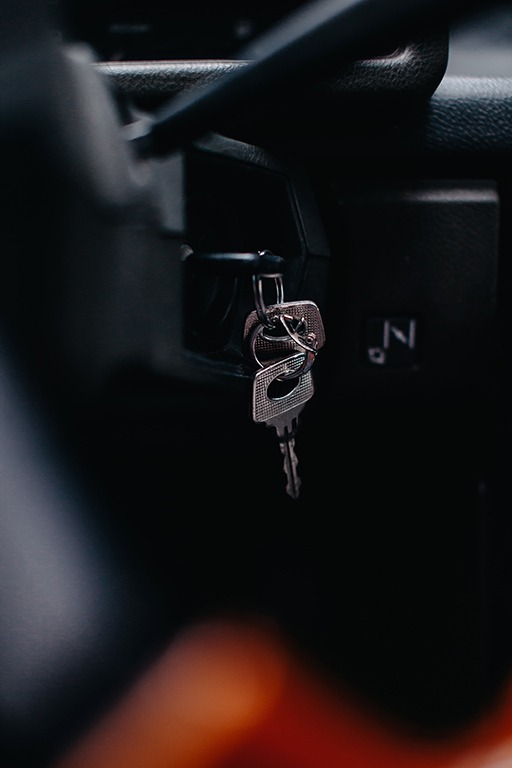 Photo By Ivan Shemereko On Unsplash
Car Lock Repair Cost
Hiring a locksmith for the repair or replacement of your car locks will probably cost you about $50 to $150. In this scenario, the car owner will probably have to either fix a frozen or stuck latch, or a door that isn't closing or opening properly. Typically, these locks will sustain damages from any accidents you may have suffered previously. Keep in mind that replacements should be made if the damage is too severe.
Car Key Extraction Cost
Similar to how your door key can get stuck, your car key can be compromised in the same way. Typically, to extract a stuck or broken off piece of your car key, your professional will have extraction tools to remove the part out of the lock. The average range of this service will probably cost you about $50 to $200. Automotive locksmiths take great care into damage control. Professional reassurance will ensure that your lock is left with the same condition as it was before.
Car Fob Reprogramming Cost
Costing around $50 to $200, your automotive locksmith can help you with reprogramming your key fob or transponder by using the correct reprogramming tools. Locking and unlocking your vehicle is something that is typically done in a short period of time. Although this is a service that can be executed through either a dealership or by doing the task yourself, it's advisable for you to hire the services of a locksmith.
A dealership will probably charge you a larger fee than the range seen above. Some dealerships will make claims about how the key fob or transponder will come along with proprietary rights, giving the car owner the belief that the dealership is the only option. In truth, an expert locksmith can provide you with a new key fob and program it without you ever having to step foot in a dealership. Whether you need a replacement or you just want it repaired, the locksmith will have you covered.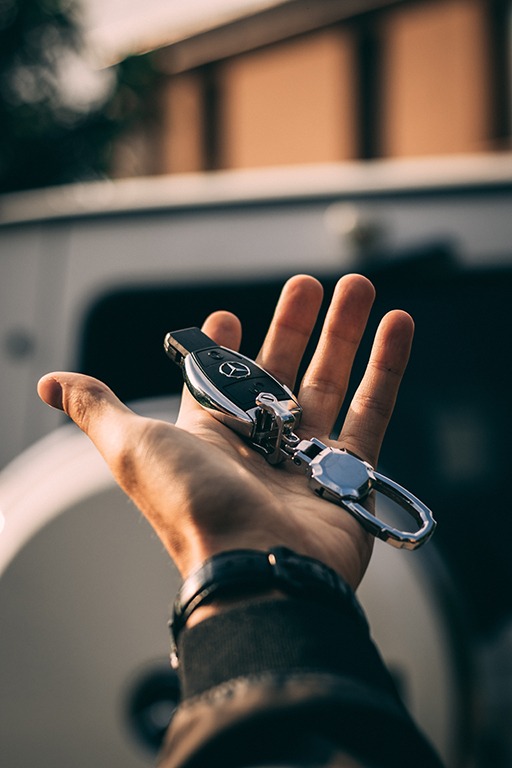 Photo By Roland Denes On Unsplash
Car Key Replacement Cost
Replacing your keys will probably cost you about $70 to $250. The higher end of this range will likely come from not having the actual keys available to you. Fortunately, it is a quick service for car owners. You should expect a small minimum on the service charge for having the key cut. Keyless fobs are actually quite difficult to replace and should you need a replacement on one, it is advised that you go to the dealership.
Car Unlocking Service Cost
It'll happen from time to time, but the most common reason as to why an automotive locksmith is contacted is because the keys were left in the car. In this case, the locksmith will travel to where you and your car is and use the right kind of tools to unlock and open your car. The estimated cost for this service will range between $80 to $150 and will be determined by the scheduled date and time.
Types of Lock Installations & Costs
There are a few different variations of door locks that you can choose from and the cost range will probably vary depending on the type of installation you're trying to accomplish. There will be a separate labor cost that comes along with installing a new lock into your door. The range for the actual locks will probably be about $20 to $450, depending on how advanced you want your lock to be.
Sliding Door Lock Costs
Typically, sliding doors are generally seen being used either by going into the backyard or inside the home. A lock installation for a sliding door will probably cost you about $20 to $300. It is one of the most simplistic lock designs out of this list, however, there are more expensive units that have updated mechanisms to add another layer of protection to your home.
Knob Lock Costs
Another lock that is most commonly purchased and installed, the knob lock provides the adequate security that your home needs. Homeowners will be expected to spend around $25 to $55 for a knob lock. With a knob lock, you'll have one of the most basic units to use throughout your home.
Privacy Lock Costs
The privacy and security of your home should be one of the most important utilities for you to put your focus on. To have a privacy lock installed into one of your homes, you'll have to spend an estimated cost of about $25 to $60. A privacy lock is designed to give you privacy rather than prioritize security.
Padlock Costs
Using padlocks offer a general sense of stability to the system that you'll implement into your home. Padlock installations cost a range between $30 to $80. Designed to make sure that your home isn't broken in, padlocks will bestow homeowners with a moderate, but balanced scale of security.
Deadbolt Lock Costs
If you want an additional sense of security, you're going to want to install deadbolt locks. These kinds of locks will cost you about $40 to $75. The benefits of deadbolt locks are the viability that they possess. Since deadbolts use bolts instead of springs, it's a bigger challenge for invaders to break into your home. Homeowners should note that deadbolt locks are the most advantageous when they're installed with doors made of solid wood, steel and fiberglass.
Lever Lock Costs
The lever lock can be applied to many different bedrooms and occasionally will be applied in commercial areas, like offices. Although the lever lock will probably cost you about $65 to $85, they're used as a precautionary measure. Fortunately, the benefit to the mechanics of the lever lock is the amount of levers that maintain the lock in such a good condition. Since there are so many different variations of locks, you should consult with your locksmith on which type of lever lock would be most suitable.
Smart Lock Costs
The smart locks in the market in modern times have become so technologically capable that there are so many different models that you can choose from. You will have to spend a range between $100 to $450 to have these smart locks installed. Depending on the model, there are different prices that will come along with the benefits of the units.
A lock system that has wi-fi capabilities can be immensely popular with homeowners that want far-reaching features that can ensure the protection of your property and belongings. Some of these features include locking and unlocking automatically with the touch of your phone, and anti-theft functionality to immediately alert the authorities if your home has been breached.
Keypad

$100-$250

RFID

$100-$300

Wifi

$200-$300

Bluetooth

$200-$300

Biometric

$250-$450

Z-Wave

$250-$400
Pocket Lock Costs
The pocket lock is most suitable for closet spaces, pantries, laundry rooms, bathrooms and bedrooms. Installing these types of locks will cost you around $100 to $200. One of the biggest advantages to these locks is the button that is installed on the exterior part of the door that is built in the locks. If you have children, the pocket lock will allow you to click the button to quickly open the door if the child accidentally locked themselves in the confines of the intended area.
Keyless Lock Costs
Keyless locks cost about $150 to $300 and are very convenient assets for homeowners that don't want the struggle of carrying a set of keys. The security comes from a code that you can easily program. It provides homeowners with the option of changing the codes as often as they want, and because the locks are powered by batteries, you won't have to worry about whether the lock will turn off or not. However, homeowners should keep a schedule of when they should switch the batteries, according to the amount of power depleted.
Touchpad Lock Costs
The touchpad lock is similar to the keyless lock, in the sense that there is no key required. Hiring a locksmith to install the touchpad lock will cost you about $175 to $250. There are smart functions that make the touchpad lock compatible with apps, making it an even more convenient utility than the keyless locks.
Electronic Lock Costs
Another variation of the two locks that are mentioned above, the electronic home security lock retains smart capabilities. Installations involving the electronic lock will range between $200 to $400. The distinction amongst the three locks is that they're designed differently. Both the internal components and the external appearances amongst these units are outwardly distinguished.
Entry Set Lock Costs
Depending on the kind of grip set you're looking to install, you'll probably have to spend about $225 to $550 to install this type of lock. The entry set lock has an ornamental aesthetic that utilizes a latch. It can come in many kinds of materials, including bronze, steel, and brass. Customizations are where the entry sets come in handy and acts as a handle that can be rearranged with different components.
Fingerprint Lock Costs
A biometric lock is both keyless and utilizes a simple fingerprint scan to open and close your doors. The doorsmith will probably charge about $250 to $425 to install a fingerprint lock to your door. Although this may seem costly, it is probably one of the most advantageous locks in the market that unlocks the potential of both conventionalism and convenience. Instead of having to remember a key code or trying not to lose your keys, homeowners can simply press their thumb on a scanner and unlock their doors.
Mortise Lock Costs
The mortise lock installation will probably be estimated at about $300 to $450. The reason why the cost range is so high is due to the nature of their installations. A mortise lock utilizes multiple points of the lock from one part, which will provide you with an unmatched security system that homeowners can sufficiently rely on.
How does a locksmith determine whether this is your property or not?
Once a professional locksmith is contacted, the homeowner will have to get their credentials and identification to confirm that the property is theirs. The professional will perform a proper examination of said credentials and identification to conduct the locksmithing services.
Expertise of Locksmith
Typically, the labor cost of hiring a professional locksmith will range between $50 to $125 per hour. These costs will vary depending on the work they've done in the past and the years of experience that the locksmith has accumulated over their period of employment. There are three types of locksmiths that you can choose from and by ascertaining the situation, you may want to consider which grade of expertise to hire.
There is the entry-level apprentice, the journeyman, and the master locksmith. Each of these locksmiths should have the correct certifications to assist you. But only one of them may be able to help you with the capacity of expertise they hold. Keep in mind that the situation is what really determines this decision.
Apprentice Locksmith
The entry-level professional will be prepared with some of your most basic concerns in regards to your lock. You should expect to spend about $50 to $75 on an hourly basis. Remember to consult with your professional about the estimate, the certification and training that they've had, and the years of experience they have under their belts. Typically, the apprentice will have one to three years of working in the field, looking to complete their certification. For the most common services and circumstances, you should call on the apprentice to help you out.
Journeyman Locksmith
Homeowners can expect a rate of $75 to $100 per hour for the services and assistance of a journeyman locksmith. This is the novice that has been fully trained and will likely be under the wing of another locksmith. After finishing the certification, the journeyman will have the official reins to be fully qualified to work in the locksmithing industry. A journeyman will probably have about three to 10 years of experience. Competent in all areas of locksmithing, the journeyman is the kind of professional you call on for more complex needs.
Master Locksmith
The services of a master locksmith will cost you a range from $100 to $125 per hour. And the cost reflects the fortification of the years that they've worked in the industry. A master will have accomplished the highest certification level according to the standards of the Associated Locksmiths of America organization. A master locksmith will be available for you to call and hire for any and all plights you may be facing with either your home locks or car locks.
Emergency Locksmith Cost
Locksmiths are regularly considered for emergencies. There are all-day locksmithing services, however, the estimates will probably different during after-hours, holidays, and weekends. You'll probably have to spend an extra $150 to $250, along with the standard rates and costs mentioned above. In case something happens with your phone, you should ask someone to help you with the ordeal by finding and searching for a professional near the area you're facing a dilemma.
Travel Charge
Professional locksmiths are going to add an additional charge of $10 or more for the amount of travel it would take to go to the area of the emergency or needed service. Since the expense covers the cost of gas and the amount of time it takes for the distance taken, your locksmith is probably going to adjust the estimate accordingly.
Finding Multiple Estimates Through House Tipster
Locks are not a permanent application and can eventually break over time. And more often than not, keys are either stolen or lost and the cause of worry becomes greater with every passing moment you wait to have either your locks and/or keys changed. House Tipster could help you with such a conflict.
Our web tool has two applications that help our users find the right professional in their area. We have a chat function that helps you message professionals on a timely basis and a reviews function to confirm your interests in a professional throughout our listings. Using one or both features will help you with finding and hiring the best person for your project needs.
By using House Tipster, you can get rid of all the concerns of delaying your projects or finding a locksmith for an emergency. Our web tool can help you find qualified professionals near your area and complete all the ideas you've been keeping in the back of your mind. So what are you waiting for? Check out our site and see all your home improvement possibilities come to life!
Featured Image By Maria Ziegler On Unsplash