Homeowners will have many different varieties for concrete-based projects. However, without a properly installed foundation, none of those other ideas you had for your concrete materials will matter. Any project that requires a foundation will probably require reinforced concrete, which is concrete that was poured with rebar or any reinforcing materials, like mesh wire or rods.
There is much adversity when it comes to concrete foundations. You don't only use foundations for housing or construction but you use it for projects like garages, sheds, or other outbuildings. On average, you're likely to spend about $6500 to $9500. The minimum you would likely spend probably ranges between $1200 to $5000. While the maximum you would likely spend probably ranges between $15000 to $22000.
| | |
| --- | --- |
| Average Range | $6500-$9500 |
| Minimum Range | $1200-$5000 |
| Maximum Range | $15000-$22000 |
Depending on the kinds of work that needs to be done and the project that you're seeking to complete, these numbers may vary. The factor that will most significantly impact these costs is going to be the overall size of the concrete installation for your foundation.
Concrete Foundation Cost
Instead of focusing on the estimated total cost, you can consider the cost range per square foot. With a concrete contractor, homeowners should expect the costs to be $4 or even go all the way to $25 per square foot. To determine which point of this cost spectrum to reference, you should think about what kind of concrete you're willing to install into the foundation. It is ultimately up to the material you decide upon, inevitably the type is what will dictate the price.
| | |
| --- | --- |
| Size | Cost Range |
| 500 | $2000-$12500 |
| 800 | $3200-$20000 |
| 1000 | $4000-$25000 |
| 1500 | $6000-$37500 |
| 2000 | $8000-$50000 |
Concrete Slabs
Whether your concrete slabs are going to be precast or the concrete is being poured in and paved, ultimately the size of those slabs is what will arrange the vicinity of your concrete foundation project. Pavement panels are typically measured to be approximately 12 feet wide by eight to 12 feet long. Some can even be sized to about 20 feet long, and in certain circumstances, those panels can be somewhat even longer.
Normally, a typical slab foundation will be made up of four to six inches of concrete. If you're utilizing a paving job for this project, your specialist will probably use reinforced materials. In some instances, your professional may lay down the slab on top of a layer of sand to use this formation for drainage. Slabs can be recognized for both the foundation or the walls of your space.
Concrete Footings
Briefly mentioned above, the reinforced concrete is primarily used for footings to support your crawl space walls. This is normally done by pouring and installing the linear feet of concrete with either rebar, or mesh. Homeowners will expect to spend about $10 to $15 per linear foot. However, with a total calculation for a crawl space installation, you'll most likely encounter a cost range of $16 to $22 per linear foot.
| | | |
| --- | --- | --- |
| Size | Cost For Footing | Cost For Crawl Space |
| 100 linear ft | $1000-$1500 | $1600-$2200 |
| 125 linear ft | $1250-$1875 | $2000-$2750 |
| 150 linear ft | $1500-$2250 | $2400-$3300 |
| 175 linear ft | $1750-$2625 | $2800-$3850 |
| 200 linear ft | $2000-$3000 | $3200-$4400 |
Concrete Blocks
Other than slabs, you can have your home's foundation be built with concrete or cinder blocks. When you're confronted with these two options, keep in mind that concrete and cinder are two very different kinds of materials. The major difference between the two is that cinder block is made with fly ash as its aggregate.
Fly ash is a fine ash that is commonly produced in coal-fired power plants. With its development, cinder block becomes a lighter product than concrete blocks. This results in a decreased tensile strength for the material. However, homeowners should know that both types of blocks are both inexpensive and simple to use with the installation.
Before you make the decision of which block you should use for your concrete foundation, however, research the parameters of your municipality codes. Certain areas will prevent you from using cinder blocks as the main proponent for your concrete foundations. Typically, a concrete block will cost about $3, while a cinder block will range from $1 to $3 per individual block.
Occasionally, homeowners should expect to pay about 20 percent more for the cost of installing a block wall foundation, rather than a poured wall foundation. Although the material costs may seem less costly, you'll likely expect the run-ins with the installation costs. Homeowners also have the ability to find and purchase blocks that replicate the appearance of natural stone. But keep in mind that these varieties will end up costing more than the average price seen above.
Cost To Pour Foundation Types
Homeowners shouldn't expect every foundation to cost the same. In fact, almost every foundation type has a varied cost range associated with each respective kind. Before you make a distinction between all of them, you'll want to figure out the kind of foundation to install by knowing the soil type and climate of where you live.
Since each foundation type will provide different benefits, purposes, and uses, homeowners should look into which one will be required. The concrete experts will probably help you with this portion of the project by advising and informing you of all the necessary details you'll need before anything can begin.
Slabs For Metal Buildings
Probably requiring the expertise of a structural engineer or general contractor, slabs intended for metal buildings will likely cost about $10 to $14 per square foot. However, the price will ultimately be calculated by the weight, the need for any reinforcements, the thickness of the concrete, and the weather conditions. Any additional costs will probably come from the labor portion of the project, since you'll require separate professionals for the job.
Slabs On Grade
An average price out of the overall costs that you'll most likely encounter is the grade. Ultimately, it will cost about the same as the slabs that are paved for metal buildings. However, you should keep in mind that the factors are completely different between the two processes. The focus will mainly be directed towards the soil type, reinforcements, labor, and materials.
Monolithic Slab
This foundation type will probably range between $4 to $6 per square foot. Although the monolithic slabs do not require any walls, it is the foundation type for areas without the concern of freezing up. Areas that are leveled in stable soil. Most commonly used for garages, sheds, outbuildings, and some small homes, these slabs will be a favorable option for homeowners looking to build any of these selections. Overall, homeowners should expect to pay about $12000 for the application of a complete monolithic slab foundation.
Stem Wall
If this is the foundation type that you need, the estimate will range between $5 to $16 per square foot. The stem wall foundation, also referred to as frost walls or T-shaped foundations, is constructed to designate crawl spaces. Remember that these thicker slabs are most commonly used in areas where the ground will most likely freeze. You'll probably also see the stem wall foundation for locations with misleveled flooring or sloped groundwork.
For a stem wall foundation, you'll probably place the footing beneath the frost line. Then, the walls will be added. Once that's done, the slabs are poured as the final step to the foundation. However, the most advantageous aspect of this foundation is the solidity they offer and the protective benefits that they provide.
Homeowners should be able to differentiate the need between stem wall foundations and monolithic slabs by the conditions of the climate that they live in. As an easy rule-of-thumb, colder temperatures require a stem wall foundation, while hotter temperatures require a monolithic slab.
Crawl Space
Ranging from $7 to $10 per square foot, the crawl space is a type of foundation, in and of itself. Similar to the first two types that are listed above, the concrete crawl space has its own intended purpose inside your home. Ultimately, it is meant to act as the earthquake-proof foundation that ensures ease for the access to your basement or just the bottom portions of your property.
Frost Protected
This is a more shallow foundation that is designed to prevent any frost from invading your spaces. The application for this type will most likely cost you about $8 to $12 per square foot. But what you should remind yourself about this kind of concrete foundation is that it is similar and compared to the slab-on-grade. The big difference, however, is the insulation that one provides over the other. Rigid polystyrene is applied directly below the foundation, homeowners will, suffice to say, feel that the material is ostensible.
Alaskan Slab
Considered to be the thicker alternative to slab-on-grade, the Alaskan slab foundation type is estimated to cost around $8 to $14 per square foot. This type easily provides depth to the bottom of your home, by constructing dozens of feet around the footing perimeter. All the while, the center of the foundation will typically be much thinner than the edge counterparts. However, it is still considered thicker than your traditional slab-on-grade.
Alaskan slab is normally thick and measures at about 18 to 20 inches at the outside edges. It offers insulation on the external surface and is most common in the northern area, where there typically is no support for a full basement space.
Pier and Beam
This type of foundation is slightly known as one of the older concrete applications into creating crawl spaces. Although, it is very outdated compared to the other modern foundations that are widely used throughout the modern age. Not every variant of soils are used to support this type of foundation, so you probably won't find the pier and beam being the effective concrete installation very often.
One benefit it holds, however, is the decreased percentage of flooding within your home. Pier and beam foundations also provide more ease and offer access into plumbing and electric. Meanwhile, relocating the foundation will also include an extremely versatile aspect. The pier and beam foundation is estimated to range from $9 to $12 per square foot.
Unfortunately, it is regarded as an obsolete foundation type. Vulnerable to pests and rodents, weak insulation, there are many flaws that the pier and beam incurs to homeowners. Specialists and professionals will probably not even be allowed to consider this as a viable option.
Basement
The process of constructing a concrete foundation, especially for a basement, is by starting with the footing, then the walls, and finally, the slabs being poured in as the final step. This practice is basically the same as how stem wall foundations are made. Costing about $10 to $25 per square foot, the major difference between the two projects is the overall height of the walls. This is possibly why there are higher costs involved in the overall prices.
Patio Slab
The overall average for concrete in your patio will probably cost about $2800. However, homeowners should keep in mind that the prices can be adjusted by a slew of various factors. These estimates could range from $5 to $10 per square foot for the installation, so your professional or specialist will have some serious considerations to make.
Combining the cost of materials, estimates, and any finishes you might be interested in, the range of costs will be converted accordingly. Your contractor will have to consider the thickness of the concrete since the area that is being covered and the amount of planning will need to be done for the reinforcements.
Shed Slab
Other than the construction of your actual shed, you'll need to consider a slab with about four inches in depth for the location it is intended to be installed. The size is what will probably determine the cost, and you can actually find a focused insight by reading the estimates below. A slab to cushion the weight of your shed will probably cost you about $6 per square foot. Remember that the thickness will measure at about 6 inches. A concrete slab is typically manufactured and installed for the standard shed from within the outdoor space of your home.
| | |
| --- | --- |
| Square Feet | Estimated Cost |
| 10x10 | $700 |
| 12x12 | $900 |
| 12x16 | $1300 |
| 20x20 | $2700 |
Keep in mind that the numbers shown above are estimates that will be calculated from the average four inch thickness. If your soil type needs to be denser or thinner, the cost will be adjusted accordingly.
Garage Floor
Since the garage is typically used to store your vehicles, the concrete might require more thickness than the standard four inches. Six inches of depth is typically what homeowners should expect for the flooring installation of a double car garage. You should expect the estimate to be around $3500, while the epoxy coating will probably cost between $1500 to $3000.
Driveway Concrete Work
Hiring a contractor to pave concrete for your driveway will probably cost you about $3000, however, the range will most likely be around $1800 to $6000, depending on several factors. How big will your driveway be? How much concrete and other materials will be needed for the completion of the project? And is there more labor that will apply?
Parking Slab
If you're a homeowner that needs a concrete slab for parking space, whether it's an RV or any large vehicle, you should expect to spend about $1200 to $4000. Since the name of the game is how much those additional vehicles will ultimately weigh, you'll also have to consider the thickness of the concrete. In any case, you'll probably require about six inches of your preferred concrete.
Instead of a slab for vehicles, maybe you require one for your mobile home. The installation and paving will probably cost about $7 per square foot. Paving the concrete slab, like any other project mentioned above, will probably depend entirely on how large the mobile home is and how much it weighs.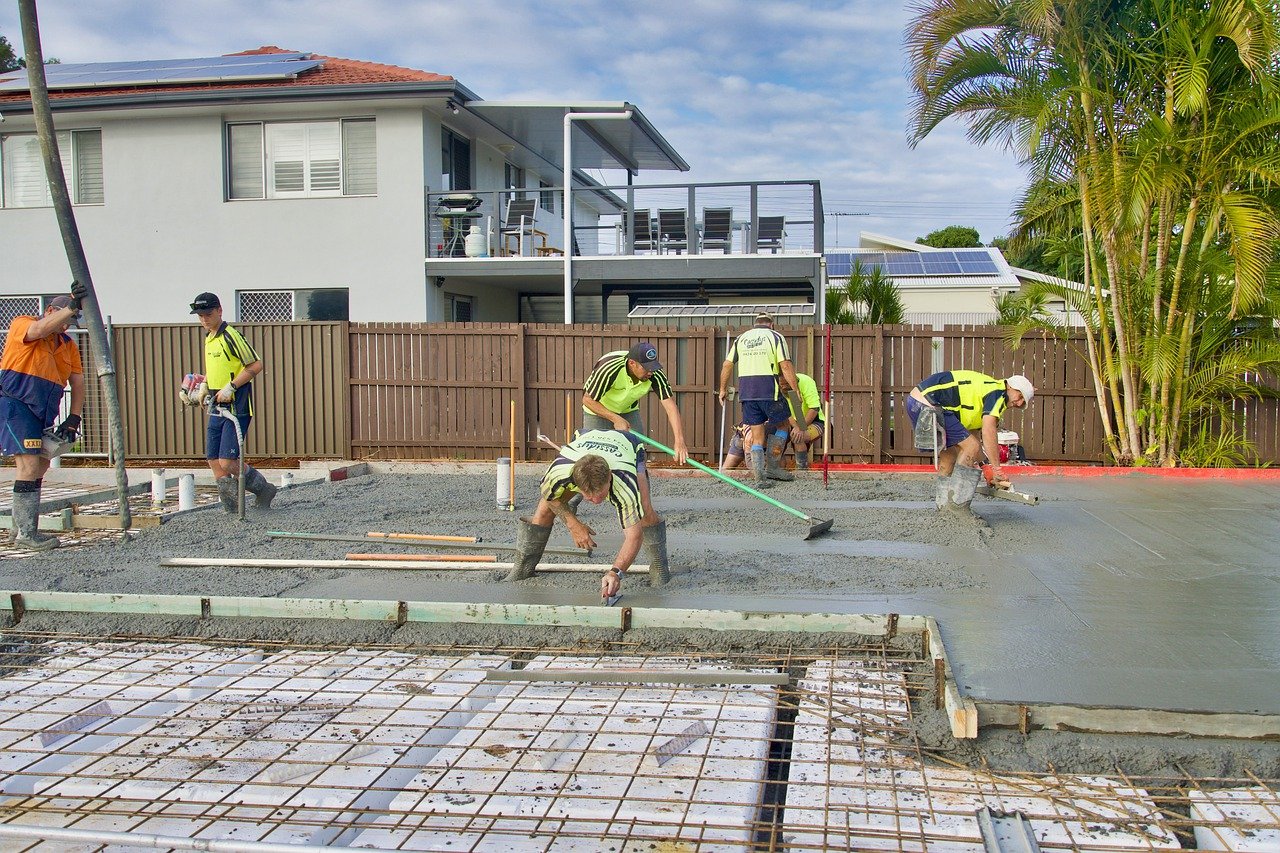 Photo By MemoryCatcher On Pixabay
Concrete Application Cost
There are several uses and applications that concrete will provide the average homeowner. Considering the kind of application that will be used for these slabs, the range of costs will differentiate. Homeowners should also keep in mind the costs that go into the thickness of the concrete that is being paved.
| | |
| --- | --- |
| Thickness | Estimated Labor Cost Per Sq Ft |
| 2 inches | $4.55 per sq ft |
| 4 inches | $5.35 per sq ft |
| 5 inches | $5.80 per sq ft |
| 6 inches | $6.20 per sq ft |
| 8 inches | $7 per sq ft |
Strength
Concrete is a material that requires compression, strength that should not capitulate against the weight of the presumptuous project. As such, the building material is translated and gauged by pounds per square inch. Ranging between 1800 and 5000 psi in strength, concrete projects for household or business properties will require the mentioned psi above, depending on what kind of work that needs to be done.
| | |
| --- | --- |
| PSI | Recommended Areas |
| 2500 | Floors, driveways, sidewalks, walkways |
| 3000 | Floor slabs, foundations, beams or footing, construction |
| 4000 | High-performance traffic areas, commercial areas, pavement areas |
| 5000 | Custom construction areas, high impact |
Grading
If you're starting a project with concrete, it will require you to assess which kinds of grading work you'll need overall. Mainly referring to the prepwork that your project's substrate will need before the other processes can begin, grading will be the simple leveling of your surface. In some cases, structural integrity is involved, so the price will be calculated with certain professionals.
Depending on the application of the aggregates involved with the grades, you can expect to spend about $1200 to $3700 for large projects. This is a necessary and crucial step in paving concrete because it ensures your project from being ruined by improper water drainage. If grading isn't done or properly accomplished, homeowners will encounter bigger issues with cracks and likened blemishes.
Subbase
Also known as the subgrade, this installation is done to compact other aggregates other than concrete so that the materials don't move around or shift. This is done so that once the foundation is being paved, there will be more stability and better performance for the concrete to work. Homeowners should expect the range from $10 to $20 per cubic yard.
Thickness
Directly correlating with the soil type, the thickness of your concrete is what will determine the system required to maintain the concrete. Homeowners should consider the weight that typically transitions into the support of the thickness of the material. The reason as to why thickness is such an important factor into concrete construction is because of the depth that the area will require. It is exactly what keeps the gaps bridged over, undeterred by the soil, keeping any materials from bending.
Design
Performance is the name of this game, and it's the structure that is what keeps the integrity of the concrete. It is not as complex as many others might suppose. Ranging between the estimates between $2 and $18 per square foot, the work on the concrete design will provide both the physical appearance and the practicality of each one. Costs that are associated with these designs will ultimately determine the appeal that the design brings in.
| | |
| --- | --- |
| Design | Estimated Range Per Square Foot |
| Basic Stains | $2-$5 |
| Ordinary Stamped | $8-$12 |
| Distinguished | $12-$18 |
| Stenciling, etc. | $15 or more |
The contractor or the professional that you decide to hire will ultimately offer you a selection in several palettes, stenciling options, and border designs. Functionality also remains to be a pivotal factor into the construction projects that involve concrete. In certain cases, the borders of your slabs may need to be thicker than required.
Elevation Of The Concrete Foundation
If the area you're pouring the concrete into requires a deeper dig, the costs you'll encounter will probably increase. The cost of a shallow foundation will probably be about $2 per square foot, while a deeper foundation will probably cost you about $7 per square foot instead. Although mentioned briefly above, this is precisely the reason as to why basements will cost more than crawl spaces.
Since what you should expect from a deep foundation is more structural planning, the costs are typically calculated by the labor. A project that requires three feet or more of digging is considered a deep foundation. A shallow foundation is considered as your conventional slab-on-grade foundations, consisting of one layer of concrete over another layer of gravel for the drainage.
Cost Of Poured Concrete Foundation Walls
The total cost for both the actual concrete slab and the labor of pouring for the foundation wall projects probably ranges between $7000 to $21000. However, there are instances where a homeowner may end up spending more than $25000. Projects involving concrete walls will likely cost about $30 to $40 per linear foot. Homeowners should expect this range if they decide to hire a concrete specialist.
However, masons will charge you at a different rate. There are times when you might even pay as little as $10 per square foot for the basic walls. However, there are also instances when you might have to pay $60 per square foot for stamping jobs or design and ornamental work to be applied. Homeowners should also keep in mind that they may have to pay upwards to $90 per square foot if they're building a retaining wall on a slope.
To spend less money on building a foundation wall, homeowners can purchase precast concrete walls and avoid paying 20 percent more than if they paid to have the concrete poured. On average, you can expect a range between $20 and $30 per square foot. Since this method is also more conducive and less time-consuming, a prefabricated concrete wall may be your viable option.
Other Services You May Require Before Pouring
Before you can even begin the planning process for pouring concrete to your foundation, there are other necessities that you should consider completing. Whether it's to renovate their foundation, or begin construction on a new one, homeowners should have these tasks accomplished. Like the various home-improvement projects that are mentioned in previous articles, homeowners should note that there are certain prerequisites that need to be met.
Soil Type Testing
One of the most important jobs to perform when it comes to concrete construction is knowing whether your soil can support the weight of the material being poured. In fact, this is probably the first thing you should do before you execute any other task throughout the project. For the starting price, you should expect to spend about $800 for all the necessary testing, however, that cost could go all the way up to $1200.
If there are severe circumstances, you may even have to pay around $5000. This job will include a complete geotechnical report that indicates the soil composition and capacity. Since the soil type is what will ultimately determine which concrete material you can use for your project, you should carefully consider having a soil construction report complete.
Keep in mind that the soil needs to be compact and shouldn't contain too much moisture or hydrogen. The outcome of soft soil will result in instability for your foundation and create disastrous mishaps for the level of your entire project. In its entirety, the level is crucial for your foundation because without a secure position for your foundation to be placed, the area could easily sink.
Architect Costs
Since your foundation will require a planning phase, having an architect for the job will effectively ease your mind. Costing around $2000 to $10000, an architect might be rather costly, however, with what the price equates to, in terms of the completion of your project, it's well worth the expenditure. Above all else, since professional assistance brings knowledge and experience, an architect will know how to follow all the necessary regulations and mandatory standards.
As a whole, you should expect about five to 20 percent of your budget going to an architect. Some professionals will charge you about $100 to $250 per hour, while there may even be those that charge you about $2 to $10 per square foot of the overall project. The benefits that they provide is how their intuition and expertise will quicken the planning phase, getting the foundation project going.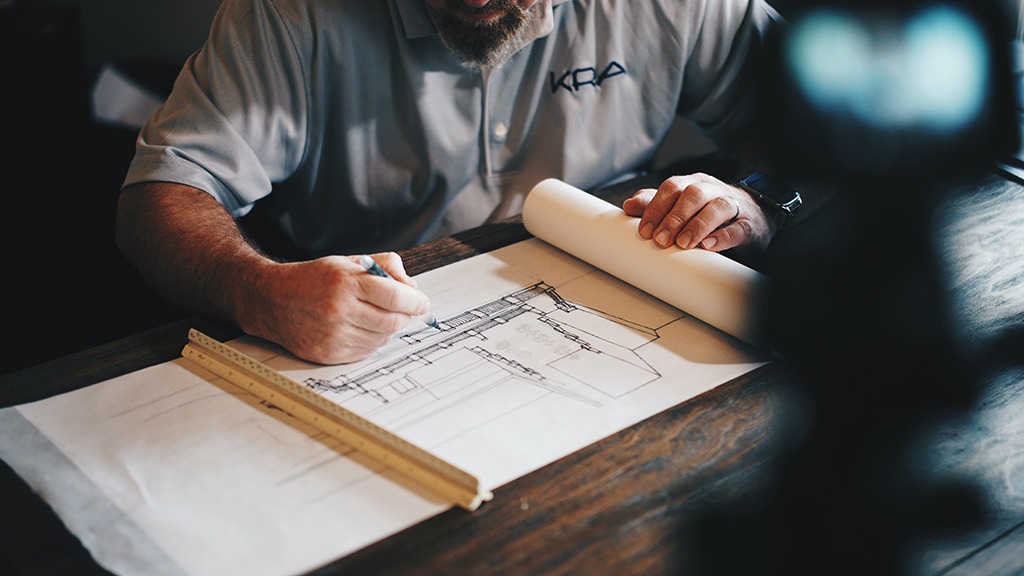 Photo By Daniel McCullough On Unsplash
Foundation Inspection Costs
Conducting an inspection of the project will probably cost you about $300 to $600. The fortunate component of retaining an inspector is that they'll pull you out of any forlorn in the future. This is especially important when you save yourself the trouble of spending any further costs from having to repair any issues you may encounter.
Other than an inspector, homeowners can also hire the services of a structural engineer. These specialists will help you find any potential complications in the overall intactness of your project. Cost factors, besides the location and area of your project, will include the level of expertise that the structural engineer has accumulated throughout their years in their respective fields. Homeowners who decide to hire an engineer will spend about $500 and will receive an accurate assessment and a home structural report.
Concrete Demolishing Costs
Now that all of the preparation is complete, you should expect the costs of demolition. If this is a renovation, rather than a construction project, then you may have to hire some demolition contractors to excavate and haul away the former concrete. Services will probably range about $2000, or $2 to $7 per square foot, depending on what kind of excavation is occurring. There are even some cases when the homeowner will have to spend about $10 or more per square foot due to the depth of the concrete.
Replacing Concrete Costs
Concrete is quite the complex substance to remove. The process involves making the proper replacements and repeating the process from the initial installation. One of the biggest downsides is that homeowners should expect to pay an estimated range between $20000 to $100000.
You have to remember, this price is considered from many different points and factors. All of which will alter the overall price of making the professional replacements. As a rule of thumb, homeowners should keep in mind that lifting the existing area atop the concrete will cost about $30000 to $70000.
Cost of Drainage And Insulation
Now that most of the foundation is in the stages of near completion, you'll be expected to factor in the costs for having the space installed with insulation and drainage. Drainage will probably cost an average of $3900, while insulation will probably range between $1 to $5 per square foot.
Having your foundation insulated is very important. If you don't have any insulation installed into your space, you'll be wasting money on energy bills. But there is a reason that the price is so ductile. Depending on which materials you decide to use for the insulation, it'll probably cost either $1 per square foot, or $5 per square foot, if the professional installs a more expensive material for the insulation.
The benefit of hiring an expert for the drainage is due to the movement of rainwater. Homeowners should know that proper drainage is required when the foundation is being excavated. If you have these features arranged before construction is begun, it may actually be far cheaper.
A contractor will arrive at your property and install all of the necessary drainage pipes. And although it may seem costly, you have the option of installing hydronic radiant heat tubes before pouring in your concrete slab. However this option will probably cost you about $14000 to $48000 or $6 to $20 per square foot.
Cost of Sealing
Professionals will give homeowners the option of having their concrete sealed or water-resistant. If you want the job of applying sealant to your material, you'll likely spend about $3 to $9 per square foot. On average, homeowners will probably spend about $0.50 per square foot for the sealants alone. A complete waterproof job will probably range between $5 to $10 per square foot.
Cost of Permits
Determined by the location you reside, the building permits and all the other necessary permits you might need for the project will cost the homeowner about $450 to $2000. The price will also depend on whether the project is new or whether the project is a remodeling job. Most importantly, whichever tasks you need completed may require a separate permit as well. The calculations will accumulate into the overall costs according to their respective types.
Finding Multiple Estimates Through House Tipster
This kind of work will probably need more than just a few contractors. As mentioned above, you may want an architect or a structural engineer for the foundation. The trouble with trying to find all these professionals is how they may not fit your preferences. In fact, it'd take less time for you to find these experts through House Tipster, then it would by calling them all up through the phone.
Instead of relentlessly trying to find a subpar professional for the projects you need finished, you can use our web tool to look through different portfolios and find the one best suited to your needs. By browsing through the work and the projects that our professionals have completed, you can easily select the person that matches your preferential style and decor. If what you're looking for is professionalism, you can read the reviews that other clients and customers have left.
House Tipster also offers a web chat system for all its users so that you can directly communicate with your chosen professional. You won't have to sit around and wait all day for a reply phone call. If you have any questions about the estimates, or questions about what kind of projects they could possibly handle, simply use our web tool to message these skilled professionals.
Featured Photo By Scott Blake On Unsplash