Kitchen cabinets have been mentioned a couple of times on this site, but now we'll discuss the costs that go into the installations. On a minimum cost, homeowners were willing to spend about $150, but on a maximum cost, there were homeowners willing to spend more than $30000 or more for kitchen cabinets. As previously stated in other articles, cabinetry always relies on the size and type of items you're looking for.
The cost range, depending on the type of cabinets you're looking for and what the size is, will be about $100 to $380 per linear foot. On average, homeowners will need a budget of about $4000 to $9000. Remember that the duration of installations will last about an hour to an hour and half for each cabinet that needs to be placed. Even professionals who are paid to do the labor will need about an hour or even two hours.
| | |
| --- | --- |
| Cabinet Type | Cost |
| Stock | $100-$400 |
| Semi-custom | $150-$900 |
| Custom | $500-$1400 |
Kinds of Kitchen Cabinets
What kind of kitchen cabinets did you currently own? What was the kind of kitchen cabinet you're considering getting rid of? Depending on this, you'll have a better idea of what the costs will go to, moving forward with choosing the kind of cabinets there are available to you. The replacement process will come with the need for removal of older, unused items. The average range of removing and disposing of your old cabinetry will be around $55 to $85 per cabinet. Range of the total estimate will give you the price of spending about $300 to $500.
This entails a complete replacement of your cabinets. If your new home has no cabinets installed in its kitchen, the cost range stays about the same, but if you're completely renovating the kitchen cabinets, the estimate turns from $100 to $380 as a range into $100 to $1200 per linear foot.
You shouldn't be surprised to know that the allotted assortment of cabinets that are readily available in the market. The most common kinds of kitchen cabinets that most homes will come with are budget cabinets. They cost about $100 to $200 per linear foot and will be the cabinets that aren't assembled.
The mid-level cabinets, or the RTA kind of cabinetry will estimate about $180 to $280 per linear foot. They're made to order and they have a lot more advantages than the budget cabinets. For homeowners who are thinking about spending just a little more money and increasing their own budgets for nicer cabinets, the mid-level cabinetry is what you'll be contemplating about.
Premium cabinets and custom cabinets are for homeowners who have no concern about their budgeting costs. These two cabinet types are primarily available as the pristine kinds of kitchen utilities that the rest of consumers will be vying for but even they have their own disadvantages. The cost range for premium cabinets are $300 to $2000 per linear foot, while custom cabinets are about $800 to $3000 per linear foot.
Premiums offer many, many styles. For homeowners who are sort of indecisive about what kind of look they want for their kitchen, this might be a better option for them. However, for homeowners who really have seldom a care of how much the cabinets will cost, custom cabinetry is the perfect choice. Both options have more styles to offer than the lower budgeted cabinetry but they have much better benefits added onto them.
Photo by JOSBRA design on Unsplash
Different Kitchen Cabinet Units & Costs
Typically, homeowners will think about which cabinet unit doesn't function well with the aesthetics of their kitchen spaces. One day, they look at their kitchen and think about what kind of changes that they can make to transform it's appearance into a more refined, more elegant look. Sometimes, it isn't even the colors or the styles that the homeowners have a troubling opinion about, there are occasions where it is the unit they wish to replace.
Wall Cabinets
Units like wall cabinets are mounted onto the walls and provide the needed space for your kitchen. And there are so many ways to utilize the wall cabinets. The average estimate for wall cabinets ranges from $100 to $300. It takes up none of your floor's spacing and gives you better ideas for the kinds of modifying your kitchen.
Here are some ideas or methods into improving your wall cabinets and freeing up more space:
Pull Down Spice Rack
This is a very common use for wall-mounted cabinets. But it helps personalize your kitchen with that small and simple touch. A tiny touch that makes your kitchen yours.
Appliance Storage
Appliance storage or you can call it an 'appliance garage', is the best way to store your appliances. Instead of leaving your coffee machines or your independently portable utilities out in the open of your kitchen counter, you can save that space by storing these appliances inside your wall cabinet. This cabinet works as a kind of 'kitchen garage'.
Easy-Access
This is the conventional method of storage for your wall cabinet. You can include wire racks from the interior of your wall-mount and just store the different sizes of seasonings, condiments, whatever items you want to store.
Lazy Susan
Rather than having to dig through your cabinets, and rearranging everything, you can use a Lazy Susan system to rotate your shelving. This method of storage really improves your way of sifting through all your items.
Base Cabinets
Base cabinets are the exact opposites of the wall mounted cabinets. Instead of working with a standing function for the cabinets, the base cabinet is a unit you use to store in the bottom of your kitchen. The average range of the base units are estimated to be about $100 to $500. There is no necessity to maintain a higher level of storage, rather it poses the provision of a lower level of storage and usage instead.
Corner Cabinets
As the name implies, these units are the ones that are installed into the corners of your kitchen space. The range of estimates for corner cabinet units is between $180 and $1000. Unlike the other two cabinet units above, the corner cabinets offer the better choice of special shapes. Within the corner, you can place and install an aesthetic and best-fitting unit for your culinary space.
Specialty/Utility Cabinets
This is a unit that is a larger option than the other units mentioned above and the estimate ranges between $500 to $3000. Although the size is a bit larger than the rest, it also is a bit costlier than the rest as well. As you can already see, the range is proof of the expense that you'll need to spend.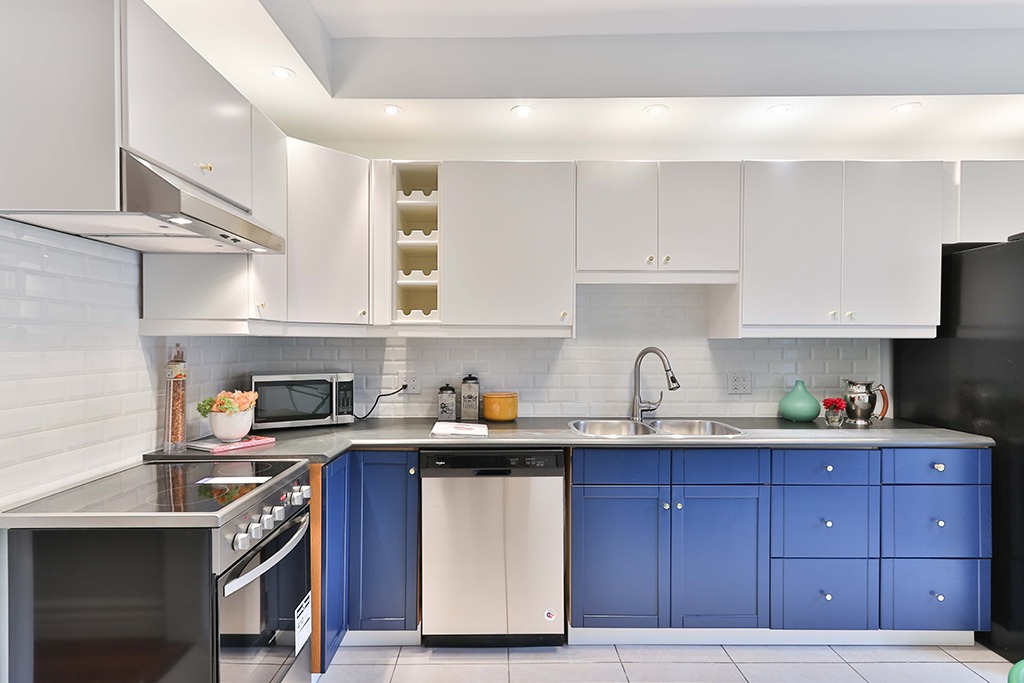 Photo by Sidekix Media on Unsplash
Kitchen Cabinet Material Costs
Homeowners that are looking to install cabinets should know the basis of how much it goes into when finding the right materials for the cabinetry that they're looking for. Whether you only want to spend a bare minimum for low-end materials, or whether you're looking to spend a premium amount on high-end materials, ultimately there is a huge selection that you're going to have to decide on.
We've touched up on the types of materials that go into the cabinetry in your home. Other than the purpose of storing your kitchen necessities, homeowners purchase new cabinets because of the appeal they bring to your cooking space. The considerations that most homeowners take charge of is the kind of materials they prefer to change.
Hardwood
Hardwood is a material that will cost about $150 to $600 per linear foot. There are quite a few choices of hardwood to choose from, however. There is maple, oak, white oak, redwood, cherry, and birch. There are many advantages to installing hardwood into the kitchen cabinets in your home.
This kind of cabinetry is highly resistant against physical damage like scratches and dings. It has the durability that most homeowners are enthusiastic about, but it's very prone to warping and staining. Homeowners need to regularly take care of hardwood material or the warping and staining will become more and more apparent.
Take some insight into what kind of look you're searching for in the scope of your kitchen. This is a material that people want as an appearance if the purchaser is thinking about a sleek but warm style. Hardwood has many benefits for its usage with kitchen cabinets but it is also more affordable than most of the choices on this list. Depending on the kind of hardwood you're thinking of buying, you might find a lot more affordable options along with this preference.
Plywood
This is a solid wood type, it's glued, it's laminated, it's overlaid with a hardwood veneer, but most importantly, it offers homeowners various separate grades. Like hardwood, plywood is categorically different from just one kind of wood. The grades basically systemically separate from one another. This is a material that ranges, on average, from $100 to $300 per linear foot.
From the estimate alone, you can see how affordable plywood is for homeowners, they're also very easy to clean. They're water-proof and they're stain-proof. However, they cannot correct any covers nor fix flaws and the glue can weaken over an extended period of time, swelling throughout a humid environment.
Fiberboard
An average cost range that is gauged for fiberboard materials is about $100 to $280 per linear square foot. Keep in mind that the price of this material is varied by it's thickness, so the thicker the material is, the higher its cost. It is also referred to as MDF, and in previous articles, we've touched base on what MDF can do as a material. But to remind you, we'll go over some of its benefits and some of its detrimental aspects.
Although it is a product with an ideally smooth surface, it has its own negative qualities that adjacently coincide along its manufacturing. It's a strong material but it's not nearly as strong as plywood and hardwood, and the worst part is, fiberboard is somewhat vulnerable against moisture.
Since it's manufactured with a high-pressured pressed material of recycled fibers, resin, and wax, it does offer adequacy and a cost-effectiveness. But because it's a recycled product, fiberboard isn't considered to be the best indicator as a material for homeowners who want a long-lasting material.
Veneer
Cabinets aren't just constructed with a specific type of material. There are certain styles that you just want to stick on your old cabinets. This is the reason why veneers were developed. This material is just a thinly sliced piece of wood that you place either an adhesive or a specific fixative to slap onto your kitchen cabinetry.
In an article about cabinet refacing, we touched upon the subject of this kind of material. It's not something you need loads of tools for, it's more of a simple process of applying that thinly veiled material onto the cabinets and refacing the cabinets in a revitalized manner. It's an extremely simplistic concept of just slapping on a protective layer to create both a defense against scratches and completely renewing your cabinet's appeal.
Repainting the kitchen cabinets can do half the job of what veneers can do, but if you're only looking to paint a new coat of colors on your cabinetry, it'll range in the cost of about $1200 to $7000. Cabinets come pre-finished but finding the unfinished cabinets can actually cut down the amount of money you'd spend on newly purchased units.
Particleboard
The type of material most resembling fiberboard, the particleboard material is made of medium density, compared to the high-pressure density that MDF has to offer. Like fiberboard, particleboard is materialized by pressing together recycled woods and reforming the material into sheets.
Finished with a layer of either laminate or veneer, the particleboard is commonly available with IKEA products.
The range of cost that particleboards average into is $75-$180 per linear foot. It is a thick and durable material but it also offers quality edging and finish options. Of course, like fiberboard it is susceptible to the exposure of moisture, it is also considered to be the weakest material out of the other materials in this list.
Stainless Steel
This is most likely the strongest and sturdiest materials on this list. It is steel, after all. Since it offers the least difficulty to clean and keeps rust and stains away from your cabinets, you won't need as much maintenance. This isn't to say that these kinds of kitchen cabinets won't need any care, but you'll most likely have an easier time keeping them in stable condition. They'll last long if you tend it carefully.
The average range of this kind of material for a cabinet will cost about $1000 to $1500 per linear foot. Although you may be considering stainless steel as a material for your cabinetry, keep in mind that stainless steel has a very limited arsenal of designs. In fact, you'll really only have very few design options.
Acrylic
This is a material option for your cabinetry that will remain one of, if not the most expensive material for your kitchen. You'll have to expect to pay about $5000 to $20000 per linear foot. For people without a care in their budget, this is the material that is the most desirable. It effectively has all the benefits you'd want in a kitchen cabinet because it has the most resistance to all the vulnerabilities that the other materials will have.
However, even with all its benefits and its invulnerable interests, it still has its own disadvantages to list down. Because of its glossy features in its surface, any fingerprints or stains it might come across, the visibility of such occurrences will seem that much more apparent.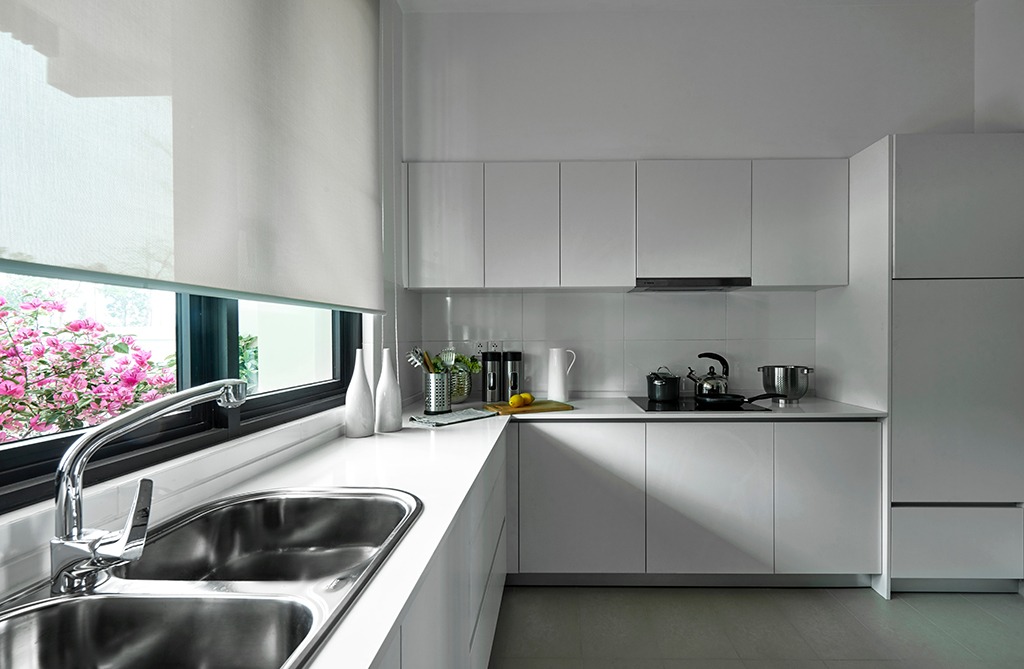 Photo by Huy Nguyen on Unsplash
Different Kinds of Woods For Kitchen Cabinets
Wood for kitchen cabinets is like beef for burgers, you have other choices and options, but it's such a natural sight to behold. Like the contrast of different types and grades of beef, wood also has several distinctions along with it.
Cherry
Known for its red undertones, cherry has a variating blend of both white and a deep enrichening brown color. The cherry wood also offers smooth, close grained texture to it, making it easy to allow finishes to be applied. The cost range involved with cherry cabinetry is about $250 to $500
Maple
Along with its color, maple has a varying blend of white and creamy-white colors. It occasionally mixes in carmine tones for its cabinet door panels. The surface for maple wood creates a smooth facade for its subtlety in grain. The cost range involved with maple cabinetry is about $250 to $400
Oak
The wood material, oak, offers its cabinet counterparts a distinct pattern for its grain. With the varying blend of white, pink and reddish colors, it even discerns itself with green, yellow, and black streaks. The cost range involved with oak cabinetry is about $250 to $400
Alder
An alder choice for your kitchen cabinetry will have the varying blend of light brown and reddish undertones with a straight grain. The cost range involved with alder cabinetry is about $190 to $300
Hickory
The hickory wood is a mixing layout of heartwood and sapwood conveying a blonde and whitish contrast with a reddish and dark brown that blends together. The cost range involved with hickory cabinets is about $170 to $250
Birch
Many of the wood choices on this list offer a natural appearance but birch has a creamier color that makes it look unique even in its natural state. The blend it mixes is white with a creamy yellow that tightly presses in its grain. The cost range involved with birch cabinetry is about $300 to $600
Walnut
There's a refined grace that partners with walnut wood in appearance. It's grained patterns blend a brown hue with deep streaks of a chocolate color mixing with a light reddish and gray brown. The cost range involved with walnut cabinetry is about $200 to $350
Pecan
With a range of colors from blonde to a reddish-brown and dark brown, the pecan wood gives off the appeal of rugged and strong grains. It keeps a straight appearance and displays some areas with a wavy look. It creates a flowing pattern. The cost range involved with pecan cabinets is about $160 to $380
| | |
| --- | --- |
| Wood Type | Cost Per Linear Foot |
| Cherry | $250 - $500 |
| Maple | $250 - $400 |
| Oak | $250 - $400 |
| Alder | $190 - $300 |
| Hickory | $170 - $250 |
| Birch | $300 - $600 |
| Walnut | $200 - $350 |
| Pecan | $160 - $380 |
Cost to Hire Someone for Kitchen Cabinet Installations
Cabinet installers have an average range of $35 to $90 per hour. The installer needs to plan all the different steps to consider according to the stipulations laid out from the homeowner. How many cabinets are you also installing into your kitchen? Depending on how many cabinets you need installed, each installation will probably take around an hour and 25 minutes per cabinet.
If the installer you decide to hire doesn't estimate his labor from an hourly rate, then the installer will probably charge you about $40 to $80 per cabinet. If you have multiple units that you need installed, then the order of installation that will proceed begins with top cabinets, then to base cabinets. The other kitchen cabinet units that you need installed will be according to your preferences.
Custom Vs. Semi-Custom Vs. RTA
Deciding to install a fully custom cabinet unit will make the labor costs involved transparent. This means that the overall cost of installing the cabinets cannot be estimated until the job is complete. In most, if not all, cases, the custom cabinet shop you choose to purchase your cabinets will most likely insist on installing their units themselves. The quote that you receive will include the installation and the overall design you specified.
Semi-custom cabinets are pre-built so you'll have ease of mind when installing them since they'll be the easiest to hang. It creates a compromise between you and the installer when they quote their estimate to you. Unlike custom cabinets, the semi-custom units will be engineered through a factory setting.
Designed with stability and strength in mind, the semi-custom cabinets will be sent to you fully finished. There are considerations that you need to keep in mind when you decide to include trims, moldings, or finished works.
If you're not considering the installations of a custom or a semi-custom cabinet unit, you may be considering the Ready-To-Assemble units. The RTA cabinets are exactly what they're named after, these kinds of cabinets are very simple and easy to install and only take about 20 minutes to an hour. In some cases, they may take longer to install but overall, RTAs are a great solution to homeowners without the time nor money to install a conventional cabinet set.
Hiring a Professional or Professionals Through House Tipster
Homeowners retain the appearance of their kitchen for an allotted period of time. However, in that time, whether it's sooner or whether it's later, kitchen cabinets are either replaced, newly installed or physically altered. It is knowing how to do these things and the costs that traverse their way back to you that acts as half the battle.
One of the many considerations that you should account for is how you can find a professional that can conclusively aid you with the process of installing or removing your cabinetry. And although you could probably do it all yourself, it can be quite a tedious list of tasks to fulfill. And within your extensive notes and research, you'll start wondering how you can find the perfect professional for the jobs.
As stated previously in the other articles that have been written on this site, all of the labor that stacks along with a DIY can be quite stressful but fret no longer, that stress can easily be relieved. So think about hiring the professionals located near your area! Find multiple estimates by checking out House Tipster, and choose the perfect professional for your home repair needs. How much does it cost to install kitchen cabinets? Find out from professionals near you!
Featured Image by Solomon Rodgers from Pixabay