The questions have probably crossed your mind more than a few times. The question of why you would want a concrete patio. Why not the other dozens of backyard options and projects you have at the palm of your hands? Other questions have also entered your threshold, like what is the installation of a concrete patio going to cost? What is better for your home's aesthetics? 
The modern backyard patio is the Mona Lisa to your backyard. It is your celebrated unique painting. And although her smile is bitter, you cannot help but stare at the mild sweetness of her vague expression. The purpose of a patio is to match your house's style. And what better way to compliment your house than with the patterns and colors of concrete?
Imagine having houseguests visit your home. You're having a Sunday dinner or a backyard barbecue. How many guests do you think you'll be entertaining? Wouldn't you want to show them the fruits of your labor? Because at the end of the day, is that not what a backyard is, a portrait of your hard work and vision? It is the labyrinth of entertaining your friends, families and visitors. 
Concrete patio costs all depend on the quality of your work or the work of your hired professional. Be sure to ask as many questions as you can to construct and maintain your concrete patio.
Table of Contents
Cost for a Contractor
All contracting jobs will require a set of skills and the level of their expertise and knowledge. Depending on their experience with concrete, you'll need to assess whether they're qualified with handling your project. Their experience will tell you whether they can accommodate your wants and your needs on the matter. A skilled contractor will ask you the basic inquiry, rather than having you inquire about the subject. What kind of colors or patterns are you looking for? Are you thinking about poured concrete or paved concrete? What kind of finish will this project require?
Your concrete patio costs are occasionally all estimated by the cost of your contractor. The per-square-foot method is almost always calculated into your budget. Figure out the contractor you want to hire for the job and ask for their quotes. But on average, the quote and cost can vary from $2400, all the way up to $15000.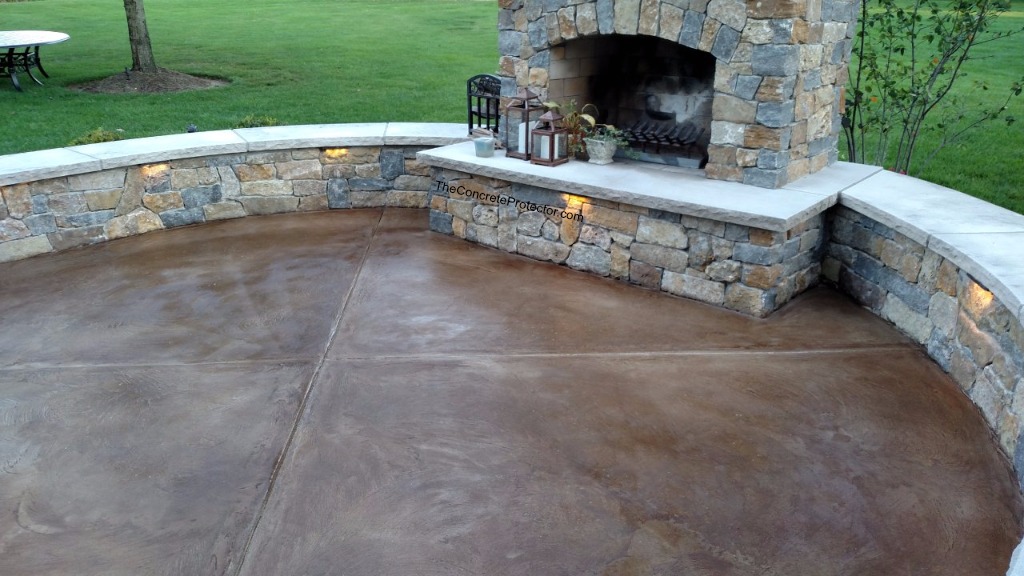 Image By Decorative Concrete Kingdom
Cost Per Square Foot
With the cost added from professional installation, you can add up costs between $1212-$4318. Let's also not forget the labor costs, which can run your bill up to $3-$10 per square foot. Materials, which will be the least of your concerns on the budget of your project, can also run up to $1-$2 per square foot. All in all, a calculated average would be around $3 to even $15 per square foot.
| | | | |
| --- | --- | --- | --- |
| Size | Ratio | Total Square Feet | Average |
| Small | 12x12 | 144 | $1730 |
| Medium | 10x20 | 200 | $2150 |
| Large | 20x20 | 400 | $3650 |
Cost of Materials
The cost to install your concrete patio requires the cost of concrete. On average the price of concrete per measurement is around $2-$7 per square foot. The best feature of concrete is it's value in the market. Compared to other materials, it is the most cost-effective to its counterparts. Concrete contractors will say that the material is one-thirds of the cost of its competition. The mirroring materials of patios have an intensive process when it comes to installation and the material itself can be accosted with a higher price.
Wouldn't a deck be less expensive than a patio?
Pavers will often suggest you install a concrete patio, rather than a wooden deck because no other material can match it's style and look. The most relative calculation to wood decking, on average, can be costly and higher priced than what you'd expect. The average rate of installing a wooden deck can be from $15-$35 per square foot. You could install a deck using cheaper wood, but the biggest disadvantage is how often the deck will require your care and maintenance.
Stamped Concrete vs. Paving
There are many factors to consider when choosing a patio of your choice. Other than the size of your patio, you also need to consider the appearance, the overall design of your patio. Do you want poured concrete or do you want paved-in concrete? Is it a stamped design? 
When you're paving your patio, the one common misconception is that your patio will look dull. But the aspect you need to think about is how adaptable concrete can be. Other materials like brick, or stone look magnificent, but they're budget breakers. 
The cost of poured-in concrete can be from $6 up to $13 per square foot while paved-in concrete can cost from $13 up to $20 per square foot. But as stated above, aesthetics is what matters in a project of the expected size. Although neither options are suggested for a DIY, the anticipated route for a Do-It-Yourself would be paved-in concrete. Since pavers are more of a manufactured material, you can always replace the respective pieces, if one or more cracks. 
The durability of paved-in concrete also has the more advantageous benefit of drainage. Pavers wear down easier and erode but don't crack nearly as often since they can shift as the ground moves. Pavers also have the added benefit of 50 years for its expectancy. You won't be expecting another bill for half a lifetime.
To color or to polish, that is the question...
Colored Concrete
The color of concrete can be very boring, it's flat, it's gray, it's the Jim Belushi of patios. But a colored concrete has an earthy look to it. With an earthier tone, your concrete will have a more traditional look and make your patio look like an artisanal vase. The cost ranges from $30-$53 per cubic yard, but the colors are what affects the price.
Polished Concrete
A polished concrete is for both the exterior design and interior design of your home. Your polished floors have quite the variety to them. Depending on what kind of options lay before you, a polished concrete pattern can cost you up to $3-$8 per square foot.
Cost of Installing a Pool Area
We also shouldn't forget to factor in the installation of a swimming pool or any additional features to your backyard. Families in any household dream of having a wonderful backyard. And in any fantasy of owning a home should include a swimming pool where and when you invite guests over to swim at the leisure of a fun-filled weekend. The earlier you get your pool ready, the earlier your fun can start with cannonballs and doggy paddles.
Above-ground pools are the most opt-in thoughts to wrap around the heads of homeowners. These decks can range between $300 to $3000 and most of the time, that also includes the cost of $700 to $3700. In-ground pools can range from $3 to $40 per square foot. Depending on the area you're thinking of when installing the pool, the complications that pre-exist are always calculated on top of the price.
If you consider a stamped concrete area for your pool, the price will be $12 to $20 per square foot. This price also includes labor costs. Again, depending on the vision of your project, designs will create an uptick on your budget. Overall, the cost of a permit may also be factored into your budget due to the necessities of plumbing or electrical work. Albeit, a permit isn't required for pouring slabs. However, a permit may be required if you're considering an in-ground pool. In-ground pools may require the hiring of a plumber to work some pipes. So, remember to always ask your contractor whether a permit is required for any project in your purviews.
Cost of Replacing your Concrete Patio
If your home already has an installed concrete patio, then what you're really looking for is how you can replace it, or upgrade its design. Removing concrete, on average, can cost $2-$6 per square foot. But all of that really depends on how much of it you are taking out and the type of concrete your patio is installed with. Remember, if your contractor reinforced your concrete with wire mesh or steel bars, the cost will be steep. This is because such materials will require more and more complex machinery.
Disposal of concrete needs to go somewhere. And where else will the disposal go, if not the dump. Dumping grounds have the right to charge you $30-$100 per ton. So if you're thinking of removing your concrete to replace your patio, adjust your budget with this price factored in. Redoing your patio, and removing all that excess amount of concrete will hurt your pockets.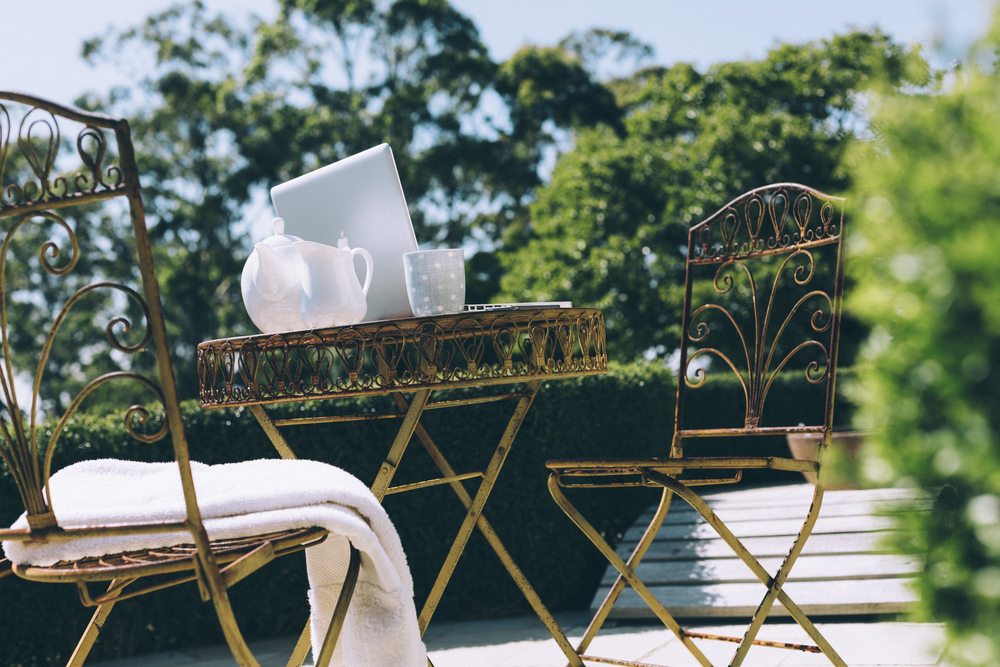 "Outdoor garden office setting with forest and mountain views" by Deposit Photos
DIY vs. Hiring A Contractor
Generally, we try to give you a faint idea on how you can finish your project by DIY. But in the case of concrete patios, we highly recommend homeowners to hire a professional. Concrete is rarely ever handled by the hands of a beginner. So we suggest you ask a contractor to help you install the material if what you desire is a concrete patio.
If you're adamant about executing a DIY project for a concrete patio, then we need to stress that you only do the DIY on a pour-in job. Since concrete slabs are meant to be poured, dried, and cured, installation of paving will require more time and more care. Skill is what needs to be determined. By the experience of the contractor, you should definitely be wary if the professional cannot answer all your questions in a timely fashion.
Design Ideas for Your Patio
There are many design ideas readily available for your patio. If you've already spoken to your contractor about shapes and colors, before you begin the project, you should ask for referrals on design ideas. Do the concrete slabs need to extend underneath your shed? Does your patio look nicer with the lawn in your backyard?
Some suggestions to consider are the concepts that run through your mind. If you're looking for a mid-20th-century design, we recommend the seamless transition. Maybe a Mona Lisa for a patio isn't what you're looking for. Maybe you're looking for a Mont Sainte-Victoire for a patio. If you live in a more outdoor-setting and the landscape of your home is just a one-story layout, then this design is perfect for your home.
Do you have a firepit as a centerpiece for your backyard? Then look into the colored concrete design. Entertaining your guests with a zen vibe is the go-to design for your patio. A brown colorscape will revitalize your home, synergizing with the natural forestry of your surroundings. I highly suggest you purchase furniture that relatively coincides with this finish. 
Your pool can be above ground or in-ground, but what really matters is how you built the pool. The look of your backyard swimming pool can be tropical, postmodern, modern, or even just family friendly. With the pool concepts in mind, you might want to ponder a more elegant or a more gauche design for your patio. Architecturally speaking, the concrete can create a blending atmosphere with passive shapes as your theme. 
How to Hire a Contractor
Now that you know more about concrete patios and the costs of installing them, look into hiring a professional. Check out House Tipster, and find the perfect pro for your home repair needs. How much does a concrete patio cost? Find out from professionals in your area.