We all wish we could turn our bathroom into a spa. Unfortunately, not everyone can afford to install high-end fixtures or have a stunning view, so we must settle for the little features that make a huge difference in our comfort levels — one of those features is color.
Color has a powerful effect on our emotions. It can help us relax or put us a good mood. Since most of us use the bathroom first thing in the morning, after a long day, or when we feel particularly distressed (physically or emotionally), color can be a great way to foster a much-needed feeling of calm and succor.
Color expert Leatrice Eiseman emphasizes how color in the home should go beyond just looking good, and should instead be chosen based on which shades give us uplifting feelings of warmth and vitality.
Transform your bathroom into a spa-quality relaxation space with these five colors.
Blue
Blue is a favorite color for most people because we associate it with much of nature's most appealing elements, such as the sky, water, and flowers. Blue conveys tranquility, versatility, and serenity.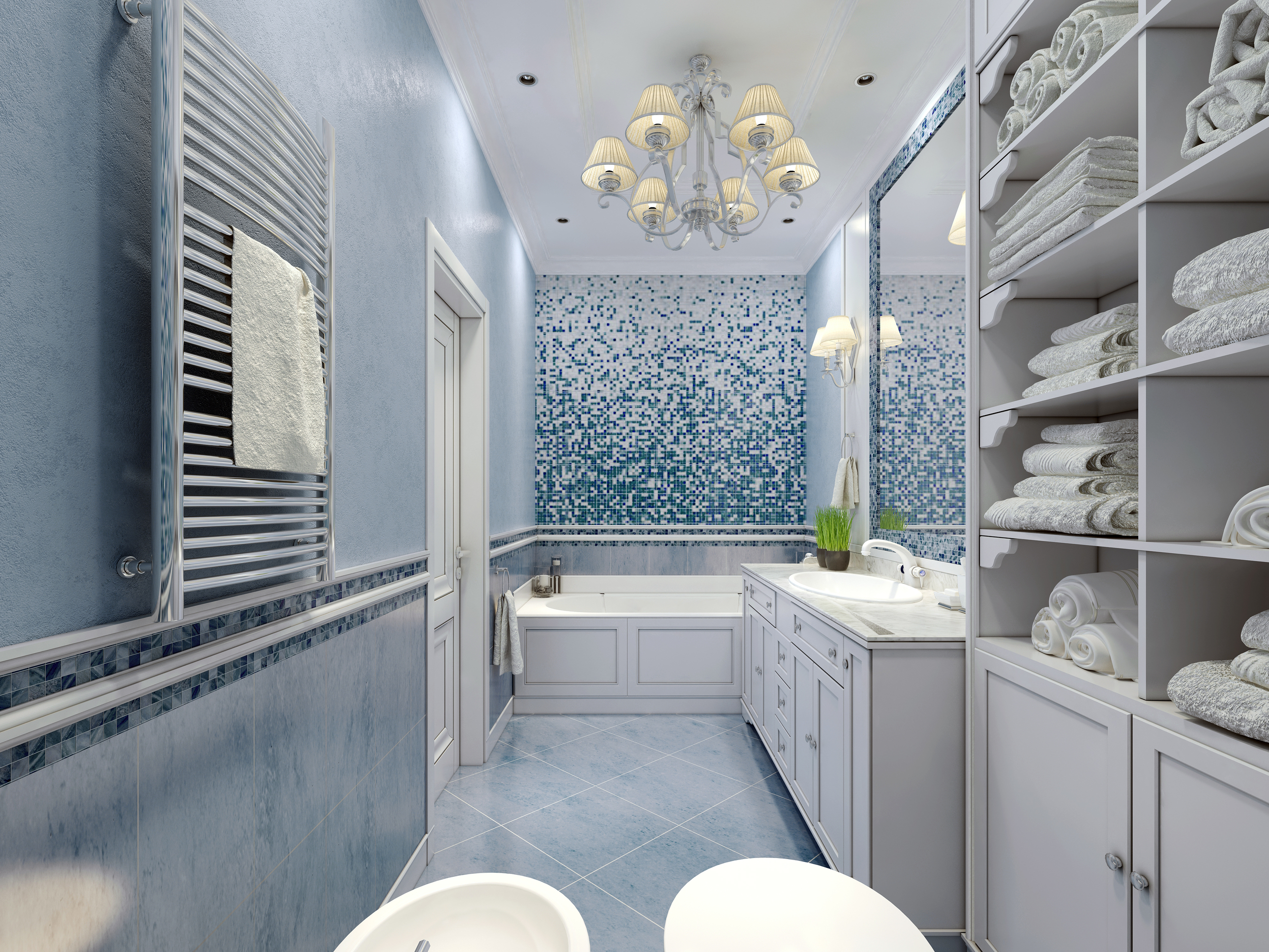 Photo by KUPRYNENKO ANDRII onShutterstock
Blue also blends well with several colors, especially white, gray, or buttercream. A deep navy blue wall can accent a white tub and sink beautifully. Sky blue and aqua blue are also great colors for a bathroom wall or backsplash. For the floor, a combination of blue and gray tile works much better than an entirely blue floor. You can also paint the cabinets, door, and window frames a light shade of blue.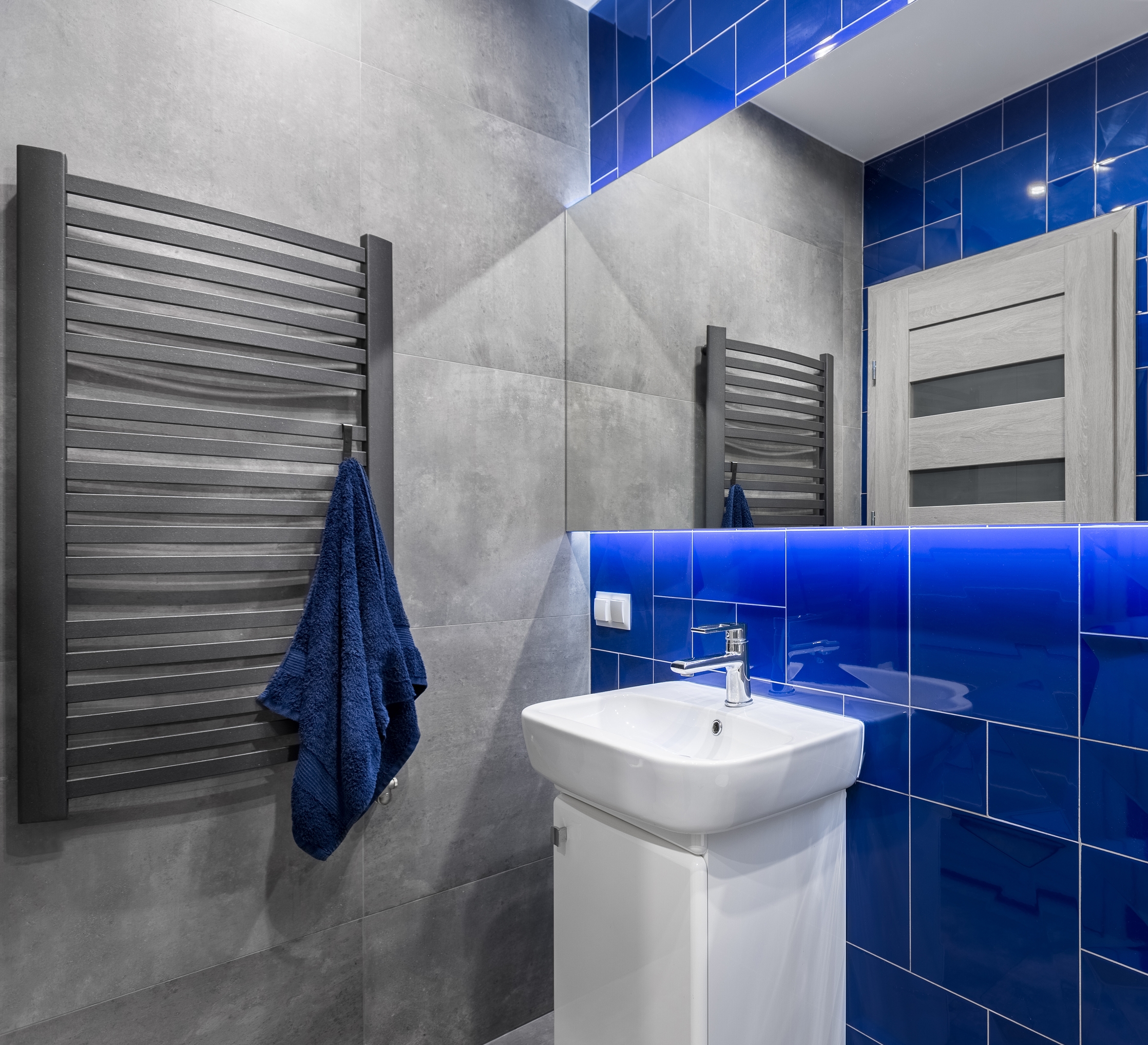 Photo by Dariusz Jarzabek on Shutterstock
Green
Green is a refreshing color that evokes vibrancy, health, spring, growth, and simply life. For nature-lovers, green can be a very soothing color to have in the bathroom.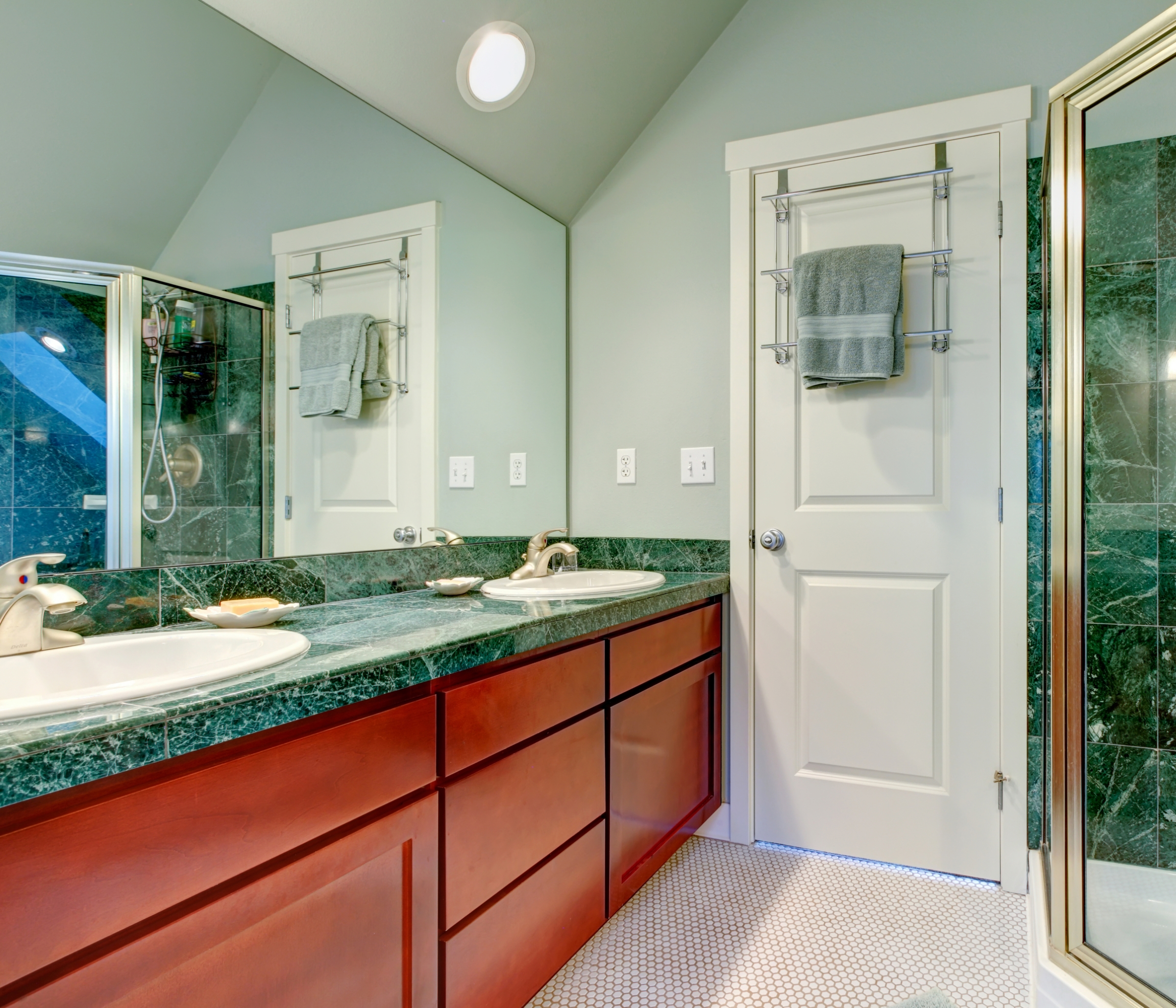 Photo by Irina88w on Dreamstime
Green is also closely associated with blue in terms of evoking feelings of calm. For people who find blue bathrooms to be cliché, green is a different option that can have a similar effect.
Green works well with a wood-toned bathroom (think bamboo floor, dark brown cabinets, wooden tub, etc.) to add a vibrant layer to the rustic vibe. Green is also a great accent for white. You can paint the walls a light shade of green to showcase a bright white floor, white tub, and sink.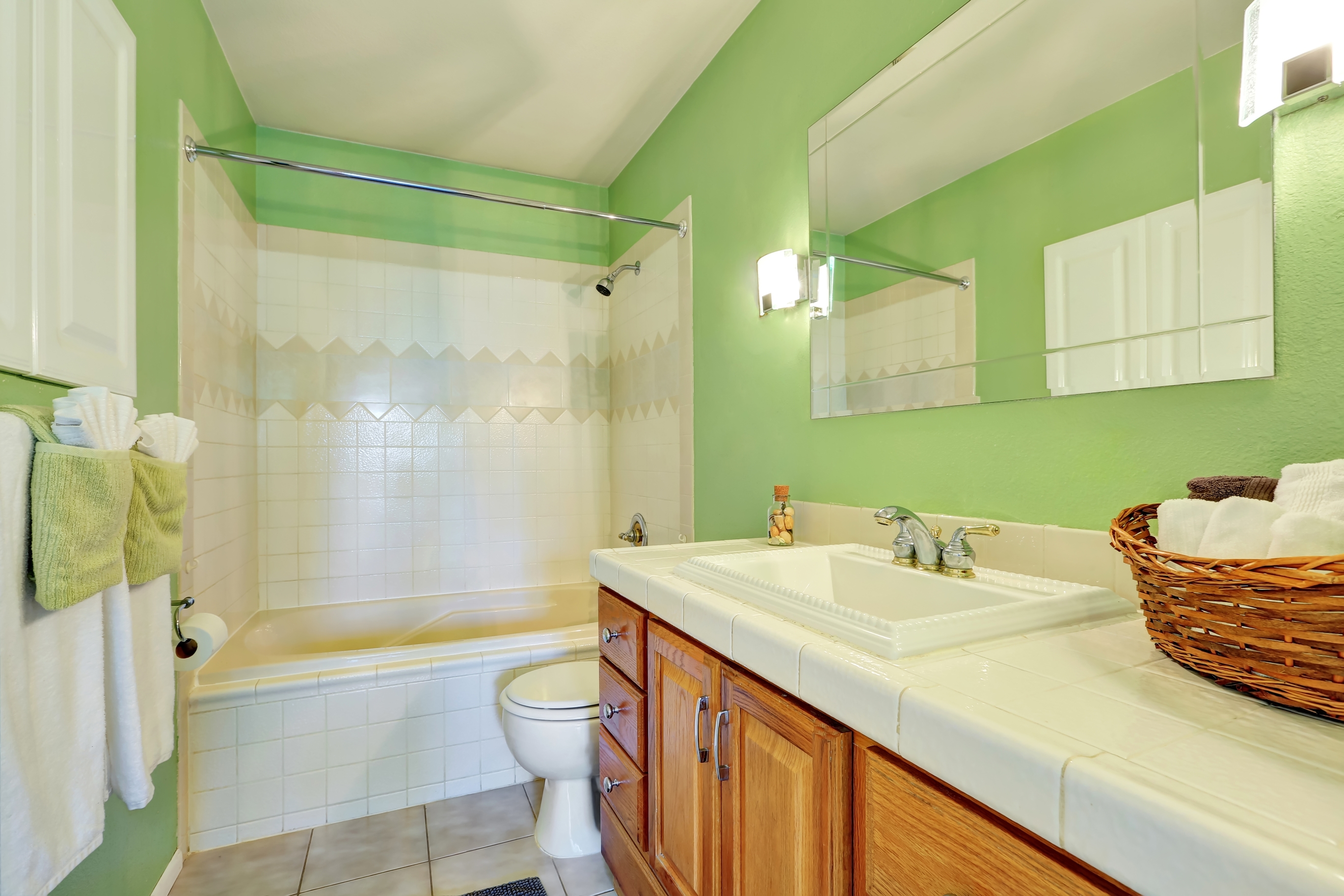 Photo by Artazum on Shutterstock
Shades of green that work best in the bathroom include teal, sea foam, and emerald.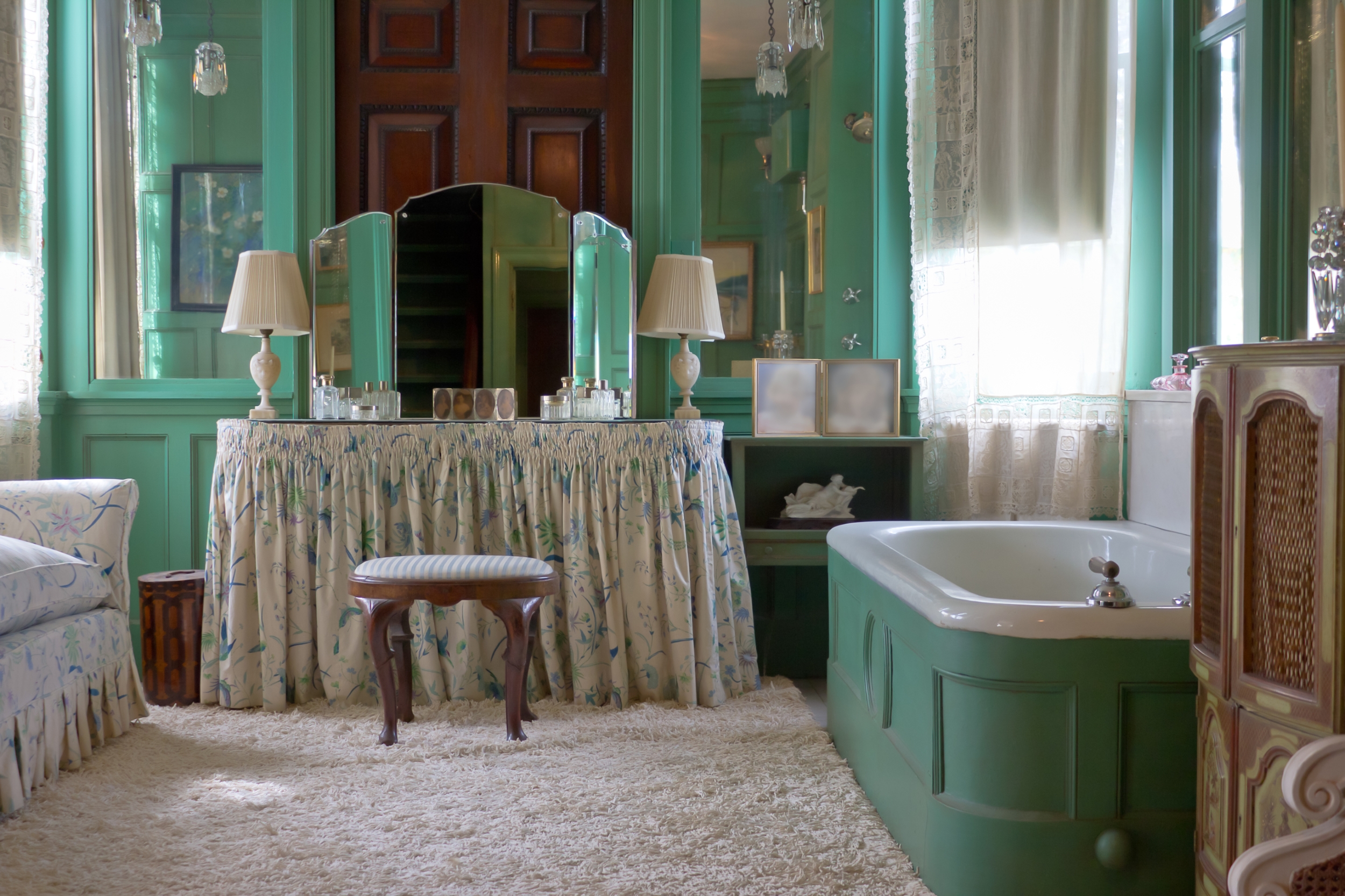 Photo by littleny on Adobe Stock
Pink
Perhaps the 1950s had it right with their love for pink bathrooms. Pink is a gorgeous color that can arouse feelings of joy, creativity, euphoria, and warmth. Adam Alter, professor of marketing and psychology at NYU, illustrated in his book "Drunk Tank Pink" the physically calming effects of pink on the body. In fact, this shade of pink is so soothing that it was used by prisons to relax inmates. Researcher Alexander Schuss also tested the effect of this color on himself, and reported that his pulse and respiration would slow down after staring at it for a short time.
Pink is an exciting color to accessorize the bathroom. Some people may find it too overwhelming to cover the wall or floor. In this case, you can use pink for the cabinets, windows, light fixtures, soap bottles, towel frames, and/or even the bath tub and sink!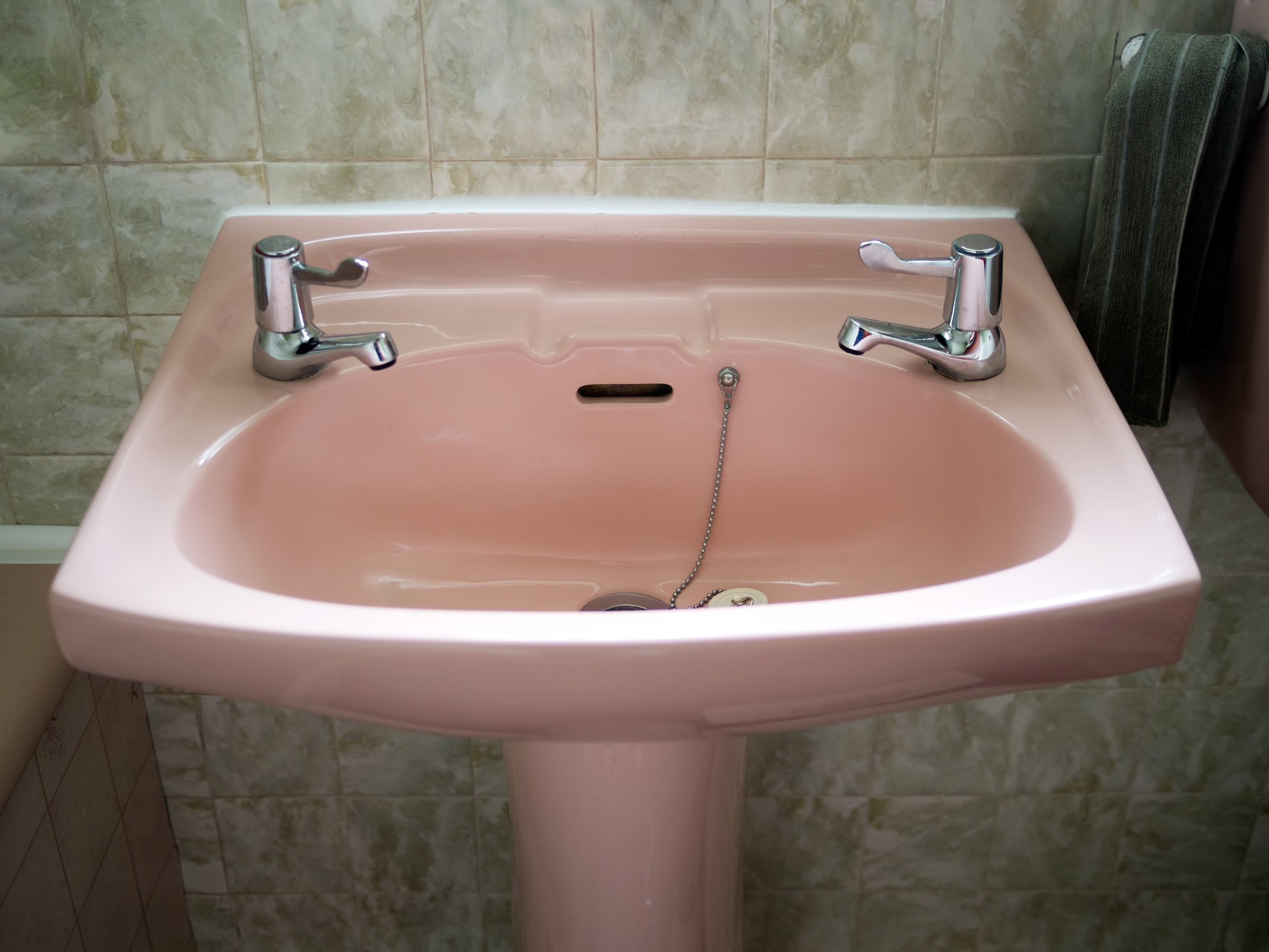 Photo by Sarah2 on Shutterstock
For those bold enough to try pink walls, a light shade like classic rose pink, Schuss pink (AKA "drunk tank pink"), or lavender magenta can work beautifully. Darker shades like deep carmine (an almost reddish shade of pink) is also a great choice.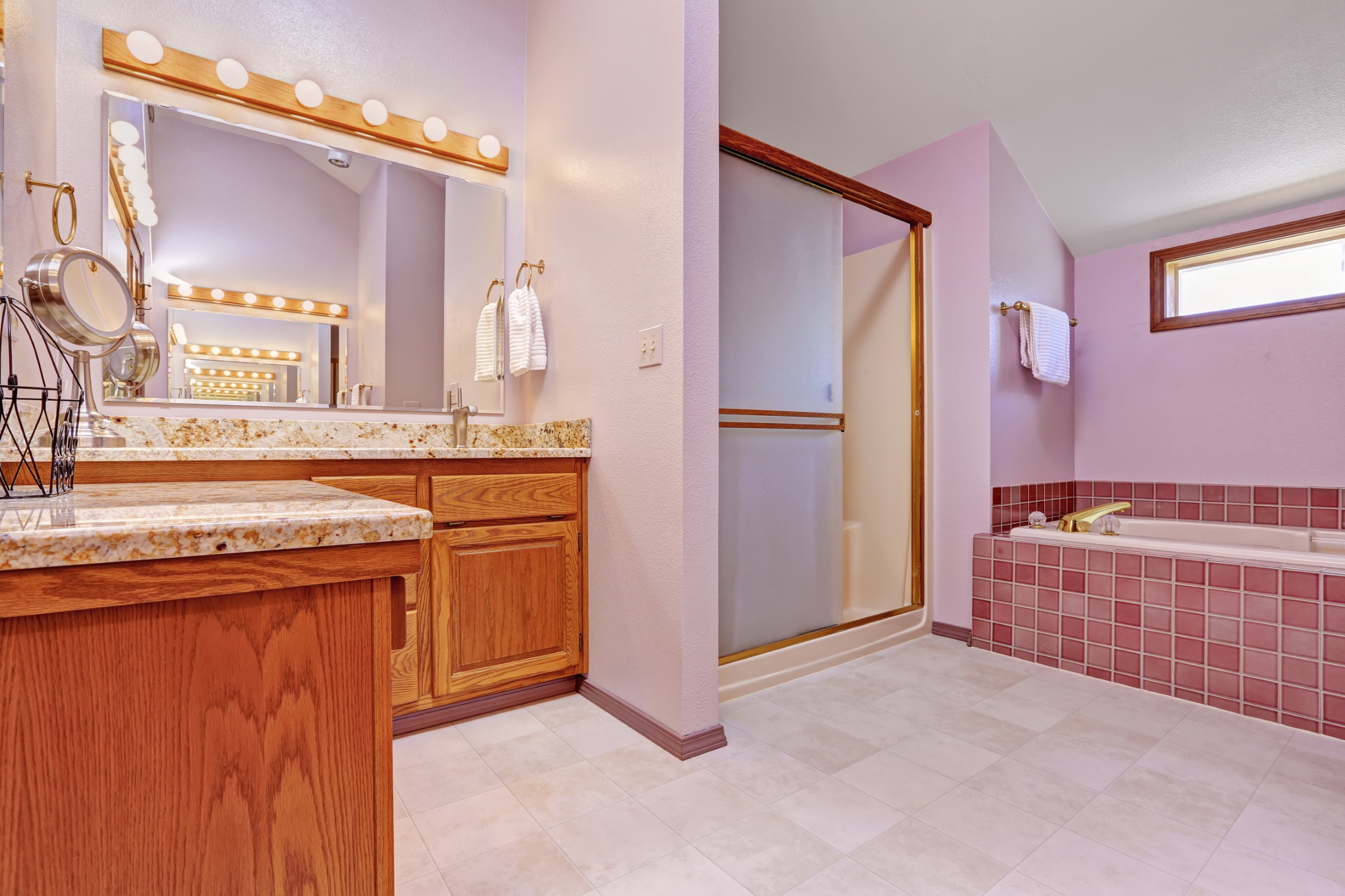 Photo by Iriana Shiyan on Adobe Stock
Charcoal
Most people tend to avoid black and similar dark colors in the bathroom, but these colors can create a sense of comfort if used correctly. Black can convey warmth, confidence, safety, and maturity. It is well suited for individuals who prefer a subtle color.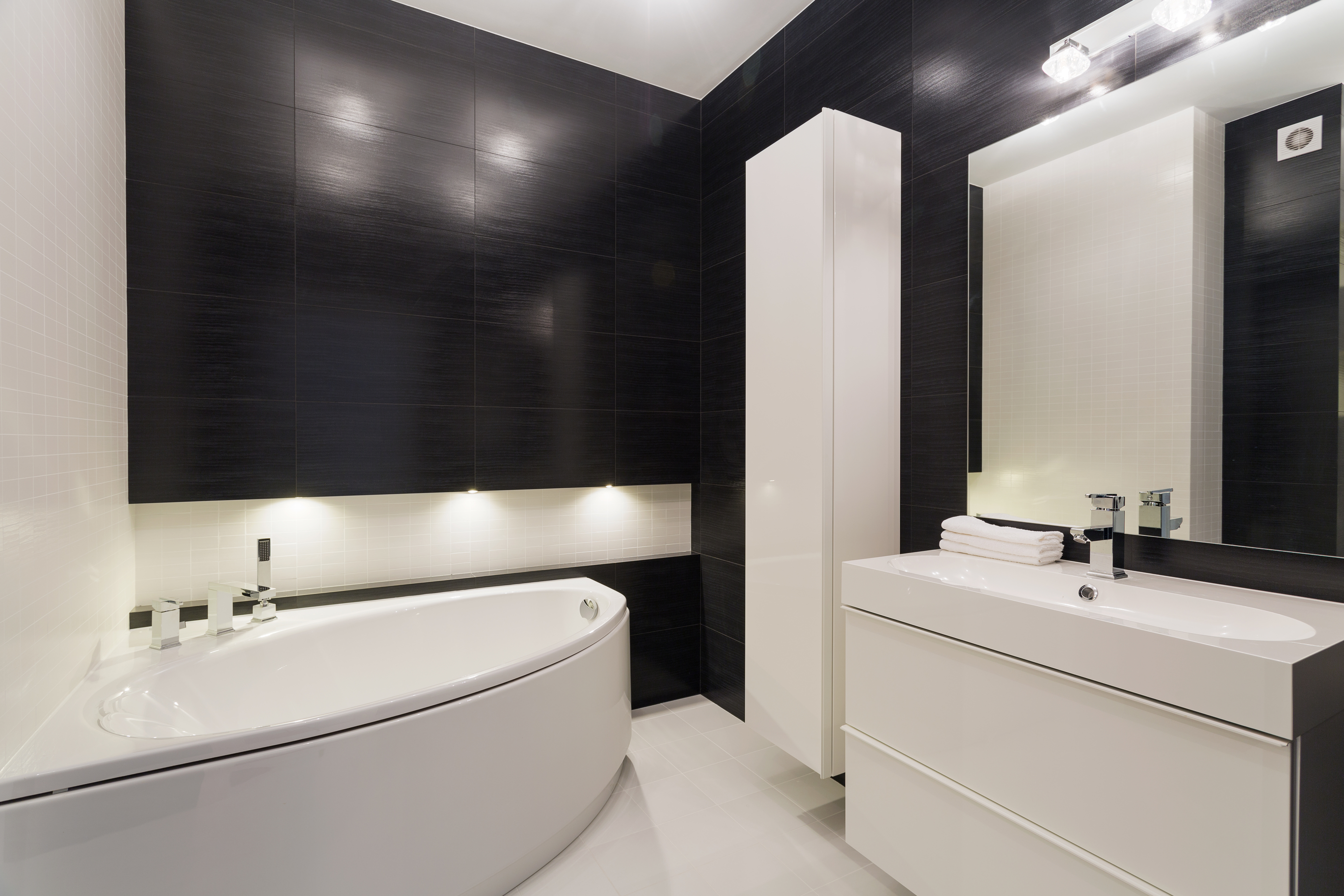 Photo by Photographee.eu on Shutterstock
Pitch black itself is too intense for a bathroom, but a close enough shade is charcoal. Not many other color combinations can give your bathroom a sense of elegance, sophistication, and urbanity like charcoal and white. This color scheme is uncommonly simple, and yet brings with it an impressive level of style.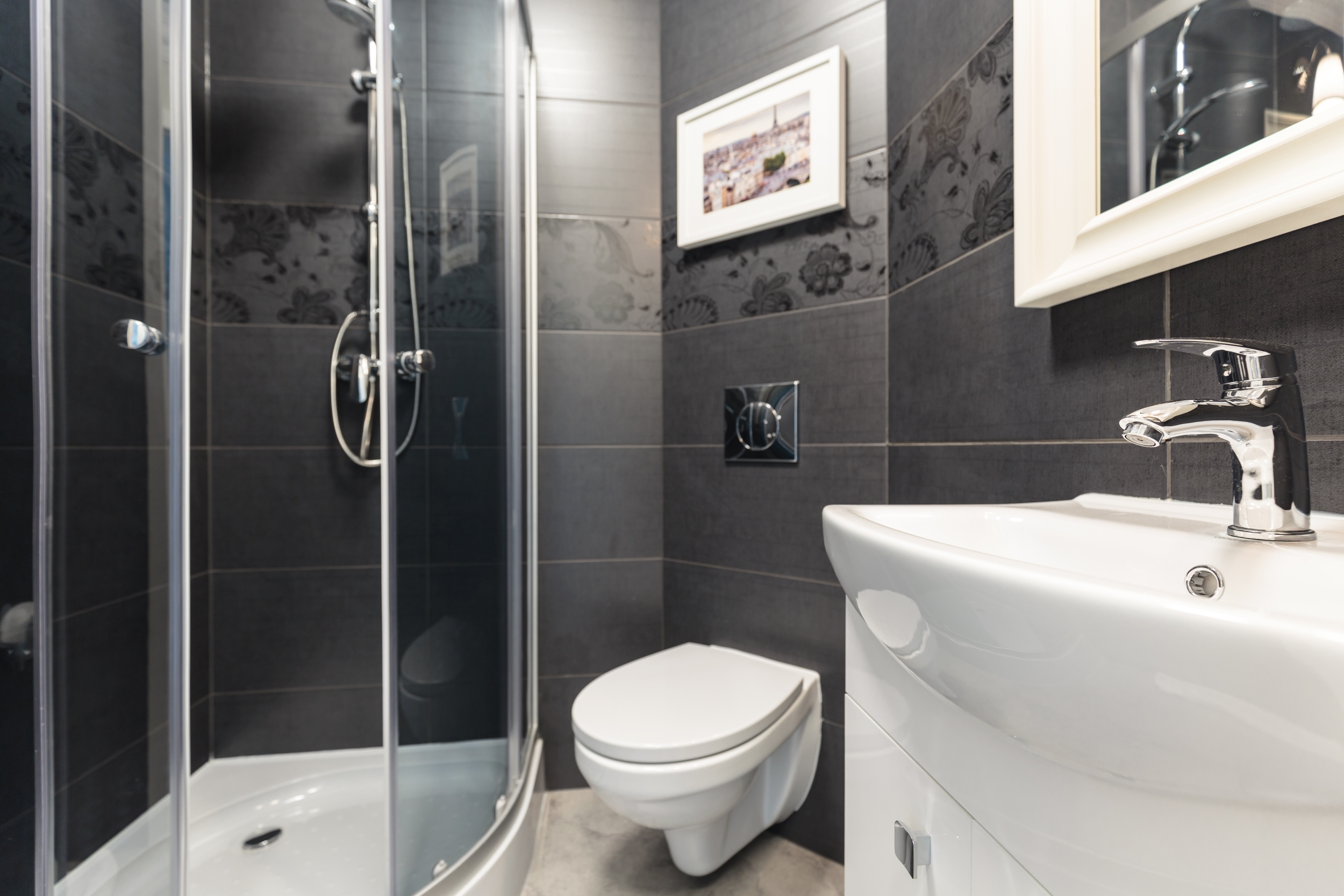 Photo by Photographee.eu on Shutterstock
White
White signifies purity, coolness, peace, and cleanliness, which are all things we want to feel when in the bathroom. White is also great architecturally as it creates a sense of space and gives the bathroom an ultra-modern vibe.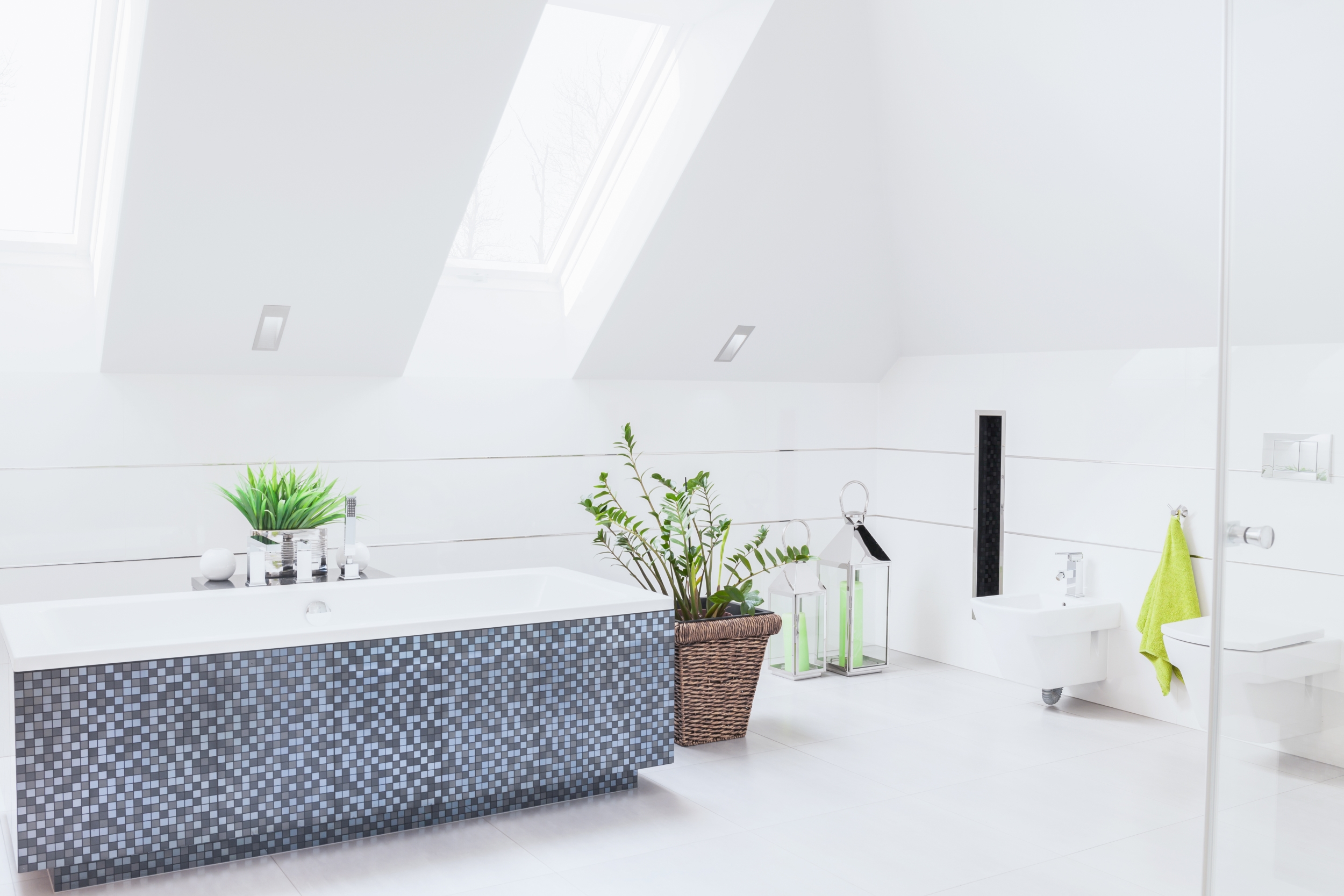 Photo by Photographee.eu on Shutterstock
There are several shades of white to explore, including pewter, eggshell white, vanilla white, and cloud white, all of which work wonderfully in the bathroom. To make it a little easier on the eyes, you can add a tinge of any the colors mentioned above, or literally any color you want. White is accommodating that way.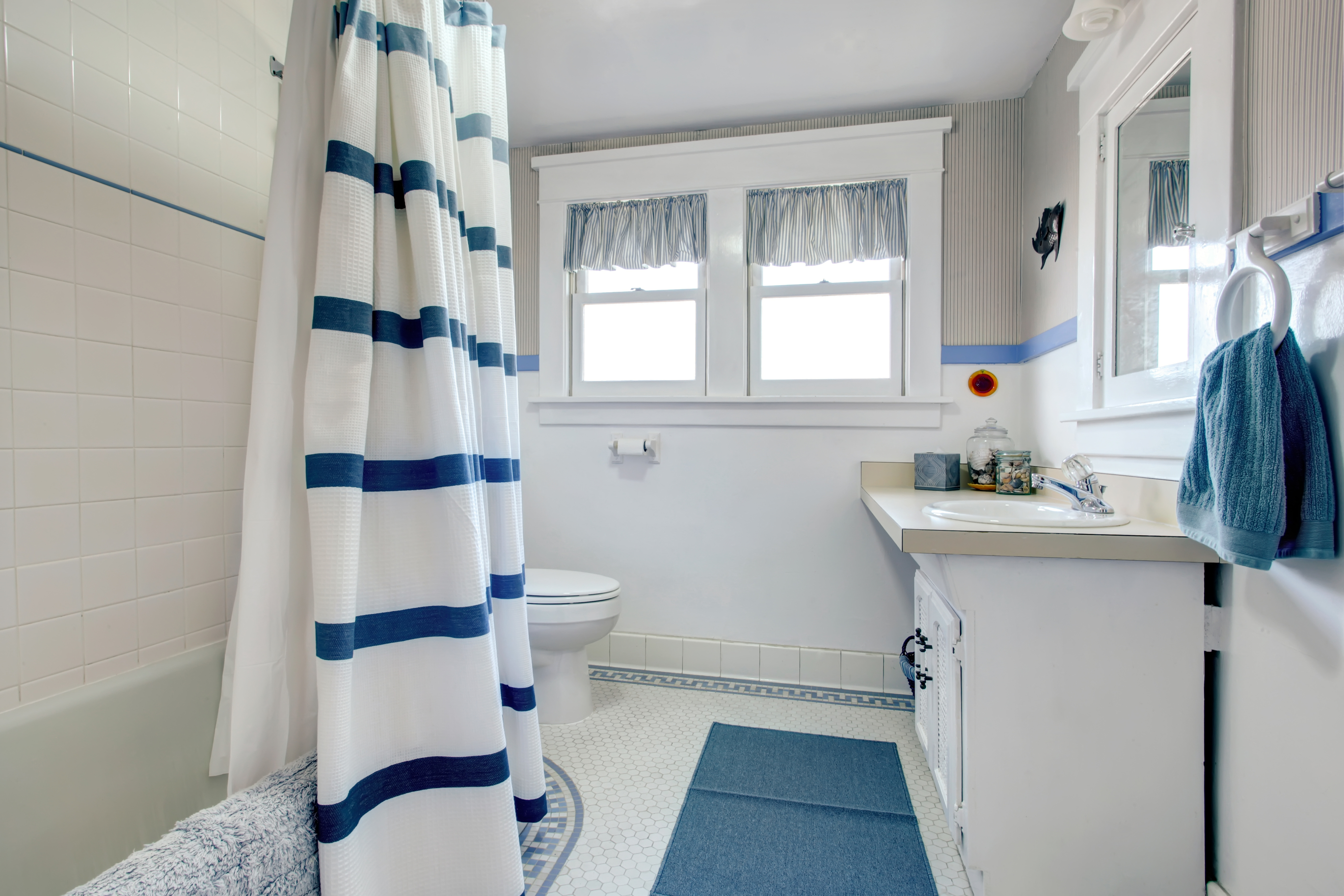 Photo by Artazum on Shutterstock
Whether we realize it or not, colors evoke emotions consciously or subconsciously. The best way to maximize their effects is to use them to make our homes more inviting spaces.
What color is your bathroom? Do you like it? If not, which of these five colors are you thinking about trying? Let us know in the comments!