Whether you're adding a new coat of paint to your interior or painting the walls and trim for the first time, you'll have to consider what colors you'll go with, and if they'll match. While white paint is usually the default for trim color, it may be beneficial to consider using the same color on the walls as well as the trim. Depending on the room and the color of the walls, this can have several different effects. Whatever you choose, it's good to know just what kind of paints are available and how they best fit your home. Let's take a look at all the options we have for interior colors and sheen.
Trim holds an interesting position in the ecosystem of your home's color pallet. It can potentially be a relatively small piece of real estate in a room, but it draws a lot of attention. In some homes that feature wainscoting or more pronounced baseboards, the choice of paint color is even more important as these elements take up more space in a room and can either clash or cohabitate nicely with your wall's color.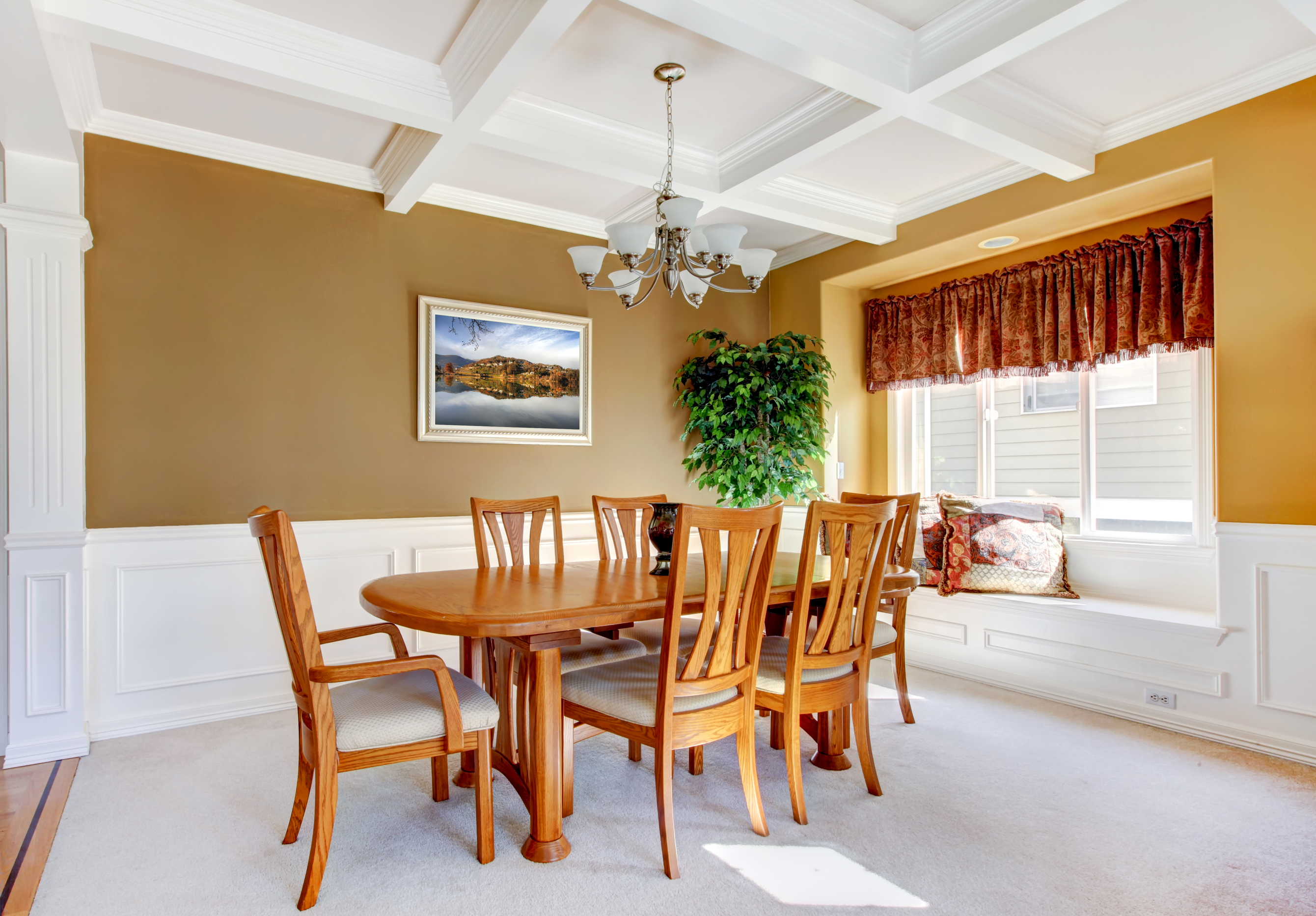 Photo by Iriana Shiyan on Adobe Stock
White Trim
White goes with everything. From more rustic home designs, to modern and everything in between, white fits in perfectly, and gives your eyes a break from the color on the walls. Whether your home features mantels and pillars, or crown molding and chair-rail molding, the crisp cleanness of your white trim can greatly alter the appearance of the space. Used properly, trim can give balance to a room and highlight points of interest. It works as a way to emphasize various features of your home, whether that's changing the perception of a room's shape, like making a small master bedroom seem larger; or breaking up a big, otherwise empty expanse of wall to make your dining room or living room feel comfier and cozier.
The kitchen is also an excellent place to showcase white trim as it can pair against wood cabinets. Whether the trim is paired with pine, red oak or any dark wood, the dark colors of the wooden kitchen cabinets will play off the perfect white trim and create a beautiful contrasting look.
With dark walls, bright white trim lightens and brightens the room while making the wall color really pop
With lighter or muted wall colors, like off-whites, greys, etc., white trim feels brighter and the contrast makes the wall appear extra crisp and clean
Pure white trim works well in rooms that get lots of natural light while a warmer white with creamy undertones is best for rooms with less natural light; as pure, crisp white may end up looking too grey
Regarding tones of white: there are so many beautiful shades of white that range from warm tones to cool tones, so experiment and find a white with an undertone similar to your wall color. Some designer favorites for trim colors are Farrow & Ball's Matchstick, and Benjamin Moore's "Marshmallow," "White Dove," and "Cotton Balls."
​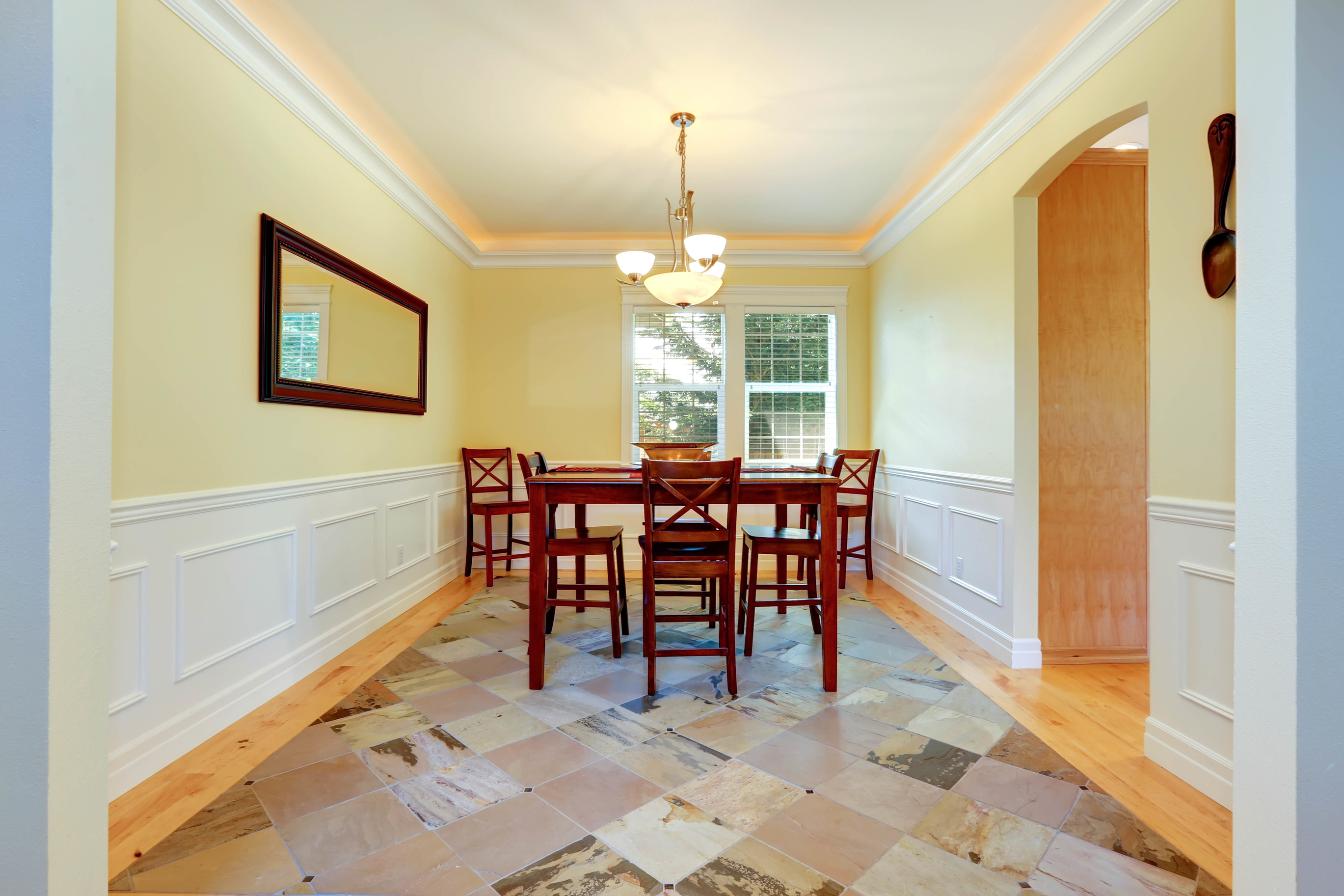 ​Photo by Iriana Shiyan on Adobe Stock
Trim Paints & Sheen Shine
If you're going with white trim, there's a few things to know about the paint to use. Some companies will sell paint specifically marked as "trim" paint. This paint is made to withstand staining from sunlight and be easier to clean. Since glossier paints have a tighter molecular structure; the shinier the paint, the easier it is to clean, as dust and debris have less places to ingrain themselves. Trim paint finish glosses are satin, semi-gloss, gloss, and high gloss. The reason why trim paint usually isn't sold in sheens lower than satin finish is because flat or matte paints are coarser and more difficult to clean. Also, their low reflectivity doesn't help in highlighting the details of trim—so trim paints usually only come in satin and shinier.
Satin finishes reflect a small amount of light and aren't very glossy; they're described more as a velvety finish. This finish is great for high-traffic areas due to its easiness to clean, but it does show flaws like roller or brush strokes. Semi gloss is great for places that may get exposed to moisture or water. It is strong and can take a lot of abuse due to its high durability.
All that said, semi-gloss is the industry standard as far as trim goes; it is the ideal balance of practicality and looks, as it can hide imperfections better than shinier paints, but is also smoother and more reflective than satin.
​​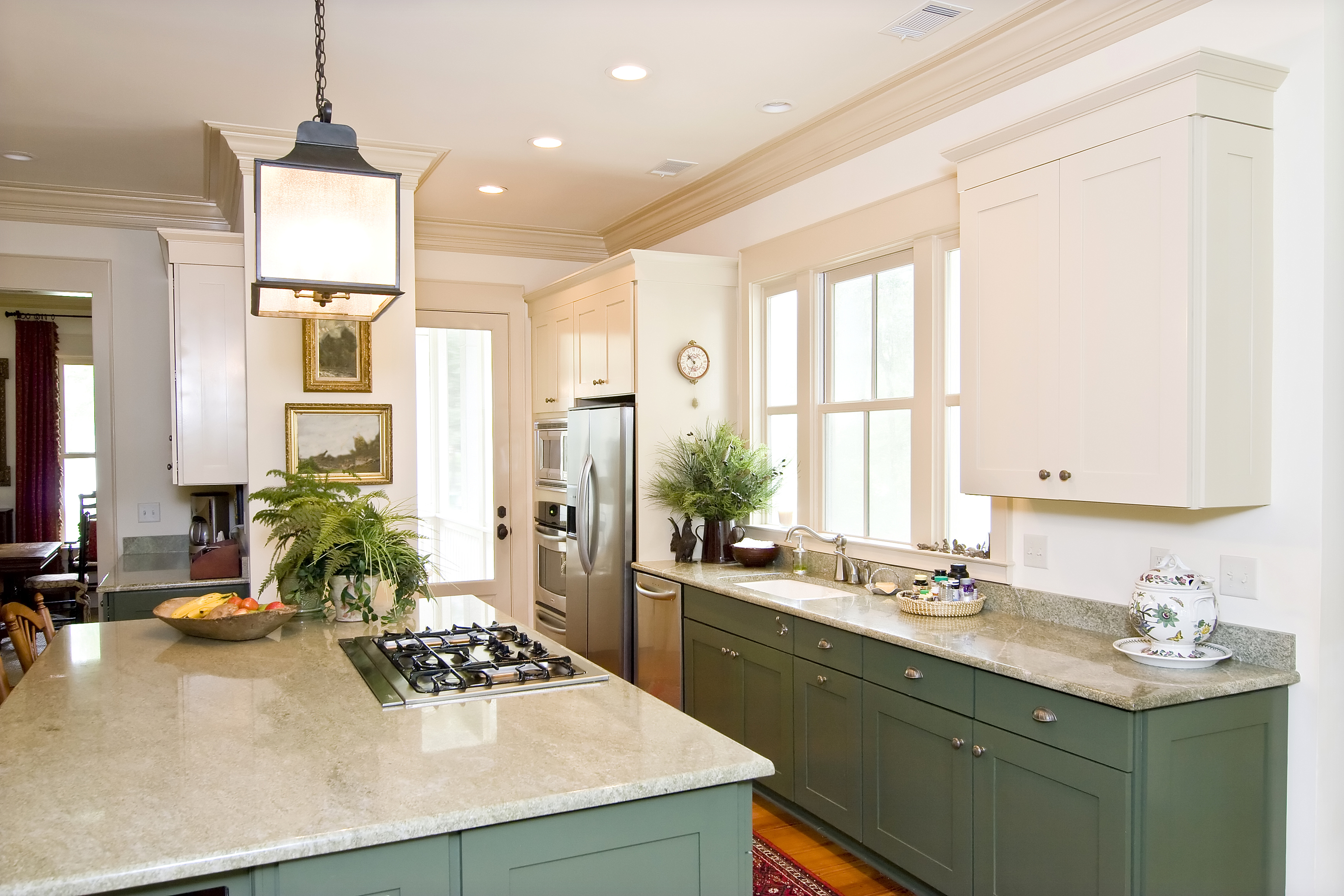 ​Photo by Wollwerth Imagery on Adobe Stock
Trim paint also can come in either oil based or water based paint. Water based paint will provide fine coverage but most likely leave behind brush strokes. The benefits of water based paint is that it's incredibly easy to clean up with soap and water. Be sure to use a synthetic or natural bristle brush when using water based paint.
Oil based paint is slightly different. This paint will leave behind little to no marks from the brush. It will however, give off fumes, take longer to dry, and require solvent-based clean up. Since oil based paint is so thick, it can fill minor holes your trim, window sill, or mantel may have. Once dried, this paint becomes rock hard.
Walls, Meet Trim
Maybe you're stuck somewhere in between; you want something a little less typical than white trim, but you don't want to match your trim directly to your walls. Let's explore some options.
Using a darker color for your trim can give a room more depth. Dark, even black trims, go well with lots of colors. If you don't want to go too dark, consider choosing a color that's several shades darker than your wall's colors. Allow these similar colors to play off one another.
Going with white will have it pop and punctuate the wall color, but choosing a color more in line with your wall will result in a more subtle look. Already have white trim but looking for a new wall color? Maybe go with a light grey or off white for the walls - you'll still get a clean, contrasting look, and the subtleties of the wall's color will play off the trim beautifully.
​
​Photo by Aman on Adobe Stock
Matching the Trim to the Wall
To give your home a totally different vibe, paint your trim to match your walls. This immediately creates a sense of uniformity to the space. With nothing breaking up the wall, a single color unifies the walls and molding, giving the walls a perceived additional height. Make sure to match the sheen of the walls and the molding. You can even include painting the doors along with the walls and trim, to coat a room in a single hue. Just make sure that your furniture and decor has several contrasting colors that will balance out the heavy use of your single color room.
The reason white is always used in trim is to have a contrasting color to the walls, causing them to stand out. Painting everything the same color will cause the details to blend in and almost disappear. This is beneficial in smaller rooms, spaces with low ceilings, and narrow halls that have a lot of doors. In a small room with white trim, for example, your eyes will linger on the trim, highlighting just how small the room is. When everything is painted uniformly, there is no barrier, so to speak, and the eye will travel the room without anything making any harsh delineations. In a hallway, the doors won't stand out so prominently when painted the same color, and with rooms that have low ceilings, painting the crown molding and the base boards uniformly will make the room appear taller.
​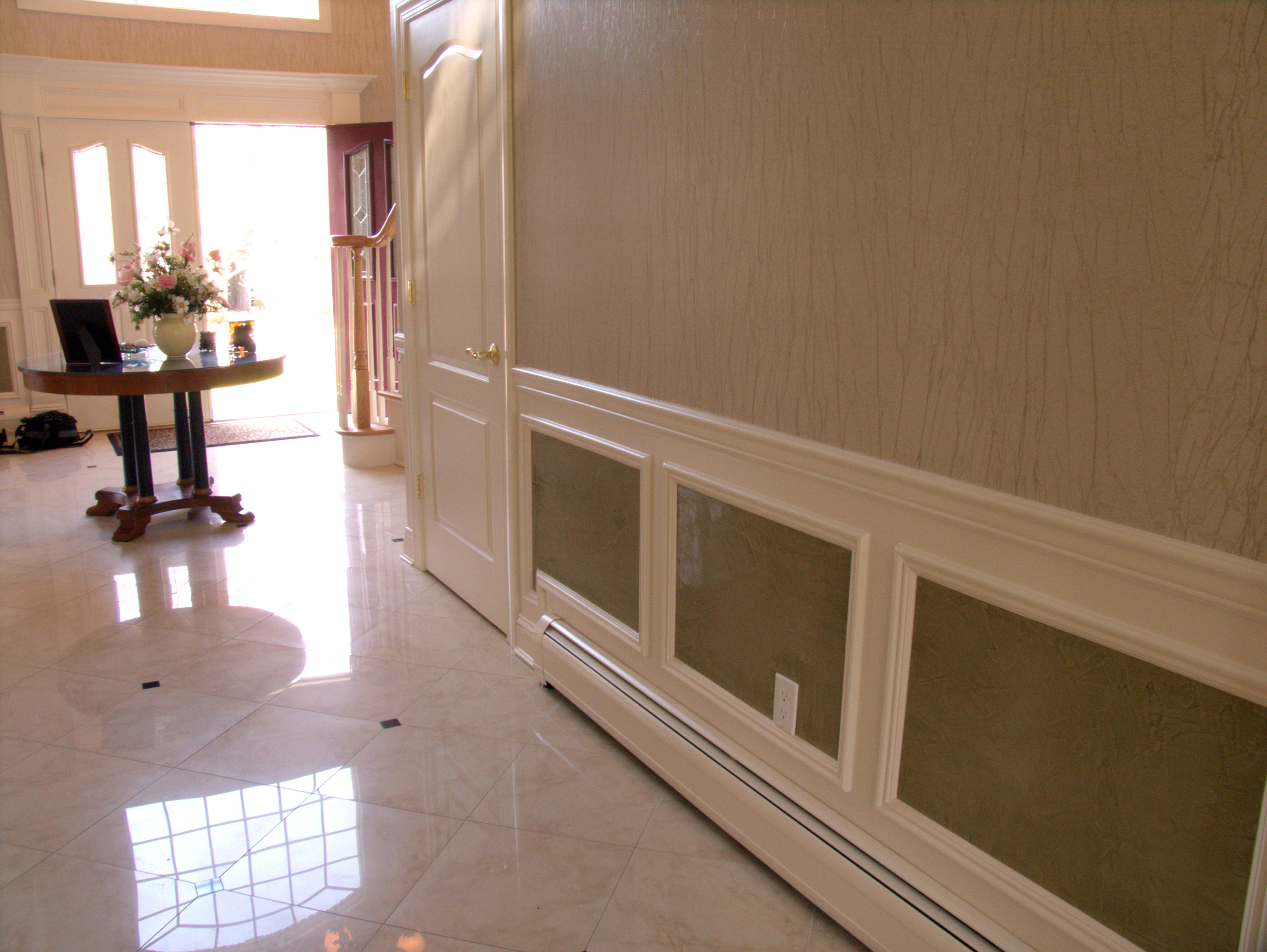 ​Photo by Justin on Adobe Stock
It may feel odd to take this approach at first, but with the right color and space, a uniform paint job can turn a plain room into something very unique. There aren't hard and fast rules for choosing a color or what exactly to paint, but here are some things to keep in mind.
If you have a space that feels too separated or chopped up by white trim, go for it! Paint the room and trim one color. If it isn't to your liking, you can always repaint it
Emphasize different facets of a room with a semi-uniform paint scheme. Make impressive crown molding pop or have a mantel explode with a contrasting color while the rest of the room recedes from view
Use uniform color for small spaces - the eye won't stop on any harsh white lines so the room will appear larger
Allow your decor and furniture to balance out the monotone nature of the walls if you decide to paint your doors, walls, and trim the same color. Adding in complimentary and contrasting colors through accessories will add balance to the color scheme of the space, and allow your furniture or decor to take center stage
However you choose to style your home, always go with what looks best to you. Consider all your options to see if a room in your home would benefit from a single uniform color, a duo of similar colors that play harmoniously from the walls and trim, or the more traditional white trim. Select the right paint and you'll be on your way to transforming your home in just the right way.