A home theater is often thought to be something luxurious that only the rich and famous can afford to have. You've seen them on TV during one of those shows where they show you around a star's home, and you've drooled and daydreamed about having one of your own. Instantly, you're transported in your mind to a super comfortable, dimly lit, soundproof room where you and your friends share drinks and snacks as you dive into your favorite film. You can talk and laugh as you please, and when the movie's over, you're already home.
What if you found out that you don't need half a million dollars and a 1,500 square foot room to have your very own theater at home? That long forgotten daydream is sneaking its way back into your head already, isn't it? There are plenty of ways to turn a small space into a theater that's just as luxurious as the big ones, so don't let your big dreams fade out. Just bend them to fit your space.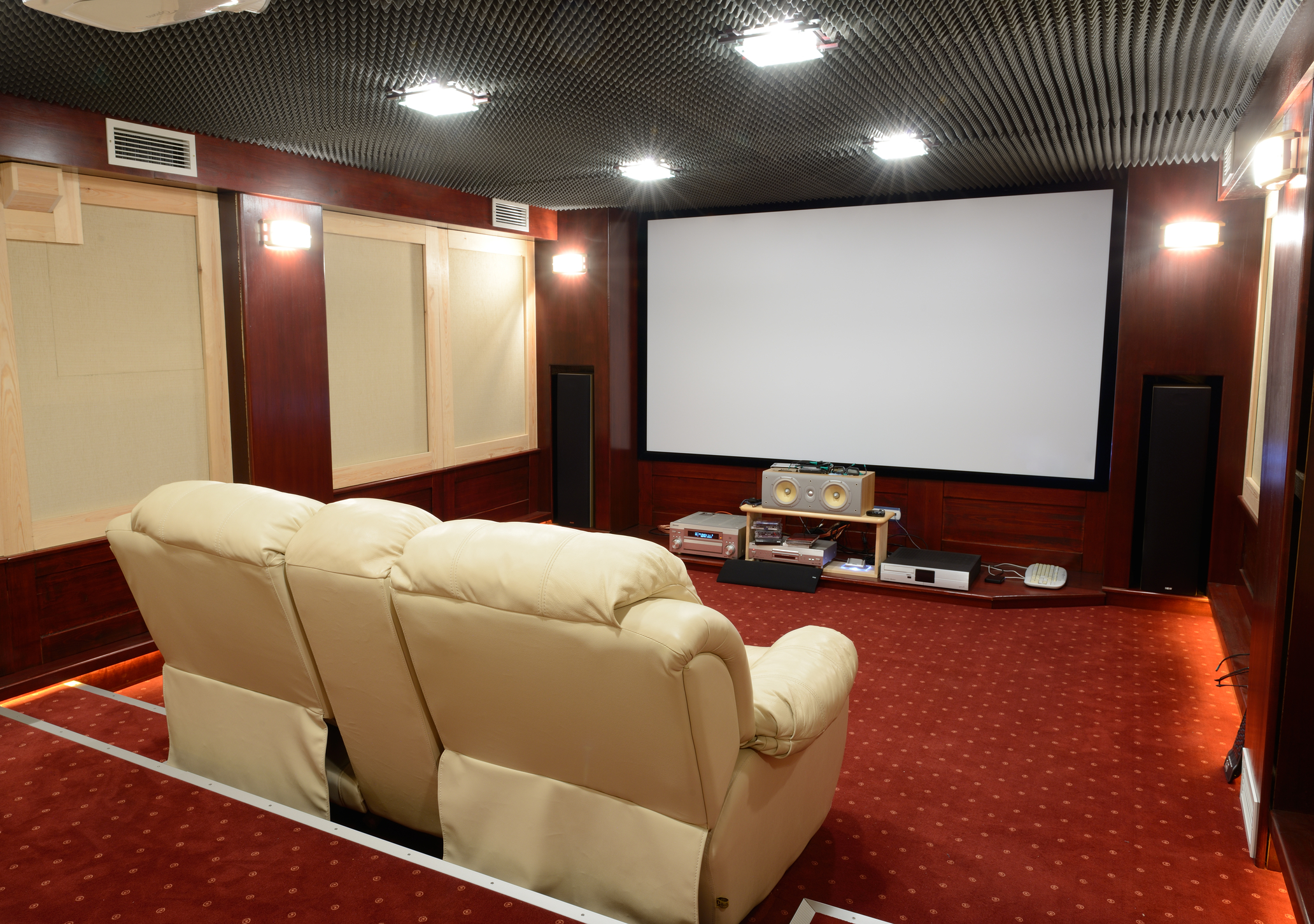 Photo by Zoltan Pataki on Shutterstock
Choosing a Room
No matter what the size, there are some characteristics you should look for when you're choosing which room to devote to your home theater. The shape of the room, the number of windows, and the type of wall and flooring all need to be considered before you start the more fun parts of the process – choosing the screen, speakers, systems, and décor.
The ideal theater space would be a rectangular room in which you place the screen and speakers along one of the shorter walls for the best acoustics. The shape of the room affects the quality of the sound, and square-shaped rooms tend to distort audio. 
There should be few windows, if any. The surface of a window reflects sound, and obviously, a theater room shouldn't be well-lit. If you do have windows in the room, use blackout shades and heavy curtains to cover them up.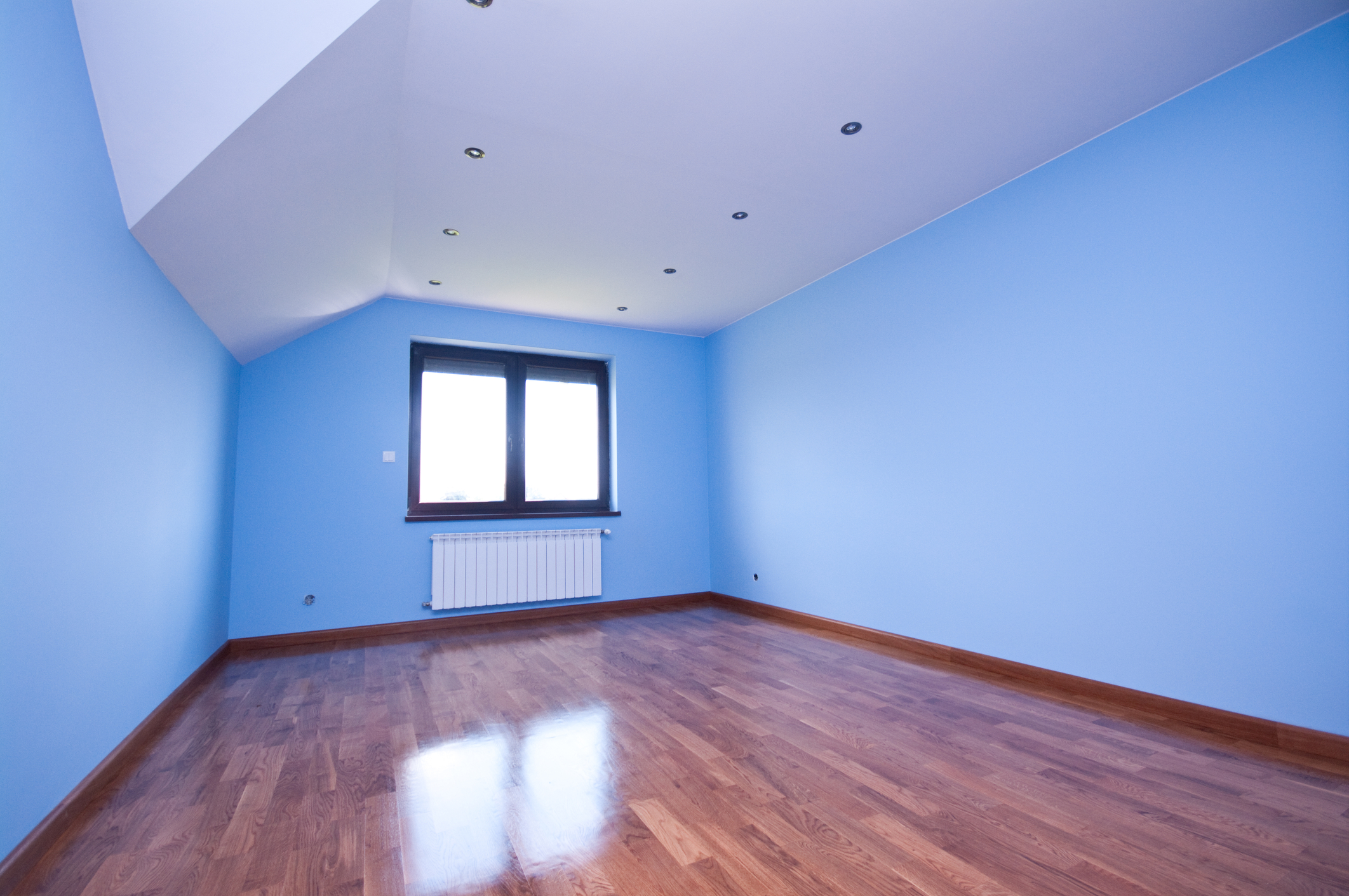 Photo by Sebastian Czapnik on Dreamstime
If the walls of the room are made of drywall, you don't really have to change anything, but if you have concrete walls, it's almost essential to put up some studs and drywall over them if you want good quality sound. You can also opt for some acoustic wall panels, or the more budget-friendly (but a bit less aesthetically pleasing) stick-on carpet tiles. 
The floors of a home theater should be carpeted, from wall to wall. Again, this element contributes to higher sound quality. For extra comfort, place a cushioned pad underneath the carpeting. This is a great idea if you have children who will be watching movies in the theater, or for anytime you feel like sprawling out instead of sitting down.
Themes
Think dark, neutral, and earthy colors when choosing a theme for your home theater. Bright colors are distracting, and not just because they're bright. They tend to reflect light, which can lower the quality of the picture on the screen. You'll also want to steer clear of red, blue, and other strong colors because they tend to affect the color of ambient light, as well as the colors on the screen. 
Choose themes that incorporate shades of tan, dark green, and brown. Remember to use flat paint or anti-reflection paint. Never use gloss or semi-gloss paint. Some popular themes also incorporate wood, stone, and other natural elements. Try to avoid using glass or hanging framed artwork with glass because it disrupts the sound quality.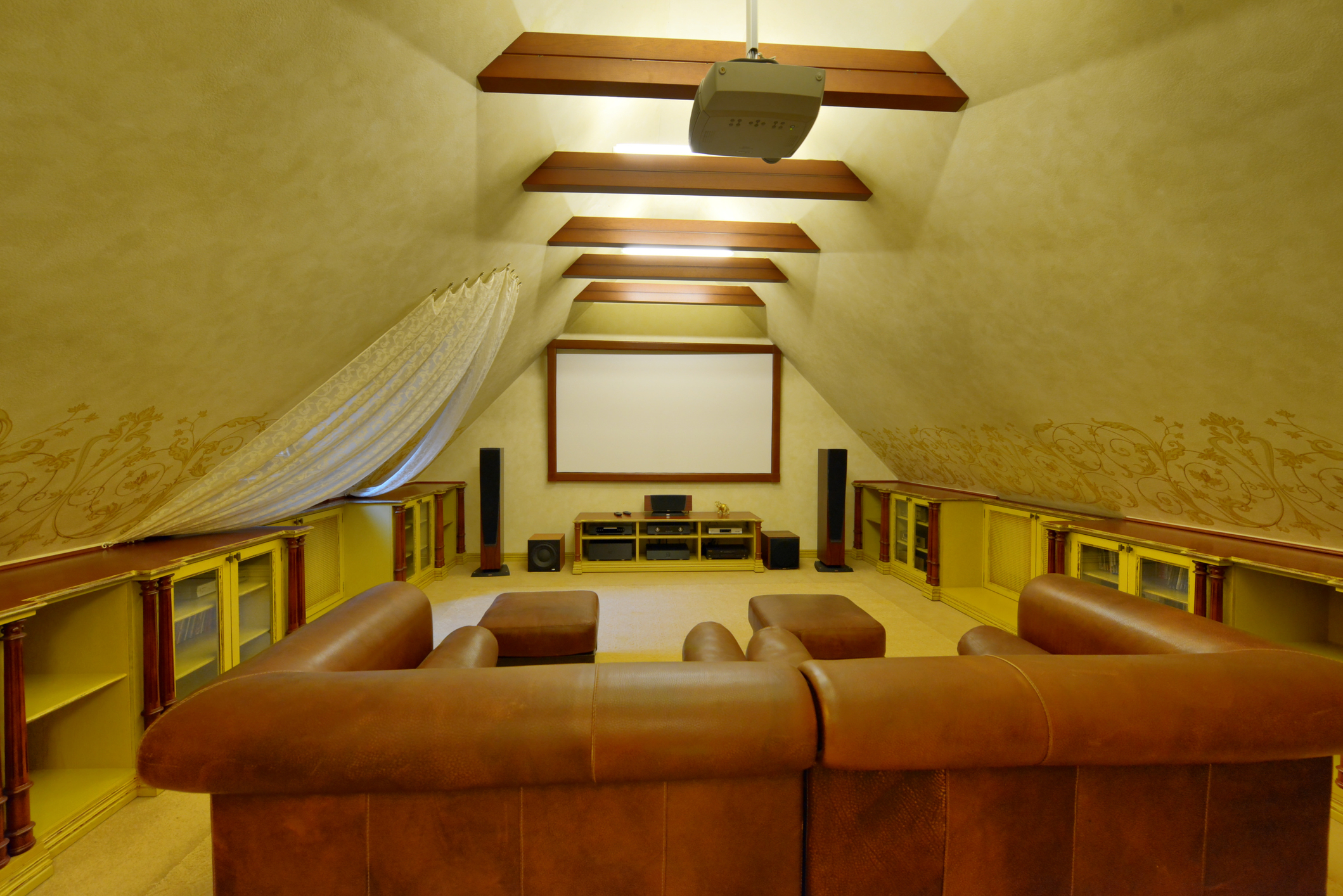 Photo by Vadim Ovchinnikov on Dreamstime
Seating
The type of seating you choose to use will depend largely on the size of the room you're working with. Though many people choose to go with recliners and other comfortable chairs, you don't have to. Remember, this is your very own theater. Keep dreaming big, and think outside the box when you're considering what type of seating to use.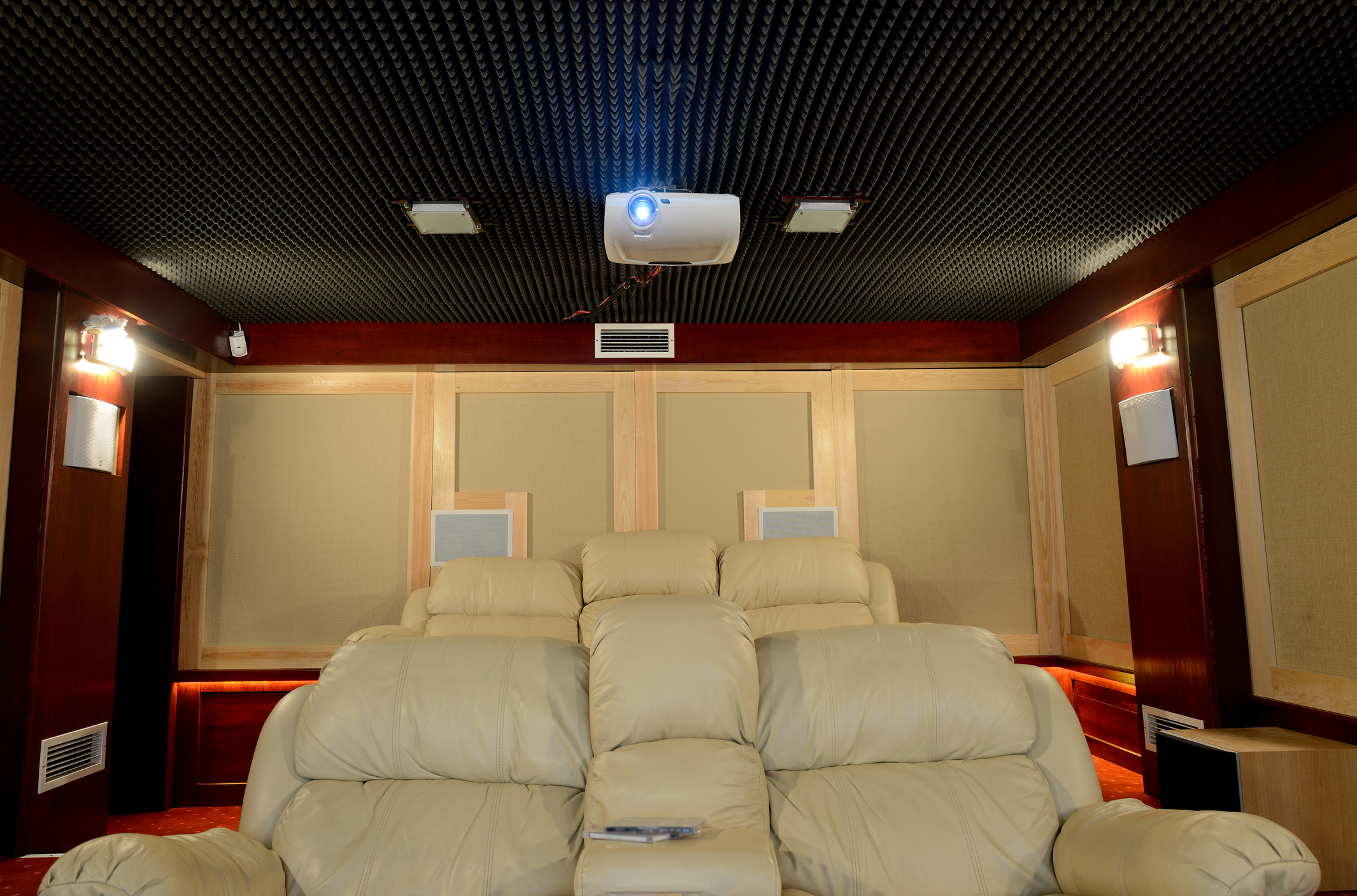 Photo by Zoltan Pataki on Shutterstock
You can use sofas, bean bags, beds, or even line the floor with mattresses and pillows for a sort of East-meets-West theme. You can even consider hanging furniture, such as hammocks or swing chairs. 
When choosing the type of seating you'll use, keep the viewing angle in mind. Seats should be placed at a distance that is two to three times the diagonal width of whatever sized screen you'll be using, and the center of the screen should be at eye level. If you opt for floor seating, make sure you place the screen as low to the ground as possible. 
You don't have to be a millionaire with a huge home to build a home theater. No matter what sized room you're working with and what kind of budget you're on, you can turn your fantasy into a reality by following the basic tips outlined here. So stop dreaming and get started on planning your very own home theater.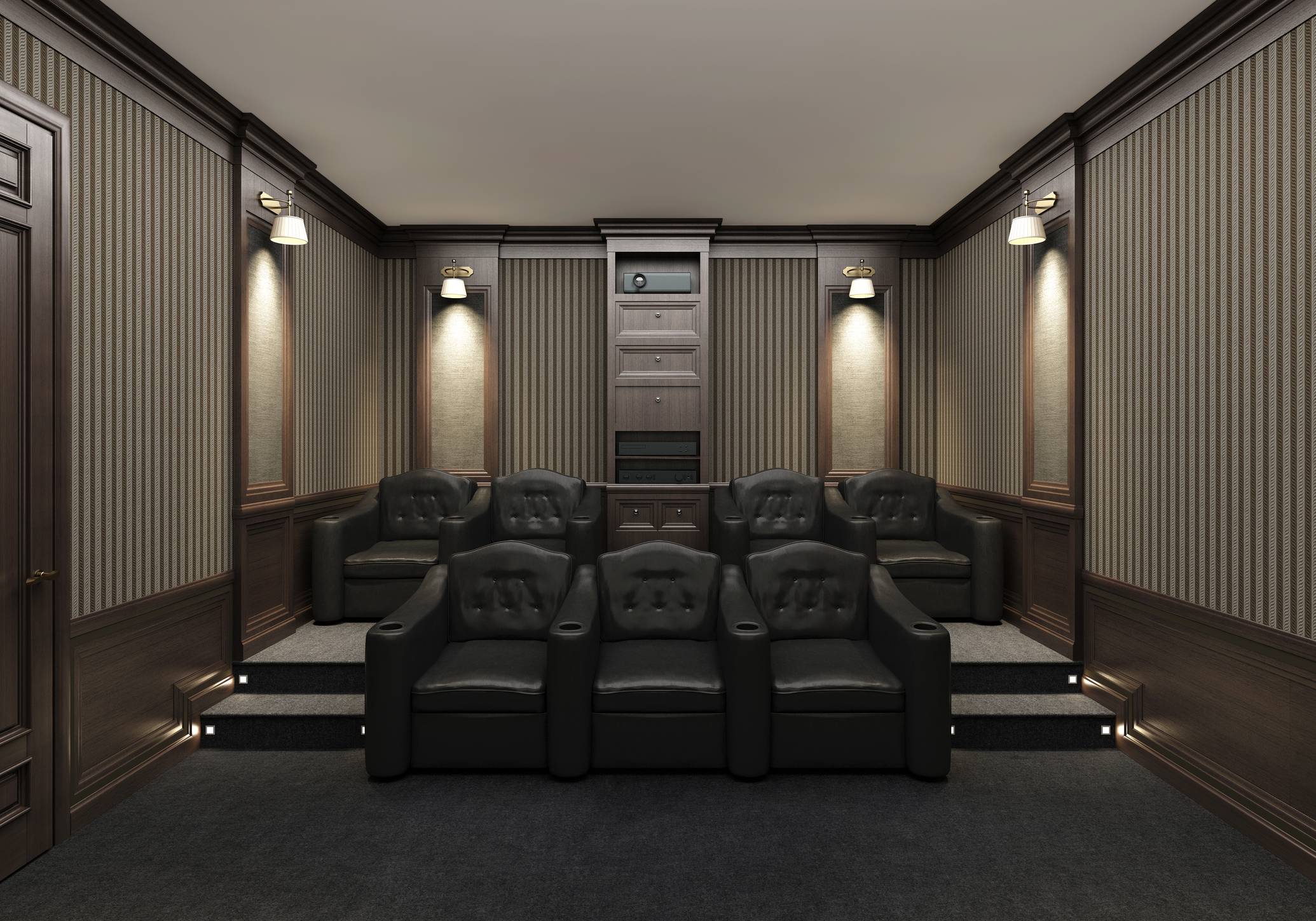 Photo by artemzavarzin on Adobe Stock
As always, a professional can assist if you're not entirely sure you can build a home theater safely and properly or if you've never done it before.