Maybe out-of-town relatives are visiting for a weekend. Maybe you dwell in a tiny apartment. Maybe your home's bedrooms are occupied by you and your children. Where will your overnight visitors sleep?!
Have no fear, and be prepared to expand your design mind further than the traditional sleeper-sofa solution. It's possible to turn your living room into a cozy bedroom option for your house guests and overnight visitors.
Bye-Bye Bed Springs! Hello Trundle Couch!
Sure, sleeper sofas have been a tried and true solution for house guests for decades now, but there's no denying that they're a bit of a pain in the buttocks –figuratively and literally. Sleeper-sofas require at least a moderate amount of setup, including couch cushion removal – ultimately cluttering the living room floor with big, bouncy cushions and taking away from any feeling of the room being deemed a guest bedroom.
Photo by Kseniya Ivanova on Shutterstock
A trundle couch is quite a bit easier to manage, and actually adds to the coziness of the living-room-turned-guest room. Just pull out the bed located underneath the sofa cushion to create a sleeping space without cushion clutter. There are also other trundle-style sofas on the market, in which the entire bottom half of the couch (above) pulls out and unfolds to form a queen or king-sized mattress. This style is sort of like the sleeper sofa but without the unfolding of the box spring or cushion removal.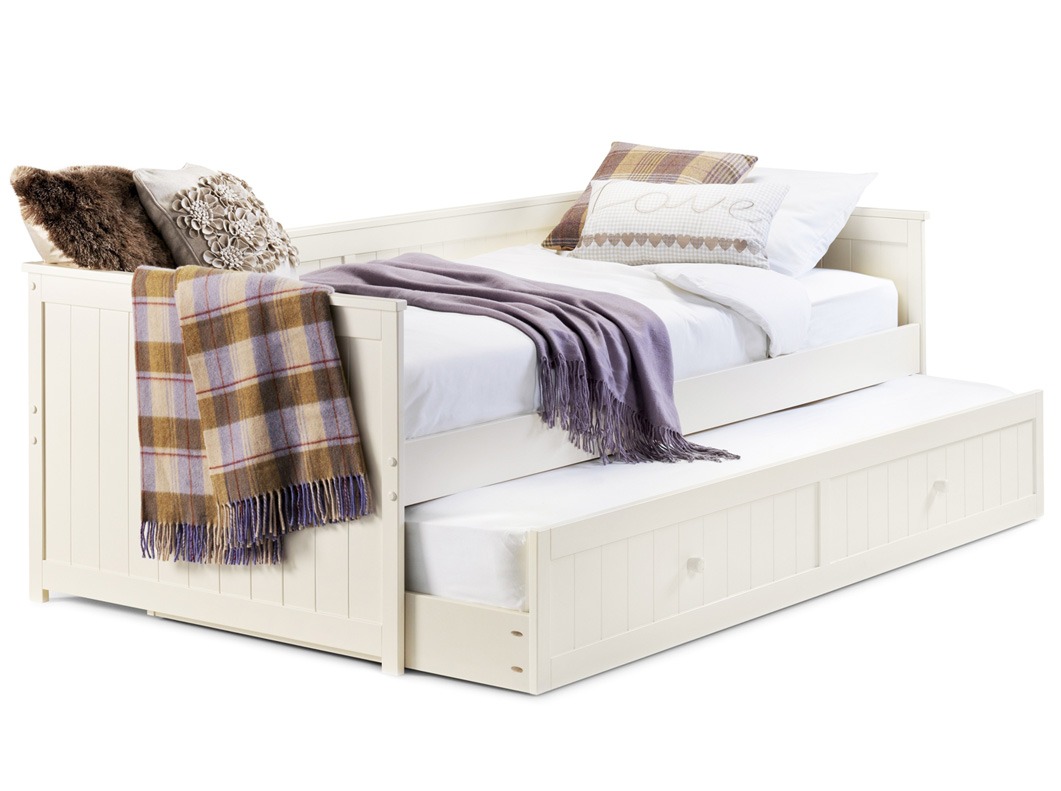 Photo by Pako on Adobe Stock
Side note: No box spring means extra comfort, just like your guest's cozy bed at home.
Add Extra Seating that Doubles as Tablespace
An ottoman, like the one pictured below, adds versatility without needing double the space. It can serve as both additional seating in the living room and a tray table for morning coffee, magazines, and other, personal belongings. An ottoman like this, with a sturdy tray in the middle and cushioning on the outer corners, is also kid-friendly and adds extra comfort with less possibility of an injury.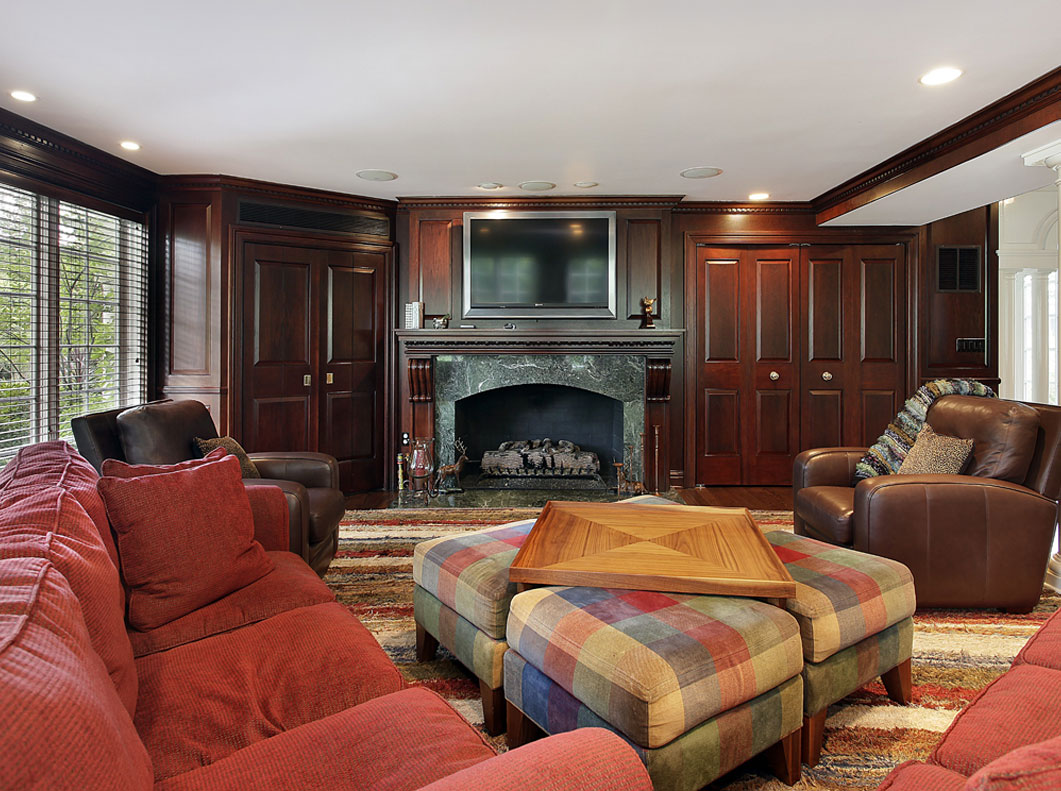 Photo by pics721 on Shutterstock
Tip: an ottoman on wheels is ideal for the living-room-turned-guest-room, as it may have to be moved when assembling the trundle bed.
Add Bedroom-Like Coziness with an Accent Wall
The truth is, you don't need artwork on the walls or sculptures in the room to create an accent piece. Instead, let your living room's walls speak for themselves.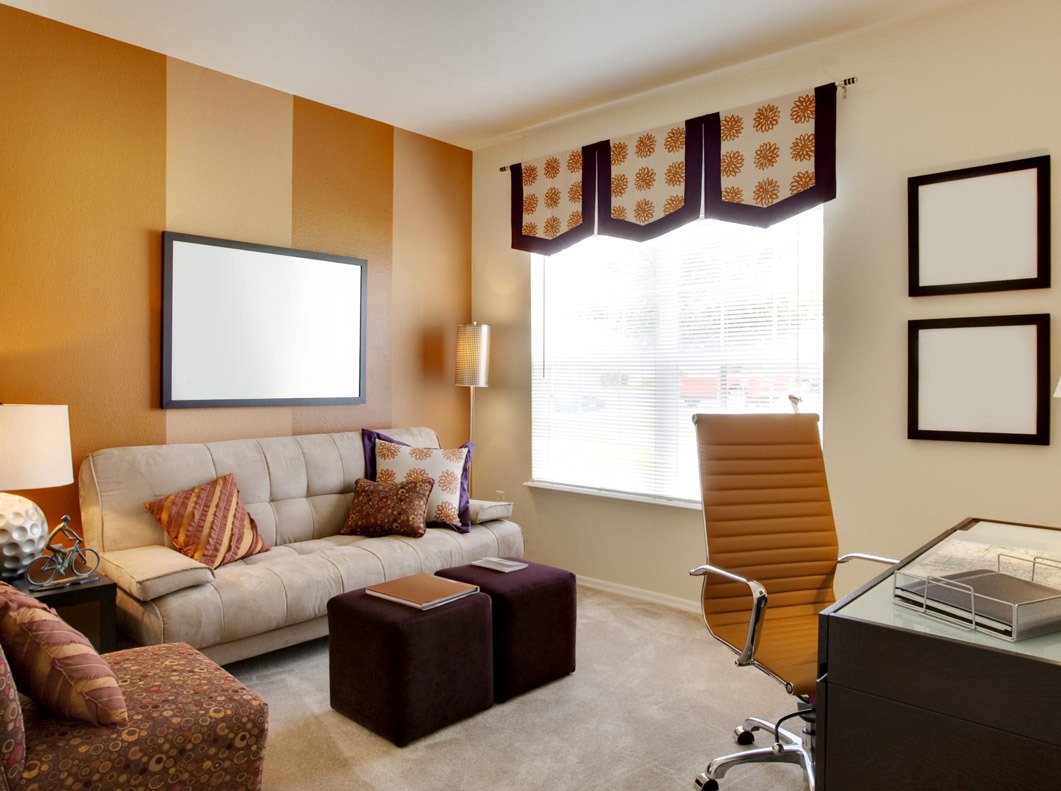 Photo by Ambient Ideas on Shutterstock
Adding a pop of color, stripes, or intricate wallpaper to one of the walls in your living-room-turned-guest-room injects personality and sets a cozy tone. With more neutrally-toned furniture, the wall itself can become the room's statement – adding more to a bedroom feel and less like a general sitting area.
Accentuate Ease with an Armoire
Provide entertainment and storage for your guests without doubling up on your hardware. An armoire with both draws/cabinets and an entertainment area is perfect for doubling up.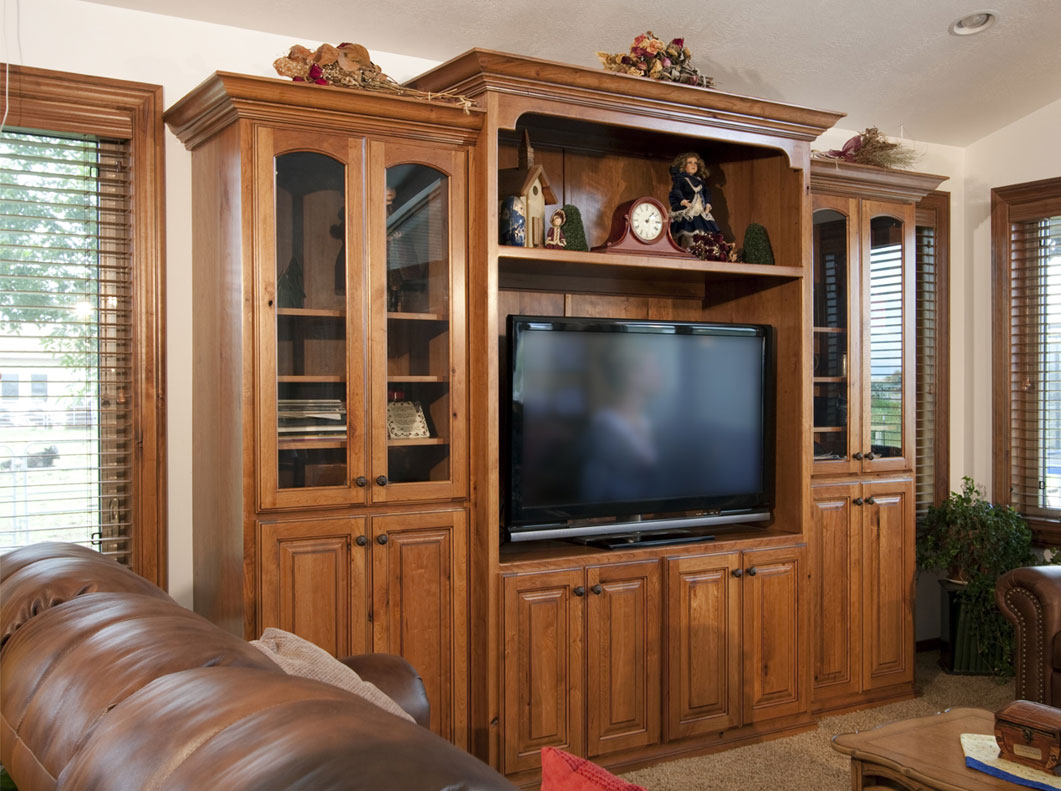 Photo by Ruslan Garifullin on Dreamstime
Cubbies, end tables, and exposed bookcases can make things appear cluttered if they expose what they're storing. A closed-off armoire provides a place for YOU to store extra bed linens and pillows, a place for your GUESTS to store clothing, and a discrete place to fit the television for EVERYONE to enjoy when needed.
Hosting overnight guests does not have to send you into a tizzy – even if the space is small and/or extra bedrooms are lacking. Without possibly even realizing it before, your living room has all of the potential needed to double as the perfect guest room. You've got this – and your guests will thank you for the stay!