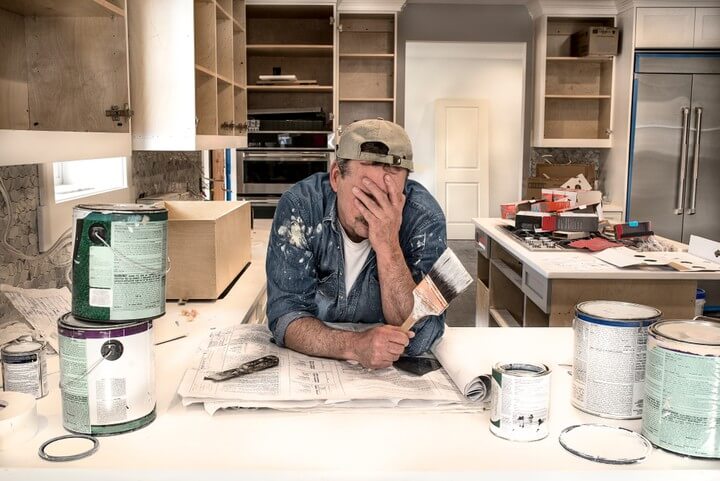 Photo by Jon on Adobe Stock
Time to repaint the cabinets for the kitchen, but before you begin, you must decide on whether you take on the project yourself or hire a professional. There are plenty of pros and cons to each one, but in the end, what it comes down to is time and money. Start by looking at those doors objectively and how rough for wears it may seem on the outside. Is the paint peeling? Does it have dings? Will prep work need to be done before painting? In this guide we'll break down the costs you should expect to get your cabinets painted and whether this is a DIY project or left to a professional?
Guide Break Down:
How Much Does Painting/ Repainting Cabinets Cost on Average?
On average it'll cost a homeowner roughly $1,300 with prices ranging between $700 to $2,000 to paint a standard kitchen cabinet. This total can vary on the area you live and on the amount of finish removal needed with some projects costing up to $7,000 for the homeowner. Pretty expensive, but it can all be broken down to a few variables like paint, materials needed, repairs, and, the one that will cost the most, labor.
Kitchen Size Matters
Why is the price so high? It's painting, and the paint itself doesn't cost much. That's where the size of your kitchen comes into play and how it can affect the cost. For starters, many professionals charge by square feet, and for bigger kitchens, it is going to take more time. Then you have others who would charge by a set number of hours or by the number of tasks covered through the job.
So, if your kitchen is a massive space that has an island, three cabinets along the wall, and needs renovating, it'll be more expensive compared to a person who only has one shelf and three drawers who only needs a touch-up.
Cabinet Layout Also Matters
Cabinet layout is how the shelves hang in the space and how strong they hold. Now, the arrangement of the cabinet and how easy it is to remove shelves could be a simple project or may require some heavy tools for removal. Important to note that if a job requires any demolition of any kind, this will increase the labor cost for the job.
To save some time and effort on your project, check your shelves and see if they are removable or not. If firmly secured to the exterior or interior of the cabinet, time to reevaluate plans and cost of the job.
Doors Cost More to Paint
Cabinet doors are the first thing, and maybe the only thing guests see when they enter your home. For the best presentation of your home, your cabinet doors should look the best out of your whole kitchen. With that said, cabinet doors can cost the most, as to make a perfect shine the paint must permeate the wood and absorb. To do so with painted or stained wood, you are going to need to remove any unwanted preexisting paint or varnish. That means sanding down each drawer and door face one by one.
If the door or cabinets have dings, cracks, or any noticeable damage, repairs or replacing it may be the next step. With renovations, it could be easy as putty or wood filler to hide any cracks or dents in the wood. For replacements, unless you can find the exact drawer or have one fabricated to look similar, the whole set may need replacing if uniformity is crucial.
Is Spray Painting Cost-Effective?
Depending on the space and the amount of items that need moving, this could be a cheap alternative. We aren't talking about getting a can of spray paint that people use to tag buildings, trains, and walls. Spray Painting is an option to maintain an even coat over any appropriate surface. The fastest way to paint a home but the trade-off is spending time to prepare the kitchen. Placing plastic and tape everywhere paint is not needed, is a time-consuming task and can take longer than painting.
Types of Paint
Before applying a coat onto the surface, spend time to review, researching, and deciding on the best paint for your uses. Consider the type of wear you have in mind for your kitchen and consult with your professional about the best option. Don't go for the cheapest option as spending money on a higher grade paint means a more durable and longer-lasting result.
Can I DIY?
Finally, consideration of all the costs, time to think if this is a project you are willing to take on by yourself. Again, consider the amount of space you will have to complete. Can you get this done in a single weekend? Are you planning on making this an extended project? Do you have the time and money to get this done correctly?
How to Get the Best Painter?
With much consideration, you decide on hiring a professional to do this job. But before hiring your local handyman or that business that popped up on your Google search, take the time to ask a few questions. How are experienced are they for this job? Ask how long it will take to complete the project? What kind of equipment will they have in your home? Do you have to provide paint, or will they buy it themselves and bill you the cost? Once you get all the answers, you can get and are satisfied hire the best one within your budget and relax in knowing you are getting quality work.
---
Updating any room can be expensive and time-consuming, even more so when you don't know what to ask or what to expect. With this guide, we hope you pick the best option for your kitchen renovation and saved you some money along the way.