You're probably wondering which appliance needs replacing. Most homeowners don't even know when to throw out their old appliance until it's completely unrecognizable to what it was before. The countrywide average range to install a new appliance is estimated to be around $125 to $200, while the range is between $120 to $270. Depending on the quality of your appliance, the low range cost would be around $65 to $100, while the high range cost would be around $175 to $500.
| | |
| --- | --- |
| Type of Appliance | Lifespan |
| Dishwasher | 10-15 years |
| Dryer | 13 years |
| Washing Machine | 10 years |
| Refrigerator | 13 years |
| Range | 14 years |
| Garbage Disposal | 12 years |
The chart above shows the average expectancy of how long the appliance will last. As the warranty and span passes, you'll most likely see the various reasons as to why you should get them all replaced.
Which room is your old appliance installed in? Is it faulty or does it still work? If you're currently working on renovating any of the rooms or spaces your old appliance is installed in, you may need to consider the jobs to rearrange your outlets, wiring or pipes and drains. However, you may also need to check whether those jobs need to renew those necessities in your home.
Table of Contents
Appliance Cost
You may think an appliance doesn't require replacements or that you don't need any more new appliances inside your home, but that is far from the truth. We all know the saying, "Nothing lasts forever", it applies to all things and your appliances are not an exception to the rule. The cost to appliances can vary through the different categories in the kinds and brands and which categories they'd fall under.
Appliance Installation Cost
Now that you bought a new appliance, you have to think about how much of your budget you're going to spend on installing it. Although you can install these items yourself, you're going to need to know which of your appliances will need to be connected where you need them. If mistakes are made, you may risk having to replace the appliances you already bought again. How much does it cost to install an appliance?
| | |
| --- | --- |
| Refrigerator | $85-$300 |
| Electric Stove | $70-$500 |
| Gas Stove | $85-$150 |
| Cabinet Oven | $95-$175 |
| Electric or Gas Cooktop | $105-$155 |
| Range Hood | $300-$600 |
| Dishwasher | $125-$500 |
| Garbage Disposal | $95-$165 |
| Gas Dryer | $85-$150 |
| Washing Machine | $125-$150 |
Something as simple as a microwave can be installed by oneself, however, a major appliance is best handled by a professional. Believe it or not, in most cases, homeowners will go that extra mile to hire a plumber or electrician to ensure that the appliance is correctly installed. Many of the accidents that happen after installation usually occur to homeowners who decided that they can install these devices themselves.
Refrigerator Costs
The average cost for a new refrigerator is between $1000 to $2000, sometimes you can order and purchase lower-end models for $400. The higher-end models could, however, cost up to $10600. Installing a new fridge, depending on the location you're attempting to put the refrigerator in, can cost around $116 to $3900.
Whichever floor you're thinking of installing your refrigerator, there will be additional costs if you decide to install above the first floor. This cost applies to a home or an apartment, but there will be $30 to $40 added to your spending if the installer needs to incline.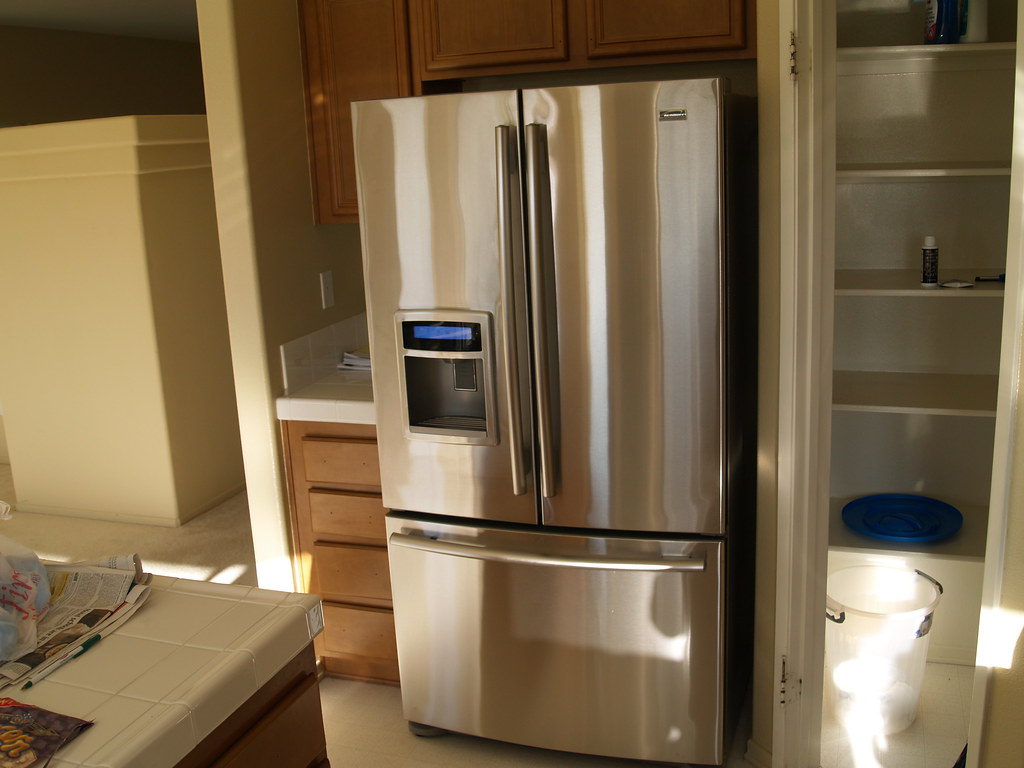 Image By bossco From Flickr
The average cost to hiring an electrician, depending on if there isn't an electrical outlet near the fridge, will range from $220 to $750. If your fridge is without a natural filtration system nor an ice maker, you'll need to think about adding an extra $45 to $65 per hour for a plumber to come in and install a water line.
Electric/Gas-Powered Cooktop Costs
Both gas-powered or electric-powered cooktops can cost homeowners about $450 to $2800. The national cost range calculated for both labor and material costs for an electric cooktop could be between $470 to $950. The national cost range calculated for both labor and material costs for a gas-powered cooktop could be between $980 to $2020. An added benefit to electric cooktops is that they're considered the easiest surfaces to clean.
There's a particularity in difference with both cooktops and that variates in the usage of temperature settings. While the response in gas cooktops is much quicker than the response of electric cooktops, there are safety qualities that electric cooktops offer. However, due to the awesome and unique qualities of being able to char, toast, and flambe using a gas-powered cooktop, those with cooking experience lean towards gas cooktops instead.
Electric/Gas-Powered Stove and Range Costs
The average cost for a new electric stove ranges anywhere from $660 to $700. Depending on your preference in size, the average cost for a new gas-powered stove ranges between $600 to $3000. The average cost for a new range or hood is between $410 to $7500. 
The difference between stoves and ranges is that the oven portion of a range abandons the notion of a cooktop. That difference means that there isn't a necessity in counter space and that the knobs and buttons are arranged on top of the counter instead.
Probably the most expensive out of the major appliances listed in this article, range hoods involve cutting into walls and connecting ductwork.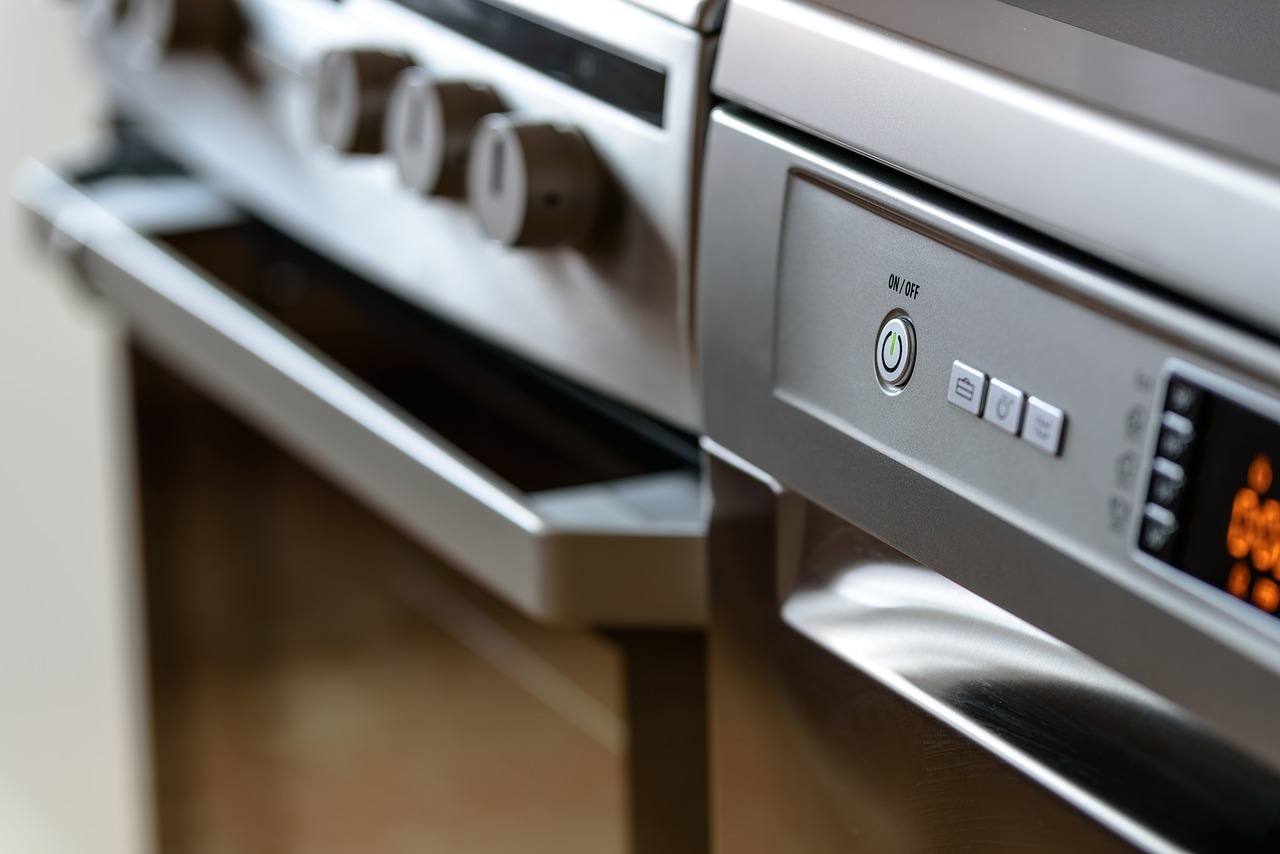 Image Contributed By Max Pixel
Electric/Gas-Powered Oven Costs
The average cost for a brand new spanking oven estimates around $750 to $2700. The minimum cost to an oven can be around $550, while the maximum cost spent can range around $3800. The installation of an oven and the labor costs involving the installation averages between $100 to $200. These average prices are applied by the estimated charges of an electrician. 
Double wall ovens are expected to cost around $1900 to $6700 and installation of this kind of oven will probably cost between $105 to $125. If you're switching the kind of oven you're currently using and you're thinking about what kind of oven you should switch over to, consider the benefits of both. By weighing out both costs and the efficiency, you can have a better idea of which oven you wish to choose.
Exhaust Fans
Imagine you're cooking your meals but then you look above the cooktop and see how blackened your fans look. That tar-like material covering your fans is collected grease and contaminants that are most likely polluting the air in your home. In truth, the range hood is meant to be cleaned at the minimum, once a month.
In some cases, the buildup becomes too much for your fan to handle and eventually it breaks. In those situations, replacing a kitchen exhaust fan may cost you about $65 to $100. It is highly ill-advised to install an exhaust fan yourself because it's rather more complex than it seems. Even skilled professionals find it difficult and quite dangerous. You may even end up paying more, just for the fan alone, it'll cost you about $15 to $370. 
Dishwasher Costs
Depending on the type of dishwasher you're searching for, costs can vary from a wide selection. "Location, location, location" is not an exclusive idiom that applies to real estate, it also applies to your dishwasher. Before you decide to purchase a new dishwasher and quickly install it, you need to think about your kitchen space and how to adjust your existing counters and cabinets. 
Carefully understand the measurements of where you're going to install the appliance and you will have less trouble in the near future. 
| | |
| --- | --- |
| Dishwasher Type | Unit Price |
| Built-In | $300 - $1,000 |
| Drawer | $270 - $1,380 |
| Countertop | $200 - $400 |
| Portable | $390 - $690 |
The installation cost to dishwashers are estimated at around $70 to $125. Alterations or changes in cabinetry to install your dishwasher will add extra fees onto your budget. Make sure that your dishwasher isn't tilting forward and to refasten it to the cabinet. 
Garbage Disposal Costs
Many homeowners may not regard the garbage disposal as a major appliance in your house. But for some people, it's a provision that seems to be undervalued. The average cost for a new garbage disposal is between $250 or more. The installation charges range from $150 to $950. If you decide to do this as a DIY installation project, the cost can be as low as $75.
Although it was advised to hire a professional for major appliances, garbage disposals cannot really be considered as such. Labor costs can be greatly reduced by going forth and installing your disposal, saving you about $90 to $250. You'll probably need enhancements if you're thinking of installing a new garbage disposal.
If you're concerned about the expectancy of your new disposal, keep in mind that treatment dispensers can extend that span of usage. Just remember, a treatment dispenser requires a septic tank. Average cost to the dispensers can be about $40. Another upgrade you can think about are dishwasher drain connectors. This extension makes sure to reduce the chances of your disposal getting clogged. The average range would be anywhere from $9 to $15.
Dryer Costs
A standard electric or gas dryer will measure about six cubic feet in capacity. The other standards every dryer consists of are the dials, the temperature settings, and the timing feature. The average cost for a new electric dryer is between $200 to $400. The average cost for a new gas dryer will cost about $800 to $1200.
Many retailers hold a motley of different dryers available for their customers. The differences amongst the other dryers are the expenses and the sizes. The standard dryer can have varying features like the capacity and the additional cycles. Although there are also smaller options for homeowners, like the compact dryers that are smaller and are 24 inches in width. That is practically half the capacity and very convenient for homeowners that don't have as much space as other properties. 
An advantage that compact dryers have is that they are also ventless. But although you save from the costs of the overall amount of loads you'll need to do, you'll have to confront increased upfront costs and you'll have less space for loads in a compact dryer.
Washing Machine Costs
A standard washer, gas or electric, is over 3 cubic feet in capacity. The average cost for a new washing machine is between $250 to $2050. Just like a standard dryer, washers have a wide lineup. The three most common kinds of washers in the market are top-load, front-load, and compact washing machines.
Top-loading washers can cost from $275 to $450. Front-loading washers can cost from $300 to $1000. Compact washers can cost from $200 up to $2050. Although compact washing machines might seem like the cheapest option, it's ironic that they're also the most expensive option out of the three.
The difference in all three of these washing machines are the makes, models, brands and alternative technologies that are offered. As a homeowner, if you are looking for a combination between both washer and dryer, this is a consideration carefully thought of. An all-in-one is estimated from $750 to $2000.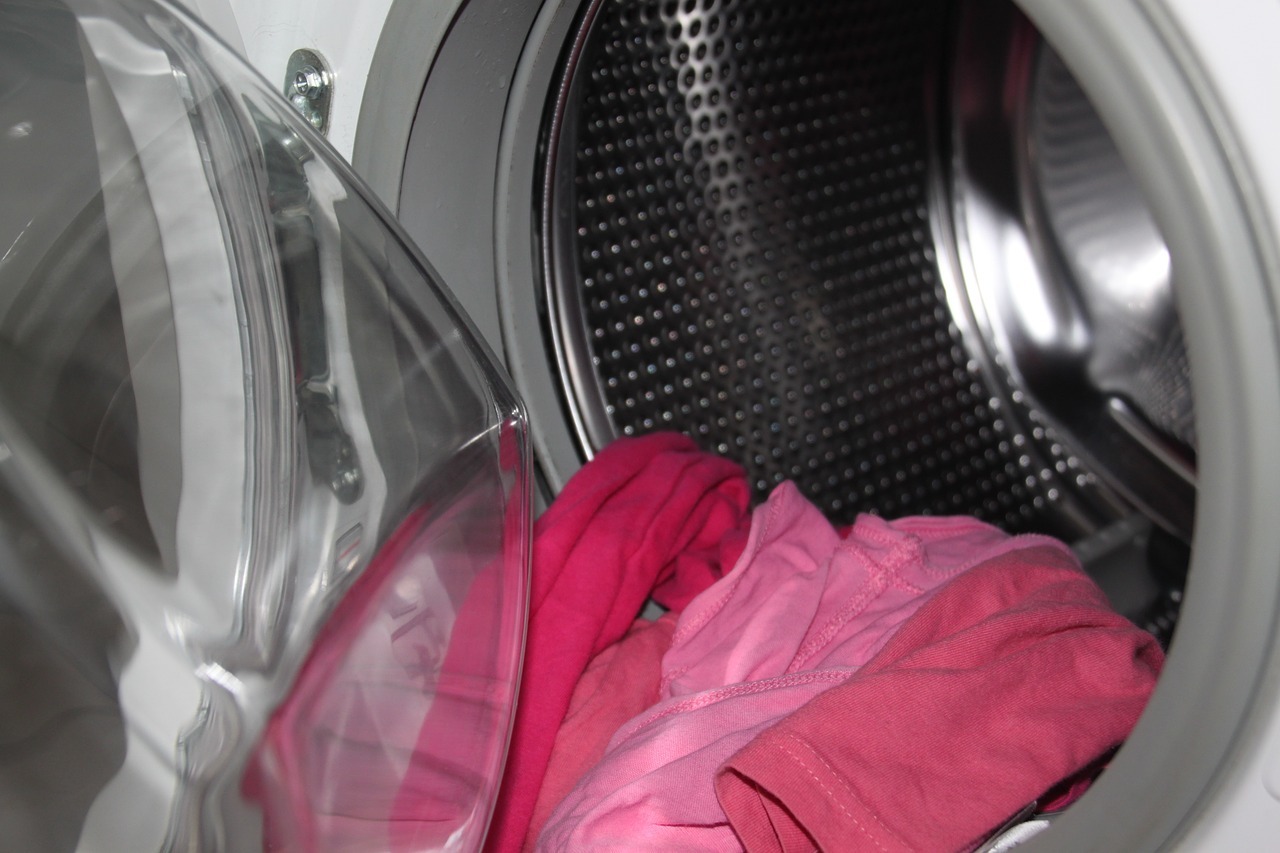 Image Contributed by Max Pixel
Home Value
It's no surprise to understand that appliances that do not look pristine will negatively affect your home's value. However, most homeowners understand that the condition of the appliances won't increase the value of a home either. Appraisers will only check whether the appliances are in working condition rather than giving a better opinion of the overall property value. 
It's even less of a surprise that not all appliances need to be replaced or upgraded, but the three appliances that will affect your home's value the most are: refrigerators, stoves, and washing machines. To unstack some of the worries you might be having about increasing your home's value, take dishwashers out of your list of concerns. Since the dishwasher has a 10-year expectancy to replace, it is the last thing to think about. Although if your dishwasher needs to be replaced, it'll ultimately be your choice to purchase and install a new one.
Value in Fridge
The fridges that most homebuyers will see the most value in are the models with French doors and water-ice dispensers. You'll probably see the most return on investment with these types of refrigerators. In response with social conscientiousness in mind, the trend of eco-friendliness has increased in popularity.
Value in Stoves
If you're planning to sell your home, remind yourself that built-in stoves have the most potential for ROI. The standalone stoves do not offer the same personality as the personally installed feel that built-in stoves bring to the table. The stoves that are installed in such arrangements bring better appeal in appearance and have controls either on the top or front of the stove.
Value in Washers
The best kind of washing machine to invest in are the manufactured models that include a dryer with them. Smart features applied to washers also add a great bonus. The more convenient it is for the new owner-to-be, the more ROI you, as the seller, can expect to see.
Hiring a Professional or Professionals Through House Tipster
There are many considerations to keep in mind when installing your major appliances. Be safe and remember all the viable research pertaining to your installations. Within this wide search for more knowledge, you are probably wondering how you can find the perfect expert for the job. The costs of installing your new appliances can be quite high, but with just enough knowledge and the click of your mouse, it's easier than you think. Consider hiring a professional through our site, within the comfort of your home. 
Check out House Tipster, and find the perfect pro for your home repair needs. How Much Does Appliance Installation Cost? Find out from professionals in your area.