School is almost out for summer, which means it's time to start thinking about yardwork chores for kids. I know what you're thinking. "Isn't my child too young to operate power tools and labor for hours on end in the garden?" Possibly.
Yet in almost all cases, there are chores that children of almost every age and ability can do. You just have to pick the right ones. Truth be told, I put my two young daughters to work in the garden constantly. And guess what: They love it!
Take a look at this ultimate list of age-appropriate yardwork for kids to help find the right chores for your own brood.
*Note: Our writers are not experts in these fields. Although we write about DIY projects, the articles posted on our site are suggestions. Rather than being taken seriously, we highly recommend homeowners to find professional opinions on the matters we post through our blog. House Tipster is not liable for any damage or harm that occurs. Please perform the tasks of these projects cautiously, and follow safety guidelines applied to the required jobs in this article.*
Toddlers (1-3 years old)
If your toddler is anything like mine, then he/she enjoys playing in the dirt and "helping" mommy out with every single chore.
While it's quite hard for a toddler to make a real contribution (usually they just make a mess of things), there are a few chores that they can excel at. These include:
Weeding the garden
Picking up sticks in the yard
Watering your garden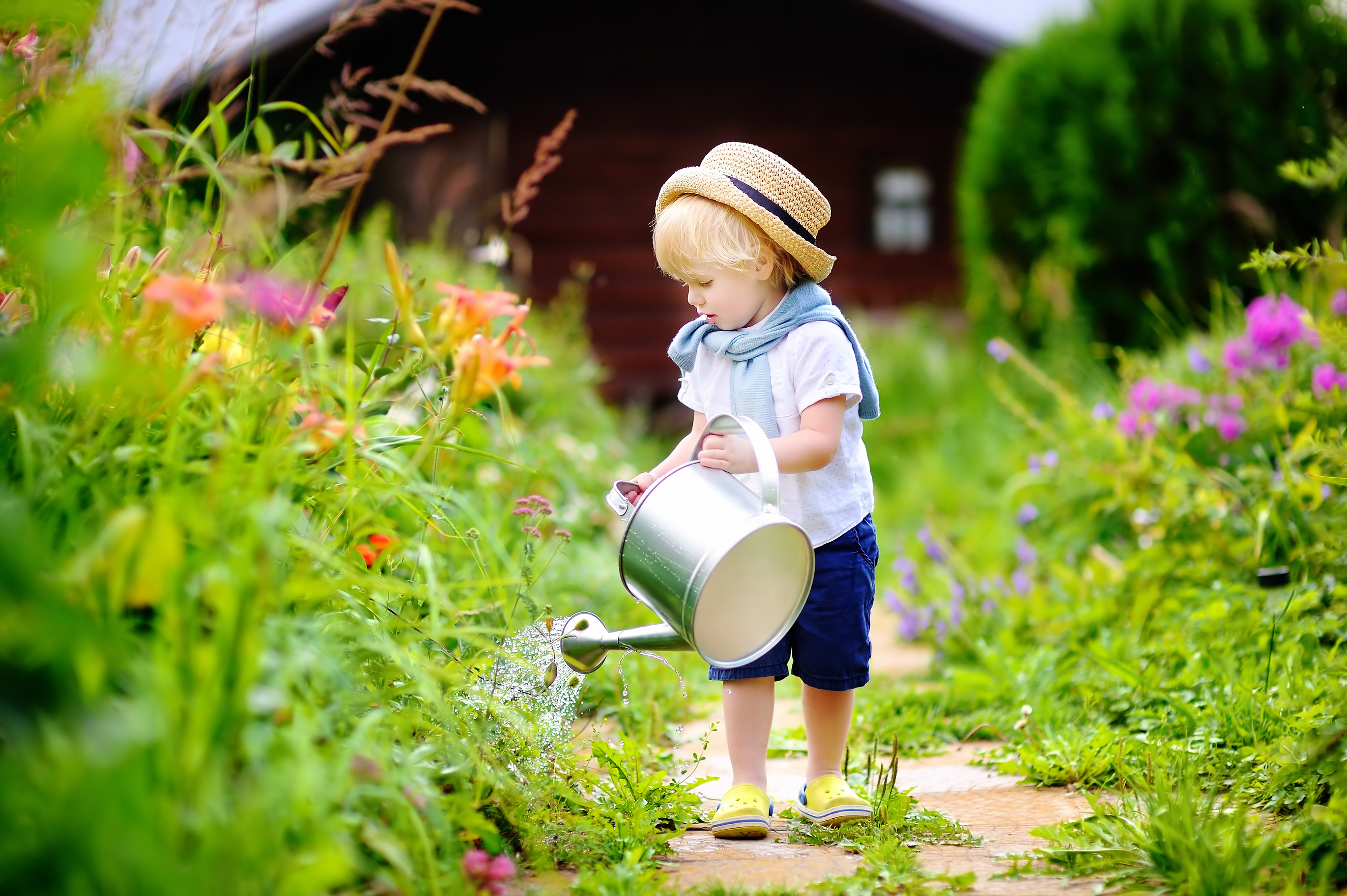 Photo by Maria Sbytova on Adobe stock
Preschoolers (3-5 years old)
Preschoolers are just starting to comprehend how to follow rules. Therefore, a terrific way to create structure and with a touch of supervision is to have them follow you around and lend a hand while you're in the middle of all the yardwork chores.
In addition, give your preschooler one or two permanent, summer-long chores that he/she is solely responsible for such as watering a particular plant or pulling weeds from the garden beds.
Here are some yardwork chores my 4-year-old loves and I bet your preschooler will too!
Helping build a container pond
Potting new plants or adding soil
Deep watering of garden and container plants
Starting seeds indoors or direct-planting outdoors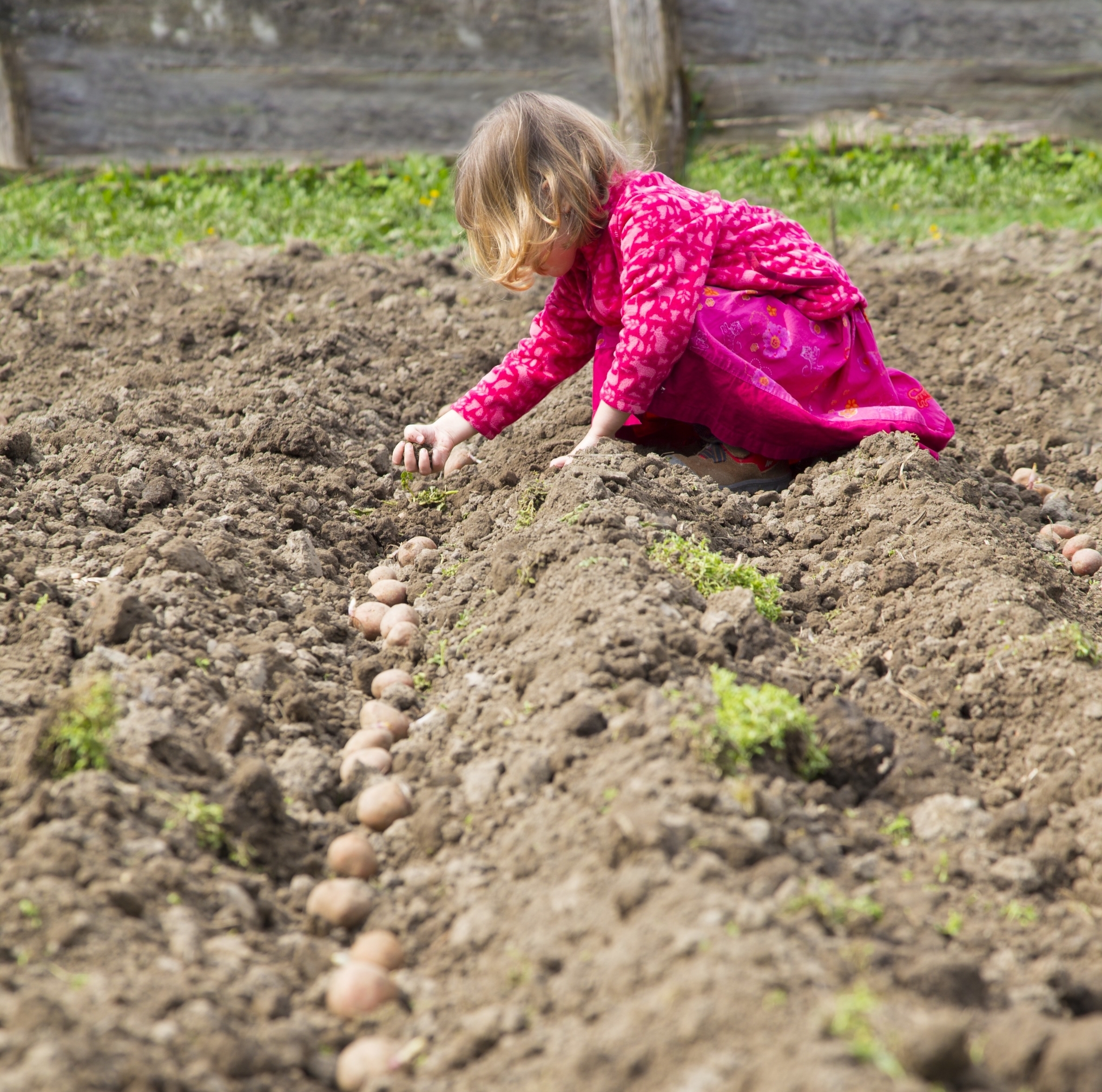 Photo by giorgiomtb on Adobe Stock
Grade School Children (5-10 years old)
Since they're still eager to get involved and have the strength to handle larger yardwork chores, kids between the ages of 5 and 10 are great garden helpers!
Have them try one or more of the following and they can put a dent in your workload:
Transplanting bulbs and plants in the fall
Harvesting garden fruits and vegetables
Fertilizing plants weekly (Tip: Pre-mix organic fish fertilizer or bone meal and avoid chemical-based fertilizers with small children.)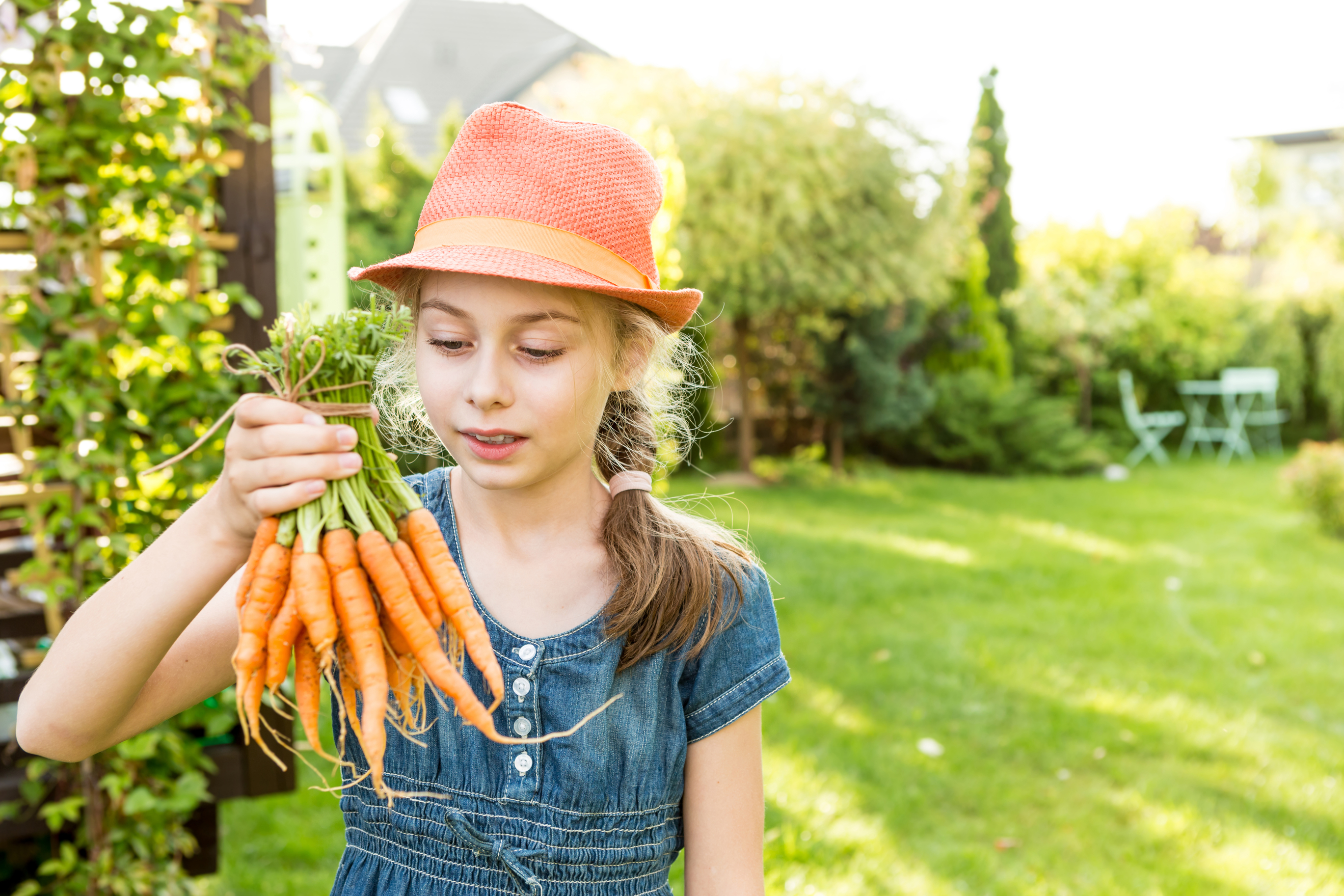 Photo by pinkyone on Adobe Stock
Pre-Teens (10-13 years old)
Many pre-teens feel like they're ready to mow the lawn, but they may not be strong enough yet to handle the machine.
For safety's sake, provide them with more manageable yardwork chores such as:
Raking and bagging leaves
Laying mulch or straw
Creating a compost bin and managing the pile
Photo by Ermolaev Alexandr on Adobe Stock
Teens (13-18 years old)
This is the age group when a lot of questions arise. Your child is growing at a rapid pace, which means they may be physically ready for some power equipment, yet their interest in yardwork may be dwindling.
Get them excited about the "joys" of yardwork by offering them something new and exciting to do, such as:
Using the lawnmower and weed-whacker
Blowing leaves in the fall
Helping you construct a backyard pond
Pruning bushes and trees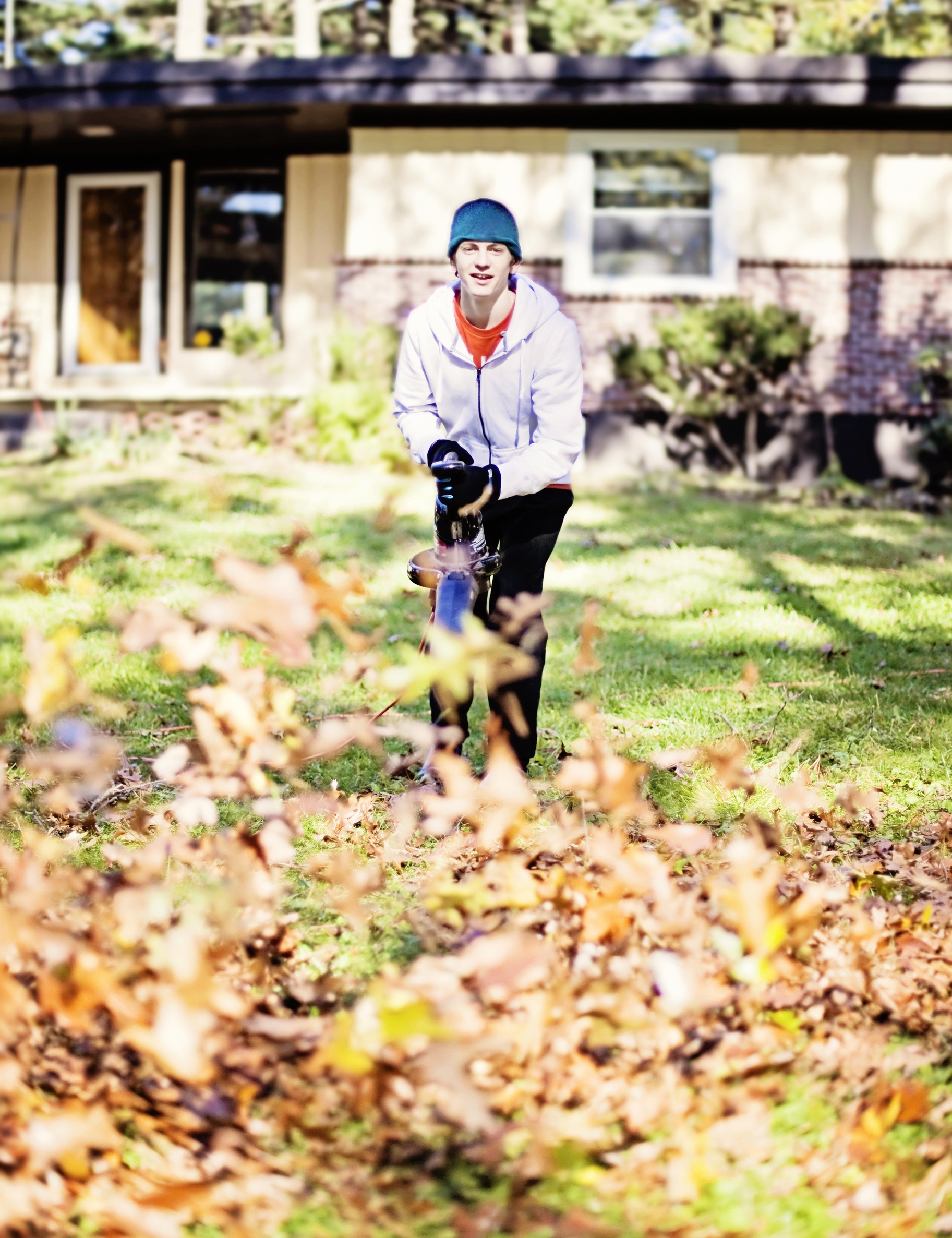 Photo by Mary Katherine Wynn on Dreamstime
Common Questions
How old should a child be to mow the lawn? That depends on both your child and the lawn mower. More often than not, a child is physically strong enough to safely use a push mower by the time they are 12-13 years old. However, kids should be at least 16 and comfortable with the basic functions of a motor vehicle before operating a riding lawnmower.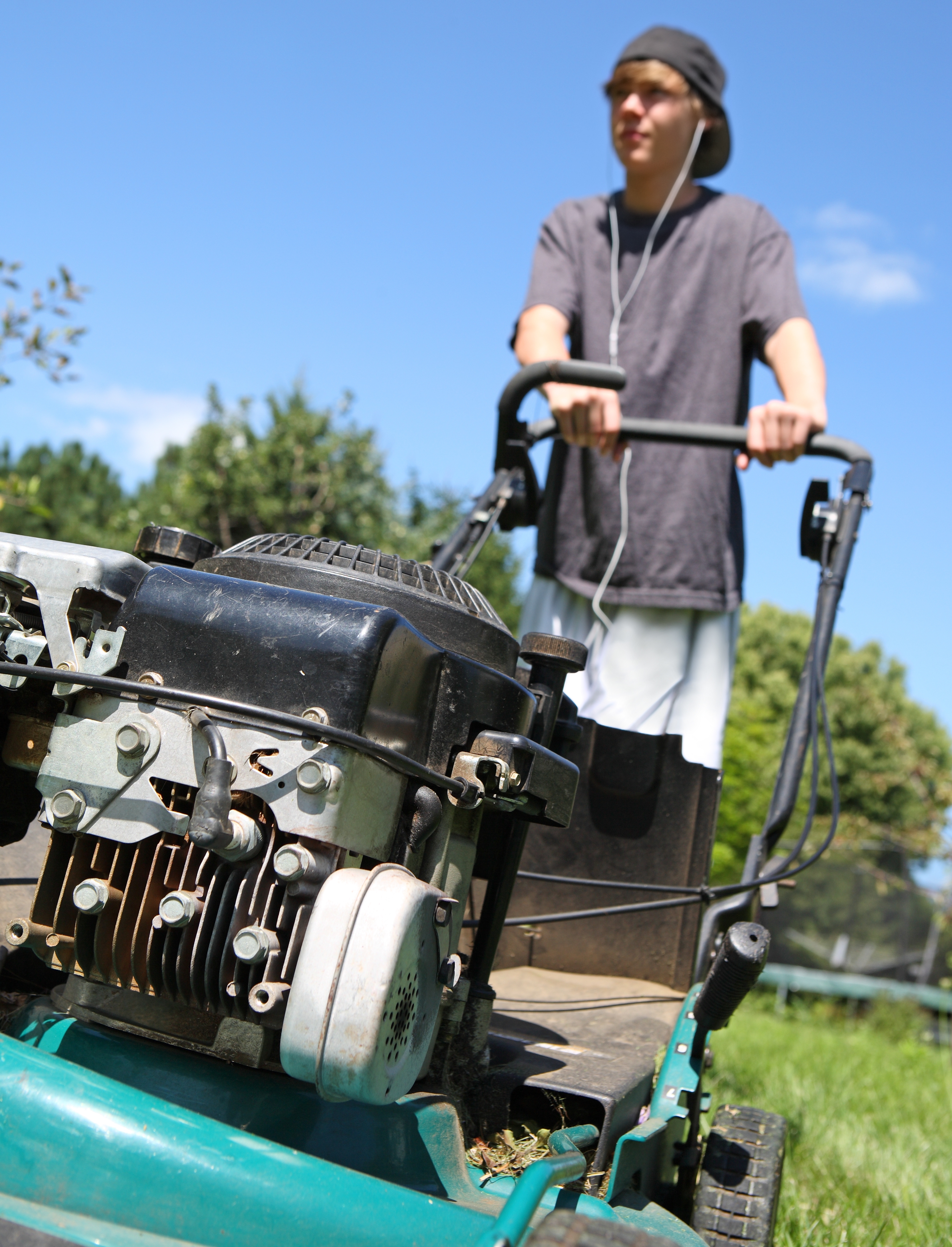 Photo by soupstock on Adobe Stock
Should I create a household chore list? Absolutely! Kids of all ages thrive on structure and a household chore list helps keep everyone on the same page. Make it a fun experience by incorporating a sticker chart (for younger children) or by associating an allowance with some of the more difficult chores.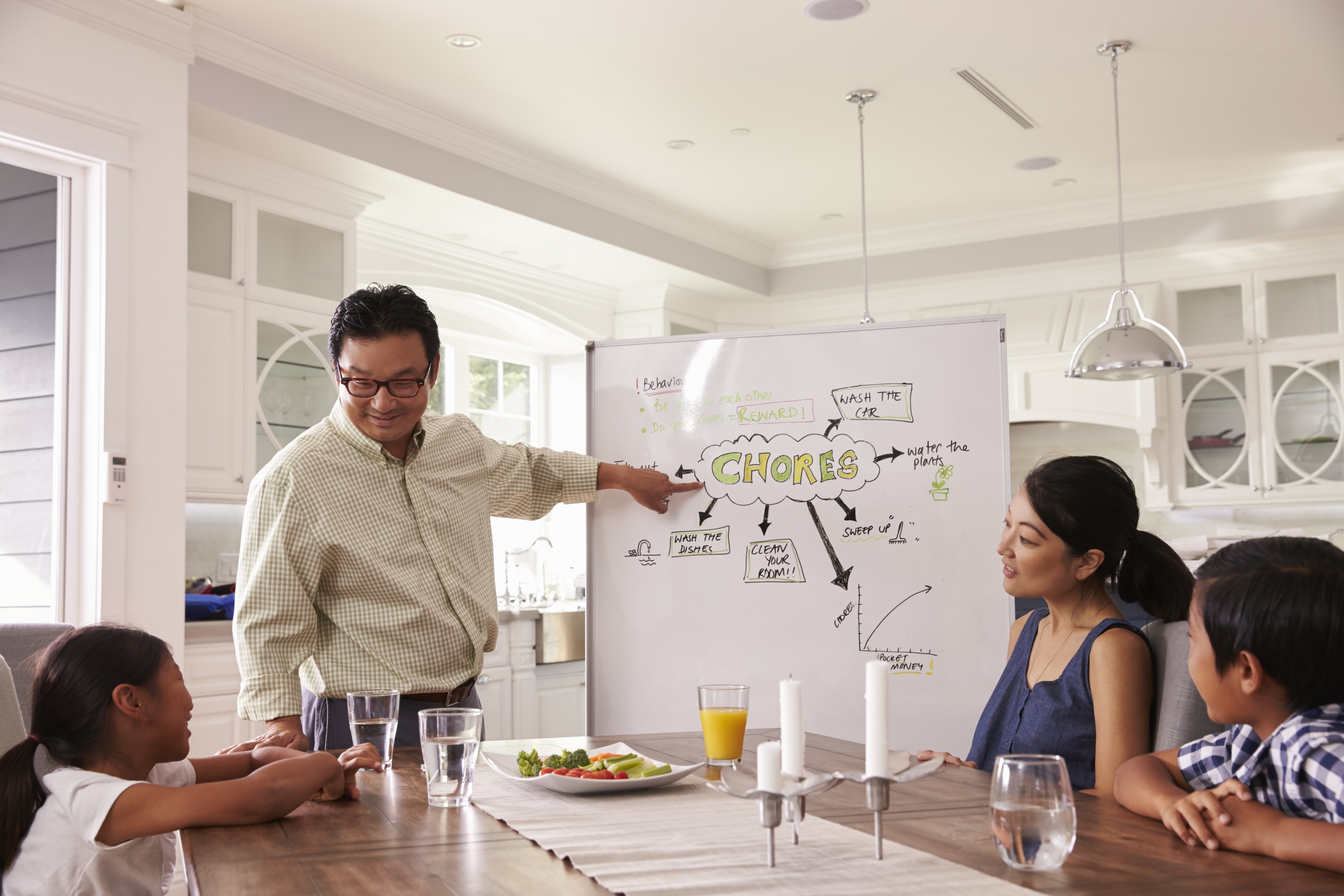 Photo by Monkey Business on Adobe Stock
You don't have to do *all* the yardwork yourself! Invite your children to join in on the fun. By giving your kids a set list of "chores" to do every day/week/month, you're ensuring the job gets done and your children learn a bit about sweat equity in the process.