The 4 key things to know when looking into glass shower doors are what style you want, your budget, the privacy they offer, and the ease involved in cleaning. Let's look at some different types of glass showers and weigh all the pros and cons.
Clear Glass & Low Iron Glass
Clear glass, regular (slight green tint) or low iron (100% clear)
Pros:
Easy to clean
Adds visual space to bathroom
Timeless - won't look outdated in a few years
Cons:
No privacy
Tendency to attract smudges
More expensive for the low iron option
Photo by August_0802 on Shutterstock
Clear glass is one of the most popular choices for showers. It is completely translucent, allowing the most amount of light in. The non-intrusiveness of the transparent glass will make the bathroom seem less crowded as there's no splitting of the room into sections and no glass 'wall' encasing the shower. This also means that there is complete visibility whether you're inside or outside the shower, which can either be a pro or a con, depending on your situation.
Clear glass is very easy to clean; it's also easy to detect when there are spots, which is helpful since this glass can be easily smudged and fingerprinted. Using a standard commercial window cleaner should work just fine for removing any prints or marks. To prevent any buildup or discoloration, many clear glass owners will opt to squeegee away any water after use. While this can be time consuming and a little less than ideal, this will ensure longevity with years of use and prevent your shower from looking hazy or cloudy.
This style of glass is very universal. It can go with any bathroom look and fit in well, even transforming less than stylish bathrooms into more modern looking ones. Should you choose to redo your bathroom in the future, you can be assured that this style is one that will still be relevant and current looking, even years down the line.
Photo by Ventura on Shutterstock
Due to the way this glass is manufactured, there will be a slight green tint to it. This is naturally how the glass appears. Should you want a door that is 100% clear, you'll want to go with low iron glass. Low iron glass is treated to lessen the iron content, removing the greenish tint. When color matching is critical, it may be best to choose the low iron option, as certain colors may end up clashing with the subtle green tint. Selecting the more neutral, low iron option removes any potential for colors to disagree. Aside from the clearer color, it is exactly the same as regular clear glass.
Textured Glasses: Frosted, Rain, Hammered, & More
Textured glass in a variety of styles
Pros:
Lots of patterns available
Instantly adds a unique flair to your bathroom
More or less privacy based on selected style
Certain styles allow for more light to enter than others
Cons:
Some styles may require more effort to clean than others
Potentially more expensive depending on style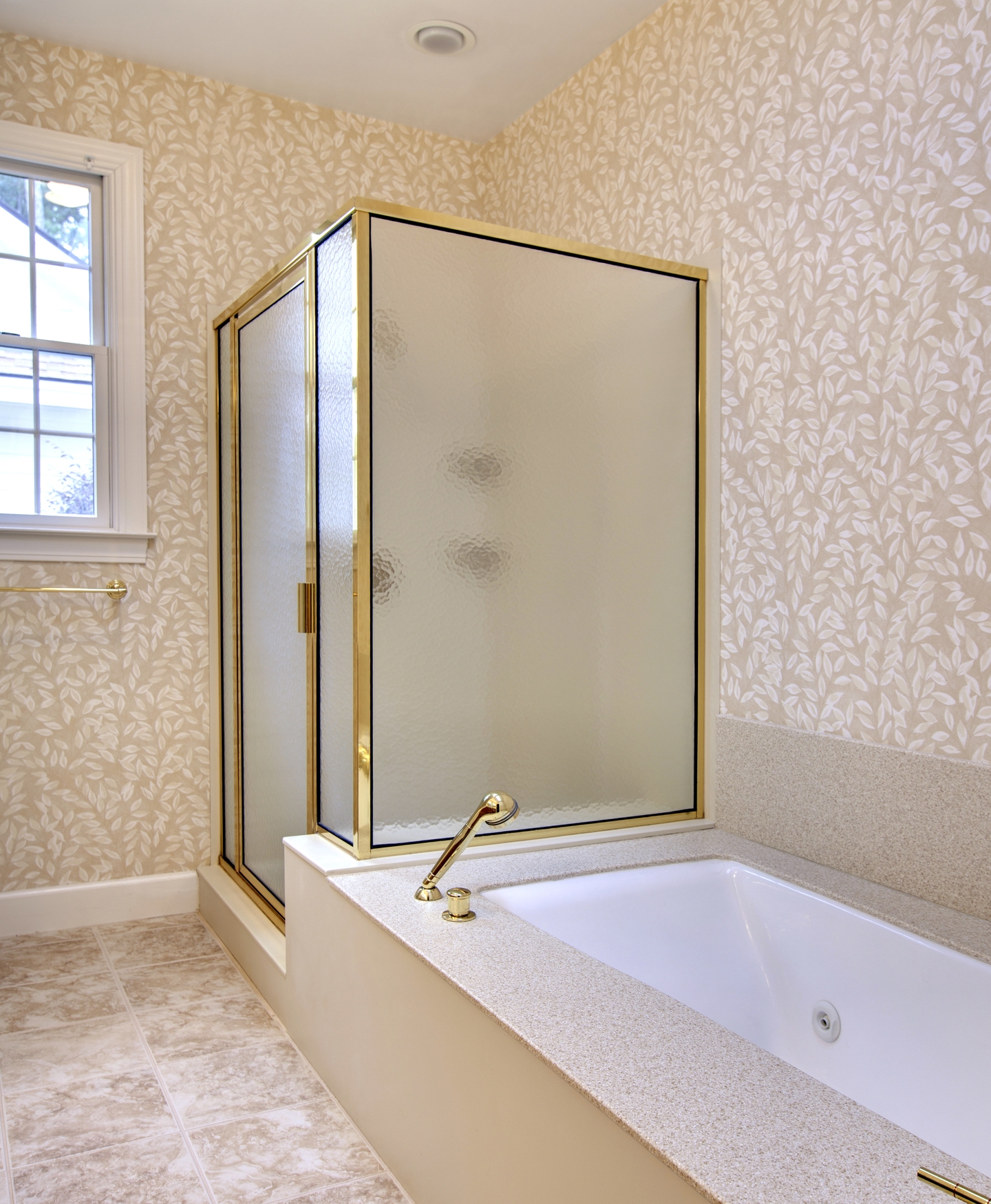 Photo by John Wolwerth on Dreamstime
If you don't want completely transparent glass, there are quite a few other options available to you. Frosted glass is created by sandblasting or etching one side of the glass panel to create an opaque texture. This kind of glass allows filtered light to come through while still providing some privacy. Some types of frosted glass are also available in different shades of blue and many feature unique designs and patterns.
While frosted glass won't show anything in the way of fingerprints or smudges, it can be harder to clean than regular clear glass, as soap scum and dirt can accumulate in the patterns of the glass. Unfortunately, due to the nature of this glass, it can sometimes appear cloudy or foggy even when it's clean. It'll take a sponge, a mild abrasive cleaner, and some effort to keep this glass clean.
Rain glass is exactly what the name implies. It is textured on one side and is a popular choice for shower doors. Since they're not frosted, these doors let more light in, but still allow for a little more privacy due to the texture of the glass. Rain glass easily hides fingerprints and watermarks and doesn't trap dirt like frosted glass tends to. Transform your bathroom into a spa-like environment with this beautiful and unique looking glass.
Hammered glass is another popular style of textured glass, made with consistent indentations on one side of the panel, looking similar to hammered metal. These doors often appear to have a neutral greyish/blueish hue to them and allow for a bit of privacy while still allowing ample light.
Seek out different retailers and designers as there are a wealth of textured options available. Some glass specialists also allow you to design your own doors, where you can combine different patterns, styles, and tints to build something unique to your own personal style. Many styles of glass are highly distinctive from one another and can really add a varied look to your shower and your bathroom.
Tinted Glass
Tinted glass in various colors
Pros:
Customizable to your bathroom's colors
Very unique look
Cons:
Potential snags down the line if remodeling bathroom and using new colors
Certain colors may show scratches or buildup more easily than others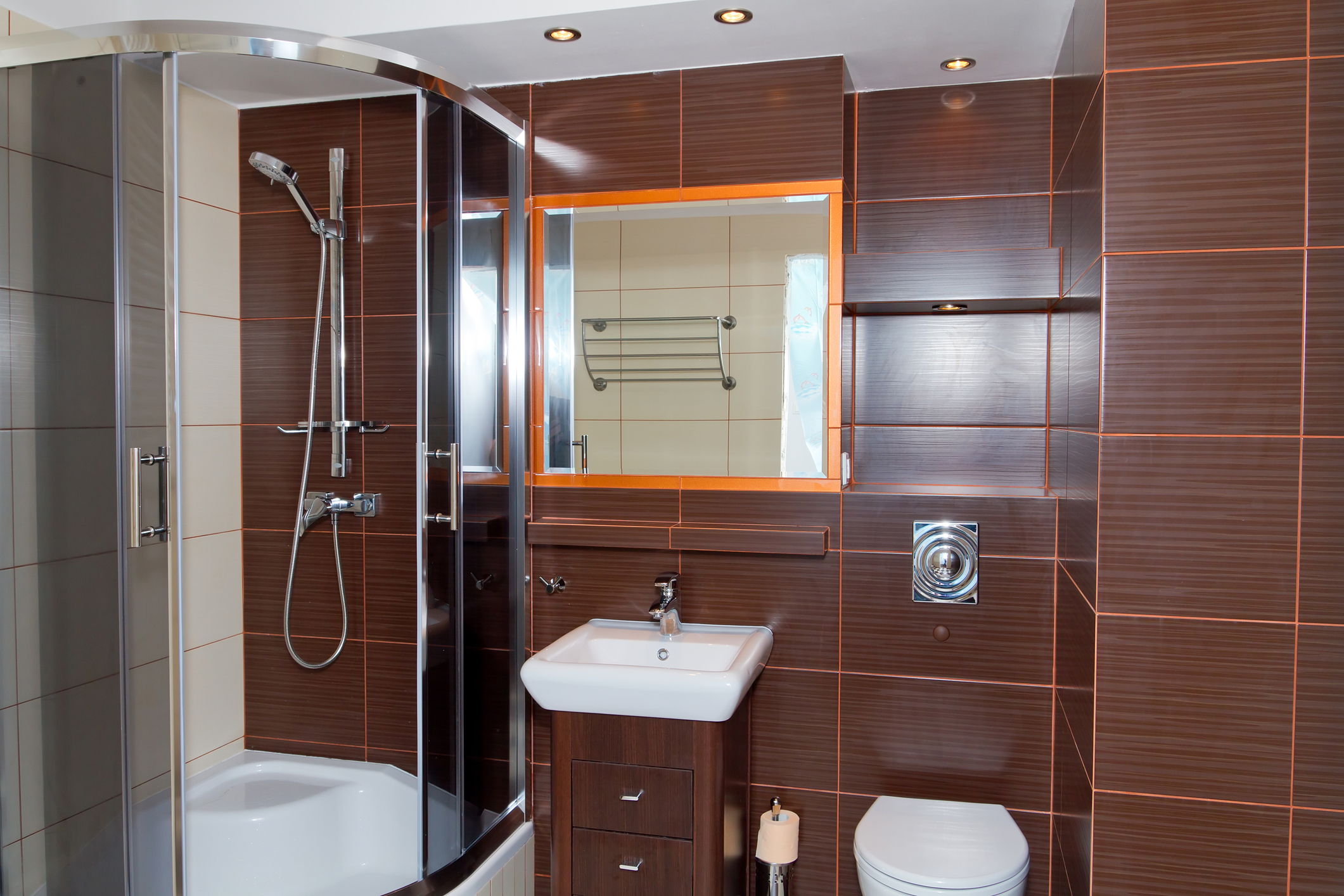 Photo by Patryk Kosmider on Adobe Stock
If you are tired of plain transparent glass or don't want a pattern of any kind, maybe a tinted glass door is more your speed. Tinted shower doors are a fun way to sprinkle in some extra color or perhaps add more matching colors to your bathroom. Nautical or beach-themed bathrooms may benefit from a slight blue or green tint to the shower area; while bathrooms in more rustic homes that sport darker themes could utilize a greyish or blackish tint. Let your shower glass more accurately match the vibe of the room and your home!
Should you really want to go with something highly unique, custom glass workers can use both a tint and a pattern on one door. This obviously will cost more money than simply picking a stock option, but if your bathroom really needs to be dialed up, this will certainly do the trick.
Framed or Frameless
So you've narrowed down your options and have an idea for what type of glass you want to use for your shower. The final decision to be made is if your shower will be framed or frameless. 
Frameless doors can be customized to fit your shower, so you aren't limited to mass-produced sizes only. Going frameless means your shower will be easier to clean, as it consists of unhindered panes of glass. Soap scum and buildup will have less places to hide and accumulate.
Without a frame, there's less ways to fully enclose your shower and if not aligned properly, water may escape out onto the bathroom floors. However, in cases of a walk-in shower or a more spacious shower, this becomes a nonissue. Perhaps the biggest downside to frameless options are that they are almost always more expensive than a framed door setup. This is due to the size and thickness of the glass; it also means the installation is more challenging. Depending on how they are to be installed, these panes and doors may also require strong nuts and bolts to keep them stable—so having the right kind of space for frameless options is important.
Photo by davidlee 770924 on Pixabay
Framed
Pros:
Cheaper option
Better at preventing water leakage
Cons:
Harder to keep clean
Less design options available
Frameless
Pros:
Lots of custom options available
Easy to keep clean
Cons:
More expensive option
More prone to water leakage (depending on design)
Framed styles have a defined and sealed edge and door, which prevents water from escaping, though these rubber pieces can sometimes also trap mold and grime if they are not cleaned frequently. Framed options tend to be a bit more standard and run in default sizes as well. This allows them to be a cheaper option over frameless glass.
Some larger spaces may strongly benefit from using frameless glass enclosures while some smaller spaces may need the more size-efficient enclosure of a framed shower. The look of an open shower with clean, clear glass and no frame can make even a smaller bathroom feel a bit more spacious. A framed and frosted glass shower will give off a more secluded and private vibe while inside the shower, and will appear as more of an intentional separation of the space when viewed from within the bathroom. Either way, there are a lot of options available to you; it all depends on what you value most in terms of style, cleanliness, price, and privacy. For some, functionality may be more important, while to others, aesthetics take top priority. Either way, determine your preferences, carefully consider the pros and cons, and you'll make the right choice for your bathroom.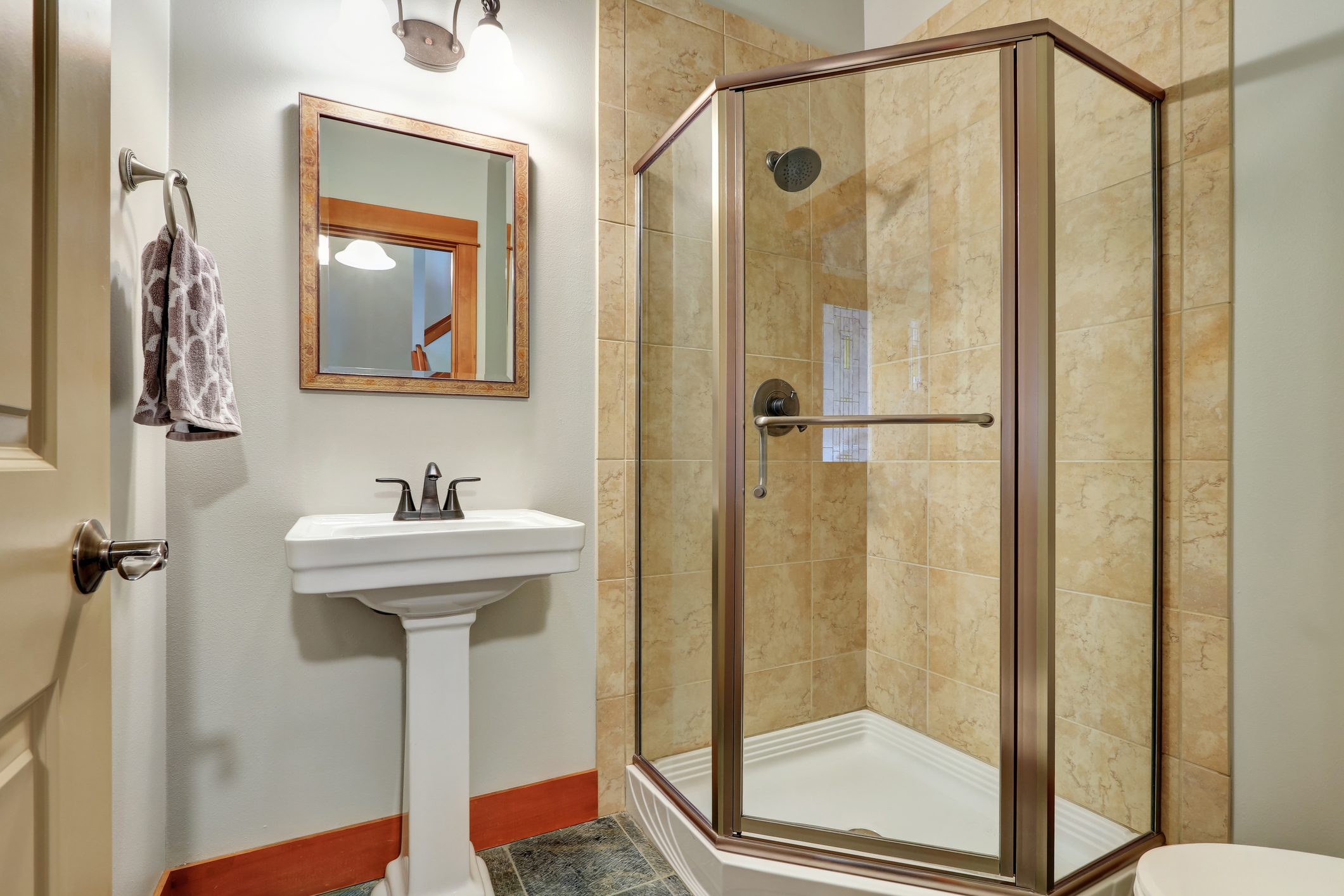 Photo by Iriana Shiyan on Adobe Stock