Couches can last a long time if properly taken care of. They are a big expense and stand out in your living room. Keeping them in top shape will help maintain that appeal of the room. Even if you hire a maid service to clean your home, they can't make worn out furniture look new again. Here are some helpful hints on maintaining your couch so that it not only keeps looking good for years but also maintains its functionality.
Stain Guard Protection
Your couch can take a lot of abuse, and that includes messes, spills, and other surface affecting situations. To help protect the actual surface from liquid seepage or surface stains, you can apply a stain guard protectant. Many couches already have this type of protection, but not always. Moreover, the protection usually only lasts for so long, depending on circumstances like frequency of wiping, use of other chemicals, wear and tear from human movement, wearing down from a carpet cleaner, etc.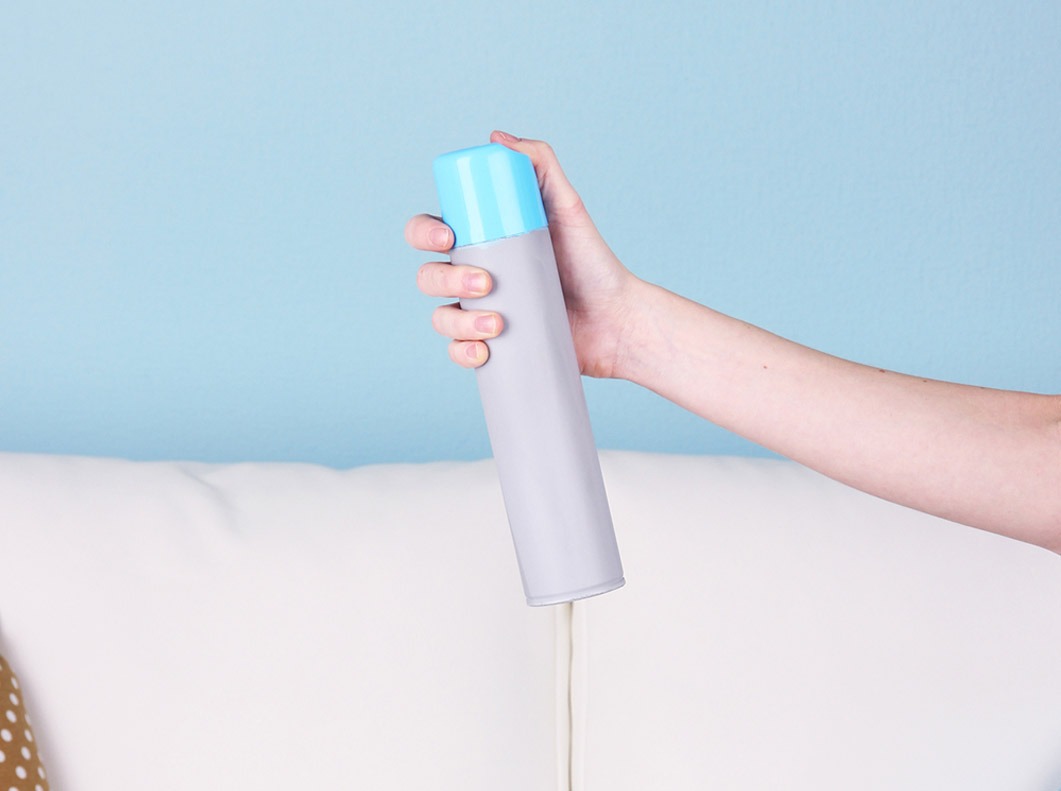 Photo by Africa Studio on Adobe Stock
Stain guards are usually available in spray form. However, some carpet and upholstery cleaning formulas have stain guard protection built into the mixture. However, if you use a carpet and upholstery cleaner, it is still a good idea to spray a stain guard application when finished. Stain guards not only protect the surface but also make it shine like a new piece of furniture. Just like water or wax on an aged car, stain guard protection on a couch brings new life to it!
Leg Support Protection
The legs on your couch bear a lot of the weight, even if they are short and flat. After all, they support the couch and anything on it. They receive a lot of pressure when the couch moves for whatever reason, such as cleaning underneath, relocating, etc. You may have seen couches that have no legs on them or one that has something holding up one of the corners. This is from wear and tear, as well as pressure on the furniture legs. So what can you do to help prevent those problems?
Furniture Movers
Believe it or not, floor movers make a world of difference in the life of your couch's leg support system. First off, they allow easier movement of the couch. In addition, those sliders bear the pressure instead of the couch since they are on the bottom.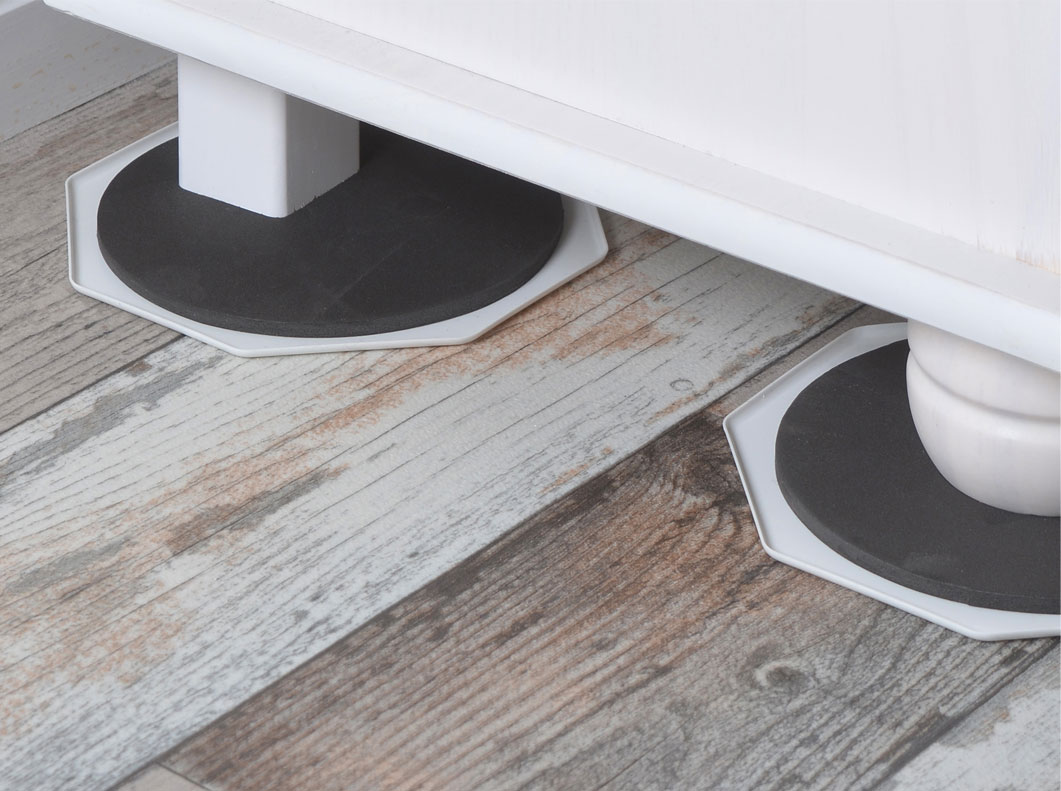 Photo by abimages on Shutterstock
How does this relate? You move your couch to clean underneath it or you place it elsewhere when rearranging the room. Kids and pets can jolt the couch over an inch or two when running into or onto it. Kids can also play rough on the seats that cause the whole thing to move. Someone can bump the couch when looking for something and cause it to move a little. There are many possibilities.
Basically speaking, the random couch movement puts pressure on the leg support system. It can be worse if a leg catches on the floor, such as in a dimple on the carpet, in a creased part of the floor, or even on a loose carpet. Carpet may be stretched before installation and held by nails on the edges with carpet tacks, but it sits freely on the floor everywhere else. As the couch moves, the carpet does too. It can create a bump or bubble that the legs get caught on, which then leads to sideways pressure on the legs. As you can see, the legs bear a lot of abuse and after so long, they begin to weaken and/or break.
Now if your couch has a style with short, flat, and round legs, you can still use the floor sliders to move it around for cleaning purposes. The sliders can still snag on the loose carpet due to the couch's weight, but this will reduce that problem significantly. The wider the mover, the better it will be to move the couch.
If you choose to install sliders/movers, the couch may slide around when in use, but it would preserve the leg system for a longer period. On a temporary basis, the sliders will allow easy movement when needed.
Floor Protectors
Floor protectors are available in many different styles. You can find smaller ones that are barely noticeable and wider ones that will fit larger legs. Protectors have a design to them that helps prevent dimples on the floor, impressions in the carpet, and even scratches on hard surfaces. But on the topic of furniture protection, they help reduce the pressure on the couch's legs. They will absorb the shock and make the furniture move easier, depending on the type of protector you choose.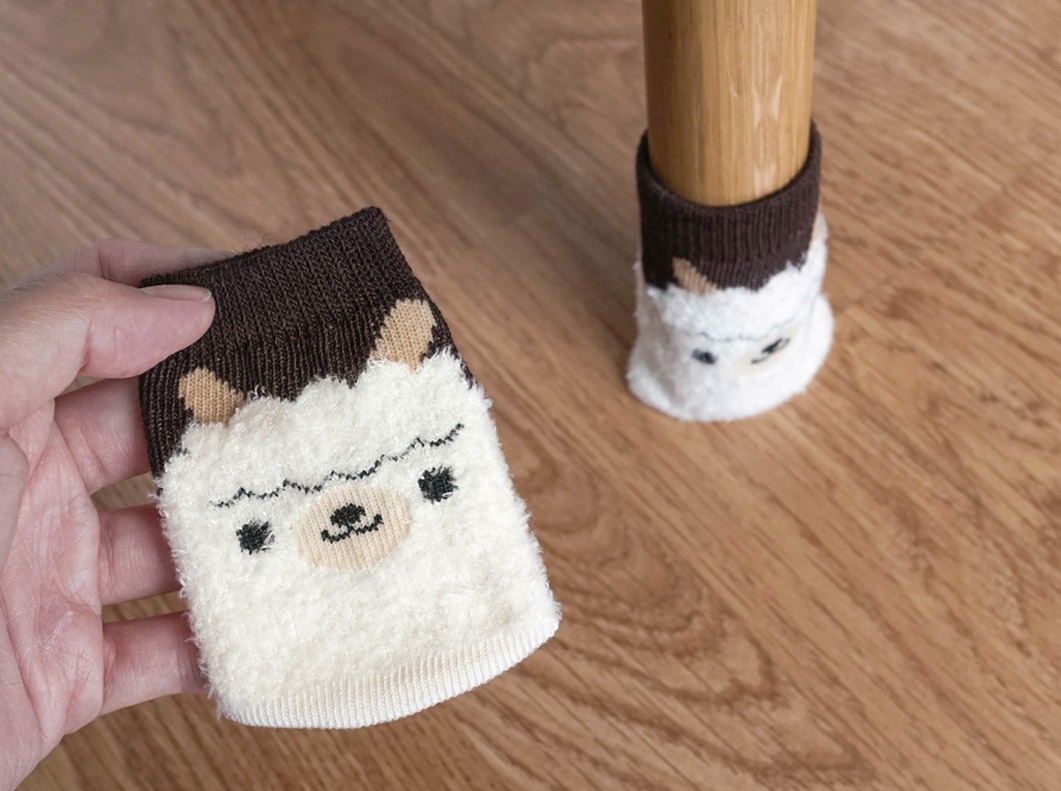 Photo by enchanted_fairy on Shutterstock
You can find many types of floor protectors available, including:
These have a design that is less noticeable and simply hammer into the bottom of the legs. You might even be able to slide the couch with these, but they can leave small indentations on the carpet hen still for long periods. Regardless, that is much better than large indentations. You can get 1/2" tack-on protectors for legs or go bigger up to 2 inches. With a smaller width, you will only have a small impression on your carpet instead of a big one.
These protectors simply sit on the floor and the legs lay on top of them. They are typically round and flat on the top where the legs will sit. They usually have spikes on the bottom so that they reduce indentations on the carpet… or at least make them less noticeable.
These floor protectors simply slide right onto the end of the couch's legs and "cup" the ends that touch the floor. They are great for hardwood floors, laminate floors, and other hard-surfaced floors since they protect the finish. In relation to couch protection, they absorb the shock that the legs would normally experience. They are available with material options like rubber, vinyl, and plastic.
Couch Covers
To help protect the finish on your couch from kids, pets, spills, leaks, stains, and more; you can purchase furniture covers that fit your couch. These covers will also take on the wear and tear instead of the couch's surface. You can also use blankets, but it can be hard to get them to look good enough to maintain the couches shape and to be able to sit on the couch.
Photo by Paul Orr on Shutterstock
Couch covers are available in:
This type of couch cover will lie over the entire couch, all the way down to the floor to ensure maximum protection.
Seat protection couch covers
This type of couch cover simply lies down onto the seats and covers a big part of the armrests. In addition, some also cover the back cushions. If you desire easier installation and want to still show part of your couch's design or color; these covers work great!
This type of cover is not for regular protection. Its purpose is to cover the entire couch when not using it, like for painting tasks, storage, or moving tasks. However, if you have a room and a couch that lacks regular use, you could apply this approach perfectly.
In conclusion, couches are just like many other things when it comes to lifespan. They wear, tear, fade, and become brittle. They lose legs or experience looseness. They suffer from reduced fluff capacity. They even lose cushion support. So, to enjoy your couch for years, consider buying couch covers, floor movers or sliders, applying a stain protector, and even teach those kids not to use it as a jungle gym. By following the guidance above, you will help protect your couch's surface and support system, and even keep it looking great for many years to come. You will be thankful and may even be able to pass it down to the next generation!