Downsizing has soared in popularity over the past couple decades, and with it, the need for creative storage solutions. Whether you have chosen a yurt, a cottage, or even a train car as your favored abode, the kitchen can pose the biggest challenge. You can sleep and even work in a tiny space, but you still need to cook and that means keeping certain necessities at hand. Use these tips to make room for everything you need, almost as if by magic.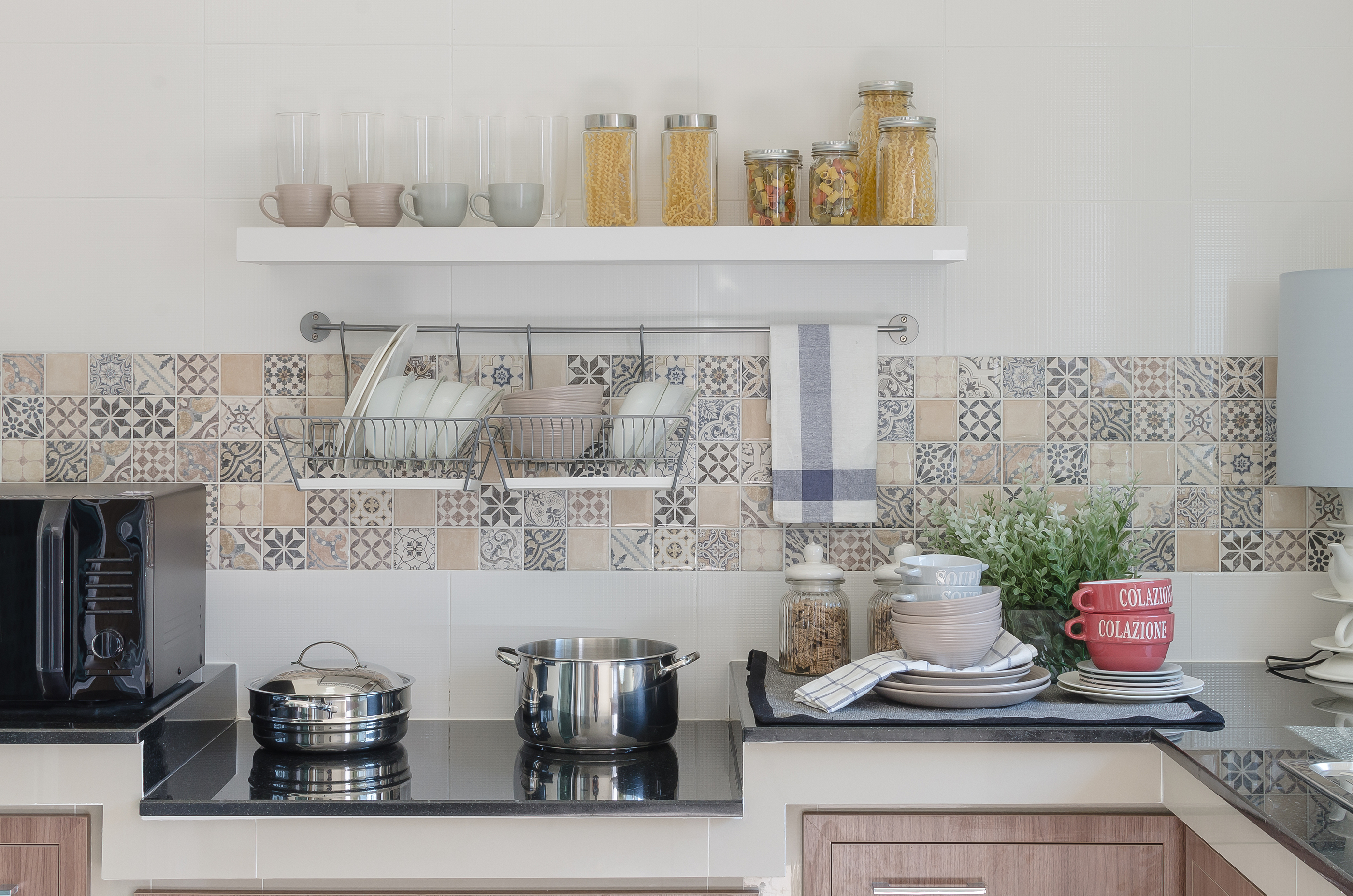 Photo by Kwanchai Khammuean on Alamy
The Walls are Your Friends
Make use of vertical storage space with shelving under the cupboards, a magnetic knife strip, and hooks that can hold mugs and utensils. You can even find narrow units that slide in right next to the refrigerator, ideal for holding spices, cans, or water bottles.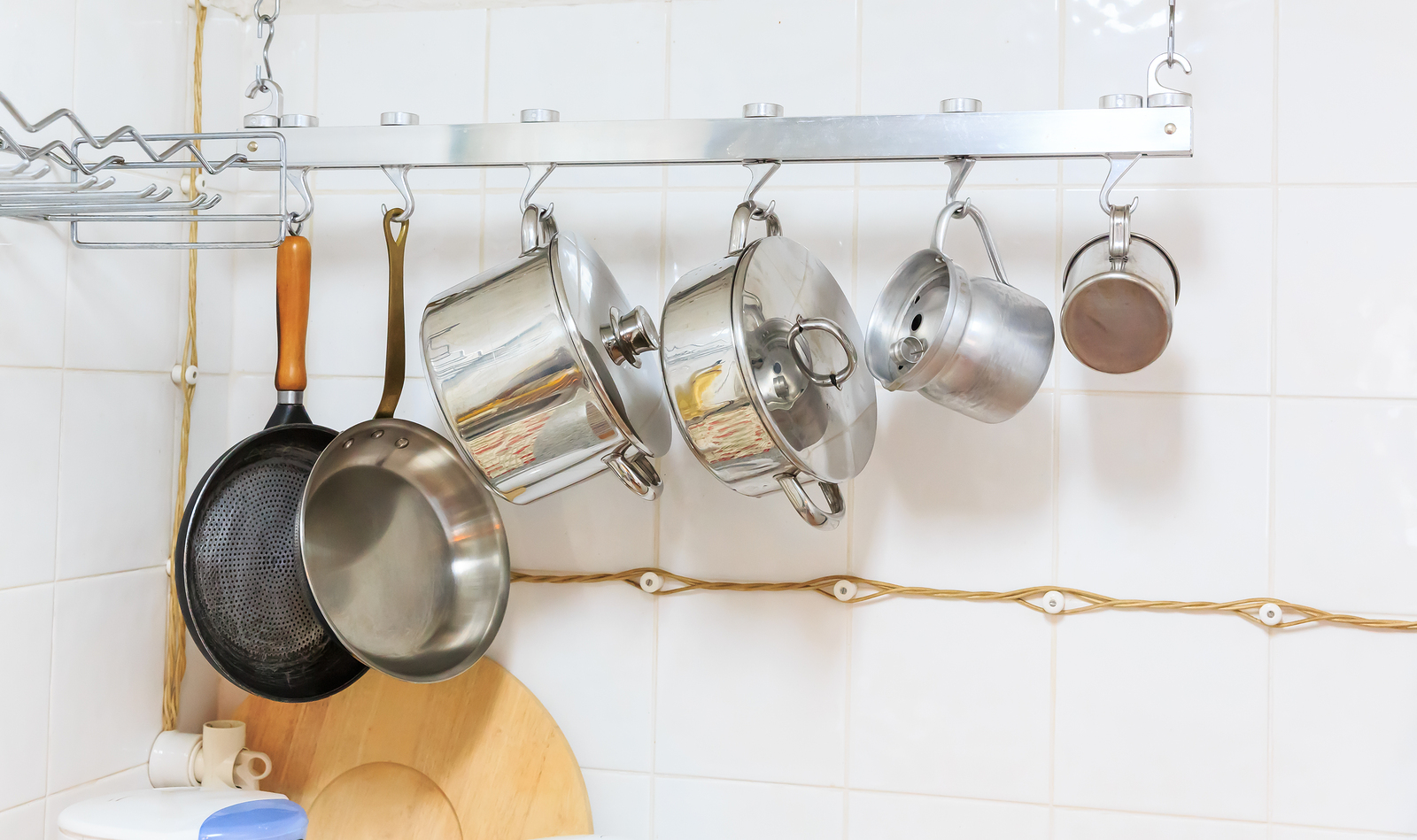 Photo by Nomad_Soul on Adobe Stock
Consider Miniature Appliances
Unless you routinely cook for a large group, a smaller stove and a dorm fridge might do just fine. Moreover, less storage for food will encourage you to get your ingredients fresh from the market every couple of days.
Want to see how those appliances will look in your smaller kitchen? Try out House Tipster's 3D Virtual Rooms, which are conveniently available online.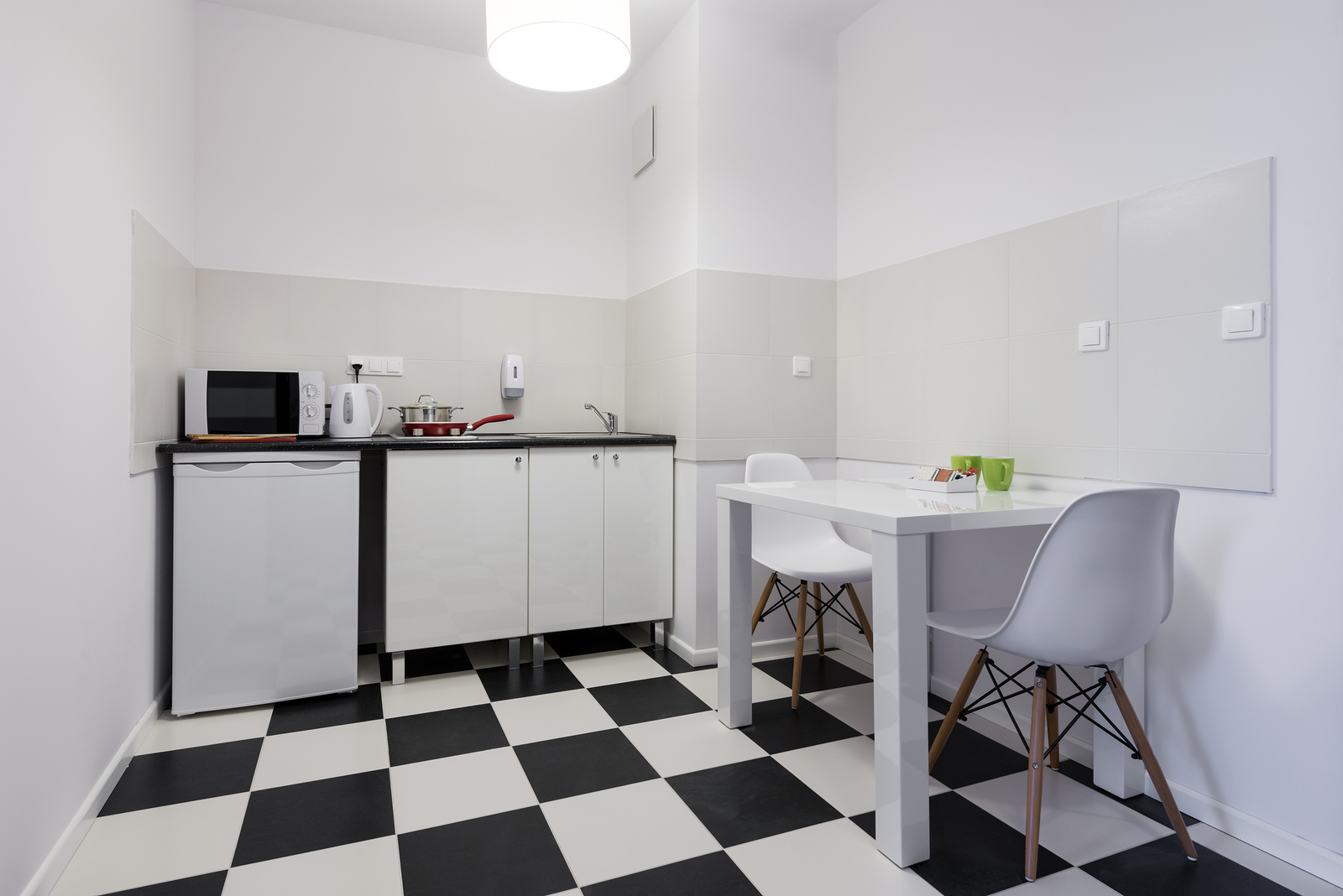 Photo by Jacek Kadaj on Alamy
Hang Those Pots!
Pots and pans are huge cupboard suckers. If you have an island, hang a pot rack over it. If not, hang it from the ceiling in a tucked-away corner, or even in a small utility closet. You can also use pegboard if you have a little area of blank wall space that goes from ceiling to counter top or floor.
Photo by Jeffrey B. Banke on Shutterstock
Double-Duty Sink
Invest in a sink cover to increase your counter space. You can get styles like a cutting board, stainless steel, and even a rack that allows you to drip-dry the dishes without eating up precious space on the counter.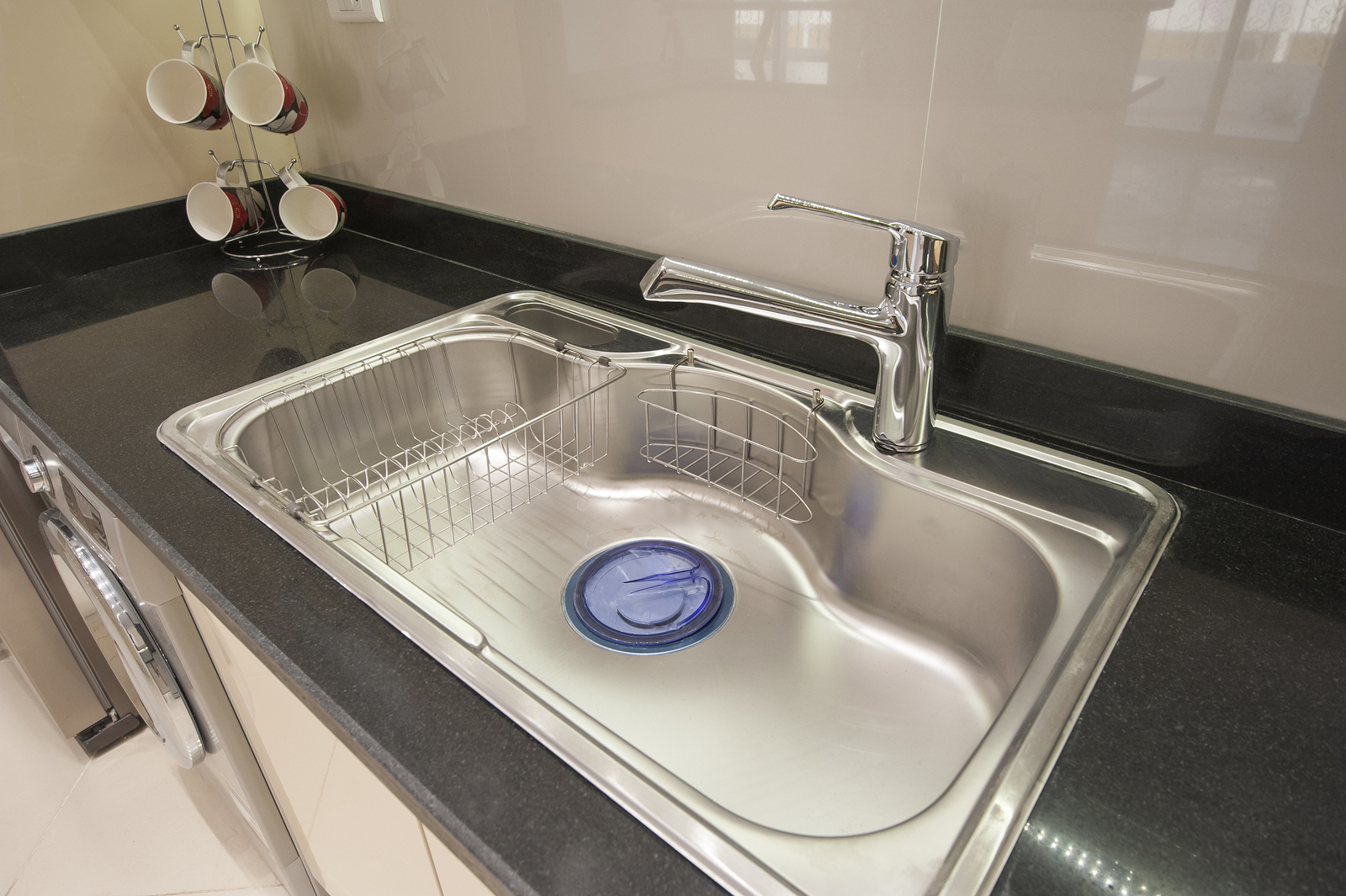 Photo by Paul Vinten on Alamy
Divide & Conquer
Stackable shelving and under-shelf baskets or drawers turn cupboards into perfectly organized storage spaces while allowing you to utilize practically every square inch.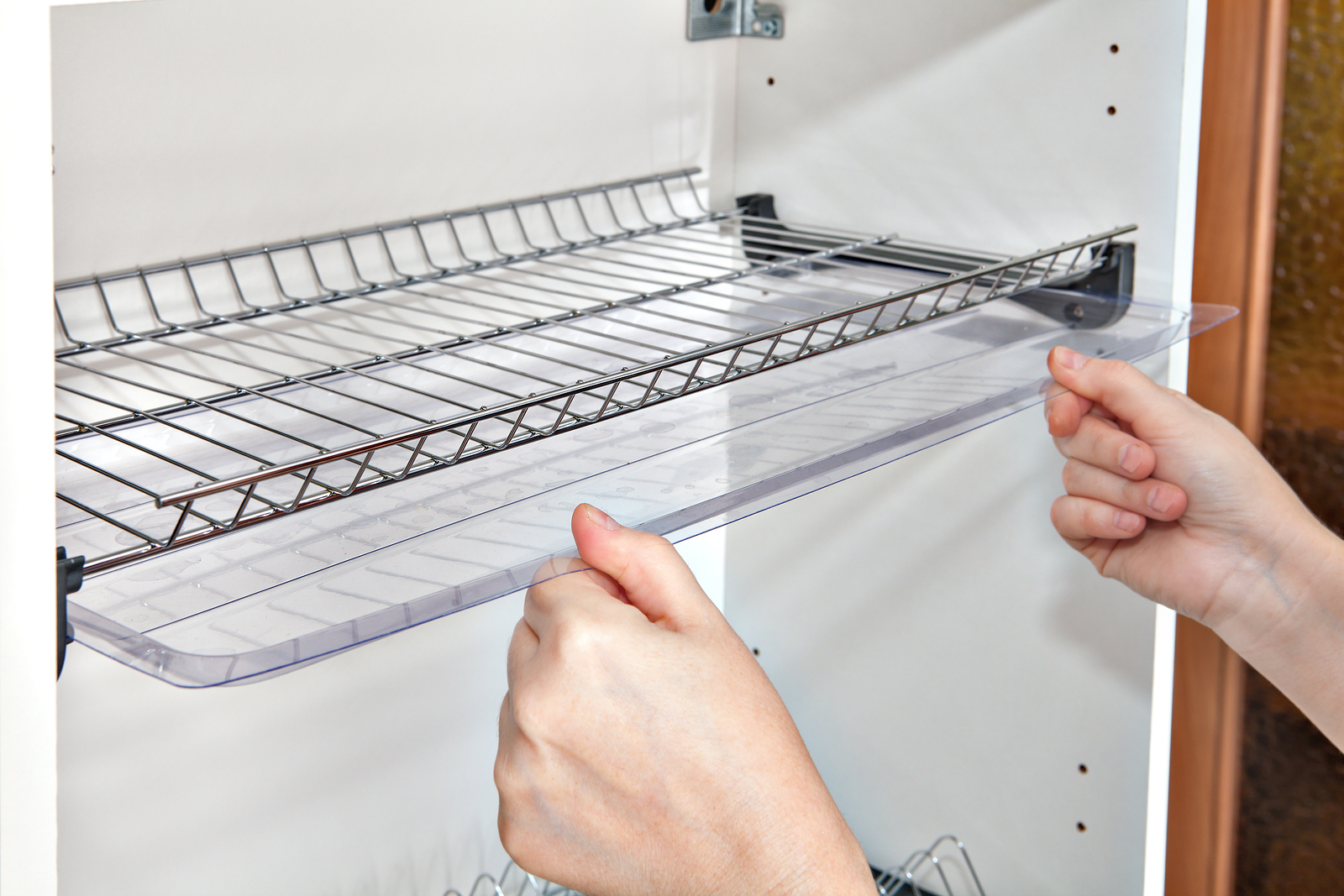 Photo by Vladimir Grigorev on Alamy
Table Alternative
Use a narrow bar-height table rather than a traditional one. Not only can you use it for eating and cooking prep, but they often come on wheels in order to be pushed out of the way when not in use. If you get one without a shelf, you can store your stools under it for seating that does not take up any additional room.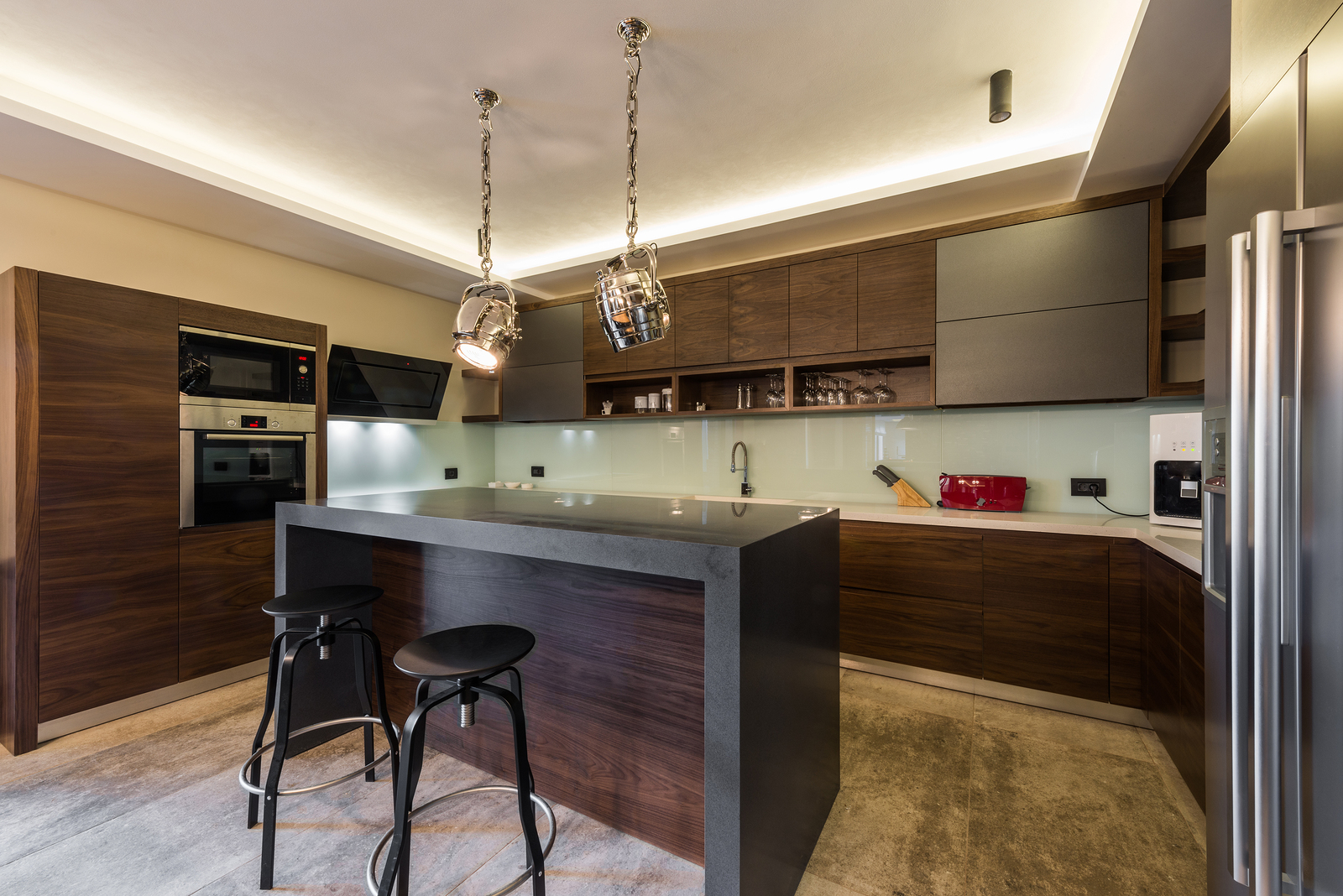 Photo by Marko Poplasen on Shutterstock
Vertical Space Inside Cupboards
Use a file organizer hung on the inside of a cupboard door to hold plastic wrap and aluminum foil. Hang bars on the wall under the sink for trash bags and paper towel rolls. Use a tension rod to hook cleaning-supply bottles under the sink as well.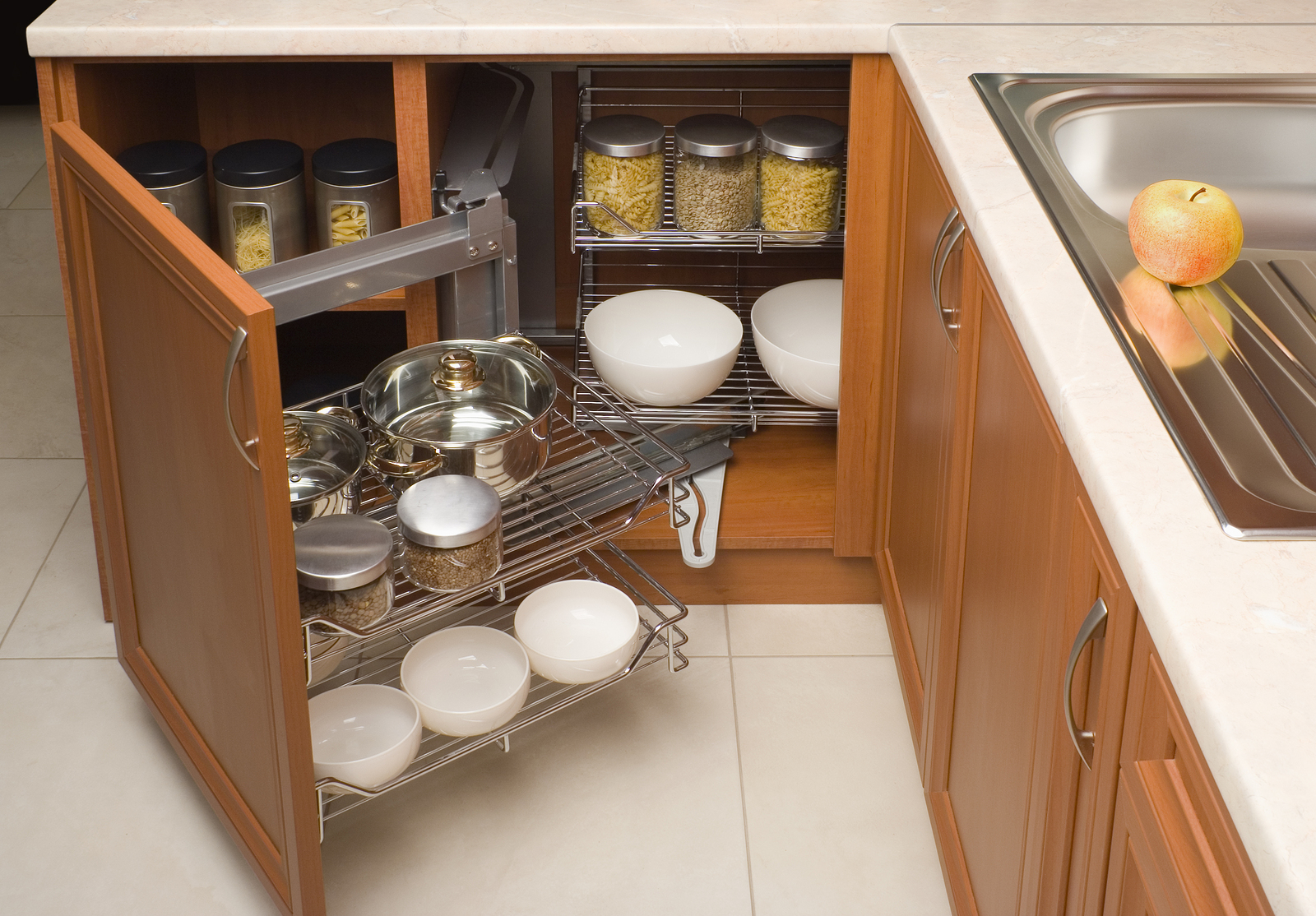 Photo by mitev on Adobe Stock
Turn Your Backsplash into a Shelf
This is the perfect place to keep oil and vinegar bottles, spices, and other little oft-used cooking items.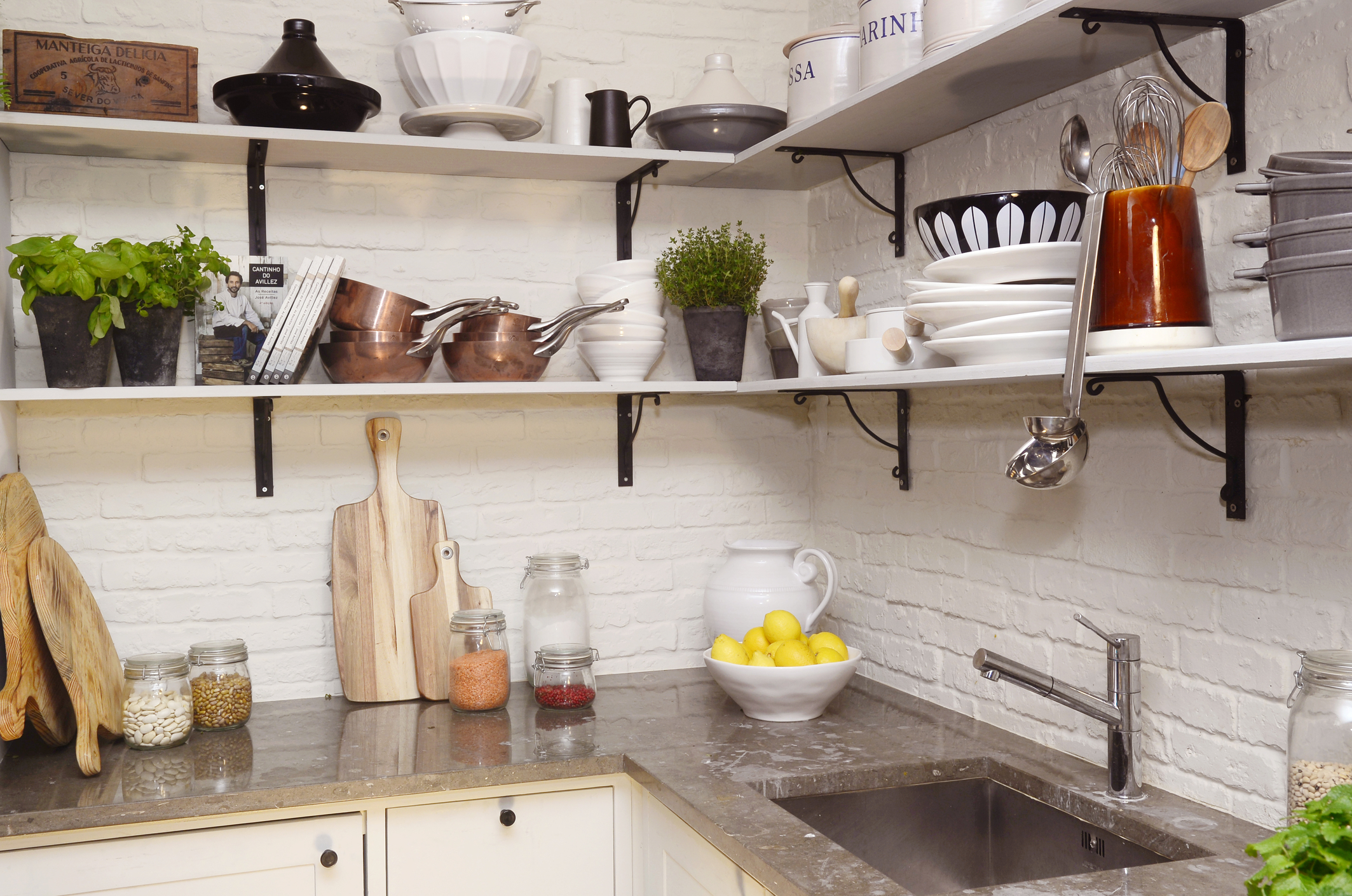 Photo by JHC_photo on Shutterstock
Don't Waste Your Windows
You can get shelving that fits into the space over your sink, with racks to stack plates or other flat items. This allows light to get through and adds yet another little nook to keep things.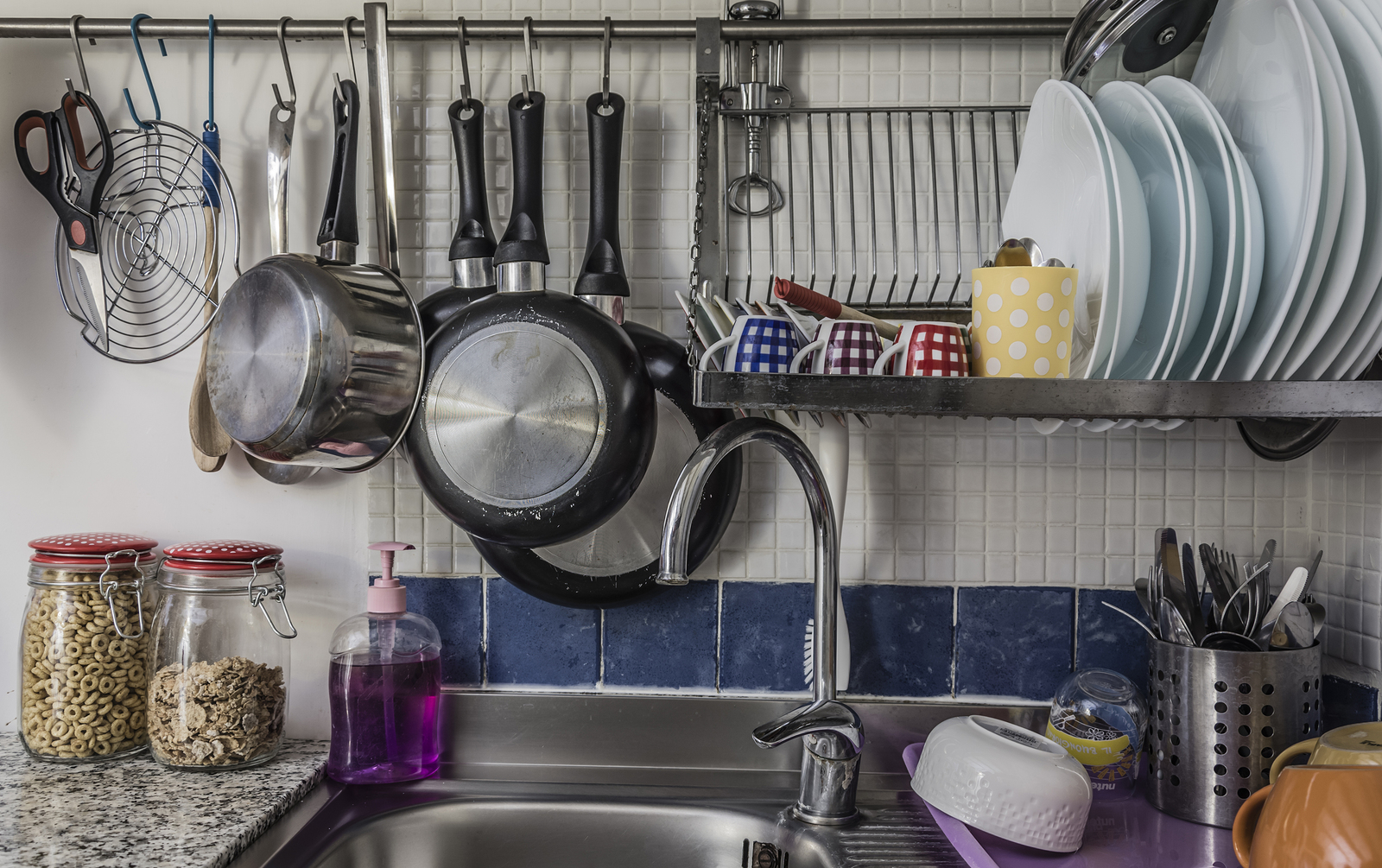 Photo by Zoonar GmbH on Alamy
Make More of Your Counter Space
Pull-out cutting boards and built-in countertop bowls offer useful integrated features that take up barely any room.
Keep on Rollin'
A rolling cart is versatile, mobile, and can be tucked under a table or countertop. Put commonly-used items on it, such as cutting boards and mixing bowls.
Setting up a functional kitchen that doesn't have you fumbling and searching for every little item can be intimidating, but with some creativity and the right storage pieces, you can have a fun, organized, and most importantly productive area even in a tiny kitchen.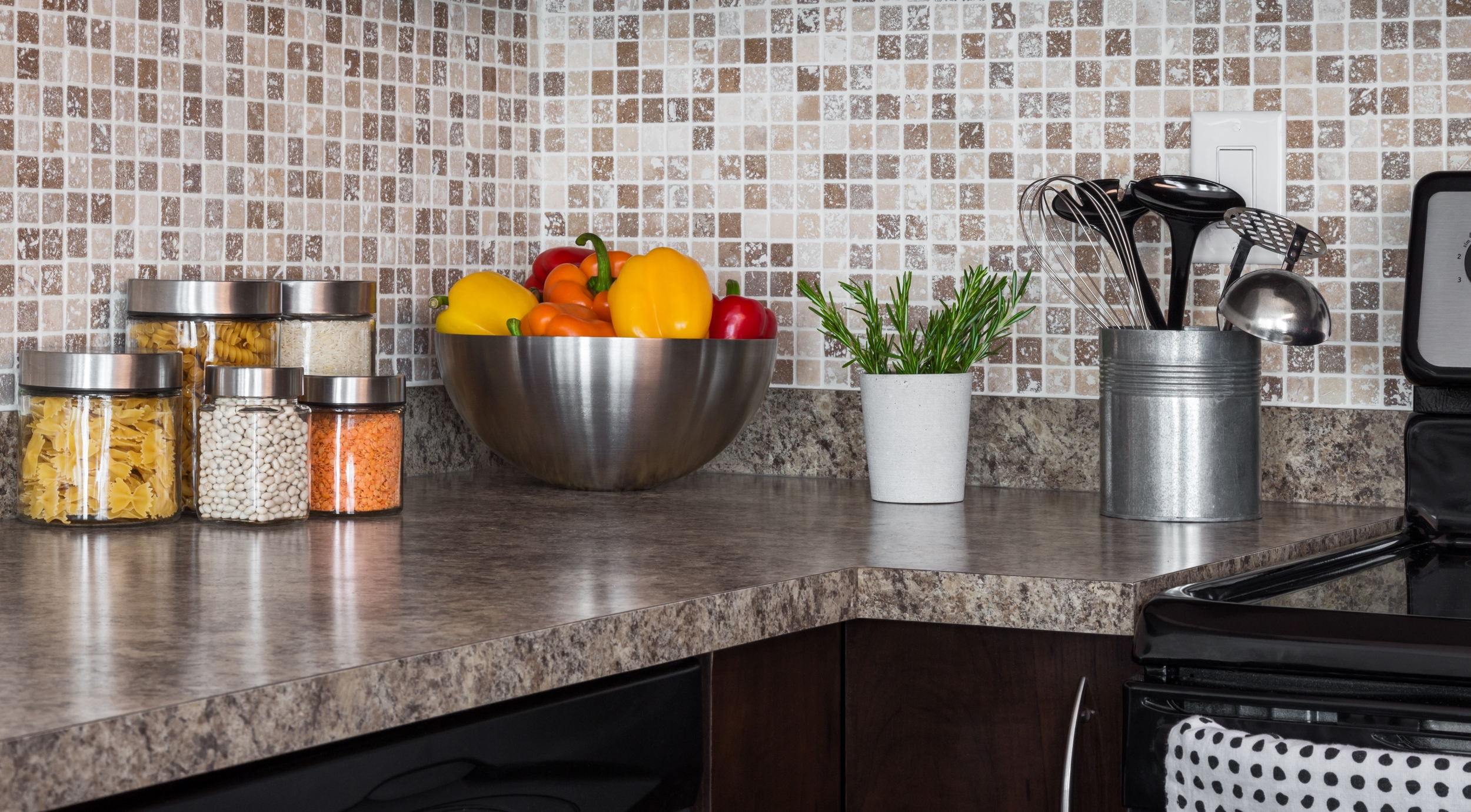 Photo by YAY Media AS on Alamy