Paint's a fickle thing. Even with the best intentions and professional application, it can easily chip, crack, bubble, and discolor. Then, factor in kids, pets, and harsher-than-average wear and tear — and you have a recipe for a colorful disaster.
Think about it, how many times have you heard (or said yourself), "Don't touch the walls! Don't smudge the walls." We've all been there. A touched wall is a damaged one.
Cue Benjamin Moore, a paint and finish company setting the standard for excellence in quality and durability since the late-1800s. We recently spoke with Kali Sipes Pleasant from Benjamin Moore at the 2017 Dwell on Design Expo. Kali was accompanied by the designer of their exhibit booth, Darrin Varden of Darrin Varden Designs.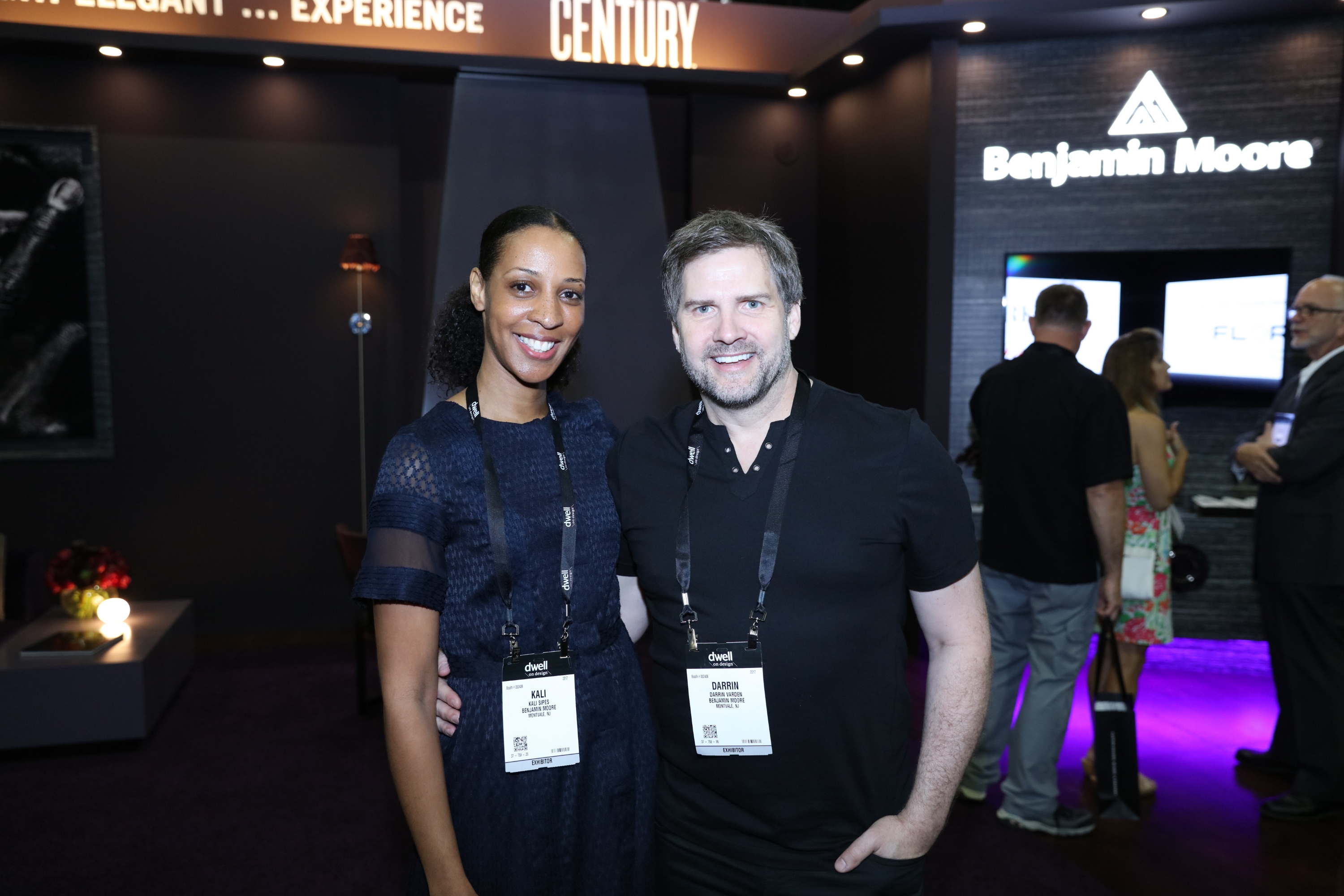 Together, these two made quite the dynamic duo. We couldn't help but laugh at their paint-related jokes and overall passion for the color, vibrancy, and tactility of Benjamin Moore's latest and greatest paint collection: Century.
We were sold on Century the minute we talked to Kali and Darrin, but we're sure you'll find the product also speaks for itself. Are you looking for the gold standard in house paint? Look no further than Century.
This Ain't Your Typical Paint
The formulation is so intricately balanced, it can only be made in small batches.
What sets the Century collection apart from the pack? According to Kali, these paints have a soft matte finish, born from years of research to find the perfect balance of resin and pigment, that ultimately begs to be touched. Plus, it absorbs light remarkably well.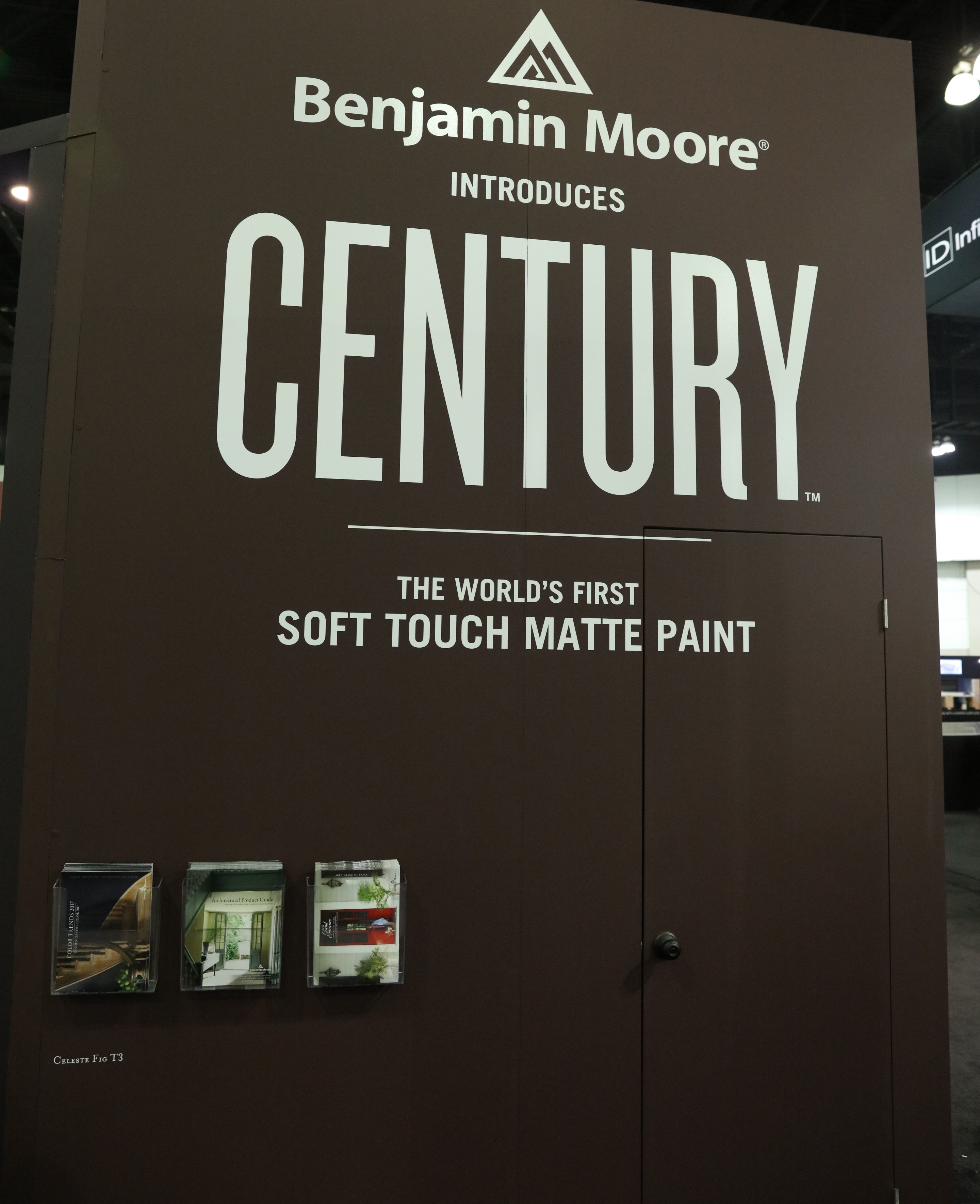 Another interesting feature is the way these paints are manufactured. There's no pigment machine and shaking apparatus needed. Century is made in small batches at the manufacturing facility and is sold pre-mixed and ready for use.
Kali's as excited about this aspect as we are. "It's made in a controlled environment where there's careful attention to the pigments. Each can is true-to-color."
Therefore, you can go back a year later and buy another can of Century paint and the pigment will be identical.
Go Ahead, Touch Your Walls
Let's dive into the whole "touchable" idea for a second because it's something we don't normally see with paint.
What is the soft matte finish, exactly?
With just the right amount of paint resins balanced with color pigments, Benjamin Moore created this truly unique product that adds a tactile dimension to the walls. That's right, it's totally touchable, gives the appearance of subtle, yet luxurious-looking wallpaper, and feels like a "soft leather glove."
Kali and Darrin are in complete agreement: "We encourage you to go to your local paint distributor, buy some Century paint, and put it on your walls. Then, touch it! "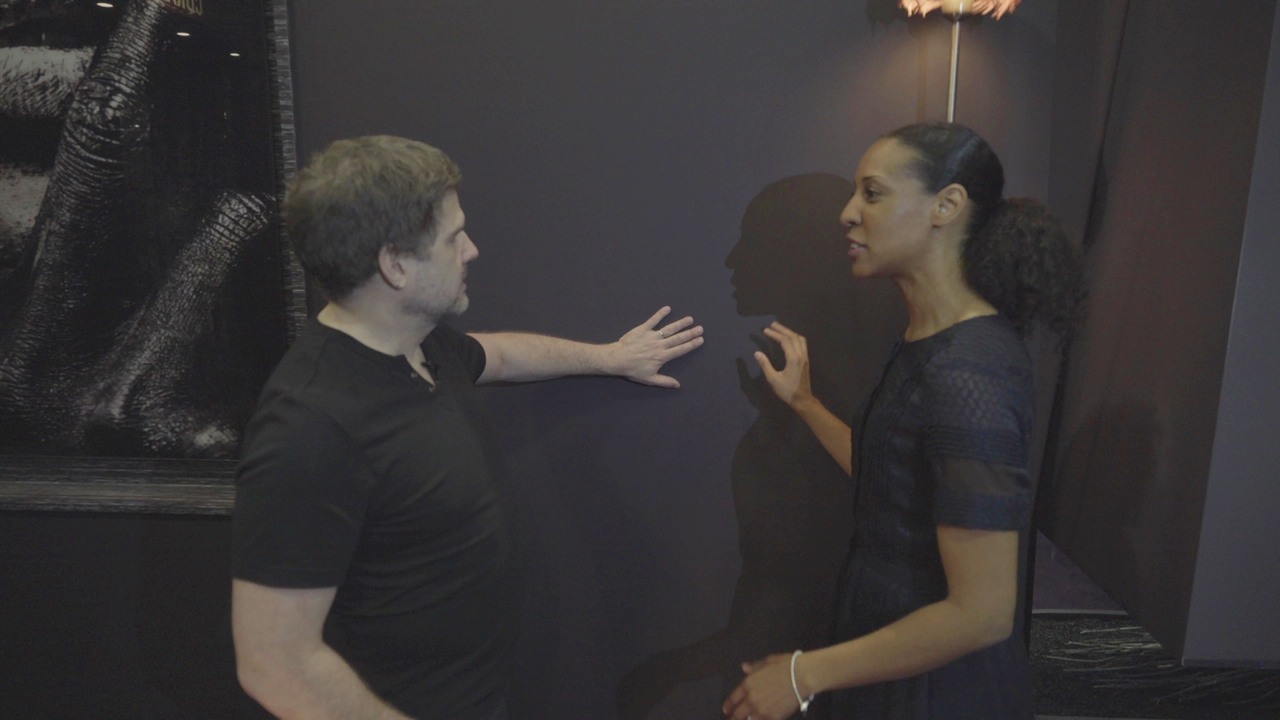 There's no worrying about smudges and scratches when you use the durable Century collection.
Color Me Red (or Purple, or Blue)
Who doesn't love a splash of color on their walls? It's true that homeowners and designers are leaning more to toward trendy, bold colors more than ever before. Thankfully, the Century line caters to those who love color.
In fact, the deep, rich colors gracing the Benjamin Moore display at Dwell on Design is what caught our eyes in the first place. The various purple hues of Celeste Fig and Black Currant emanated off the walls, perfectly absorbing the overhead lighting from the convention floor. These jewel-tones, which Darrin tells us are unfortunately underutilized in the design market, are slowing making a comeback.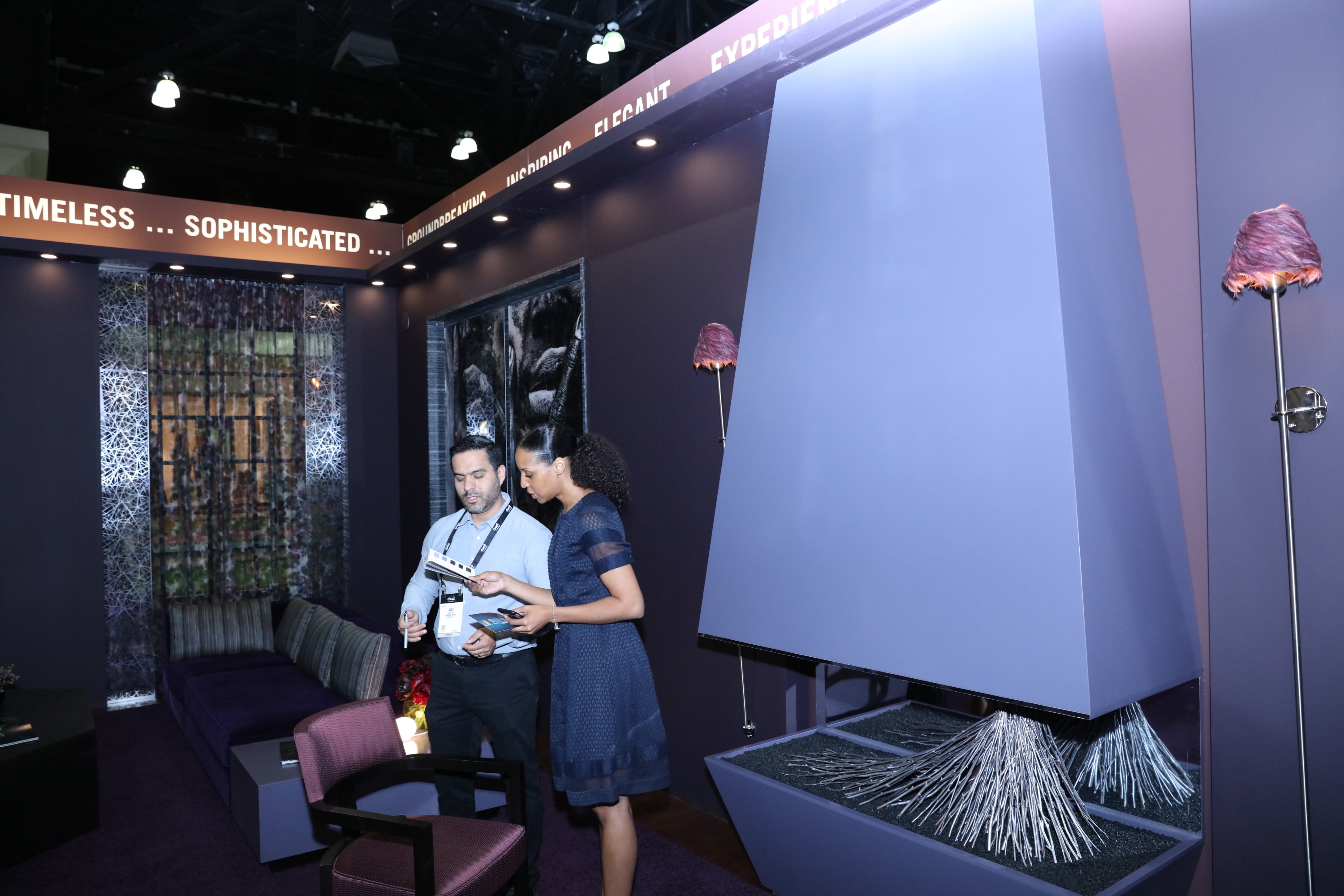 Over time, Darrin believes people are beginning to have the confidence to use brighter, bold colors in the home. It may take some getting used to, but using the Century collection to start on the path of passionate color is a no-brainer.
"You need the courage to use a more passional, dual-toned color. Without risk, there are no rewards."
If the idea of purple or red walls still makes you nervous, you can still use splashes of Century color without it seeming like "too much." According to Darrin,"We're at a place where people are starting to take more design risks. You don't have to use it through your whole house, just a corner or a small room to make a difference."
As you can see, walls are just the beginning. Benjamin Moore's Century paints are good for any space, whether you're painting an accent wall or enveloping your entire room, ceiling and all!
Currently, designers have access to the Century collection, including 75 new colors that beg to be touched. Homeowners have to wait until September to get their hands on this painting innovation, but the wait's worth it.
To start your Century paint wishlist, go to the Benjamin Moore Century website and start browsing their stunning selection.