Your parents are coming to visit, and while you're excited to spend a few days with them, the fact that you've avoided decorating your guest bedroom is now staring you in the face. I mean, you got started – there's a bed frame, mattress, dresser, and nightstand, and well… nothing else. Hey, I've been there. Your own bedroom could use a little TLC, and the thought of finishing your guest bedroom doesn't exactly make you jump for joy.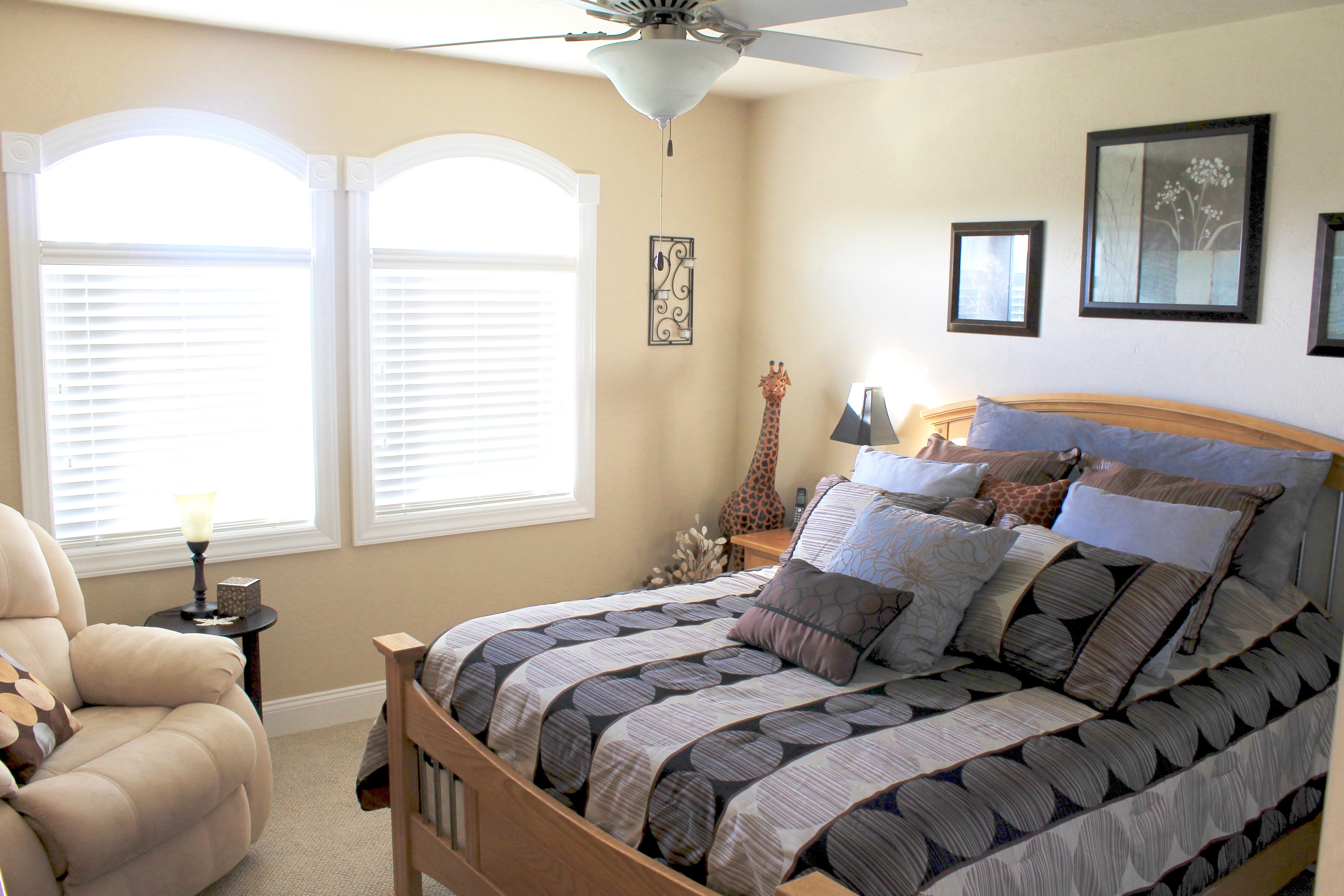 Instead of spending hours trying to figure out how to tackle this project (and since your parents are coming this weekend and time is of the essence), I'll give you five tips to transform your guest bedroom:
1. Start With the Bedding
When decorating a guest bedroom (or any bedroom for that matter), choose a comforter that suits your style, and base the rest of your décor around the comforter. Choose a combination of colors and patterns that can throughout the room.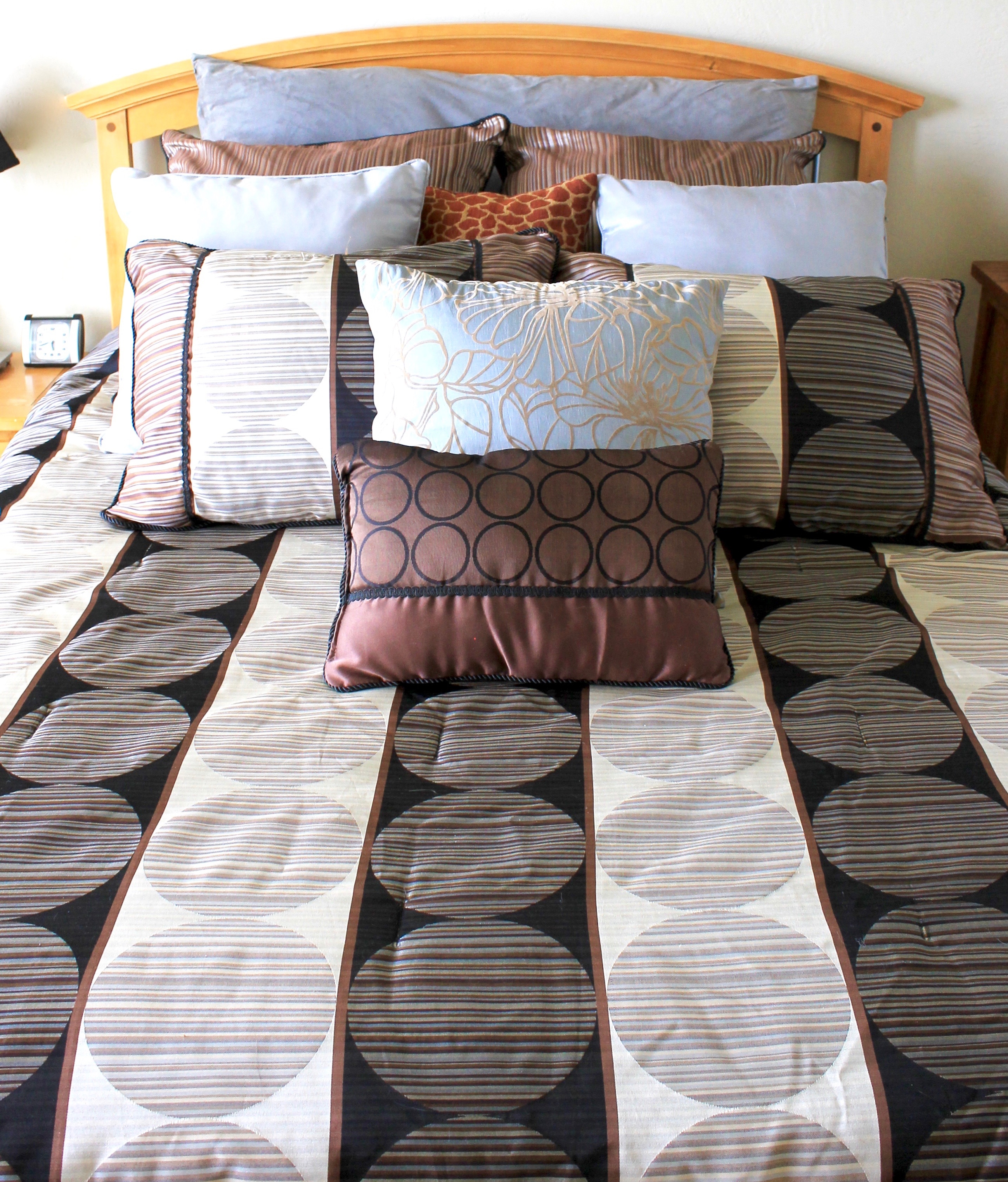 I giraffes! (Have you ever seen a more stunning creature?) I wanted to add touches of my giraffe love throughout the room without making it look like a wild safari, so I decided to choose a comforter and pillows that had some of those rich brown and tan tones. I also chose to incorporate cool gray-blues to contrast the warmth.
In addition to the colors scheme, I chose a comforter that had a simple, yet pattern, and knew that I would be able to incorporate the circular shape into the décor as well.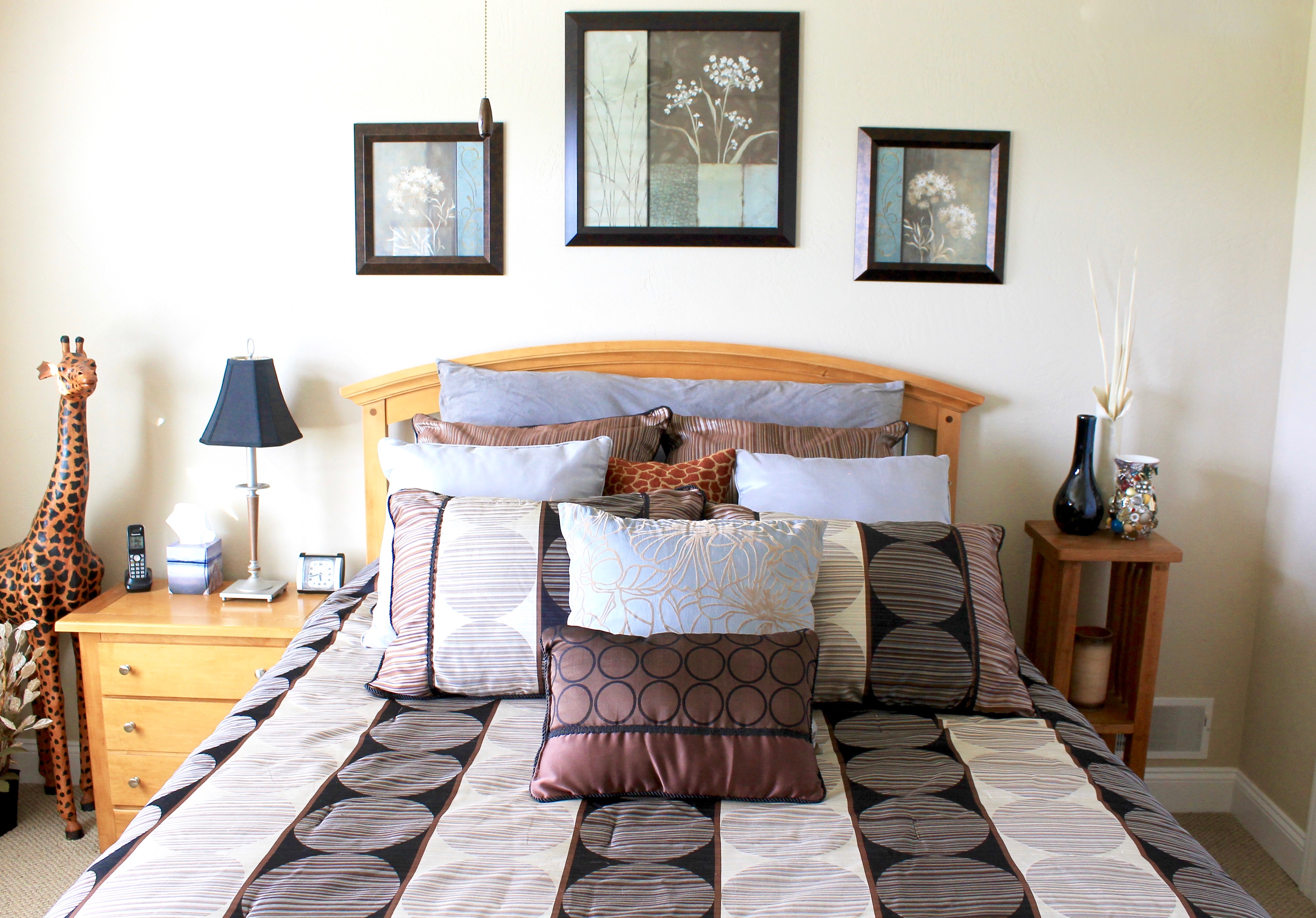 Try to avoid colors and patterns that are too busy or loud because you want to provide a tranquil space for your guests to feel well rested (even though your dad insists on getting up at on the weekends – oh well, it's the thought that counts).
2. Implement Décor that Carries the Theme and Keeps Things Streamlined
When decorating a guest bedroom, the last thing you want to do is decorate the room to the point that it looks cluttered. Less is more, so make sure there's room for your guests' items on the nightstand and dresser, and space out the wall décor as well.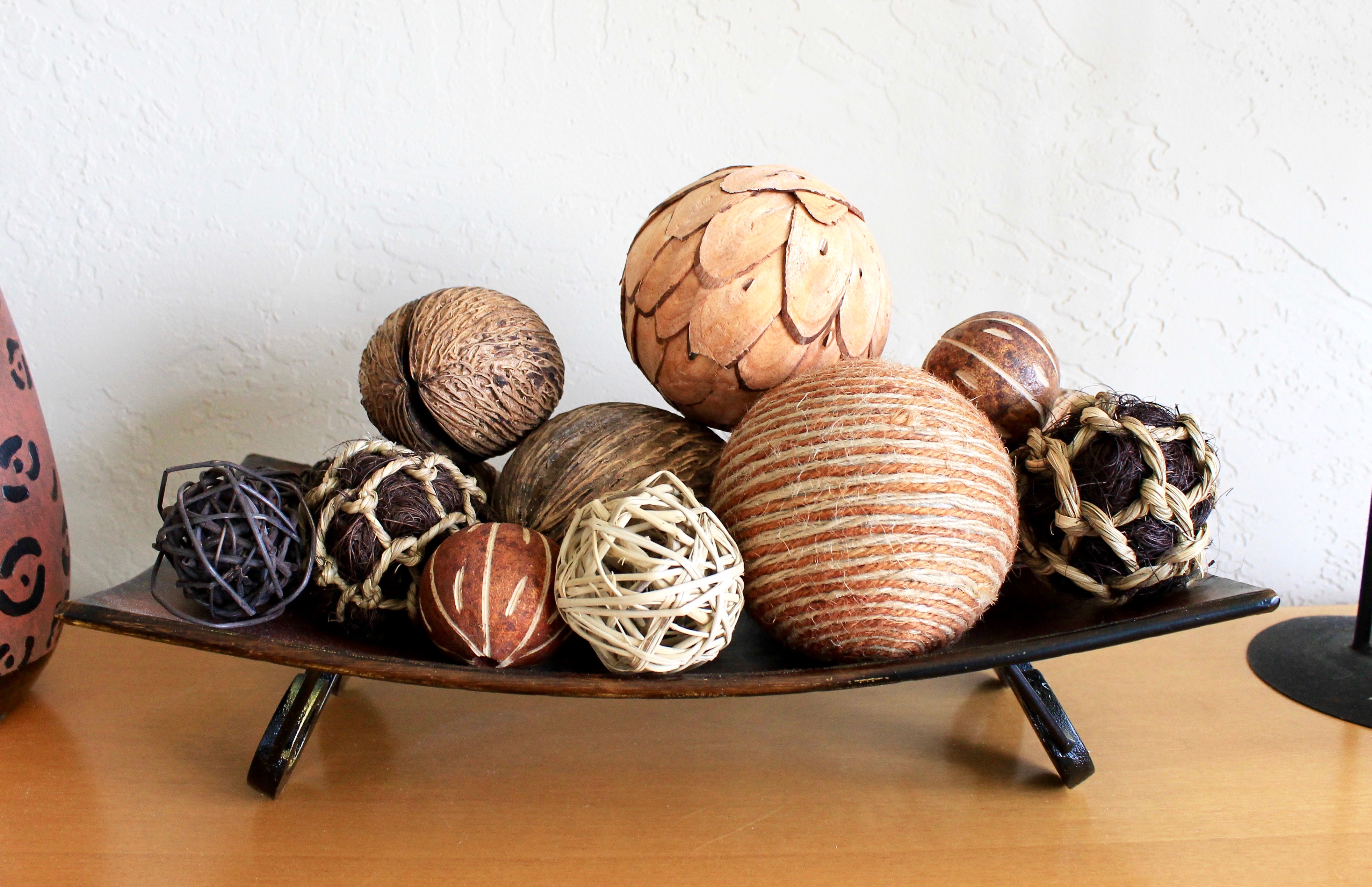 Dresser and nightstand décor. When choosing a few poignant pieces, find items that bring the room (and your theme) to life. Wooden textures, metal sculptures, spherical shapes, and earth-tone colors play a perfect supporting role in this room.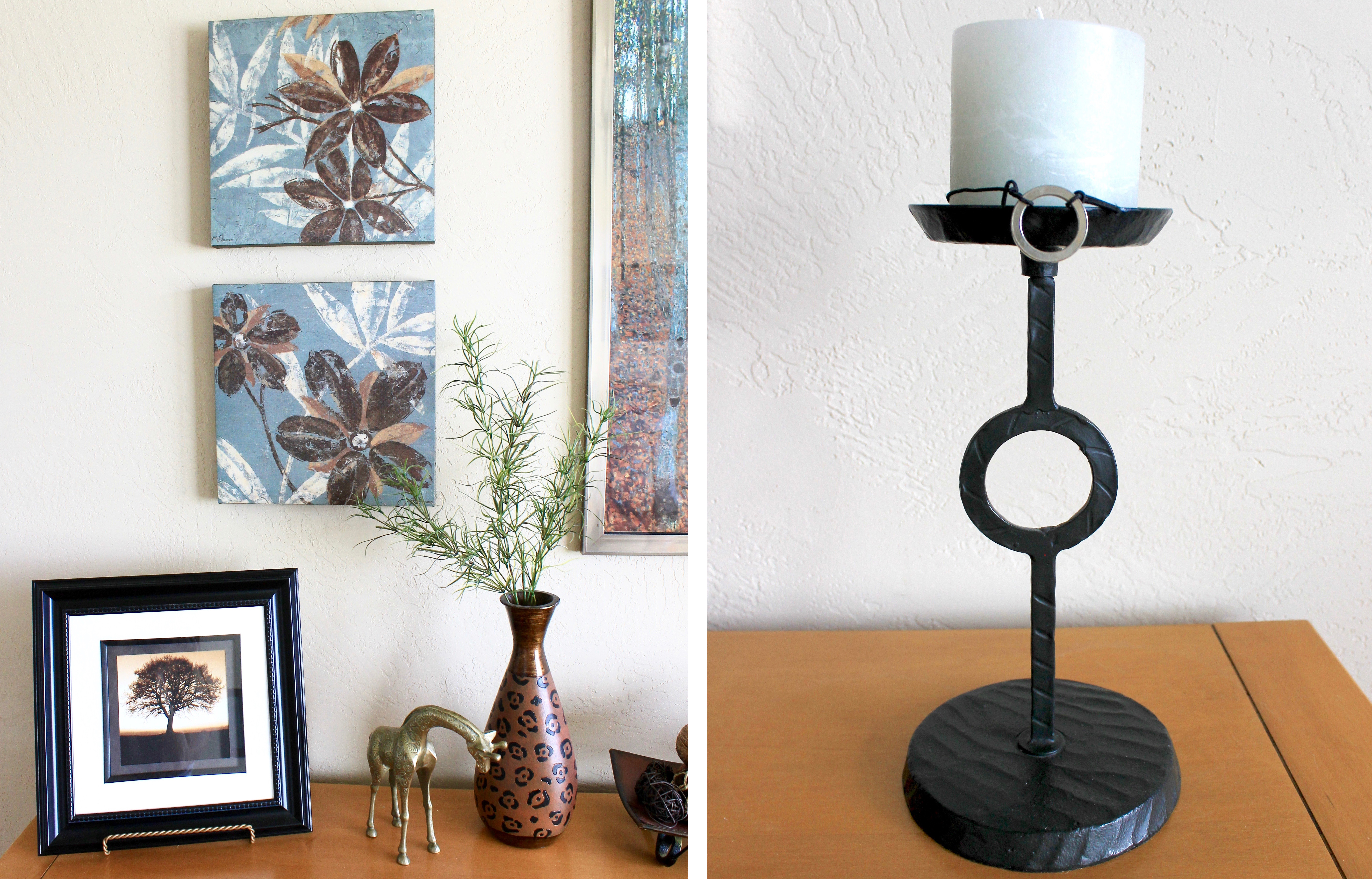 Wall décor. Paintings and unique works of art complete the entire room, especially when they highlight the color palette in your comforter and throw pillows.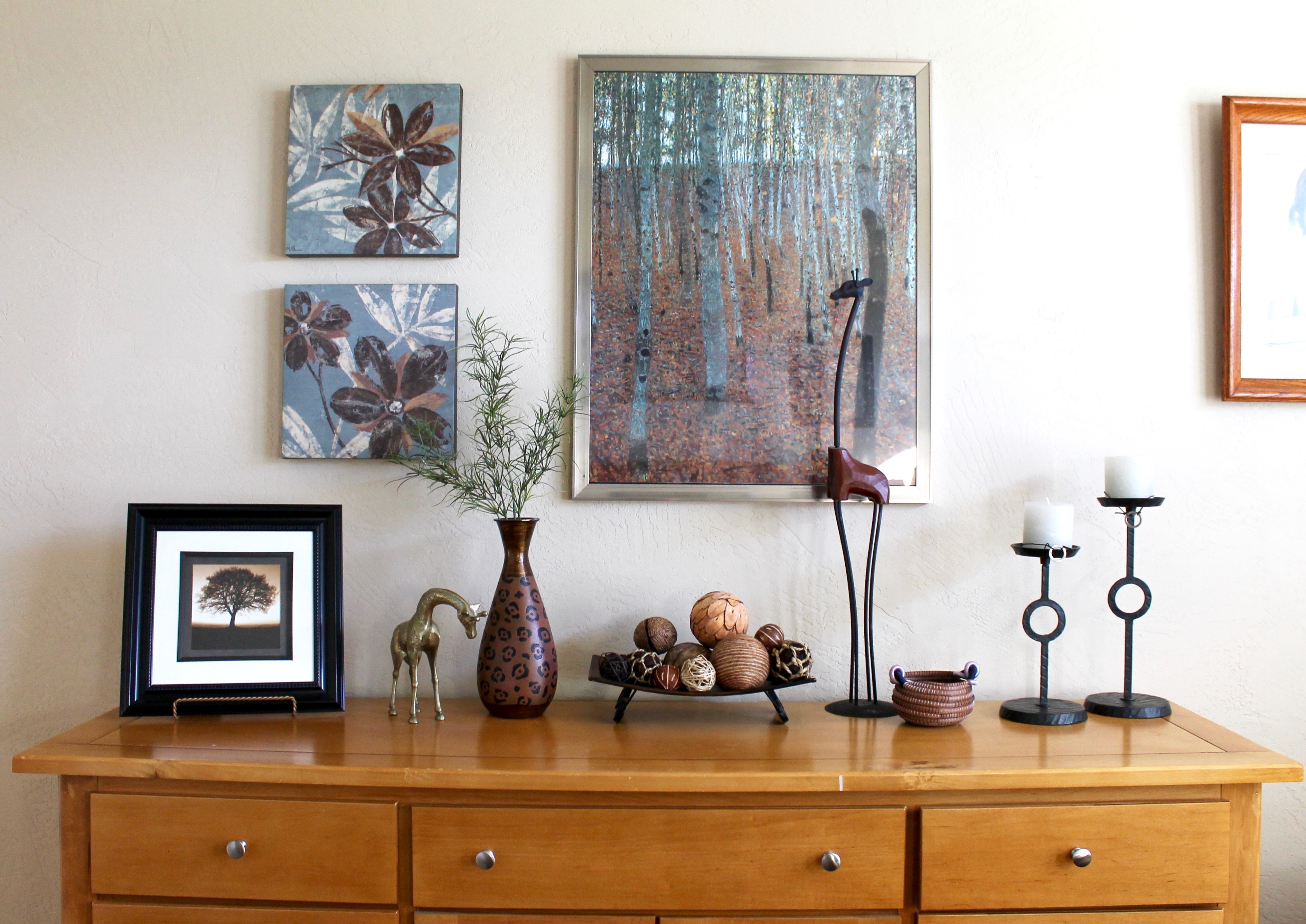 3. Set up a small sitting area for visitors to enjoy some quiet time
Even though you have a ton of fun things planned for the weekend, your introverted mom will need a little alone time to recharge at some point.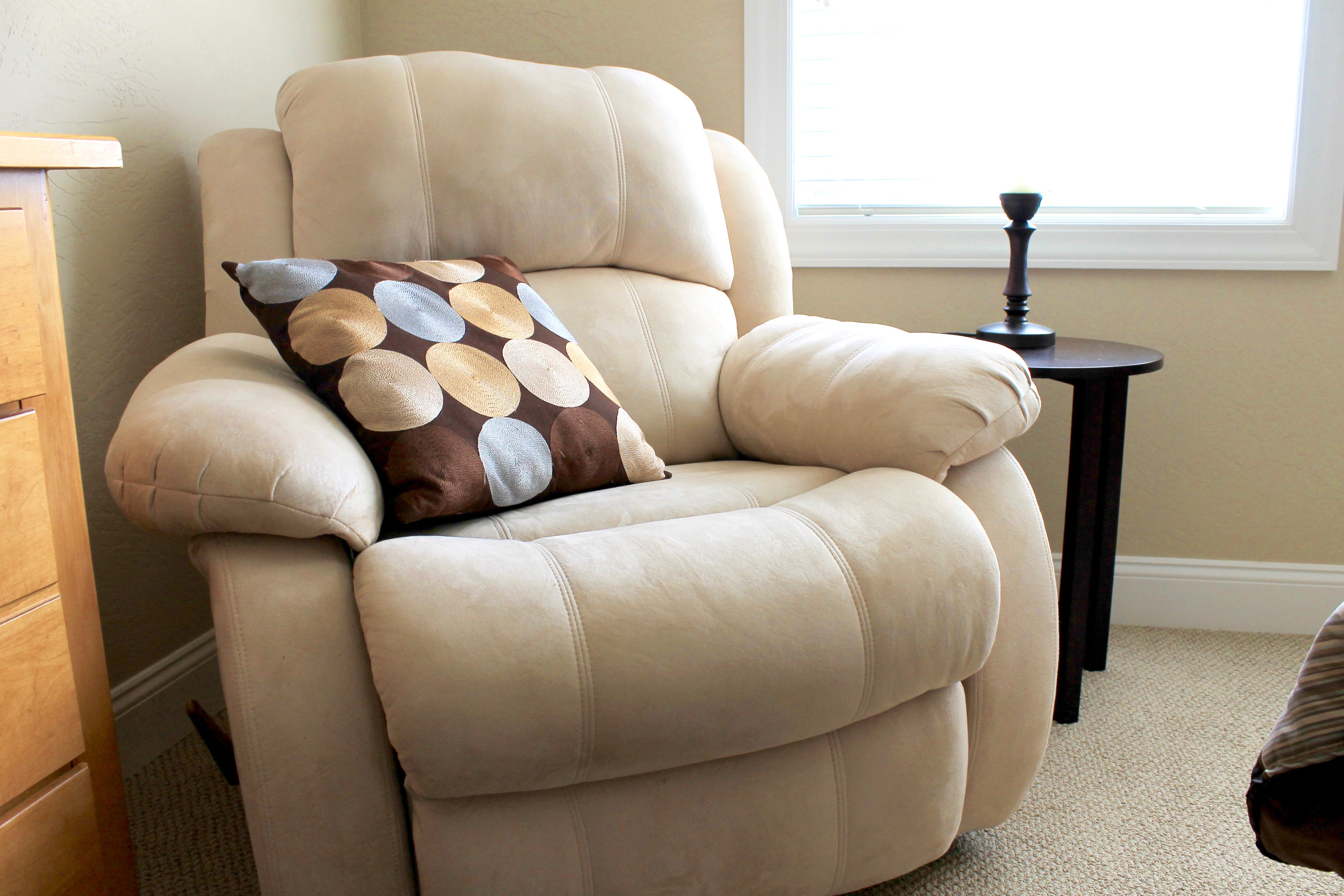 Placing a comfortable chair in the corner of the room provides a relaxing place to sit, read, or just close your eyes and put your feet up without having to be on the bed. Be sure to add a throw pillow that complements the bedding to tie the room together.
4. Implement a Few Personal Decorative Items.
Whether it's an exquisite potted plant, an heirloom vase, old family pictures, or a beautifully sculpted wooden giraffe (or all of the above!), be sure to add special touches sentimental meaning. Even though you want to set up a luxurious space, you also want it to feel like a "home away from home" for your guests.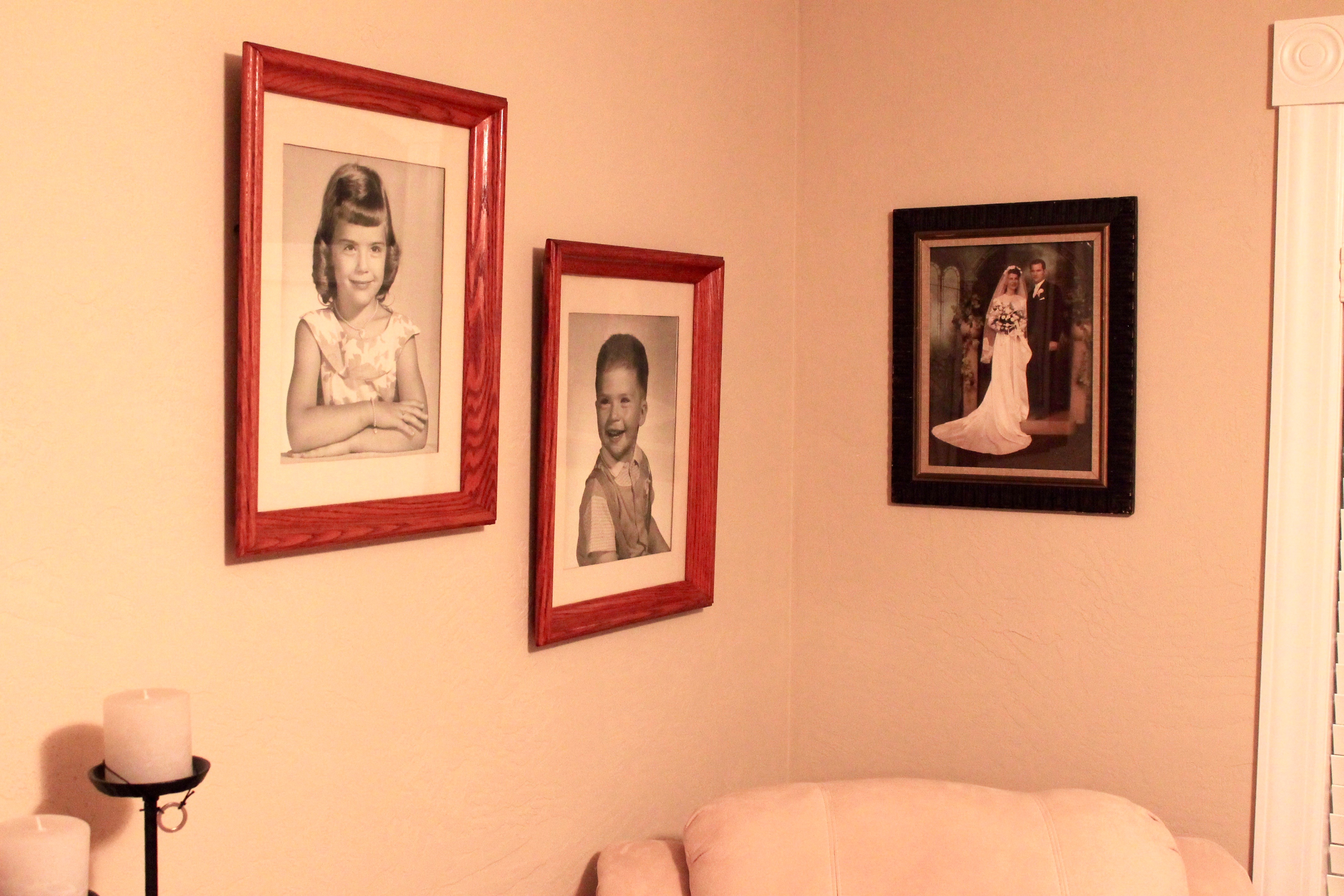 5. Provide a Space for Towels, Washcloths, and Extra Blankets
In addition to comfortable bedding and remarkable décor, make sure that you supply some practicality too. I'm sure you remember a time when you stayed at someone's house (who shall remain nameless), and you had to ask for extra towels after rummaging through the entire bathroom and coming up empty (I just want a shower!).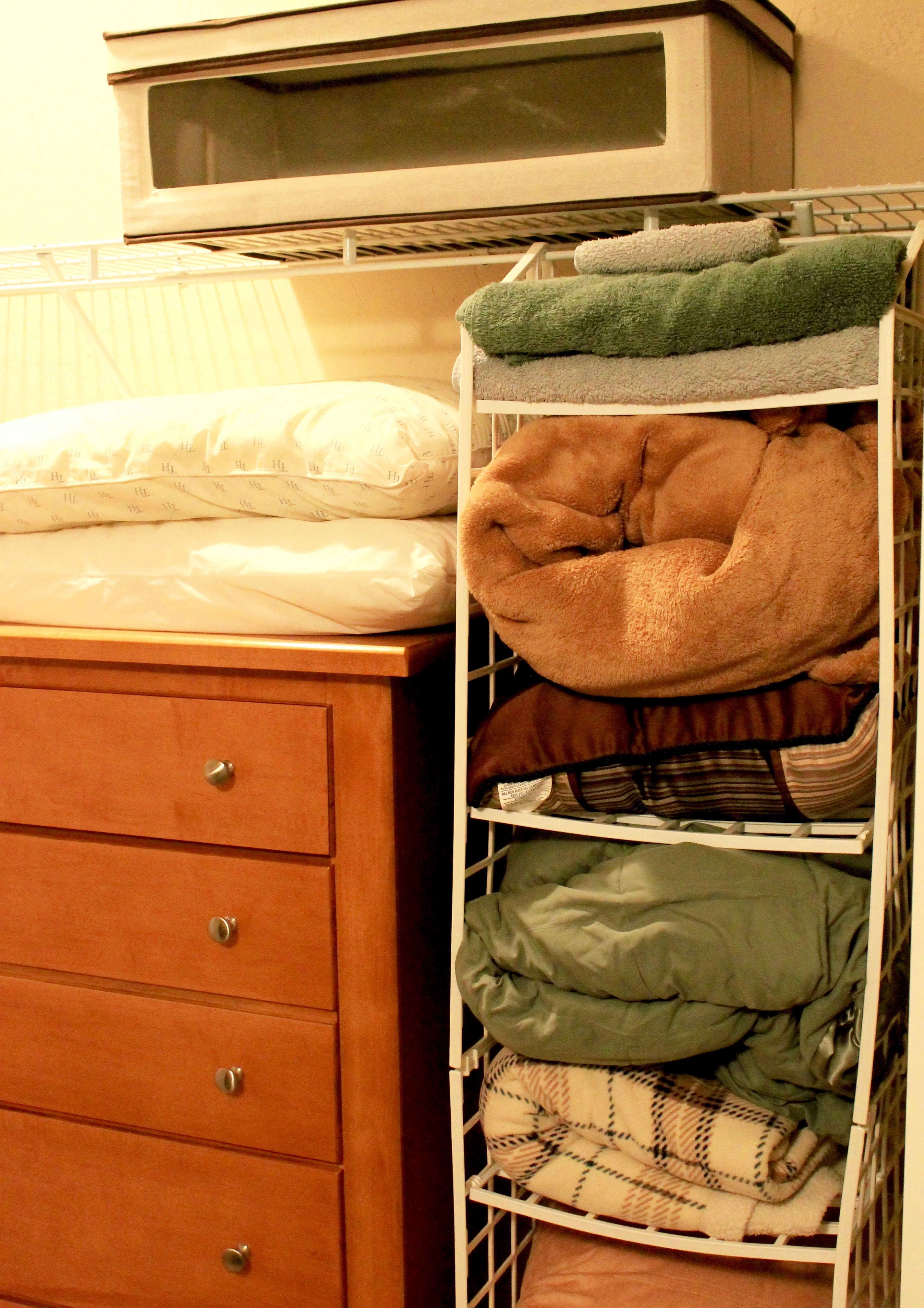 Don't be that host! Let your weary travelers know that there are plenty of extra towels, sheets, blankets, and pillows should they need them. Put these items in the closet so that they are easy to access, but hidden from view. That way, your guests' watches, jewelry, and other personal items don't have to compete with the stack of towels on the dresser.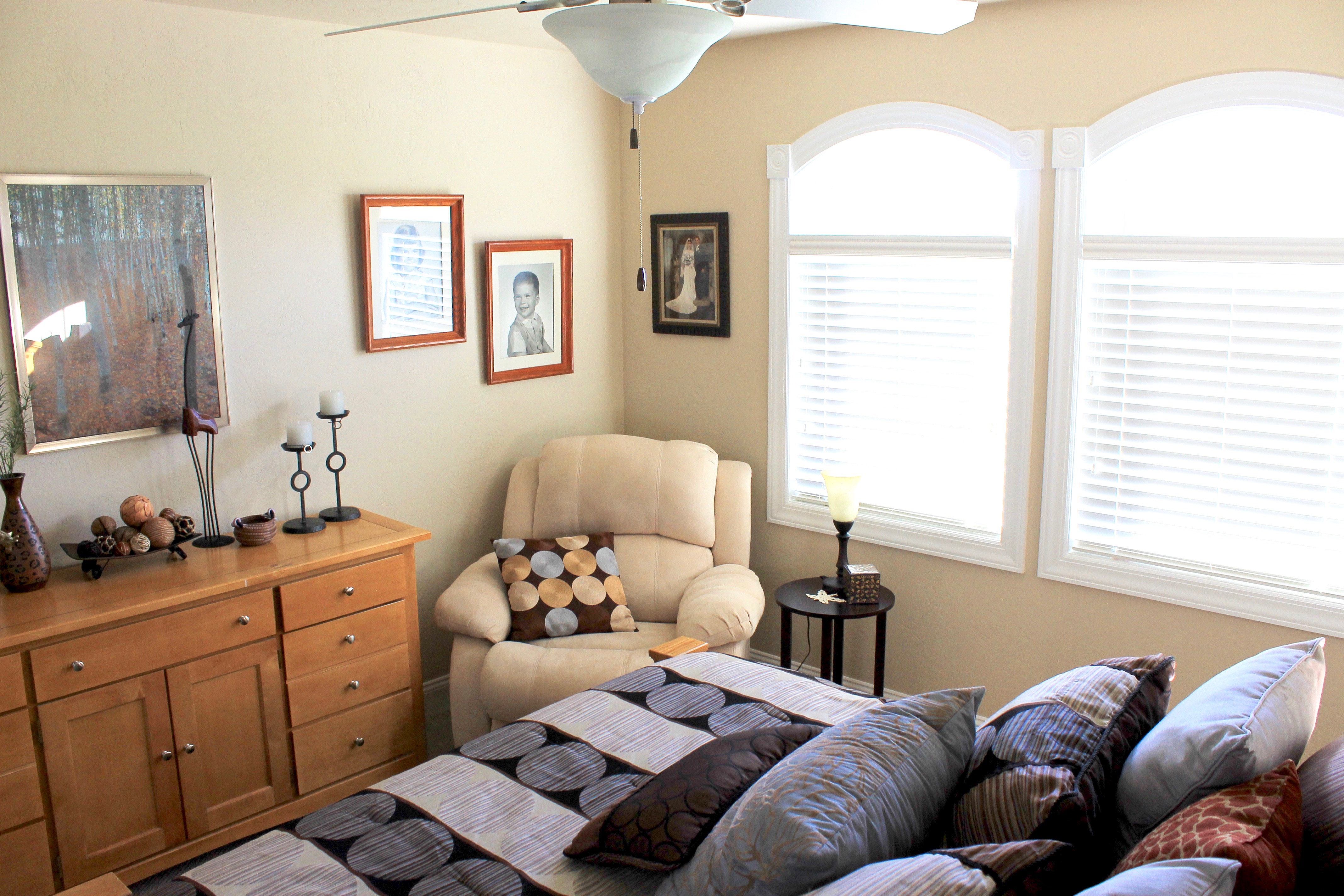 Now let the fun begin! Your guests will be blown away by the fact that you put so much effort into creating a quiet oasis for them (and that you did it in four days). Be sure to show us your final results by uploading your pictures in the comments below – we love seeing your creative ideas come to life!
Images used with permission, courtesy of Kelly O'Roark
The writer of this article was compensated for their review.