The time has finally arrived where you have had it with your current kitchen set-up, and you are ready to start anew. Question is, how does one start designing their own kitchen? Do you go online and choose what other people have done? Should you immediately call an interior designer and listen to what they suggest? Should you just wing it and see what happens if you start designing with no idea of what to do?
Designing your own kitchen can seem challenging when you are just starting out, but when you take a moment to process each component of a kitchen; the project becomes a lot more manageable.
Follow along and we will guide you on helpful tips and how to start designing your own kitchen.
Table of Contents
Research Online and Get Inspiration
Before you start moving anything around or shopping for new appliances, begin by researching what other kitchens look like online. Follow kitchen interior designers on social media or look up creative kitchens on Pinterest to see what resonates with you. Take notes regarding appliance location, colors, decoration, lighting, windows and grouping of items to see what you would like to incorporate into your design.
Online kitchen visualizers are excellent tools to help you customize and design your own kitchens without the education and expertise from interior designers. House Tipster's kitchen visualizers are made by in-house experts so you can choose from dozens of options and experiment with what you enjoy. You can customize the countertops, backsplash, cabinets, flooring, walls, and more with a simple press of a button.
Test out different color combinations or layout styles to see what speaks to you. After which, you can save and download your design to show to contractors and interior designers as a reference when you are ready for the building phase.
Choosing a Layout
After looking online and jotting down a few notes, find patterns by identifying elements in the kitchens you have analyzed.
What did each kitchen have that really spoke to you?
What interior design choices or styles were used in those kitchens?
There are dozens of interior design themes to incorporate into your kitchen.
Modern themes have a "form follows function" mentality where they use simple and comforting tones with no real set guidelines. Place what you feel works well and find out it functions together.

Minimalist themes have a "less is more" mentality where they want clear sections and emptiness. Essentials and organized storage to have a clean and somewhat empty environment.

Mid-Century themes have an "indoor-outdoor" mentality where it is the combination of wooden tones, warm colors, and the elements of nature in the kitchen.

Some interior design themes like Contemporary or Transitional are a combination of other themes to create a one-of-a-kind look.
Kitchen visualizers help you visually see the different styles of each room so you can identify which theme is which for your own notes. Save the kitchen you like for later and show it to your contractor and interior designer when you are ready to start building.
Kitchen Shapes
Kitchens come in a variety of shapes and sizes. The most common kitchen shapes are:
U Shaped Kitchen: These are kitchens in which the walls form a U shape with 3 walls and an open middle section.
G Shaped Kitchen: These are kitchens in the shape of a G with 3 walls with extra countertop space for food prep or seating.
L Shaped Kitchen: These are kitchens in an L shape with a single wall and extending countertop ledge.
Galley Kitchen: These are kitchens with parallel walls with walking space in the middle.
Island Kitchens: These are kitchens that feature an island somewhere in their design. Islands can be installed in different shapes but requires a lot of space.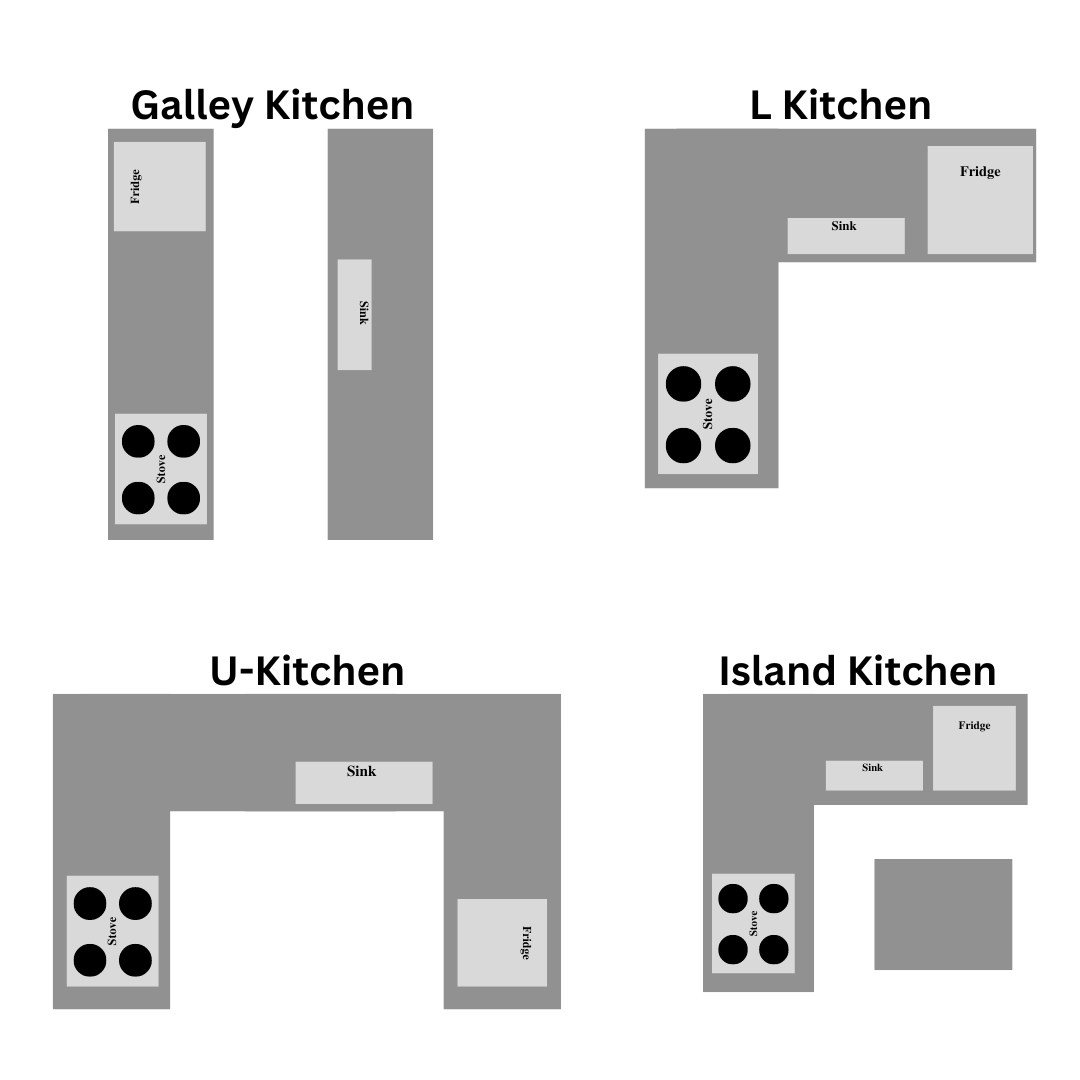 Create A Floor Plan
By using a sketch pad, notebook, or a kitchen visualizer, create a preliminary floor plan of what your design will look like. Mark down where old and new appliances will be installed. Plot out the cabinets with side text informing you how they can be used. Sketch out how much spacing you will need between each appliance to move properly. Account for high-traffic areas where other people could be running in and out of the kitchen.
Floor Design
Before anything can be installed, you should consider what you want for your floors as working from the bottom up will be easier. Scroll through our options of assorted color flooring to discover what tone and material suits your needs.
Humans are not often staring at the floor when cooking, but floors provide another element to interior design. Like the walls and ceiling, a proper colored floor helps portray the tone of the room more efficiently.
Countertops
Designing kitchen countertops has never been easier thanks to our visualizers. Select the countertop and scroll through the assorted colors and varied materials available.
Countertops materials range from granite, marble, quartz, quartzite, porcelain and more. It will take some time to choose what countertop best fits your kitchen activity. Spend time researching the differences in each stone with our Stone Comparison Tool and see which one is suitable for your situation.
Once you decided which stone fits your kitchen, entire it into our kitchen visualizer and decide which color you like most.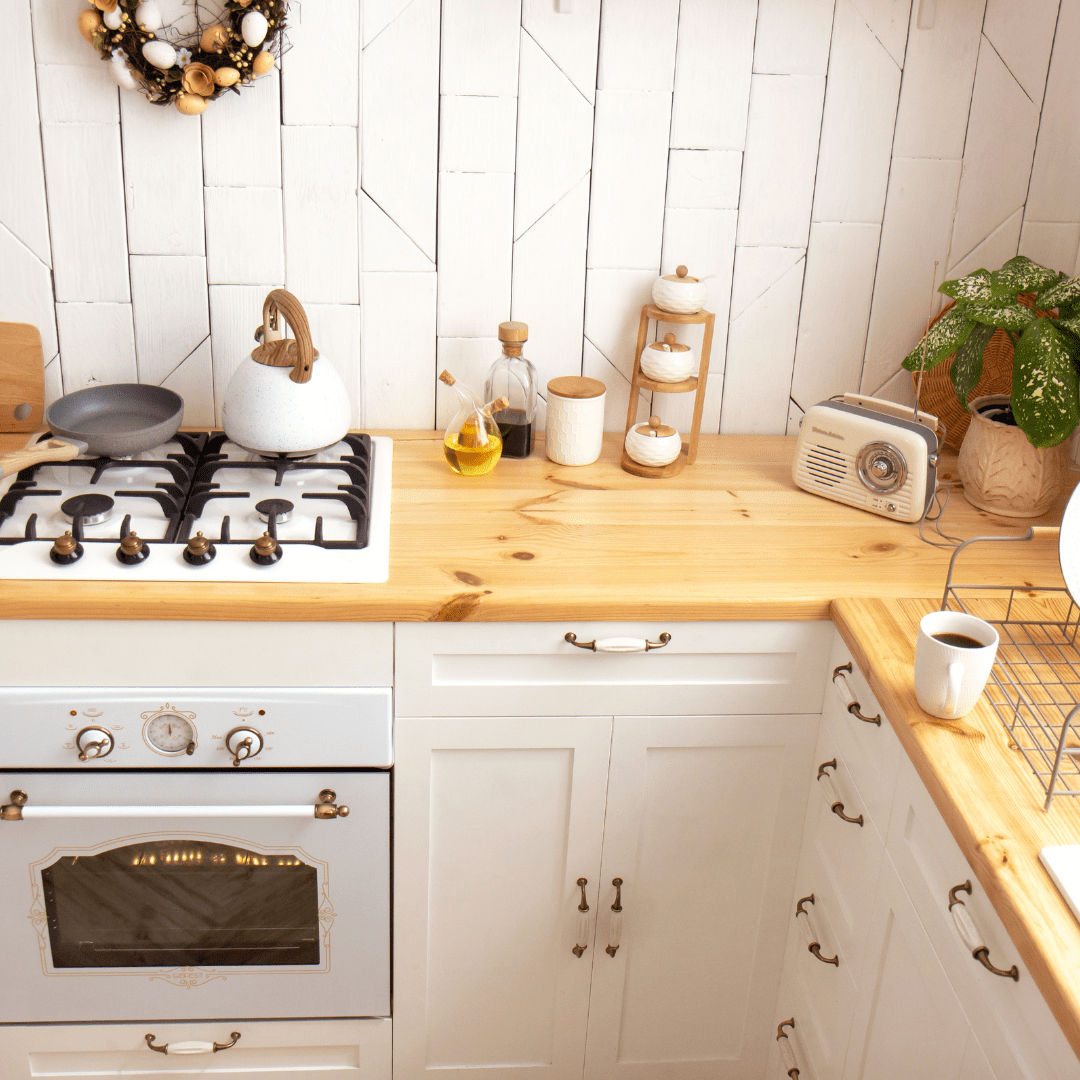 Image from Canva
Backsplash
A backsplash is the perfect layer of protection for your walls and the ideal accent piece for your countertops and cabinets. Similar to your countertops, a backsplash comes in a variety of shapes and materials.
A common and simple option is to have your backsplash made from the same material as your countertops. This makes the transition from countertop to wall and cabinets more aesthetically pleasing on the eyes.
However, as shown in our visualizer tool, your backsplash can be customized to be any type of material or shape. Have fun experimenting with different backsplash and countertop combinations.
Cabinets
Homeowners love talking about their kitchen cabinets, and with good reason. The right kitchen cabinets can set the entire tone for the room. When paired with the countertops and a backsplash, the entire kitchen aesthetic is nearly defined by these features. Test our visualizer by changing the cabinets from red, white, black, or grey to see how each color shifts the overall feel of the room.
Organize your cabinets properly effectively by having the most used items in proximity to its corresponding use.
Island
Islands are an excellent addition to any kitchen as they offer extra storage, extra seating space, a neutral location to place food or additional space for meal preparation. They can be installed with a second sink or second cooktop, or a mini fridge to store drinks and snacks.
Notice how some islands in our visualizers have some of these elements incorporated into their design and where they are spaced within the kitchen. Having a secondary sink or cooktop needs to be in a location where you can easily access it without having to leave your main area.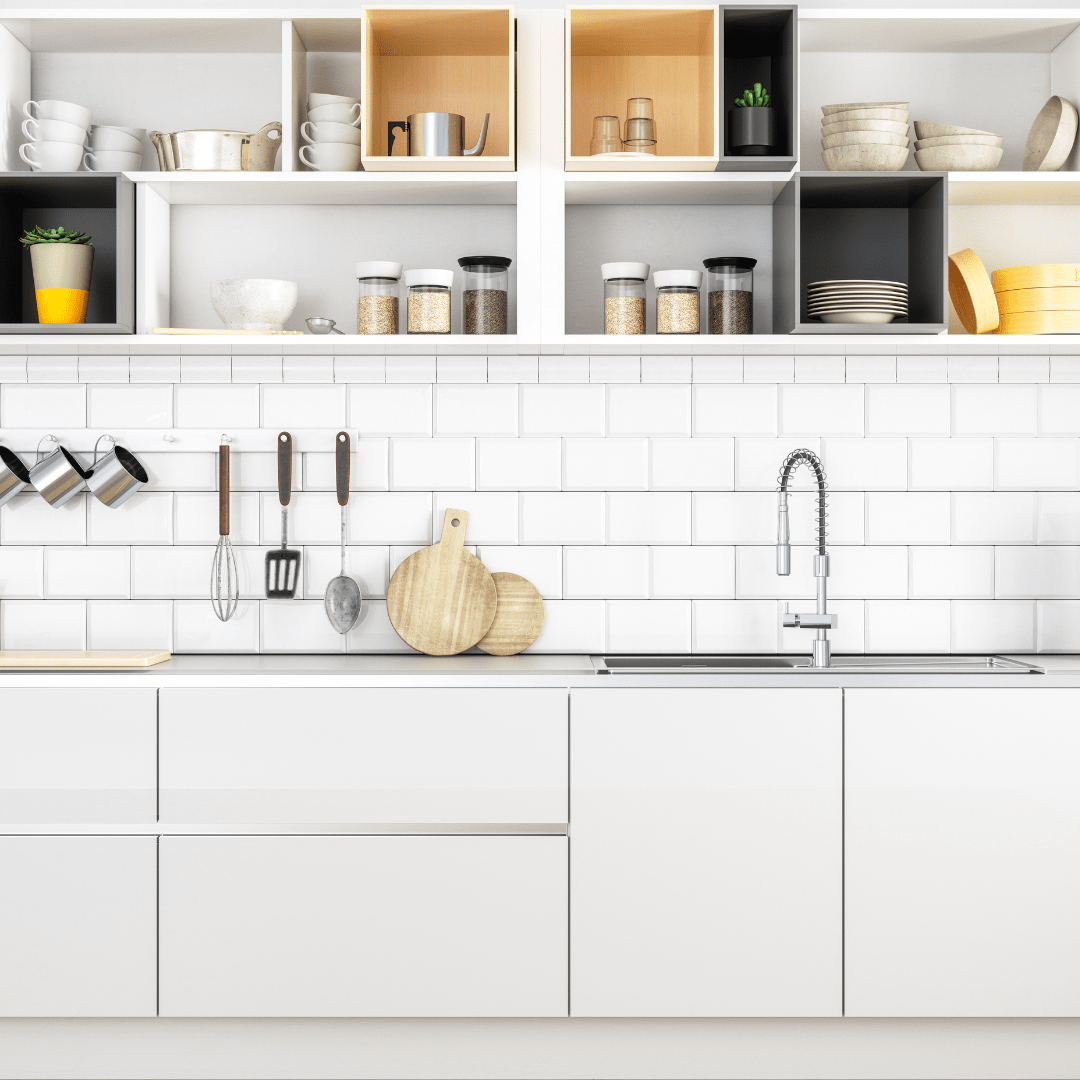 Image by Onurdongel from Canva & GettyImages
Seating & Furniture
Unless you have a big family, most meals are going to be eaten in the kitchen; and for that, you will need proper seating space and furniture.
Like mentioned before, islands can serve as wonderful seating to just sit and enjoy your meal. Alternatively, extra space on your countertops can double as seating with specific chairs underneath.
Designing furniture in the kitchen adds to the atmosphere and helps the room feel lived in. Without furniture, the kitchen feels more like a work room than a living space. Match the coloring of your furniture with the environment or choose a complementary color to bring out some personality and added color.
Conclusion
When designing your own kitchen, it would only benefit you to have a resource capable of allowing you to design, customize, and inspire new ideas. Using our kitchen visualizer tool will help you visually see what you want for your own kitchen without needing to sketch it out on paper, as well as inspire you to create your own concepts based on professional renders. Design like an interior designer without the education and see how your kitchen will come out.