Spring is here and it's time for YARDWORK. I know what you're thinking: "Who likes yardwork?" My answer: You do! Or at least you will when you discover that you're better at it than you thought!
Landscaping your property can be difficult if you don't know some simple tips and tricks to help you on your way. I have the inside knowledge to make your front yard the envy of the whole neighborhood.
A great way to add to your home's curb appeal and give it a high-end look is to bring in a spiraled tree or two. No, it doesn't have to cost you an arm and a leg to purchase and maintain a spiraled tree, because I'm going to teach you how to do the "heavy lifting."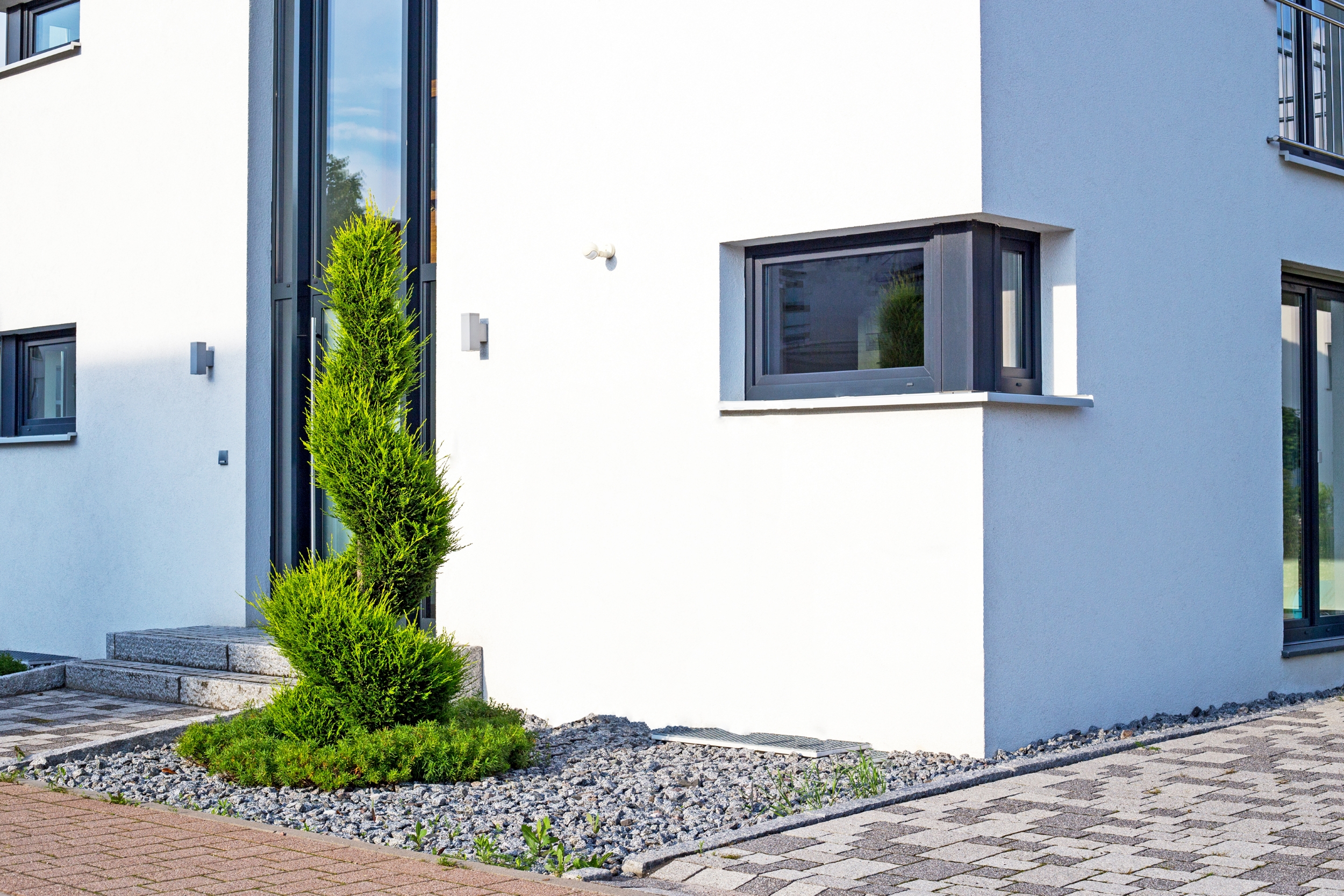 If you want to create a spiral tree, purchase an Emerald Green arborvitae tree. A 6-foot Emerald Green arborvitae should only cost about $30-40, and may be even cheaper if you purchase it from a local farmer. You don't even have to wait to plant your tree to begin spiraling it. You can do the twist as soon as you bring your tree home or wait until it's planted in the ground. But in my experience, it's best to spiral your tree after you plant it so that your arboreal artpiece is consistent with its surrounding space.
Now that your tree is where you want it, let's do some sculpting. First you'll need at least 12 feet of string or ribbon. (It could be more or less depending on the circumference of your plant and the size of your hedge shears.)
Begin the Procedure:
Tie a knot in your string around the uppermost part of the tree.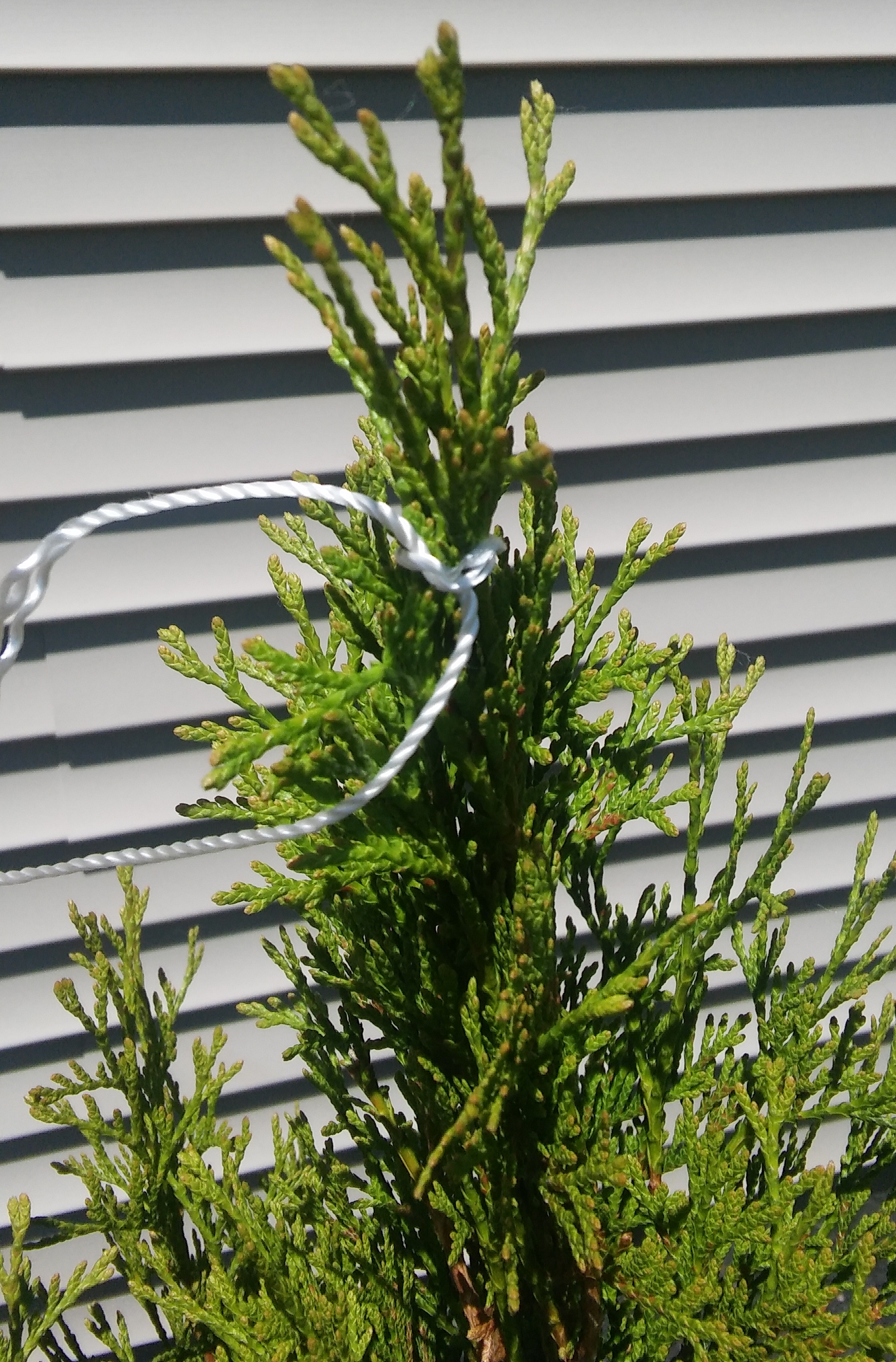 Then, with the rest of the string, wrap it around your tree about three times. But if your tree is on the larger side, you may want to add an extra loop. Conversely, if it's smaller, you may want to do with one less loop.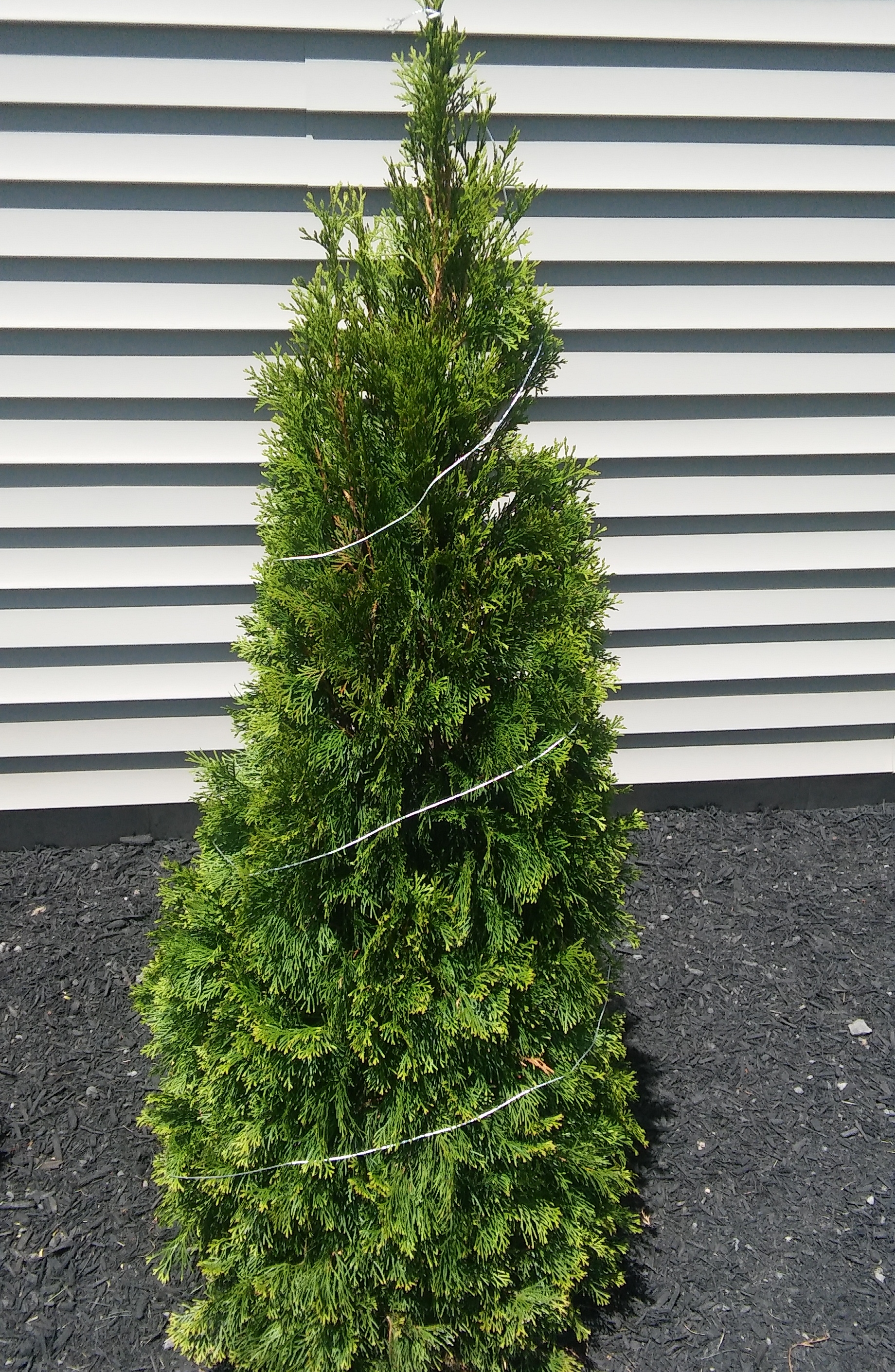 After you wrap your string around the tree to fit your desired shape, use your hedge shears to cut the branches, following your string or ribbon as a guide. Be sure to cut at a consistent angle so that your tree's spiral will be even.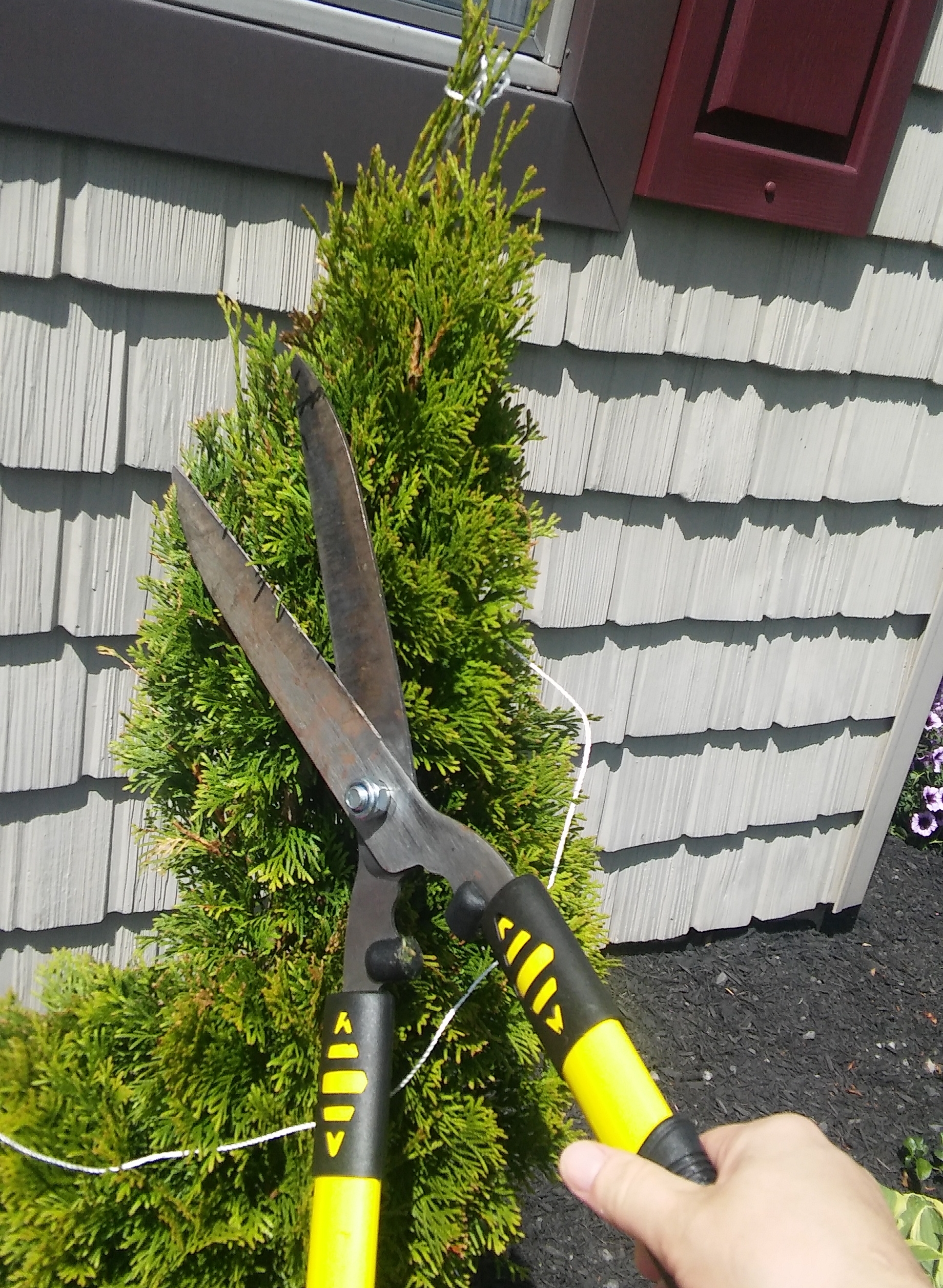 After cutting along your string guide to create the rough outline of a spiral, your tree will look unfinished. Don't worry! It only looks unfinished because... we're not finished.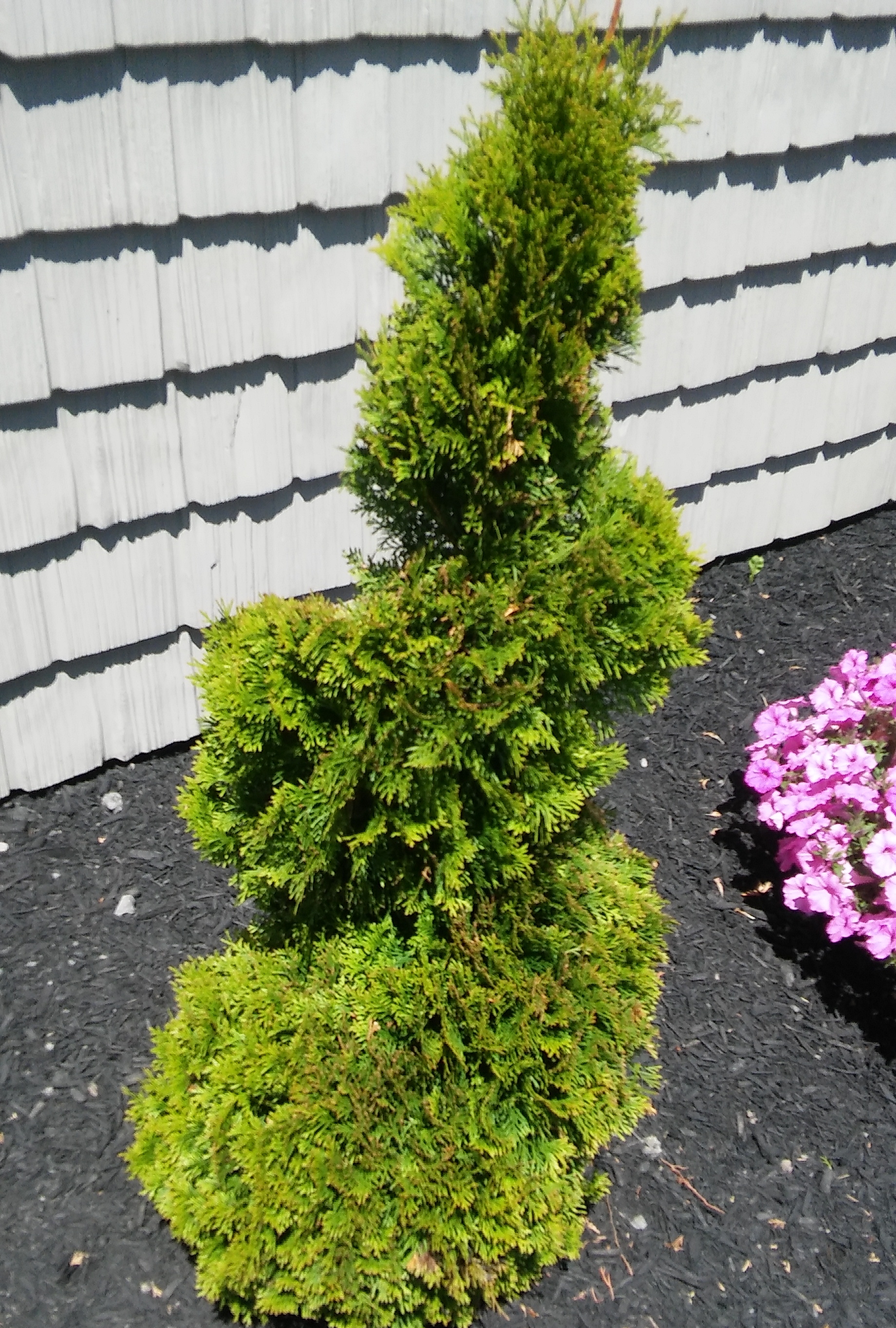 To finish your arbor masterpiece, you'll have to shape it. How do you do that? By rounding out the edges of your spiral. Start by rounding out the top of the tree, cutting off any extra twigs, branches, or spines that are causing an undesirable squared, choppy, or bulky look.
Once you've done that, clean the underside edge of each curve in the spiral. Once again, round out the edges and eliminate any bulges to get those sexy curves you desire.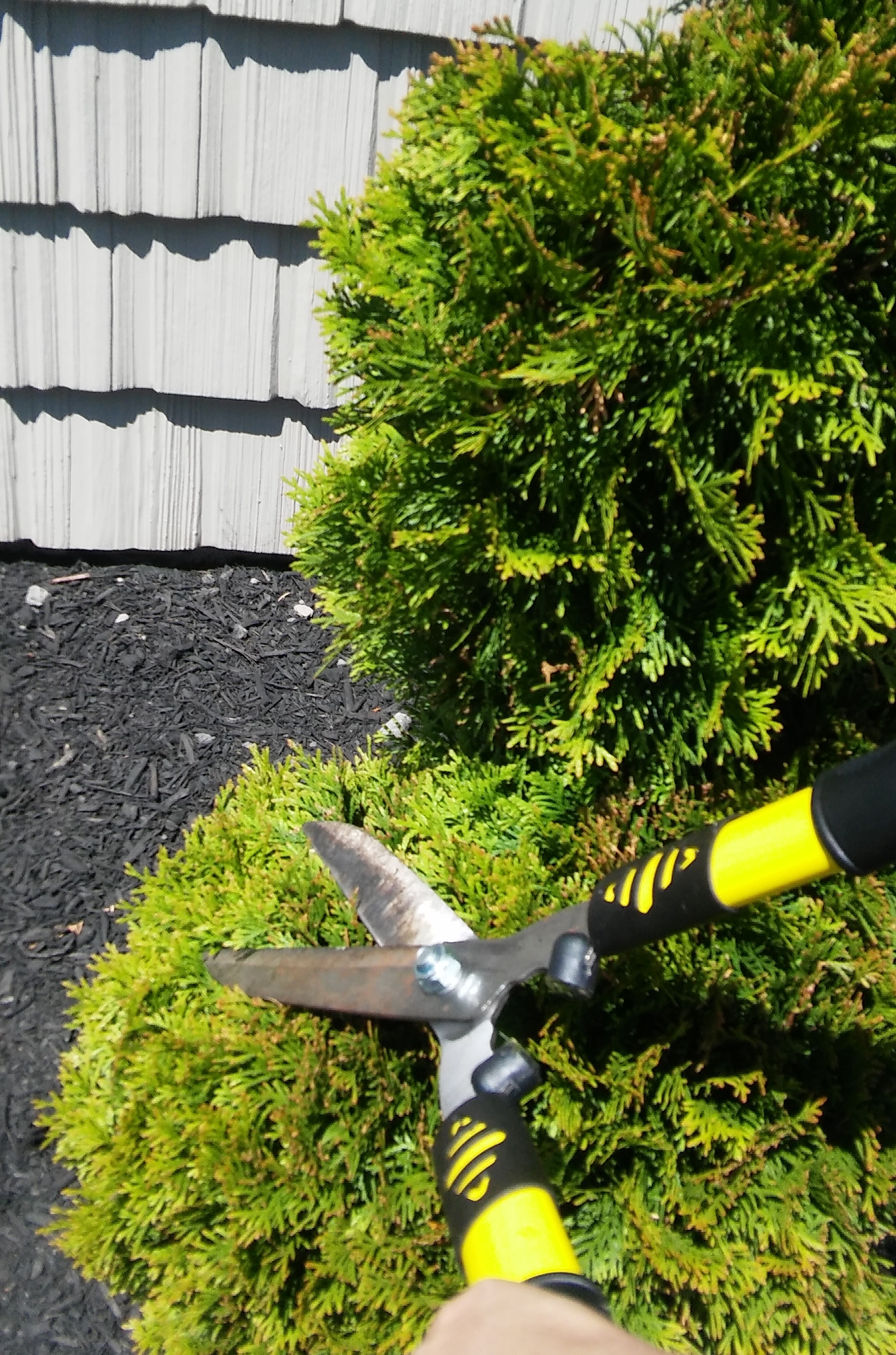 Now clean the upper edge of each curve the same way you did for the undersides in Step 6.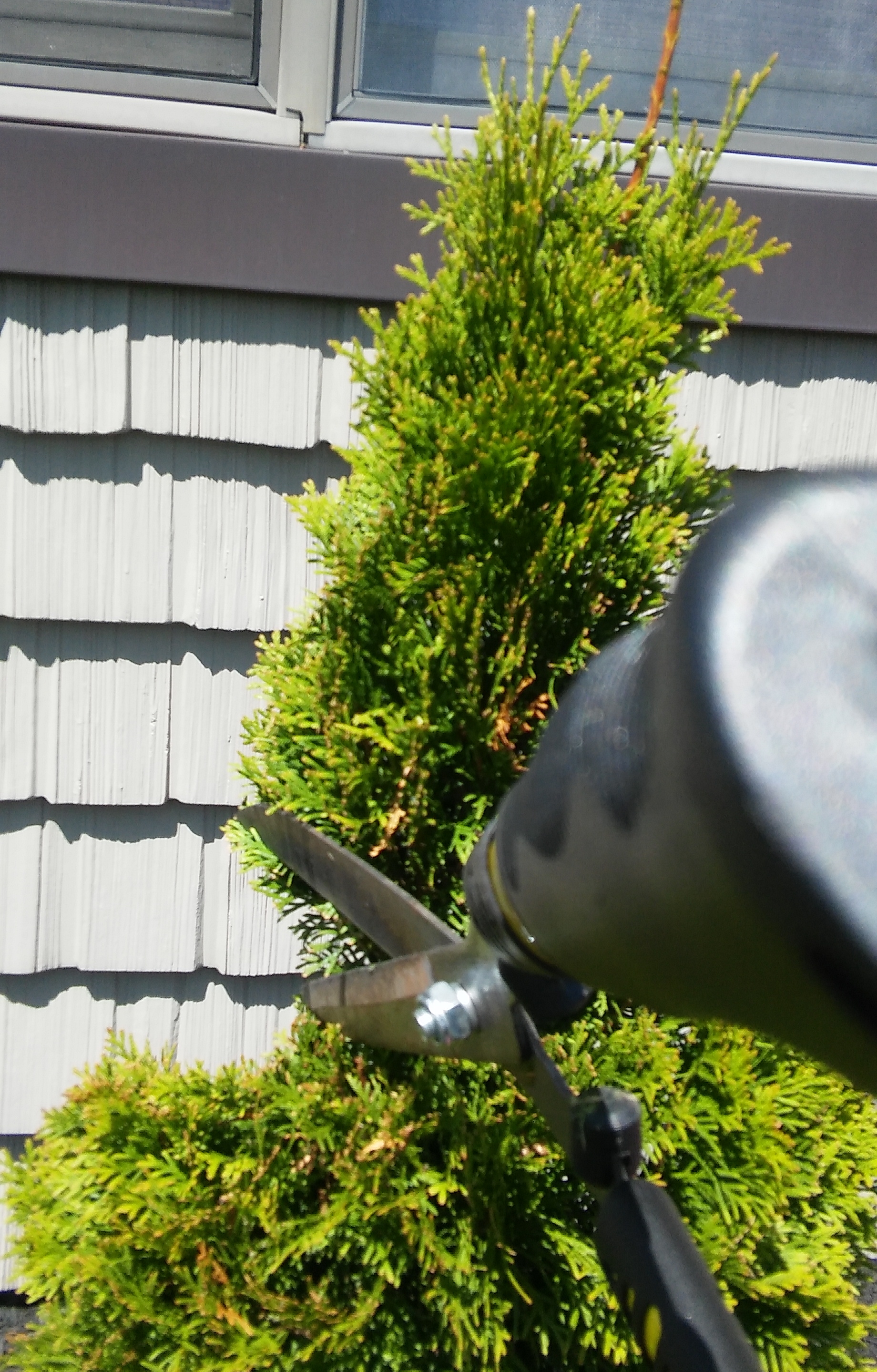 Finally, round out any bulges and the middle of each curve.
Be sure to round out any corners that give the spiral a squared look. If you find that you have taken off more than you should've, don't worry! Arborvitaes are forgiving and your "Oops" will grow back in a week or two. Your finished product should look something like this.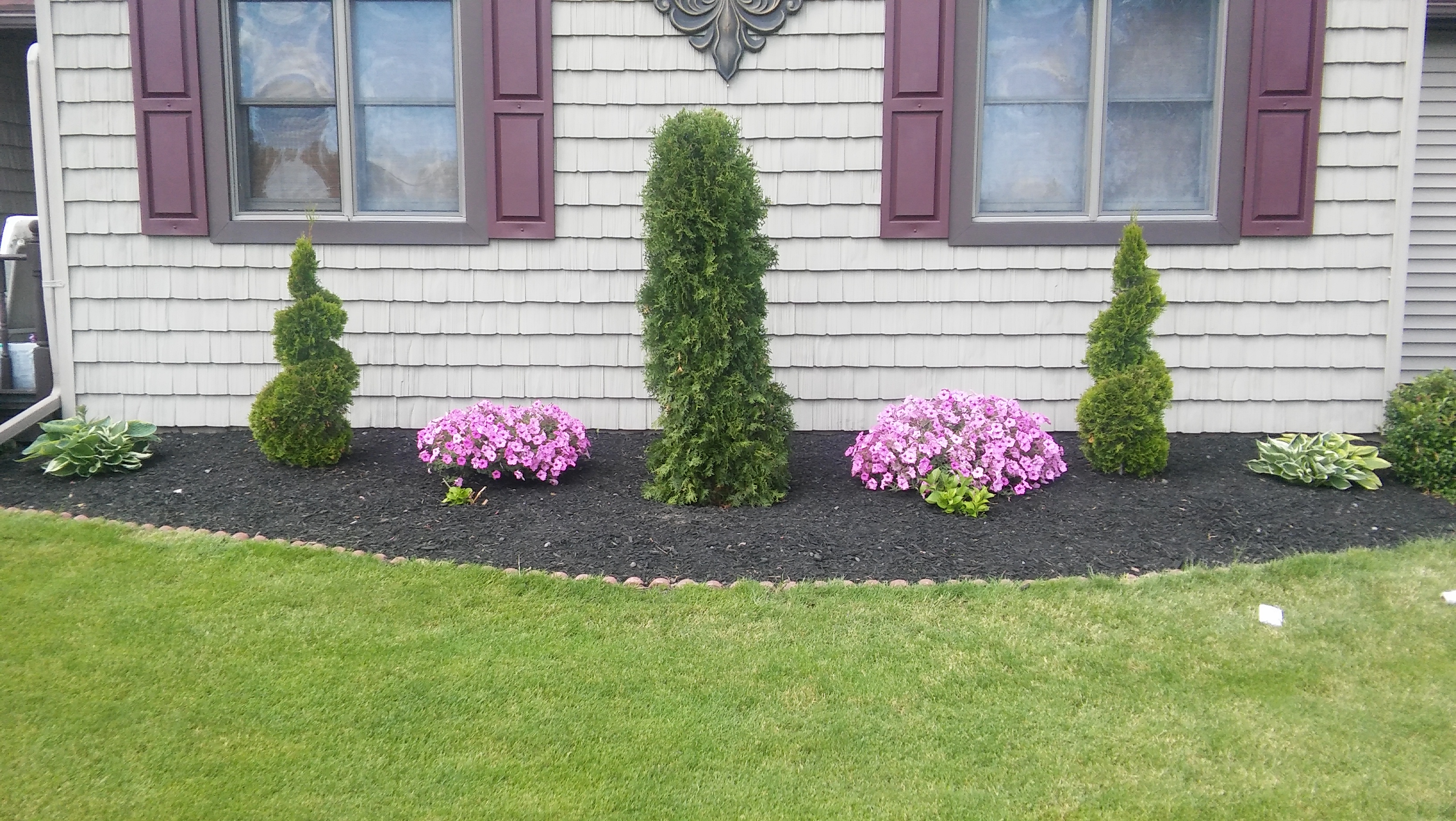 When you're done, your finished product will give your home the "head turning effect" you've been looking for. Your yard will change from DRAB: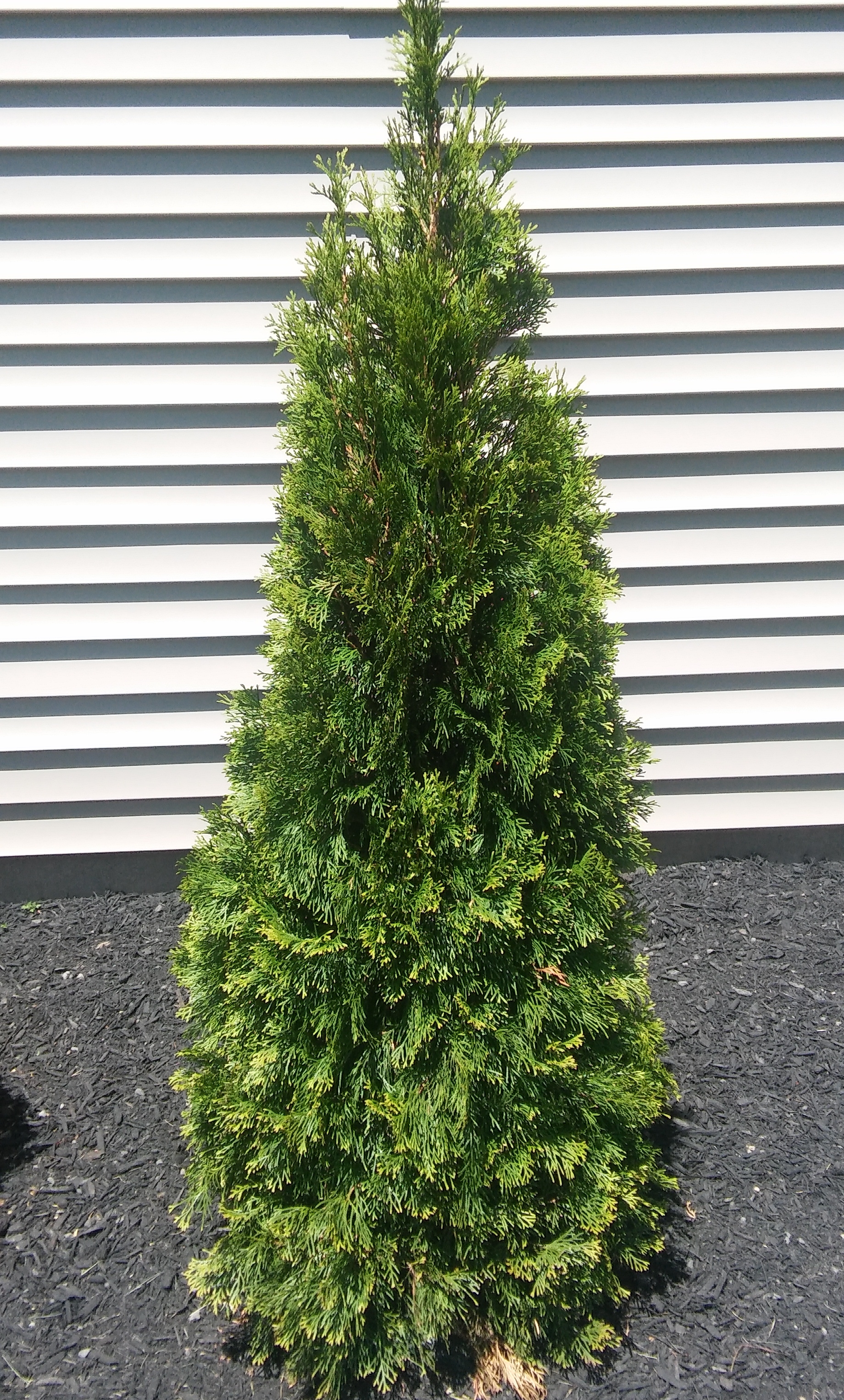 To FAB: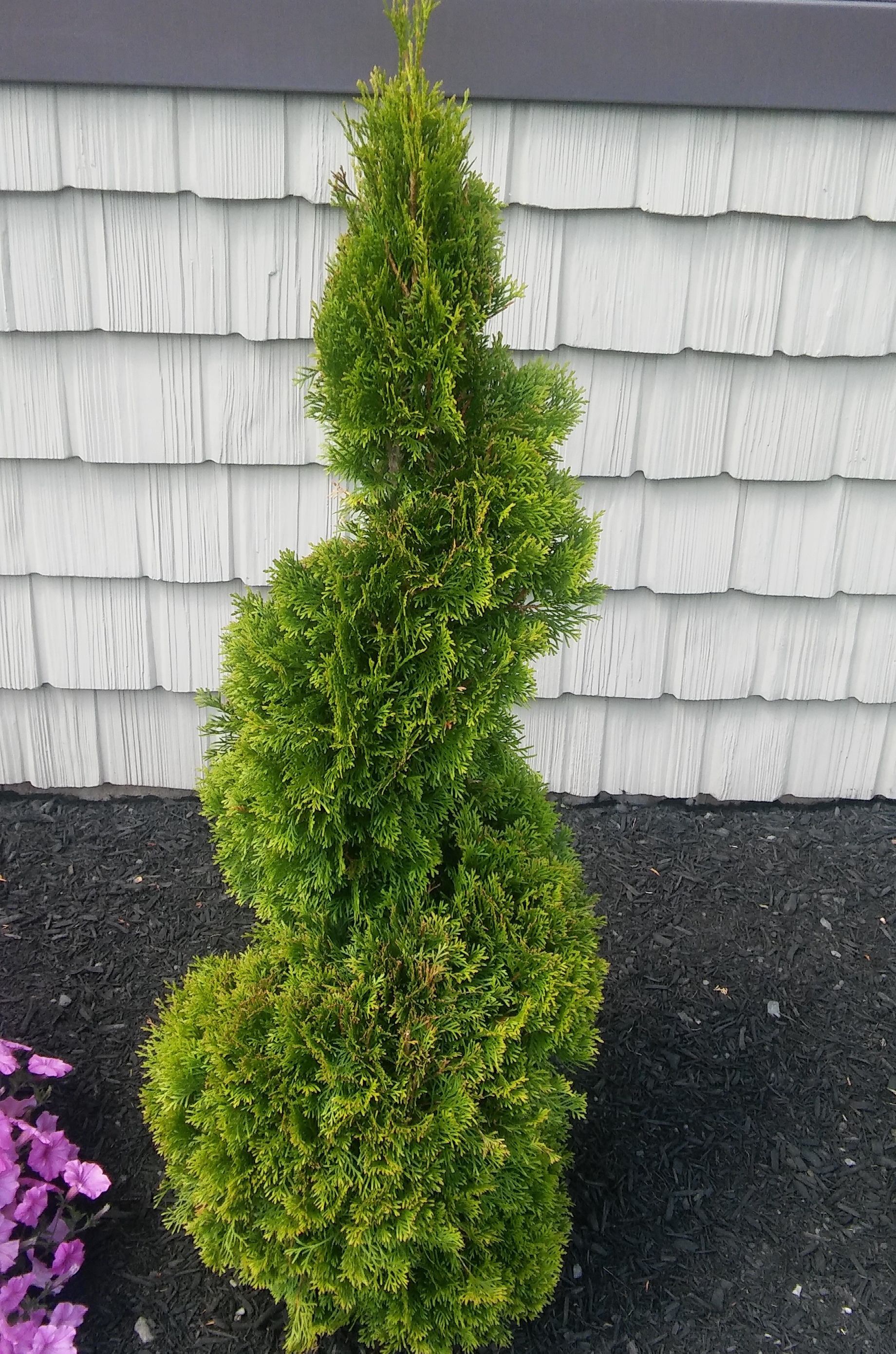 Landscaping is sometimes underutilized in the world of curb appeal. Simple tips like these can help save you a ton of money while still creating a yard that drops jaws. A spiraled tree of this size can cost upwards of $150 at a retail tree nursery, but a little bit of DIY work on your part can save a lotta dough while also creating a beautiful focal point in your yard.
Images used with permission, courtesy of Melanie Dingeldey and www.shutterstock.com