The modern traditional interior from the 1960s has evolved into a more sleek and minimalistic design in recent years. Recent modern interiors contain futuristic elements mirroring the technology of today. If you're aiming for a modern home interior, it's good to understand that décor items and furnishings should parallel each other in style and simplicity. Here are some ways of implementing modern touches in your home.
So, what is modern? Modern is a blend of traditional modern and industrial with rustic undertones. The main staple of modern interiors is "open airiness." Meticulous placement combines with ease to create this interior style. Green plants color a monochromatic room and wooden statement pieces are centered within an all-white setting. There are many ways to implement this style so your modern home looks different than all the other "unique" ones.
If you want to test out some of your interior design concepts before committing to them, using House Tipster's Virtual Design tool is the perfect to way to try before you buy.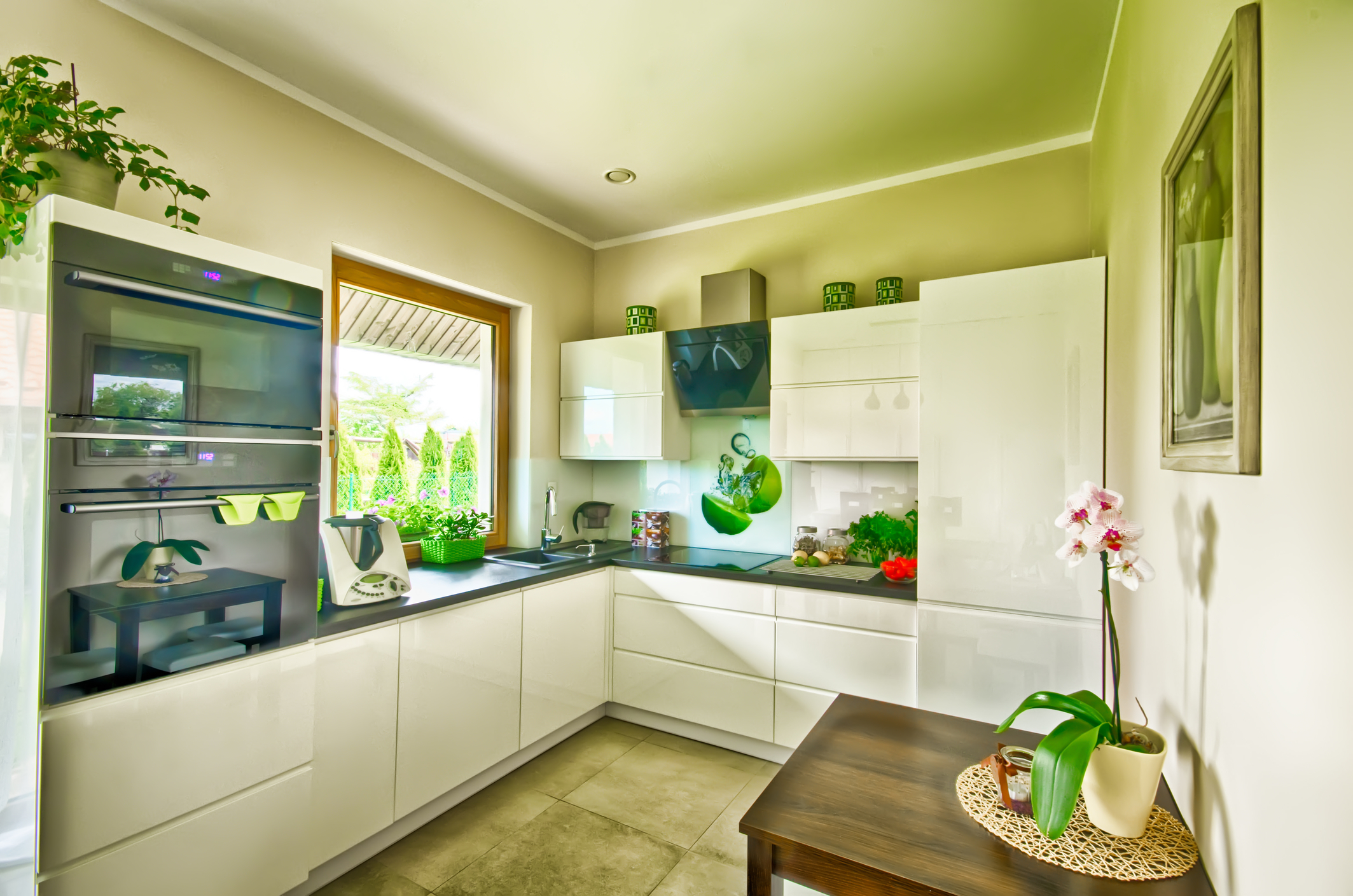 Work Around the Current Setup of Your Home
Your walls. Generally, a modern home will have neutral-colored walls (gray, white, or brown). You can repaint your walls, but don't let your beloved orange accent wall stop you from continuing your "modern journey." You can work around that orange wall by muting the furniture and accent colors. Painting just one accent wall white can also do the trick. Modern décor is all about giving the designer (you) freedom.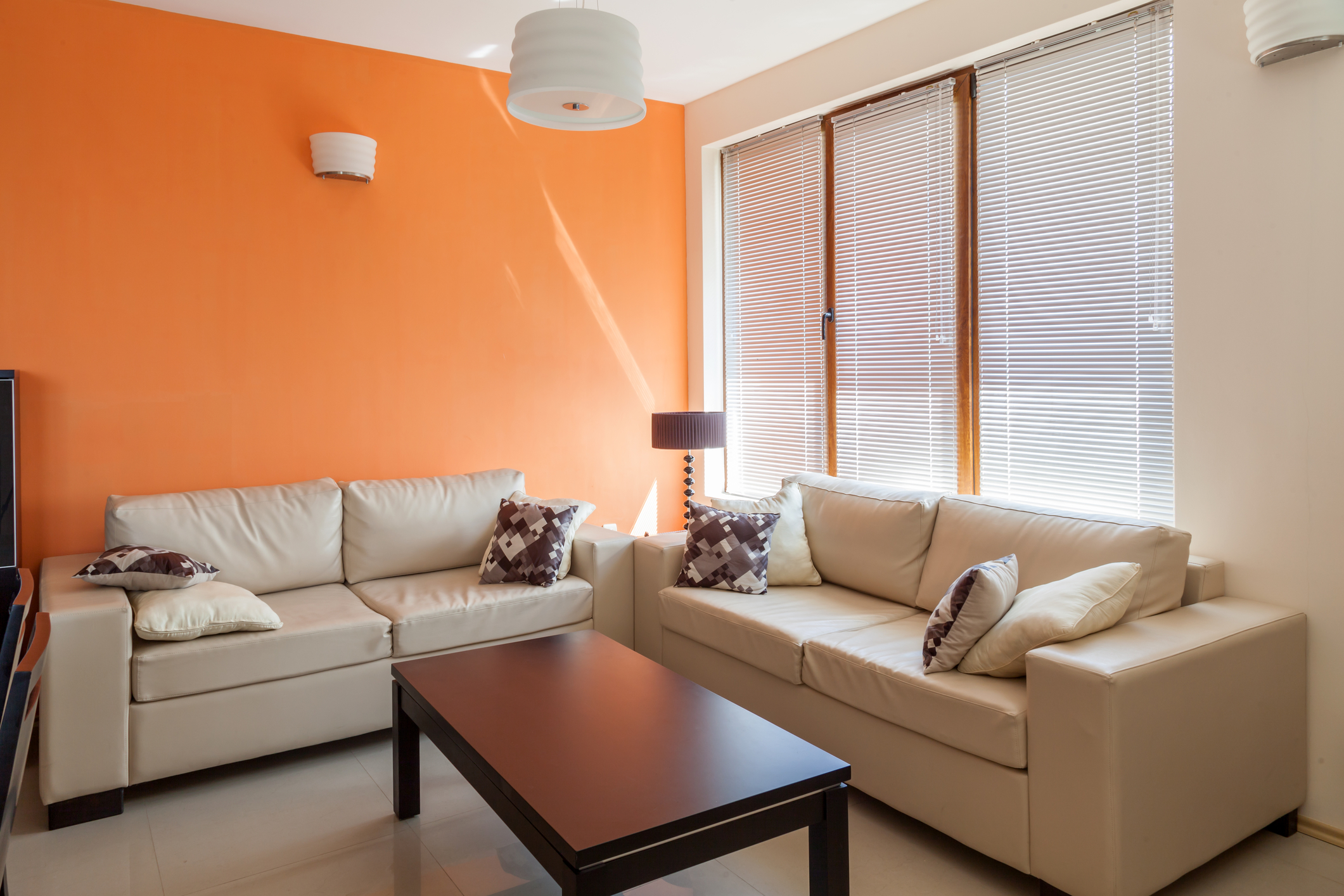 Your couch. If you currently have a Bridgewater or Lawson couch (those comfy couches with the big cushions), you don't have to worry about getting rid of it to buy a modern couch, although they are not the typical portrayal of modern home decor. You can counter a comfy couch by placing a geometrically-designed rug underneath it. Placing leather throw-pillows on the couch will also give it an edge.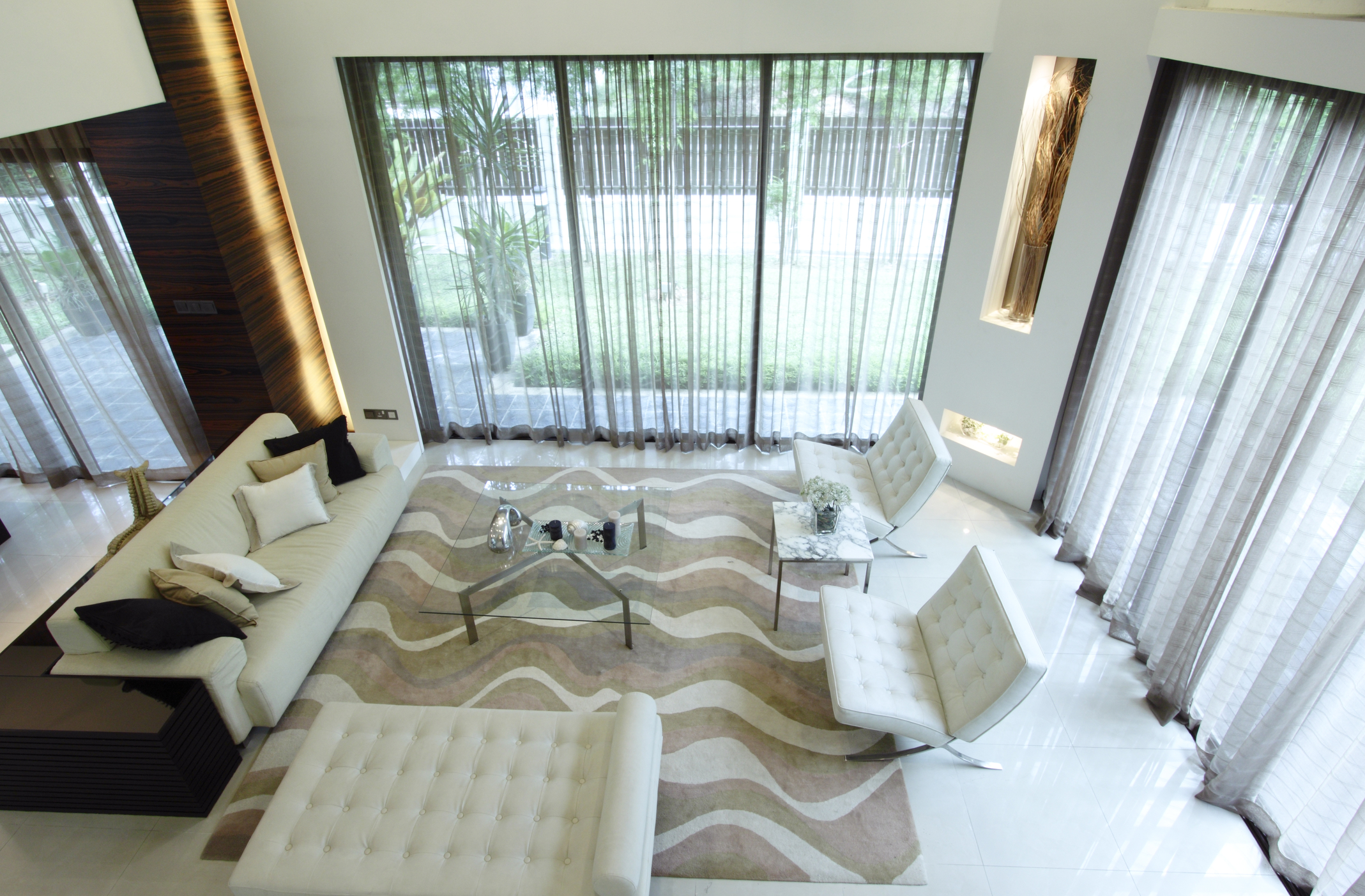 Your extras. Modern home design is minimalistic and disregards unneeded items. Do away with furnishings you don't use, and store knick-knacks and excessive photos/frames. Minimalizing your home can be quite emotional. Consider this if you're thinking about transitioning into a modern home.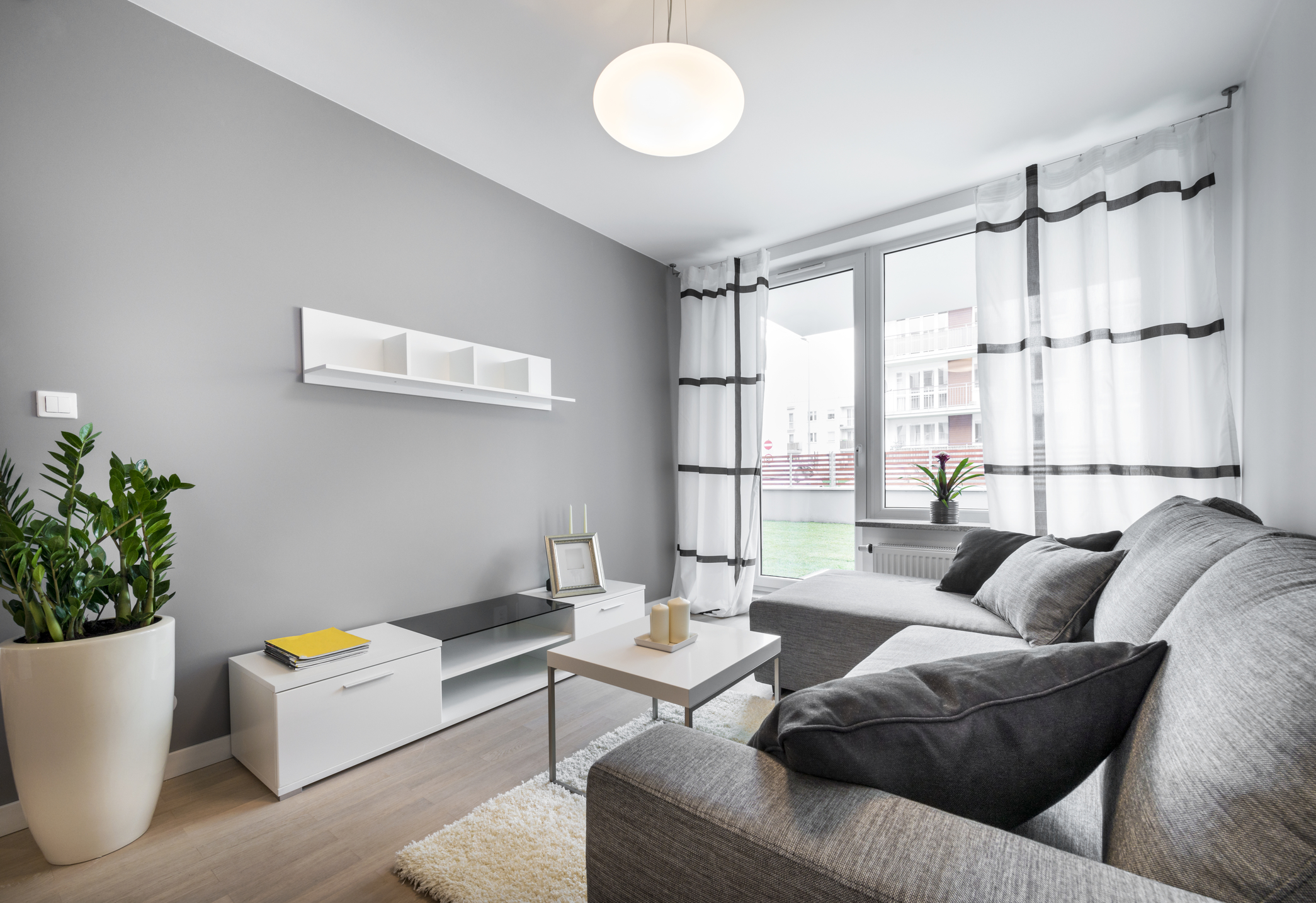 Your tables. Your current tables may already be suitable for a modern home, but strip them of tablecloths, doilies, and picture frames. Coffee tables can be adorned with green plants, books, or metal artwork.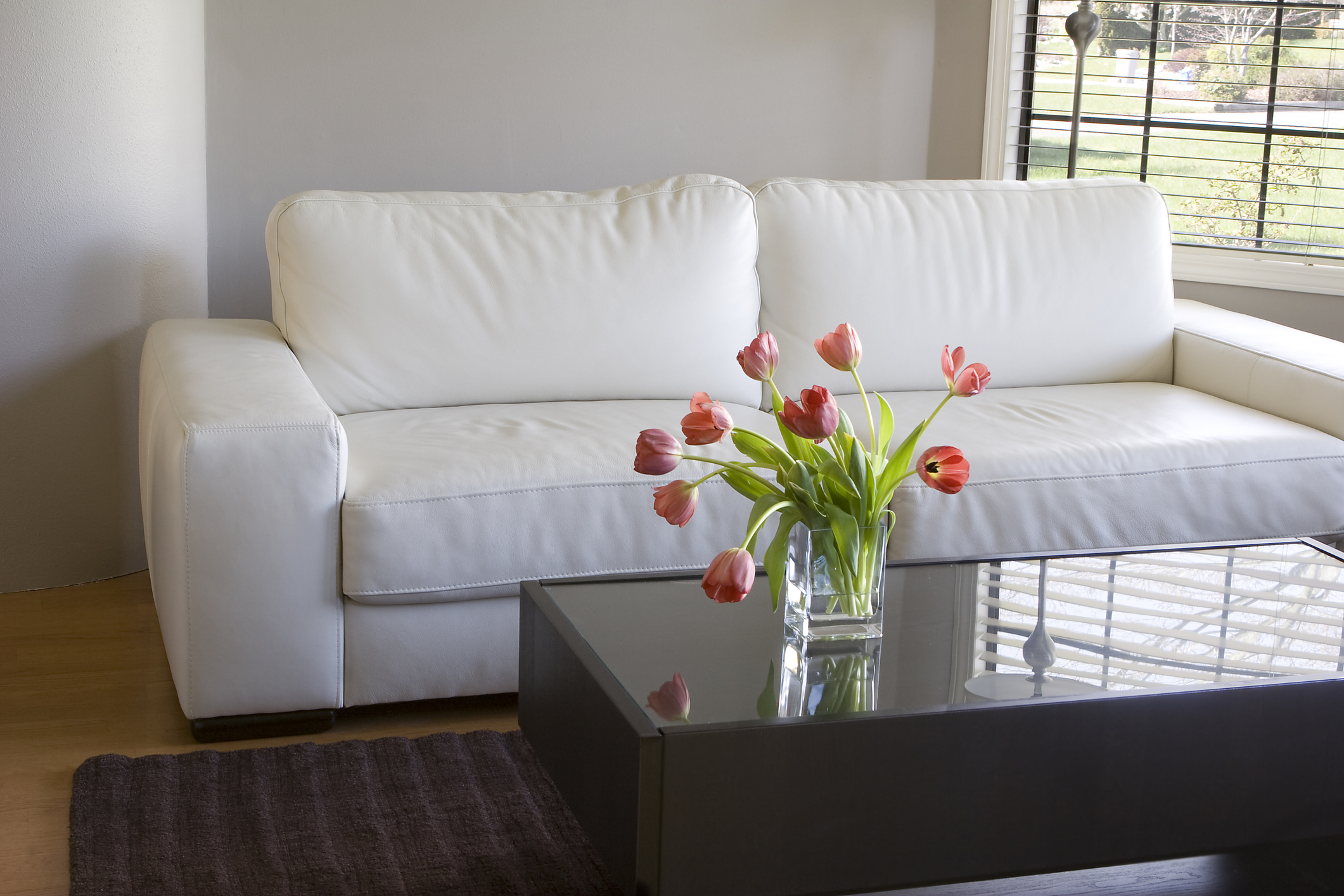 Implementing New Elements
Lighting. Add lamps to your space with geometrically-shaped shades and metal stands. A long-necked silver floor lamp can be placed in the corner of a room as the only source of light. Modern interiors will at times have a slightly rustic influence. You'll find that many of these homes will blend nature with technology. Perhaps try this wooden floor lamp instead of silver for a more organic feel.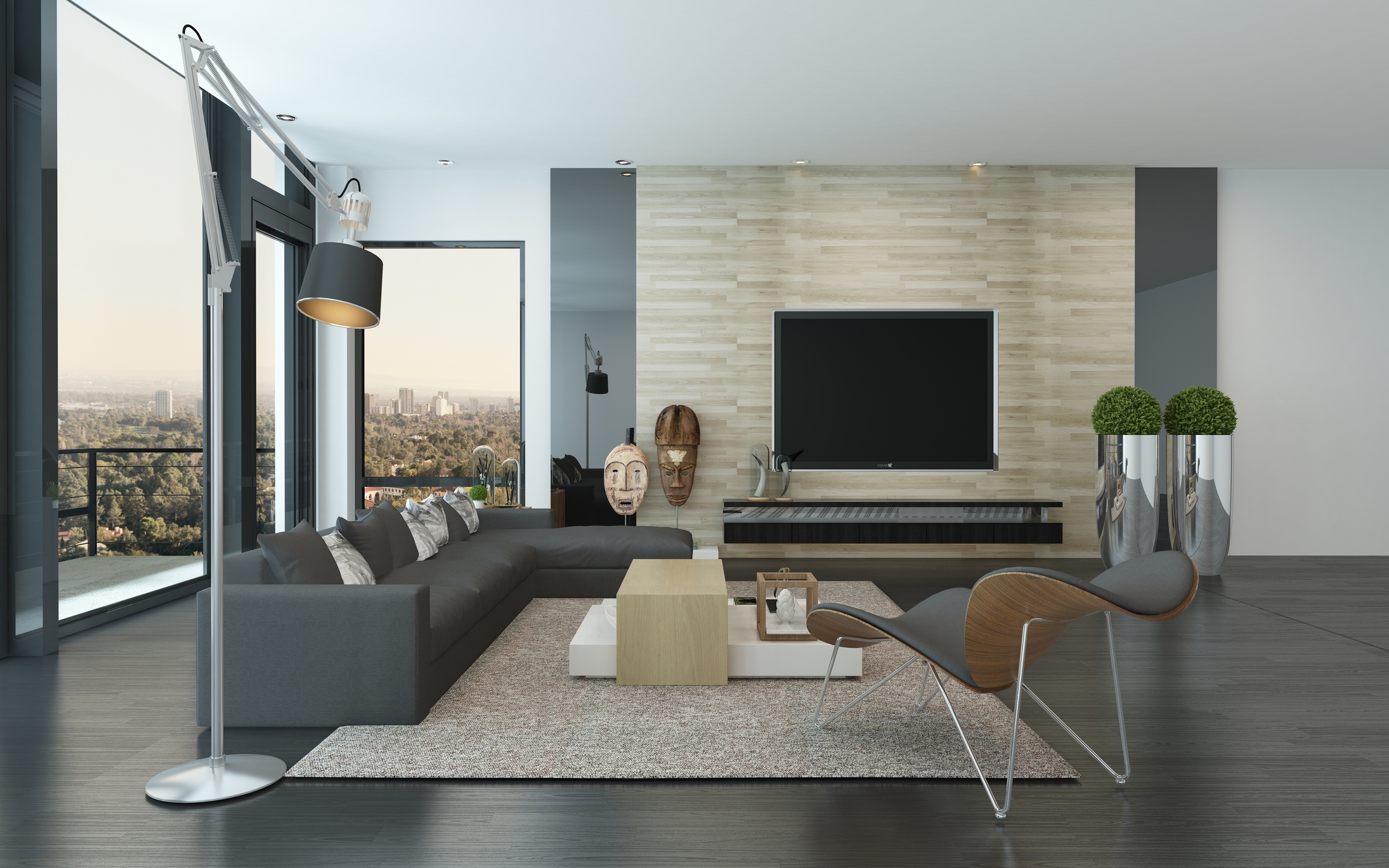 Recessed lighting and hanging lights are also popular in modern design. You can hang lights in the center of your living room or dining room for a touch of simple elegance.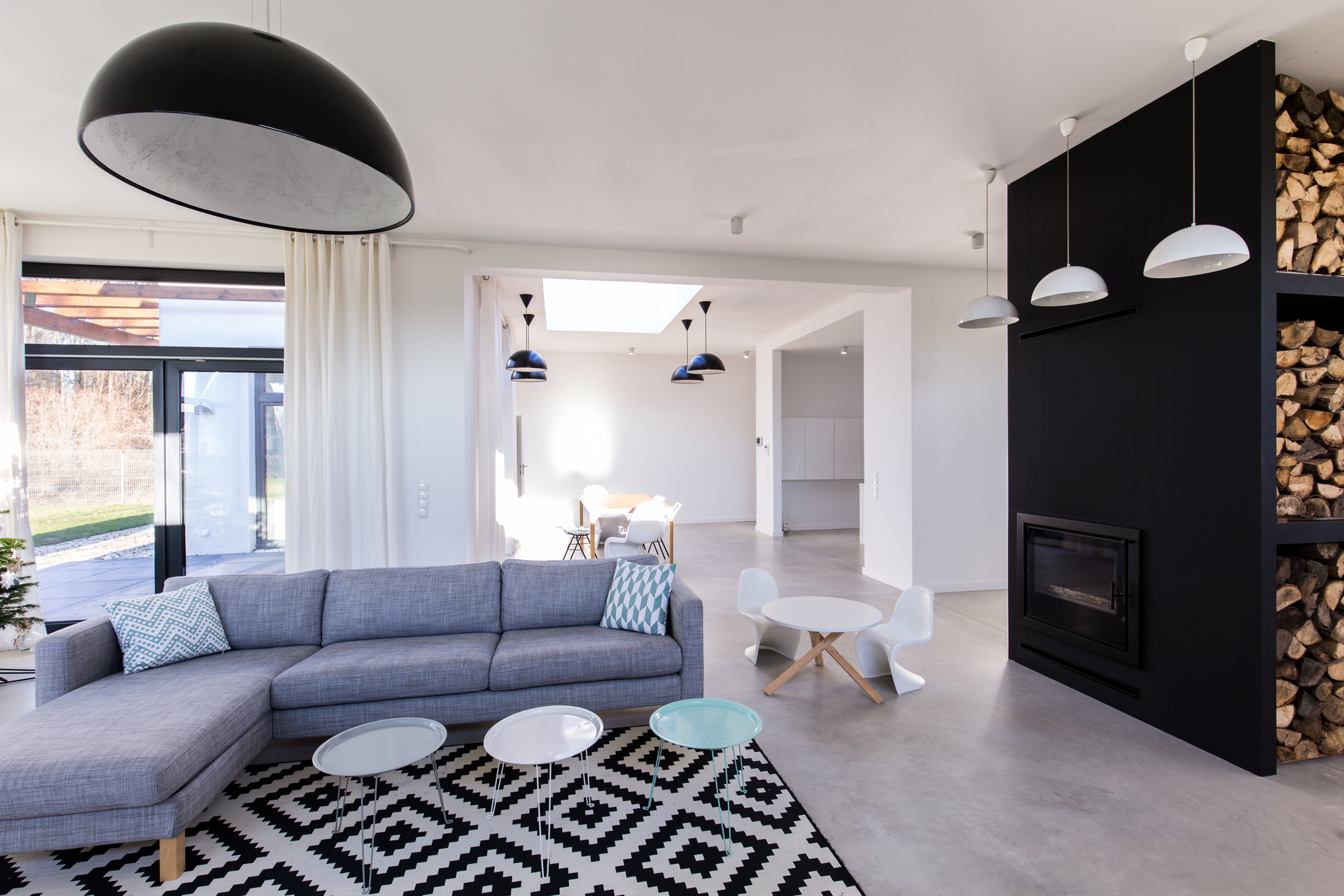 Materials: Wood, glass, and stainless steel. Add a clear glass coffee table with wooden pegs, and you've got modern. Stainless steel works best for lighting and minimalistic sculptures. Don't override your home with every material in every little area. Use bits and pieces to keep your space tasteful.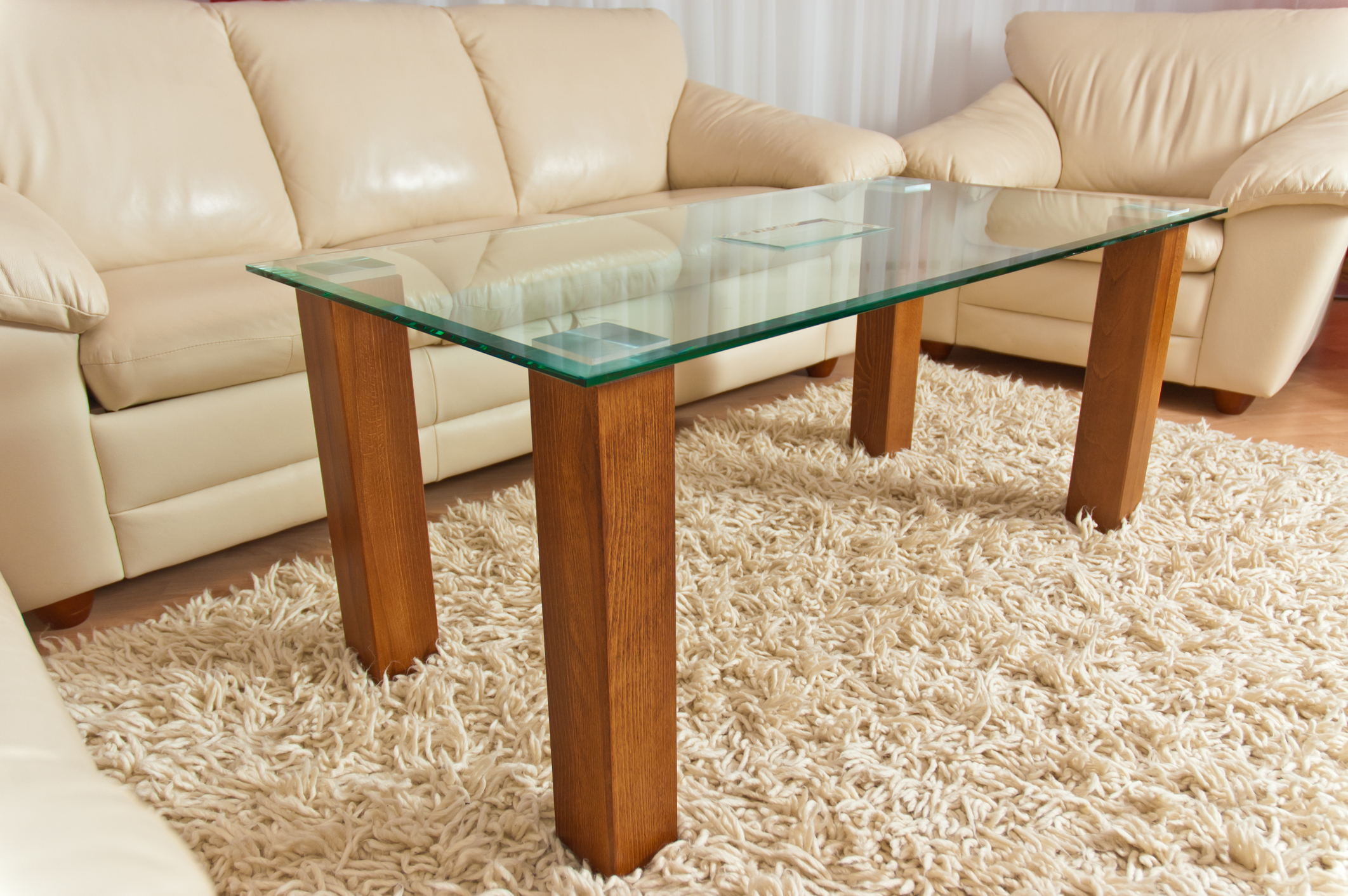 Art: Of course, you should incorporate modern art pieces. Find pieces that are cohesive with your existing aesthetic. If you opted for a colorful interior, add a geometric black-and-white painting or photograph. If your home is neutral, a painting with curved colorful shapes will stand out. Remember, minimalism is key. Opt for one substantial painting or a collection of paintings with the same tone from the same artist.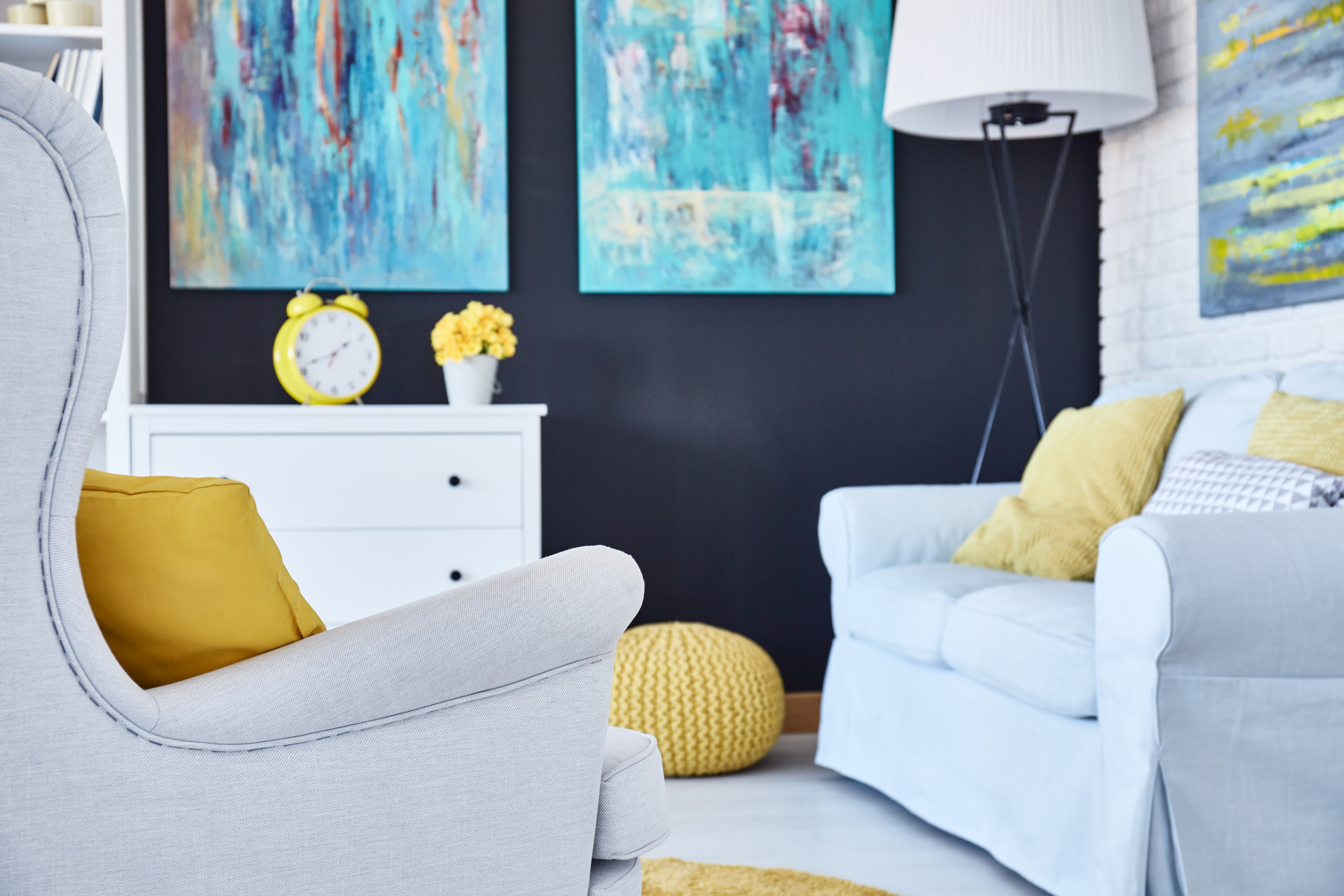 Bizarre Accents: Add accents into a modern interior design that you wouldn't normally place in your home. If your modern space is on the more neutral side of the color spectrum, adding a leopard print throw blanket to a couch or chair can set it apart. A petal chair can stand alone in any room of your home, and it stands out without being too obnoxious.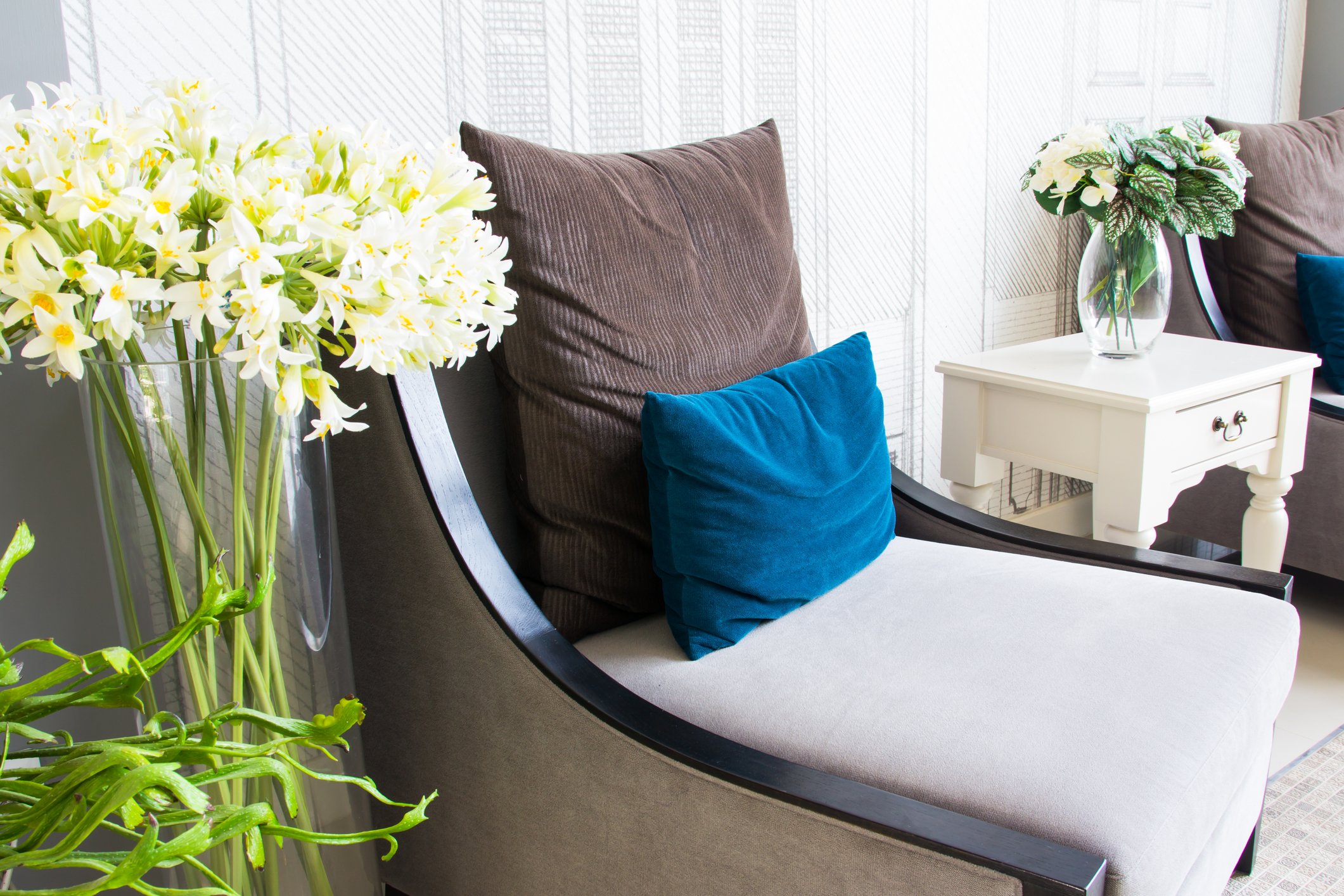 You can use color: Modern home design doesn't have to strictly encompass neutrals, although it is its primary identity. Introduce complementary colors (colors opposite each other on color wheel) in your home. Again, you don't have to get rid of your orange accent wall, or even match it with gray furnishings, for that matter. Adorn an orange couch with blue throw pillows while keeping your walls white. As long as you follow the general style of modern design, the colors are yours to decide.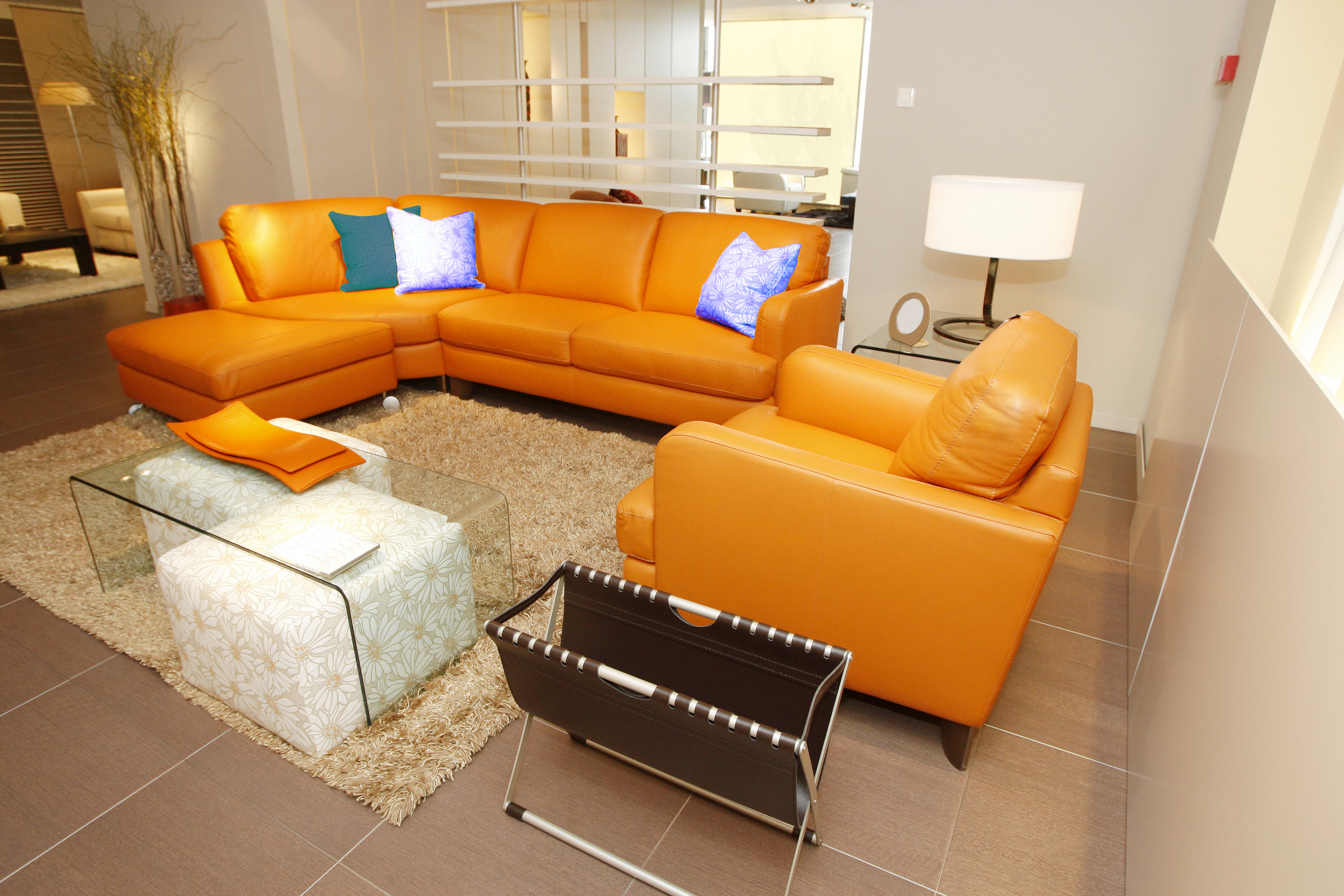 Images used with permission, courtesy of www.dreamstime.com