Picking outdoor dining sets is a big deal. Think about it: the weather is finally starting to feel good (and it's time for spring cleaning!) and, if you haven't already, you'll soon be joining families across the country in dining outdoors.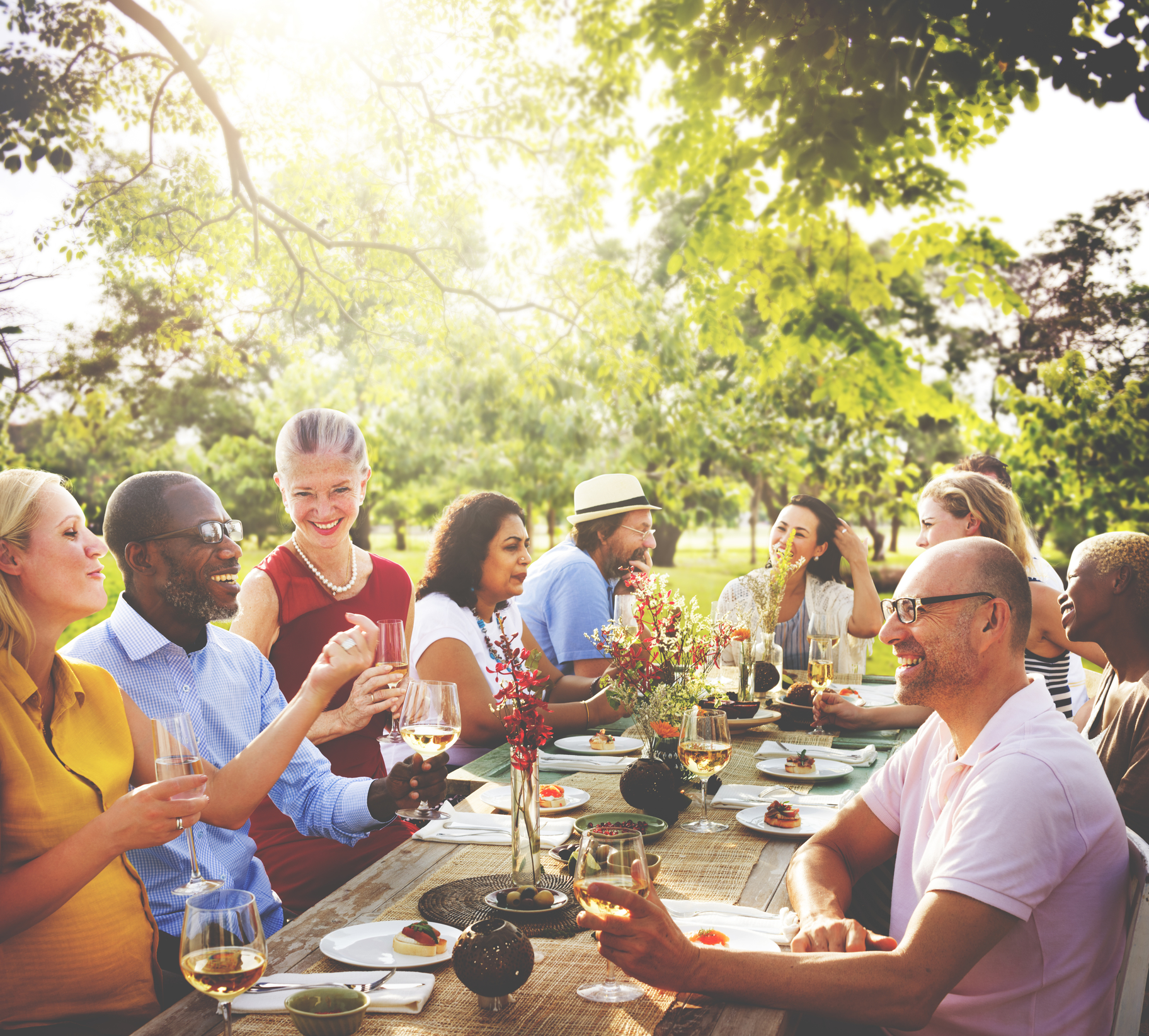 Photo by Rawpixel.com on Shutterstock
Outdoor dining sets are just as important as indoor dining sets, especially if you enjoy dining al fresco and live in a fairly temperate to warm climate. The ideal set is weather-resistant, comfortable, and most importantly, fits your family whether you're a single mom, a couple of newlyweds, or have more kids than fingers.
Select the most comfortable outdoor furniture by following these four tips:
1. Get Enough Seats
Sure, you may like to dine outside every night, but there are some people who reserve outdoor dining for special occasions. If this is the case, take careful consideration when choosing a table and chairs because you definitely want enough table space and seating for a potentially large crowd.
While there isn't an exact rule of thumb when it comes to choosing the right number of seats and table space for your outdoor dining set, it's always good to have between two to four extra chairs and ample space for buffet dishes and drinks.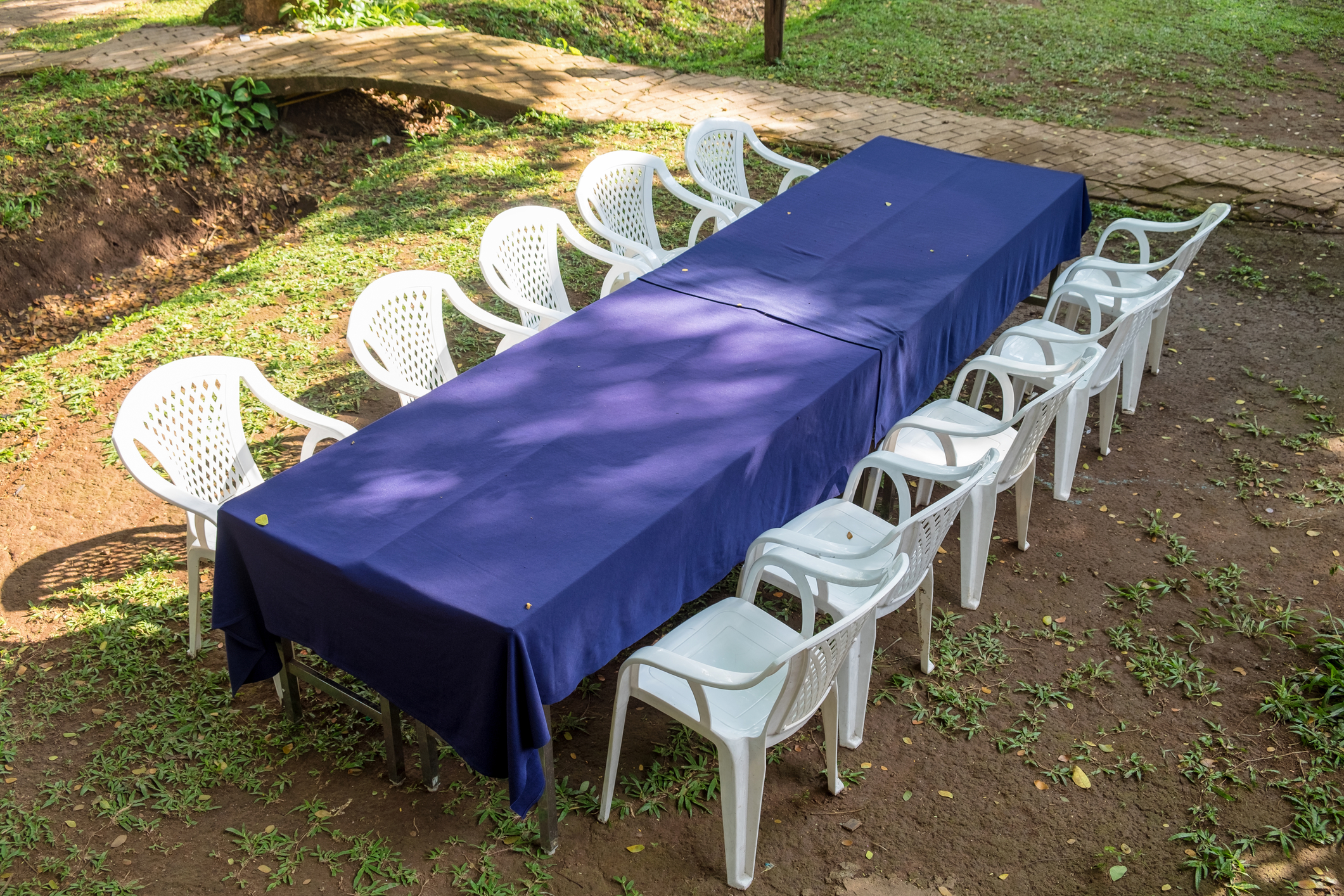 Photo by Mumemories on Shutterstock
2. Look for Weather-Resistant Quality
Since your outdoor dining set will need to withstand a constant onslaught of elements, weather-resistance is necessary. Luckily, most of the dining sets you'll find are quite resistant to the elements, especially sun and rain.
Take a look at this list to ensure you're getting the right material to face your local weather and stand the test of time.
Resin: Resin is often used in outdoor furniture and it is made to look like wicker furniture. Since it's essentially like plastic, resign is highly weather-resistant. It's also long-lasting and won't fade when exposed to sunlight.
Price: Budget-Friendly to Expensive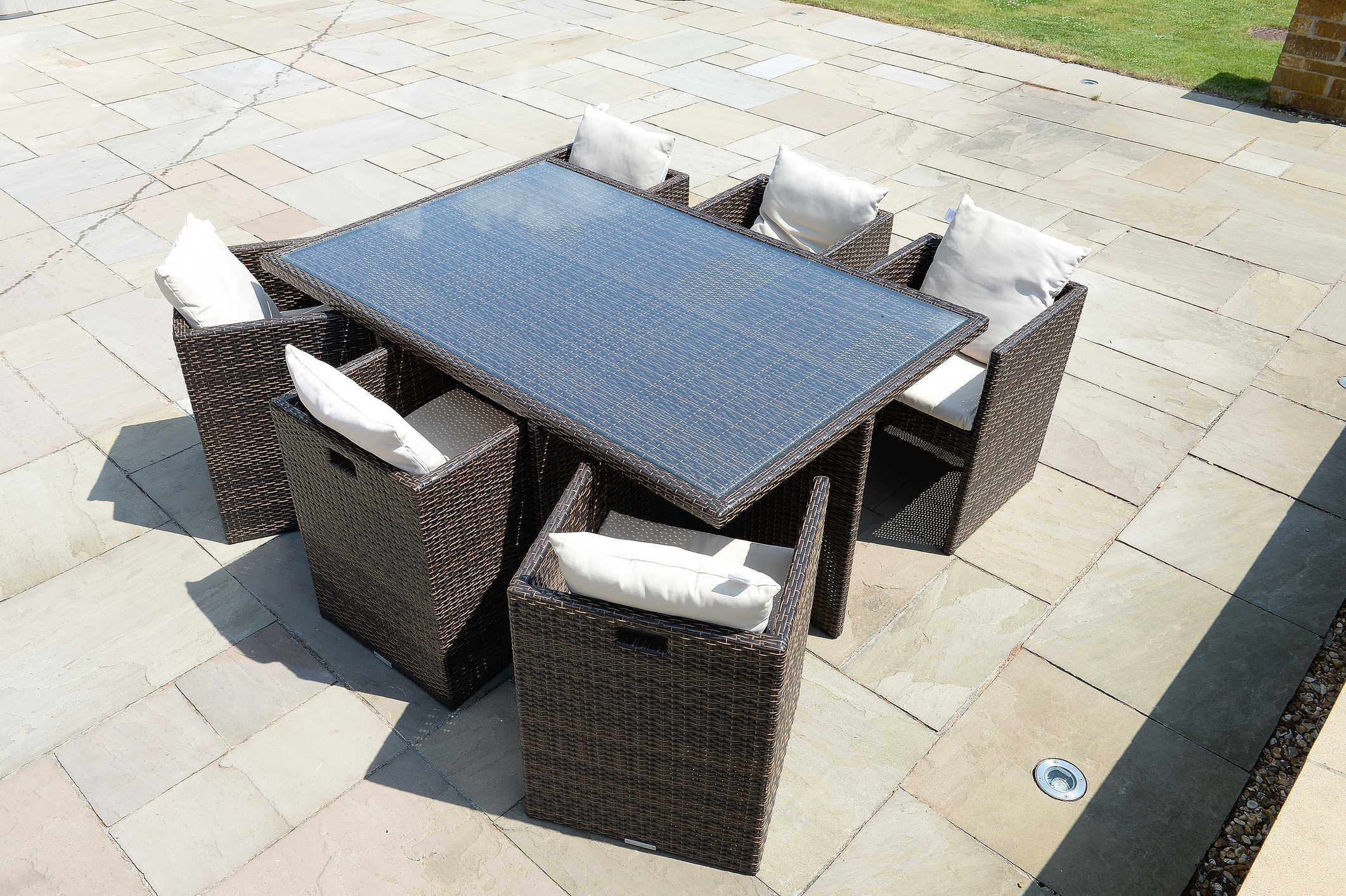 Photo by Martin Applegate on Dreamstime
Treated and Natural Wood: Heavy and sturdy, treated and natural woods such as cedar and teak are great aesthetically but trend on the more expensive side. Woods require regular staining or sealing and should be taken inside during the winter months. However, they are great for wind-prone areas since they're heavy enough to stay in place.
Price: Expensive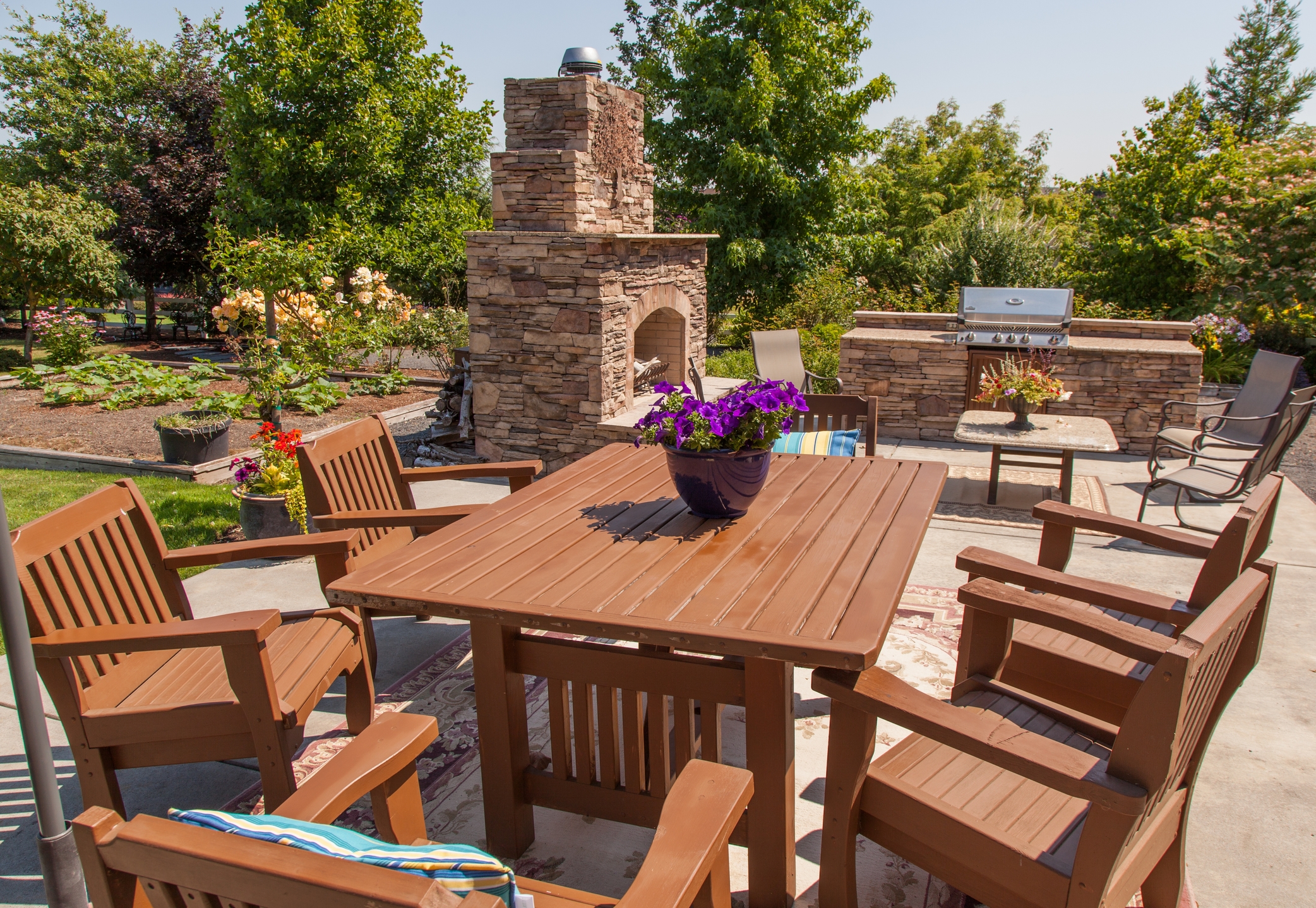 Photo by Ozgur Coskun on Dreamstime
Plastic: Affordable and versatile, regular plastic outdoor dining sets are great for the budget-minded homeowner. While it's safe to keep plastic outdoor furniture outdoors without the risk of mold and mildew, plastic furniture is light and can easily get blown away if there's a strong wind or heavy thunderstorm.
Price: Affordable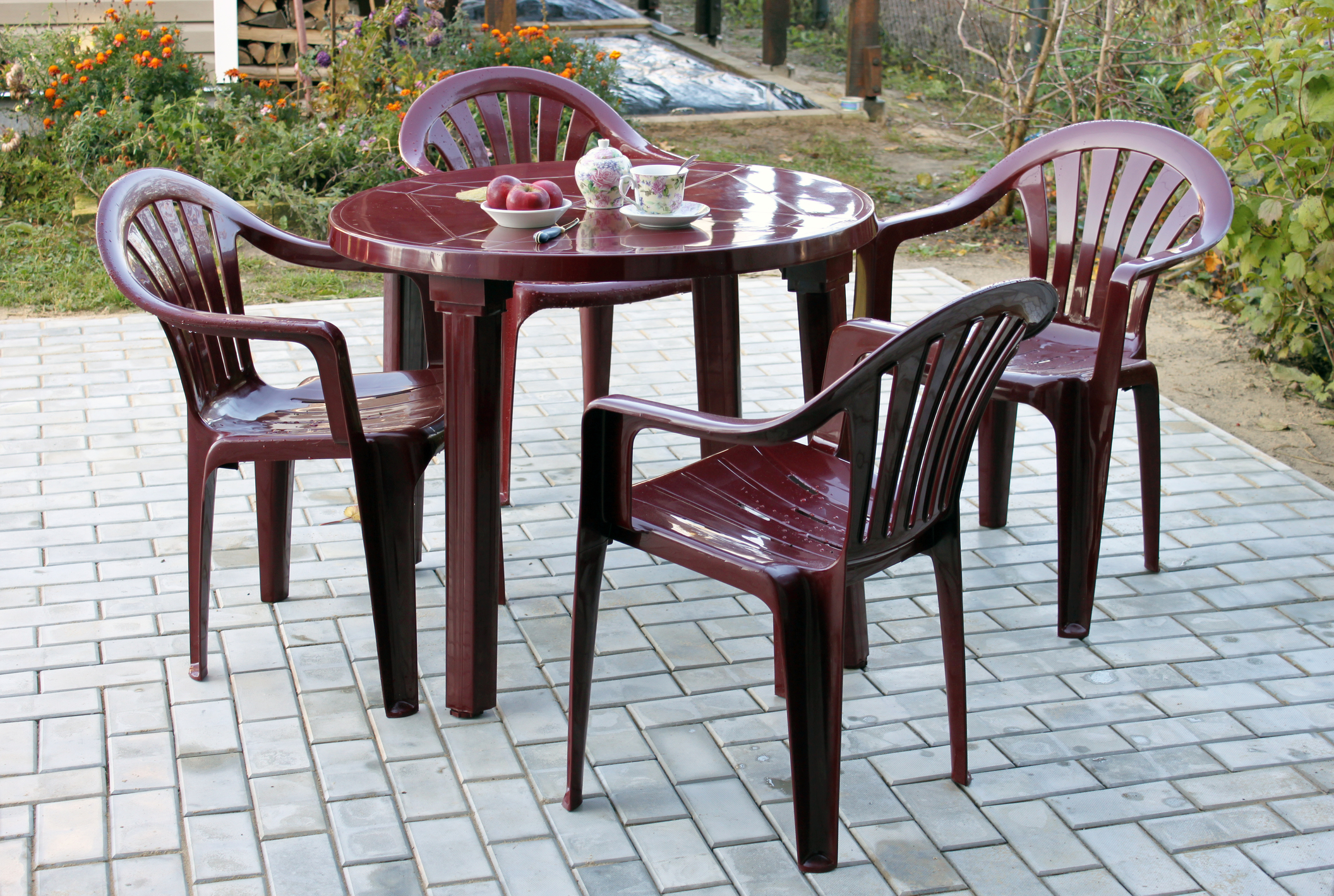 Photo by ZoonarGmbH on Alamy
Iron: Another heavy weather-resistant option, iron is great if your area is prone to strong winds. However, it's quite difficult to continually rearrange iron dining sets because, obviously, it's really heavy. Iron is also prone to rust, so it's not ideal for humid, rainy climates.
Price: Affordable - Expensive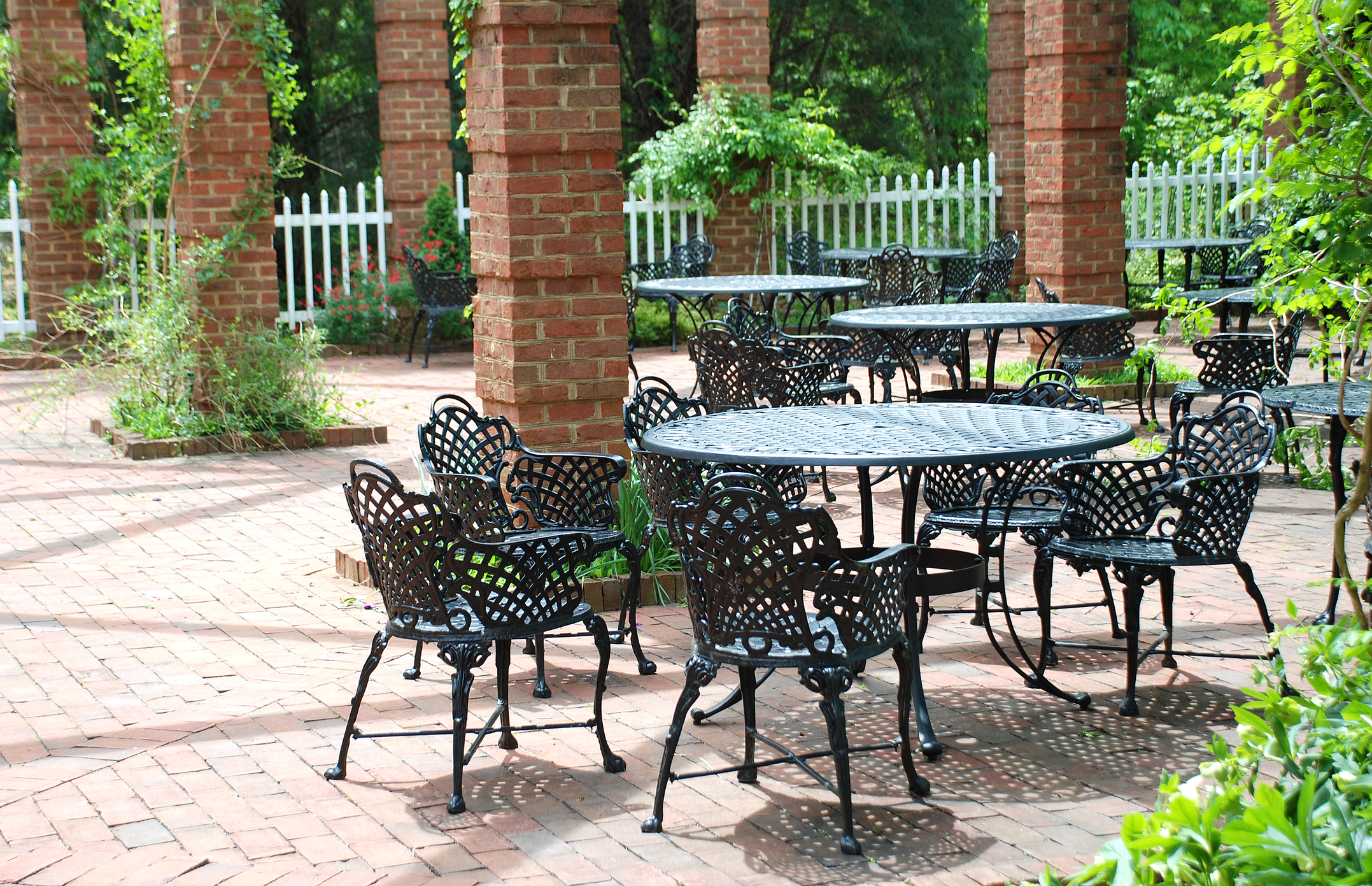 Photo by Harperdreart on Dreamstime
Aluminum: Lightweight and durable, aluminum is one of the best materials to use in your outdoor dining set. It's sun and waterproof, but can be carried away in high winds.
Price: Affordable - Expensive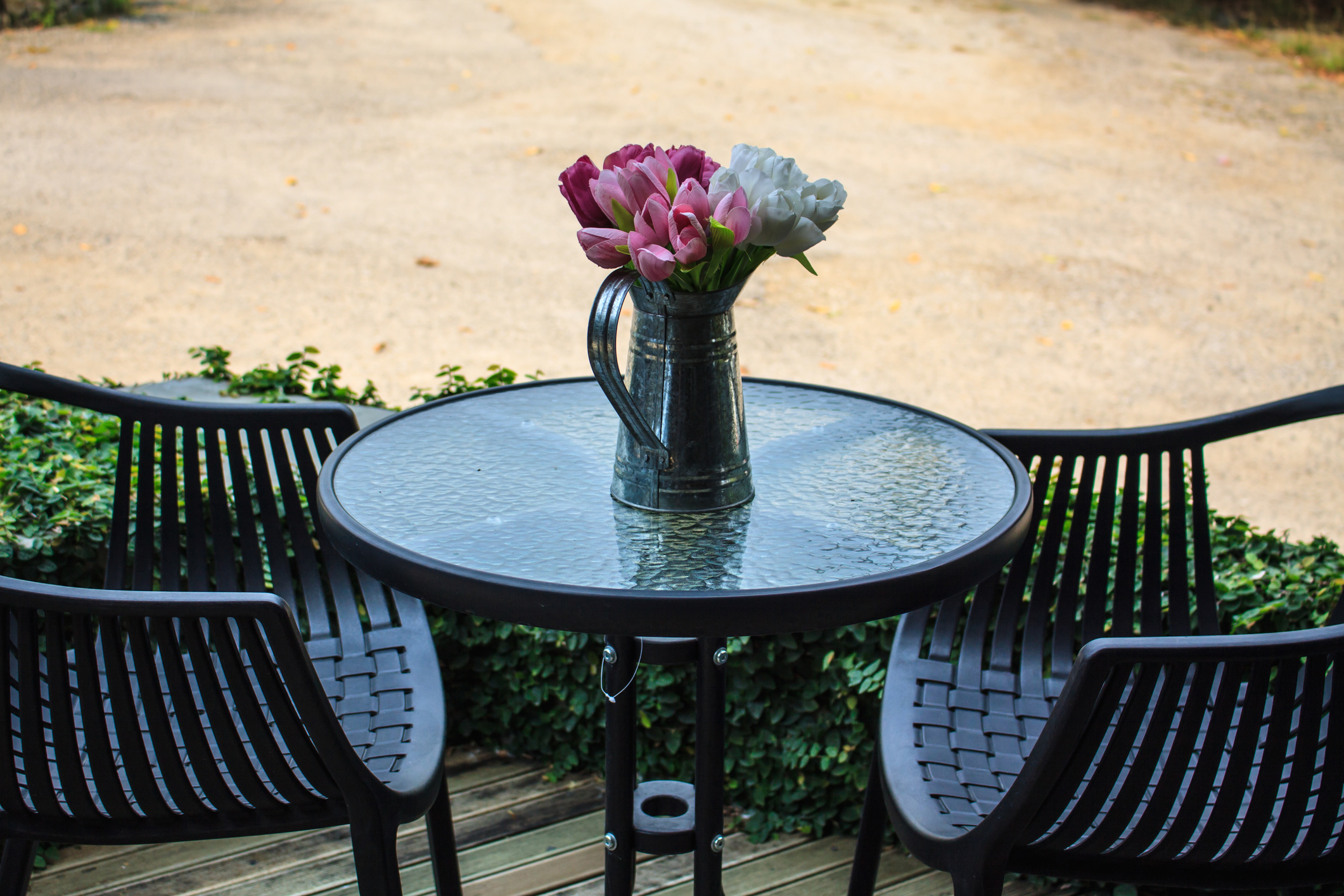 Photo by WORRAYUTH P on Shutterstock
3. Consider Shade
Sun can become a major issue if you don't already have a covered patio or deck. To combat those grueling mid-summer afternoons and evenings, it's important to think about your shade options.
Some outdoor dining sets include an umbrella. However, you can always add your own by using a reciprocating saw to drill a hole 2 inches in diameter (the average circumference of an outdoor umbrella stand). If the umbrella wobbles in its new setting, use an umbrella table ring and a sturdy weighted base to hold it in place.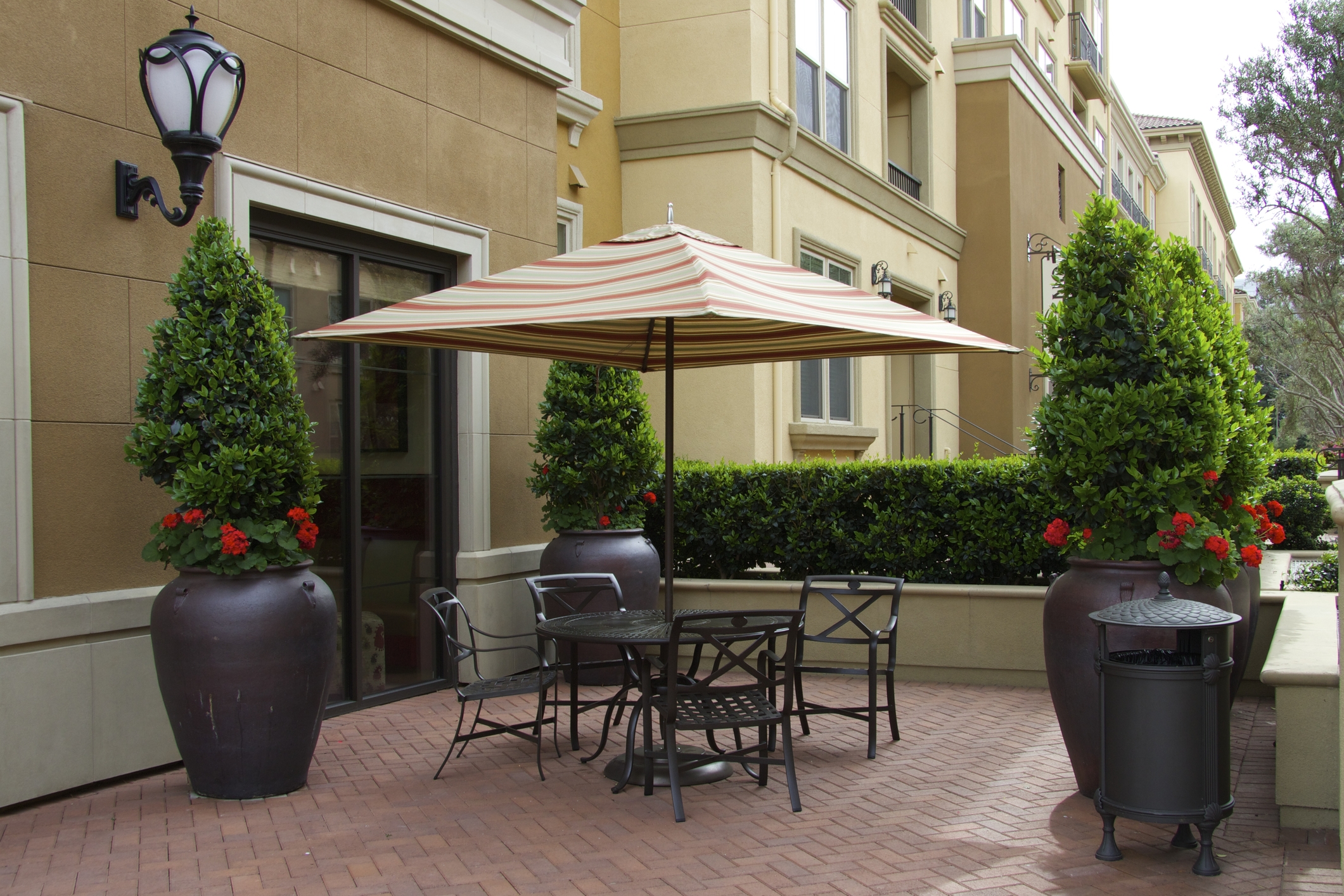 Photo by Radiket on Dreamstime
4. Make It Work for More Than Dining
You may not always dine outside, but chances are you'll be outside quite a bit as spring turns into summer. Therefore, it's always good to find an outdoor dining set that you're comfortable sitting at whether you're enjoying a good book or watching the kids run through the sprinkler.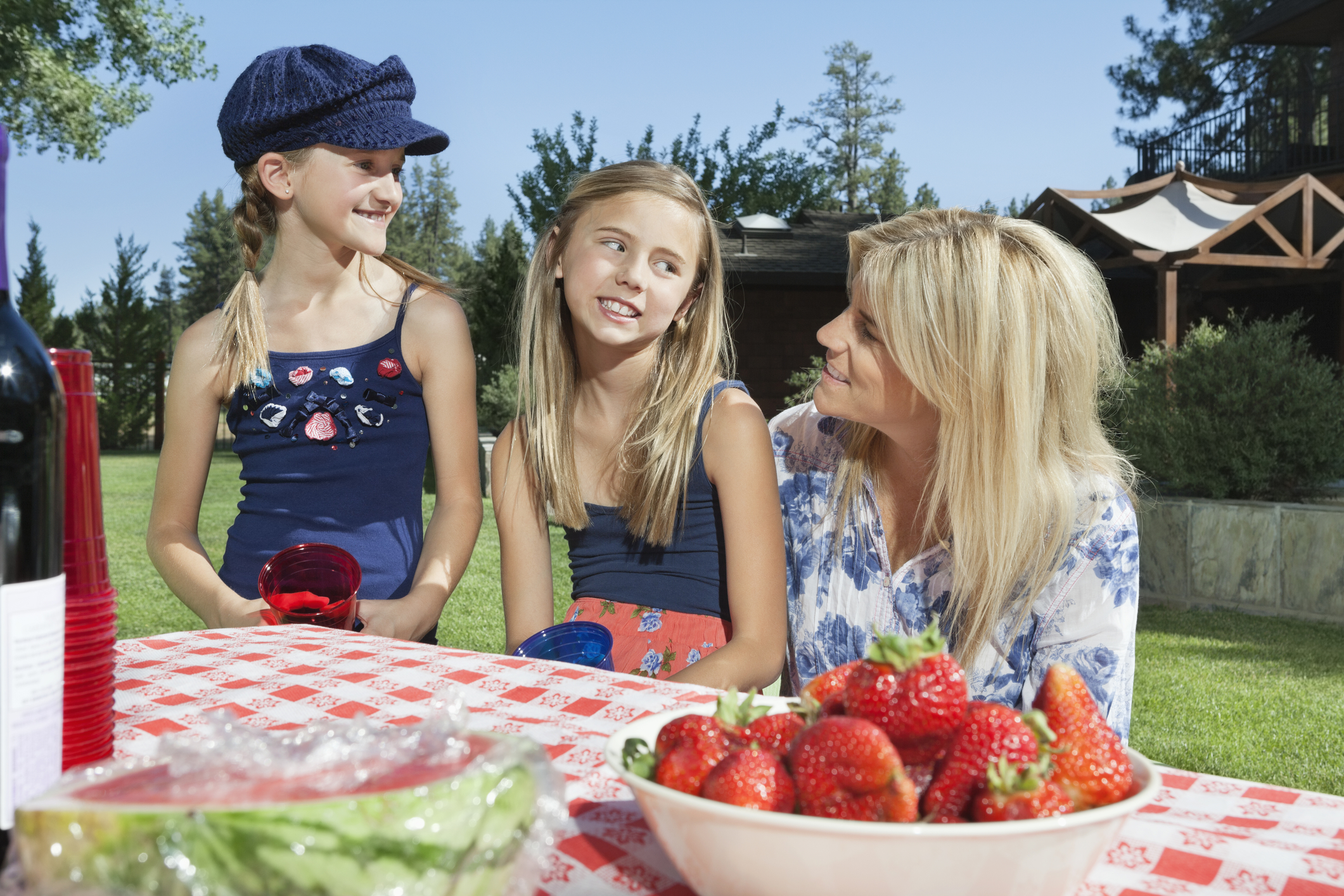 Photo by sirtravealot on Shutterstock
Here are some things to keep in mind:
If you love to lounge outdoors, look for chairs with comfortable (and weatherproof) cushions.
Consider whether or not you prefer chair extras like armrests and features such as rocking or swivels.
Think of multipurpose on a whole new level. Some tables come with built-in fire pits and beverage holders.
There aren't many things that can top dining outdoors with a slight wind and a setting sun. Take advantage of the good weather by getting an outdoor dining set that meets your needs, local weather, and your budget. No matter what set you choose, it'll be money well spent!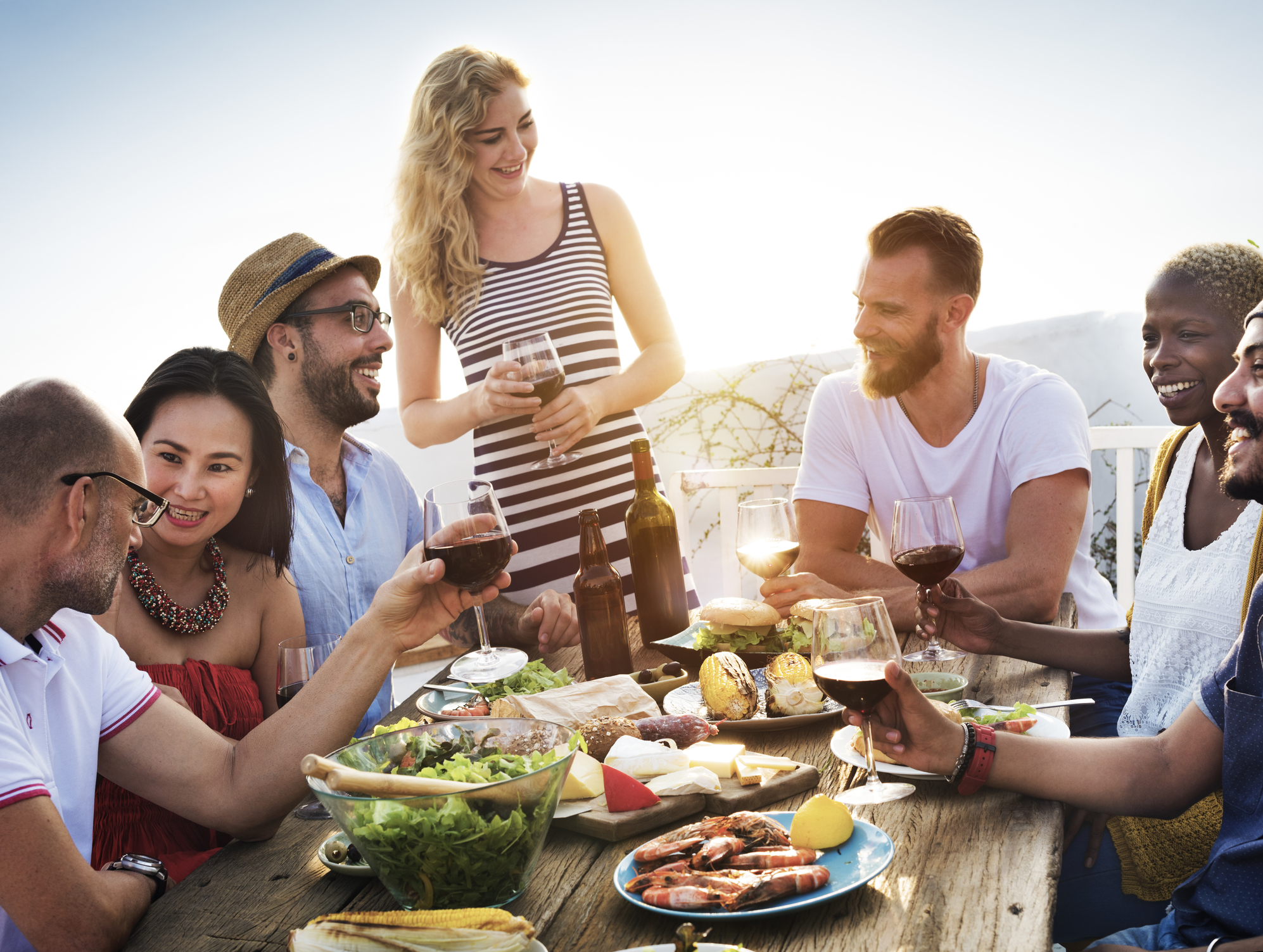 Photo by Rawpixel.com on Shutterstock