This trend has already reared its dominant head via the obsession with the open floor plan. Interior designers are predicting an even more drastic shift in this direction, with concealed, high-tech appliances spilling over into the living area. If this forecast holds true, we could see completely merged living/cooking/dining areas take over home architecture over the next few years.
Lighting
As the popularity of home gourmet cooking continues to advance, ceiling-mounted fixtures and pendants simply aren't enough. Along with under-cabinet lighting designed to offer additional, functional illumination, recessed LED lights inside and above cabinets create ambiance in what can otherwise feel like a cold, inhospitable room.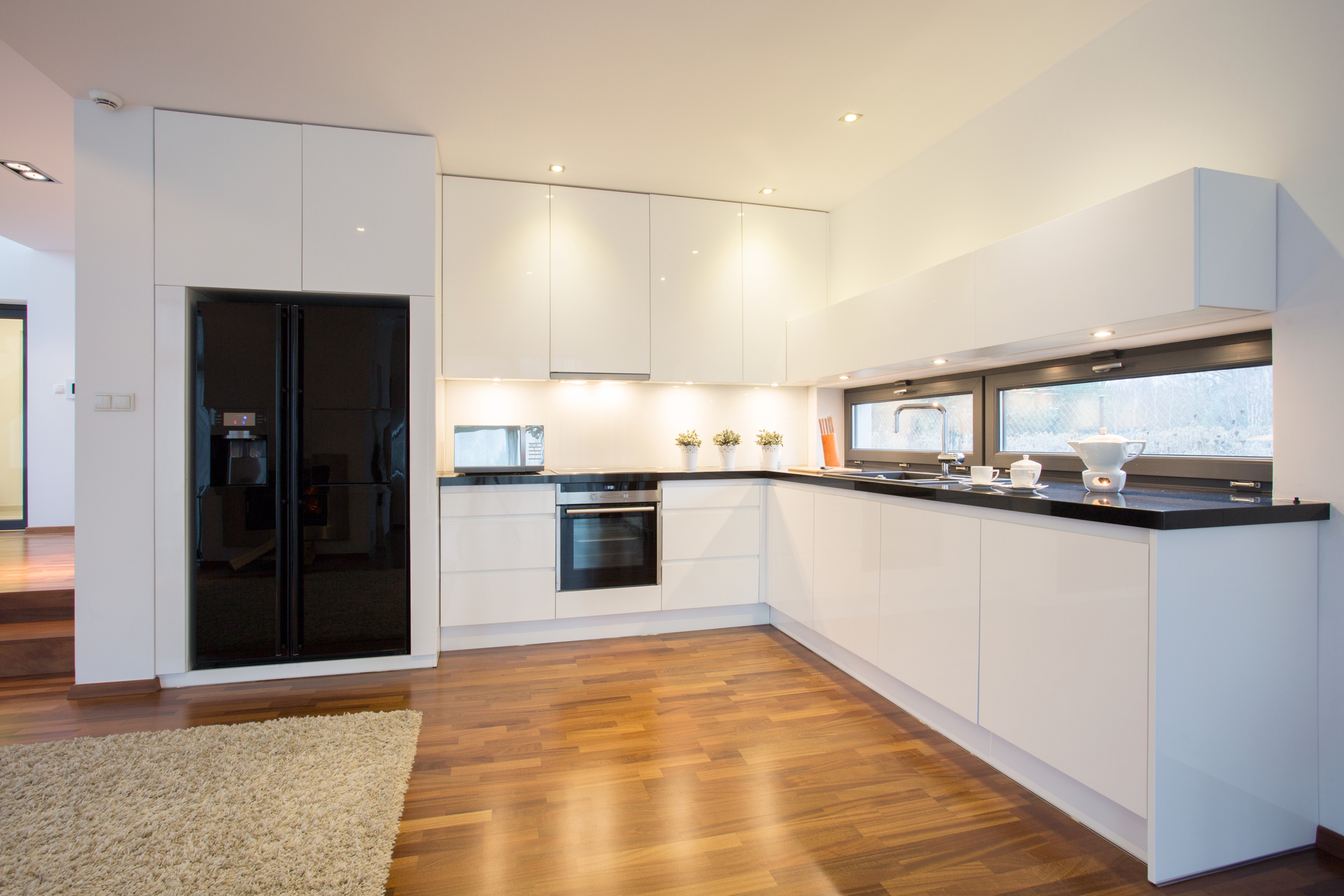 Décor
The 1980s have snuck back onto the scene, but with an updated, sophisticated makeover. Muted mirrored backsplashes, brass fixtures and accessories, and shiny surfaces take the edge off of what was a fairly tacky decade. Satin finishes rule the day and clean lines lend a modern flair.
As far as color trends for painted kitchens go, understated is in. Neutrals like whites, pale greens and blues, pastel yellow, and whitewashed woods give an airy, open feel. Put away your fire engine red and neon turquoise – bolds are on their way out.
Another kitchen color trend we're seeing more of is multi-toned cabinetry. Keeping the uppers light and breezy is in, while the lowers are done in a darker accent color. Doing away completely with the uppers is also trending upwards as well as installing floating shelving that feel less restrictive and give easier access to dishes.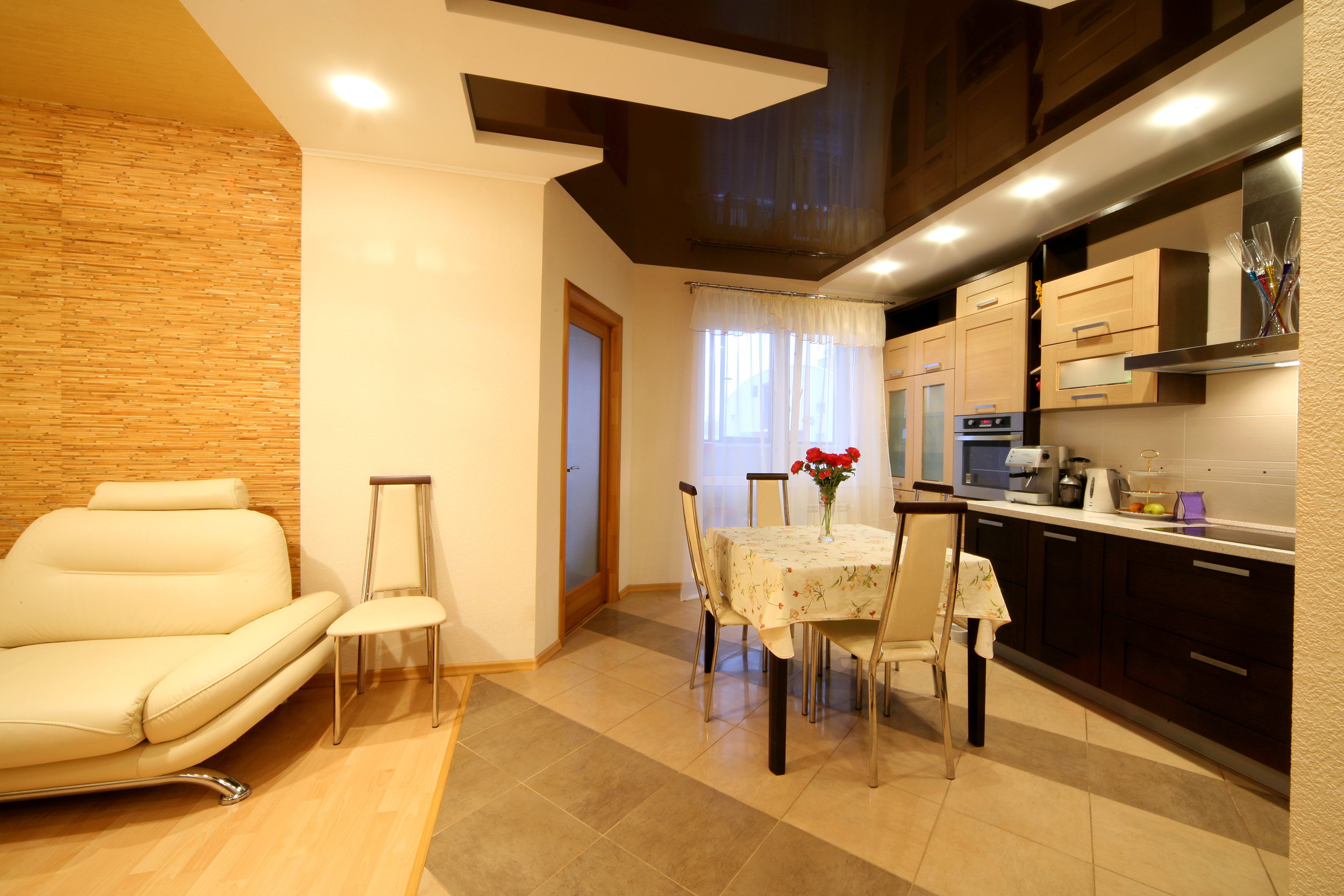 Appliances
Stainless steel is still a popular choice, but with a twist. Bronzed versions are bringing a softer, less obvious look to these classics, and mixing beautifully with the return to brass and other satin metal fixtures. As an added bonus, this new stainless steel treatment is resistant to smudges and fingerprints.
The Smart Home concept is gradually taking hold, but not as extensively in the kitchen as in the rest of the home. What is garnering plenty of attention, however, is the induction cooktop, which utilizes magnetic conduction rather than electricity or gas. It's more energy-efficient, heats water and food rapidly, is infinitely adjustable, and most importantly, the surface remains much cooler so little hands are safer around it. There are a couple downsides – they're still pretty pricey at over $1000, and you must use conductive cookware like cast iron or stainless steel. Still, it's technology to watch.
Steam ovens are also gaining, well, steam. This follows on the heels of several years of health-conscious eating moving into the mainstream, and it makes sense because these specialty ovens are perfect for rice, vegetables, and fish. While handy, it's a luxury item because you'll still need a traditional oven for regular baking and crispy dishes.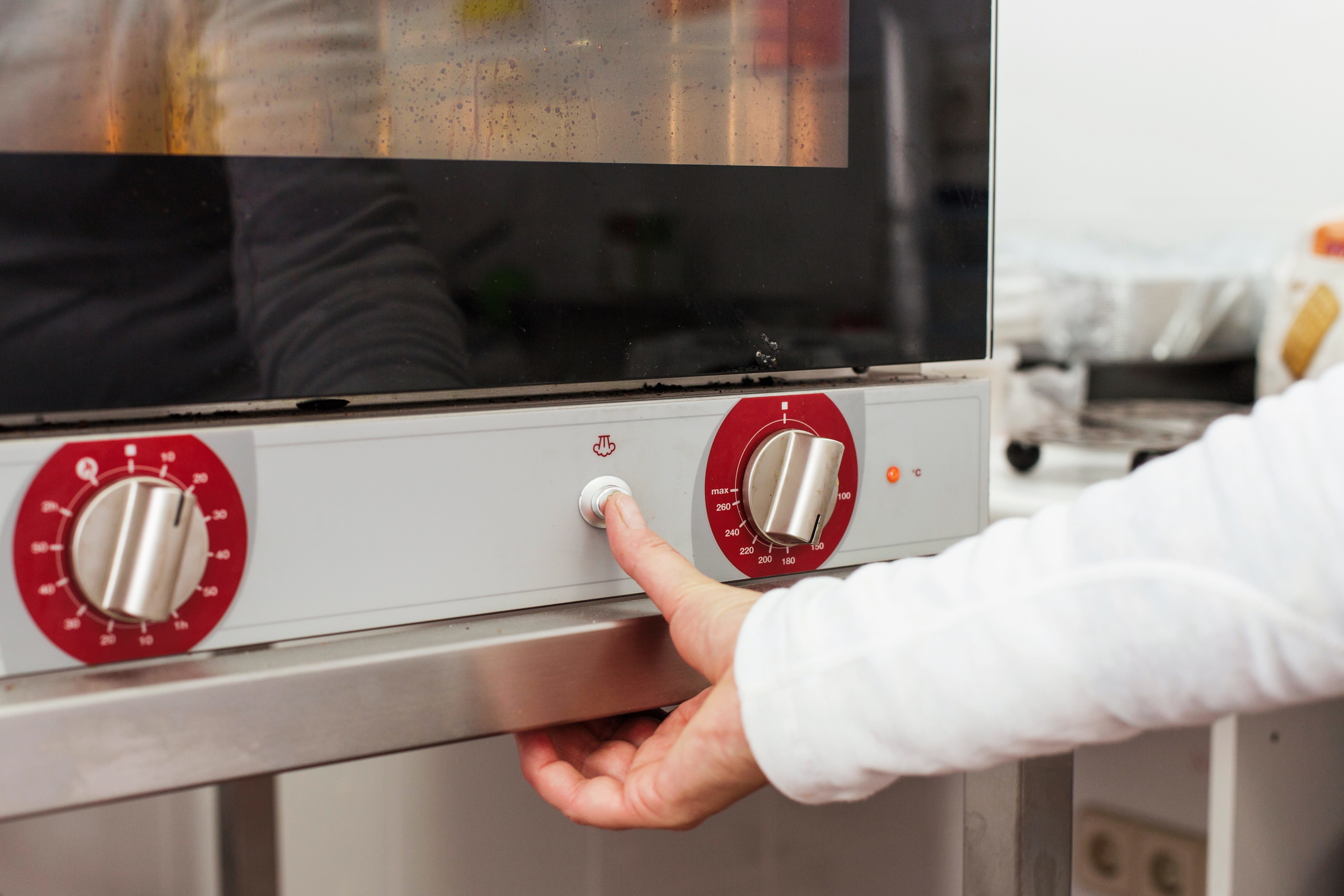 Seating
The traditional kitchen table is, a bit sadly, on its way out. Homeowners are opting to install kitchen islands, high-top tables, extended counters, and other alternative means of seating a few people on stools. On the plus side, this kitchen trend opens up space for more work area and bigger appliances.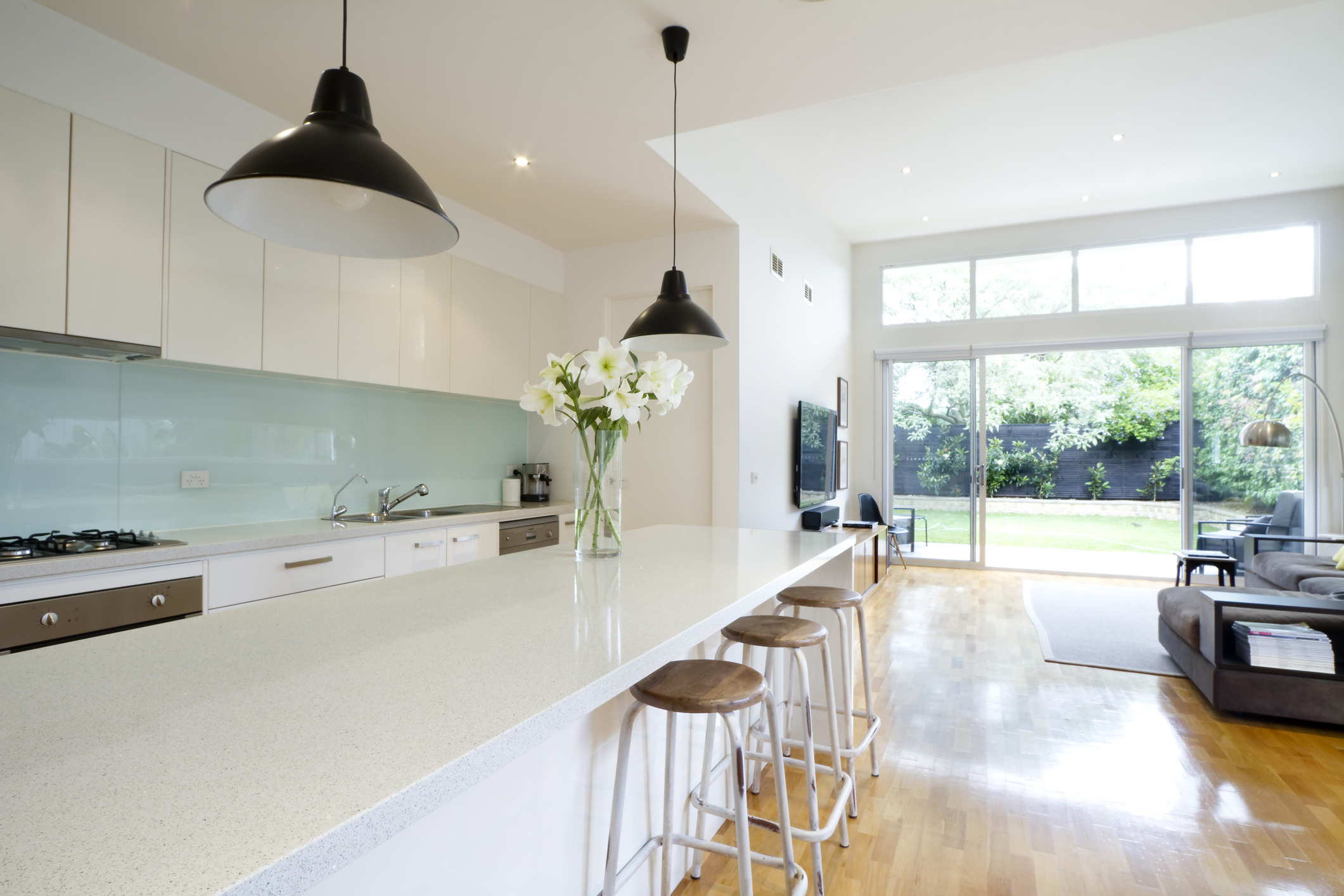 Countertops and Sinks
Granite and quartz remain in the spotlight for kitchen countertop trends. Demand has hardly faded, even with the introduction of newer, trendier materials like concrete and bamboo. Granite sinks also maintain popularity, and enameled cast iron is making a comeback from its decline over the past decade – both trends seem to be attributable to new construction.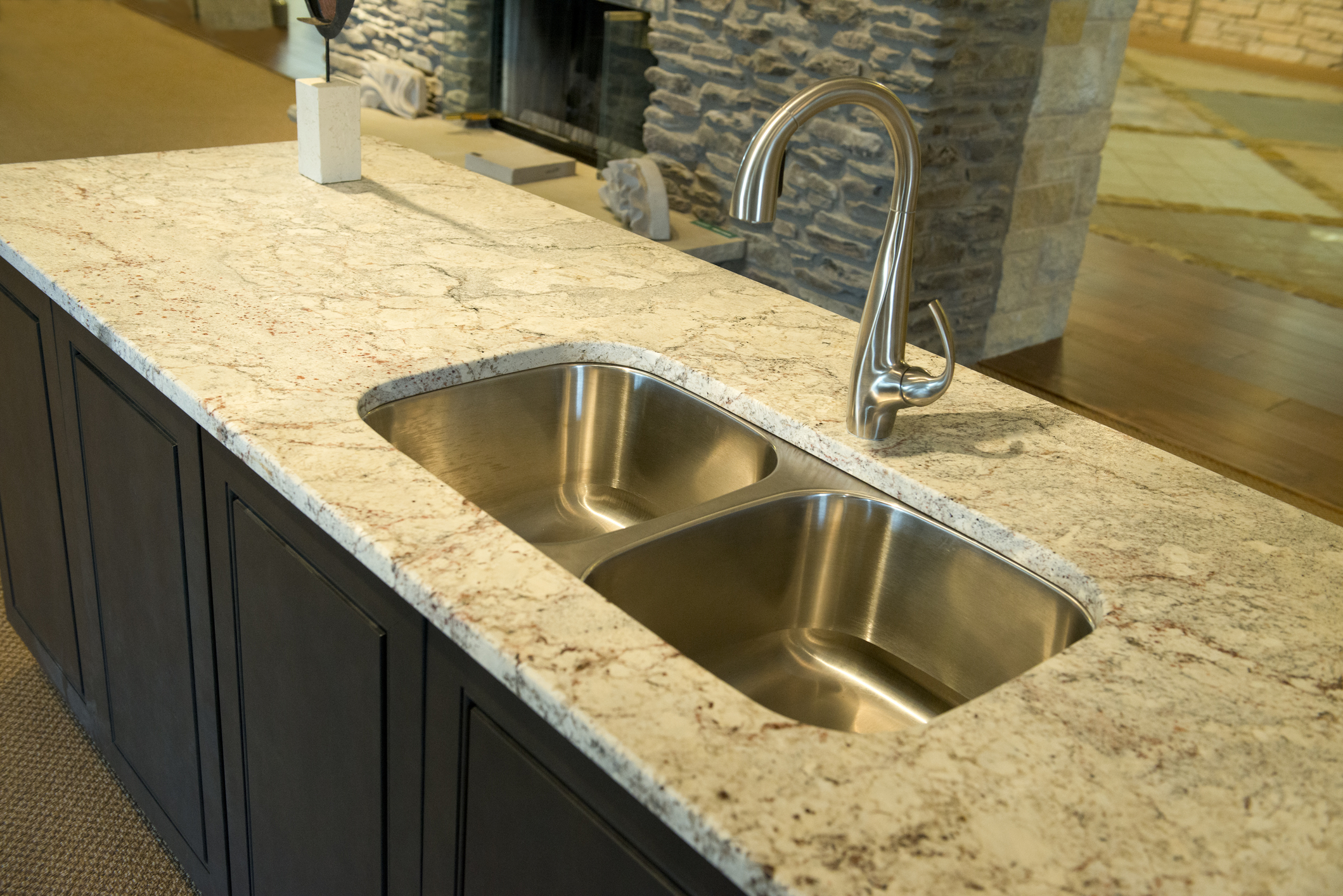 In the end you still have virtually limitless choices among the various options for a new kitchen installation. Some of the new trends are fun, and if they're functional and useful for your family, all the better.


Images used with permission, courtesy of www.bigstock.com and www.dreamstime.com